Washington Huskies:

Chip Kelly
January, 8, 2013
Jan 8
7:12
AM PT
These are the final 2012 power rankings.
If you don't like where you finished in the power rankings, you should have played better.
See the pre-bowl-season power rankings here
.
1. Stanford
: Oregon received a higher final national ranking, and you could make a decent challenge in favor of the Ducks. They didn't get upset by Washington, didn't play a lot of close games and beat a top-five team in the Fiesta Bowl. But, on Nov. 17, the Cardinal went to Eugene and took care of business. Stanford is the Pac-12 champion, and Oregon is not. Ergo, Stanford sits atop the power rankings. And 2013 looks pretty darn good, too.
2. Oregon
: The cherry on the top of another special season for Oregon is the return of coach Chip Kelly. And we're of the mind that, if not for the slip against Stanford, Oregon would be sitting atop college football this morning after a fine evening of frolic in South Florida. The Ducks and Stanford will be national title contenders again in 2013. And guess which two teams are going to top the first 2013 power rankings?
3. Oregon State
: The loss to Texas in the Valero Alamo Bowl was baffling. The Beavers were a superior team that seemed to be looking for ways to lose in the fourth quarter. The quarterback carousel needs to be resolved. But the Beavers still won nine games, and their 6-3 conference record overcomes UCLA because of a head-to-head win on the road. Nice bounce back after consecutive losing seasons.
4. UCLA
: Yes, the Bruins flopped in the Bridgepoint Education Holiday Bowl against Baylor, but it's impossible not to see Year 1 under Jim Mora as a success, made even more notable by USC's flop. Like last season, the Bruins won the South Division, but this time they earned it.
5. Arizona State
: The Sun Devils won their final three games for the first time since 1978. That's how you go into an offseason with optimism. We hear a lot about "culture change" from programs with new coaches. The Sun Devils' culture change under Todd Graham was made manifest by what happened on the field.
6. Arizona
: The Wildcats did better than expected in Year 1 under Rich Rodriguez, and the season would have been a complete success if not for what happened against that team from up north. That loss hurts, but quality wins over Oklahoma State, USC and Washington, as well as an overtime game with Stanford, show this team competed better than in recent years.
7. Washington
: The Huskies finishing 7-6 against a brutal schedule probably was close to preseason expectations. But the two-game losing streak to end the season, which included a dreadful meltdown in the Apple Cup to Washington State, quashed the momentum a four-game winning steak from Oct. 27 to Nov. 17 had built. Perhaps that will make the Huskies hungrier in 2013, when they have a nice array of talent returning.
8. USC
: The Trojans' season was a complete disaster. USC started out at No. 1 but turned in a white flag performance while losing a sixth game in the Hyundai Sun Bowl to a middling Georgia Tech team. The Trojans were eclipsed by rivals UCLA and Notre Dame while wasting the much-ballyhooed return of QB
Matt Barkley
. Coach Lane Kiffin will be sitting on one of the nation's hottest seats in 2013.
We've been over this a few times
.
9. Utah
: The Utes' move up in class from the Mountain West Conference is proving tougher than some imagined. Utah missed out on playing in a bowl game for the first time since 2002, and there were issues on both sides of the ball. The Utes need an upgrade in talent and overall depth, sure, but consistent quarterback play would be a good place to start. Therein lies hope with promising freshman
Travis Wilson
.
10. California
: A dreadful 3-9 finish ended Jeff Tedford's tenure in Berkeley after 11 seasons. In early October, after consecutive wins over UCLA and Washington State, it seemed as though the Bears might be poised for a rally. Alas, they lost their final five games, including a horrid performance in a 62-14 drubbing at Oregon State. Sonny Dykes has enough returning talent to produce significant improvement in the fall.
11. Washington State
: New coach Mike Leach's season was bad on the field and off, but it ended on a notable uptick with an Apple Cup win over Washington that included a comeback from an 18-point fourth-quarter deficit. Still, 3-9 took a bite out of the enthusiasm Leach's hiring initially generated.
12. Colorado
: A horrid 1-11 finish that was capped by a controversial firing of Jon Embree after just two seasons. The Buffaloes are probably the worst AQ conference team over the past two seasons, and that is the considerable mess new coach Mike MacIntyre was hired to clean up. Of course, MacIntyre put together an impressive turnaround at San Jose State, so he looks like a good choice to bring the Buffs back to respectability.
November, 5, 2012
11/05/12
9:00
AM PT
If you don't like where you are in the power rankings, play better.
See
last week's power rankings here
.
1. Oregon
: It wasn't perfect, at least on defense, but that was a resounding statement at USC. There are some injury issues, particularly on defense, but this team is coming together as perhaps the best of the Chip Kelly era. Wondering what type of opponent the Ducks will face at California: A motivated one or one that will serve as a doormat?
2. Oregon State
: A nice bounce-back win over Arizona State. The Beavers have overcome a quarterback change and injuries. This team just keeps finding ways to get it done. The winner at Stanford on Saturday becomes a legitimate threat to Oregon in the North Division.
3. Stanford
: So does
Kevin Hogan
step in at QB and make the Stanford offense formidable again? Maybe. But it's not wise to take too much away from stomping Colorado. Oregon State will offer a true defensive challenge.
4. UCLA
:
Just like Kevin and I predicted
: The Bruins dominated Arizona. The offensive effort was outstanding but unsurprising. The defense shutting down the potent Wildcats' offense was most notable. But the Bruins can't overlook a visit to Washington State. That's what the "old" Bruins might have done.
5. USC
: The Trojans' resilience is going to be tested, starting with a visit from Arizona State. USC could win out, go to the Pac-12 title game and still earn a shot at the Rose Bowl. Or they could fold and finish a season that began with national title hopes with five consecutive defeats.
6. Arizona
: Wow ... the Wildcats took a horrible beating at UCLA. Some of that was a USC hangover. But a lot of that was the Bruins asserting themselves in the South Division pecking order. A visit from Colorado should supply that sixth victory and bowl eligibility.
7. Washington
: The Huskies were sloppy at Cal, but sloppy with a W is OK. If they can handle a visit from Utah on Saturday, they will get a sixth victory and bowl eligibility.
8. Arizona State
: The Sun Devils have lost three in a row after the schedule toughened up. The good news is they showed some fight at Oregon State. It's a battle of two wounded teams at USC on Saturday.
9. Utah
: The Utes are making another late charge. At 4-5, they need to win two of three to earn bowl eligibility. They still play Colorado, so that means they need to win at Washington on Saturday or beat Arizona when it visits on Nov. 17.
10. California
: Cal and Jeff Tedford are beaten up. And here comes Oregon. Maybe the Ducks will be flat after the big win over USC?
11. Washington State
: A run of 10 bowl games in 10 seasons as a head coach ends for Mike Leach, and things don't seem to be going well in the Cougars' locker room. A hot UCLA team is coming to town. How about a good snow storm for the visitors from sunny SoCal?
12. Colorado
: The Buffs just need the season to end. A visit to Arizona doesn't figure to go well for perhaps the nation's worst defense.
October, 7, 2012
10/07/12
1:13
AM PT
EUGENE, Ore. -- There was just a smidgeon of tension late in Chip Kelly's post-game news conference after Oregon whipped Washington
52-21
. Reporters tried to draw out an iota of special emotion from Kelly in reaction to a ninth consecutive victory -- each by at least 17 points -- over the Ducks' archrival, but Kelly wasn't biting.
Kelly has repeatedly told reporters that every game is the same, meriting the same complete commitment to preparation and focus. This has devolved into the "every game is a rivalry game" quip from him to all questions on the Ducks' heated and historical rivalries.
"You can shrug your shoulders but, I'll tell you what, our formula for success has worked every single time," Kelly said. "Every single game is the most important game we play."
Kelly did admit such an approach wasn't good for reporters' copy. And you could, perhaps, quibble with his refusal to at least humor on occasion the feelings his fan base hold for the Huskies, such as not announcing that Washington coach "Steve Sarkisian is a good friend of mine," the very idea of which will make some Oregon fans cringe.
But you can't argue with the results. On a day when No. 3 Florida State, No. 4 LSU and No. 5 Georgia crashed and burned, the Ducks made another ranked foe look like a Pinto trying to keep up with a Lamborghini. They further solidified their standing as the nation's No. 2 team, which puts them in position to play for the national title for a second time in three seasons.
[+] Enlarge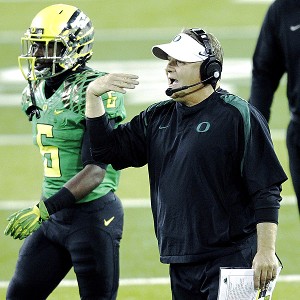 AP Photo/Don RyanOregon coach Chip Kelly reached 40 wins faster than the likes of Bear Bryant and Bobby Bowden.
The simple fact is this: Though we've only reached midseason, Oregon already has distinguished itself among its Pac-12 brethren. Only the Ducks and Oregon State remain unbeaten. Oregon dispatched Arizona 49-0, a team that pushed the Beavers and Stanford to the limit in thrilling games. And Oregon now has whipped Washington, which beat Stanford. And Stanford beat USC.
Yes, the Pac-12 blog is on record -- repeatedly -- as being against the transitive property of college football, of comparing various results of games and reaching grand conclusions. But it's hard to ignore what Oregon has done so far compared to its rivals. Er, other Pac-12 teams.
The Ducks' average margin of victory is 32.3 points. Their closest decisions was in Week 2 against Fresno State, a 42-25 decision. They are playing well on both sides of the ball. They've reacted to injuries to major players with little more than a shrug: "Next guy in," they all say.
That preseason concern that perhaps redshirt freshman quarterback
Marcus Mariota
wouldn't be up to the pressure and week-to-week demands of being a Pac-12 quarterback? He bounced back from a middling showing in the victory over Washington State by throwing four touchdown passes and showing excellent running skills and pocket presence against Washington.
"He's showed improvement," Kelly said. "That's something awesome about Marcus. Very rarely does he make the same mistake twice."
Oregon led the No. 23 Huskies 21-0 after a quarter following a pick-six from safety
Avery Patterson
. It was his second in two weeks, and the Ducks now have returned four interceptions for touchdowns, tying a school record.
The 35-7 margin at halftime made it clear that there would be no intrigue. Washington moved the ball well at times, but the Huskies were done in by five turnovers -- two interceptions, three fumbles. They produced one play over 16 yards -- a 28-yard pass. The Ducks, meanwhile, had six plays of 20 or more yards.
If you need further validations of Kelly's concepts, consider this. He is now 40-6 as the Ducks' head coach. He won his 40th game sooner than Bobby Bowden (49), Pop Warner (59), Bear Bryant (57) and Joe Paterno (51).
So, you know, he's ahead of pretty good rivals. Er, company.
Oregon is off this week, but don't say that to Kelly, for this is an "improvement week." After all that improving, the Ducks will turn their focus to a visit to Arizona State on Thursday, Oct. 18. The Sun Devils are playing really well under new coach Todd Graham.
Of course, you know what's coming, don't you?
Said Kelly, "Arizona State is the next rivalry we have."
October, 6, 2012
10/06/12
6:21
PM PT
EUGENE, Ore. -- At some point, Washington is going to beat its arch-rival Oregon again, but the odds seem stacked against the Huskies tonight.


For one, the Ducks are playing in Autzen Stadium. They are 34-4 at home since Chip Kelly first arrived in 2007 as their offensive coordinator.
Second, the Ducks are again strong on both sides of the ball. Their offense is among the nation's leaders in rushing, scoring and total offense. The defense is better than its numbers suggest, considering its starters have played little in the fourth quarter this year. The Ducks' 4.55 yards per play ranks third in the Pac-12.
The Huskies? They are much better on defense, giving up just under 19.8 points per game -- virtually the same as the Ducks. But they are struggling offensively due to a injury ravaged offensive line that is down three starters from what it thought it would be. The Huskies are scoring 23.3 points per game, which ranks 10th in the conference.
Oregon averages 52.4, tops in the Pac-12 by a wide margin.
So the Ducks are going to need to be much below their average tonight, while the Huskies need much better, for Washington to have a chance.
The key will be big plays that go against Oregon, which is not typically how things go here. The Huskies need to slow the Ducks running game and force redshirt freshman quarterback
Marcus Mariota
to make mistakes passing. And they need to take advantage of those miscues.
The Huskies offense, meanwhile, needs to create some sort of running threat that keeps the Ducks honest, while quarterback
Keith Price
needs to time to hook up with tight end
Austin Seferian-Jenkins
and receiver
Kasen Williams
.
It will help the Huskies that the Ducks, already young at safety due to the season-ending knee injury to
John Boyett
, might be without weakside linebacker
Michael Clay
, who was hurt last week against Washington State.
Oregon has been a second-half team under Kelly. It tends to make good adjustments to other teams' schemes and it also wears down opposing defenses with its tempo. That said, if the Huskies can keep things close into the fourth quarter, it's possible that Mariota will feel some pressure, and press as a result.
Perhaps a few Oregon miscues would open a door for the Huskies to end an eight-game losing streak in the series?
October, 3, 2012
10/03/12
11:00
AM PT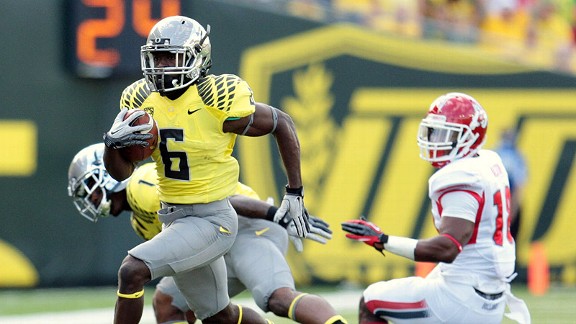 Scott Olmos/US PresswireOregon's De'Anthony Thomas had 302 yards rushing and 193 yards receiving and a combined eight touchdowns in five games this season.
We're tracking the offensive, defensive and coach-of-the-year races in the Pac-12.
For a more thorough look at offense, re-read our
Heisman Trophy update
.
Offensive player of the year
1. De'Anthony Thomas, RB/WR, Oregon
: Thomas scored a touchdown against Washington State but it was a relatively quiet game for him. For the season, he's rushed for 302 yards (9.7 yards per carry) with five touchdowns and caught 19 passes for 193 yards and three TDs.
2. Johnathan Franklin, RB, UCLA
: He ranks fourth in the nation and first in the Pac-12 with 139.4 yards rushing per game. He rushed for 111 yards on 15 carries in the blowout victory over Colorado. He also caught three passes for 48 yards.
3. Kenjon Barner, RB, Oregon
: Barner rushed for 195 yards and three touchdowns in the victory over Washington State. He averaged 9.8 yards per carry and ran for scores of 22, 10 and 80 yards. He's second in the Pac-12 in rushing with 121 yards per game and his nine rushing touchdowns leads the conference.
4. Taylor Kelly, QB, Arizona State
: Kelly is first in the Pac-12 and 16th in the nation in passing efficiency. The Sun Devils are second in the Pac-12 with 38.4 points per game. Kelly threw three TD passes in the win at California and now has nine for the season.
5. Matt Barkley, QB, USC
: Barkley was off last week. His 12 TD passes still leads the conference, but he's fifth in the conference in passing efficiency.
Keep an eye on
: UCLA QB
Brett Hundley
; USC WR
Marqise Lee
; Oregon State WR
Markus Wheaton
. Arizona QB
Matt Scott
; Stanford RB
Stepfan Taylor
.
Defensive player of the year
1. Will Sutton, DT, Arizona State
: Won Pac-12 Defensive Player of the Week after recording a career-high eight tackles (six solo), including three sacks, and forced a fumble in a 27-12 victory over California. He's second on the Sun Devils with 34 tackles, including 10 for a loss. Also has 6.5 sacks, a forced fumble and two pass breakups.
2. Star Lotulelei, DT, Utah
: Off last week. Fourth on the Utes with 19 tackles. Also has four tackles for a loss, a sack, two pass defenses and two forced fumbles.
3. Chase Thomas, OLB, Stanford:
Had a sack and four tackles against Washington. He's third on the Cardinal with 23 tackles. He also has five tackles for a loss and 2.5 sacks.
4. Morgan Breslin, DE, USC
: Leads the conference with 2.38 tackles for a loss per game and has five sacks.
Keep an eye on
:
T.J. McDonald
, S, USC;
Travis Long
, OLB, Washington State;
Chris Young
, LB, Arizona State;
Datone Jones
, DE, UCLA;
Anthony Barr
, OLB, UCLA.
Coach of the year
1. Mike Riley, Oregon State
: The Beavers, who went 3-9 last year, are now 3-0 and ranked 14th. 'Nuff said.
2. Chip Kelly, Oregon
: Ducks are atop the Pac-12 and ranked No. 2. If they ended up winning a fourth consecutive Pac-12 title and earn another berth in the national title game, Kelly wins.
3. Todd Graham, Arizona State
: While the Sun Devils are lacking a marquee win, they've been impressive during a 4-1 start. Of particular note is their discipline and efficiency on both sides of the ball. That wasn't what you said about the Sun Devils in the past, even during the good times.
Keep an eye on
: Jim Mora, UCLA; Steve Sarkisian, Washington
September, 12, 2012
9/12/12
10:00
AM PT
One of the more underappreciated and heated rivalries in the country lies in the Pacific Northwest. For decades it was all Washington. Since 1994 the Ducks are 13-4, including eight straight wins in the series.
Things are starting to turn around in Seattle, as their new staff has them on the right track on the field and more specifically, recruiting.
Anyone up for a little border war Q & A?
To continue reading this article you must be an Insider
August, 31, 2012
8/31/12
12:00
PM PT
There are five new quarterbacks in the Pac-12 this season:
Taylor Kelly
at Arizona State,
Jordan Webb
at Colorado,
Marcus Mariota
at Oregon,
Josh Nunes
at Stanford and
Brett Hundley
at UCLA.
Our question this week: Which of them will have the most success this season?
[+] Enlarge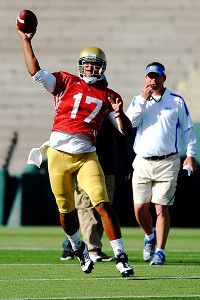 Chris Williams/Icon SMIUCLA quarterback Brett Hundley will be tested often this season.
Kevin Gemmell:
Poor, poor Ted. I know your brain is mush right now. You've been grinding away so hard on the best-worst scenarios that you've got nothing left for a Take 2. Obviously, the easy choice here is Oregon quarterback Marcus Mariota.
I'll tell you what, buddy, since I'm going first this week, I'm going to leave the softball for you and take a different approach. No, no. You don't need to thank me now. Just buy me a Cuban sandwich when we're in Miami for the USC-Oregon national championship game and we'll call it even.
When you're measuring the success of a new quarterback, you have to first look at what's the definition of success. Because I think the measuring stick is going to be a lot different for Mariota than, let's say, UCLA quarterback Brett Hundley.
If Hundley wins eight games and takes his team to a mid-level bowl game, I'd call that a pretty successful debut season. If Mariota wins eight games and takes his team to a mid-level bowl game, Oregon would probably call 2012 a massive failure of a season. Teams that start the year ranked in the top five don't want to end up in San Diego in December -- no disrespect to this beautiful city I'm blessed to call home.
The Bruins, however, I think would be awfully pleased with an appearance in the Holiday Bowl.
Consider what Hundley is up against: a new head coach, who by the way has never coached in college (that's not a knock on Jim Mora, just a fact), a new offensive coordinator with an offense that is a complete 180 from what the Bruins were running previously, and while I think UCLA has some playmakers, Hundley doesn't have the weapons around him that Mariota does. Also, most would agree at this point that Oregon has the superior offensive line.
But I think Hundley overcomes all of that to lead his team to seven or eight wins and a pretty decent bowl game. The reason I think that -- aside from the fact that Hundley is a very talented player -- is because of UCLA offensive coordinator Noel Mazzone and the way he transforms quarterbacks. His system is proven, even if Hundley is not, and it's going to allow Hundley to do what he does best: sling the ball around to a lot of different receivers and make plays with his feet when it's needed.
This was the same offense that produced 33 points per game last year when Mazzone was with Arizona State and dropped 43 on the
USC Trojans
; the same offense that averaged 32 points per game in 2010 that went for more than 40 points four times. Some might remember the 55 they scored on the Bruins that year.
Because of all the immediate factors working against Hundley, people are going to allow him a little more wiggle room to develop than they would Mariota.
And I think you can say the same thing for Josh Nunes at Stanford, Taylor Kelly at ASU or even an experienced newcomer like Jordan Webb at Colorado. They have the luxury of working their way into success, rather than instant success being demanded.
Huh, maybe Mariota isn't such a slam dunk after all. I guess the Cuban sandwiches are on me.
Ted Miller:
Thanks for making things easy on me, Kevin.
[+] Enlarge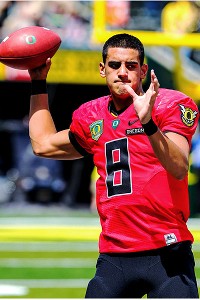 Steve Conner/Icon SMIBetween a stellar supporting cast and a proven coach, the stage is set for Marcus Mariota at Oregon.
I've been reading the tea leaves, and Marcus Mariota is going to be a revelation.
Now it's perfectly fair for someone to point out that I've only see Mariota in action once -- his much-ballyhooed performance in the 2012 spring game. So my -- and anyone else's -- sample size for extrapolating success is extremely limited.
Still, there are three things that make him the pick for immediate success.
First, he beat out
Bryan Bennett
, a guy who has long been touted and who played very well in relief of an injured Darron Thomas last year. If Mariota is better than Bennett, then he's got to be pretty darn good.
Second, his supporting cast will make him look good. He's got plenty of offensive weapons surrounding him as well as a top-notch offensive line. He doesn't have to throw it 40 yards to get a 40 yard completion. He merely needs to dump it to
Kenjon Barner
,
De'Anthony Thomas
or
Josh Huff
and let them do the legwork. The stat sheet doesn't make a distinction.
Third, who's the coach of this team? That's right, Chip Kelly. What's his track record with quarterbacks at Oregon? Let's review.
Oregon fans hated Dennis Dixon -- oh, yes you did! -- until Kelly arrived in 2007. Dixon went from being an infuriating underachiever who threw a lot of interceptions to the nation's top Heisman Trophy candidate until he blew out his knee.
Then, after Nate Costa blew out his knee before the 2008 season, Kelly was left with, well, just about nobody. Recall that Jeremiah Masoli was a summer addition to the roster whom no one had heard of. He led the Ducks to a Holiday Bowl victory and then to the first of three conference titles in 2009.
And when Masoli got the boot, Kelly surprised many when he tapped Thomas over Costa. Thomas then led the Ducks to the national title game and a Rose Bowl victory.
Think how good the Ducks' QB play has been since Kelly arrived in Eugene. Now, how many of these former Ducks quarterbacks had NFL success? It's obvious that Kelly finds ways to make his QB successful.
And guess what: Mariota is the most physically talented signal-caller Kelly has coached. He could become the first Kelly QB to become a high NFL draft pick and then a starter.
Sure, the bar has been set high. Anything less than another BCS bowl appearance would disappoint most Oregon fans. But, as things look at present, the odds are fairly good the Ducks will receive a fourth consecutive BCS bowl berth.
Finally, there is always this: Mariota is a redshirt freshman. He's, inevitably, going to have some boneheaded moments. But his youth also means the Ducks -- and Kelly -- will have him for at least three more seasons. (If he opted to leave for the NFL draft after his redshirt sophomore year, well, he'd probably be pretty darn good).
That's the consolation if he's merely pretty good this year: He's got plenty of time to become outstanding.
But the guess here is Mariota puts up plenty of numbers as a dual-threat this season. And leaves us with plenty of "Wow!" moments.
August, 22, 2012
8/22/12
9:00
AM PT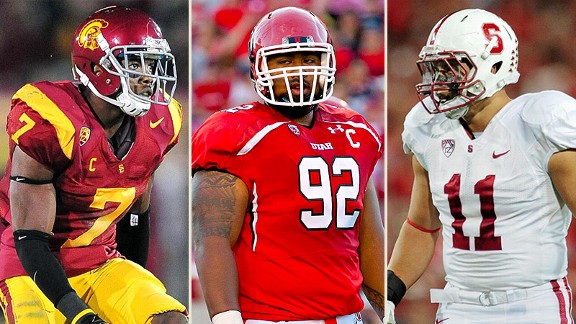 US PresswireThe Pac-12 boasts some of the best defensive talent in the country: USC safety T.J. McDonald, Utah defensive tackle Star Lotulelei and Stanford linebacker Shayne Skov.
In the depths of their offices, some of the best offensive minds in college football are grinding.
Chip Kelly is pondering how to get 10 more plays per game out of his offense.
Rich Rodriguez and Mike Leach are re-re-revolutionizing their attacks.
David Shaw is trying to figure out how to get nine offensive linemen, five tight ends and three fullbacks on the field at once.
Lane Kiffin has more offensive toys than an FAO Schwarz display.
"Option, option spread, I, heavy-I, pistol, triple-backs, full house, triple tights; it's something new every week," said Oregon linebacker
Michael Clay
. "It makes every week pretty interesting."
The Pac-12 is widely regarded as the conference of offenses. And they are only getting better. Prior to 1990, only twice has a team led the conference with a scoring average of more than 40 points. Since 1990, it's happened nine times -- including USC's conference best of 49.1 points per game in 2005.
That means being a defensive player in the Pac-12 is awfully difficult.
[+] Enlarge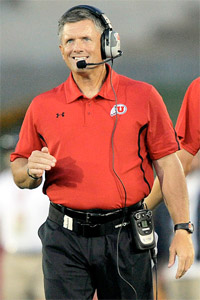 AP Photo/Mark J. TerrillKyle Whittingham says his defense must be able to adapt to the different offenses in the Pac-12.
"You get Andrew Luck one week and then
Matt Barkley
the next," said USC safety
T.J. McDonald
. "The preparation is on a whole other level compared to other conferences. There are great quarterbacks and great receivers and running backs. But the culture of this conference has changed. They've forced defenses to get better."
As the spread offense became chic and more teams were stretching defenses, they were forced to respond in kind. Gone are the days of everyone lining up in a base 4-3 and slugging it out. Now defenses are evolving into multiple fronts, exotic and disguised coverages and zone blitzes.
Utah coach Kyle Whittingham should know. He and UCLA coach Jim Mora are the only head coaches in the conference with a defensive background.
"We're definitely the minority," Whittingham said with a laugh. "It's a broad spectrum. Defensively, in this day and age, you have to be able to defend it all anyways. When the spread became en vogue 10-12 years ago it caught on like wildfire. Now almost everyone has a version of it. You have to be equipped to deal with whatever you come across week in and week out and have a scheme that is flexible enough and adaptable enough that you can cover all of your bases.
"Things go in cycles. The spread becomes en vogue and takes a while for the defense to catch up. Then the zone blitz was giving offenses fits and the offenses had to catch up to that. I think everything in football is cyclical and if offense has the upper hand right now, it won't be too further down the road where that role is reversed."
And that time might be coming sooner than later. Utah, California, USC, Oregon and Stanford all have defenses that are very good and bordering on elite. But the numbers don't always add up because in this conference, you are going to give up yards and you are going to give up points.
"Part of it is innovation," Shaw said. "Part of it is Chip Kelly and Mike Leach and Rich Rodriguez. The thing is, you can use the word 'spread' offense for half the teams in our conference, but they are all different. You can say 'pro-style' offense, which is what you would say about us and USC, but they are so different. The hard part of playing defense in our conference is every single week, you are playing against something you didn't see the week before.
"Cal has a pro-style offense. But their passing is different than our pass game and their running is different than our running game. And theirs is different from USC's. You are going to play a nine-game conference schedule and every single offense you play is going to be completely different. Defensive coordinators -- and we've got a really good group in this conference -- defensive coordinators and players have to flush a lot of what you watched the week before and study film hard the next week because you're going to see a different animal."
The conference also has the players to back up the defensive hype. Stanford linebackers
Chase Thomas
and
Shayne Skov
are projected as two of the best at their positions. Utah defensive tackle
Star Lotulelei
is regarded as the best defensive tackle in the nation and McDonald is a returning All-American.
And while perception might never really change nationally since the conference keeps chugging out A-list offensive players, Washington quarterback
Keith Price
says he's seen the difference.
"The difference between us and some of those other conferences is the defensive linemen," Price said. "We've always had good skill players. They say the trenches is what separates the SEC from the other conferences. But you can see now that our conference is starting to get there. When you look at teams like Cal and Utah, their defensive lines are really tough."