Washington Huskies:

Cardinal-Huskies-092712
September, 27, 2012
9/27/12
11:58
PM PT
SEATTLE -- Thursday night, with a full moon hanging over CenturyLink Field, the
Washington Huskies
howled.
It was primal. It was piercing.
Fifty-thousand-plus fans howled along with them, bringing deafening decibel levels to Washington's temporary home field. It reached a fever pitch when
Desmond Trufant
intercepted
Josh Nunes
in the closing minutes to lock up a
17-13 victory
over the No. 8
Stanford Cardinal
.
For the second time in three weeks, a top-10 team in the Pac-12 has fallen. And the strange week of football that CenturyLink Field has seen continued when the students overflowed into the center of the NFL stadium.
"I love our fans. They bring it, man," said Washington head coach Steve Sarkisian. "They were patient with me on offense. I think? They knew what kind of game we were in. Part of me thinks that our fans probably appreciate these types of games more so than 48-45. There is something gritty about our mentality here. This was a black-and-blue type of game and I think our fans appreciated that."
Well, it certainly wasn't a beauty contest. Through the first three quarters the teams had combined for just 250 yards of total offense and 16 first downs. There were 18 total punts and 13 combined three-and-outs. Drops stalled drives for both teams. Penalties negated what few big plays there were. By the end of the game, neither Stanford (3-1, 1-1 Pac-12) nor Washington (3-1, 1-0) did much to advance the stereotype that the Pac-12 is the conference of offenses.
But none of that matters to Sarkisian and Co.
"I was talking to the team last night, the ultimate goal for tonight was to lay down in bed tonight and be 1-0 in Pac-12 play," he said. "I just wanted to be 1-0 and start off on the right foot. And how we did it and the final score didn't matter to me. It was more of playing the way we were capable of playing, playing disciplined football. I didn't know what we would hold them to. I didn't know any of that stuff. It was hard to tell before the game. What I do know is this game was a heavyweight bout."
And when push came to shove, the Huskies landed more haymakers.
[+] Enlarge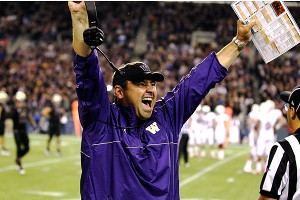 AP Photo/Ted S. WarrenSteve Sarkisian celebrates Washington's first victory over Stanford since 2007.
Running back
Bishop Sankey
, running behind a patchwork offensive line, crossed the 100-yard mark for the second consecutive game and finished with 144 yards and a touchdown on 20 carries.
No carry was bigger than his 61-yard touchdown run at the end of the third quarter. With the Cardinal holding a 13-3 advantage -- Stanford's lone touchdown coming on a fantastic 40-yard pick-six from linebacker
Trent Murphy
-- Sarkisian opted to go for it on fourth-and-1 from the UW 39. It was a gamble that paid off.
The Cardinal sold out to stop the run with three players storming one gap. But it was the wrong gap and Sankey found a hole, broke into the second level and sidestepped a pair of tackles. The huge play swung the momentum in Washington's favor to start the fourth quarter.
"My first thought was just to get the first down and get positive yards," Sankey said. "And then the hole opened up so fast. Before I knew it, I stepped out of a tackle and it was off to the races."
Washington's go-ahead touchdown came with 4:53 left in the game when
Keith Price
went to
Kasen Williams
on a quick hitter. Williams was able to break a tackle and then went streaking down the sidelines for a 35-yard score. Price finished 19 of 37 for 177 yards with an interception and a touchdown. Williams had 10 catches for 129 yards and the score.
This was Washington's first win over a top-10 team since knocking off No. 3 USC in 2009. The Huskies had been 0-5 since -- including a 41-3 loss at LSU earlier this season.
Conversely, Stanford was coming into the game with a heap of confidence after knocking off the then-No. 2 Trojans two weeks ago. The Cardinal had won four straight and six of the previous seven against the Huskies.
"The bottom line is we didn't make the plays we needed to make on the offensive side of the ball," said Stanford head coach David Shaw. "We didn't keep the defense off the field like we usually do. We kept putting the defense out there too long, and every team in our conference, if you give them enough shots on offense, they're going to hurt you."
Stanford running back
Stepfan Taylor
was held to just 75 yards on 21 carries and the Cardinal were held without an offensive touchdown for the first time since October of 2007. Nunes was 18 of 37 for 170 yards.
"I thought it was not his best effort," Shaw said. "I think he can play much better. I think we can all do a much better job."
Nunes had a chance in the final minutes, driving the Cardinal down to the Washington 34. But on fourth-and-4, he was intercepted by Trufant, sealing the win for the Huskies.
September, 27, 2012
9/27/12
9:43
PM PT
Washington pulled off the shocker against a team that had dominated it of late, notching an upset
17-13 win
over the nation's No. 8 team.


It was over when:
On fourth-and-4 from the Washington 34-yard line, Stanford quarterback
Josh Nunes
attempted a fade route to tight end
Levine Toilolo
.
Desmond Trufant
grabbed the interception at the Huskies' 8-yard line with 1:46 left, and the Cardinal didn't get the ball back.
Game ball goes to:
The Washington defense.
THIS
is why Steve Sarkisian hired Justin Wilcox to coordinate his defense. After three years of getting run over by Stanford, the Huskies held the Cardinal to just 235 total yards. Stanford rushed for 446 last year.
Stat of the game:
The Huskies outrushed Stanford 136 yards to 65. Anyone see that coming?
Unsung hero of the game:
Huskies receiver
Kasen Williams
caught 10 passes for 129 yards, with a 35-yard touchdown that gave the Huskies their go-ahead points. It was a short toss into the flat on which Williams did nearly all the work on his own. By the way, the Huskies passed for just 177 total yards.
Worst call:
Stanford opted to go big with the fade route on fourth-and-4. The play works, it's brilliant. But it didn't this time.
What it means:
The problem for the Pac-12 with the Huskies' victory is that LSU stomped Washington 41-3 on Sept. 8. That will resonate nationally when folks compare conferences. As for the Pac-12 picture, the Huskies take a step forward and Stanford takes a step back. And this further diminishes USC, which lost 21-14 at Stanford on Sept. 15.
September, 27, 2012
9/27/12
5:44
PM PT
SEATTLE -- Tonight's Washington-Stanford matchup offers a couple of unique chances for both teams to make statements.


For the Huskies, it's a chance to show that they are better than the product they put on the field the last time they played a top-10 team. For those with a short memory, that would be the 41-3 loss on Sept. 8 at LSU. The Huskies have notched victories over San Diego State (21-12) and Portland State (52-13).
For the No. 8 Cardinal, it's their first time taking the field since knocking off USC nearly two weeks ago in Palo Alto. A few Stanford players have already said they feel better prepared this season to handle the expectations of being a top-10 team.
But the biggest winners tonight -- with strong performances -- could be Stanford running back
Stepfan Taylor
and/or Washington quarterback
Keith Price
.
Taylor has received a few votes in the ESPN.com Heisman poll, but isn't much of a national name. With a strong performance (he rushed for 138 yards on 10 carries last year against the Huskies), Taylor might finally gain a little recognition outside of the West Coast. Tonight's game is national, so it's a good chance for the rest of the country to learn about the back Stanford coach David Shaw calls the most underrated in the country.
Same for Price. He received a little preseason Heisman buzz, but most of it fizzled after the flop at LSU. A strong performance against the No. 8 team in the country -- which has an A-list defense -- could certainly put him back on a few radars.