Washington Huskies:

Avery Patterson
October, 7, 2012
10/07/12
1:13
AM PT
EUGENE, Ore. -- There was just a smidgeon of tension late in Chip Kelly's post-game news conference after Oregon whipped Washington
52-21
. Reporters tried to draw out an iota of special emotion from Kelly in reaction to a ninth consecutive victory -- each by at least 17 points -- over the Ducks' archrival, but Kelly wasn't biting.
Kelly has repeatedly told reporters that every game is the same, meriting the same complete commitment to preparation and focus. This has devolved into the "every game is a rivalry game" quip from him to all questions on the Ducks' heated and historical rivalries.
"You can shrug your shoulders but, I'll tell you what, our formula for success has worked every single time," Kelly said. "Every single game is the most important game we play."
Kelly did admit such an approach wasn't good for reporters' copy. And you could, perhaps, quibble with his refusal to at least humor on occasion the feelings his fan base hold for the Huskies, such as not announcing that Washington coach "Steve Sarkisian is a good friend of mine," the very idea of which will make some Oregon fans cringe.
But you can't argue with the results. On a day when No. 3 Florida State, No. 4 LSU and No. 5 Georgia crashed and burned, the Ducks made another ranked foe look like a Pinto trying to keep up with a Lamborghini. They further solidified their standing as the nation's No. 2 team, which puts them in position to play for the national title for a second time in three seasons.
[+] Enlarge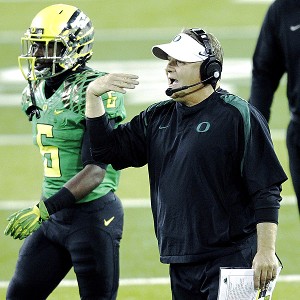 AP Photo/Don RyanOregon coach Chip Kelly reached 40 wins faster than the likes of Bear Bryant and Bobby Bowden.
The simple fact is this: Though we've only reached midseason, Oregon already has distinguished itself among its Pac-12 brethren. Only the Ducks and Oregon State remain unbeaten. Oregon dispatched Arizona 49-0, a team that pushed the Beavers and Stanford to the limit in thrilling games. And Oregon now has whipped Washington, which beat Stanford. And Stanford beat USC.
Yes, the Pac-12 blog is on record -- repeatedly -- as being against the transitive property of college football, of comparing various results of games and reaching grand conclusions. But it's hard to ignore what Oregon has done so far compared to its rivals. Er, other Pac-12 teams.
The Ducks' average margin of victory is 32.3 points. Their closest decisions was in Week 2 against Fresno State, a 42-25 decision. They are playing well on both sides of the ball. They've reacted to injuries to major players with little more than a shrug: "Next guy in," they all say.
That preseason concern that perhaps redshirt freshman quarterback
Marcus Mariota
wouldn't be up to the pressure and week-to-week demands of being a Pac-12 quarterback? He bounced back from a middling showing in the victory over Washington State by throwing four touchdown passes and showing excellent running skills and pocket presence against Washington.
"He's showed improvement," Kelly said. "That's something awesome about Marcus. Very rarely does he make the same mistake twice."
Oregon led the No. 23 Huskies 21-0 after a quarter following a pick-six from safety
Avery Patterson
. It was his second in two weeks, and the Ducks now have returned four interceptions for touchdowns, tying a school record.
The 35-7 margin at halftime made it clear that there would be no intrigue. Washington moved the ball well at times, but the Huskies were done in by five turnovers -- two interceptions, three fumbles. They produced one play over 16 yards -- a 28-yard pass. The Ducks, meanwhile, had six plays of 20 or more yards.
If you need further validations of Kelly's concepts, consider this. He is now 40-6 as the Ducks' head coach. He won his 40th game sooner than Bobby Bowden (49), Pop Warner (59), Bear Bryant (57) and Joe Paterno (51).
So, you know, he's ahead of pretty good rivals. Er, company.
Oregon is off this week, but don't say that to Kelly, for this is an "improvement week." After all that improving, the Ducks will turn their focus to a visit to Arizona State on Thursday, Oct. 18. The Sun Devils are playing really well under new coach Todd Graham.
Of course, you know what's coming, don't you?
Said Kelly, "Arizona State is the next rivalry we have."
October, 6, 2012
10/06/12
11:29
PM PT
Make it nine in a row for the
Oregon Ducks
over the
Washington Huskies
. The Ducks jumped out to a 21-0 lead before pulling away for
a 52-21 win
. The Ducks have won all nine games by at least 17 points. Here's how it all went down at Autzen.


It was over when
: In the first quarter, the Huskies had just made their second-consecutive stop on defense. But the Huskies muffed the ensuing punt and on the next play,
De'Anthony Thomas
darted for a 16-yard score. It seemed like all the life just got sucked out of Washington as the Ducks put up 21 in the first quarter.
Game ball goes to
: Oregon quarterback
Marcus Mariota
. When he wasn't jumping out of sacks (that was sick athleticism), he was tossing four touchdowns on 15-of-24 passing. He did have one interception early, but bounced back to hit
Colt Lyerla
twice,
Josh Huff
and
Keanon Lowe
for scores.
Second game ball
: Nick Aliotti. Oregon's defensive coordinator has this defense playing awfully good ball. The Ducks forced five turnovers and twice stopped the Huskies on fourth down. Most of Washington's 353 yards came in the second half when the game was out of reach.
Stat of the game
: 3.
Avery Patterson
picked off
Keith Price
in the first quarter and returned it 43 yards for a touchdown. The Ducks have now had a pick-six in three straight games.
What it means for Oregon
: For the Ducks, they hold serve -- and get some style points along the way -- as other top 10 teams behind them collapse. The number of undefeated teams is dwindling and Oregon is right where it needs to be. If anyone was still awake on the East Coast, they saw a dominating performance on both sides of the ball.
What it means for Washington
: Much like their debacle at LSU, the Huskies will have to regroup with No. 13 USC coming to town next week. For as high as they were flying after last week's win over Stanford, this was another throttling by a top-5 team. Head coach Steve Sarkisian has to get the troops to shake this one off.