Desmond Trufant to join family business
March, 13, 2013
Mar 13
7:00
AM PT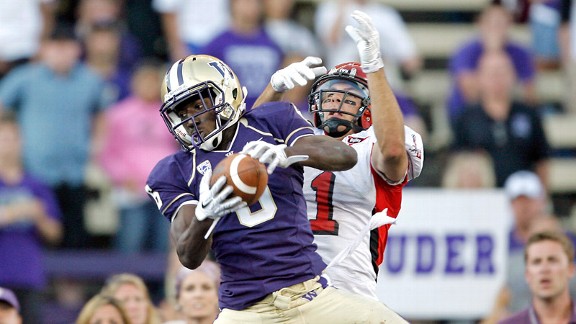 Joe Nicholson/US PRESSWIREWashington CB Desmond Trufant shows off the sure hands that will have him joining older brothers Marcus and Isaiah as an NFL cornerback.
SEATTLE -- Tucked toward the back of Washington's athletic facilities is the Conibear Shellhouse.
The building houses the university's student-athlete education center, a dining hall and is home to the Huskies' crew team.
Built on the shore of Lake Washington, the facility features a scenic backdrop, a waterfront view
Desmond Trufant
has enjoyed throughout his four years as a cornerback at Washington.
Just days before the 22-year-old potential first-round NFL draft pick planned to participate in Washington's March 13 pro day, Trufant settled into a metal chair on a deck at the back of the building.
Wearing a gray Nike sweatshirt and black sweatpants, Trufant talked about the highs and lows of a college career that went by in a blink. He talked about the pressure of proving he could play at the Senior Bowl and NFL Scouting Combine. And he talked about growing up with two older brothers who paved a path for him to become the person and player he is today.
"It's a dream," Trufant said. "It's surreal what's happening right now. I'm just enjoying it."
Long before he was a 6-foot, 190-pound four-year starter for the Huskies, he was just a kid trying to keep up with his older brothers, Marcus and Isaiah, who are both NFL cornerbacks. With the better part of a decade separating Trufant from his older siblings, he said he was forced to "push his way onto the court" growing up.
"They would push me off sometimes, but I think that's helped me over the years," he said. "It's definitely translated into my game. I'm a real competitive, edgy person."
He said his older brothers are much more relaxed and reserved on the field. Being forced to fight for his spot as a child pushed him to be the player who anchored Washington's secondary in 2012.
While the brothers have different demeanors on the field, Trufant has learned a lot from Marcus and Isaiah.
"They paved the way for me," Trufant said. "It was easy for me to see the path to get to the top. I just tried to follow it."
After standout careers at Tacoma (Wash.) Wilson, Marcus played college football at Washington State, Isaiah went to Eastern Washington and Desmond stayed closer to home with the Huskies.
Three brothers. Three colleges. Three NFL cornerbacks.
Of all the advice the brothers have shared over the years, the importance of confidence is what sticks with Desmond.
"At corner, you're going to get beat," he said. "That's just the nature of the game. Can you come back and make a big play the next play?"
It took Trufant just four games to become a starter for the Huskies. Over his four years in the program, he learned to enjoy success and work through failure.
"I had a lot of ups and downs in my career," he said. "I started off great some seasons and didn't finish so great other seasons, but I stayed resilient. I just kept working, kept grinding. I stayed confident."
His confidence is a byproduct of preparation.
"I believe you've got to work hard before the game, at practice, in the weight room," Trufant said. "And in the offseason, you've got to work hard then. That gives you the confidence to go into the game."
After finishing his senior season, Trufant spent time at Athletes' Performance in Phoenix, Ariz., before participating in the Senior Bowl. He impressed scouts by running a 4.38 40-yard dash at the NFL Scouting Combine.
"It was a really stressful time," Trufant said. "There was a lot of pressure, but I just stayed confident and just believed in myself, because I knew I was prepared. I did a lot of good things at the combine. Now I'm just taking it to the Pro Day."
Trufant will participate in Washington's pro day on Wednesday. His performance so far has prompted ESPN NFL Draft analyst Mel Kiper to list the corner as a
first-round pick

.
But while Trufant has heard a lot of talk about where he will begin his pro career, his focus is on making sure he is ready to play for whatever team selects him at the draft.
"I'm going to a whole different level now," Trufant said. "Everybody is bigger, faster, stronger now. This is the best in the world. I'm just getting into the game. I've got to step my game up. I'm never going to lose my hunger. That's one thing about me. I'm a very hungry person. I'm going to work hard. I've got a relentless drive.
"I think that's what's gotten me to this point. I'm just going to continue to open eyes. That's my whole plan."