October, 20, 2012
10/20/12
11:21
PM PT
In a game between 3-3 teams looking to turn a positive corner at midseason, Arizona took a right turn. And Washington crashed.


It wasn't surprising that the Wildcats offense poured it on in a
52-17 victory
, but it was a bit of a surprise that the defense pitched a second-half shutout.
The Huskies trailed 31-17 at halftime and got a turnover to start the third quarter, but quarterback
Keith Price
immediately fumbled the ball back to the Wildcats.
Arizona, now 4-3 overall and 1-3 in the Pac-12, piled up 533 yards against 380 from the Huskies. Arizona, the conference's top passing team, leaned on the running game against the Huskies, rushing for 277 yards, including 172 from
Ka'Deem Carey
. Quarterback
Matt Scott
did pass for 256 yards and four touchdowns.
The Wildcats play host to USC next Saturday, which could be an intriguing game, particularly with USC perhaps thinking about their Nov. 3 game with Oregon.
Washington falls to 3-4 and 1-3. It plays host to Oregon State on Saturday.
October, 19, 2012
10/19/12
10:09
AM PT
SPOKANE, Wash. -- There are moments as a sports writer when a plan comes together. And, after what transpired Thursday, I'm still having a hard time soaking in everything -- both the expected and unexpected.
The day started with a morning to drive to Spokane, Wash. I planned to talk to Notre Dame commit
Danny Mattingly
(Spokane, Wash./Mead) in the afternoon before watching sophomore quarterback Brett Rypien (Spokane, Wash./Shadle Park) play later that evening.
To continue reading this article you must be an Insider
October, 19, 2012
10/19/12
9:07
AM PT
By
RecruitingNation staff
| ESPN.com
David Dawson
decommited from Michigan and
Justin Manning
delayed his decision date, and that had a big-time ripple effect in
this week's #BlueChipBattles

, as more than half of the top 10 spots have new occupants.
October, 19, 2012
10/19/12
5:47
AM PT
SPOKANE, Wash. --
Austin Rehkow
approached his coach with a simple message.
"I want a shot at it," Spokane Valley (Wash.) Central Valley's senior kicker said. "I can make it."
To continue reading this article you must be an Insider
October, 18, 2012
10/18/12
8:00
AM PT
BELLEVUE, Wash. --
Calvin Throckmorton
started to laugh. He had just been asked what he found in football that attracted him to the sport.
"I love just being able to hit somebody and it being legal," he said.
At 6-foot-5, 240 pounds, the sophomore (Bellevue, Wash./Newport) enjoys the physical nature of the sport. He has been playing since fourth grade, working his way into the Knights' starting lineup early in his career.
To continue reading this article you must be an Insider
October, 18, 2012
10/18/12
7:00
AM PT
SEATTLE -- Here are five storylines as Washington prepares to play at Arizona this weekend:
1. Offensive opportunity:
Through six games this season, Arizona has allowed an average of 32.7 points per game. The Wildcats have given up an average of 297 passing yards and 181.8 rushing yards.
With Washington's offense working to get untracked, the Huskies have an opportunity exploit Arizona's defense. Washington has yet to score more than 21 points against an FBS program this season. Facing a Wildcats team that scores 37 points per game, the Huskies need to get their offense going if they are going to pick up a win on the road in Tucson, Ariz.
To continue reading this article you must be an Insider
October, 17, 2012
10/17/12
12:10
PM PT
Growing up,
Max Browne's
dream was to one day become the starting quarterback at Sammamish (Wash.) Skyline.
He wanted to follow in the footsteps of his brother, Mitch, who led the program to its first state title in 2000. He wanted to live up to the legacy set by Jake Heaps, who is now redshirting at Kansas after transferring from BYU. He wanted to join the fraternity of quarterbacks to pass through the program.
"That was definitely the goal," Browne said.
To continue reading this article you must be an Insider
October, 17, 2012
10/17/12
10:58
AM PT
SAMMAMISH, Wash. --
Max Browne
didn't care that he was surrounded by die-hard Washington supporters.
The 6-foot-5, 214-pound quarterback (Sammamish, Wash./Skyline) wasn't going to let a few fans keep him from supporting the program he plans to play for next season.
So, even though his section in the CenturyLink Field stands was full of purple and gold, the senior proudly sported his USC gear. He wore a Trojans hat and a black USC sweatshirt. He even brought a little "Fight On" sign.
To continue reading this article you must be an Insider
October, 17, 2012
10/17/12
9:05
AM PT
Troy Williams
stood on the CenturyLink Field sideline wearing a purple Washington beanie, a black hooded Huskies sweatshirt and a pair of black gloves that featured a "W" on each one.
The 6-foot-2, 190-pound quarterback (Harbor City, Calif./Narbonne), who committed to the Huskies in June, was in Seattle on an unofficial visit to watch Washington play USC.
It was the senior's first chance to see the team play in person. It was the first chance to familiarize himself with his future. It was the first chance to picture himself in the locker room, to get a feel for what Saturdays are like in a purple-and-gold uniform.
To continue reading this article you must be an Insider
October, 17, 2012
10/17/12
9:00
AM PT
The major preseason stories in the Pac-12 were four new coaches, the return of
Matt Barkley
, the nation's leading Heisman Trophy candidate, and USC and Oregon apparently headed for a showdown with national-championship implications on Nov. 3.
The major midseason stories are a little different.
USC and Oregon could still be an epic clash, just not as epic because USC already has lost. Also, Barkley's middling numbers for an offense that hasn't been consistently in sync have diminished the national perception of the Trojans. The Ducks are now the Pac-12 team at the center of the national discussion.
As for the four new coaches, three have gotten off to great-to-solid starts in year one. But how will they finish? And will Mike Leach get Washington State on track?
Will Arizona State maintain its fast start, or are the Sun Devils headed for a tough dose of reality as the schedule firms up, starting with Oregon on Thursday?
Speaking of fast starts: Oregon State. The Beavers have surged, and coach Mike Riley has moved from the hot seat to the throne of a national-coach-of-the-year candidate. Oregon and Oregon State are the only two unbeaten teams in the conference, so it's not inconceivable that the Civil War could be for the North Division crown, a spot in the Pac-12 title game and, perhaps, a chance to play for the national title.
It could become the season's true epic clash.
As for hot-seat talk, as distasteful as it is, nearly all of such focus will be on California coach Jeff Tedford. The Bears have won two in a row after a 1-4 start, but it remains in the air whether this team can be consistent enough to earn a bowl berth. A losing record wouldn't be good for Tedford.
[+] Enlarge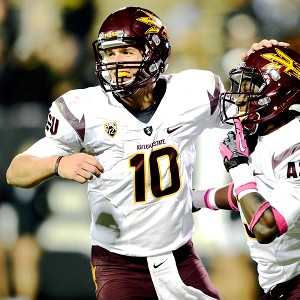 Ron Chenoy/US PresswireTaylor Kelly (10) and Arizona State could make a loud statement with Oregon coming to town.
Finally, in terms of individual awards, it will be interesting to see if any Pac-12 player emerges as a true Heisman Trophy contender. Might Barkley turn it up during the second half? Will Oregon's
De'Anthony Thomas
start to fill up "SportsCenter" with highlights? Is there a potential dark-horse candidate?
Ultimately, midseason reviews don't mean much. Teams and players can reverse course -- positively or negatively -- at any moment.
But what it is fair to say is there are plenty of rich plot lines heading into the season's second half, even if those were not the stories that advanced the season.
Bold prediction
: The conference will fill all seven of its bowl obligations, plus one. Oregon is already in; Oregon State, Arizona State, USC and UCLA are all one win from being bowl-eligible. If you follow the Sunday zaniness that is
our weekly bowl projections
, you know your bloggers project Oregon to the national championship, which opens up one more spot. We see Stanford and Washington bowling. That's seven right there. The eighth spot is up for grabs, with Arizona and Cal the likely candidates. Cal could get to .500 this week, then would need two more wins with Utah, Washington, Oregon and Oregon State remaining. If Arizona takes care of Colorado and Utah in the second half, that leaves it looking for one more win over from among Washington, USC, UCLA and Arizona State.
Looking forward to
: The race in the Pac-12 South. Once thought to be gift-wrapped for the Trojans, the recent inconsistent play of USC opens up the possibility of someone else as the South's representative in the title game. The Trojans are still the favorite, but Arizona State and UCLA aren't going to make it easy. Both of UCLA's losses have come to North Division teams, USC's loss was to Stanford and ASU's was out of conference. It's more wide-open than we ever could have imagined in August.
Top five games (by date, not importance):
Oct. 18, Oregon at Arizona State
: Time to find out if the Sun Devils are for real. They have the conference's No. 1 scoring defense facing Oregon's top-ranked scoring offense. The Sun Devils rank second in scoring. Both teams are getting phenomenal quarterback play and both like to work fast.
Oct. 27, UCLA at Arizona State
: This is a pivotal game in the aforementioned race for the South Division title. It features two explosive offenses and two of the league's brightest young quarterbacks. Some pretty good players from both defenses as well.
Nov. 3, Oregon at USC
: This is still the big one. An Oregon win gives the Ducks some much-needed national credibility, while a USC victory puts the Trojans back in the BCS championship hunt. Might be a last-gasp Heisman run for Thomas and/or Barkley.
Nov. 17, USC at UCLA
: A new chapter in this historic rivalry begins with Jim Mora at the helm for the Bruins. He has made them a player in the Pac-12 South, and lest we forget, coordinator Noel Mazzone's offense put up 43 points on USC last year when he was with ASU. This one could decide the South champion.
Nov. 24, Oregon at Oregon State
: The stakes could be stratospheric -- as in national championship implications for both schools. If the Ducks take care of business Nov. 3 and Oregon State can navigate a second-half schedule that includes Stanford and ASU, then all of Oregon will show up for what could conceivably be the Pac-12 game of the year.
October, 16, 2012
10/16/12
12:21
PM PT
Caleb Tucker
called his official visit to Washington the "icing on the cake."
The 6-foot-2, 225-pound linebacker (Monroe, La./Ouachita Parish) spent the weekend in Seattle. He toured the city and got better acquainted with his future teammates.
"It was awesome," the Washington commit said. "I really loved it. They really took care of me on my official."
To continue reading this article you must be an Insider
October, 16, 2012
10/16/12
9:16
AM PT
Each week, we will take a look at the performances of quarterback Keith Price and tight end Austin Seferian-Jenkins as they play toward potential postseason awards:
QB Keith Price, Jr.
(Maxwell, O'Brien): Price overcame a slow start -- he opened 0-for-3 with an interception -- against USC, stringing together a stretch of 16 straight completions at one point to keep the Huskies in the game. While he did finish with four turnovers, Price played well overall, competing 20 of 28 passes for 198 yards and a pair of touchdowns.
To continue reading this article you must be an Insider
October, 15, 2012
10/15/12
12:22
PM PT
Cameron Van Winkle
said the moment was set up perfectly.
It was just before halftime of Snoqualmie (Wash.) Mount Si's homecoming game and the senior kicker was one field goal away from setting the state's career record.
He lined up for a 30-yard kick and when it sailed through the uprights, his teammates spilled onto the field to celebrate with him.
To continue reading this article you must be an Insider
October, 15, 2012
10/15/12
11:28
AM PT
SEATTLE -- Six games into the 2012 season Washington has worked its way through a brutal schedule that featured four games against programs that have spent time ranked in the top 10 this season.
The Huskies pulled off one upset -- Stanford -- but have suffered back-to-back losses to Oregon and USC.
As the program prepares for the second half of its schedule, things don't get much easier, with the next two weeks featuring a trip to Arizona before a home matchup against No. 8 Oregon State.
To continue reading this article you must be an Insider
October, 15, 2012
10/15/12
9:36
AM PT
For
Sean Harlow
, Washington's 24-14 loss to USC was the senior's first chance to watch the Huskies play in Seattle.
But, after flying home to California, the loss wasn't the first thing the 6-foot-5, 260-pound offensive lineman (San Clemente, Calif./San Clemente) mentioned when recapping the experience.
"I thought it was good," Harlow said. "It was my first time up there for a game. I thought it was really cool how into it the crowd got. It was definitely a home-field advantage. They get super loud when the opposing team is on offense and quiet down a bunch when they're on offense."
To continue reading this article you must be an Insider