January, 17, 2014
1/17/14
11:00
AM PT
When USC defensive back
Josh Shaw
learned Steve Sarkisian would be the Trojans' new head coach, it was as if a four-year-old wish was finally granted.
[+] Enlarge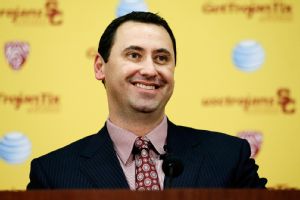 AP Photo/Jae C. HongDespite the familiarity, Steve Sarkisian says it will take some time before he feels "settled" at USC.
During the recruiting process, Shaw, a Southern California native, developed a strong bond with Sarkisian. Shaw liked Sarkisian and so did Shaw's family, but Washington wasn't the right fit. Shaw had his sights set on the SEC and chose Florida.
"I wanted to play for Coach Sark," Shaw said, "but you never choose a school for the coach."
Shaw's career path is a case in point.
He played for two coaches in two years at Florida -- Urban Meyer and Will Muschamp -- three coaches last year at USC -- Lane Kiffin, Ed Orgeron and Clay Helton -- and Sarkisian will become No. 6 in five seasons when the Trojans open at home against Fresno State on Aug. 30.
For Shaw, adjusting to a new head-coaching personality has become old hat, and he said the transition at Florida was similar to the most recent change at USC.
"Coach Muschamp came in, [and] he gained our respect instantly," Shaw said. "We knew he had the team's best interest at heart. He wanted to win; we wanted to win."
And Sarkisian?
"That first meeting [on] the day he was hired, he told us he didn't expect for us to trust him right away and that it's earned," Shaw said. "He said it was going to be a process that he'll work at."
So far, so good.
Despite not having played a game for Sarkisian, he was one of the crutches Shaw leaned on the most after the bowl game and before deciding to return to USC for his final year of eligibility.
"There was already some familiarity with us [because of recruiting], but after several talks, we've grown closer," Shaw said. "We sat in his office, and he looked me right in the eye as we discussed what would be the best decision for my future."
The same guidance was there for the five players who opted to enter the NFL draft --
Marqise Lee
,
Xavier Grimble
,
Marcus Martin
,
George Uko
and
Dion Bailey
-- but Sarkisian said he wasn't caught off guard by any of their decisions.
"For those guys that have been here for three and four years, I knew I wasn't going to win them over in one 30- or 40-minute meeting," Sarkisian said. "I just let them know I would be there for them one way or another. For the guys that decided to leave, we're going to do everything we can to support them, too."
When Sarkisian started meeting with players individually, there were two points he wanted to cover right away.
"I think, first and foremost, they understand why I chose to come to USC," Sarkisian said. "And that's to be the best. I want to coach with the best coaches; I want to coach the best players.
"The second piece is I wanted to learn why they chose USC. A lot of times it's for the the same reason, to win championships."
Winning championships is all Sarkisian knew in his previous stints with the Trojans.
After he was elevated from offensive assistant to quarterbacks coach under Pete Carroll in 2002, USC earned at least a share of the conference title each season Sarkisian was on staff. He took a foray into the NFL as quarterbacks coach of Oakland Raiders in 2004, but aside from that, he was there for six of the seven BCS bowl berths during Carroll's tenure.
His last season on staff before taking over at Washington in 2009 also happens to be the last time USC won a conference title.
Despite being home in Southern California and his familiarity with USC, "settled" isn't the term Sarkisian would use to describe his current situation, and he doesn't expect that to change for some time.
"I don't know in Year 1 if you're ever settled in," he said. "Certainly not in six weeks. There are just so many facets to the job, new problems you have to work through, everything is constantly moving."
Especially when it comes to hiring a coaching staff and recruiting.
Sarkisian's staff appeared to be set before defensive line coach Bo Davis, a week after joining the staff at USC, had a change of heart and opted to
join Nick Saban's staff at Alabama
.
With national signing day on Feb. 5, Sarkisian had to move fast to find a replacement. He
settled on Georgia's Chris Wilson
, a former defensive coordinator at Mississippi State, after contacting "some of the best defensive line coaches in the country."
USC will begin spring practice on March 11.
October, 30, 2013
10/30/13
2:00
AM PT
1. BYU is 6-2, has an invitation to the Kraft Fight Hunger Bowl in San Francisco, and after a bye week will play at No. 24 Wisconsin. Two weeks after that comes a road trip to No. 25 Notre Dame. In pointing out the home games the Cougars have played (and won) against Texas, Georgia Tech and Boise State, BYU head coach Bronco Mendenhall said, "It's really what we were hoping when we became independent." That's rough scheduling for the Badgers, who must take their focus away from the Big Ten for a non-conference game that will be no pushover.

2. The last two times Boston and St. Louis faced one another in the World Series -- 1967 and 2004 -- USC won the national championship a few weeks later. So much for an omen this year. However, in 1946, when the Red Sox and Cardinals first played in the Fall Classic, USC finished 6-4. Right now, the Trojans are 5-3 and have consecutive road games at Oregon State and California. They very easily could be 6-4 after those two games.

3. Ohio State pointed out over the weekend that Urban Meyer is the first FBS head coach to have three 20-game winning streaks in his career. Meyer is 19-0 with the Buckeyes and won his final game at Florida in 2010. Over 28 seasons at Ohio State, the legendary Woody Hayes won 20 consecutive games only once. From 1967 through the next-to-last game of 1969, Ohio State won 22 straight, but Hayes' winning streak stopped at Michigan. If Meyer is to break Hayes' school record, victory No. 23 will come, yes, at Michigan.
October, 25, 2011
10/25/11
9:40
AM PT
Coaches and athletes are vindictive. You know it. I know it. It's the nature of competition to hold grudges against those who beat you. When athletes and coaches say last year's game doesn't matter, or they're not interested in revenge for some slight -- real or imagined -- reporters should be allowed to slap them on their foreheads for being so disingenuous.
I, for one, would enjoy that, though there are several players -- Vontaze Burfict, David DeCastro, to name a couple -- for whom I'd take a pass on the forehead slap, even if it were officially sanctioned.
We bring this up because USC's second-half schedule is so rife with revenge scenarios that it feels like Charles Bronson should take over for
Matt Barkley
at quarterback.
And it's already off to a good start for the 6-1 Trojans. Notre Dame? Check. The Trojans took revenge for their 20-16 loss last year, which ended an eight-game winning streak in the rivalry series, with a 31-17 pounding of the Fighting Irish last Saturday inside a Notre Dame Stadium brimming with 80,000 stunned fans.
That, however, is just the beginning. USC's "Revenge 2011?" tour continues Saturday with a visit from Stanford.
The Cardinal have won two in a row against USC. Last year, they broke the Trojans hearts, 37-35, with a game-winning field goal with four seconds left. And the year before, you might recall, was the "What's your deal?" game, with former Stanford coach Jim Harbaugh running up the score in a 55-21 victory, including going for two when the game was well in hand. Further, the Trojans fifth-year seniors will remember the 24-23 loss in 2007 when Stanford was a 41-point underdog and USC was expected to be in the national title hunt.
Further, Barkley has been
fairly honest about how he's competitive
with Stanford quarterback
Andrew Luck
. This will be his last shot at him as the Trojans quarterback.
So, yes, the Trojans should have some feelings about the Cardinal.
Then, after playing Colorado, USC plays Washington, Oregon and UCLA on consecutive weekends.
USC has lost two in a row to Washington since former Trojans offensive coordinator Steve Sarkisian took over in 2009. Sarkisian and USC coach Lane Kiffin are good buddies, which means Kiffin wants to beat him almost as much as he'd like to beat, say, Urban Meyer, who is not a good pal.
As for the Oregon, Chip Kelly's Ducks have whipped USC in consecutive games by 27 and 21 points. The Ducks also have displaced the Trojans as the Pac-12's preeminent power.
And, finally, USC could hammer the final nail into embattled UCLA coach Rick Neuheisel's coffin on Nov. 26. That's the sort of thing Trojans live for, right?
The big question for USC in the preseason was how would it maintain consistent motivation with no chance to play in the postseason due to NCAA sanctions. Well, they seemed to have saved their best football for the last two weeks, whipping California 30-9 the Thursday before the Notre Dame trip.
That maligned USC defense? It gave up just one touchdown apiece to Cal and Notre Dame. The vaunted Irish offense had just 267 yards and only 41 yards rushing.
The questionable running game? USC rushed for 219 yards at Notre Dame.
Sloppy play? USC had just two penalties and no turnovers against the Irish.
It would appear the Trojans are finding their rhythm under Kiffin. There's also good reason to believe they will be plenty motivated down the stretch, even without the postseason.
What does that mean?
Probably this: Be wary of the Trojans.
PAC-12 SCOREBOARD
Thursday, 9/3
Friday, 9/4
Saturday, 9/5