USC Trojans:

Tramayne Bondurant
March, 26, 2014
3/26/14
12:00
PM PT
You remember the three-headed monster, right? It's about returning production that will scare -- terrify! --opponents. Or not.
On offense, it's elite combinations at quarterback, running back and receiver.
On defense, it's elite combinations of a leading tackler, a leader in sacks and leader in interceptions.
This year, we're breaking things down by division. We've already done offense for
the South
and
North
divisions.
Next up: South Division defensive three-headed monsters.

1. USC
LB
Hayes Pullard
, DT
Leonard Williams
, S
Su'a Cravens
The skinny
: Pullard was second-team All-Pac-12 after leading the Trojans with 94 tackles. While DE
Devon Kennard
led the Trojans with nine sacks last year, Williams was a force inside with six. It's also possible, of course, that attention to Williams, a certain preseason All-American, will open things up for a DE/OLB, such as
J.R. Tavai
. Cravens is likely to become as a true sophomore an all-conference performer. He had four interceptions last year, second on the team.

2. UCLA
LB
Eric Kendricks
, OLB
Kenny Orjioke
, CB
Ishmael Adams
The skinny
: Kendricks ranked third in the Pac-12 with 8.8 tackles per game last year. Does he finally break through on the all-conference team after two years as an honorable mention? Orjioke is the frontrunner to replace
Anthony Barr
. He's 6-foot-4, 240 pounds and has tons of potential. He, however, had just 12 tackles and two sacks as a sophomore. Adams led the Bruins with four interceptions last year.

3. Arizona
LB
Scooby Wright
, DE
Reggie Gilbert
, "spur" LB
Tra'Mayne Bondurant
The skinny
: Wright earned honorable mention All-Pac-12 as a true freshman, finishing with 83 tackles, including 9.5 coming for a loss. With both MLB
Jake Fischer
and weakside LB
Marquis Flowers
gone, he seems like a favorite to lead the team in tackles, even if he stays at strongside backer. Gilbert ranked second on the team with four sacks, though it's possible the Wildcats defense will do some juggling to increase anemic sack numbers this fall. Or a new guy, such as LB
Antonio Smothers
or DL
Jeff Worthy
, will break through. Bondurant, a hybrid LB/safety, led the Wildcats with four interceptions in 2013.

4. Arizona State
LB
Salamo Fiso
, DE/OLB
Viliami Latu
, S
Damarious Randall
The skinny
: The Sun Devils are replacing nine starters on defense, but Randall and Fiso are two of the three returning starters. It is notable that coach Todd Graham has been moving guys around on defense this spring, so ultimate positions are a matter of conjecture at this point. Fiso ranked fourth on the team with 71 tackles. Sophomore Latu might have a lead in the battle to replace
Carl Bradford
at the highly productive "devil" LB position. Randall had three interceptions last year.

5. Utah
LB
Gionni Paul
, OLB
Jacoby Hale
, S
Eric Rowe
The skinny
: Paul, a Miami transfer, is drawing raves this spring. He was a terror on the scout team a year ago. Hale is likely to replace
Trevor Reilly
, who led the Utes in tackles and sacks last year, at the "stud" linebacker. He was second on the Utes with 10 tackles for a loss and 6.5 sacks a year ago. As for the Utes' leader for interceptions, well, funny you should ask about a team that had just three picks all of last year, tied for fewest in the nation. We're going with Rowe, even though he didn't have a pick in 2013 and had just one in 2012.

6. Colorado
LB
Addison Gillam
, TBA, CB
Greg Henderson
The skinny
: Along with Wright and UCLA's
Myles Jack
, Gillam was a true freshman LB revelation last year. He led the Buffaloes with 107 tackles. He might be a good bet to lead the team in sacks, too. The Buffs are replacing leading sacker
Chidera Uzo-Diribe
(4), and it's unclear who will fill that void. D-lineman
Samson Kafovalu
is a possibility, but he's sitting out spring focusing on academics.
Derek McCartney
-- yeah, that McCartney -- has been playing well this spring. Henderson led the Buffaloes with four picks a year ago.
March, 7, 2014
3/07/14
8:00
PM PT
Our look at position groups in the Pac-12 continues with the safeties.

Arizona:
The Wildcats have a lot of experience at safety with a combined 78 starts between
Jourdon Grandon
,
Tra'Mayne Bondurant
and
Jared Tevis
. All three of their backups on the AdvoCare V100 Bowl depth chart --
Anthony Lopez
,
William Parks
and
Jamar Allah
-- also return.

Arizona State:
Damarious Randall
returns as one of the more talented safeties in the conference after a season in which he finished tied for third on the team with 71 tackles.
Marcus Ball
is a strong candidate to eventually earn the job next to Randall, but he's still working his way back from a clavicle injury that cost him the 2013 season.
Laiu Moeakiola
, who appeared in 10 games last year as a reserve,
James Johnson
,
Jayme Otomewo
and
Ezekiel Bishop
are other names to watch.

California:
Cal started five different players at safety last year and four of them --
Michael Lowe
,
Cameron Walker
,
Avery Sebastian
and
Damariay Drew
-- will be back. Sebastian began the year in the starting lineup and had an interception and 10 tackles before suffering a season-ending Achilles tear in the first half of the season opener. Look for him to regain his starting job next to Lowe.

Colorado:
The Buffs need to replace SS
Parker Orms
, who had 26 career starts and 10 last season, but FS
Jered Bell
will return. All three of the players competing to replace Orms --
Marques Mosley
,
Terrel Smith
and
Tedric Thompson
-- have started at least three games. Smith redshirted last season after he underwent shoulder surgery and has 19 career starts.

Oregon:
The Ducks lose both
Brian Jackson
and
Avery Patterson
from a secondary that has consistently been among the nation's best. Fifth-year senior
Erick Dargan
, Patterson's high school teammate, looks to slide into his first full-time starting role after three years of meaningful contributions on both special teams and reserve duty. Opposite him,
Issac Dixon
is the presumed favorite with
Tyree Robinson
and
Reggie Daniels
also in the mix.

Oregon State:
The Beavers have both
Ryan Murphy
and
Tyrequek Zimmerman
back for their third year as starters, which should help soften the blow of losing CB
Rashaad Reynolds
. A few others to watch are sophomore
Cyril Noland-Lewis
,
Justin Strong
,
Brandon Arnold
,
Zack Robinson
and walk-on
Micah Audiss
, who was No. 2 behind Zimmerman in the season-ending depth chart.

Stanford:
Ed Reynolds
' early departure for the NFL creates the one real unknown spot for the Cardinal. Two former offensive players -- QB
Dallas Lloyd
and WR
Kodi Whitfield
-- are in the competition for the vacant spot, as is
Kyle Olugbode
.
Zach Hoffpauir
will join the competition once baseball season is over. The winner will play next to
Jordan Richards
, a senior who has started the past two seasons and played regularly as a freshman.

UCLA:
Starters
Randall Goforth
and
Anthony Jefferson
are both back after being named all-Pac-12 honorable mention last season. Two names to watch are
Tahaan Goodman
and
Tyler Foreman
, both of whom arrived as part of the Class of 2013.

USC:
Su'a Cravens
and
Josh Shaw
are back, but the Trojans will have to replace
Dion Bailey
, who left early for the NFL after converting to safety from linebacker last year. Shaw could wind up back at corner, which would open the door for
Leon McQuay III
.
Gerald Bowman
got a medical redshirt after appearing in three games last year and should provide depth.

Utah:
Veteran
Eric Rowe
is set to begin his fourth year as a starter in the Utes' secondary, but he'll play next to a new player with
Michael Walker
out of eligibility.
Charles Henderson
was Walker's primary backup last season, but look for junior-college transfer
Tevin Carter
-- a former Cal Bear -- to challenge him for the starting job.

Washington:
The Huskies are looking to fill both starting spots and will likely do so with young players. Sophomores
Brandon Beaver
,
Kevin King
and
Trevor Walker
all saw spot duty last year and the program signed an impressive crop of high school safeties, including Bellevue's
Bishard "Budda" Baker
.

Washington State:
Replacing
Deone Bucannon
means replacing one of the school's all-time greats at his position.
Isaac Dotson
looks like the favorite to take that spot, but will be pushed by
David Bucannon
,
Darius Lemora
and true freshman
Markell Sanders
, who arrived for spring practice.
September, 8, 2013
9/08/13
10:00
AM PT
Five things we learned about the Pac-12 in Week 2.
The Pac-12 can rally: After going 7-3 in Week 1, the most disappointing of those losses being Oregon State's loss to Eastern Washington, the Pac-12 bounced back in Week 2, going 8-0 in its nonconference games. Most were blowouts. Some were dicier (cough, Cal, cough, Colorado, cough, Oregon State, sort of), but they were wins nevertheless. It was the kind of week the Pac-12 needed heading into a Week 3 that will see a significant uptick in the competition. The Pac-12 faces four Big Ten teams, three of which are ranked. And through the first two weeks of the season, the combined record of the nonconference foes in Week 3 is 18-2. The bar is raised. Despite the close calls, some very strong performances from ASU, Arizona, Utah and Stanford should not go unmarked. And does anyone else get the feeling that when Central Arkansas took a 24-17 lead in the fourth, the old Buffs would have wilted? Kudos to Mike MacIntyre for rallying his team (getting turnovers helps).

[+] Enlarge

AP Photo/Andrew ShurtleffDe'Anthony Thomas had little trouble against Virginia, but the Oregon offense wasn't perfect.

Good can be better: We know Oregon is good. We also know the Ducks can be better. For the second straight week, De'Anthony Thomas and Marcus Mariota rushed for at least 100 yards (124 for DAT, 122 for Mariota) and the scoreboard shows a dominating performance over Virginia. But there were uncharacteristic drops. Four drives stalled and turned into punts. And while we concede that Oregon will in fact have to punt from time to time, we certainly don't expect drives of three plays, 2 yards; three plays, minus-1 yard; three plays, minus-9 yards. Take it as a compliment that you can beat a BCS conference opponent, on the road, 59-10 and still have things to work on.
Lane Kiffin is on fire (not in a good way): The hottest seat in America just got a healthy dusting of thermite. The quarterback soap opera, which is now turning into horrific reality TV, is overshadowing what should be a couple of great performances from USC's defense. And it's actually gotten to the point where the quarterback play is hurting the defense. In USC's loss to Washington State, Cody Kessler was 8-of-13 for 41 yards with a pick-six. Max Wittek was 3-of-8 for 13 yards with an interception. Through two games, the quarterbacks are a combined 26-of-50 for 226 yards with one touchdown and three interceptions. Want some perspective? Arizona safety Tra'Mayne Bondurant has more interceptions returned for touchdowns (two) than both USC quarterbacks have touchdown passes. This make-or-break season for Kiffin is breaking, rapidly. Hats off to the Cougs, who have beaten two Top 25 teams in their last three games.
Goff and Wilson, young guns: The Utes have been star-crossed at quarterback the last couple of seasons, but they appear to have something special in Travis Wilson. Per ESPN Stats and Information, Wilson's showing against Weber State was one of the finest quarterback performances in the last decade. His raw QBR rating was 99.7. Raw meaning it will be adjusted to reflect quality of competition -- so it will drop. Still, he averaged 16.2 yards per play, accounted for five touchdowns and his rating of 99.7 is the eighth-ranked single-game score by any quarterback with at least 25 action plays since 2004 (fifth in the last five seasons). It's the highest total QBR with that many action plays since Andrew Luck posted a 99.9 versus Cal back in November 2010. If you still aren't up on the QBR, click here. You'll be seeing it a lot on the blog this season -- especially with quarterbacks like Mariota, Brett Hundley, Taylor Kelly, Kevin Hogan, Keith Price and apparently, Wilson. Speaking of bright young quarterbacks, also per our friends at Stats and Info, Cal's Jared Goff has 930 passing yards in two games. That's the second most by a quarterback in his team's first two games since 2000 (Colt Brennan had the most in 2007).
Stanford owns Cali: Stanford coach David Shaw improved to a perfect 10-0 against schools from California. The Cardinal's 34-13 win over San Jose State moved him to 3-0 against the Spartans since taking over in 2011. He's also 2-0 against USC, 3-0 against UCLA and 2-0 against California. If anyone is curious, the margin of victory in those 10 games is 16.1 points. But that's a bit skewed by a pair of 2011 victories over San Jose State (57-3) and UCLA (45-19). There have been some tight ones, like the three-overtime USC game in 2011, 31-28 over Cal in 2011, 20-17 over San Jose State in 2012, 27-24 over UCLA in 2012 and 21-14 over USC in 2012. Still, perfect is perfect.
September, 3, 2013
9/03/13
11:30
AM PT
I wanna publish zines, and rage against machines;
I wanna pierce my tongue, it doesn't hurt, it feels fine.
September, 1, 2013
9/01/13
9:00
AM PT
Oregon State QB
Sean Mannion
threw for 422 yards, and receiver
Brandin Cooks
had 13 catches for 196 yards in the Beavers' upset loss to Eastern Washington, but you don't get a helmet sticker when your team loses to an FCS foe.
So who does?

Andy Phillips, K, Utah
: This might be the best story of the week, as Phillips, a former U.S. alpine skier who had never played competitive football before his kickoff against Utah State, kicked field goals of 45, 19 and 38 yards and was perfect on three extra points in the Utes' 30-26 victory. Oh, and he perfectly executed an onside kick that might have been the biggest play of the game.
See this video
.
Dion Bailey, S, USC
: Bailey's switch back to his native position of safety from linebacker paid off against Hawaii. He led the Trojans' defense with seven tackles, a sack and an interception in their 30-13 victory.
Keith Price, QB, Washington
: A poor 2012 season is officially old news for Price. In the Huskies' 38-6 win over No. 19 Boise State, he completed 23 of 31 passes for 324 yards with a pair of touchdowns, which gave him 56 for his career, a new school record, eclipsing Cody Pickett. He also rushed for 25 yards. His efficiency rating of 176.8 would have led the nation in 2012.
Washington's defense
: The Huskies held Boise State to their lowest point total since 1997 (a 58-0 loss to Washington State). The Broncos gained only 3.9 yards per play. Their longest running play from scrimmage was 18 yards. The Huskies are paying second-year coordinator Justin Wilcox a lot of money. He is worth it.
Brett Hundley, QB, UCLA
: Hundley completed 22 of 33 passes for 274 yards with two touchdowns and no interceptions in the Bruins' 58-20 win over Nevada. He also rushed for 63 yards on seven carries with two TDs. The Bruins' offense, guided by Hundley, gained 647 yards.
Chris Harper, WR, California
: Harper caught 11 passes for 151 yards and two touchdowns in the Bears' 44-30 loss to Northwestern.
Marcus Mariota, QB, Orego
n: Marriota rushed for 113 yards and two TDs on just five carries -- 22.6 per rush -- and passed for 234 yards and a score in the Ducks' 66-3 blowout win over Nicholls State.
Tra'Mayne Bondurant, S, Arizona
: Bondurant had two interceptions in the Wildcats' 35-0 won over Northern Arizona, including one he returned 23 yards for a touchdown. He also tied for the team lead with seven tackles, adding one for a loss.
October, 22, 2012
10/22/12
11:20
AM PT
USC Trojans (6-1 overall, 4-1 in Pac-12) vs. Arizona Wildcats (4-3 overall, 1-3 in Pac-12)
Date:
Saturday, October 27
[+] Enlarge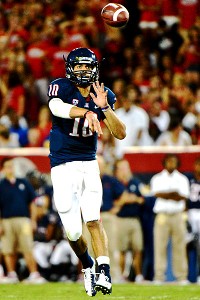 Matt Kartozian/US PresswireDual-threat QB Matt Scott leads a potent Arizona offense.
Time:
12:30 p.m. PT
Location:
Wildcat Stadium (Tucson, Ariz.)
TV:
ABC or ESPN2
Radio:
ESPNLA 710 (pre-game show begins at 7 a.m. PT)
Scouting Arizona:
Arizona, under new coach Rich Rodriguez, snapped a three-game losing streak (all to ranked teams) with a convincing 52-17 win against Washington on Saturday.
The Wildcats sport a potent offense that is fifth nationally in total offense (548.7 yards per game, first in Pac-12) and passing offense (352.3 ypg, first in Pac-12) and 20th in scoring offense (39.1, second in Pac-12). Senior QB
Matt Scott
(200 of 311, 64.3 percent, 2,355 yards, 17 TD, eight INT in 2012, plus 65 carries, 265 yards, 4.1 avg, three TD) is fourth nationally in total offense (374.3, first in Pac-12). Sophomore RB Ka'Deem Carey (155 carries, 842 yards, 5.4 avg, 11 TD, plus 22 receptions, 222 yards, 10.1 avg, one TD) is 14th nationally in rushing (120.3, fourth in Pac-12), 16th in all-purpose running (154.3, third in Pac-12) and tied for 18th in scoring (10.3, second in Pac-12). Sophomore WR
Austin Hill
(44 receptions, 678 yards, 15.4 avg, seven TD in 2012), who is 14th nationally in receiving yards (96.9, fourth in Pac-12) and senior
Dan Buckner
(44 rec, 599 yds, 13.6 avg, 2 TD in 2012) are the top pass catchers.
On the other hand, UA's defense is in the bottom 20 nationally in total defense (464.7 yards per game, 11th in Pac-12). Junior MLB
Jake Fischer
(67 tackles, 4.5 for loss, two forced fumbles, two fumble recoveries) is the Pac-12's top tackler (9.6), while sophomore safety Tra'Mayne Bondurant (43 tackles, 10.5 for loss, one INT, 4 deflections, 1 forced fumble) and sophomore CB
Jonathan McKnight
(29 tackles, three INT, 3 deflections) lead the secondary. -- courtesy USC sports information
February, 23, 2012
2/23/12
10:34
AM PT
Pac-12 spring preview: South Division
Spring practice is almost here. Here's a snapshot at what to expect from the Pac-12 South in the coming weeks.

ARIZONA
Spring practice starts
: March 4
Spring game
: April 14
What to watch
:
Hello, my name is ... Like the other two teams in the South Division with new head coaches (Arizona State and UCLA) much of Arizona's first few weeks will be Rich Rodriguez evaluating his personnel and getting to know what he has to work with. Likewise, the players are going to have to figure out what this new coaching staff is about. Everything from how they do pre-practice stretches to how they call the cadence is going to change.
New scheme and a new scheme: A spread option on offense and a 3-3-5 on defense. That's a lot of new material to digest on both sides of the ball. Until Rodriguez can recruit the players he likes into his scheme, he's going to have to make it work with the players he has. Fortunately on the defensive side of the ball, Arizona has good depth in the secondary with Cortez Johnson, Marquis Flowers, Shaquille Richardson, Jourdon Grandon and Tra'Mayne Bondurant. The Wildcats should also get a boost with the return of injured players Jake Fischer (LB), Jonathan McKnight (CB) and Adam Hall (S).
Perfect fit? Former starter Matt Scott, who was beaten out by Nick Folesin 2009, is expected to reprise his starting role under Rodriguez. He redshirted the 2011 season and -- magically -- Foles never got hurt last year despite taking 23 sacks and countless hits. Scott is considered the more versatile quarterback and should fit nicely into the new run-based spread attack.

ARIZONA STATE
Spring practice starts
: March 13
Spring game
: April 21
What to watch
:
QB competition: We know what kind of offense new coach Todd Graham is going to run; now it's a matter of figuring out who is going to run it. Graham has his choice of three players -- Mike Bercovici, Taylor Kelly or Michael Eubank -- to replace NFL-bound Brock Osweiler. Graham said earlier this month that there are no favorites heading into the competition and each one brings his own skill set to the table. Eubank has the size (6-foot-5, 235 pounds), Bercovici (6-1, 205) is a mechanic and Kelly (6-1, 202) is a little bit of everything.
Get the locker room: By the end of the 2011 season, ASU's locker room wasn't just divided, it was completely splintered. Graham's task -- and that of his new coaching staff -- is to pick up the pieces, mend internal fences and find some chemistry on both sides of the ball. Linebacker Brandon Magee, long considered a great locker room leader, should help get the Sun Devils back on track as he returns from a season-ending Achilles injury.
Hands competition: The Sun Devils lose three of their top four wide receivers from last season -- Gerell Robinson, Aaron Pflugrad and Mike Willie. Jamal Miles returns after finishing second on the team last season with 60 catches and six touchdowns. Rashad Ross figures to be the No. 2 guy, but establishing depth in that corps -- especially if Graham wants to be up-tempo -- is key.

COLORADO
Spring practice starts
: March 10
Spring game
: April 14
What to watch:
Momentum, maybe? For as rough as 2011 was for the Buffs, they ended the year on a high note, winning two-of-three down the stretch -- including a 17-14 win over Utah in the season finale. But there is also the possibility that things might get worse before they get better. With just four returning starters on offense, spring in Boulder will likely be more about teaching and less about refining.
Where to start (offense)? Well, quarterback might be a good place. In the court of public opinion, Connor Wood, a transfer from Texas, seems to be the favorite. Nick Hirschman appeared in five games last season, mostly in mop-up time when the game was already out of hand. It's also possible a starter could be named by the end of spring ball. Finding offensive weapons to surround the new quarterback will also be a challenge. Wide receiver Paul Richardson caught 39 balls last season, and running back Tony Jones showed a flare for catching the ball out of the backfield. He'll likely step in as the new workhorse back for the departed Rodney Stewart.
Where to start (defense)? Last in this. Last in that. Last in almost every team statistic the Pac-12 has to offer. But there are some intriguing youngsters on the roster. Cornerback Greg Henderson was all-conference honorable mention as a freshman with a team-high nine passes broken up. Jered Bell also returns from injury after blowing out a knee last preseason. If healthy, he's expected to be a big contributor in the secondary. Linebacker Jon Majorreturns as the team's leading tackler, and if Doug Rippy is fully recovered from his knee injury, he'll look to build on what was a pretty good season last year before getting hurt.

UCLA
Spring practice starts
: April 3
Spring game
: May 5
What to watch
:
QB up for grabs: Like the majority of the conference, UCLA enters spring with a quarterback competition. New offensive coordinator Noel Mazzone said he doesn't care how much experience (or lack thereof) a player has -- if he can play, he wins the job. So don't be surprised if Brett Hundley passes Kevin Prince and Richard Brehautas the new man leading the Bruins. Fans have been clamoring for a change. Hundley might be it.
Attitude adjustment: One of the first things new head coach Jim Mora did was slam the team for its tradition of going "over the wall," a time-honored senior ditch day, saying if they want to jump the wall, they should just keep on going. How's that for sending a message? UCLA has earned a reputation for being soft and underachieving despite good talent. Attitude and toughness is needed -- and so far, Mora appears to be hammering that point home.
Speaking of toughness ... The defense has to get tougher. No two ways about it. It was weak against the run last season, allowing more than 190 yards per game on the ground; couldn't get to the quarterback; and couldn't get off the field almost 50 percent of the time on third down. It's time for potential all-conference players such as defensive end Datone Jones to start living up to the hype and the defense as a whole to stop getting pushed up and down the field. At 6-5, 275 pounds, Jones has the physical makeup to be a major force in the conference and catapult himself into the elite class of collegiate defensive players.

USC
Spring practice starts
: March 6
Spring game
: April 14
What to watch
:
Ignore the hype: Few teams ended last season hotter than USC and returning quarterback Matt Barkley. The Heisman talk has already started, the way-too-early rankings already have the Trojans as national championship contenders, and the public perception is that the offense is unstoppable. Nice to hear, but hype is a double-edged sword. Head coach Lane Kiffin has a knack for deflecting hype. This season will be his toughest test to date.
Insurance? The Trojans are loaded on both sides of the ball with returning players. But after the starting 22, things start to get dicey. Developing depth and keeping the starters healthy is a top priority -- particularly on the offensive and defensive lines and at running back, where experience is thin outside of the starters. The entire back seven returns on defense -- headlined by hard-hitting safety T.J. McDonald. Stopping the pass has been a major priority for Kiffin, and if this group stays healthy it should see the pass-efficiency numbers improve even more.
Other options: Along those same lines, wide receivers Robert Woods and Marqise Lee make up the most feared receiving duo in the conference -- maybe the country. But who are the Nos. 3 and 4 receivers behind them? George Farmer? Victor Blackwell? De'Von Flournoy? Don't overlook the tight end duo of Xavier Grimble and Randall Telfer, which should rival Stanford's Zach Ertz and Levine Toilolo as the best tight end tandem in the conference.

UTAH
Spring practice starts
: March 20
Spring game
: April 21
What to watch
:
Youthful approach: Head coach Kyle Whittingham turned some heads by naming former Utah quarterback Brian Johnson as his offensive coordinator. Johnson, who recently turned 25, said he's not looking to make wholesale changes to the offense, though he wants to put his stamp on it and continue to build around running back John White IV, who had a breakout season in his first year of major college football. Having quarterback Jordan Wynn back healthy should also help as the team transitions to Johnson running the offense.
Fixing the line: Who is going to protect Wynn (if he does indeed win back the starting job) and make holes for White? That's a major concern heading into spring as the Utes have to replace a pair of all-conference linemen in Tony Bergstrom and John Cullen. The Utes should be set at the interior but have to adjust to a new position coach, with Tim Davis leaving for Florida after just one season and Dan Finn -- a former Utah graduate assistant who was brought on to help Davis -- taking over the whole line following a one-year stint at San Diego State.
Work the experience: The defensive line should be one of the best in the conference, especially with the return of Star Lotulelei, who won the Morris Trophy last season as the conference's best defensive lineman. With the Kruger brothers returning to the line -- Joe at defensive end and Dave at tackle -- Derrick Shelby is the lone starter who has to be replaced. There's also some pretty good depth in the secondary that was tops in the conference last season in pass-efficiency defense.
PAC-12 SCOREBOARD
Thursday, 9/3
Friday, 9/4
Saturday, 9/5