April, 29, 2013
4/29/13
8:27
AM PT
The USC Trojans had four players selected in the 2013 NFL draft, increasing their record total of drafted players to 480.
It was a mixed bag for the Trojans in this draft, as they did not have a player selected in the first round -- USC also holds the record for most first-round NFL draft choices -- and there was also the public free-fall for quarterback
Matt Barkley
.
[+] Enlarge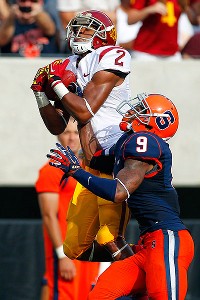 Rich Schultz /Getty ImagesWith the success Robert Woods had against Syracuse, it's no surprise Bills coach Doug Marrone made him the first Trojan off the board in the 2013 draft.
There had been hope that Barkley and receiver
Robert Woods
would go in the opening round, but the first day passed with both players undrafted.
Woods didn't have to wait long to hear his name called, though, as the all-time leading USC receptions leader was selected by the Buffalo Bills in the second round with the No. 41 overall pick.
The Bills had selected a quarterback --
E.J. Manuel
from Florida State -- in the first round, and they were also in the market for a No. 2 receiver to pair with
Stevie Johnson
. The fact that Woods was the next selection for the club after Manuel says a lot about how they feel about him as a potential long-term piece of the puzzle.
The new coach of the Bills, Doug Marrone, also faced Woods twice as the head coach of Syracuse and in those two games he saw Woods catch 18 passes for 175 yards and three touchdowns, along with a 76-yard run in 2012.
After Woods was picked, it was assumed by most USC fans that Barkley would be next off the board but, somewhat surprisingly, the next Trojan picked was safety
T.J. McDonald
, who went to the St. Louis Rams in the third round with the No. 71 selection.
There hadn't been a lot of pre-draft buzz about McDonald, a one-time All-American who saw his stock fall as a senior. You have to wonder how much two items affected that drop-off: the personal foul penalties as a junior that led to questions about his style of play and the overall defensive schemes implemented in 2012 by Monte Kiffin, which led to his resignation.
March, 27, 2013
3/27/13
8:15
AM PT
The Trojans will hold their annual NFL pro day on Wednesday, a showcase for all draft-eligible players, but the spotlight will be shining brightest on the workout of
Matt Barkley
.
After not being able to take part in the Senior Bowl or the NFL Combine due to an injured shoulder, this will be the opportunity for Barkley to prove to coaches and scouts that he is healthy and deserving of a first-round selection.
Because Barkley hasn't thrown since getting injured against UCLA, there are many questions about his draft status. Will he be a first-day pick or will he fall into the second round? So much will depend upon the health of the shoulder and how he performs in the roughly 60 throws he will make to
Robert Woods
. There are no questions about his leadership and character but, in the end, an NFL quarterback needs to be able to make the throws, and that is what Barkley will need to show.
Woods will be looking to prove something himself, as well. This is a deep receiver draft and most mock drafts have him going in the second round, but a recent mock draft from Charley Casserly at NFL.com had Woods as a first-round pick. The main goal for Woods in this workout is to get a 40 time below 4.5. He ran 4.51 at the combine and getting into the 4.4 range would mean a lot in the constant jockeying for draft position.
This will also be the first opportunity to conduct a workout for center Khaled Holmes, who withdrew from the Senior Bowl and then got hurt during the weightlifting portion of the combine.
Others working out will include a trio of defensive backs in T.J. McDonald, Nickell Robey and Jawanza Starling along with defensive end Wes Horton and running back Curtis McNeal.
The USC Pro Day will be
shown live on ESPN3 at 11:15 a.m. PT.
March, 15, 2013
3/15/13
11:23
AM PT
With the loss of starting safeties T.J. McDonald and Jawanza Starling, there was more than a fair amount of anticipation heading into spring practice when the search for their replacements officially began.
[+] Enlarge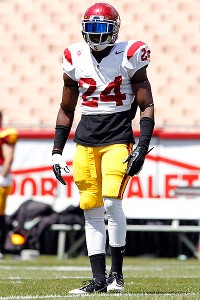 Ric Tapia/Icon SMIVeteran Demetrius Wright is solidifying a safety position that has also seen an infusion of freshman talent.
And while it's a unit currently low in terms of numbers with both
Gerald Bowman
and
Dion Bailey
-- who will potentially move to the secondary from linebacker in 2013 -- out for the spring due to injury, USC's safety group has performed solidly throughout the team's five practices, thanks in large part to a pair of veterans running primarily with the first group -- redshirt junior
Josh Shaw
and senior
Demetrius Wright
.
With Shaw at strong safety, and Wright at free safety, defensive coordinator Clancy Pendergast has two experienced contributors with tons of athleticism manning the center of the defensive backfield in his new scheme.
"I feel like we're coming along good," Wright said. "Me and Josh have known each other since our junior year in high school, so we already had that connection. We're working together, we watch film together, and the communication between me and him is going really good right now."
But it hasn't just been Shaw and Wright who have stood out. In fact, over the course of the last week, it's been freshman early-entrant
Su'a Cravens
who has emerged as a budding star. Lining up with the second unit at strong safety, as well as at nickelback in the team's nickel package, he was particularly stellar on Tuesday, collecting two interceptions. And on the other side, it's been another freshman,
Leon McQuay III
, who has drawn notice after spending the first week at cornerback.
Once a major question mark, the safety positions now appear to have been at least somewhat solidified, particularly when you consider the team will be getting reinforcements in the fall -- a time that figures to see the competition heat up even more.
"All of the safeties aren't even here right now," Wright said. "We've still got a couple of guys hurt, so it's going to be a real competition come fall training camp. We're going to have a lot of depth. Anybody can go with the ones or twos, so we don't really look at who's starting. We're out here competing so everyone is good to play."
March, 6, 2013
3/06/13
8:31
AM PT
LOS ANGELES -- As the Trojans headed toward the exit on Brian Kennedy/Howard Jones Field after USC's first spring practice of the year, no player had a more pronounced smile on his face than
Josh Shaw
.
After lining up as the team's starting cornerback for the final seven games of 2012, the Palmdale (Calif.) product was back at strong safety on Tuesday -- the position where he began his Trojans career after transferring in from Florida a little more than a year ago.
[+] Enlarge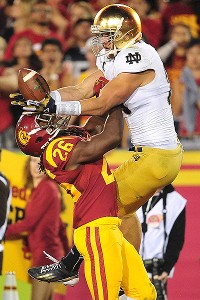 Gary A. Vasquez/US PresswireAfter spending time at cornerback last year, Josh Shaw hopes to lift the USC defense from his natural safety position.
And the 6-foot-1 redshirt junior didn't just go through the motions, either. Running with the first defense, Shaw was one of the stars of the day. During the team's 11-on-11 team session, he showcased his playmaking skills while also providing a heady veteran presence.
"It feels good," Shaw said after practice. "I've really embraced this opportunity, being back at safety. I've embraced being able to put guys in certain situations and just taking the next step in the development of my game."
With strong tackling skills and a ball-hawking mentality, Shaw has always regarded himself as a safety first, despite performing solidly at cornerback last season. So with the team holding an open tryout of sorts with the graduation of last year's starting safeties in T.J. McDonald and Jawanza Starling, Shaw jumped at the opportunity to make the switch.
"The competition is wide open," Shaw said. "Everyone has a clean slate, and right now, I'm just out here trying to grind. We're trying to take advantage of every opportunity that we can as a secondary. Especially me, I'm trying to do everything that I can because I want to lead this group -- I am going to lead this group. I'm going to come out here everyday and put forth my best effort and make sure that my teammates see me doing it as well. "
Battling with new arrival
Su'a Cravens
, among others, Shaw has an edge when it comes to experience. And having now played extensively at cornerback, he's a wealth of knowledge about the entire secondary.
"It helped me a lot, just knowing wide receiver splits," Shaw said of playing at cornerback. "Right now, I can look out there and see if the Z receiver is out there, and if his outside foot is back, I can tell the corner, 'Alert the slant right now -- three-step slant.' So, it definitely helped me a lot, and I'm trying to pass it all on to these corners -- just trying to help them any way that I can."
Shaw's emergence as a leader is something he's grown into, and it figures to be crucial as a young and inexperienced Trojans' secondary adjusts to the team's new defense, masterminded by Clancy Pendergast.
"I love him," Shaw said of Pendergast, who will also coach the defensive backs. "I couldn't ask for a better defensive coordinator. His style is very, very aggressive. He likes things to be done right, and he likes it to be done right the first time that you do it. His scheme is really diverse and I think it fits great for this defense. You're going to see a lot of guys flying around and making plays."
And on Tuesday, that certainly appeared to be the case. Playing with a renewed burst, the USC secondary looked like a quicker, more enthusiastic unit, and one that has Shaw thinking optimistically when it comes to the future of the group.
"There's a lot of new guys, but I think for the first day, the communication was great today," Shaw said. "A lot of guys were flying around, guys were making plays and we were very smart with our adjustments. Now we've just got to go watch film and build on it."
With Shaw leading the way, there's every reason to believe that's exactly what will happen.
February, 15, 2013
2/15/13
7:30
AM PT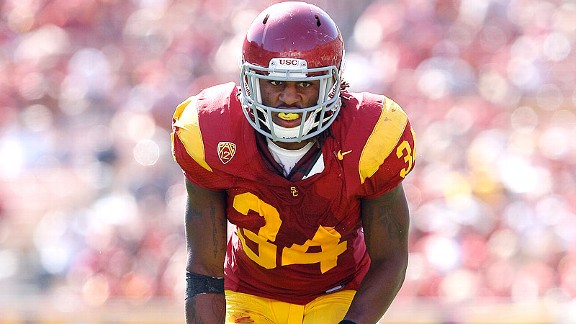 Ric Tapia/Icon SMITony Burnett became a versatile contributor on defense and special teams for the Trojans.
Of all the seniors on the 2012 Trojans football team, no one took a more unique path into the program than
Tony Burnett
. Originally entering USC as a track and field athlete from nearby Los Angeles (Calif.) Southwest College in 2009, it wasn't until a chance meeting with Ed Orgeron one day in Heritage Hall that he decided to give football a shot.
Enjoying a breakout 10-tackle performance at safety against Notre Dame in 2010 -- his first season as a member of the team -- Burnett would develop into a major contributor on defense and special teams in his time on campus. Ultimately rewarded with a scholarship by coach Lane Kiffin, he showed tremendous versatility, moving over to cornerback in 2011, and then to linebacker this past season.
Now hoping for a shot at the NFL, Burnett took time out of his busy training schedule to talk to WeAreSC about his thoughts on his career at USC, as well as what's on tap for the future.
WeAreSC:
First off, where do you stand in terms of graduation?
Burnett:
I'm taking one last biology class. It's a spring-only class, but then I'll have a B.A. in Human Performance from USC.
January, 23, 2013
1/23/13
7:00
AM PT
January, 4, 2013
1/04/13
8:02
AM PT
With the 2012 USC football season now in the books, it's time to look ahead to what will be an absolutely crucial spring for the program. Here are five key position battles to watch this spring as USC coach Lane Kiffin looks to find the right combination of talent to get the Trojans back on the winning track.
[+] Enlarge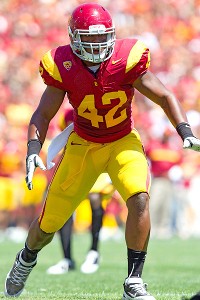 Jeff Lewis/Icon SMIAfter a year lost to injury, Devon Kennard hopes to reclaim his spot on the defensive line opposite Morgan Breslin.
Defensive End
The emergence of defensive end
Morgan Breslin
was the big story on defense for the Trojans in 2012, but with Wes Horton's departure, the other side is wide open with a long list of suitors looking to make their presence felt.
Devon Kennard
-- who has 18 starts under his belt as a linebacker and end -- had a fantastic spring a year ago, but then he tore a chest muscle during offseason workouts and missed the entire season. Now healthy, this is the last chance for the senior to live up to all of the lofty expectations that followed him when he arrived at USC as a freshman in 2009. Challenging Kennard will be
J.R. Tavai
, an extremely athletic and versatile option who can play end or tackle, as well as
Greg Townsend Jr.
, whose larger frame might pair up nicely with Breslin.
Kevin Greene
and
Jabari Ruffin
could also get looks here.
To continue reading this article you must be an Insider
November, 26, 2012
11/26/12
9:50
AM PT
By
WeAreSC staff
| ESPN Insider
Each week, the WeAreSC staff will update the rankings to reflect which USC players are making the biggest impact.
Here is the USC 10 following the 22-13 loss to Notre Dame:
[+] Enlarge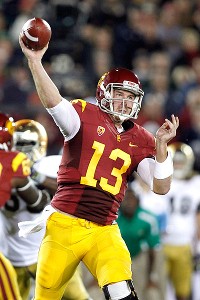 AP Photo/Danny MoloshokRedshirt freshman Max Wittek performed admirably in his first start, but it wasn't enough against No. 1 Notre Dame.
1. Max Wittek:
He may not have won his first game as a starter, but he did enough to have USC fans saying, "Hey, you know, Wittek might be pretty good next year."
To continue reading this article you must be an Insider
November, 25, 2012
11/25/12
9:37
AM PT
LOS ANGELES -- Notes, quotes and anecdotes from the Los Angeles Memorial Coliseum after USC's (7-5, 5-4 Pac-12) 22-13 loss to Notre Dame (12-0).
Lane Kiffin comments:
[+] Enlarge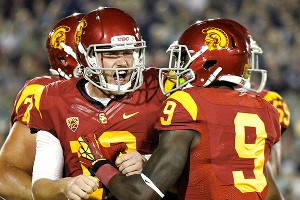 AP Photo/Danny MoloshokMarqise Lee and the Trojans were impressed with Max Wittek's performance in his first start.
On the Irish:
"Notre Dame showed me that they have phenomenal senior leadership. I think Coach Kelly said at the luncheon that they have 28 seniors on the team. You can see those guys understand the game. They play well together; they are very physical. They are not very exotic, but they don't give things up. You can see that today that they went 69 plays without allowing a turnover."
On QB Max Wittek:
"I thought Max did really well under the circumstances. Playing the No. 1 team in the country, I thought he did a good job handling himself."
On what he would tell the fans:
"I am disappointed too. I know those are not our standards here, regardless of the scholarship situation. We have to do better and obviously that starts with me."
Notre Dame coach Brian Kelly comments:
On the victory:
"If you followed us at all this year, that's how we've played. We come up big defensively sometime during the game. We did that again."
On his team's goal-line stand:
"Unbelievable goal line stand. To hold any program, any team, to get inside your two and come up with a goal-line stand. We ran the ball effectively in the fourth quarter when we needed to get those three points on the board. Those were the two critical parts of the game for us."
November, 18, 2012
11/18/12
5:00
AM PT
Pasadena, Calif. -- Notes, quotes and anecdotes from the Rose Bowl after the Trojans' (7-4, 5-4 Pac-12) 38-28 loss to UCLA (9-2, 6-2 Pac-12).
USC coach Lane Kiffin comments:
Respect the victors:
"Obviously a lot of credit goes to Jim [Mora] and his staff. His players played great today and the quarterback [
Brett Hundley
] played awesome. He didn't make any mistakes and did a really job."
On the disappointing season:
"I think the No. 1 glaring thing in our losses has been turnovers. We haven't gotten many and we've had way too many. I would point to, in the season in general, our losses, penalties and turnovers. Unfortunately we had too many turnovers today."
UCLA coach Jim Mora Jr. comments:
On Matt Barkley's first interception at the game's outset:
"It was huge. When you kickoff to a team like USC on that first drive, you are hopeful you can get a three-and-out at least. You are hopeful they don't take the ball and run it right down your throat and ruin all that emotion you came out of the tunnel with. But to be able to get that interception and convert it into points was big."
On the Trojans staying in a zone on defensive for as long as they did:
"Monte Kiffin is one of the great defensive minds to have coached this game. He knows how to mix it up. Our guys just made some plays. We protected well and made some tough catches."
More notes and anecdotes
Confirmation:
Despite some initial media confusion after Saturday's Trojans loss, USC athletic director Pat Haden confirmed after the game that Lane Kiffin would return for the 2013 season. A source said that Haden told Kiffin the news prior to the UCLA game.
Key to victory:
On the first play of the game, Barkley was intercepted by UCLA corner
Aaron Hester
at the USC 31-yard line. Moments later, Hundley scored from 1 yard out, and the Bruins never looked back.
The meat wagon:
After the game, Barkley's right arm appeared to be in a sling underneath his jacket. His left arm was visible in his jacket's left sleeve, and when asked about his injury, he commented, "We don't talk about injuries." Barkley was injured late in the game on a vicious blindside hit by Bruins outside linebacker
Anthony Barr
.
The offensive scoring average:
The Trojans scored 28 points against UCLA.
Prior to the game with the Bruins, the Trojans were averaging 36.9 points per game.
[+] Enlarge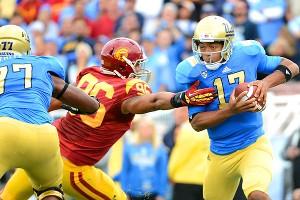 Harry How/Getty ImagesUSC players and coaches were extremely complimentary of UCLA freshman QB Brett Hundley.
Momentum swing:
Trojans defensive tackle
George Uko
recovered a fumble in the Bruins' end zone early in the third quarter. Regarding the score, the sophomore said, "I just saw it squish and said, 'Please don't fumble it. Just secure the ball.' I thought with the score we'd turn it around."
Rush to defend:
Prior to the UCLA game, the Trojans' defense was allowing a net total of 148.3 yards rushing per game. Against the Bruins, the Trojans allowed 172 rushing yards.
Analysis:
Trojans strong safety
T.J. McDonald
said, "We thought [Hundley] would be a little shaky as a freshman in this environment, but UCLA executed their plan on offense very well. It hurts and we have to learn from it. We just have to move on to the next game."
It's offensive:
Prior to the UCLA game, the Trojans were averaging 462.9 yards per game on offense. Against the Bruins, the Trojans had 513 total yards on offense.
The future:
Said
Marqise Lee
: "Our season comes down to spoiling Notre Dame's season."
Rush to judgment:
Prior to the UCLA game, the Trojans were averaging 159.3 yards per game rushing. Against the Bruins, the Trojans rushed for 172 net yards.
Land grab:
Trojans senior tailback
Curtis McNeal
, who had a team-high 161 yards rushing, said, "UCLA came out with a lot of juice and a lot of fire. What this [USC] team needs is a W. We didn't get the results we wanted, and next week against Notre Dame it's more about getting a win. Beating Notre Dame won't change our season, but it will be about the W."
The defensive scoring average:
The Trojans' defense allowed 38 points to UCLA. Prior to the Bruins game, the Trojans were allowing 23.5 points per game.
Attendance:
The count was 83,277, short of Rose Bowl capacity (91,136).
Getting defensive:
Prior to the UCLA game, the Trojans were allowing an average of 390.8 total yards on defense. Against the Bruins, the Men of Troy allowed 406 total yards.
Monte moments:
Regarding the UCLA offense and Hundley, defensive coordinator Monte Kiffin said, "We had great blitzes dialed up, but we didn't get off on third down. We needed to win more third downs. [Hundley] is going to be really really good. He has a presence about him that he can feel the pressure and step away from it. We just have to cover better when we blitz."
Pass defense:
Prior to the UCLA game, the Trojans were allowing 242.5 passing yards per game. Against the Bruins, the Trojans allowed 234 yards.
Tackling the issue:
The Trojans' defense was led by linebacker
Hayes Pullard
with 11 tackles, followed by defensive tackle
Leonard Williams
with 10 tackles.
Weather report:
The Trojans are now 0-3 when it rains during a significant portion of a USC/UCLA game.
Passing fancy:
Prior to the UCLA game, the Trojans were averaging 303.6 passing yards per game. Against the Bruins, the Trojans passed for a total of 341 yards.
Flag time improvement:
Prior to the UCLA game, the Trojans were averaging 73.2 penalty yards per game. Against the Bruins, the Trojans were penalized six times for 51 yards.
Up next:
The Trojans return home next Saturday for their final regular-season game against undefeated Notre Dame at the Coliseum. Kickoff time is 5 p.m. PST.
November, 14, 2012
11/14/12
2:09
PM PT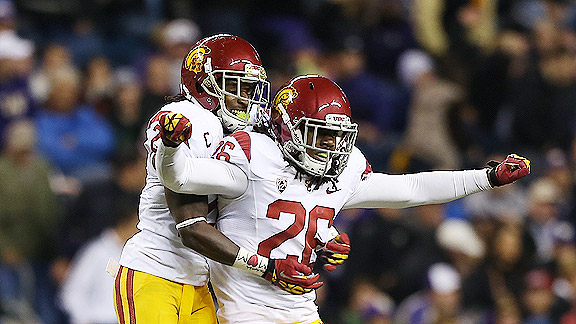 Otto Greule Jr/Getty ImagesJosh Shaw (right) has made a smooth transition from safety to cornerback for the Trojans this year.
LOS ANGELES -- The Trojans continued to gear up for Saturday's matchup with UCLA with another full-pads practice on Wednesday under beautiful sunny conditions on the USC campus. With the added storyline of a berth in the Pac-12 championship game on the line, coach Lane Kiffin continues to stress the importance of focusing on the task at hand.
"I think there's a lot of excitement around it," Kiffin said of this weekend's crosstown clash at the Rose Bowl. "We've got to make sure that we're preparing for the game and for the opponent, and not worry about the hype around it."
But for players like senior safety
T.J. McDonald
, this is a game that always holds at least some extra significance that's hard to ignore.
"It means a lot," McDonald said. "It's a rivalry game. You come here … you watch this rivalry, you know what it means, so you've just got to live up to those expectations. The great players that came before you played in this game, showed out and you want to be able to carry that tradition on. It means a lot, not just for us, but for the entire Trojan Family."
More Hundley talk
Kiffin continued to praise the play of UCLA quarterback
Brett Hundley
on Wednesday. Having completed 76.9 percent of his passes for 823 yards and 10 touchdowns with just two interceptions over his last three games, he's been incredibly efficient as a redshirt freshman.
"Especially the way he's played the last three games, he's put together unbelievable numbers," Kiffin said. "So I think you start watching [and ask], 'How can that happen with a freshman?' It's very unusual. And they've done a great job with him. It's a great system. They've somehow managed him -- to be a freshman, but not make a ton of mistakes and not turn the ball over a lot, which is unusual in a first-year system and a first-year quarterback. So, a lot of credit to them and to him."
PAC-12 SCOREBOARD
Thursday, 9/3
Friday, 9/4
Saturday, 9/5