USC Trojans:

Texas Longhorns
January, 8, 2013
Jan 8
7:12
AM PT
These are the final 2012 power rankings.
If you don't like where you finished in the power rankings, you should have played better.
See the pre-bowl-season power rankings here
.
1. Stanford
: Oregon received a higher final national ranking, and you could make a decent challenge in favor of the Ducks. They didn't get upset by Washington, didn't play a lot of close games and beat a top-five team in the Fiesta Bowl. But, on Nov. 17, the Cardinal went to Eugene and took care of business. Stanford is the Pac-12 champion, and Oregon is not. Ergo, Stanford sits atop the power rankings. And 2013 looks pretty darn good, too.
2. Oregon
: The cherry on the top of another special season for Oregon is the return of coach Chip Kelly. And we're of the mind that, if not for the slip against Stanford, Oregon would be sitting atop college football this morning after a fine evening of frolic in South Florida. The Ducks and Stanford will be national title contenders again in 2013. And guess which two teams are going to top the first 2013 power rankings?
3. Oregon State
: The loss to Texas in the Valero Alamo Bowl was baffling. The Beavers were a superior team that seemed to be looking for ways to lose in the fourth quarter. The quarterback carousel needs to be resolved. But the Beavers still won nine games, and their 6-3 conference record overcomes UCLA because of a head-to-head win on the road. Nice bounce back after consecutive losing seasons.
4. UCLA
: Yes, the Bruins flopped in the Bridgepoint Education Holiday Bowl against Baylor, but it's impossible not to see Year 1 under Jim Mora as a success, made even more notable by USC's flop. Like last season, the Bruins won the South Division, but this time they earned it.
5. Arizona State
: The Sun Devils won their final three games for the first time since 1978. That's how you go into an offseason with optimism. We hear a lot about "culture change" from programs with new coaches. The Sun Devils' culture change under Todd Graham was made manifest by what happened on the field.
6. Arizona
: The Wildcats did better than expected in Year 1 under Rich Rodriguez, and the season would have been a complete success if not for what happened against that team from up north. That loss hurts, but quality wins over Oklahoma State, USC and Washington, as well as an overtime game with Stanford, show this team competed better than in recent years.
7. Washington
: The Huskies finishing 7-6 against a brutal schedule probably was close to preseason expectations. But the two-game losing streak to end the season, which included a dreadful meltdown in the Apple Cup to Washington State, quashed the momentum a four-game winning steak from Oct. 27 to Nov. 17 had built. Perhaps that will make the Huskies hungrier in 2013, when they have a nice array of talent returning.
8. USC
: The Trojans' season was a complete disaster. USC started out at No. 1 but turned in a white flag performance while losing a sixth game in the Hyundai Sun Bowl to a middling Georgia Tech team. The Trojans were eclipsed by rivals UCLA and Notre Dame while wasting the much-ballyhooed return of QB
Matt Barkley
. Coach Lane Kiffin will be sitting on one of the nation's hottest seats in 2013.
We've been over this a few times
.
9. Utah
: The Utes' move up in class from the Mountain West Conference is proving tougher than some imagined. Utah missed out on playing in a bowl game for the first time since 2002, and there were issues on both sides of the ball. The Utes need an upgrade in talent and overall depth, sure, but consistent quarterback play would be a good place to start. Therein lies hope with promising freshman
Travis Wilson
.
10. California
: A dreadful 3-9 finish ended Jeff Tedford's tenure in Berkeley after 11 seasons. In early October, after consecutive wins over UCLA and Washington State, it seemed as though the Bears might be poised for a rally. Alas, they lost their final five games, including a horrid performance in a 62-14 drubbing at Oregon State. Sonny Dykes has enough returning talent to produce significant improvement in the fall.
11. Washington State
: New coach Mike Leach's season was bad on the field and off, but it ended on a notable uptick with an Apple Cup win over Washington that included a comeback from an 18-point fourth-quarter deficit. Still, 3-9 took a bite out of the enthusiasm Leach's hiring initially generated.
12. Colorado
: A horrid 1-11 finish that was capped by a controversial firing of Jon Embree after just two seasons. The Buffaloes are probably the worst AQ conference team over the past two seasons, and that is the considerable mess new coach Mike MacIntyre was hired to clean up. Of course, MacIntyre put together an impressive turnaround at San Jose State, so he looks like a good choice to bring the Buffs back to respectability.
February, 3, 2012
2/03/12
11:59
AM PT
ESPN The Magazine and RecruitingNation compiled the past five years (2007-11) of ESPNU 150 rankings and then crowned college football's
top 10 recruiting programs
.

Here's how they did it:
Our methodology was simple: We re-tallied the scores following signing day and ranked the schools based on total number of ESPNU 150 recruits (there have been 900) hauled in over the last six years. Of course, like success on the field, recruiting is cyclical -- and fans of programs both on and off this list might look back on Feb. 1, 2012 as the day their team began its rise (or fall) on the trail.
Here's the top-10.
1. Florida
2. Texas
3. USC

4. Alabama
5. Florida State
6. Notre Dame
T-7. Georgia
t-7: LSU
9. Miami
T-10. Ohio State
T-10. Oklahoma
Here's what it says about USC:
Top states: California (36), Florida (six), Arizona (four)
Surprise state: Georgia (three)
Sure, the Trojans have California locked up. But USC has also signed four of Arizona's 12 ESPNU 150 prospects and Georgia's second-best preps in 2008 (WR Brice Butler of Norcross) and 2010 (WR Markeith Ambles of McDonough). In 2012, USC signed seven ESPNU 150 commits -- OT Zach Banner (Lakewood, Wash.) was the lone out-of-state recruit.
(USC actually signed three out-of-state recruits, including receiver
Nelson Agholor
and DT
Leonard Williams
, who are both from Florida).
What's clear from this list: Sometimes teams with lots of ESPNU 150 players produce on the field (Alabama, LSU, Oklahoma, Ohio State) and sometimes they do not (Florida, Texas, Florida State, Notre Dame and Miami).
Florida is 15-11 over the past two seasons, when these highly rated classes should have been peaking. Texas is 13-12 over the same span. Miami has lost fewer than six games just once since 2007. Notre Dame's best years came the past two seasons -- both 8-5. Florida State has averaged 4.8 losses since 2007. Georgia was 10-4 this season, but it was a combined 14-12 in 2009 and 2010. Ohio State probably can be forgiven its 6-7 finish this year, based on the NCAA issues and firing of coach Jim Tressel. Oklahoma's lone blip was an 8-5 campaign in 2009. USC's "downturn" came in 2009 and 2010 when the Trojans went 17-9.
Conclusions?
Well, it's possible that Florida recruiting -- as good as it is -- is overrated. Perhaps the same can be said for Texas. Or at least these four programs -- Florida, Florida State, Miami and Texas -- aren't doing the best job of evaluating their wealth of in-state talent.
November, 3, 2011
11/03/11
7:41
AM PT
Issues to consider heading into the 10th week of games.
Is Oregon sharp and efficient at QB
? The first question here is: Who? If
Darron Thomas
is healthy, it's almost certain he starts. But is his knee 100 percent? Will he be able to pose a legitimate running threat? Will he be sharp throwing the ball? Even before the injury, Thomas was off-and-on as a passer this year. And then if Thomas gets replaced by
Bryan Bennett
, how will the redshirt freshman react to a potentially competitive game on the road against Washington? He was outstanding against Arizona State at home and solid on the road at Colorado, but this game should be more taxing. Oregon's offense can score so many ways that it doesn't have to be perfect in the passing game. Heck, sometimes it doesn't need to throw at all. But the Huskies chances of recording the upset go up substantially if the Ducks are running at 75-80 percent at QB.
[+] Enlarge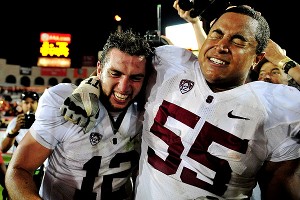 Gary A. Vasquez/US PRESSWIREA letdown is likely for Andrew Luck and Stanford following an emotional triple-overtime victory over USC last week.
Are USC and Stanford going to have letdown games
? After a triple-overtime thriller, it's hard to imagine that USC and Stanford will bring their "A-games" to road dates with Colorado and Oregon State, respectively. For one, both games look like mismatches, so it's possible that players won't be as focused and intense as they normally would. And, second, both could be running on half-tanks of energy after a physical, emotional game. Don't be surprised if they both start slowly and perhaps look a little sloppy. The question is can they pull it together enough to secure a comfortable win or will they allow the Buffs and Beavs to keep things interesting?
Good Cal or bad Cal? Good Maynard or bad Maynard
? California has been all over the place this year, and so has QB
Zach Maynard
. It appeared that he'd found his groove during a 34-10 win over Utah, but then he lost it when he threw four interceptions in a 31-14 loss at UCLA. It's certainly not all his fault. Cal has been fickle for a while, looking like a top-25 team one week, then like an FCS one the other. The Bears should beat Washington State at home. But they will have to show up to do so. And Maynard needs to be on-target or he could lose his starting job.
Will Neuheisel and/or Wulff pick up a signature win
? UCLA and Washington State fans have been waiting for Rick Neuheisel and Paul Wulff to turn their sagging programs around for four years. Neither has produced results that have fans happy. Neither has a meaningful, A-list conference victory that provided a strong indication that better things were ahead (the Bruins beating Texas last year proved a mirage and was a nonconference game). If Neuheisel and the Bruins can beat Arizona State, they will take control of the Pac-12's South Division. That would seem like a win that could resonate. If Wulff and the Cougars could pick up a fourth win at Cal, then it would keep bowl hopes alive and, at worst, show the program was making clear progress.
Foles versus the Utah D
: While Utah's first season in the conference has been disappointing, it's played good, consistent defense. It ranks first in the Pac-12 in total defense and second in scoring. While Arizona's season has been disappointing, QB
Nick Foles
can fling the rock. He ranks first in the Pac-12 in passing yards per game with 366.1, 80 more than anyone else. That matchup alone makes this game worth watching.
Washington's run defense
: Oregon is No. 1 in the conference and No. 4 in the nation in rushing offense (309 yards per game). Washington's defense is best against the run. Of course, that requires qualification. Good running teams -- Nebraska and Stanford -- ran all over the Huskies. And, as a whole, the Huskies defense had been rotten, surrendering 430 yards and 33.4 points per game. If Washington is to have any chance, it must 1. find a way to at least slow down the Ducks running game; 2. force turnovers. Time for coordinator Nick Holt to earn his paycheck.
Arizona needs to run, stop the run
: Utah is second in the conference with 23 sacks. That suggests that it's in Foles' best interest to hand the ball off at least a few times to slow down the Utes' pass rush. So the Wildcats shouldn't abandon the run. Meanwhile, the Wildcats defense has mostly struggled this year, but the Utes offer a limited, one-dimensional offense that relies on running back
John White
. That means Arizona should gang up on the line of scrimmage and force
Jon Hays
to throw the ball. While the Wildcats have been worse against the pass this year than the run -- opponents are completing 69 percent of their throws -- Hays has yet to show he can throw consistently and move his team down the field.
Do Colorado and/or Oregon State have anything left
? Colorado is 1-8. Oregon State is 2-6. Both are coming off blowout losses. Both will be at home in front of uninspired crowds. Both are playing foes with a lot more talent than them. Both look like candidates to take a whipping. And yet. Football is a funny game. If one or the other or both come out playing with fire, they might keep things competitive. And when a game gets into the fourth quarter, crazy things can happen.
October, 20, 2011
10/20/11
6:34
PM PT
Issues to consider heading into the eighth week of games.
Price vs. Luck
: Think back to your college football brain in August. Now look that bolded intro. Who would've thunk it, right? Well, turns out that
Andrew Luck
is a heck of a quarterback, but at present not only is Washington's
Keith Price
nipping at his heels in terms of passing efficiency, but he's also got more touchdown passes than the leading Heisman Trophy contender -- 21 vs. 18. Luck is almost certain to play well at home against a fair-to-middling Huskies defense. To lead the upset for Washington, Price will need to match -- if not exceed -- Luck's numbers.
[+] Enlarge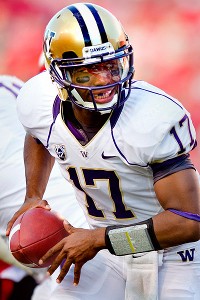 Douglas C. Pizac/US PresswireWashington quarterback Keith Price enters Saturday's game with 21 TD passes, more than Stanford counterpart Andrew Luck.
Barkley to Woods
: USC QB
Matt Barkley
and WR
Robert Woods
are the best pass-catch combination in the Pac-12, and one of the two or three best in the nation. They've combined for six TDs and 130.5 yards per game. But they were not in sync last week against California. It's likely the Trojans will struggle to run against a tough Notre Dame front seven. So the way USC wins in South Bend is Barkley to Woods, Barkley to Woods.
Who starts at QB, RB for Oregon
? Not much to this one: Do
Darron Thomas
(knee) and
LaMichael James
(elbow) start for the Ducks at Colorado? Or do their backups:
Bryan Bennett
and
Kenjon Barner
? This pretty much is the only expected intrigue in Boulder on Saturday.
Hays or Maynard
? While there's no single reason Utah and California are both 0-3 in Pac-12 play, the biggest is inconsistent play at QB. Utes QB
Jon Hays
replaced injured starter
Jordan Wynn
for the second half against Washington and has mostly improved in two starts. Cal's
Zach Maynard
started the season well but has struggled since the conference slate began, bottoming out last Thursday with three interceptions against USC. With two good defenses at AT&T Park, it's unlikely either offense will be able to run the ball 40 times and win. The team that is more efficient passing the ball likely ends up smiling.
Wildcats set free
? There's a feeling that Arizona's players were playing tight -- more worried more about mistakes than focused on making plays -- in recent weeks as the losses piled up and coach Mike Stoops got more frenzied on the sidelines. We'll get a better feel for that Thursday night. The Wildcats have started slowly all season. If they get off to a quick, enthusiastic start against UCLA, you'd have to think a lot of players have loosened up since Stoops was fired. That shouldn't be over-construed as an indictment of Stoops, by the way. After all that losing and a coach firing, sometimes it becomes easier to play when you have nothing to lose.
Tuel time
: Washington State QB
Jeff Tuel
didn't pick a great team for his first start since a fractured clavicle forced him to miss the Cougars' first five games: Stanford. While Tuel had his moments, he looked a little out of sorts against an A-list defense. But after getting his game legs back, Oregon State's defense offers a much softer landing. Tuel is the Cougars unquestioned leader. This is a must-win game for the Cougs' bowl hopes and for coach Paul Wulff — and in such games, unquestioned leaders step up, lead and make plays that turn must-wins into victories.
Hogs on the Farm
: While the rise of Stanford football is not unreasonably connected to Luck, more than a few folks will tell you a culture shift was more important. A program that was seen as soft, one populated by smart young men with aspirations other than pro football -- because they wanted to make more money than the NFL could pay them -- transformed into an edgy, physical and, yes, maybe slightly dirty unit that played until the very echo of the whistle. Washington coach Steve Sarkisian has been talking about the Huskies playing physical football since he was hired to take over a team that went soft under Tyrone Willingham. The Huskies have taken some big steps forward -- see the dominant victory over Nebraska in the 2010 Holiday Bowl. But they aren't there yet on either line. Or are they? We'll see Saturday in the trenches.
Prince wears the crown
:
Kevin Prince
is (again) UCLA's quarterback. While this has many Bruins fans slapping their foreheads, Prince was a capable passer in 2009 and ran the pistol offense well in 2010. He's just never been consistent and, most important, never stayed healthy. Well,
Richard Brehaut
is out for the year, so the QB job is (again) Prince's. At least as long as he can stay healthy, and barring any horrible play -- see Prince against Texas -- that forces embattled coach Rick Neuheisel to turn to true freshman
Brett Hundley
. Yet there is a potential positive spin here. What if Prince rises to the occasion? A UCLA win at Arizona would set the Bruins up nicely for a second-half run.