USC Trojans:

Texas Longhorns
March, 22, 2014
Mar 22
9:15
PM PT
MARIETTA, Ga. -- The Nike SPARQ combines have grown with each passing year, and on Saturday there was a record turnout. If the 1,993 prospects who attended weren't impressive enough, the performances by several top prospects who came to compete certainly left spectators turning heads.
Here is a rundown of some of the event's top performers.
ESPN Junior 300 running back Taj Griffin posted one of the top SPARQ scores of the day. Griffin checked in at 5-foot-10, 174-pounds, ran a 4.41 40-yard dash and a 4.35 shuttle, had a 46-inch vertical leap and a 36-foot power ball toss for a combined score of 124.29. On the recruiting front, Oregon, Clemson, Florida State, Ohio State and Tennessee continue to stand out the most.



2015 RB Taj Griffin @tg__7 with the highest SPARQ score of the day in Atlanta. pic.twitter.com/SaY2QZLPrE

— Gerry Hamilton (@HamiltonESPN) March 22, 2014

No. 3 junior offensive tackle Chuma Edoga posted an impressive score of 94.65. After measuring at 6-4 and weighing 276 pounds, Edoga ripped off a 5.01 40-yard dash, a terrific 4.69 shuttle and had a 33.8-inch vertical jump and 37-foot power ball throw. Following his impressive effort, he said his top four schools in order are Tennessee, Southern California, Georgia and Stanford with a decision likely on May 25, his birthday. The big news might have been that he currently prefers the Volunteers, but his mother is in the corner of the Bulldogs and Cardinal.
No. 252 prospect C.J. Sanders made the trip and did not disappoint. He checked in at 5-9 and 176 pounds, ran a 4.57 40-yard dash, had a blazing 4.09 shuttle run, leaped 36.5 inches and tossed the power ball 41 feet. On the recruiting front, USC, Notre Dame and Georgia are the latest to offer, joining Duke, Northwestern, Stanford, Tennessee, Vanderbilt, Mississippi State and Ole Miss. He visited USC last week, and lists Reggie Bush as his childhood idol. Sanders is the son of former Ohio State and NFL wide receiver Chris Sanders. His mom played basketball at Michigan. He reports his family favors Duke and USC early on with a decision slated for the summer.
Ben Cleveland is already considered one of the top offensive line prospects in the country, and the 6-7, 317-pounder showed why Saturday. He clocked a very impressive 5.22 40-yard dash and 4.87 shuttle, and had a 25.8-inch vertical leap and 41.5-foot power ball throw for a score of 99.78. He has offers from Georgia, Clemson, Florida, South Carolina and Texas with Alabama expected in the near future. He made an unofficial visit to Clemson two weeks ago.
Class of 2016 prospect
Class of 2015 running back Jaylen Burgess posted a 118.44. The 5-10, 214-pounder ran a 4.66 40-yard dash and a 4.38 shuttle, and had a 36.7-inch vertical leap and 42.5 power ball throw. He is receiving interest from Tennessee, Vanderbilt, Clemson, Duke and a number of other ACC schools. Duke and Tennessee are the coaching staffs Burgess talks to the most. He posted more than 1,500 all-purpose yards as a junior.
Class of 2016 linebacker and defensive end Charles Wiley checked in at 6-3, 203 pounds. He clocked a 4.68 40-yard dash and 4.45 shuttle, and also leaped 35 inches and threw the power ball 34.5 feet. He has an early offer from Virginia Tech.
Class of 2015 athlete Jeremiah Mercer is flying completely under the recruiting radar. While he had to sit out the 2013 season due to transfer rules, he made his mark Saturday posting a score of 97.47. The 5-11, 163-pound running back and wide receiver ripped off a 4.48 40-yard dash and 4.18 shuttle, and added a 36.2-vertical leap and 31-foot power ball toss. He is receiving interest from Vanderbilt and Mississippi State and lists Florida State as his dream school.
Class of 2016 inside linebacker Tyler Reed posted a very impressive score of 104.91. After measuring 6-2, 234 pounds, Reed ran a 4.96 40-yard dash and 4.59 shuttle, and had a 35.5-inch vertical leap and 41-foot power ball throw. He recorded 130 tackles as a sophomore.
Class of 2015 running back Eric Montgomery posted a 115.47, one of the day's top scores. The tailback checked in at 5-11, 185 pounds, ran a 4.46 40-yard dash and a 4.19 shuttle, and jumped 36 inches and threw the power ball 38 feet. On the recruiting front, Kentucky, Cincinnati, Ole Miss and Mississippi State, among others, are showing interest.
March, 13, 2014
Mar 13
12:30
PM PT
The new College Football Playoff is supposed to encourage schools to schedule better nonconference games, as teams try to beef up their schedule strength to earn one of the playoff's coveted four spots at season's end.
On Thursday, Texas A&M and UCLA
announced that they'll play each other
during the 2016 and 2017 seasons.
Other schools have announced future marquee nonconference opponents, including Texas A&M vs. USC, Notre Dame vs. Texas, Alabama vs. Michigan State and LSU vs. Oklahoma.
Here are five other nonconference games I'd like to see in the future:
[+] Enlarge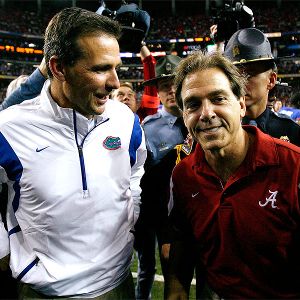 Kevin C. Cox/Getty ImagesUrban Meyer and Nick Saban have faced off for SEC titles, but their current teams, Ohio State and Alabama, have played only three times in history.
1. Alabama vs. Ohio State
: Alabama's Nick Saban and OSU's Urban Meyer dominated the SEC when Meyer was coaching at Florida, combining to win five BCS national championships from 2006 to 2012.
When Meyer was still coaching at Florida, the Crimson Tide and Gators played in two of the most anticipated SEC championship games. The No. 2 Gators beat the No. 1 Tide 31-20 in 2008, and then the Tide turned the tables on No. 1 UF with a 32-13 win in 2009.
Alabama and Ohio State have played only three times in history, with the Tide winning each time, most recently in a 24-17 victory in the 1995 Citrus Bowl.
2. Texas vs. Texas A&M
: Perhaps the biggest casualty in conference realignment, Texas and Texas A&M haven't played each other since the Aggies bolted the Big 12 for the SEC after the 2011 season. Sadly, there are no plans for the in-state rivals to play again in future regular seasons.
The Aggies and Longhorns played each other 118 times from 1894 to 2011, with their annual meeting traditionally being played on Thanksgiving Day. UT won nearly twice as many games as the Aggies (76-37-5), including nine of the last 12 meetings.
With former Louisville coach Charlie Strong taking over at Texas, and Kevin Sumlin building the Aggies into an SEC powerhouse, the game would also pit two of the sport's best African-American coaches against each other.
3. Oregon vs. Baylor
: Two of the game's most explosive offenses -- and two of its best-dressed teams -- would undoubtedly light up the scoreboard if they ever played. In fact, the contest would probably look more like a track meet.
Under coach Art Briles, the Bears have become the Ducks of the Southwest, with their hurry-up, spread offense and myriad flashy uniforms closely resembling what Chip Kelly and then Mark Helfrich built at Oregon. The Bears and Ducks follow the same blueprint on offense: play fast and score fast.
We hoped to see this matchup in the Tostitos Fiesta Bowl last season, but alas, it didn't happen. Oregon and Baylor have never met on the gridiron.
4. Michigan vs. USC
: Two of the sport's traditional heavyweights have faced each other eight times in the Rose Bowl Game Presented by Vizio, but only twice during the regular season -- in 1957 and 1958.
The Trojans won the last three meetings in the Rose Bowl, 32-18 in 2007, 28-14 in 2004 and 17-10 in 1990. USC has won six of the past seven meetings overall and holds a 6-4 advantage all-time.
We might have seen this matchup during the regular season if a Big Ten/Pac-12 scheduling partnership hadn't fallen apart in 2012.
5. Georgia vs. Florida State
: UGA coach Mark Richt was a longtime assistant under legendary FSU coach Bobby Bowden before taking over the Bulldogs, and he recently poached defensive coordinator Jeremy Pruitt off the Seminoles' staff.
The Bulldogs and Seminoles go head-to-head for a lot of recruits every year, and Florida State coach Jimbo Fisher upgraded his roster by effectively recruiting South Georgia and Atlanta.
The Bulldogs and Seminoles have played 11 times and only once since 1984 -- UGA defeated FSU 26-13 in the 2003 Sugar Bowl. Georgia leads the all-time series, 6-4-1.
January, 27, 2014
Jan 27
5:00
AM PT
1. With the signing of Florida State transfer quarterback
Jacob Coker
, Alabama head coach Nick Saban papered over a recruiting misstep. Without Coker, the Crimson Tide had no experienced quarterback to follow AJ McCarron. Phillip Sims, who had been the next in line, left Tuscaloosa nearly two years ago for Virginia. As Coker signed, 2015 recruit
Ricky Town
switched his commitment from Alabama to USC. But clearly that's only a coincidence. Coker's eligibility expires after 2015.
2. Once the NCAA put a black mark on Louisville assistant Clint Hurtt dating to his days at Miami and the Nevin Shapiro case, it was a matter of time before Hurtt shifted his career to the pro game. My colleague Brett McMurphy reported that Hurtt is going to the Chicago Bears. It was clear that Texas wasn't going to welcome his arrival with Charlie Strong. History has shown that NFL teams don't care about NCAA sanctions. The pro game has a lot fewer recruiting rules.
3.
Adam Rittenberg's analysis
of the Big Ten's issues at quarterback in 2014 reminded me of the lack of experience at quarterback in the Big 12 last season.
David Ash
of Texas began the season with 18 starts, the most of any quarterback in the league. It didn't take long to see the Big 12's offensive problems. But by the end of the season, the young talent began to grow up. If you saw Oklahoma's
Trevor Knight
and Texas Tech's
Davis Webb
, you know what I mean.
January, 13, 2014
Jan 13
10:30
AM PT
By
Brett Perrotta, ESPN Stats & Info
| ESPN.com
With the door closed on the 16-year reign of the BCS, we dove into the 72 BCS bowl games to find the 10 most memorable moments of the BCS era.
10. Utah's hook-and-ladder:
The first team ever dubbed a "BCS Buster" was the Urban Meyer-coached and
Alex Smith
-led Utah Utes in 2004. In the 2005 Fiesta Bowl, Utah led Pittsburgh 28-7 late in the third quarter and lined up at the Panthers' 18-yard line. Smith swung it left to Steven Savoy, who lateraled to
Paris Warren
, who ran it in for the score as the Utes completed a 12-0 season.
9. Peerless Price down the sideline:
Tennessee led Florida State 14-9 with 9:29 remaining in the fourth quarter in the 1999 Fiesta Bowl with the first BCS Championship on the line. UT quarterback
Tee Martin
found Price down the right sideline, and Price took it the distance for a 79-yard score. Price had 199 receiving yards for the winning Vols, the most ever in the BCS title game.
8. Ginn's costly return:
Ohio State received the opening kickoff from Florida in the 2007 BCS Championship game, and
Ted Ginn
Jr. wasted no time in getting the game's first score on a 93-yard return. What will always be remembered, however, is that Ginn suffered a foot injury on the ensuing celebration and was out for the rest of the Buckeyes' 41-14 loss.
7. Warrick's juggling score:
Though the championship of the 1999 season was marked by Virginia Tech freshman QB
Michael Vick
, it was Florida State's
Peter Warrick
who was named the most outstanding player. He had a punt return for a touchdown in the second quarter, and his juggling catch on a 43-yard score midway through the fourth served as the dagger.
6. Vince Young, Part I:
Facing Michigan in the 2005 Rose Bowl, Young was responsible for all five Texas touchdowns in a 38-37 win. Though he had runs of 60, 23 and 20 yards, the most impressive was a 10-yard run in which Young escaped the tackle of Michigan lineman Pat Massey before scampering to the right pylon.
5. Dyer isn't down:
Tied at 19 with Oregon with just more than two minutes remaining in the 2011 BCS Championship Game, Auburn running back
Michael Dyer
appeared to be tackled for a short gain at the Auburn 45-yard line. Having rolled over the defender, Dyer was never ruled down, and ended up gaining 37 yards on the play before he was taken down at the Oregon 23-yard line. Auburn would win on a field goal as time expired.
[+] Enlarge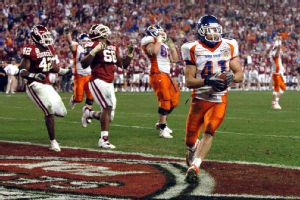 Steve Grayson/WireImageIan Johnson's two-point conversion run in overtime propelled Boise State over heavily favored Oklahoma in the 2007 Fiesta Bowl.
4. Winston to Benjamin:
Trailing Auburn 31-27 in the final BCS Championship Game, Heisman Trophy winner
Jameis Winston
drove the Noles 78 yards in less than a minute to the Auburn 2-yard line. Receiving the snap with 17 seconds left in a wild fourth quarter, Winston threw a perfect pass to
Kelvin Benjamin
, who brought it down for the game-winning score to complete an undefeated season.
3. Was it pass interference?
Some will remember Maurice Clarett's game-saving strip of
Sean Taylor
, but the lasting legacy of the game is the dubious pass interference call in overtime. Miami led 24-17 and Ohio State faced fourth-and-3 from the 5-yard line.
Glenn Sharpe
was called for pass interference, giving the Buckeyes new life in a game they would win 31-24.
2. Boise State's trick plays:
In the 2007 Fiesta Bowl, Boise State trailed heavily favored Oklahoma 35-28 with 18 seconds left and facing fourth-and-18 from the 50-yard line. Jared Zabransky completed a pass to Drisan James just short of the first down, but he lateraled it to Jerard Rabb, who took it the rest of the way for the tying touchdown. In overtime, down 42-35 on fourth down, wide receiver Vinny Perretta completed a 3-yard pass to
Derek Schouman
for a touchdown. Chris Petersen elected to go for two, and Zabransky faked a throw to his right before handing it behind his back to Ian Johnson on the Statue of Liberty play for the winning two-point conversion. Johnson would propose to his girlfriend, a Boise State cheerleader, on the sideline after the game.
1. Vince Young, Part II:
After a Longhorns touchdown and key fourth-down stop, undefeated Texas trailed undefeated USC 38-33 with 26 seconds remaining and faced fourth-and-5 from the 9-yard line, with the 2005 BCS championship on the line. Vince Young dropped back to pass but saw nobody open, and immediately sprinted for the right pylon for the title-winning score in the marquee game of the BCS era.
December, 31, 2013
12/31/13
1:00
PM PT
LAKE BUENA VISTA, Fla. -- Cornerback
Tony Brown
, No. 11 in the ESPN 300 and the No. 2 prospect in Texas, suffered an injury to his left shoulder on Tuesday and likely will not play in the Under Armour All-America Game.
Brown, of Beaumont Ozen High School, was hurt while reaching to defend a pass in a non-contact coverage drill. He received medical attention at the ESPN Wide World of Sports Complex and was transported from the practice facility by cart, his head buried in his hands and his arm in a sling.
The 6-foot, 196-pound Brown, rated as the No. 4 cornerback nationally, is scheduled to announce his college decision during the 4 p.m. telecast of the Under Armour Game Thursday on ESPN.
Brown made official recruiting visits to Ohio State, Alabama, Texas, USC and LSU.
He graduated from high school early in order to enroll in January at his college of choice. Brown is an elite sprinter and plans to compete in football and track and field in college.
December, 19, 2013
12/19/13
9:00
AM PT
The Pac-12 plays nine bowl games and every game is important, but here are five players upon whom the spotlight will shine just a bit brighter this bowl season.
USC DT Leonard Williams
Royal Purple Las Vegas Bowl vs. Fresno State on Dec. 21
The skinny
: Williams, an ESPN.com first-team All-American as a true sophomore, will lead the Trojans defense against QB
Derek Carr
and a high-flying Fresno State offense that wants to prove it can score on anyone. The Bulldogs ranked No. 1 in the nation in passing yards and No. 5 in scoring, but it's perhaps most impressive they've yielded just 11 sacks, which is ninth-fewest in the nation. Williams will head into the 2014 season as a preseason All-American no matter what. But he can show folks why and make a resounding statement for himself if he can get to or at least consistently harass Carr in the pocket.
[+] Enlarge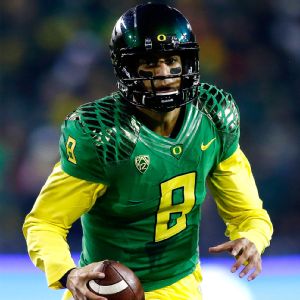 Jonathan Ferrey/Getty ImagesA healthy Marcus Mariota would boost Oregons chances against Texas.
Oregon QB Marcus Mariota
Valero Alamo Bowl vs. Texas on Dec. 30
The skinny
: This is pretty simple: Will Mariota be 100 percent against the Longhorns? If so, will he return to his midseason form, when he was the nation's best player and the leading Heisman Trophy candidate? That means using his legs to stress the Longhorns, both with designed running plays in the read option and scrambling on passing plays. If Mariota is back to his old self, he will put himself firmly in the 2014 Heisman race. And the Ducks should roll.
Arizona RB Ka'Deem Carey
AdvoCare V100 Bowl vs. Boston College on Dec. 31
The skinny
: Another simple one: Carey, the nation's No. 2 rusher, versus
Andre Williams
, the nation's No. 1 rusher and winner of a Doak Walker Award that should have gone to Carey if the award were truly about the nation's best running back (hush, Washington fans). Both offenses rely heavily on their workhorse running backs. Both teams have middling run defenses. The guy who leads the winning effort is probably going to be the guy with the best rushing numbers.
UCLA offensive line
Hyundai Sun Bowl vs. Virginia Tech on Dec. 31
The skinny
: The Hokies are almost always good on defense because coordinator Bud Foster is one of the nation's best defensive minds. This year's unit is A-list, giving up just 17.4 points per game, which ranks eighth in the nation. The Hokies are fourth in the nation in total defense, yielding a meager 4.34 yards per play, and eighth in run defense. The Hokies also have 37 sacks, which ranks fifth in the nation. The Bruins' young offensive line -- three freshmen starters! -- yielded 34 sacks, which ranked 107th in the nation. This will be a tough matchup for UCLA.
Stanford QB Kevin Hogan
Rose Bowl Game Presented by VIZIO vs. Michigan State on Jan. 1.
The skinny
: Hogan has been hot and cold this season but mostly solid. He played well in the Pac-12 championship game victory at Arizona State but threw two interceptions in November games against USC and Notre Dame. The Spartans might offer up the best defense he's seen all year, perhaps the nation's best overall unit, in fact. Most notable: Michigan State owns the nation's best run defense, yielding 80.8 yards per game and 2.7 yards per rush. While the Cardinal probably will challenge the Spartans with perhaps the nation's best offensive line and RB
Tyler Gaffney
, it's difficult to believe the going will be easy. Hogan will need to turn in an efficient, mistake-free performance in what might be a very low-scoring game. The Spartans also rank second in the nation in pass efficiency defense.
December, 18, 2013
12/18/13
11:30
AM PT
He puzzled and puzzed till his puzzler was sore. Then the Grinch thought of something he hadn't before. Maybe Christmas, he thought ... doesn't come from a store. Maybe Christmas, perhaps ... means a little bit more!
September, 20, 2013
9/20/13
2:30
PM PT
Welcome to the week 4 mailbag. It will be done in sanskrit.
Follow the Pac-12 blog on Twitter
. It's this new Internet thing that just might work out.
To the notes!
Scott from Norfolk, Va., writes:
Todd Graham really does seem like a great fit at ASU and he really did seem to bring about a very positive and much-needed cultural overhaul to the program. That said, doesn't his
contract extension
and raise seem a little premature? He's great so far, but "so far" is only 15 games, in which he's 10-5. Dennis Erickson was 12-3 in his first 15 games. I have to imaging this increases Graham's buyout (though I haven't seen direct mention of it, perhaps you can inform us as to whether that's true?), so isn't ASU unnecessarily limiting its options down the road here? Or am I overreacting and this is par for the course (and it's only fair that if coaches are now getting fired after two years they should also get raises on the same time scale)?
Ted Miller
: I see this as a renewal of vows, Arizona State and Graham making it clear to everyone they are happy -- at present -- with each other (and let's also note the same can be said for AD Steve Patterson, whose contract was also extended).
Of course, we all know college contracts often end up getting broken, one way or another. A coach can leave for a big-money job, at which point the new school often picks up the buyout tab, or boosters can get so worked up about a surprising downturn that the school decides to eat the contract and move on. And, yes, sometimes extensions bite a school in the butt -- see Colorado with Dan Hawkins and Iowa with Kirk Ferentz, two coaches who got big-money extensions that proved too expensive to buy out when things went south.
This new contract isn't a big risk for either party. Graham's current contract runs through 2016, this new one runs through 2018. He wasn't given a 10-year deal that could expose Arizona State should the Sun Devils start losing two years from now. As for Graham,
his buyout of $1.5 million isn't terribly big
. Chip Kelly's buyout at Oregon was $3.5 million.
Another interesting detail, though, is Graham is forbidden from taking a Pac-12 job through the life of the former contract. If I were a Pac-12 AD, I 'd always try to get that written into a head coach's contract. It's a good way to protect program secrets. Not saying any Pac-12 program would ever have any.
But, yes, if Texas wanted to hire Graham, it could easily handle the buyout, even though this extension is intended to prevent Graham's name from getting aggressively thrown into the rumor mill.
Why now? Well, you might have noticed the rumor mill already is starting to grind. From the ASU perspective, just about everything Graham has done thus far with the Sun Devils has been positive, and that's not just about winning.
Kevin, as you know,
spent a lot of time with Graham and his staff last week
. I think the picture he paints is of a highly functioning coaching staff with a strong, driven, organized leader running the show.
I know media members aren't allowed to write nice things about Graham. Kevin's and my problem is we actually have spent enough time with him to actually know what we are talking -- and writing -- about.
---
Sam from Sammamish, Wash., writes:
I am noticing some chippiness of late between long-time conference allies, the Pac-12 and the Big Ten. Here is a link to a story about Sark thinking on
the fly about where to practice on Friday prior to the game in Chicago
. What the story neglects to mention is Northwestern University decided to deny UW access to its practice fields less than 24 hours prior to arrival because it would give their Big Ten brethren Illinois an unfair disadvantage. Add this questionable gesture or lack thereof to the Wisconsin/ASU officiating debacle and methinks there may be some outright animosity building up?
Ted Miller
: The Rose Bowl conferences are business partners, but that doesn't mean they aren't rivals who desperately want to win and claim superiority. That sometimes involves gamesmanship, which is what it appears Northwestern did in this instance.
Here's what coach Steve Sarkisian
said on the matter
:
"It's an unfortunate situation. I don't think there's a whole lot of love lost right now between the Big Ten and Pac-12 right now, quite honestly, especially after the Arizona State-Wisconsin game. So it is what it is. Pat Fitzgerald and I exchanged some comments, and we're fine. I don't know where it's going to go from a conference level. It was unfortunate, but in the end, I think it was a positive. It just kept lending to, there's no distractions for us on this team. If we have to walk through the streets of Chicago to a park in downtown Chicago with a light pole in the middle of the field to practice, we'll do it. And our guys didn't skip a beat. It actually worked out really well for us. It's not a big deal for us anymore. We've moved on."
Oh, well. I've got a really high regard for Fitzgerald, so he gets a pass from me. Sark and Huskies fans might feel differently.
The bottom line is Washington beat Illinois 34-24 and the Pac-12 is 3-2 versus the Big Ten. So pffft to our friends from the Midwest.
---
Bill from Portland writes:
What are the odds of USC and Texas meeting in the Holiday Bowl, and if they did, would those be some of the hottest hot seats in college football? P.S. How crazy is it that in the same year it is a good possibility that USC, Texas and Nebraska may be looking for new coaches at the same time?
Ted Miller
: Those certainly are some A-list jobs that might open up by season's end. Suffice it to say, there's already plenty of chatter about how those potential openings might go.
It's certainly not that long of a shot that the Trojans and Longhorns could play in the Holiday Bowl -- or the Alamo Bowl for that matter -- for the first time since their epic national title game after the 2005 season, albeit in far different circumstances. Of course, both teams will need to climb a bit in their respective conference's pecking order to make it happen, particularly 1-2 Texas.
That said, I'm not sure either team would embrace the idea, though both would like an invitation to a quality bowl game. After all, the theme of most advance stories would be: Look how the mighty have fallen!
---
Lee from Ripon, Wisconsin writes:
You are so incredibly stupid it is beyond belief.
To compare a judgment call (pass interference) with a failure of the game officials to call a play by the rules defies basic logic
. Of course basic logic is obviously beyond you. But when you make statements that are factually incorrect, you really display your stupidity. The Pac-12 is the only major conference that uses officials from its league for home nonconference games. The other conferences have the game officials in essence travel with the visiting team. The game officials that worked the ASU at Wisconsin game in 2010 were from the Pac-12. The referee was the same individual who worked the Ohio State at Cal game Saturday night. It was NOT a Big Ten official who missed the pass interference call that you are basing your fallacious argument on; it was a Pac-12 official. If you weren't so fricking lazy you would have checked this out prior to making a factually incorrect statement; it is called research. I will be sending this email to the president of ESPN and suggest that they fire your sorry butt. An individual too fricking lazy to do basic research and as a result base an "argument" (what you stated doesn't meet the definition of a sound argument, but obviously the explanation of what qualifies as a sound argument is way beyond your severely limited mental capacity) isn't qualified to be a sports reporter. You aren't even qualified to be a dog catcher, or a member of the Bush cabinet. Hell, you aren't even qualified to be a Pac-12 football game official.
Ted Miller
: Thank you for your interest in the Pac-12 blog. We value your input. Please press one for customer service, two for new accounts ...
Lee, you are correct. I am stupid and lazy. That has never been so clear until this week when many Wisconsin fans showed up to help become smarter-er. But, to be honest, your world of Badger sophistication frightens and confuses me. I read "factually incorrect" and I want to bury my face into my blankie. I read "fricking lazy" and "research" and I want to know, "Where did these highfalutin concepts get created...
The Kollege Klub
?"
But there is one thing I
do
know.
That referee
Bill LeMonnier
led a
Big Ten crew on Sept. 18, 2010 inside Camp Randall Stadium
for Arizona State's visit to Wisconsin.
I guess I'm just lucky my computer is connected to the Internet-S.
---
Don from Palo Alto, Calif., writes:
Ted --Please pass this on to Kevin -- seems every time I try and click on "send email to Kevin" it displays your smiling face. Is this part of your evil scheme?I wanted to commend Kevin on his very fine profile of Todd Graham. It was well written, informative and unflinching. As a Stanford fan, and Stanford having not played ASU since 2010, I had kind of lost track of the program (although certainly the Graham hire made news). So with the game coming up this week, it was time to get into Graham and the program a bit, and Kevin's piece filled out everything very nicely. Pac-12 blog rocks!
Ted Miller
: I have many evil schemes. This is not one of them, though now I'm sort of wishing it were. A guy can never have too many evil schemes, right?
Yet just two seconds ago, I was gazing at Kevin's Clooney-esque mug.
Did you click here
? There are two places to send your Pac-12 mail, one to me and one to Kevin.
Typically, if you are angry and want to insult us, those notes should go to Kevin. If you want to write how great the Pac-12 blog is, those notes go to me.
---
Jesse from Portland writes:
I know of your long gripe with the word, "Natty." However, an Oregon player first invented that word. And since it has gone global in it's usage, though originating in Oregon, we claim that word. If you actually took the time to visit every single sports forum and blog, you would quickly see that this word is used by every single fan nationally describing the NCG. It has become a universal word and has so for three years now. Get with the times. You are getting old. The only people who hate that word are Oregon haters, cause they know a Duck invented it. And because it was first invented by a Oregon player, we are NOT going to to stop using that word, not now, not ever! We are the only Pac-12 team to go to a Natty in the last eight years. And we are projected to make another one this year. So we have every right to use that word. So Natty, Natty, Natty, wish you were at the Natty. Natty is here to stay. Both now, forever and into all time. It is a Oregon thing, going to a Natty. And unless you are a Duck, you just cannot understand. You Natty old reporters ... don't like the Natty? Well ... go Duck yourself then. Natty times are here to stay!
Ted Miller:
(A sigh ... and then a slow clap ... everyone in the coffee shop slowly stands and joins in).
September, 9, 2013
9/09/13
5:00
AM PT
1. Loyalty is an admirable quality. Loyalty to a fault will get you in trouble. In Manny Diaz's first two seasons as defensive coordinator at Texas, the Longhorns lost games by the score of 55-17, 48-24, 48-45, and 63-21. They won one, 56-50. Texas head coach Mack Brown stuck with Diaz. On Saturday night, the Longhorns lost at BYU, 40-21, allowing 550 rushing yards. Brown fired Diaz on Sunday. If that solves the Longhorns' issues, Brown will be fine. But by sticking with Diaz, Brown used up a lot of goodwill.
2. That said, USC athletic director Pat Haden is not in the same predicament as Brown. When Haden gave Trojans coach Lane Kiffin a preseason vote of confidence, he well may have meant it. It was interpreted, however, as campaign rhetoric, something Haden had to say. Haden didn't hire Kiffin, so he doesn't own him -- yet. USC's 10-7 loss at home to Washington State on Saturday night puts Kiffin in a deep hole. He can still dig out. But he needs a quarterback, not a shovel.
3. Oregon freshman tailback
Thomas Tyner
made his collegiate debut Saturday. The high school All-American rushed four times for 51 yards, including touchdowns of 3 and 31 yards, in the mop-up fourth quarter of the Ducks' 59-10 victory at Virginia. "I've wanted to play for the Ducks for the majority of my childhood," Tyner said, wearing a permagrin. "My first carry being a touchdown, everything just lights up inside of you. Words can't even explain how exciting it is. Today has been awesome."
May, 22, 2013
5/22/13
12:43
PM PT
The 2013 season will be the final year of the BCS era.
And there was much rejoicing!
So, what have been the Pac-12 highs and lows of this often confounding system? Thanks for asking!
Best
1.
USC drubs Oklahoma for the 2004 national title:
The 55-19 victory over unbeaten Oklahoma was the most dominant display of the BCS era. It was also the pinnacle of the Trojans' dynasty under Pete Carroll. It's worth noting that future Pac-12 member Utah also whipped Pittsburgh in the Fiesta Bowl to finish unbeaten that same year.
[+] Enlarge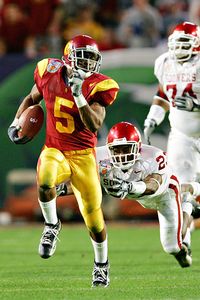 Jamie Squire/Getty ImagesReggie Bush and USC ran away with the 2004 national title.
2.
USC wins "real" national title:
In 2003, USC was No. 1 in the AP and Coaches polls at season's end. If you had eyes and knew anything about football, it was clear the Trojans were the nation's most-talented team on both sides of the football, a notion that was reinforced the following season. Two teams picked by computers played in New Orleans -- most folks outside of Louisiana don't even remember who -- and that forced the Trojans to settle for three-fourths of a national title after dominating Michigan 28-14.
3.
The year of the Northwest:
After the 2000 season, three teams from the Northwest finished ranked in the AP top seven. Washington beat Purdue in the Rose Bowl and finished third. Oregon State drubbed Notre Dame in the Fiesta Bowl and finished fourth. Oregon beat Texas in the Holiday Bowl to finish seventh.
4.
Oregon gets left out but finishes No. 2:
One of the grand faux paus of the BCS era was Nebraska playing Miami for the 2001 national title. Nebraska was coming off a 62-36 loss to Colorado, but the computers failed to notice, and the Cornhuskers were euthanized by the Hurricanes before halftime. The Ducks would whip that same Colorado team 38-16 in the Fiesta Bowl and finish ranked No. 2.
5.
Oregon and Stanford both win:
The 2012-13 bowl season wasn't good to the Pac-12, but Oregon pounded Kansas State in the Fiesta Bowl and Stanford beat Wisconsin in the Rose Bowl. The Ducks finished ranked No. 2 and Stanford was seventh. It was just the second time two Pac-10/12 teams won BCS bowl games in the same season.
Worst
1.
Just one BCS national title, lots of frustration:
No conference has more legitimate gripes with the BCS system than the Pac-12. Multiple seasons saw the conference have teams skipped over, most notably Oregon in 2001 and USC in 2003 and 2008. And ask California fans about how Texas coach Mack Brown gamed the system in 2004, preventing the Bears from playing in the Rose Bowl.
2.
USC's three-peat gets Vince Younged:
It's difficult to look at Texas's epic 41-38 win over USC as anything but great college football art -- perhaps the all-time greatest game -- but Trojans fans don't feel that way. The loss prevented USC from claiming three consecutive national titles and, of course, a second BCS crown for the Pac-10/12.
3.
Oregon falls short versus Auburn:
Oregon looked like a great team and Auburn a team with two great players before the BCS title game after the 2010 season. The Ducks chose a bad time to play one of their worst games of the season, but they still nearly prevailed before being undone by a dramatic game-winning drive from the Tigers.
4.
Make a field goal, Stanford:
Stanford kicker
Jordan Williamson
missed three field goals, including a certain game-winner from 35 yards on the last play of regulation, in the Cardinal's 41-38 loss to No. 3 Oklahoma State in the Fiesta Bowl after the 2011 season. Williamson also missed from 43 yards in overtime, which set the Cowboys up for the win. Stanford dominated the game, outgaining the Cowboys 590 yards to 412, with a 243-13 edge in rushing.
5.
Ducks drop Rose Bowl:
Oregon fell flat in Chip Kelly's first BCS bowl game, with the favored Ducks losing to Ohio State 26-17 in the Rose Bowl after the 2009 season. Buckeyes QB Terrelle Pryor had perhaps the best game of his career -- 266 yards passing, 72 rushing -- and the Ducks offense struggled, gaining just 260 yards.
January, 8, 2013
1/08/13
7:12
AM PT
These are the final 2012 power rankings.
If you don't like where you finished in the power rankings, you should have played better.
See the pre-bowl-season power rankings here
.
1. Stanford
: Oregon received a higher final national ranking, and you could make a decent challenge in favor of the Ducks. They didn't get upset by Washington, didn't play a lot of close games and beat a top-five team in the Fiesta Bowl. But, on Nov. 17, the Cardinal went to Eugene and took care of business. Stanford is the Pac-12 champion, and Oregon is not. Ergo, Stanford sits atop the power rankings. And 2013 looks pretty darn good, too.
2. Oregon
: The cherry on the top of another special season for Oregon is the return of coach Chip Kelly. And we're of the mind that, if not for the slip against Stanford, Oregon would be sitting atop college football this morning after a fine evening of frolic in South Florida. The Ducks and Stanford will be national title contenders again in 2013. And guess which two teams are going to top the first 2013 power rankings?
3. Oregon State
: The loss to Texas in the Valero Alamo Bowl was baffling. The Beavers were a superior team that seemed to be looking for ways to lose in the fourth quarter. The quarterback carousel needs to be resolved. But the Beavers still won nine games, and their 6-3 conference record overcomes UCLA because of a head-to-head win on the road. Nice bounce back after consecutive losing seasons.
4. UCLA
: Yes, the Bruins flopped in the Bridgepoint Education Holiday Bowl against Baylor, but it's impossible not to see Year 1 under Jim Mora as a success, made even more notable by USC's flop. Like last season, the Bruins won the South Division, but this time they earned it.
5. Arizona State
: The Sun Devils won their final three games for the first time since 1978. That's how you go into an offseason with optimism. We hear a lot about "culture change" from programs with new coaches. The Sun Devils' culture change under Todd Graham was made manifest by what happened on the field.
6. Arizona
: The Wildcats did better than expected in Year 1 under Rich Rodriguez, and the season would have been a complete success if not for what happened against that team from up north. That loss hurts, but quality wins over Oklahoma State, USC and Washington, as well as an overtime game with Stanford, show this team competed better than in recent years.
7. Washington
: The Huskies finishing 7-6 against a brutal schedule probably was close to preseason expectations. But the two-game losing streak to end the season, which included a dreadful meltdown in the Apple Cup to Washington State, quashed the momentum a four-game winning steak from Oct. 27 to Nov. 17 had built. Perhaps that will make the Huskies hungrier in 2013, when they have a nice array of talent returning.
8. USC
: The Trojans' season was a complete disaster. USC started out at No. 1 but turned in a white flag performance while losing a sixth game in the Hyundai Sun Bowl to a middling Georgia Tech team. The Trojans were eclipsed by rivals UCLA and Notre Dame while wasting the much-ballyhooed return of QB
Matt Barkley
. Coach Lane Kiffin will be sitting on one of the nation's hottest seats in 2013.
We've been over this a few times
.
9. Utah
: The Utes' move up in class from the Mountain West Conference is proving tougher than some imagined. Utah missed out on playing in a bowl game for the first time since 2002, and there were issues on both sides of the ball. The Utes need an upgrade in talent and overall depth, sure, but consistent quarterback play would be a good place to start. Therein lies hope with promising freshman
Travis Wilson
.
10. California
: A dreadful 3-9 finish ended Jeff Tedford's tenure in Berkeley after 11 seasons. In early October, after consecutive wins over UCLA and Washington State, it seemed as though the Bears might be poised for a rally. Alas, they lost their final five games, including a horrid performance in a 62-14 drubbing at Oregon State. Sonny Dykes has enough returning talent to produce significant improvement in the fall.
11. Washington State
: New coach Mike Leach's season was bad on the field and off, but it ended on a notable uptick with an Apple Cup win over Washington that included a comeback from an 18-point fourth-quarter deficit. Still, 3-9 took a bite out of the enthusiasm Leach's hiring initially generated.
12. Colorado
: A horrid 1-11 finish that was capped by a controversial firing of Jon Embree after just two seasons. The Buffaloes are probably the worst AQ conference team over the past two seasons, and that is the considerable mess new coach Mike MacIntyre was hired to clean up. Of course, MacIntyre put together an impressive turnaround at San Jose State, so he looks like a good choice to bring the Buffs back to respectability.
February, 3, 2012
2/03/12
11:59
AM PT
ESPN The Magazine and RecruitingNation compiled the past five years (2007-11) of ESPNU 150 rankings and then crowned college football's
top 10 recruiting programs
.

Here's how they did it:
Our methodology was simple: We re-tallied the scores following signing day and ranked the schools based on total number of ESPNU 150 recruits (there have been 900) hauled in over the last six years. Of course, like success on the field, recruiting is cyclical -- and fans of programs both on and off this list might look back on Feb. 1, 2012 as the day their team began its rise (or fall) on the trail.
Here's the top-10.
1. Florida
2. Texas
3. USC

4. Alabama
5. Florida State
6. Notre Dame
T-7. Georgia
t-7: LSU
9. Miami
T-10. Ohio State
T-10. Oklahoma
Here's what it says about USC:
Top states: California (36), Florida (six), Arizona (four)
Surprise state: Georgia (three)
Sure, the Trojans have California locked up. But USC has also signed four of Arizona's 12 ESPNU 150 prospects and Georgia's second-best preps in 2008 (WR Brice Butler of Norcross) and 2010 (WR Markeith Ambles of McDonough). In 2012, USC signed seven ESPNU 150 commits -- OT Zach Banner (Lakewood, Wash.) was the lone out-of-state recruit.
(USC actually signed three out-of-state recruits, including receiver
Nelson Agholor
and DT
Leonard Williams
, who are both from Florida).
What's clear from this list: Sometimes teams with lots of ESPNU 150 players produce on the field (Alabama, LSU, Oklahoma, Ohio State) and sometimes they do not (Florida, Texas, Florida State, Notre Dame and Miami).
Florida is 15-11 over the past two seasons, when these highly rated classes should have been peaking. Texas is 13-12 over the same span. Miami has lost fewer than six games just once since 2007. Notre Dame's best years came the past two seasons -- both 8-5. Florida State has averaged 4.8 losses since 2007. Georgia was 10-4 this season, but it was a combined 14-12 in 2009 and 2010. Ohio State probably can be forgiven its 6-7 finish this year, based on the NCAA issues and firing of coach Jim Tressel. Oklahoma's lone blip was an 8-5 campaign in 2009. USC's "downturn" came in 2009 and 2010 when the Trojans went 17-9.
Conclusions?
Well, it's possible that Florida recruiting -- as good as it is -- is overrated. Perhaps the same can be said for Texas. Or at least these four programs -- Florida, Florida State, Miami and Texas -- aren't doing the best job of evaluating their wealth of in-state talent.
November, 3, 2011
11/03/11
7:41
AM PT
Issues to consider heading into the 10th week of games.
Is Oregon sharp and efficient at QB
? The first question here is: Who? If
Darron Thomas
is healthy, it's almost certain he starts. But is his knee 100 percent? Will he be able to pose a legitimate running threat? Will he be sharp throwing the ball? Even before the injury, Thomas was off-and-on as a passer this year. And then if Thomas gets replaced by
Bryan Bennett
, how will the redshirt freshman react to a potentially competitive game on the road against Washington? He was outstanding against Arizona State at home and solid on the road at Colorado, but this game should be more taxing. Oregon's offense can score so many ways that it doesn't have to be perfect in the passing game. Heck, sometimes it doesn't need to throw at all. But the Huskies chances of recording the upset go up substantially if the Ducks are running at 75-80 percent at QB.
[+] Enlarge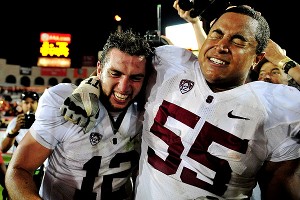 Gary A. Vasquez/US PRESSWIREA letdown is likely for Andrew Luck and Stanford following an emotional triple-overtime victory over USC last week.
Are USC and Stanford going to have letdown games
? After a triple-overtime thriller, it's hard to imagine that USC and Stanford will bring their "A-games" to road dates with Colorado and Oregon State, respectively. For one, both games look like mismatches, so it's possible that players won't be as focused and intense as they normally would. And, second, both could be running on half-tanks of energy after a physical, emotional game. Don't be surprised if they both start slowly and perhaps look a little sloppy. The question is can they pull it together enough to secure a comfortable win or will they allow the Buffs and Beavs to keep things interesting?
Good Cal or bad Cal? Good Maynard or bad Maynard
? California has been all over the place this year, and so has QB
Zach Maynard
. It appeared that he'd found his groove during a 34-10 win over Utah, but then he lost it when he threw four interceptions in a 31-14 loss at UCLA. It's certainly not all his fault. Cal has been fickle for a while, looking like a top-25 team one week, then like an FCS one the other. The Bears should beat Washington State at home. But they will have to show up to do so. And Maynard needs to be on-target or he could lose his starting job.
Will Neuheisel and/or Wulff pick up a signature win
? UCLA and Washington State fans have been waiting for Rick Neuheisel and Paul Wulff to turn their sagging programs around for four years. Neither has produced results that have fans happy. Neither has a meaningful, A-list conference victory that provided a strong indication that better things were ahead (the Bruins beating Texas last year proved a mirage and was a nonconference game). If Neuheisel and the Bruins can beat Arizona State, they will take control of the Pac-12's South Division. That would seem like a win that could resonate. If Wulff and the Cougars could pick up a fourth win at Cal, then it would keep bowl hopes alive and, at worst, show the program was making clear progress.
Foles versus the Utah D
: While Utah's first season in the conference has been disappointing, it's played good, consistent defense. It ranks first in the Pac-12 in total defense and second in scoring. While Arizona's season has been disappointing, QB
Nick Foles
can fling the rock. He ranks first in the Pac-12 in passing yards per game with 366.1, 80 more than anyone else. That matchup alone makes this game worth watching.
Washington's run defense
: Oregon is No. 1 in the conference and No. 4 in the nation in rushing offense (309 yards per game). Washington's defense is best against the run. Of course, that requires qualification. Good running teams -- Nebraska and Stanford -- ran all over the Huskies. And, as a whole, the Huskies defense had been rotten, surrendering 430 yards and 33.4 points per game. If Washington is to have any chance, it must 1. find a way to at least slow down the Ducks running game; 2. force turnovers. Time for coordinator Nick Holt to earn his paycheck.
Arizona needs to run, stop the run
: Utah is second in the conference with 23 sacks. That suggests that it's in Foles' best interest to hand the ball off at least a few times to slow down the Utes' pass rush. So the Wildcats shouldn't abandon the run. Meanwhile, the Wildcats defense has mostly struggled this year, but the Utes offer a limited, one-dimensional offense that relies on running back
John White
. That means Arizona should gang up on the line of scrimmage and force
Jon Hays
to throw the ball. While the Wildcats have been worse against the pass this year than the run -- opponents are completing 69 percent of their throws -- Hays has yet to show he can throw consistently and move his team down the field.
Do Colorado and/or Oregon State have anything left
? Colorado is 1-8. Oregon State is 2-6. Both are coming off blowout losses. Both will be at home in front of uninspired crowds. Both are playing foes with a lot more talent than them. Both look like candidates to take a whipping. And yet. Football is a funny game. If one or the other or both come out playing with fire, they might keep things competitive. And when a game gets into the fourth quarter, crazy things can happen.
October, 20, 2011
10/20/11
6:34
PM PT
Issues to consider heading into the eighth week of games.
Price vs. Luck
: Think back to your college football brain in August. Now look that bolded intro. Who would've thunk it, right? Well, turns out that
Andrew Luck
is a heck of a quarterback, but at present not only is Washington's
Keith Price
nipping at his heels in terms of passing efficiency, but he's also got more touchdown passes than the leading Heisman Trophy contender -- 21 vs. 18. Luck is almost certain to play well at home against a fair-to-middling Huskies defense. To lead the upset for Washington, Price will need to match -- if not exceed -- Luck's numbers.
[+] Enlarge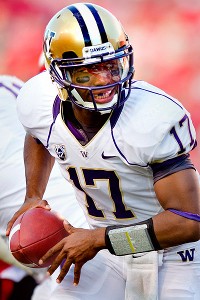 Douglas C. Pizac/US PresswireWashington quarterback Keith Price enters Saturday's game with 21 TD passes, more than Stanford counterpart Andrew Luck.
Barkley to Woods
: USC QB
Matt Barkley
and WR
Robert Woods
are the best pass-catch combination in the Pac-12, and one of the two or three best in the nation. They've combined for six TDs and 130.5 yards per game. But they were not in sync last week against California. It's likely the Trojans will struggle to run against a tough Notre Dame front seven. So the way USC wins in South Bend is Barkley to Woods, Barkley to Woods.
Who starts at QB, RB for Oregon
? Not much to this one: Do
Darron Thomas
(knee) and
LaMichael James
(elbow) start for the Ducks at Colorado? Or do their backups:
Bryan Bennett
and
Kenjon Barner
? This pretty much is the only expected intrigue in Boulder on Saturday.
Hays or Maynard
? While there's no single reason Utah and California are both 0-3 in Pac-12 play, the biggest is inconsistent play at QB. Utes QB
Jon Hays
replaced injured starter
Jordan Wynn
for the second half against Washington and has mostly improved in two starts. Cal's
Zach Maynard
started the season well but has struggled since the conference slate began, bottoming out last Thursday with three interceptions against USC. With two good defenses at AT&T Park, it's unlikely either offense will be able to run the ball 40 times and win. The team that is more efficient passing the ball likely ends up smiling.
Wildcats set free
? There's a feeling that Arizona's players were playing tight -- more worried more about mistakes than focused on making plays -- in recent weeks as the losses piled up and coach Mike Stoops got more frenzied on the sidelines. We'll get a better feel for that Thursday night. The Wildcats have started slowly all season. If they get off to a quick, enthusiastic start against UCLA, you'd have to think a lot of players have loosened up since Stoops was fired. That shouldn't be over-construed as an indictment of Stoops, by the way. After all that losing and a coach firing, sometimes it becomes easier to play when you have nothing to lose.
Tuel time
: Washington State QB
Jeff Tuel
didn't pick a great team for his first start since a fractured clavicle forced him to miss the Cougars' first five games: Stanford. While Tuel had his moments, he looked a little out of sorts against an A-list defense. But after getting his game legs back, Oregon State's defense offers a much softer landing. Tuel is the Cougars unquestioned leader. This is a must-win game for the Cougs' bowl hopes and for coach Paul Wulff — and in such games, unquestioned leaders step up, lead and make plays that turn must-wins into victories.
Hogs on the Farm
: While the rise of Stanford football is not unreasonably connected to Luck, more than a few folks will tell you a culture shift was more important. A program that was seen as soft, one populated by smart young men with aspirations other than pro football -- because they wanted to make more money than the NFL could pay them -- transformed into an edgy, physical and, yes, maybe slightly dirty unit that played until the very echo of the whistle. Washington coach Steve Sarkisian has been talking about the Huskies playing physical football since he was hired to take over a team that went soft under Tyrone Willingham. The Huskies have taken some big steps forward -- see the dominant victory over Nebraska in the 2010 Holiday Bowl. But they aren't there yet on either line. Or are they? We'll see Saturday in the trenches.
Prince wears the crown
:
Kevin Prince
is (again) UCLA's quarterback. While this has many Bruins fans slapping their foreheads, Prince was a capable passer in 2009 and ran the pistol offense well in 2010. He's just never been consistent and, most important, never stayed healthy. Well,
Richard Brehaut
is out for the year, so the QB job is (again) Prince's. At least as long as he can stay healthy, and barring any horrible play -- see Prince against Texas -- that forces embattled coach Rick Neuheisel to turn to true freshman
Brett Hundley
. Yet there is a potential positive spin here. What if Prince rises to the occasion? A UCLA win at Arizona would set the Bruins up nicely for a second-half run.
PAC-12 SCOREBOARD
Thursday, 8/28
Friday, 8/29
Saturday, 8/30