USC Trojans:

Simione Vehikite
June, 3, 2013
6/03/13
8:00
AM PT
With the Trojans hard at work in the weight room and on the field again this June, here's a look at some of the offseason storylines surrounding a position group that appears to possess a much greater level of talent and depth than it did this past season -- the USC running back corps.
Physicality is key
While the USC offense did put up some impressive numbers throughout much of the 2012 season, it also sputtered at times, due in part to a game-plan that placed a dramatic emphasis on the passing attack. With the Trojans compiling 461 passing attempts compared to just 392 rushes, the ground game appeared to lose much of its trademark physicality, and USC ran for an average of just 150.6 yards per game -- the No. 71 mark in the FBS.
[+] Enlarge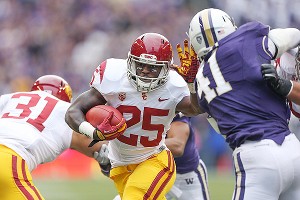 Otto Greule Jr/Getty ImagesRising senior Silas Redd transferred to USC from Penn State last year and quickly established himself as the No. 1 option out of the backfield.
Fast forward to the spring, and USC head coach Lane Kiffin made no secret of the fact that a major priority was to bring the power-run game back as part of what could potentially be a more balanced offense in 2013 -- with a particular focus directed at the running backs and offensive line. With a new position coach leading them through their paces in Tommie Robinson, the running backs appeared to run with a renewed sense of physicality, and virtually every member of the rotation upped their level of play. Whether or not this change in philosophy carries on into the fall remains to be seen. But if this spring was any indication, the USC running backs could be on the cusp of making a real statement in 2013.
Great expectations for Redd
Figuring to lead the way for the USC tailback group will be senior
Silas Redd
. Arriving on campus as a transfer from Penn State just prior to the start of fall camp last August, he made a lightning-quick transition and finished the 2012 campaign as the team's leading rusher with 905 yards and nine touchdowns. And while his spring was cut short due to a torn meniscus in his knee, with what he did show in the little time that he was able to work out, there's every reason to believe that he's primed for an even bigger 2013 season. Equally as important, he's a veteran leader with a blue-collar work ethic who gained the respect of his teammates right off the bat upon his arrival, and he's sure to aid in the progression of the running back corps as a whole.
No shortage of talent
While Redd is the headliner of the unit, thanks to some standout play by a few other tailbacks who took advantage of his absence this spring, he doesn't quite have the starting job locked up just yet.
Early-entrant freshman
Justin Davis
, in particular, was a revelation. Showcasing a tough north-south rushing style, he wowed onlookers with his play on a daily basis, and he was rewarded with a spot atop the post-spring depth chart alongside Redd and redshirt sophomore
Tre Madden
. Madden, who returned to practice in a limited capacity after missing the 2012 season with a torn ACL, showed no ill effects of the injury, and the 6-foot-1, 220 pound athlete certainly appears ready to give the USC offense its best example of a pure power back.
Behind those three, redshirt junior
D.J. Morgan
arguably looked the best that he has in a Trojans uniform, showing impressive speed and explosiveness at times, while redshirt sophomore
Javorius "Buck" Allen
-- a virtual non-factor his first two years on campus -- showed vast improvement, something he attributes to having the playbook down pat for the first time.
And then there's freshman
Ty Isaac
, who just arrived on campus. Standing 6-3 and 215 pounds, he gives this unit a completely different look as a hulking physical presence with a ton of athleticism to boot, and he could possibly also factor into the discussion here.
With so much talent and depth at the position compared to the situation in 2012 -- when the Trojans had just four active tailbacks on scholarship -- the increased level of competition figures to continue to bring out the best in everyone. And if it ultimately does just that, it's safe to say that the Trojans' offense will be in good hands regardless of who it is that gets the bulk of the carries.
Two-headed monster taking shape at FB
One player who certainly didn't have any trouble adjusting to the increased physical nature of USC's practices this spring was the team's primary starter at fullback in 2012, redshirt sophomore
Soma Vainuku
. As smash-mouth as you can get, he's made a name for himself as an imposing lead blocker for the Trojans. But with Vainuku going down with a PCL injury in his knee in the second week, it was the performance by sophomore
Jahleel Pinner
that turned into one of the major stories of the spring. The running back unit's most improved player of the entire slate of March and April practices according to Robinson, the Mission Viejo (Calif.) product asserted himself as a more-than-capable performer at the position. As a result, when the post-spring depth chart was released, he wound up sharing the starting title with Vainuku.
With the Trojans now apparently possessing a pair of standout options at fullback, with
Simione Vehikite
also adding depth, the team appears to be in good shape at the spot, but there is still room for growth. Because while Vainuku and Pinner have established themselves as efficient blockers, neither has made a significant impact in terms of their offensive numbers just yet. In fact, Kiffin noted on more than one occasion this past spring that he wants to see more production from a position that amassed a total of just 26 yards on the ground and 50 yards through the air (all by Vainuku) in 2012. If either Vainuku or Pinner can eventually step into that role this fall as a potential offensive threat coming out of the backfield, it would add a whole new dimension to the USC offense.
April, 10, 2013
4/10/13
9:34
AM PT
There is no doubt about it -- the USC running back corps has had an extremely productive spring. Even after last season's leading rusher,
Silas Redd
, went down with a torn meniscus in his knee, others were quick to step up. Most notably,
Javorius "Buck" Allen
and freshman
Justin Davis
picked up the slack.
Still, if you ask running backs coach Tommie Robinson which player has made the most pronounced strides this spring, it's not one of those highly regarded tailbacks. It's a fullback --
Jahleel Pinner
.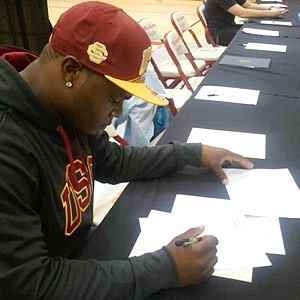 Courtesy Pinner FamilyUSC fullback Jahleel Pinner has come a long way since he signed with the Trojans last year.
"Of all of the running backs -- the whole group -- I'm more proud of what this guy is doing than all of the long runs and all of that stuff," Robinson said without hesitation. "Right now, he's the unsung hero of the group."
Coming off a freshman season that saw him garner significant playing time as the season wore on, Pinner has carried that momentum into this spring. With 2012 starter
Soma Vainuku
sidelined with a PCL injury since the team's second scrimmage, he's taken full advantage of the extended opportunity to make an impression.
"When Soma got hurt, I just realized that it's my turn to show the coaches what I can do," Pinner said. "I just got it in my mind that every play is a battle for me."
Standing 6-foot tall and weighing 238 pounds, Pinner has brought a perfect blend of physicality and athleticism to the fullback position this spring. More than anything, however, it's his work ethic that has caught everyone's attention. As one of only two healthy fullbacks on scholarship – along with recently converted linebacker
Simione Vehikite
-- the former Mission Viejo (Calif.) standout has been relied upon heavily, and he's answered the call time and time again.
"The kid ran 65 snaps today, and that doesn't include all of the other periods," Robinson said following Tuesday's practice. "Not one time did he say a word about getting tired. I've never practiced a kid to run that many snaps in a practice. He's very unselfish, he's doing an outstanding job and he never complains. He has a mentality where he just shuts up and goes to work."
With that unwavering drive and determination, it's no wonder Pinner has come so far in such a short period of time. In particular, it's his growth in terms of understanding his role within the playbook and in reading defenses that he attributes most to his rapid improvement.
"I've come a long ways in the mental part of my game," Pinner said. "I know a lot more about what the defense is going to do with their blitzes, and what they're going to do based on their alignments. It's definitely helped me on the field."
Still, Pinner isn't a finished piece of work just yet. And with coach Lane Kiffin stressing the importance of getting more offensive production out of the fullback position, Pinner is more focused on that aspect of his game than ever.
"They're putting me in the offense in little wrinkles here and there, so whatever they try to put me in, I'm going to go 100 percent," Pinner said. "As a football player, you always want to prove yourself. And especially as a fullback, we don't get as many chances as the tailbacks or receivers, so when I get the ball in my hands, I have to make the most of it."
With Pinner's mindset, not to mention his recent uptick in production, there's reason to believe he might be making a case for more playing time next season. But as Robinson points out, there is a whole offseason, as well as fall camp to get through before thinking about that. But if Pinner does continue to work hard and develop, there is no denying he might have a very bright future ahead of him.
"Am I gaining confidence that I can put him out on the field, knowing that I don't have to worry about him? Yes, I am," Robinson said. "Does he have work to do? Yes, he does. But he's getting there. This was his 13th practice, and we've got two more -- he has two more opportunities to get better before we head into the fall. He is growing up right before our eyes, and if he'll continue to make that kind of progress every day, this kid is going to be all right."
April, 5, 2013
4/05/13
8:05
AM PT
The Trojans are now in the final stretch of spring ball with just over a week of practice remaining on the schedule. As injuries continue to mount and position battles rage on, here's how a potential depth chart just might look if one were released today.

Quarterback

March, 27, 2013
3/27/13
6:27
AM PT
The Trojans returned to the spring practice field on Tuesday with a full pads session that was dominated by the defense, particularly the front seven.
It's been a familiar theme of spring to see the defense playing well, and that's a sign that the players are picking up on the schemes being installed by new defensive coordinator Clancy Pendergast.
"We've got a long way to go but we like what we see so far," Pendergast said. "We want athletic guys with football instincts. Guys who are smart, tough and competitive players."
[+] Enlarge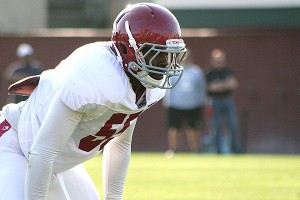 Garry Paskwietz/WeAreSC.comLinebacker Lamar Dawson was named MVP of Tuesday's practice session by USC coach Lane Kiffin, who called Dawson the most improved player on the team.
One of the defensive players who has played well consistently this spring is linebacker
Lamar Dawson
, who was named MVP of the day by USC coach Lane Kiffin. Dawson continues to alternate with
Anthony Sarao
at the Will linebacker spot, but it's clear that the 5-2 system is one that plays to his strengths. In fact, Kiffin called Dawson the most improved player on the team through seven days of spring ball drills.
Another standout player from the day was cornerback
Torin Harris
, who had multiple pass breakups. Torin also had an impressive interception when
Cody Kessler
tried to hit
George Farmer
deep down the middle of the field, but Harris tipped the ball and came down with the pick. With
Kevon Seymour
out of action on Tuesday, Harris was one of the second-unit corners with
Anthony Brown
and
Chris Hawkins
running with the first unit.
"I feel healthy right now and that's the key," Harris said. "You can play free when you are healthy, and I feel good. This new defensive system is perfect for me because it allows the corners to be aggressive. It's a simple defense, so we picked it up quickly but it causes a lot of problems for an offense."
Along the defensive line, there was a lineup at one point that featured a big interior grouping of
Antwaun Woods
and
Cody Temple
as the defensive ends and
Kenny Bigelow
as the nose tackle.
"We just wanted to see how they looked together to get a feel for who we have," Pendergast said. "Those are the things you look at in spring."
March, 4, 2013
3/04/13
7:30
AM PT
With Clancy Pendergast set to unveil an attacking defense that will run primarily out of a new 5-2 base look, more than a few eyes are sure to be focused squarely on this side of the ball this spring. With that in mind, here's a possible look at how the players on the current Trojans roster just might fit, as practice gets under way on Tuesday.
Defensive line
To continue reading this article you must be an Insider
February, 8, 2013
2/08/13
8:00
AM PT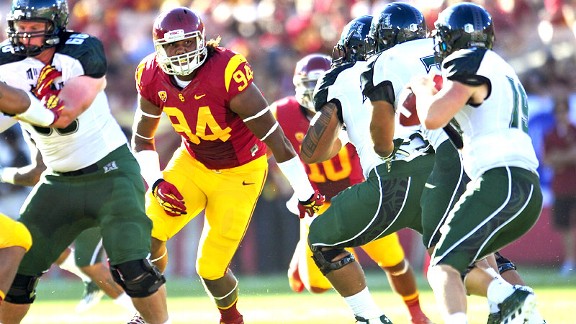 Cal Sport Media via AP ImagesIt will be interesting to see how much Leonard Williams, the Pac-12 defensive freshman of the year, sees his role change in USC's move to a 3-4 defense.
With USC's recruiting class of 2013 now signed, sealed and delivered, here's a look at where the newest Trojans might potentially fit into the depth-chart in a possible 3-4 look under new defensive coordinator Clancy Pendergast.
Defensive Line
DE:
Leonard Williams
(6-foot-5, 270 pounds, So.);
Greg Townsend Jr.
(6-3, 260, RS So.) OR
Kenny Bigelow
(6-3, 295, Fr.)
To continue reading this article you must be an Insider
September, 19, 2012
9/19/12
1:10
PM PT
LOS ANGELES -- The Trojans practiced under beautiful conditions out on Brian Kennedy/Howard Jones field once again on Wednesday, and there was a definite upbeat tone on the day for what turned out to be a sharp practice, particularly on the offensive side of the ball -- a positive sign considering how the Trojans struggled in that department against Stanford.
"It was a really good practice today," Trojans coach Lane Kiffin said. "I thought the offense came out and was really crisp in both the running game and the passing game, and it was good to see. It's obviously going to be needed to get back on track, and we fully expect that to happen on Saturday."
That offensive crispness was immediately evident early on when the quarterbacks were working with the tight ends and wide outs. USC quarterback
Matt Barkley
was in-synch with his receiving options all day, and it wasn't just the usual
Marqise Lee
and
Robert Woods
show either -- tight ends
Xavier Grimble
and
Randall Telfer
made their share of receptions too.
September, 11, 2012
9/11/12
1:36
PM PT
The Trojans hit the field on Tuesday to prepare for their Pac-12 opener at Stanford this Saturday, and while much of the media attention has focused on USC's three-game losing streak to the Cardinal -- in particular last season's 56-48 triple overtime loss -- quarterback
Matt Barkley
commented afterward that the team is only focused on the task at hand.
"We're just approaching every game the same," Barkley said. "It's the next game, it's week three, we're going up north -- an away game -- there's nothing special about it."
Trojans running back
Curtis McNeal
-- who turned the ball over with a fumble on USC's final possession against Stanford last season -- echoed those sentiments.
September, 5, 2012
9/05/12
1:22
PM PT
LOS ANGELES -- It was a surprisingly overcast morning during Trojans' practice on what USC head coach Lane Kiffin called "Syracuse Wednesday."
"An up and down day today for us," Kiffin said. "I thought the defense came out and played a lot better than yesterday, until the end. So we'll go back and look at the film. We have lot of work to do."
Practice started out on an upbeat tone as Kiffin tossed the ball over to various players during warmups, while
Kyle Negrete
boomed some punts off to the side with some impressive hang-time.
August, 30, 2012
8/30/12
2:23
PM PT
LOS ANGELES -- USC held its final practice before the season opener and Lane Kiffin was pleased with the effort from his team. The Trojans will hold a walkthrough on Friday before heading to the team hotel for their regular pregame routine.
The big news to come out of practice was the fact that linebacker Simi Vehikite had been reinstated to the team. Vehikite is a junior linebacker who left the team last spring after getting into legal trouble, and there weren't any signs of him coming back.
"Simi is back with our team," Kiffin said. "He has been through a lot. While he was not with us, he had a great semester last spring, passed 20 units and is very close to graduating."
Vehikite, who is originally from Hawaii, has six tackles in his career while alternating between linebacker and fullback. He will be a redshirt junior for the 2012 season.
The fact that Vehikite is back on scholarship means that USC appears to be at the 75-scholarship limit that is mandated with the NCAA sanctions. There has still been no word on the qualifying status of incoming wide receiver
Darreus Rogers
(Carson, Calif./Carson) but the news of today would seem to indicate that something would have to change with the current allocation of scholarships if Rogers is able to enroll this fall.
March, 6, 2012
3/06/12
9:51
AM PT
Questions were raised when LB/FB
Simione Vehikite
was not listed on USC's spring roster, but they appear to have been answered Tuesday morning, as a report by Gary Klein of the Los Angeles Times states that Vehikite was arrested last month and faces felony counts relating to an incident that occurred in July.
Klein reports the four counts alleged against Vehikite are: leaving the scene of an accident; driving under the influence and causing injury; driving with a .08% blood alcohol level and causing injury; and identity theft.
USC head coach Lane Kiffin told Klein that Vehikite was removed from all team activities as soon as USC officials were made away of the situation and that there will be no further comments on the situation.
March, 5, 2012
3/05/12
6:59
PM PT
Lane Kiffin has said all along that he has a plan to navigate the rough waters of NCAA sanctions, including roster limitations. Evidence continues to mount.
When quarterback
Matt Barkley
and safety
T.J. McDonald
announced they would be returning for their senior seasons, and USC coaches seemed adamant about taking a full allotment of 15 players in the most recent recruiting class, panic spread as it appeared the Trojans would be well above the NCAA-mandated limit of 75 scholarship players for each of the next three seasons. There were questions as to how the Trojans would be able to trim the roster to fit within that number. But as was the case on the field for the Trojans last year, things have had a way of working out with Kiffin at the helm.
The spring ball roster revealed that fullback Simi Vehikite is no longer part of the team and that, in addition to the losses of
Brice Butler
,
Dillon Baxter
,
Kyle Prater
,
Armond Armstead
and
Patrick Hall
, leaves the Trojans with just 64 scholarship players. The addition of 12 freshmen this fall would put USC at 76 total, meaning there must be one additional defection between now and the start of fall camp for the Trojans to head into the reductions at the magic number of 75.
To continue reading this article you must be an Insider
February, 14, 2012
2/14/12
11:58
AM PT
Like the offensive line, fullbacks tend to be overlooked by fans and the media. Even though the position isn't known for long runs or winning touchdowns, the fullback is vital to the success of the Trojans offense next season.
Last season, the Trojans were somewhat limited in the run game. With an offense that is typically known for its wide and outside zone running, the Trojans found its success running inside. While one half could be blamed to the offensive line having a difficult time with their techniques and landmarks when running it wide, the other half can be chalked up to a lack of a system fullback.
With all that being said, the offense still produced a 1,000 yard rusher in
Curtis McNeal
. Leading the way for McNeal were seniors
Rhett Ellison
and
Ross Cumming
. With Ellison a tight end originally and Cumming a linebacker, the two had little experience lining up in the backfield. Both did a good job considering the circumstances, but their lack of experience also played a part in limiting the offense's play-calling.
To continue reading this article you must be an Insider
January, 13, 2012
1/13/12
8:30
AM PT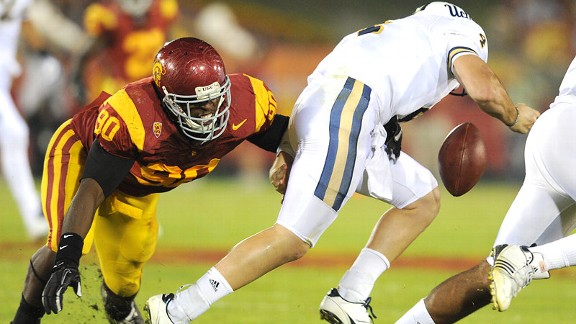 Chris Williams/Icon SMIRedshirt freshman George Uko showed flashes of potential in 2011 and suddenly becomes the veteran presence for the Trojans at defensive tackle.
LOS ANGELES -- With off season workouts starting this week and with spring practices just a couple months away, let's take an early look at the biggest issues the Trojans will face during spring practice.
Defensive Tackle
To continue reading this article you must be an Insider
PAC-12 SCOREBOARD
Thursday, 8/28
Friday, 8/29
Saturday, 8/30