USC Trojans:

Sean Schroeder
August, 28, 2013
8/28/13
6:00
AM PT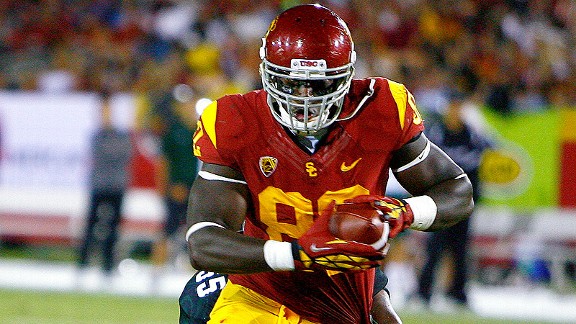 AP Photo/Kevin TerrellThe Trojans are ready to get their season going against Hawaii on Thursday, but an injury outbreak in camp could leave them without players such as Randall Telfer.
After taking part in their final tuneup at home in preparation for their Thursday night matchup at Hawaii, the No. 24-ranked USC football team left practice on Tuesday afternoon in a notably upbeat mood.
"I think they're looking forward to playing a game, just like everybody around the country," Kiffin said shortly before the players boarded buses to LAX for their flight to Honolulu. "Camp gets long ... you hit the same people. They've been hitting each other a lot, especially with not a lot of depth there, so I think they're just excited to play on the same side."
Coming off a 2012 campaign that saw the Trojans stumble to a disappointing 7-6 record, Kiffin and Co. have a lot to prove this fall, and it all starts with the impending season opener. USC is heavily favored in the contest, not a surprise considering Hawaii's 3-9 record -- which included a 49-10 loss to the Trojans -- while also fielding an offense that ranked No. 118 in yards per game (297.4).
Still, it's a new season, and Kiffin has made a concerted effort to ensure that his team doesn't take Hawaii -- led by former USC offensive coordinator Norm Chow -- for granted.
"I don't know what we're favored by, but every game is the same," Kiffin said. "You have to come ready to play every Saturday, Thursday, Friday or whatever day it is. We've seen over the years on both sides that those [point spreads] don't mean very much. You better come ready to play in college football or you're going to lose the game."
One Hawaii player that appears to have caught Kiffin's attention in particular is junior quarterback
Taylor Graham
. An Ohio State transfer who takes over the starting job held last season by senior
Sean Schroeder
, he has yet to throw a pass in a live college game, but with a 6-foot-5, 235-pound frame and a strong arm, he's created a fair amount of buzz this month during workouts.
"It sounds like their quarterback has been doing a good job, and doing well in scrimmages," Kiffin said.
Defensively, the Rainbow Warriors are coming off a season in which they allowed just 182.8 passing yards per game -- the No. 11 mark nationally. Led by a front seven featuring defensive end
Tavita Woodard
, tackle
Siasau Matagiese
and linebacker
Art Laurel
, Kiffin expects them to try to come after USC's starting quarterback -- whether that's
Max Wittek
or
Cody Kessler
-- early and often.
"I'm sure that they'll pressure us a lot with a new quarterback, a new center and a lot of new players," Kiffin said. "I would expect them to be very aggressive."
And while the Trojans will be playing on an island more noted for its weather and beaches than for its football, the USC coaching staff has worked hard to hammer home the idea that the team is travelling with the sole objective of coming away with a victory.
"This is a business trip," Kiffin said. "I think our players understand that this really isn't a vacation."
Kiffin knows who will start at QB
Kiffin has stated on more than one occasion that he anticipates playing both Wittek and Kessler at quarterback in the Trojans' opener, and on Tuesday he revealed that he has now picked a starter, but he wouldn't go so far as to name him.
"I'm not going to tell you the end of the movie before you go into the movie, right? -- You're going to have to watch," Kiffin said.
Kiffin also hasn't explained how he might substitute or rotate the two quarterbacks in during the course of the game, but regardless of who is in at any point in time, he's confident that he can go with the same gameplan.
"We're at the point now where we feel great about both quarterbacks, that we would not have to call different plays or have a different play-chart for both guys," Kiffin said. "We're going to call it the same regardless of which guy is in there."
Injuries could have impact
The topic of injuries has been a constant throughout August at USC, with over 20 players sitting out a number of recent practices, and there is a large collection whose status still appears to be questionable going into Hawaii.
"Well, I feel confident in the guys that are going to play, but at the same time it is unusual to be shuffling around so much this last week," Kiffin said. "I feel more like we're in week 9 or week 10 where you've really got to kind of figure things out because of injuries. It is what it is. I'm sure other people have problems too. All of these injuries have given other people opportunities to step up."
Tight end
Randall Telfer
, outside linebacker
Morgan Breslin
and safety
Dion Bailey
are three key players who have missed extensive time this month. When asked on Tuesday if the three would be travelling with the team to Hawaii, Kiffin gave the same answer in each instance -- "I hope so" -- before adding "We'll be in a lot of trouble if we don't have those three guys."
Additional Notes
• Kiffin said that
Josh Shaw
and
Su'a Cravens
will start at the two safety spots.
• Kiffin confirmed that tailbacks
Silas Redd
and
D.J. Morgan
would not travel due to injury.
August, 27, 2013
8/27/13
6:00
AM PT
No. 24 USC, which stumbled to a 7-6 record in 2012, will look to start the 2013 campaign off on the right foot in Honolulu on Thursday when they face a Hawaii squad that finished last season with an even bleaker mark of 3-9.
Led by second-year head coach Norm Chow -- who worked alongside USC head coach Lane Kiffin under Pete Carroll -- the Rainbow Warriors will have to show vast improvement, particularly offensively, if they're going to put up a fight against a Trojans team that defeated them 49-10 last season. Here's a closer look at Hawaii:
Offense (2012 season statistics)
Scoring:
21.2 points per game (No. 9 MW, No. T-100 overall)
Rushing:
108.6 yards per game (No. 10 MW, No. 111 overall)
Passing:
188.8 yards per game (No. 7 MW, No. 98 overall)
Total:
297.4 yards per game (No. 10 MW, No. 118 overall)
[+] Enlarge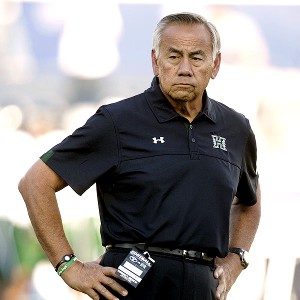 AP Photo/Rick BowmerFormer USC assistant coach Norm Chow is trying to rebuild the football program at Hawaii.
Quarterback:
No. 8
Taylor Graham
(6-foot-5, 235 pounds, Jr.), No. 19
Sean Schroeder
(6-3, 190, Sr.)
With Schroeder at the helm in 2012 the Hawaii offense wasn't exactly Norm Chow-esque, averaging just 188.8 passing yards per game. Enter Graham -- the son of former NFL quarterback Kent Graham -- who sat out last season after transferring in from Ohio State and now stands as the team's No. 1 signal-caller. Possessing a live arm, he impressed onlookers this past spring, but he also has yet to throw a pass in a live college game.
Running back:
No. 34
Aofaga Wily
(5-11, 215, Fr.), No. 4
Steven Lakalaka
(5-10, 240, Fr.), No. 38
Marcus Langkilde
(5-11, 225, Sr.), No. 7
Joey Iosefa
(6-0, 245, Jr.)
While the ground game certainly isn't the focus of the offense, the Rainbow Warriors will be looking for more production from a running back corps that was one of the nation's least productive in 2012. Iosefa, who is the leading returning rusher, has been dinged up with a foot injury, so Wily, Lakalaka and Langkilde will carry the load.
Wide receiver:
No. 9
Chris Gant
(6-0, 185, Sr.), No. 29
Scott Harding
(5-11, 200, Jr.), No. 81
Vasquez Haynes
( 6-2, 215, So.), No. 89
Keith Kirkwood
(6-3, 210, Fr.), No. 14
Marcus Kemp
(6-4, 185, Fr.), No. 5
Billy Ray Stutzmann
(6-0, 185, Sr.)
Graham will have a talented group of receivers to throw to, and they should provide a solid test for the USC secondary. Stutzmann -- the team's leading pass-catcher (35) a year ago -- was involved in an offseason car accident and is doubtful to participate. Hawaii still possesses a nice mix of veteran and freshman performers, led by Gant.
Tight end:
No. 87
Harold Moleni
(6-2, 255, So.), No. 84
Clark Evans
(6-4, 220, Sr.)
A unit filled with experience, Evans is a very capable receiving threat. Moleni -- known for his aggressive brand of play -- is more of an all-around option.
Offensive line:
LT No. 68
Sean Shigematsu
(6-5, 290, Jr.), LG No. 54
Kody Afusia
(6-2, 310, Jr.), C No. 71
Ben Clarke
(6-3, 285, So.), RG No. 76
Dave Lefotu
(6-3, 305, Jr.) RT No. 77
Mike Milovale
(6-3, 310, Sr.)
Graham and Co. will need better protection from an offensive line that gave up 40 sacks last season, particularly against a strong USC front seven. Clarke -- a starter in all 12 games in 2012 -- anchors the unit.
Defense (2012 Season statistics)
Scoring:
35.7 points per game (No. 10 MW, No. T-104 overall)
Rushing:
190.2 yards per game (No. 5 MW, No. 86 overall)
Passing:
182.8 yards per game (No. 3 MW, No. 11 overall)
Total:
372.9 yards per game (No. 4 MW, No. 41 overall)
Defensive line:
DE No. 11
Tavita Woodard
(6-4, 260, Sr.), DE No. 92
Beau Yap
(6-2, 260, Jr.), DT No. 59
Siasau Matagiese
(6-2, 300, Sr.), DT No. 91
Moses Samia
(6-1, 300, Jr.)
A physical group that lines up out of a 4-3 look, the defensive line was dealt a big blow when tackle Kennedy Tulimasealii -- the jewel of Hawaii's most recent recruiting class -- went down with a knee injury in fall camp that will sideline him for this game. Still, Hawaii's line appears to be much deeper and healthier than in 2012, with Woodard and Matagiese serving as the foundation.
Linebacker:
No. 41
Art Laurel
(6-0, 245, Sr.), No. 40
Jerrol Garcia-Williams
(6-2, 215, So.), No. 56
Brenden Daley
(6-3, 250, Sr.)
A sturdy unit marked by athleticism and toughness, the linebackers are the heart and soul of the Hawaii defense. They're headlined by Daley, a team leader, and Laurel, a senior with 21 starts and 122 career tackles to his credit.
Cornerback:
No. 1 Ne'Quan Phillips (5-9, 185, So.), No. 23
Dee Maggitt
(5-10, 170, Jr.)
The Warriors were No. 11 in the nation against the pass in 2012, but gone is
Mike Edwards
, the team's prolific cover corner. Phillips, who started five games last season, took Edwards' No. 1 jersey in the offseason, and he'll try to replicate his production this fall.
Safety:
No. 33 John Hardy-Tuliau (5-11, 180, Sr.), No. 10
Marrell Jackson
(6-0, 185, So.)
Hawaii has two tried-and-tested safeties in Hardy-Tuliau -- who has started 32 games in his career -- and Jackson, the team's leading returning tackler (56).
Special teams
Kicker:
No. 27
Tyler Hadden
(5-11, 180, Jr.)
Hadden converted on 29 of 29 PAT attempts last season and 13 of 21 field goal tries.
Punter:
No. 44
Ruben Guzman
(5-8, 190, Jr.)
A lefty, Guzman averaged 42.7 yards per punt in 2012 at Riverside (Calif.) City College.
Kickoff/punt returner:
No. 9 Chris Gant (6-0, 185, Sr), No. 29 Scott Harding (5-11, 200, Jr.)
Gant will get the first crack at returning kickoffs after compiling 56 yards on two returns last season. Harding is back to handle punts after averaging 12.8 yards per return in 2012 -- the No. 13 mark nationally.
PAC-12 SCOREBOARD
Thursday, 9/3
Friday, 9/4
Saturday, 9/5