USC Trojans:

Ryan Dillard
August, 8, 2013
8/08/13
7:00
AM PT
The Trojans came out in full pads for the first time during fall camp on Wednesday, with USC head coach Lane Kiffin using the practice as a tuneup of sorts for the team's initial scrimmage, coming up on Thursday in the Los Angeles Coliseum.
"Normally this really is the day that we scrimmage because it's the first day that we're in full pads, but we really wanted to make sure that we were still working on our basics, that we were still working on our fundamentals of tackling in our first day that we were allowed to do that," Kiffin said. "So, it was good to have this day and to set it up this way so that we're giving our players everything, so that we can really have a good test tomorrow when we have a full-live scrimmage."
Predictably, the workout was marked by some physical play, with the defense getting the better of the offense in what has become a trend in the early portion of this year's camp.
Cody Kessler
and
Max Wittek
-- who took the bulk of the snaps at quarterback -- struggled at times to find open receivers against tight coverage from the secondary and an effective pass rush by the defensive line.
Defensive end
George Uko
set the tone right off the bat in an early team period, stuffing tailback
Justin Davis
on a run up the gut. Linebacker
Lamar Dawson
picked off a Kessler pass soon after that, and then just a few plays later it was safety
Leon McQuay
's turn, stepping in front of a Wittek toss over the middle. Kessler came back to connect on a deep touchdown pass over the middle to
Marqise Lee
, but the session ended with a pair of two-minute drills, one led by Wittek and the other by Kessler, neither resulting in a score. Kessler's drive ended on an interception by cornerback
Ryan Dillard
on a ball that was initially tipped in the air by safety
Dion Bailey
. Kessler was picked off once more later on, this time by linebacker
Hayes Pullard
during a 9-on-7 period.
[+] Enlarge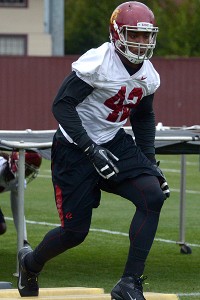 Kirby Lee/USA TODAY SportsLinebacker Devon Kennard was the standout of Wednesday's practice.
During the final team session of the day, Wittek connected on a couple of deep passes to
Victor Blackwell
and Lee, while Kessler found Blackwell on a nice toss over the middle.
In the end though, the defense was the big story, with Pullard coming up with a big stop on Davis for no gain near the end of the day, and then SAM linebacker
Devon Kennard
capping it off by stripping the ball from Kessler, and then taking it in for six.
"Devon would be up there, if there was an MVP or something like that, on the whole team so far," Kiffin said of Kennard. "I think that he's playing really well at that position. We do a lot of things with him, he gives the tight ends a lot of problems and then at times he ends up on the tackles. I think that he's really making the right steps to have a really good year."
Kiffin also had high praise for the safeties and cornerbacks -- a question mark heading into fall camp.
"I think that kind of a storyline so far is that the secondary is playing better than they did in the spring," Kiffin said. "They're not giving up as many big plays, and they're playing better on the outside -- the corners are playing better than they were in the spring."
Wheeler still at LT
The most significant news in regard to the offensive line on Wednesday was that -- with
Aundrey Walker
still sidelined --
Chad Wheeler
continued to line up with the first-team offense at left tackle for the second day in a row. Initially slated to compete with
Kevin Graf
at right tackle, he's more than held his own on the left side despite going up against an outstanding Trojans defensive line unit.
"Chad looks really good over there," Kiffin said. "Obviously tomorrow will be a big test. I think that any time that you get a position like we have at outside linebacker -- that's a very good position for us -- those guys really make your offense better, and make them have to work. So he's really getting tested out there by some really good players."
Redd continues to come along
Limited throughout fall camp as he's continued to ease his way back after suffering a torn meniscus in his knee in the spring, tailback
Silas Redd
received his heaviest workload of the fall on Wednesday. Donning a yellow jersey to prevent contact, he even took a number of reps during the team period. And while he didn't find a lot of room to run today, he certainly appeared to be close to 100 percent. Still, Kiffin is in no hurry to rush him back.
"Yeah, we threw him out there," Kiffin said. "We put a jersey on him because he's really not back. I don't think he'll go tomorrow, but it was good. I think the thing about Silas is that he's a leader, he's very confident, very emotional, he gets into the game and he gets into the practice, so that's good to have."
Other notes:
In addition to Walker, safety
Su'a Cravens
and wide receiver
De'Von Flournoy
did not participate in Wednesday's workout. Tailbacks
Ty Isaac
and
D.J. Morgan
were also limited, and defensive end
Leonard Williams
was also held out later in practice.
July, 16, 2013
7/16/13
8:00
AM PT
Picking up where he left off after a strong performance in the spring,
Josh Shaw
has stood out during the team's volunteer passing sessions this summer, both for his lights-out play as well as his bulked-up physical build.
"I'm in great shape right now," said Shaw after a recent workout on Cromwell Field. "I've added some muscle to my frame since spring ball, so right now I'm about 6-foot-and-a-half and a solid 205 pounds. I put on about 12 pounds since the spring, and I'm moving well with it, so I'm feeling really good out here."
[+] Enlarge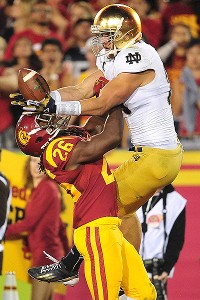 Gary A. Vasquez/US PresswireJosh Shaw wasn't afraid to put himself in the middle of the action for the Trojans last season.
With the added weight, combined with his aggressiveness and natural ball-hawking skills, Shaw appears to be a perfect fit at strong safety -- where he lined up in the spring -- and has continued to do so throughout the summer. That might come as a surprise to some, because it was just three months ago that, with the Trojans cornerback corps not exactly performing up to par, USC head coach Lane Kiffin brought up the possibility of bringing the redshirt junior -- who started seven games at corner in 2012 -- back to CB.
"We just talked about that this week, actually," Kiffin said April 6 of a potential move for Shaw. "If Dion [Bailey] goes back to safety, that might be something that we do."
Bailey has made the transition from linebacker back to the secondary, lining up at free safety this summer, but Shaw hasn't been given any indication by Kiffin or defensive coordinator Clancy Pendergast that he's going anywhere. And while things could always change down the line, the Trojans look set to go with what they currently have at cornerback -- a group that includes
Anthony Brown
,
Torin Harris
,
Kevon Seymour
,
Ryan Henderson
,
Devian Shelton
,
Chris Hawkins
and
Ryan Dillard
.
"I haven't heard anything about it at all since this past spring," said Shaw, who arrived at USC in 2012 as a transfer from Florida after attending Palmdale (Calif.) High. "And it was never brought up to me directly -- I just heard it from outside sources. From talking to Coach Pendergast, and having our post-spring evaluations and all of that, I'll be playing safety. But I can definitely see why it was something that they were thinking about, because they just wanted more production from the corner spot. But I think right now during the summer, we've had time to gel and to just come out here and play football, and the cornerbacks have gotten a lot better."
And that's just fine with Shaw, who feels more than at home at safety, especially with a new defensive scheme set in place that has him excited to hit the field each day.
"In this defense, I love playing at safety," Shaw said. "It's a lot different than last year. In this 3-4 defense you have to be a general. You're asked to do a lot. You're asked to know everything and you have to have a certain skill-set to be back there and play. I just love it."
But as is the case with every position in the secondary, the strong safety spot is still completely up for grabs. And while Shaw has been arguably the most consistent performer throughout the spring and summer, he has a battle on his hands with star early-entrant freshman
Su'a Cravens
-- who was listed atop the post-spring depth chart along with Shaw -- as well as hard-hitting senior
Gerald Bowman
. For Shaw, though, the competition is something that he's welcomed, and he believes that it's only making everyone involved better in the long run.
"It's open and it's definitely bringing out the best in all of us because there's just so much competition," Shaw said. "You can see it, guys are getting after it out here, just trying to get better to put themselves in the position to be on the field this season."
With what Shaw has shown, however, it wouldn't be far-fetched to regard him as the favorite to land the starting job -- not just because of his stellar play, but also because of his emergence as a team leader. One of the more experienced members of the defensive backfield, he's been noticeably vocal this offseason.
"I've definitely taken an active leadership role," Shaw said. "I've truly embraced it. You know, with guys like T.J. McDonald, Jawanza Starling and Nickell Robey leaving, somebody had to step up. I talked to T.J. before he left and he told me that I was next in line, and I really learned a lot from him. Now I'm just trying to help all of these guys gel together, and this summer has been very pivotal for us. We've been meshing, doing things together, watching film and doing whatever we need to do to make sure that when we start up practice, we're going to have a good group back there, and everyone will be able to count on us."
That's good news for Kiffin and Co., particularly with fall camp less than three weeks away. As for Shaw, who looks poised for a big season, it simply can't come soon enough.
"Marqise [Lee] and I were just working out on Sunday and we were talking about it -- I just can't wait to get the pads on. It seems like it's been so long ... less than a month away now. I just can't wait."
June, 18, 2013
6/18/13
8:00
AM PT
LOS ANGELES -- With the Trojans back to the grind and hard at work at Cromwell Field, here's a look at some of the early storylines that have taken shape during the team's volunteer passing sessions.
Tons of talent at WR, not a lot of depth
The USC receiver corps was dealt a significant blow in the second throwing session of the summer when promising freshman
Steven Mitchell
went down with a torn ACL that will cause him to miss the entire 2013 season. Already without the services of
George Farmer
-- who suffered the same injury this spring -- the Trojans now have just five active scholarship wide receivers on the current roster.
[+] Enlarge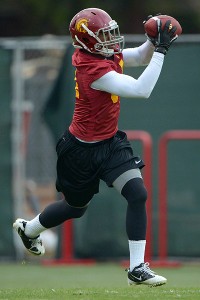 Kirby Lee/USA TODAY SportsInjuries have given freshman Darreus Rogers a chance to make a move at WR.
The good news is that those five players have looked stellar this offseason and, barring any more injuries, USC should be fine here. In particular, 2012 Biletnifkoff Award winner
Marqise Lee
, and sophomore
Nelson Agholor
have made a routine of putting on a virtual exhibition during the 7-on-7 drills, and it's hard to imagine a better wideout tandem in the country. Just as importantly, with the role of the team's No. 3 receiver still up for grabs, veteran pass-catchers
Victor Blackwell
and
De'Von Flournoy
, as well as freshman , have come out each day more focused than ever, paying off with big time results.
Wittek returns to action, QB competition back on in full effect
The most notable player missing from the Trojans' early passing sessions was quarterback
Max Wittek
, who battled an apparent case of mononucleosis. The only member of the quarterback competition with starting experience returned to action this past Friday and looked sharp after shaking off some early rust.
The other two members of the quarterback competition -- fellow redshirt sophomore
Cody Kessler
and early entrant freshman
Max Browne
-- have performed solidly this offseason. Kessler, in particular, has picked up right where he left off in the spring, looking poised and in command while also throwing with fantastic accuracy. Meanwhile, Browne has continued to make tremendous strides, neither looking nor playing like a green first-year youngster.
With Wittek having returned to compete alongside Kessler and Browne, the race for the role of USC's starting quarterback is underway once again. And with all three players back out there pushing each other, there's reason for optimism, regardless of who the eventual starter is.
Key contributors back from injury
While the loss of Mitchell marked the obvious low point of the workouts so far, the return of a number of players who missed all, or a portion, of the spring due to injury has been one of the great positives. Fullback
Soma Vainuku
, offensive lineman
Chad Wheeler
, tight ends
Xavier Grimble
and
Randall Telfer
, defensive lineman
Greg Townsend Jr
., cornerbacks
Torin Harris
and
Kevon Seymour
, as well as safeties
Dion Bailey
,
Gerald Bowman
and
Su'a Cravens
are just some of the players who have been spotted back in action. It's provided a big shot in the arm for a team somewhat short in terms of numbers.
The most talked about return has been that of Bailey, who was out for the entire spring due to postseason surgery to repair a torn labrum in his shoulder. Moving over to free safety after spending the last two seasons as the team's starting strongside linebacker, he's looked comfortable, and the competition between he,
Demetrius Wright
and
Leon McQuay III
for the starting job is sure to be one of most closely watched position battles of the summer and fall.
Shaw still at safety
With Lane Kiffin underwhelmed by the production of the cornerback unit this past spring, the Trojans head coach noted on more than one occasion that the coaching staff was considering moving redshirt junior
Josh Shaw
back over from his strong safety spot to corner -- not a huge surprise considering he made seven starts at the position in 2012.
So far, however, there's been no sign of the former Palmdale (Calif.) standout making that change. Lining up at strong safety during every passing session, he's currently locked in a position battle with Cravens and Bowman. And while things could always change later in the summer or even during fall camp, it looks as if Shaw has settled in at safety at this time and that Kiffin will ride with what he currently has at cornerback -- collection that includes
Anthony Brown
,
Ryan Dillard
, Harris,
Chris Hawkins
,
Ryan Henderson
, Seymour and
Devian Shelton
.
Sightings of the newest freshmen
All six of the Trojans newest freshmen additions are now on campus, and they've slowly begun to make their presence felt in the workouts. It was Mitchell who made the biggest impact early on with his unique playmaking skills, giving an all-too-brief glimpse of the kind of talent that the USC offense will have at its disposal down the line. Inside linebacker
Michael Hutchings
has impressed as well. Figuring to play a key role as the potential backup at the MIKE linebacker spot to
Hayes Pullard
, he certainly looks the part of an imposing run-stopper with a nice combination of athleticism and instincts to boot. Outside linebacker
Quinton Powell
has already shown off some nice pass-rush skills during the 11-on-11 periods. At 6-foot-2, 225 pounds, running back
Ty Isaac
is as big as advertised while also showcasing a surprising burst for a player his size. Rounding out the group, offensive tackle
Nico Falah
and guard
Khaliel Rodgers
have also been quick to jump into the action, gaining valuable tutelage from veterans such as
Kevin Graf
and
John Martinez
.
April, 5, 2013
4/05/13
8:05
AM PT
The Trojans are now in the final stretch of spring ball with just over a week of practice remaining on the schedule. As injuries continue to mount and position battles rage on, here's how a potential depth chart just might look if one were released today.

Quarterback

March, 26, 2013
3/26/13
8:00
AM PT
LOS ANGELES -- With the first two weeks of spring ball at USC highlighted by a brand-new defense and a heightened atmosphere of competition that has brought out the best in players at just about every position, it's been an eventful March for Lane Kiffin's squad.
But after a one-week hiatus from action, and with just nine practice days remaining, there are still plenty of questions that have yet to be answered, not to mention a whole host of new storylines that have popped up.
With that in mind, here's a look at five things to watch for during the remainder of the spring as USC gets set to hit the field once again on Tuesday.
To continue reading this article you must be an Insider
March, 15, 2013
3/15/13
7:23
AM PT
The Trojans put an emphasis on the offensive line during the Thursday full-pads practice, and coach Lane Kiffin liked what he saw.
"I thought the offensive line responded well today," Kiffin said. "We had some issues on Tuesday with fumbled snaps and false starts, but the players came out today with good energy along the line of scrimmage."
Kiffin also noted the continued strong play of quarterbacks
Cody Kessler
and Max Browne, who have been forced to take extra snaps this week as the only two available players at the position.
[+] Enlarge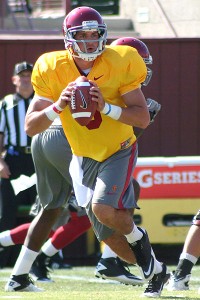 Erik McKinney/WeAreSC.comWith Max Wittek sitting due to injury, Cody Kessler continued to impress in Thursday's practice.
"I thought both the quarterbacks did some good things today," Kiffin said. "Cody [Kessler] is really doing a great job and really comes alive in those team settings. Max [Browne] is moving around probably better than we thought this early from pocket movements and getting out of trouble for a tall, young guy."
Kessler hit
Nelson Agholor
against coverage from
Morgan Breslin
and the play went for a long gain. Browne had his best practice of spring and it included a pair of touchdown passes to Darreus Rogers. There was also a nice sequence for Browne where he had a pass attempt broken up by Leon McQuay III but he came right back on the next play for a nice completion to Buck Allen.
Mr. Rogers' Neighborhood
It was a breakout day for Rogers. The first touchdown from Browne came on a short throw that he caught and put a spin move to get away from
Ryan Dillard
for a 20-yard score. The second touchdown was the highlight play of the day on a 40-yard pass reception at the goal line. He also had an impressive play with a sideline catch where it took multiple defenders to bring him down.
"Darreus Rogers had an unbelievable day," said Kiffin.
Bucking the trend
Buck Allen hasn't made a ton of noise during his USC career so far, but he's quietly put together a pair of strong practices in a row. Allen finished the practice off right, first with a 4-yard TD run and then with a 20-yard touchdown dash off the left side on the final play of the day.
Injury update
Marqise Lee
and
Max Wittek
continued to sit out practice with the knee injuries they suffered last weekend, and Kiffin said both will wait until the first Tuesday practice after spring break (March 27) to get back on the field.
Silas Redd
and
Chad Wheeler
both left the Thursday practice with knee injuries, while
George Farmer
had a shoulder injury. There was no word on the status of those three.
Kevon Seymour
sat out with an ankle injury and is day to day.
MVP
Xavier Grimble
was named the MVP of the day with Rogers a close second. Kiffin gave a lot of praise to Grimble as a guy who is on his way to becoming a potentially great player. Grimble wasn't even supposed to practice due to a rib injury but he went out and performed well, most notably in a blocking drill against the safeties.
Other highlight plays
Anthony Sarao
and
Lamar Dawson
both had pass deflections. Dawson also added a big hit on Justin Davis. Kiffin said Dawson has put together five great practices in a row after changing his body in the off-season.
Sarao,
Devon Kennard
and
Charles Burks
each had a sack.
Leonard Williams
had a pass deflection.
Notables in attendance
Nico Falah, Damien Mama, Rey Maualuga and several players from Upland HS including safety Jeff Farrar, QB Tyler Hilinski and incoming ninth-grade receiver Nathan Telfer (no relation to TE Randall).
Quotebook
"The competition between Xavier Grimble and
Randall Telfer
is good, no issues between the two of them. It's kind of like how it was with Robert (Woods) and Marqise. They are really close, and they just push each other. They are almost exactly the same size, Randall is five pounds heavier and tests better." -- Lane Kiffin
"This has probably been my best day here, but obviously still making a few mental errors. We slowed it down today and didn't install that much, so I was able to go out there and play. I felt like today I was the most comfortable and I think it showed in our offense as a whole." -- Max Browne
March, 4, 2013
3/04/13
7:30
AM PT
With Clancy Pendergast set to unveil an attacking defense that will run primarily out of a new 5-2 base look, more than a few eyes are sure to be focused squarely on this side of the ball this spring. With that in mind, here's a possible look at how the players on the current Trojans roster just might fit, as practice gets under way on Tuesday.
Defensive line
To continue reading this article you must be an Insider
February, 8, 2013
2/08/13
8:00
AM PT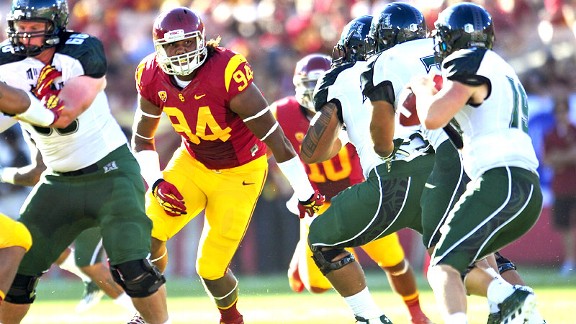 Cal Sport Media via AP ImagesIt will be interesting to see how much Leonard Williams, the Pac-12 defensive freshman of the year, sees his role change in USC's move to a 3-4 defense.
With USC's recruiting class of 2013 now signed, sealed and delivered, here's a look at where the newest Trojans might potentially fit into the depth-chart in a possible 3-4 look under new defensive coordinator Clancy Pendergast.
Defensive Line
DE:
Leonard Williams
(6-foot-5, 270 pounds, So.);
Greg Townsend Jr.
(6-3, 260, RS So.) OR
Kenny Bigelow
(6-3, 295, Fr.)
To continue reading this article you must be an Insider
December, 15, 2012
12/15/12
8:13
AM PT
The USC Trojans held their 2012 team banquet Friday at the Tutor Campus Center Ballroom and the following awards were handed out:
Most Valuable Player:
wide receiver
Marqise Lee
Most Inspirational Player:
safety
T.J. McDonald
Leadership Award:
center
Khaled Holmes
Linemen of the Year:
center Khaled Holmes (offense), defensive end
Morgan Breslin
(defense)
Perimeter Players of the Year:
wide receiver Marqise Lee (offense), safety T.J. McDonald (defense)
Special Teams Player of the Year:
linebacker
Tony Burnett
Service Team Players of the Year:
offensive tackle-guard
Jordan Simmons
(offense), defensive end
Jabari Ruffin
(defense)
Jack Oakie "Rise and Shine" Award (year's longest run):
wide receiver
Robert Woods
(76 yards vs. Syracuse)
Howard Jones/Football Alumni Club Academic Award (overall academic achievement):
center Khaled Holmes
Bob Chandler Award (underclassman with outstanding athletic ability, academic achievement and character):
tight end
Randall Telfer
John McKay Award (underclassman with the most competitive spirit):
wide receiver Marqise Lee
Joe Collins Walk-on Award:
offensive tackle-guard
Nathan Guertler
, cornerback
Ryan Dillard
Courage Award:
wide receiver Robert Woods
Co-Lifters Award:
offensive tackle
Kevin Graf
, cornerback
Nickell Robey
Team Captains:
quarterback
Matt Barkley
, safety T.J. McDonald, center Khaled Holmes, cornerback Nickell Robey
September, 19, 2012
9/19/12
1:10
PM PT
LOS ANGELES -- The Trojans practiced under beautiful conditions out on Brian Kennedy/Howard Jones field once again on Wednesday, and there was a definite upbeat tone on the day for what turned out to be a sharp practice, particularly on the offensive side of the ball -- a positive sign considering how the Trojans struggled in that department against Stanford.
"It was a really good practice today," Trojans coach Lane Kiffin said. "I thought the offense came out and was really crisp in both the running game and the passing game, and it was good to see. It's obviously going to be needed to get back on track, and we fully expect that to happen on Saturday."
That offensive crispness was immediately evident early on when the quarterbacks were working with the tight ends and wide outs. USC quarterback
Matt Barkley
was in-synch with his receiving options all day, and it wasn't just the usual
Marqise Lee
and
Robert Woods
show either -- tight ends
Xavier Grimble
and
Randall Telfer
made their share of receptions too.
September, 11, 2012
9/11/12
1:36
PM PT
The Trojans hit the field on Tuesday to prepare for their Pac-12 opener at Stanford this Saturday, and while much of the media attention has focused on USC's three-game losing streak to the Cardinal -- in particular last season's 56-48 triple overtime loss -- quarterback
Matt Barkley
commented afterward that the team is only focused on the task at hand.
"We're just approaching every game the same," Barkley said. "It's the next game, it's week three, we're going up north -- an away game -- there's nothing special about it."
Trojans running back
Curtis McNeal
-- who turned the ball over with a fumble on USC's final possession against Stanford last season -- echoed those sentiments.
September, 4, 2012
9/04/12
1:02
PM PT
LOS ANGELES -- It was another beautiful day on Brian Kennedy/Howard Jones field on Tuesday as the team prepared to take on Syracuse and its explosive quarterback,
Ryan Nassib
, on Saturday. Right from the get-go, defensive backs coach Marvin Sanders could be heard emphatically explaining to his unit that Syracuse threw the ball more than 60 times in its last game, so the Trojans DBs had better be ready. It was a common theme on the day that Lane Kiffin and the rest of the staff made sure to hammer home to the defense.
"We wanted to make sure that our guys understand that we're going to play a really good team," Kiffin said. "We purposely made sure that we attacked them in the passing game. I totally believe that this is a big-time test. I don't care who you play or where it's at -- everybody played a football game on Saturday and nobody threw for more yards than they did. This is a really good quarterback and he started really well last year versus us."
June, 3, 2012
6/03/12
11:25
AM PT
WeAreSC recruiting editor Erik McKinney answers reader questions in his mailbag every Friday. Have a USC recruiting question of your own? Submit it
here
.
(Erik is on vacation this week so Garry Paskwietz will answer in his place)
Shaun Macc (Windsor, Ont.): In film I've watched of Justin Davis, he looks like a very complete back. Of course I recognize his highlight film is solely the biggest plays he has on camera, but it really looks like he has a good blend of speed, size, vision and cutback ability. Does his No. 24 overall ranking of running backs speak to the depth/talent in the running back position this year? Is he poised for a senior year that could see his stock rise? How is the talent in the league he plays in at Lincoln?
To continue reading this article you must be an Insider
April, 25, 2012
4/25/12
8:47
AM PT
When the USC Trojans were hit with sanctions, many wondered how its staff would recruit with 30 fewer scholarships over three years. As it turns out, Lane Kiffin and staff can get the job done even without scholarships.
The thought was that with 75 scholarship players rather than 85, the Trojans would need to find several walk-ons capable of providing either game minutes or quality practice reps to fill in for the empty scholarships. Thus far, the plan has gone smoothly.
This fall, USC will add at least three preferred walk-ons in athlete
Christian Tober
(San Clemente, Calif./San Clemente), safety
Elijah Steen
(Irvine, Calif./Beckman) and cornerback
Ryan Dillard
(Buford, Ga./Buford), all of whom turned down scholarship offers from other programs to enroll at USC.
To continue reading this article you must be an Insider
PAC-12 SCOREBOARD
Thursday, 8/28
Friday, 8/29
Saturday, 8/30