September, 24, 2013
Sep 24
12:45
PM PT
So much for cooperation.
From the time the NCAA sanctions were handed down to USC in 2010, the Trojans athletic department has made every effort to be compliant and cooperative with the NCAA.
USC athletic director Pat Haden has been out front in his dealings with what he called the "fair-minded folks" at the NCAA. Practices for the football team were closed down, the sidelines of games at the Coliseum were no longer filled to capacity and any media member who wanted to cover the team had to sign a four-page waiver that outlined restrictions on dealings with boosters or recruits.
To continue reading this article you must be an Insider
August, 8, 2013
Aug 8
2:30
PM PT
Memory believes before knowing remembers. Believes longer than recollects, longer than knowing even wonders.
November, 10, 2012
11/10/12
9:25
PM PT
LOS ANGELES -- Lane Kiffin loves talking about storylines.
After every game, he will grab a final stats sheet, flip through it a couple of times before addressing the media and invariably at some point will say, "The storyline today would have to be …"
Some days it will be the offense. Others it will be the defense. But more often than not this season, it has been
Marqise Lee
.
Kiffin was momentarily speechless as he tried to describe Lee's performance on Saturday after the USC Trojans' 38-17 win over the
Arizona State Sun Devils
. Lee finished with 161 yards and a touchdown on 10 catches. It was actually a fairly pedestrian total when you look at the absurd totals Lee had put up the previous two weeks. But as Kiffin leaned back in his chair, he shook his head at the game Lee had. It wasn't so much Lee's performance that impressed the coach as much as it was the fact Lee was even able to play.
"I was to the point of thinking there was just some really bad karma going on this week," Kiffin said. "About 45 minutes before the game, Marqise comes into my locker room and he's freaking out because his face is all swollen. He had an allergic reaction to something. I'm thinking this really can't be happening right now."
Lee's face was swollen after he ate something that apparently didn't agree with him the night before, and it was getting worse as kickoff approached. "It was like I was in a boxing match and I lost," Lee said. "My eyes were almost closed."
USC's medical staff gave Lee some medication and iced his eyes, which improved the swelling and allowed him to see better. But he still required an intravenous injection at the half.
"I feel like I wasn't running as fast as I could," Lee said with a smile after the game. "They actually caught me a couple of times."
Lee's smile came after he was asked about a double-reverse in the fourth quarter that will likely be his "Heisman Moment" if he ends up being the first USC receiver to go to New York for the Heisman award ceremony.
With about seven minutes left in the game,
Matt Barkley
faked a handoff to
Curtis McNeal
and tossed the ball to Lee, who reversed field when he saw a group of Sun Devils defenders waiting for him. Lee swerved through the defense to gain 38 yards using "Matrix"-like moves the Coliseum perhaps hasn't seen since Reggie Bush. After the game, Lee was still upset he didn't score on the play.
"You kind of expect greatness from him and whenever he touches the ball," Barkley said. "That reverse, when he reversed the reverse, was pretty special. He's the catalyst to moving that ball."
While most of the preseason hype for the Heisman Trophy was centered on Barkley after he returned for his senior year, it has been his favorite target this season who has gained the most traction recently. Even USC's athletics department, which had pushed Barkley for the award before the season, has switched gears and has started to back Lee.
This week the school released a YouTube video that began with the question, "Who is the best player in college football?" The query was followed by Lee's highlights and stats played to "Revolution 9" and "Helter Skelter" by The Beatles. The video ended with the Twitter hashtag #BELEEVE, which USC hopes will be trending the last three weeks of the season as the Trojans prepare for the
UCLA Bruins
,
Notre Dame Fighting Irish
and a potential rematch with the
Oregon Ducks
in the Pac-12 championship game.
If Lee's next three games are anywhere close to the quality of his past three games, it would be hard to imagine him not getting an invite to New York, which is something Keyshawn Johnson, Mike Williams and Dwayne Jarrett never got. In fact, no USC receiver has ever finished higher than seventh in the Heisman voting. That should change this season.
Lee's 161 receiving yards on Saturday, combined with 345 against Arizona and 157 against Oregon last week, gave him 663 receiving yards in a three-game stretch -- the most ever over three games in USC history. He actually broke his own three-game receiving yards school record of 608 he set in USC's last two games in 2011 and the first in 2012.
His performances against Arizona and Oregon didn't receive as much attention as they should have, because USC lost both games. But he was the only reason the Trojans were in position to win both contests in the fourth quarter. Against Arizona, Lee finished with 16 catches for 345 yards and two touchdowns, and ended up with 469 all-purpose yards. His 345 receiving yards easily broke the Pac-12 record and was the fifth most in FBS history. Lee then had 408 all-purpose yards and two touchdowns against Oregon the following week.
That Lee "only" had 227 all-purpose yards against Arizona State on Saturday speaks to the difference Lee has made in the way teams play USC. The Sun Devils consistently pooch kicked the ball when Lee lined up as the returner. While Lee finished with no kick or punt returns, USC's average starting field position was its 42-yard line. (Lee had 66 yards rushing to complete his total for the afternoon.)
Not only has Lee made a difference on offense and special teams, he has started to take practice snaps on defense as well. Lee was put into the game as a safety in the first quarter when Arizona State lined up to go for it on fourth-and-1. His presence on the field may have caused the Sun Devils to call an audible, which resulted in a delay of game, and ASU eventually punted.
Lee would actually like to get more snaps on defense over the next two weeks. He was primarily recruited as a safety out of Serra High School in Gardena, Calif., where he was a receiver for only one season of high school football.
"I'll never forget how to play defense," Lee said. "They kept me close and kept me ready to go in, but the defense played so great that I didn't have to go in."
As much as Barkley would have liked to be in the Heisman conversation at the end of the season, he smiles when Lee's name is mentioned as a candidate and is more than happy to throw his support behind his teammate.
"He's every bit deserving," Barkley said. "He's the best player at his position. He's done some tremendous things this year with the ball, as a receiver and as a kick returner. We'll see how this pans out over the next couple of weeks, but he deserves to be in the conversation."
August, 16, 2012
8/16/12
10:00
AM PT
By
WeAreSC staff
| ESPN.com
"Matt Barkley is following Matt Leinart in returning for a senior season at USC and a shot at a unique place in Trojan lore. What can Barkley learn from what Leinart went through? What are the key similarities and/or differences in what lies ahead for Barkley?"
Garry Paskwietz
Both Matt Leinart and
Matt Barkley
had the opportunity after their respective junior years at USC to turn pro and become first-round draft choices. Both had accomplished enough at the college level to justify a move to the NFL, but what I respect about the choices of both to return is that they did it to take a shot at something special.
To continue reading this article you must be an Insider
May, 24, 2012
5/24/12
8:00
AM PT
By
WeAreSC staff
| ESPN.com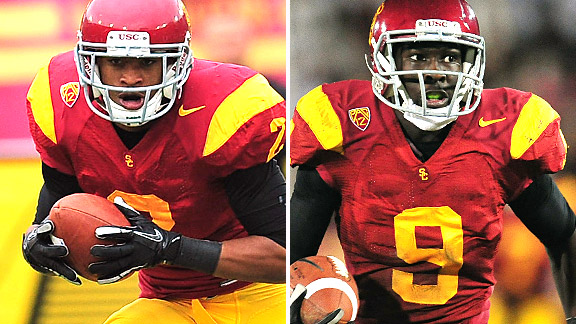 US PresswireRobert Woods and Marqise Lee might be young, but they are well on their way to becoming one of USC's great duos.
What are the top three duos in Trojans history?
Garry Paskwietz
QB Doyle Nave/WR "Antelope"Al Krueger
To continue reading this article you must be an Insider
December, 21, 2011
12/21/11
8:26
AM PT
Breathe, USC fans, breathe.
In fact, I'd suggest you ignore
what happened Tuesday
with Ohio State and its slap on the wrist from the NCAA for a massive systemic breakdown and a coverup by head coach, Jim Tressel.
Yes, when you hold up the Ohio State case and the USC case, it's impossible not to conclude the Ohio State case was
far more severe
. It was, of course, without question. No informed, objective person believes differently.
[+] Enlarge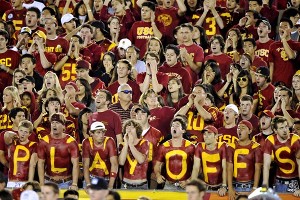 Kirby Lee/US PresswireTrojans fans spell out the word playoffs, but there won't be any postseason play for USC this season.
But here's the thing: Being outraged will accomplish nothing. You will be unhappy and your team will still be docked 30 scholarships over the next three years for what one player secretly did while Ohio State will be down just nine scholarships over the same time period for the rule-breaking of five with full knowledge of their head coach. And your unhappiness will provide great joy to folks who don't like your team.
Adopting a placid pose — at least as best as you can — will be good practice for handling potentially more infuriation ahead. The NCAA also likely will give even worst upcoming cases — North Carolina and the
University of Miami at Paul Dee
— less severe penalties than it gave USC.
Why? Because the NCAA treated USC unfairly — everybody in college sports knows this — and it likely won't revisit such irrational harshness. In the end, the justification for such severe penalties, meted out in contrast to past precedent, was little more than "just because."
But the NCAA, an organization not endowed with a sense of self-awareness, failed to foresee when it curb-stomped USC that among the lawbreakers in college football, the Trojans were jaywalkers amid a mob of bank robbers. Ohio State's sanctions, in fact, represent a return to NCAA normalcy: Mostly toothless penalties that will have little effect on the program's prospects, other than a single-season bowl ban.
There we go again: Fretting the particulars and the injustice of it all.
The point is USC fans have been quite reasonably been shaking their fists at the heavens or, more accurately, the NCAA home office in Indianapolis for two years. That anger has accomplished nothing, other than emboldening taunts from opposing fans.
You know: Fans whose teams didn't finish 10-2 and ranked No. 5 in the nation.
And therein lies the ultimate revenge: Winning.
It's hard to imagine the next five years won't see a USC downturn. Losing 30 scholarships is a tough burden. Things could be particularly difficult in 2014 and 2015, when the true cumulative impact arrives. And it could be even more galling if Ohio State is back in the national title hunt those years. Maybe playing Miami in a Fiesta Bowl rematch!
But if the Trojans can somehow remain in the picture, perhaps playing in a Rose Bowl -- or two -- along the way that would be a heck of a panacea, wouldn't it?
It's a longshot, sure. But other than that, we've got nothing for you USC. Sorry.
Easy, now. Breathe, breathe. Happy place. Happy place.
Oh, no.
That's exactly what we were trying to avoid
.