March, 6, 2013
Mar 6
6:30
AM PT
LOS ANGELES -- The
USC Trojans
opened up the 2013 spring ball practice session with a spirited workout, which is typical for the first day of spring.

"I thought things looked good today," USC coach Lane Kiffin said. "That is usually the case in spring, guys are fired up to get out here and start going to work. I also liked what I saw from our coaches, especially since some of them have only been with us for a short time. They were really ready to go."
One of the new items to watch for the Trojans this spring is the 5-2 defense which is run by new defensive coordinator Clancy Pendergast. Kiffin said that getting the new defense set is the top priority of spring and the highlight play of the day was an example of how the defense can shine.
Jabari Ruffin
-- who was lined up at defensive end -- had an interception of a
Cody Kessler
pass after dropping back into coverage and leaping in the air to make the play.
Kessler is part of what is expected to be an intense quarterback competition along with
Max Wittek
and
Max Browne
. Kiffin said Kessler was on schedule to be named MVP of the day until the interception and he also liked what he saw from his true freshman.
November, 29, 2012
11/29/12
5:30
PM PT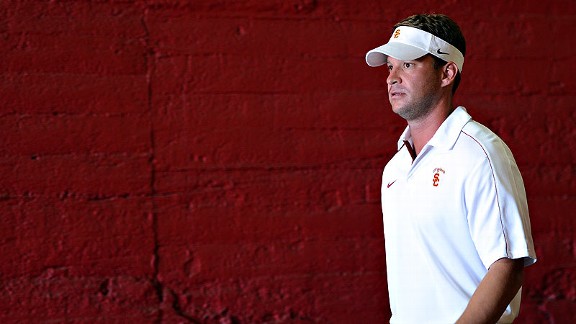 Harry How/Getty ImagesSeveral steps must be taken in order for Lane Kiffin and USC to return to prominence in the future.
Our question this afternoon: "What's next for USC?"
Well, what's immediately next is the Trojans looking up at UCLA in the Pac-12 pecking order and Notre Dame in the national one. How 'ya like them apples, 'SC?
UCLA is the likely pick to repeat as Pac-12 South Division champions in 2013. They've got the QB in
Brett Hundley
and lots of talent coming back on both sides of the ball. And they have a decisively better coaching staff than USC, at least if we are allowed to extrapolate on the evidence we repeatedly saw on the football field this year.
A year ago, while UCLA and Notre Dame were seemingly floundering, it appeared the Trojan colossus was again rising under coach Lane Kiffin, whose bad reputation was undergoing a generous reevaluation. Yet the stratospheric expectations inspired by a 10-2 2011 season have yielded to desperation and recrimination just a year later.
The big 2013 story for USC? Kiffin's hotseat.
And yet.
While USC under Kiffin certainly no longer has a buy rating, it might be premature to sell all your shares.
For one, the team coming back in 2013 certainly won't be untalented, including 17 returning position player starters (though a few with remaining eligibility might opt to enter the NFL draft). QB
Max Wittek
hinted against Notre Dame that the transition to him from
Matt Barkley
might not be too bad. He has a wicked strong arm that could make beautiful music with receivers
Marqise Lee
and
Robert Woods
, if Woods opts to return for his senior season.
Further, you'd think the Trojans would be plenty motivated. They were the biggest punchline in college football this year. Yeah, bigger than woeful teams like Colorado. They were historically bad as a team that was ranked No. 1 in the preseason. They were beaten soundly by archrivals whom they whipped just a year ago.
[+] Enlarge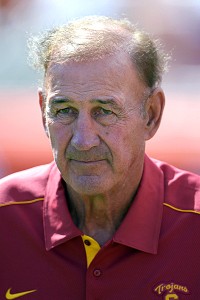 Kirby Lee/Image of Sport/US PresswireShould Lane Kiffin remove his father, Monte Kiffin, as the Trojans' defensive coordinator?
This season was an unmitigated failure.
It might be easier for Kiffin to get his guys focused and motivated when everyone is taking shots at them instead of celebrating their potential awesomeness. The Trojans should be plenty angry heading into 2013. They chiefly should be angry at themselves, but here's a guess that the preseason talk -- regionally and nationally -- will give them plenty of names for an enemies list.
But before we look ahead to USC as angry underdog playing the "us against the world" card in 2013, there needs to be some rigorous backward looking evaluation of what went wrong this fall.
In this column

, Steve Bisheff did an outstanding job of breaking down the difficult decisions ahead for Kiffin. We're about to second much of what he said.
First off, Kiffin needs to hire two new coordinators, which means he must dump two guys by the name of Kiffin: Himself on offense and his dad, Monte Kiffin, on defense.
Monte Kiffin is one of the all-time great defensive minds. His legacy is assured. But his work has been middling-to-poor at USC. He's gotten less from USC's talent than he should have.
If Lane Kiffin needs a role model for tough decisions, he could look to his buddy Steve Sarkisian at Washington, who dumped Nick Holt as defensive coordinator last year. Holt, Kiffin and Sarkisian go way back, but Holt was doing a lousy job. That was made even clearer this fall when new coordinator Justin Wilcox produced substantial improvement with arguable less to work with than Holt had in 2011.
Then, if Kiffin feels guilty about terminating his father, he can take out his ill will toward the responsible party by firing himself. It's not just that Kiffin didn't do a good job calling plays this year -- and he didn't -- it's that he neglected other aspects of his team that, as a head coach and CEO, he should have been on top of.
Oregon's Chip Kelly can micromanage his team and call an outstanding game. Kiffin can't. That's been made clear.
There's also this: USC has the resources to hire just about anyone Kiffin wants. He could pay both coordinators $1 million. If they are worried about job security due to Kiffin's hot seat, Kiffin could give them multiyear contracts. That alone would perk up the ears of just about anyone in the country, including top NFL guys.
Remember that
list of candidates
we made up for the head coaching vacancy at California? Kiffin probably could get a lot of those "hot" coordinators to come work for him.
With good coordinators, the Trojans are a nine- or 10-win team next year. With no changes, the good money would be on there being no Kiffins inside Heritage Hall in 2014.
Kiffin's survival also depends on more than Xs and Os, though.
As Bisheff covered at length, Kiffin often overthinks things, and this often leads to substanceless gestures, such as not allowing teams to do Friday night walkthroughs at the Coliseum, or trying to fool woeful Colorado with players switching jerseys.
Kiffin needs to learn that the USC head coach doesn't need to outsmart his opponents, much less use gamesmanship against them. He simply needs to put a disciplined, focused product on the field with a sound plan. Talent then takes over.
If there are competing simple and complicated ideas for something at USC, about 99.9 percent of the time, the simple one would work best.
What's next for USC? Well, if you are looking three-to-five-years down the road, I'd expect the program to again be in the Pac-12 and national title hunt on a consistent basis.
USC is not going to blow up and go all Paul Hackett Era again. Athletic director Pat Haden is too smart to let that happen.
The question is simply who will be fronting the program: Kiffin or someone else.
If Kiffin clings to the status quo, it will be someone else.
November, 21, 2012
11/21/12
6:26
PM PT
By
Pedro Moura
| ESPN.com
LOS ANGELES --
USC Trojans
athletic director Pat Haden has always had an affinity for the
Notre Dame Fighting Irish
, dating back to his high school days in Southern California.
Even though he played quarterback for the Trojans and now serves as the athletic department boss at USC, Haden still believes Notre Dame is in a class of its own in college football.
"There's only one brand name in college football, and that's Notre Dame," Haden said in an interview on ESPN Radio on Wednesday with host Colin Cowherd. "I think it's good for all of us when Notre Dame's playing really well and people are following them."
Haden, who spent several years as a color analyst for Notre Dame television broadcasts before taking his current post at USC, also said he was a "little surprised" the Irish are undefeated this season.
"I thought they had a very daunting schedule when I looked at it," Haden said. "They've navigated their way through a difficult schedule remarkably well.
"They are deservedly the No. 1 team in the land."
Of course, Haden's unranked USC Trojans take on No. 1 Notre Dame this Saturday at the Coliseum (5 p.m. PT, ABC). And he has come under fire in recent days for supporting his embattled head coach, Lane Kiffin, despite the Trojans' 7-4 record and variety of off-the-field issues.
Haden admitted Wednesday that Kiffin's squad wasn't as good as expected this season.
"We were probably overhyped at the beginning of the year, being perfectly honest," Haden said. "But right on our doorstop we have a good opportunity this Thanksgiving weekend.
"This could be a great, great moment for us. This season of discontent for some people is not quite over, yet. Let's just see how this thing turns out Saturday."
Haden said he understands why USC fans are upset at his continued support of Kiffin. But, he said, they're not thinking about it rationally, as he is.
"That's my job, really, to make rational decisions," Haden said. "Lots of people are going to disagree with those, and I completely understand that.
"What we have to do is do the right thing, and win games and win them in the right way, such that those fans will come back on the bus. And they jump on and they jump off with great regularity in cities like Los Angeles, and I understand that."
Haden said he has a "pretty thick skin" from his days in the NFL. Still, he said, some of the hateful calls, tweets and emails from fans of late have amazed him.
"I love the people's passion," he said. "They are very passionate about USC. But sometimes the rhetoric, the tenor, the tone surprises me."
Haden said he plans to meet with Kiffin after Saturday's game to talk about potential staff changes and what the two men can do differently to better support each other.
But he won't be making any decisions on the futures of assistant coaches like Monte Kiffin.
"That's Lane's job," Haden said.
November, 19, 2012
11/19/12
12:33
AM PT
By
Pedro Moura
| ESPN.com
LOS ANGELES -- The big news from
USC
coach Lane Kiffin's conference call Sunday night was quarterback
Matt Barkley
's being ruled out for this week's
Notre Dame
game because of a sprained right shoulder.
But there were other noteworthy things, too. Here are notes and quotes from the rest of Kiffin's call with local reporters:
Job security questions
Kiffin said he was not blindsided by questions about his job security in Saturday's postgame news conference, although he said it's "not something that I think about."
He was asked several questions about his future, including if he felt he needed to beat Notre Dame this week to come back next season.
Kiffin revealed that he'd been told by administration he'd be back no matter what happens this season, and was then asked if athletic director Pat Haden had told him that.
He answered in the affirmative.
"I'd say that was probably fair to ask," he said of the questions Sunday.
An odd rebound
Kiffin said the Trojans were "fortunate" to rebound from a rivalry loss with another rivalry game against the No. 1 team in the country in Notre Dame on Saturday (5 p.m. PT, ABC).
He said he didn't think his players would fold with the Rose Bowl now out of the picture and a Sun Bowl appearance probably the best-case scenario.
"These kids are too proud and they've been through a lot now," Kiffin said. "That won't be an issue."
Statistical oddities
Kiffin called the 38-28 loss to
UCLA
a "very discouraging game" but also pointed out that he found it a "strange game, as far as statistics."
There's merit there, as USC outgained UCLA, had half as many penalties, and converted the same ratio of third downs.
But, ultimately, as Kiffin pointed out, a big part of the difference may have come on special teams, where the Trojans lost handily to the Bruins for "one of the few times" in the Kiffin era.
UCLA out-punted USC by a dozen yards each attempt, and converted its only field-goal attempt. The Trojans'
Andre Heidari
missed two kicks and an extra point.
Final notes
: Kiffin said he saw the potential for seven more sacks from USC's defense in Saturday's game. The Trojans produced five, as it was. ... With
Silas Redd
less than 100 percent healthy at running back,
Curtis McNeal
's 161-yard day proved "why it's critical to have depth at that position," according to Kiffin. ... Kiffin also said he did not call a team meeting to discuss Barkley's injury and instead planned for his players to find out via the internet and social media. ... The USC coach downplayed any similarities between this week's Notre Dame game and the one Mitch Mustain started while Barkley was hurt in November 2010: "Every situation is different. Mitch was more experienced, obviously."
October, 30, 2012
10/30/12
8:57
PM PT
By
Pedro Moura
| ESPN.com
LOS ANGELES -- USC Trojans coach Lane Kiffin said he was somewhat familiar with
new legislation adopted Tuesday by the NCAA Division I Board of Directors
, intended to make football and basketball coaches more accountable for mistakes made by their assistants.
A new four-tier penalty system opens up more possible penalties and directly punishes head coaches who have any knowledge of violations committed by those on their staff. In the past, only major and secondary violations were available, and head coaches often escaped punishments in secondary-violation situations.
"Those have been in discussion for a long time," Kiffin said when asked about the new legislation Tuesday. "I think that what it came down to is people were tired of an assistant coach doing something and an assistant coach being the one punished."
Kiffin said he did not have a particularly strong opinion on the topic, although he appeared to lean against it.
"It is what it is," he said. "I just think it's the responsibility ... you're the head coach and it's hard to know what everybody's doing, just like it's hard to know what your players are doing or the relatives are doing or the things we've discussed before.
"If those are the rules, then those are the rules. They come with the job."
The document calls head coaches responsible for several types of violations "unless the coach can show that he or she promoted an atmosphere of compliance and monitored his or her staff."
USC athletic director Pat Haden said it will require coaches to take more responsibility for the actions of their assistants.
"It's a tougher penalty structure, there's no doubt about it," Haden told USA Today, which first reported on the changes last week. "The point is, for head coaches -- and this goes for any sport -- you have this responsibility. You need to be constantly vigilant and you need to be constantly coaching your coaches about how important it is to play by the rules."
Haden was part of the group of athletic officials who worked on the legislation before its adoption.
With current players, former players, coaches and administrators on hand for USC's spring game at the Los Angeles Memorial Coliseum on Saturday, 710 ESPN caught up with a number of Trojans luminaries:
Monte Kiffin
Defensive coach Monte Kiffin talked about the Trojans' turnaround on defense last season and what he is looking for from his squad this upcoming year.
Listen

Pat Haden
USC Athletic Director Pat Haden talked about the return of Matt Barkley, the opportunity to qualify for a bowl game this season, and how things won't be easy for the Trojans moving forward.
Listen

Marcus Allen
Former USC Trojan and Pro Football Hall of Fame inductee Marcus Allen talked about the transformation of USC from an elite program for running backs into one for quarterbacks. Marcus also talks about his expectations for the team this season.
Listen

Robert Woods
USC Trojans receiver Robert Woods talked about dealing with his ankle injury and working hard to get back on the field and ready for the start of the season.
Listen

Anthony Munoz
Former USC Trojan Anthony Munoz talked about how USC has survived NCAA sanctions. Also, Anthony talked about how Lane Kiffin and Pat Haden have rebuilt the USC program.
Listen

March, 26, 2012
3/26/12
5:45
PM PT
USC athletic director Pat Haden and senior associate athletic director J.K. McKay are lifelong best friends and -- as is often the case with best friends -- they never pass up an opportunity to poke fun at each other.
Both men recently joined the social media world with twitter handles (@ADHadenUSC and @Jk5524JK) and Haden posted a video from his account today which shows McKay "in action" at the Coliseum practice last Saturday which can be seen
here
.
Haden immediately followed up that post with another message that said "@Jk5524JK Nice to see you haven't lost a step #FightOn"
October, 18, 2011
10/18/11
3:44
PM PT
USC athletic director Pat Haden talked during Tuesday's practice about the USC-Notre Dame rivalry, one that he has been part of as a player, broadcaster and now as an administrator.
"I think I broadcast the last night game there," Haden said. "I've probably done a dozen USC vs. Notre Dame games there, but this will be my first time back as athletic director.
"This is a game that probably means more to old-timers like me than it does to the players. UCLA is more of a game for the players. You can't make too much of it though, I think Pete Carroll learned that his first year at SC.
To continue reading this article you must be an Insider