November, 24, 2012
11/24/12
8:35
PM PT
By
Pedro Moura
| ESPN.com
LOS ANGELES -- The unranked
USC Trojans
played the top-ranked
Notre Dame Fighting Irish
close, but not close enough. Notre Dame held on for the win, 22-13, on Saturday at the Coliseum to earn a BCS title game berth.
USC looks headed for El Paso, Texas, on New Year's Eve, for the Hyundai Sun Bowl. Here's a report card for the Trojans' efforts in their final regular-season game, and final game for at least a month:
PASSING ATTACK
Max Wittek
didn't really look nervous, but he never quite appeared in command, either. Not a bad effort for a first-time collegiate starter, but the timing with
Marqise Lee
could've and should've been better for this stage. The two were off more than they were on in Saturday's game. If that was
Robert Woods
' final home game in college, it was a good one.
RUSHING ATTACK
Silas Redd
had an impressive game battling through an ankle injury, but he and
Curtis McNeal
still probably didn't get the chances they deserved. Lane Kiffin has consistently shown a preference for the pass over the run this season, even in situations like Saturday, when the Trojans' top two runners were comfortably gaining yards.
IN THE TRENCHES
No good here. Where was USC's defensive line? The only time
Morgan Breslin
got into the pocket was when he jumped offside. Wittek had some time to throw, but he was also quick to get rid of the ball. He rarely got to the third or fourth players on his progressions -- which is why he didn't complete a single pass to a tight end.
DEFENSE
Notre Dame is no offensive juggernaut, but the Irish have talent on offense, so holding them to 22 points is a nice little accomplishment. There were big hits, but no real big plays, and that cost the Trojans. USC actually pulled off the bend-but-don't-break philosophy fairly well. The only problem was the lack of turnovers.
SPECIAL TEAMS
John Baxter's unit is supposed to be a difference-maker. It made very few positive differences on Saturday, mostly negative ones. Allowing Notre Dame to start near midfield on that crucial fourth-quarter drive proved costly. Is Robert Woods really the best punt-return option the Trojans have, considering his lack of explosion this season?
COACHING
Lane Kiffin got his team ready to play the role of spoiler and didn't do anything to totally sabotage the Trojans' chances, but this wasn't an A-grade coaching effort, by any means. Has Monte Kiffin shown the willingness to adjust his ineffective defensive schemes? It sure doesn't seem like it.
November, 23, 2012
11/23/12
8:44
PM PT
By
Pedro Moura
| ESPN.com
LOS ANGELES -- The unranked
USC Trojans
will try to spoil the undefeated season of the
Notre Dame Fighting Irish
(No. 1 BCS, No. 1 AP) on Saturday at the Coliseum (5 p.m. PT, ABC).
Of course, they'll attempt it without senior starting quarterback
Matt Barkley
, who's out for the game with a sprained throwing shoulder. Redshirt freshman
Max Wittek
will start in his place.
Here are 10 things to watch in a game that will be Wittek's debut as a starter:
1. Max Wittek.
We know he's talented, we know he's young, we know he's not nervous -- the latter, according to his coach. So what can we actually expect from him? If the way Lane Kiffin called the USC-Notre Dame two years ago is any indication, Wittek won't get too many chances to throw the ball deep early. When Mitch Mustain replaced the injured Barkley two years ago, Kiffin called for short passes almost exclusively. Mustain ended up with 37 pass attempts and just 177 yards passing, meaning he averaged less than five yards per attempt. If Wittek's numbers look like that Saturday, it'll be a bad sign.
2. Pro-style O.
If there's one thing that bodes really well for the Trojans this week, it's Notre Dame's style of offense. The Irish run a traditional scheme, and the offenses that have given USC so much trouble in recent weeks were spread-focused. Despite Monte Kiffin's best efforts to orient his defense to defend the spread, the Trojans are still far better against offenses similar to their own. "It's no secret," Kiffin said this week.
3. Marqise and Manti.
It's unlikely that
Marqise Lee
or
Manti Te'o
will actually win the Heisman, but having two of the top 10 candidates for college football's top award in the same game is certainly intriguing. There's a good chance at least one of them will earn a trip to New York City for the trophy presentation, too, and this game will help decide which one gets to go. Lee's numbers are more impressive, but Te'o's team has obviously done a lot better. If the Irish win again Saturday, it's hard to argue that their best player doesn't deserve to be a finalist. Lee turns 21 on Sunday, but his last moment in the spotlight for another nine months will come Saturday. USC's high-profile string of games isn't likely to continue into bowl season.
4. The Stanford games.
These teams have played such different schedules, it's hard to compare them against similar opponents. But there is one team they've both faced: the
Stanford Cardinal
. USC lost to Stanford 21-14 in Palo Alto, and Notre Dame beat Stanford 20-13 at home. All coaches caution against reading too much into same-opponent performances, but it's worth noting how similar the games were. Notre Dame needed a final-minute field goal to force overtime against Stanford and a miraculous goal-line stand in overtime to secure the win.
5. That D.
Guess how many times this season Notre Dame has given up more than 14 points in a game? The answer is twice. The Irish haven't allowed more than 20 in regulation all season. They've held the four ranked teams they played to an average of less than nine points, so there's not exactly a precedent for good teams to do better, either.
November, 21, 2012
11/21/12
10:17
PM PT
By
Pedro Moura
| ESPN.com
LOS ANGELES --
Nickell Robey
has walked down the Coliseum tunnel for a
USC Trojans
home game 19 times in his three-year college career.
[+] Enlarge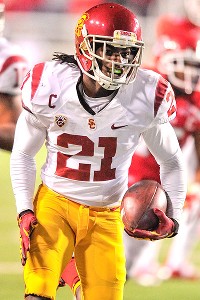 Boyd Ivey/Icon SMIWith the NFL draft a possibility for USC captain Nickell Robey, Saturday's walk down the Coliseum tunnel could be the junior cornerback's last. But he'll have to show he has the instincts and speed to overcome his size.
Saturday's 5 p.m. PT game against Notre Dame, then, will be his 20th. It also might be his last.
Robey, a 20-year-old junior cornerback, could leave for the NFL draft after this season. With three full seasons as a starter already on his resume, he's thought of as a potential second- or third-round selection, with his small size the biggest thing holding him back.
Because of that, Saturday's pregame festivities will have a much different feel to them, Robey said Wednesday. As one of four USC captains, he leads the Trojans down the tunnel before each game and starts the run onto the field, too.
"Yeah, it's going to feel different -- it's going to feel a lot different," Robey said. "Because you know something is ahead, and it's waiting for you and it's calling you out.
"You gotta answer to it sooner or later. That time will come one of these days in the future."
At a listed 5-foot-8 and 165 pounds, Robey will have to prove to teams he has the speed and instincts to overcome the limitations presented by his size. He was on his way to doing that after his sophomore season, but his play has fallen off a bit over the latter half of the 2012 season.
Still, he's a capable playmaker, highly agile in the return game and a far better tackler than most 165-pounders. So it's possible he'll be a valuable commodity over the next few months.
Robey said it hasn't even crossed his mind.
"To be honest, I really haven't been thinking about this stuff at all," he said. "I'm going to think about it later on. I'm going to get around my group of supporters and my important people. I'm going to look at different scenarios and different cases of where I stand.
"After the season, that's gonna get resolved. Decisions are going to be made."
Until then, Robey has to deal with the uncertainty of whether this will be his final home game, his final bowl game and so on.
Senior safety
T.J. McDonald
said he knows that feeling all too well. He had the same stuff in his mind a year ago, when he was contemplating leaving for the draft after his junior season.
"I know how stressful that situation is, so I'll stay away from him unless he wants to come to me for help," McDonald said. "But, Nickell, if he needs help, I'm always in his corner, he always has me.
"I'm definitely always there with open arms."
McDonald stayed but has seen his draft stock fall from a probable selection in either the late first or early second rounds to the second-or-third-round area he currently occupies, according to early 2013 mock drafts.
With undersized but experienced players like Robey, there's a common understanding that they can't do anything to make themselves taller or otherwise more physically appealing in another collegiate season.
So the smart thing to do, it's often said, is to declare for the draft and attack those deficiencies head-on at the next level.
Robey might decide to do just that, or he might channel McDonald and quarterback
Matt Barkley
and opt for a fun-filled senior season.
He has another two months to make that decision. And at least one more tunnel walk.
PAC-12 SCOREBOARD
Thursday, 9/3
Friday, 9/4
Saturday, 9/5