November, 29, 2012
11/29/12
5:30
PM PT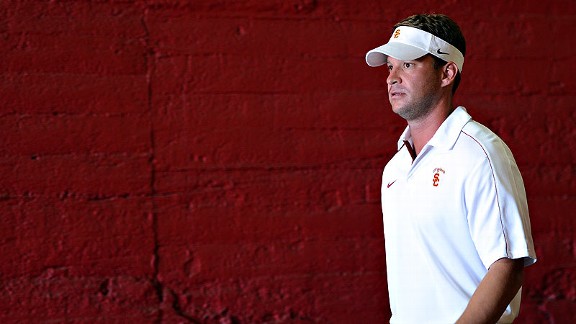 Harry How/Getty ImagesSeveral steps must be taken in order for Lane Kiffin and USC to return to prominence in the future.
Our question this afternoon: "What's next for USC?"
Well, what's immediately next is the Trojans looking up at UCLA in the Pac-12 pecking order and Notre Dame in the national one. How 'ya like them apples, 'SC?
UCLA is the likely pick to repeat as Pac-12 South Division champions in 2013. They've got the QB in
Brett Hundley
and lots of talent coming back on both sides of the ball. And they have a decisively better coaching staff than USC, at least if we are allowed to extrapolate on the evidence we repeatedly saw on the football field this year.
A year ago, while UCLA and Notre Dame were seemingly floundering, it appeared the Trojan colossus was again rising under coach Lane Kiffin, whose bad reputation was undergoing a generous reevaluation. Yet the stratospheric expectations inspired by a 10-2 2011 season have yielded to desperation and recrimination just a year later.
The big 2013 story for USC? Kiffin's hotseat.
And yet.
While USC under Kiffin certainly no longer has a buy rating, it might be premature to sell all your shares.
For one, the team coming back in 2013 certainly won't be untalented, including 17 returning position player starters (though a few with remaining eligibility might opt to enter the NFL draft). QB
Max Wittek
hinted against Notre Dame that the transition to him from
Matt Barkley
might not be too bad. He has a wicked strong arm that could make beautiful music with receivers
Marqise Lee
and
Robert Woods
, if Woods opts to return for his senior season.
Further, you'd think the Trojans would be plenty motivated. They were the biggest punchline in college football this year. Yeah, bigger than woeful teams like Colorado. They were historically bad as a team that was ranked No. 1 in the preseason. They were beaten soundly by archrivals whom they whipped just a year ago.
[+] Enlarge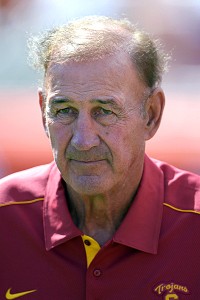 Kirby Lee/Image of Sport/US PresswireShould Lane Kiffin remove his father, Monte Kiffin, as the Trojans' defensive coordinator?
This season was an unmitigated failure.
It might be easier for Kiffin to get his guys focused and motivated when everyone is taking shots at them instead of celebrating their potential awesomeness. The Trojans should be plenty angry heading into 2013. They chiefly should be angry at themselves, but here's a guess that the preseason talk -- regionally and nationally -- will give them plenty of names for an enemies list.
But before we look ahead to USC as angry underdog playing the "us against the world" card in 2013, there needs to be some rigorous backward looking evaluation of what went wrong this fall.
In this column

, Steve Bisheff did an outstanding job of breaking down the difficult decisions ahead for Kiffin. We're about to second much of what he said.
First off, Kiffin needs to hire two new coordinators, which means he must dump two guys by the name of Kiffin: Himself on offense and his dad, Monte Kiffin, on defense.
Monte Kiffin is one of the all-time great defensive minds. His legacy is assured. But his work has been middling-to-poor at USC. He's gotten less from USC's talent than he should have.
If Lane Kiffin needs a role model for tough decisions, he could look to his buddy Steve Sarkisian at Washington, who dumped Nick Holt as defensive coordinator last year. Holt, Kiffin and Sarkisian go way back, but Holt was doing a lousy job. That was made even clearer this fall when new coordinator Justin Wilcox produced substantial improvement with arguable less to work with than Holt had in 2011.
Then, if Kiffin feels guilty about terminating his father, he can take out his ill will toward the responsible party by firing himself. It's not just that Kiffin didn't do a good job calling plays this year -- and he didn't -- it's that he neglected other aspects of his team that, as a head coach and CEO, he should have been on top of.
Oregon's Chip Kelly can micromanage his team and call an outstanding game. Kiffin can't. That's been made clear.
There's also this: USC has the resources to hire just about anyone Kiffin wants. He could pay both coordinators $1 million. If they are worried about job security due to Kiffin's hot seat, Kiffin could give them multiyear contracts. That alone would perk up the ears of just about anyone in the country, including top NFL guys.
Remember that
list of candidates
we made up for the head coaching vacancy at California? Kiffin probably could get a lot of those "hot" coordinators to come work for him.
With good coordinators, the Trojans are a nine- or 10-win team next year. With no changes, the good money would be on there being no Kiffins inside Heritage Hall in 2014.
Kiffin's survival also depends on more than Xs and Os, though.
As Bisheff covered at length, Kiffin often overthinks things, and this often leads to substanceless gestures, such as not allowing teams to do Friday night walkthroughs at the Coliseum, or trying to fool woeful Colorado with players switching jerseys.
Kiffin needs to learn that the USC head coach doesn't need to outsmart his opponents, much less use gamesmanship against them. He simply needs to put a disciplined, focused product on the field with a sound plan. Talent then takes over.
If there are competing simple and complicated ideas for something at USC, about 99.9 percent of the time, the simple one would work best.
What's next for USC? Well, if you are looking three-to-five-years down the road, I'd expect the program to again be in the Pac-12 and national title hunt on a consistent basis.
USC is not going to blow up and go all Paul Hackett Era again. Athletic director Pat Haden is too smart to let that happen.
The question is simply who will be fronting the program: Kiffin or someone else.
If Kiffin clings to the status quo, it will be someone else.
November, 25, 2011
11/25/11
7:19
AM PT
Issues to consider heading into the 13th week of games.
Is QB Matt Barkley going to put on a big show in his final game at USC
? Or is this
not
going to he Barkley's last game at USC? In any event, UCLA's only chance to win this game is if Barkley is off, which he hasn't been of late. And, if Barkley throws another four TD passes or so, does he deserve some Heisman Trophy consideration? Or at least, does he have a chance to steal All-Pac-12 first-team honors from
Andrew Luck
?
[+] Enlarge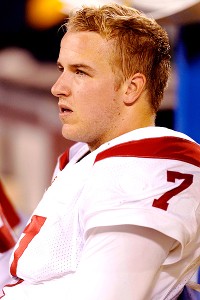 Jason O. Watson/US PRESSWIREWould another big game from Matt Barkley make him a Heisman finalist?
Andrew Luck answers his critics
: Notre Dame is always a big show, so if Andrew Luck turns in a big-time performance after a couple of shaky -- read: merely good -- outings, it's likely he gets his Heisman Trophy campaign back on track. The Irish defense is good enough to challenge Stanford. Barring Oregon losing the Civil War, this will be Luck's last game in Stanford Stadium. Will he put on a show?
Does Oregon State have any chance in the Civil War
? Oregon is a four-TD favorite over Oregon State. The Ducks appear headed to a third consecutive Pac-12 title and BCS bowl game, while the Beavers are headed toward a second-consecutive losing season. That combination has Oregon State fans a tad grumpy. So, can the Beavers come into Autzen Stadium and challenge the Ducks? It will take a perfect game. But Oregon State's beating Washington last weekend showed that the Beavers still have some fight and can't be completely written off.
Does Arizona State have any fight left
? Speaking of teams with dubious fight, there's Arizona State. The Sun Devils collapse has been odd because their three consecutive embarrassing losses, nonetheless, haven't stopped this from being true: The Sun Devils are still in the Rose Bowl hunt. If Arizona State wins and UCLA loses and Utah wins this weekend, the Sun Devils win the South Division and play for the Pac-12 title on Dec. 2. But after three consecutive defeats, it doesn't appear the Sun Devils care much. Maybe they will be motivated by the 50-17 humbling they suffered at Cal last season. Or maybe they'll just wake up and play up to their capabilities. Or maybe they'll just stink it up and watch coach Dennis Erickson walk away.
John White, John White, John White
: At this moment, you could make an argument that Utah running back John White is the best running back in the Pac-12. Yes, better than Oregon's
LaMichael James
and better than Washington's
Chris Polk
. White leads the conference with 1,377 yards rushing and is second with 14 TDs, ahead of both James and Polk. Anyway, suffice it to say, White is really good even though the opposing defense knows White is coming because the Utes don't throw much. Colorado has the worst run defense in the conference. That's trouble. Two hundred rushing yards for White might guarantee him first-team All-Pac-12 status.
Nick Holt vs. Marshall Lobbestael
: Washington's defense was supposed to be good this year. It hasn't been. Nick Holt is the Pac-12's highest paid defensive coordinator not named Monte Kiffin. Marshall Lobbestael is Washington State's No. 3 QB. He started the season as
Jeff Tuel
's backup, played well while Tuel was hurt, then was displaced by talented freshman
Connor Halliday
. But both Tuel and Halliday are hurt for the game, and the gritty Lobbestael now faces Holt's defense. Who wins?
Arizona reaction on Rodriguez week
: Arizona notched a huge win over rival Arizona State last weekend. It was emotional and surely satisfying during a lost season. But now the Wildcats have to get up for another game against Louisiana-Lafayette. How will the Wildcats respond after an emotional win, playing against an opponent that won't inspire much awe, but one that is -- oh, by the way -- 8-3. Will there be any reaction to the hiring of Rich Rodriguez? The Wildcats new coach is watching, and he likely will raise an eyebrow at players who step up. And those who don't.
November, 25, 2011
11/25/11
7:13
AM PT
Went
3-3 last week
-- another yeesh -- and the season record is now 59-23.
Friday
Utah 33, Colorado 14
: The best news for the Buffaloes is a long season will be over. The best news for the Utes is they might win the South Division.
California 28, Arizona State 24
: Picking California on the road seems stupid, but how can a person pick Arizona State to win at this point? I did the previous two weeks and see what happened.Yes, I am quitting the Sun Devils.
Saturday
Oregon 44, Oregon State 20
: The Beavers will fight, but midway through the third quarter the Ducks will assert themselves. Calling for a big afternoon from
LaMichael James
.
Arizona 38, Louisiana-Lafayette
28
: It will be interesting to see how the Wildcats play a week after beating the hated Sun Devils and finding out that Rich Rodriguez will be their new coach. The Ragin Cajuns are good by the way, see 8-3 record.
Washington 35, Washington State 32
: The Huskies advantage is QB
Keith Price
, but if he can't play the whole game because of a bothersome knee, the Huskies lose their advantage. Will
Nick Holt
's defense step up for the Huskies? And would losing to Washington be the end for Cougars coach Paul Wulff?
Stanford 35, Notre Dame 24
:
Andrew Luck
and the Cardinal turn in a strong performance against a ranked team, finish 11-1 and await their postseason fate, which they hope will be Rosy or a Fiesta.
USC 33, UCLA 27
: The stakes are huge for the Bruins and coach Rick Neuheisel: Beat their archrivals and they are South Division champions. Lose, and it's probably Neuheisel's last game. But the Trojans are playing as well as any team in the conference at present -- see their win at Oregon.
November, 21, 2011
11/21/11
7:48
AM PT
If you don't like where you are in the power rankings, play better.
See last week's
power rankings here
.
1.
USC
: The Trojans broke all of those noted Oregon winning streaks -- including 21 in a row in Autzen Stadium -- so the team that can't win the conference now sits atop it.
2.
Oregon
: Hey, Oregon fans: Remember when losing just two games and going to the Rose Bowl was super awesome? Don't let the disappointment of one Saturday outweigh the ultimate trajectory of this program.
3.
Stanford
: The Cardinal took care of business against a game California squad. But Stanford -- and QB
Andrew Luck
-- doesn't look like the dominant crew it was at midseason. A visit from Notre Dame feels worrisome.
4.
Utah
: Utah is without question the team most deserving of a berth in the Pac-12 championship game among South Division contenders. While others have flopped, the Utes have won four in a row -- with their backup QB. If UCLA and Arizona State lose, then the Utes only need to beat Colorado to win the division.
5.
UCLA
: The Bruins continue to linger, and the efficient, confident play of late by QB
Kevin Prince
suggests that an upset of USC isn't implausible. So if the Bruins beat the Trojans, improve to 7-5 and win the South Division, will that be enough for coach Rick Neuheisel to survive into 2012?
6.
Washington:
The Huskies hit rock-bottom in a once promising season after losing at woeful Oregon State, making the Beavers' terrible offense look formidable. Coach Steve Sarkisian faces some tough questions about his highly paid and underperforming defensive coordinator
Nick Holt
.
7.
California
: The Bears fought at Stanford but ultimately will end up -- again -- as an afterthought in the Bay Area. Still, if the Bears win at Arizona State, their bowl prospects -- Sun? Las Vegas? -- appear pretty good.
8.
Oregon State
: Beavers fans, this has been a lousy year. But there's enough intriguing, youthful talent on this team to suggest a bounce back in 2012.
9.
Arizona
: It's been a horrible season, but it became just a bit less horrible with a win over rival Arizona State, which might have ended Sun Devils coach Dennis Erickson's tenure. But which program will have more buzz when it hires its next coach?
10.
Arizona State
: Erickson is a good football coach -- his legacy is intact. But things haven't worked out this season and during his tenure in Tempe. A month ago, this looked like a special year. Now it's only especially painful.
11.
Washington State
: Here's a vote for coach Paul Wulff being retained if the Cougars beat the Huskies in the Apple Cup and finish 5-7. This team is much improved and there are plenty of reasons to be optimistic about another step forward in 2012. Upheaval might not be a great idea, unless athletic director Bill Moos has an A-list coach lined up.
12.
Colorado
: It's been a lost season for the Buffaloes in their first year of Pac-12 play. The rebuilding in Boulder won't be quick, painless or easy.
November, 3, 2011
11/03/11
7:41
AM PT
Issues to consider heading into the 10th week of games.
Is Oregon sharp and efficient at QB
? The first question here is: Who? If
Darron Thomas
is healthy, it's almost certain he starts. But is his knee 100 percent? Will he be able to pose a legitimate running threat? Will he be sharp throwing the ball? Even before the injury, Thomas was off-and-on as a passer this year. And then if Thomas gets replaced by
Bryan Bennett
, how will the redshirt freshman react to a potentially competitive game on the road against Washington? He was outstanding against Arizona State at home and solid on the road at Colorado, but this game should be more taxing. Oregon's offense can score so many ways that it doesn't have to be perfect in the passing game. Heck, sometimes it doesn't need to throw at all. But the Huskies chances of recording the upset go up substantially if the Ducks are running at 75-80 percent at QB.
[+] Enlarge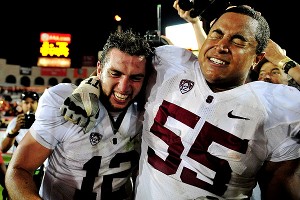 Gary A. Vasquez/US PRESSWIREA letdown is likely for Andrew Luck and Stanford following an emotional triple-overtime victory over USC last week.
Are USC and Stanford going to have letdown games
? After a triple-overtime thriller, it's hard to imagine that USC and Stanford will bring their "A-games" to road dates with Colorado and Oregon State, respectively. For one, both games look like mismatches, so it's possible that players won't be as focused and intense as they normally would. And, second, both could be running on half-tanks of energy after a physical, emotional game. Don't be surprised if they both start slowly and perhaps look a little sloppy. The question is can they pull it together enough to secure a comfortable win or will they allow the Buffs and Beavs to keep things interesting?
Good Cal or bad Cal? Good Maynard or bad Maynard
? California has been all over the place this year, and so has QB
Zach Maynard
. It appeared that he'd found his groove during a 34-10 win over Utah, but then he lost it when he threw four interceptions in a 31-14 loss at UCLA. It's certainly not all his fault. Cal has been fickle for a while, looking like a top-25 team one week, then like an FCS one the other. The Bears should beat Washington State at home. But they will have to show up to do so. And Maynard needs to be on-target or he could lose his starting job.
Will Neuheisel and/or Wulff pick up a signature win
? UCLA and Washington State fans have been waiting for Rick Neuheisel and Paul Wulff to turn their sagging programs around for four years. Neither has produced results that have fans happy. Neither has a meaningful, A-list conference victory that provided a strong indication that better things were ahead (the Bruins beating Texas last year proved a mirage and was a nonconference game). If Neuheisel and the Bruins can beat Arizona State, they will take control of the Pac-12's South Division. That would seem like a win that could resonate. If Wulff and the Cougars could pick up a fourth win at Cal, then it would keep bowl hopes alive and, at worst, show the program was making clear progress.
Foles versus the Utah D
: While Utah's first season in the conference has been disappointing, it's played good, consistent defense. It ranks first in the Pac-12 in total defense and second in scoring. While Arizona's season has been disappointing, QB
Nick Foles
can fling the rock. He ranks first in the Pac-12 in passing yards per game with 366.1, 80 more than anyone else. That matchup alone makes this game worth watching.
Washington's run defense
: Oregon is No. 1 in the conference and No. 4 in the nation in rushing offense (309 yards per game). Washington's defense is best against the run. Of course, that requires qualification. Good running teams -- Nebraska and Stanford -- ran all over the Huskies. And, as a whole, the Huskies defense had been rotten, surrendering 430 yards and 33.4 points per game. If Washington is to have any chance, it must 1. find a way to at least slow down the Ducks running game; 2. force turnovers. Time for coordinator Nick Holt to earn his paycheck.
Arizona needs to run, stop the run
: Utah is second in the conference with 23 sacks. That suggests that it's in Foles' best interest to hand the ball off at least a few times to slow down the Utes' pass rush. So the Wildcats shouldn't abandon the run. Meanwhile, the Wildcats defense has mostly struggled this year, but the Utes offer a limited, one-dimensional offense that relies on running back
John White
. That means Arizona should gang up on the line of scrimmage and force
Jon Hays
to throw the ball. While the Wildcats have been worse against the pass this year than the run -- opponents are completing 69 percent of their throws -- Hays has yet to show he can throw consistently and move his team down the field.
Do Colorado and/or Oregon State have anything left
? Colorado is 1-8. Oregon State is 2-6. Both are coming off blowout losses. Both will be at home in front of uninspired crowds. Both are playing foes with a lot more talent than them. Both look like candidates to take a whipping. And yet. Football is a funny game. If one or the other or both come out playing with fire, they might keep things competitive. And when a game gets into the fourth quarter, crazy things can happen.
PAC-12 SCOREBOARD
Thursday, 9/3
Friday, 9/4
Saturday, 9/5