USC Trojans:

Nick Aliotti
February, 14, 2014
2/14/14
1:00
PM PT
The
shuffling of defensive coordinators
appears to be over. We think. And as previously noted, all five of the top scoring defenses in the Pac-12 last year have seen changes at the top of the defensive coaching hierarchy. Three of the hires were internal promotions and two were coordinators who stayed with their head coach while switching schools.
This is how the top five scoring defenses played out last year:
Stanford (19.0 points per game)
Oregon (20.5)
USC (21.2)
Washington (22.8)
UCLA (23.2)
Who got the better end of the deal? Sounds like a poll question for you to ponder all weekend long.
Which team will lead the Pac-12 in scoring defense in 2014?
Your options:

Stanford
: Derek Mason departed to become head coach at Vanderbilt and Lance Anderson was promoted from within. The Cardinal lose some marquee players but have others such as safety
Jordan Richards
and linebacker
A.J. Tarpley
returning.
Oregon
: Out is longtime coordinator Nick Aliotti, who retired. In is longtime position coach Don Pellum. The Ducks lose some talent but return standout cornerback
Ifo Ekpre-Olomu
, who gives the Ducks' secondary instant credibility.
USC
: Clancy Pendergast was not retained by new head coach Steve Sarkisian. So Justin Wilcox is in after working his magic at Washington. The Trojans lost a lot of players to the draft, but a couple key players are back and there is a pretty good crop of young, talented players.
Washington
: New head coach Chris Petersen brought his guy, Pete Kwiatkowski, with him from Boise State. The Huskies made tremendous strides in two seasons under Wilcox and have some pretty solid personnel returning.
Other
: UCLA's Lou Spanos returned to the NFL and Jeff Ulbrich was promoted from within. Head coach Jim Mora will still oversee a lot of the defense. Though impact players like
Anthony Barr
and
Cassius Marsh
are gone, the Bruins have plenty of talent coming back. ... Arizona was sixth in the conference last year and made huge strides from 2012 to 2013. Can it keep the momentum going? ... Arizona State (seventh) also shuffled its defensive staff around with
the hiring of Keith Patterson
, though Todd Graham will still be heavily involved in the defense. ... Utah (eighth) is just two seasons removed from leading the conference in scoring defense. Can the Utes get back to the top?
January, 20, 2014
1/20/14
7:00
PM PT
The Pac-12 has seen a flurry of defensive coordinator movement over the last couple of weeks -- starting with the
power struggle for former Washington defensive coordinator Justin Wilcox
to the recent exoduses of Stanford's
Derek Mason to Vanderbilt
as head coach and UCLA's
Lou Spanos to the Tennessee Titans
as linebackers coach. Oregon's promotion of
Don Pellum to defensive coordinator
to replace Nick Aliotti will also shine a spotlight on the Ducks' defense in 2014 and beyond.
And then there is, of course, former USC defensive coordinator Clancy Pendergast, who mysteriously continues to be out of work.
[+] Enlarge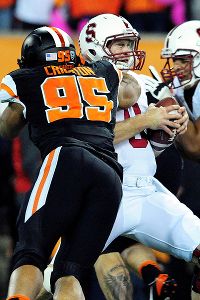 Steve Dykes/Getty ImagesOregon State defensive end Scott Crichton is among the Pac-12 defensive stars entering the NFL in 2014.
Look at the top five scoring defenses in the Pac-12 in 2013: Stanford, Oregon, USC, Washington and UCLA, respectively. All five have had defensive coordinators in flux in the young offseason.
That makes for an interesting transition period for the Pac-12. Defenses had closed the gap in recent years with several teams ranking in the top 25 nationally in scoring defense. That in itself is an achievement considering the level of offensive skill players and the diversity of offenses in the conference.
But when you look ahead to 2014, there are a lot of quarterbacks coming back to man the league's high-powered offenses --
Marcus Mariota
,
Brett Hundley
,
Taylor Kelly
,
Sean Mannion
,
Connor Halliday
, etc. You combine that with a massive talent drain of defensive players graduating or declaring for the NFL, plus all of the shifting within the defensive coaching ranks, and you have to wonder if 2014 is going to be the Year of Offense in the Pac-12.
Consider a few of the defensive standouts leaving:
Anthony Barr
(UCLA),
Will Sutton
(ASU),
Shayne Skov
(Stanford),
Dion Bailey
(USC),
Terrance Mitchell
(Oregon),
Scott Crichton
(Oregon State),
Trent Murphy
(Stanford),
Carl Bradford
(ASU),
Deone Bucannon
(Washington State),
Trevor Reilly
(Utah). There are a couple dozen others who aren't mentioned who were high-impact guys like Stanford's
Ben Gardner
and
Ed Reynolds
,
Jordan Zumwalt
and
Cassius Marsh
from UCLA and
Alden Darby
,
Osahon Irabor
and
Robert Nelson
from ASU.
In total, 19 of the 25 all-conference defensive players from 2013 will be gone next year -- including 10 of 12 from the first team. Plus about a dozen more that were honorable mention are leaving or graduating. That is a major hit to the defensive talent in the league.
The Pac-12 is rarely appreciated nationally for its defensive prowess, either from a player or coaching perspective. And now three of the best coordinators in the conference are gone, one has moved from Washington to USC and another is looking for a gig.
Pac-12 offenses are going to be loaded in 2014 while the defenses have huge question marks. There is plenty of young talent. Guys like
Myles Jack
(UCLA),
Addison Gillam
(Colorado) and
Su'a Cravens
(USC) have all made names for themselves early in their careers. There are also some very notable returners like
Ifo Ekpre-Olomu
(Oregon),
Henry Anderson
(Stanford),
Shaq Thompson
(Washington) and
Hayes Pullard
(USC).
But a lot more is gone than is coming back.
That opens the door for all sorts of comparison storylines. Wilcox did an outstanding job re-tooling the defense at Washington. And now Pete Kwiatkowski will be measured against what Wilcox was able to accomplish. Likewise, Pendergast probably should have been USC's MVP for what he did with the Trojans in one season. Now Wilcox has to take over an outfit that is losing a lot of playmakers to the NFL. No doubt, he'll be compared to his predecessor. Just as Pellum will be compared to Aliotti, and whoever fills the seats at Stanford and UCLA will be compared to what Mason and Spanos were able to accomplish.
The guard is changing, as it does every year in college football. This year it might be the Pac-12 defenses that take a step back.
January, 14, 2014
1/14/14
8:00
AM PT
There were many remarkable performances in the Pac-12 this year. And some remarkably bad ones. Of course, one team rolling is another team getting rolled.
Here are some high & low lights of the 2013 season (conference games only).
And some of these are intriguing because they say the opposite thing.
Such as …
Worst rushing performance:
Washington rushed for negative-5 yards at Arizona State on Oct. 19 in a 53-24 defeat.
Best rushing performance
: Washington rushed for 530 yards at Oregon State in a 69-27 win on Nov. 23.
Best yards per rush
: Washington averaged 9.1 yards per carry at Oregon State.
Most points
: Washington at Oregon State.
Most rushing TDs
: The Huskies at seven rushing touchdowns at … well, you get the picture.
[+] Enlarge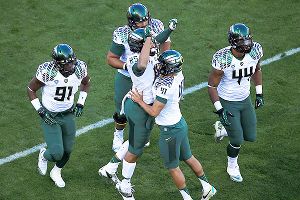 Doug Pensinger/Getty ImagesThe Oregon Ducks had plenty to celebrate when they piled up 755 yards against Colorado on Oct. 5.
Most yards
: Oregon gained 755 yards at Colorado on Oct. 5.
Most yards per play
: USC averaged 9.8 yards per play at California on Nov. 9.
Longest run
: USC running back
Javorius Allen
had a 79-yard touchdown run at Cal.
Longest pass
: Cal QB
Jared Goff
connected with
Chris Harper
for an 89-yard TD against Washington State on Oct. 5
Fewest pass completions
: Utah completed just six passes against Arizona State in a 20-19 defeat on Nov. 9.
Worst completion percentage:
Utes QB
Travis Wilson
completed 28.6 percent of his throws against the Sun Devils.
Best completion percentage
: Arizona's
B.J. Denker
completed 86.4 percent of his throws -- 19 of 22 -- against Oregon on Nov. 23.
Most interceptions
: Wilson threw six interceptions in the Utes 34-27 loss to UCLA on Oct. 3.
Shortest "long" pass in a game
: USC's longest completion against Washington State on Sept. 7 went for 8 yards.
Longest field goal
: Arizona's
Jake Smith
(vs. Cal) and Colorado's
Will Oliver
(vs. Arizona) both made 53-yard boots.
Longest punt
: Utah's
Tom Hackett
posted a 70-yard punt against Arizona State.
Best punt average in a game
: Cal's Cole Leiniger averaged 54.2 yards on four punts at Colorado.
Longest punt return
: USC's
Nelson Agholor
returned a punt 93 yards for a TD at Cal. He also had a 75-yard TD on a punt return in that game.
Longest kick return
: Stanford's
Ty Montgomery
went 100 yards for a touchdown at Utah on Oct. 12.
Most fumbles lost
: Cal lost four fumbles at Oregon on Oct. 28.
Most sacks allowed
: UCLA gave up nine sacks to Arizona State on Nov. 23.
Most sacks by a player in a game
: Both Arizona State's
Chris Young
(vs. UCLA) and Arizona's
Sione Tuihalamaka
(vs. Arizona State) had three.
Most penalties
: UCLA had 13 penalties for 100 yards at Utah.
Most penalty yards
: The Bruins had 122 yards in penalties -- on 11 flags -- against Colorado.
Touchdowns in one game
: Montgomery had five at California on Nov. 23 (four receiving, one rushing).
Most rushing yards in a game
: Washington's
Bishop Sankey
gained 241 yards against Cal.
Most passing yards in a game
: Washington State's
Connor Halliday
passed for 557 yards at Oregon. (Just don't remind Nick Aliotti).
Most passing touchdowns in a game
: Oregon State's
Sean Mannion
threw six touchdown passes against Colorado.
Most receiving yards in a game
: Oregon State WR
Brandin Cooks
had 237 yards receiving at Cal on 13 receptions.
Most receiving TDs in a game
: Montgomery had four against Cal.
January, 3, 2014
1/03/14
12:00
PM PT
The Pac-12 went 6-3 in its bowl games. On Dec. 9,
the Pac-12 blog noted
, "Anything less than 6-3 would be a major disappointment."
So the Pac-12 didn't notch a "major disappointment" this bowl season. And there was much rejoicing. Yay.
Sure, conference teams were favored in all nine games, but you can't win them all, right? A .667 winning percentage is solid by just about any measure. The super-awesome SEC is just 5-2 with a couple of tough games remaining.

Why then am I so underwhelmed?
Short answer: It should have been better. Our Pac-12 bowl season grade? A gentleman's "C."
Part of the problem was the matchups, which were unusually forgiving. USC's blowout win over No. 20 Fresno State in the Royal Purple Las Vegas Bowl was the only win over a ranked team, mostly because the only other ranked team the Pac-12 played this bowl season was Stanford against No. 4 Michigan State in the Rose Bowl Game Presented by VIZIO, a 24-20 Spartans victory.
Another part of the problem was how things went down.
While Washington State fans seem split on whether the Pac-12 blog is allowed to call the Cougars' monumental double-dog-derp against Colorado State by the term that everyone immediately thought of (don't worry, we won't type "Couged it"), that was a quintessential example of a team forcibly yanking defeat from the jaws of victory.
Then there was Arizona State against Texas Tech in the National University Holiday Bowl. For whatever reason, the Sun Devils simply didn't show up. We apologize for seeming to not give Texas Tech credit for a great win, but the Red Raiders need to understand the Sun Devils they played looked nothing like the Sun Devils of 2013. That game was utterly shocking, at both a player and coaching level. Todd Graham was right to take the blame afterward. His team wasn't ready to play.
That game reminded me of a coach who once told me that having a senior-laden team can become a mixed blessing for a bowl game. Sometimes, senior leadership provides focus to a locker room. And, sometimes, seeing that the seniors won't be accountable to the coaching staff and their teammates the following fall, they lose interest and start looking ahead to their own futures. My guess is the latter happened with Arizona State.
Stanford? It hardly played a perfect game, but the Rose Bowl was simply a good, hard-fought matchup that Michigan State took from Stanford, instead of the Cardinal giving it to the Spartans. The result served more as a validation of the Big Ten champs than a reduction of Stanford's national status.
[+] Enlarge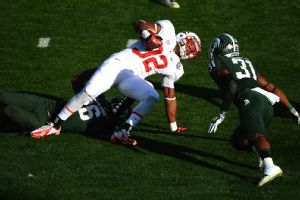 Jonathan Moore/Getty ImagesAnthony Wilkerson and Stanford didn't slip up too badly in the Rose Bowl loss to Michigan State.
That take mostly rings true for the Pac-12's bowl season. Going 6-3 won't represent a retreat; it won't cause a negative national re-evaluation of the strength of the conference. For one, if Auburn loses to Florida State in the national title game, no conference will post a dominant bowl season. Big 12 champion Baylor losing to Central Florida in the Tostitos Fiesta Bowl and Alabama losing to Oklahoma in the Allstate Sugar Bowl showed that bowl-season nuttiness can affect even the heaviest of favorites.
So kudos to USC, Oregon State, Washington, Oregon, Arizona and UCLA for taking care of business in their bowl games.
USC and Washington won despite coaching turmoil. The Ducks showed what a healthy
Marcus Mariota
looked like and gave defensive coordinator Nick Aliotti a great farewell with a dominant performance on that side of the ball. Oregon State, Arizona and UCLA brought their A-games and dominated.
My general feeling is the carryover to 2014 will be at least four and probably five teams ranked in the preseason: Oregon, Stanford, UCLA, USC and maybe Arizona State.
The Pac-12 bowl season was only OK. It could have been worse; it could have been better.
That's nothing to aspire toward, but at least the conference won't have to spend the offseason wringing its hands over its national status as we head toward the first season of a four-team College Football Playoff.
December, 30, 2013
12/30/13
11:30
AM PT
She could not explain in so many words, but she felt that those who prepare for all the emergencies of life beforehand may equip themselves at the expense of joy.
December, 28, 2013
12/28/13
12:30
PM PT
A couple of you have asked about the difference Clancy Pendergast made for USC's defense this fall, which is a pretty easy to quantify.
And it seems some of you asked specifically because Oregon is now looking for a defensive coordinator after Nick Aliotti announced his retirement Friday after the Valero Alamo Bowl on Dec. 30.
We sometimes do take requests at the Pac-12 blog.
With seven starters back from the 2012 unit, the improvement was dramatic and across the board, despite the Trojans switching schemes from Monte Kiffin's 4-3 Tampa 2 to Pendergast's 3-4 -- or 5-2, as he calls it.
Here are the numbers:
2012 Pac-12, 2013 Pac-12

Scoring defense 5th (24.3 ppg), 2nd (21.3ppg)

Total defense 7th (394.0 ypg), 1st (341.2 ypg)

Rushing defense 8th (167.0 ypg), 2nd (126.7 ypg)

Passing defense 4th (227.0 ypg), 1st (214.5 ypg)

Pass Eff. Def. 6th (123.9), 3rd (114.0)

Opponent 1sts, 9th (22.6), 2nd (18.5)

Oppoent 3rd percentage 8th (38.0), 2nd (36.8)

Red zone def percentage 6th (81.1), 1st (63.4)
Further, the Trojans ranked in the nation's top 32 in every above number. In 2012, they didn't rank that highly in any of the above numbers. In fact, their highest national ranking was 40th in scoring defense.
And those 2013 numbers, by the way, including the absolute white flag performance at Arizona State, a 62-41 defeat, had a lot more to do with effort than scheme, which is why Lane Kiffin was fired the same night.
Pendergast has received plenty of praise for the job he did this year at USC. This makes clear it was justifiable.
Just saying, Ducks.
December, 27, 2013
12/27/13
2:30
PM PT
Welcome to the final -- Miller version! -- mailbag of 2013.
Follow the Pac-12 blog on Twitter
.
To the notes!
Nick from Phoenix writes:
Chip Kelly and Oregon surprised many a few years ago when they flipped DeAnthony Thomas from USC by promising him a chance to play offense and not make him a corner, as USC planned to do. After showing some flashes and putting together a pretty good freshman season, he seems to have plateaued as a player. He's got amazing speed and is a tremendous returner but he's too small to be a starting running back and isn't a true WR. After his freshman season I thought he would be guaranteed to leave school after his junior year. Now I can't imagine him being drafted in the first two rounds in April. He's a player without a position. All of this brings me to my question. Did Oregon do him a disservice by making him an offensive player? Given the athletic ability DAT possesses, he would have made an amazing corner and we could possibly be talking about him as a top 5 pick this year. He would still be able to flourish in the return game (where he is at his best). I really think the Oregon staff blew it with him, just like they blew it with
Arik Armstead
(letting him be an OK defensive lineman when he has the physical skill set to be a transcendent offensive tackle).
[+] Enlarge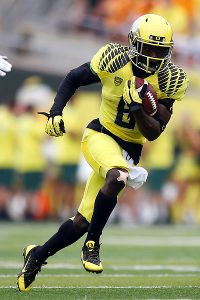 Jonathan Ferrey/Getty ImagesAfter a hot start, De'Anthony Thomas missed four games and had his least productive season.
Ted Miller:
The starting point for this discussion is what the player wants. And that is a slippery slope in recruiting. Often what is obvious to a plurality of seemingly objective observers is not obvious to the player himself. Or his family. Or "advisors."
The good news here is Oregon and USC both told the truth in recruiting. USC coaches told
De'Anthony Thomas
they saw him as a cornerback. Some coaches will say whatever they can to get a player, all the while having a plan to make a switch as soon as possible. Oregon, obviously, stuck to its word with both Thomas and Armstead.
I think the issue with Armstead is more clear-cut than Thomas. Armstead is a potential NFL All-Pro at left offensive tackle, based on his skill set, and a CFL player on the D-line, based on his performance as defensive end/tackle thus far. I personally think he is leaving millions of dollars on the table by playing defense. In fact, if he were my son, I would relentlessly hound him to make the switch. I might even touch base with the Oregon coaches on the matter to see what they think, though I'm not sure the guy who replaces the retiring Nick Aliotti will want to give up any more big bodies from his D-line, which will take some big hits heading into 2014 in any event.
As for DAT, you could make a strong case that he's more naturally a corner than an offensive player due to his size. But he'd also be on the small side for an NFL corner, and there's the issue of make-up. Does he have the natural aggressiveness to go mano-a-mano in press coverage against a bigger receiver? Can he attack a 220-pound running back in the open field? DAT might be more naturally suited to avoid rather than seek contact.
The question for DAT with the NFL is fit. A team looking for an offensive weapon who's not built for 20 touches a game could do a lot worse than Thomas. The St. Louis Rams fell in love with speedy but diminutive Tavon Austin and picked him in the first round last spring.
He's had a pretty darn good rookie season.
He seems like a good comparison to DAT (and not the short but stocky guys, such as Maurice Jones-Drew, who are built like fire hydrants).
There is no question DAT's pure athletic ability will get him drafted, this spring or next, though what round is difficult say. The ultimate answer on his NFL career, however, will come down to durability. How many touches -- and games -- can he give an NFL team? And for how many years?
Alex from Davis, Calif., writes:
I have a great play idea for Washington State
when they have an 8 point lead
, ~ 2 minutes to go in a game and the other team is out of timeouts. It may be too wacky and zany for Mike Leach, though. Here's how it goes: the team lines up in a "victory" formation, takes a knee, lets the play clock go as close to zero as possible and repeats the play two more times. Then they take a delay of game penalty before punting to make the other team go more than 25 yards for the winning score. I know, I know. Way too crazy. It make soooooo much more sense to try and run a QB option play (or run the ball at all when you haven't done it all year) than it does to simply take a knee and run the clock.
Ted Miller:
I'm with you, as are most folks. Even some with true football smarts, such as other coaches.
But Mike Leach, an unquestionably smart man, does things his own way. His reply would be the ole "I am what I am," which means not taking a knee there, and that is what got him where he is. He believes in being aggressive.
The thing about Leach is he's not going to go, "My bad. I should have done things differently. You second-guessers are correct!" Not his style.
Further, while there were about 785 different things the Cougars could have done to ensure a victory against Colorado State, Leach would simply note the most basic one would be holding onto the football, which I'm guessing he and his assistants have emphasized and drilled endlessly.
Adam from Dallas writes:
After watching USC win the Las Vegas bowl and finish up with 10 wins from this crazy season. Saying it sounds unrealistic, but shouldn't Sark almost be expected to get 10 wins next season? Am I crazy?
[+] Enlarge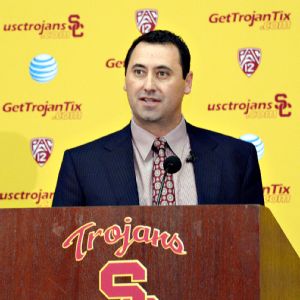 Kirby Lee/USA TODAY SportsSteve Sarkisian might get a bit of a pass in his first year, but expectations at USC are always high.
Ted Miller:
While I'll need more information to know, Adam, if you are indeed crazy -- such as: Do you have a 6-foot white rabbit as a wingman when you hit the bars? -- I don't think you are off base here.
For one, USC fans tend to start their baseline of preseason expectations at 10 wins and go from there.
First, let's note that USC won 10 games on a 14-game schedule. It's not the same as the 10-2 mark in 2011. Then let's wait until the NFL defection numbers are in. There are some names on the board who could make a big difference if they opted to return next year.
As it stands now, though, USC should be in the thick of a tightly contested South Division. That, in itself, might make a 10-win season difficult. There could be a lot of cannibalism in the South, as well as the conference as a whole.
I see UCLA as the South favorite, if QB
Brett Hundley
opts to return for his redshirt junior year. I see Arizona State as possibly taking a step back and Arizona taking a step forward, if it gets a satisfactory answer at quarterback. Utah becomes a factor if QB
Travis Wilson
is given a positive bill of health from his doctors and can play this fall. And Colorado is getting better.
The good news for USC fans, whatever their 2014 expectations, is the program will be made whole in 2015, as NCAA scholarship restrictions expire. At that point, there won't be much margin for error for Steve Sarkisian. The preseason expectations going forward will be Pac-12 title or bust, with a firm belief the Trojans should win a national title before 2020.
Josh from Wichita writes:
Great article on my Cats
, Ted. I did just want to make one technical correction though. It is actually a 4x4 that has 'family' written on it and not a 2x4. It's 4 inches by 4 inches, but I suppose it can be forgiven. EMAW!
Ted Miller
: My bad. Guess folks won't be asking me to do any construction work anytime soon.
Jon from Berkeley writes:
Just wanted
to share an awesome video
my friend Matt recently made about the Pac-12. Hope you like it!
Ted Miller
: That is pretty cool.
DuckFam from Camas, Wash., writes:
Dear PAC 12 Blog,I am sorry to say this, but
you are absolutely right
. The emotions you have stirred have caused such outrage that I am compelled to stand up and point out that Pink Ladies have never gotten their accolades, in spite of being the all-around most balanced in their league. This all starts with the fact that Pink Ladies don't have the history and pedigree of playing in an AQ league that the more traditional power-houses, such as Granny Smiths and Red Delicious have played in; a league, BTW, that is heavily favored east of the Rockies. They are practically unheard of down south, but Georgia is already biased anyway- what is their state famous for, again? Next, when you consider the balance of sweet to tart, combined with the fact that the ratio of crunch to crisp easily rivals that of Honeycrisp, and is far tastier than Fujis, I am not sure you can even consider Fujis any further at this point. Now Honeycrisp is certainly at the top of the game most of the time, and I grant you it is great for what it is, but if this is a case to be made with more than just personal taste and opinions, then it is time to turn to the metrics. Pink Ladies are most often in play at 1.49 per pound, and often break the .99-per-pound barrier, as many traditional ones often do, especially when they are at their best around mid-season. But given the qualities that Pink Ladies offer, as stated above, at the same economic metric as Fujis, make them a far better bet than Honeycrisp (which often hit 1.99, even at their best in the season). When compared pound to pound, or dollar to pound, or the newest metric developed by people with far too much time on their hands: the Approximate Pound Per Label Eaten, or APPLE, as it is known in some circles, Pink Ladies take down all comers, every time. Once again, though, being from a different box that doesn't say Fuji or Honeycrisp means little to no consideration, in spite of obvious fact. Proof yet again of the "tastelessness" of the East Coast bias...PS- is it September yet?
Ted Miller
: My only hope is the "Great Apple Controversy of 2013" continues into the New Year.
October, 21, 2013
10/21/13
11:30
AM PT
I've never seen a diamond in the flesh
I cut my teeth on wedding rings in the movies
And I'm not proud of my address
In the torn up town, no post code envy.
August, 21, 2013
8/21/13
11:00
AM PT
Changing the perception of a league is no easy task. And for the Pac-12, bucking its offense-first image may never happen.
As long as Oregon keeps gobbling up points by the minute and yards by the mile; as long as Rich Rodriguez does what RichRod does and there are Air Raids and Bear Raids about, offense will always be associated with the Pac-12. As long as De'Anthony Thomas and Marion Grice can score from anywhere; as long as Marqise Lee keeps turning a 4-yard slant into an 80-yard touchdown; as long as Ka'Deem Carey is running wild and Marcus Mariota and Brett Hundley are burning up stat sheets, Pac-12 defenses will continue to be overshadowed.
And yet …
[+] Enlarge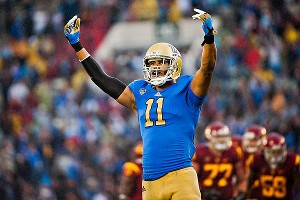 Jonathan Moore/Getty ImagesUCLA linebacker Anthony Barr leads an impressive group of defenders in the Pac-12.
"I would love to see an all-star game with our conference's defensive players on the same team," said Stanford coach David Shaw. "I think it would be phenomenal, and scary. Anthony Barr is borderline unblockable. Will Sutton gets in the backfield seemingly every play, single block, double block, whatever. Morgan Breslin, Sutton and Ben Gardner on the line and Shayne Skov sideline to sideline with Barr coming off the edge.
"Maybe we're getting to a golden era for defensive players in this conference because you've got good defensive units and some really elite standout players."
Last season, five Pac-12 teams ranked in the top 15 nationally in sacks per game including Stanford (first), Arizona State (second), USC (fourth), UCLA (eighth) and Washington State (14th). That's up from three teams in the top 20 in 2011, two teams in the top 20 in 2010 and zero teams in the top 10 in 2009.
ASU and Stanford were first and second, respectively, in tackles for a loss per game, and WSU and USC ranked in the top 11. It's a given that a lot of points will be scored in the Pac-12. But defenses are making it tougher.
"It's been an interesting evolution," said Oregon State coach Mike Riley, the dean of the Pac-12 who is entering his 13th season. "What you're seeing is a premium on speed and guys with a lot of flexibility. There are still big people that need to play on the interior. But your edges -- if you're going to lead the league in sacks -- then having a great edge rusher is always at a premium."
Guys like the aforementioned Barr, Sutton and Breslin, Stanford's Trent Murphy, Oregon State's Scott Crichton, Cal's Deandre Coleman and ASU's Carl Bradford are in that conversation. All of them are expected to rank among the nation's best in sacks and TFLs. That should make for a heated debate when picking the league's defensive player of the year.
And who says it will be someone from the front seven? Four Pac-12 teams were among the top 20 in interceptions last year, and Oregon led the country. The Ducks have the nation's best cornerback duo with Ifo Ekpre-Olomu and Terrance Mitchell, while Stanford boasts the outstanding safety tandem of Ed Reynolds and Jordan Richards. Oregon State's Ryan Murphy, USC's Dion Bailey and WSU's Deone Bucannon are also elite safeties.
Washington might have the best young defensive player in the league in Shaq Thompson.
"You can have a high-powered offense that puts up big points, but if you can't stop anybody, it's anyone's game," said Sutton. "With a great defense, you can accomplish anything."
Those who follow the league know there have been great defenses in the past. Washington in the early '90s and Arizona's Bear Down defense come to mind. Behind all of USC's Heisman quarterbacks a decade ago were outstanding defenses.
"I think what we're starting to see is the individual players and coordinators starting to get some notoriety," said Shaw, whose team ranked fifth nationally against the run last year -- an amazing statistic considering the running backs they faced in 2012. "When Oregon started being really good and scoring a ton of points, people didn't realize they were keeping people from scoring too and playing great defense. To this day I still think they have the most underrated defensive coordinator [Nick Aliotti] in the country."
One of the major challenges of being a defensive coach in the Pac-12 is the diversity of offenses. Oregon's spread is considered run-based, yet the Ducks had the most efficient passing attack in the league. Arizona's spread is considered pass-based, yet its running back led the nation in rushing. Stanford is considered "conventional" with its pro-style, but it'll use personnel groups with seven offensive linemen.
"I don't even know what pro-style means anymore," said UCLA coach Jim Mora. "The perceptions are distorted. You can break down a spread offense or a pro-style and they'll have the same route concepts. There are only so many. But the formations are different. The personnel is different. The motion before the snap is different. The league has so many speed athletes so one of the reasons we play a 3-4 is to get more speed athletes on the field."
It's time, says Bucannon, to let rest of the country know the Pac-12 can play a little defense, too.
"We have fast, up-tempo teams and marquee offensive players. At the same time, there are some great defensive players on that side of the ball," he said. "And we refuse to be overshadowed."
November, 2, 2012
11/02/12
12:30
PM PT
Nick Aliotti, a native of Walnut Creek, Calif., a graduate of Pittsburg High School, a former freshman MVP at running back for UC Davis, arrived at Oregon as a graduate assistant in 1978 under Rich Brooks. The Ducks celebrated his arrival by going 1-10.
After a 4-7 season the next year, Oregon State coach Joe Avezzano hired him to coach running backs. In 1984, he was the offensive coordinator at Chico State. The Ducks went 6-5 that year.
Funny how things turn out. Back then, there was little to suggest Aliotti would become a defensive coach, or that he would circle back to Oregon, or that there would be any reason to go back to Eugene. After all, if Aliotti wanted to climb the coaching ladder, didn't he want to go to a place where you had a chance to win?
Yet here he is, now close enough to an Oregon lifer that we're going to call him that, a guy who has been a firsthand witness to a program rising from nothing to respectability to legitimate goodness. And then to the cusp of greatness.
[+] Enlarge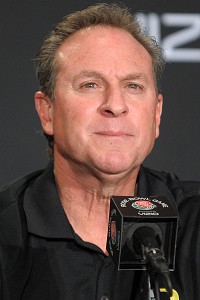 Kirby Lee/Image of Sport/US PresswireWhile Oregon's offense gets all the hype, Nick Aliotti's defense has also shined this season.
"I'll tell you how it feels for me personally," Aliotti said. "It feels fantastic."
And anyone who knows Aliotti, 58, will guess that there was a prelude to that quote -- "It's not about me" -- and a postlude -- "It's really, really special" -- as well as some entertaining parentheticals along the way.
Yet this season includes something new: respect.
Aliotti has been a good defensive coordinator for a long time, although his defenses often were outmanned. During the Ducks' rise under Chip Kelly, Oregon has played better defense than most folks realized, but it often required observers to look behind the numbers. And who has time for that?
Yet before this season began, more than a few pundits, including folks on the benighted East Coast, took a look at the Ducks' depth chart and noted that there were some salty characters on the mean side of the ball. The Ducks had some size to go along with their speed. There were some 300-pounders inside and there was, as coaches say, "great length" across the board, with seven of the top nine defensive linemen over 6-foot-4. And four over 6-6.
They passed the sight test.
What about the football part of football? Glad you asked. ESPN's numbers guy, Brad Edwards,
took a closer look at the Oregon defense this week
, noting that if you go beyond some superficial numbers that don't look impressive, you can make a case that the Ducks are playing defense on par with the finest teams in the country.
He took a measure of the Oregon defense only when an opponent was within 28 points, noting, "Using only statistics from when the score is within 28 points allows us to evaluate how teams perform when the starters are on the field and playing with maximum intensity."
What did he find? First, he found the Ducks have allowed 19 touchdowns this season -- one a pick-six against the offense -- but only seven were given up when the game margin was within 28 points.
Then he entered that into his Bat Computer.
Here's what he found. The Ducks ranked third in the nation, behind only Alabama and Notre Dame, in points per drive at 0.89. The Ducks allow just 4.03 yards per play, which ranks fourth in the nation. The Oregon defense leads the nation in red zone TD percentage at 22 percent, or four TDs allowed in 18 drives. Finally, on third-down conversion defense, the Ducks rank second, trailing only Oregon State, with a 24.7 percent success rate.
Not bad, eh?
Aliotti's defense, however, will face a major test on a big stage Saturday when it visits USC. Although the Trojans' offense has been surprisingly inconsistent this season, it still has all the main players from the squad that turned in a scintillating performance a year ago while ending the Ducks' 21-game Autzen Stadium winning streak with a 38-35 victory.
"Those great receivers and the quarterback were able to have their way with us last year," Aliotti said. "They beat our defense last year with their offense."
Matt Barkley
completed 26 of 34 passes for 323 yards with four touchdowns as the Trojans rolled up 462 yards.
Marqise Lee
, then a true freshman, caught eight passes for 187 yards and a score. Aliotti, by the way, was perhaps more upset about the Trojans' 139 rushing yards than the passing numbers.
Barkley is a four-year starter who has seen just about every defense. He's not easy to fool. But that doesn't mean Aliotti isn't going to try.
"The best I can answer is we're going to do a little bit of all of it," he said.
And Aliotti has a lot of tricks in his bag. When you talk to opposing offensive coaches, it's clear the Ducks' defense has evolved in the past few years. Calling it "multiple" doesn't do it justice. You could almost call it "nonstandard." Aliotti will give a general idea of the evolution, but he doesn't want even that to appear in print.
USC coach Lane Kiffin coached the Trojans' offense under Pete Carroll from 2001 to '06. He sees dramatic changes.
"You see no similarities," he said. "You'd think it was a different staff. Obviously it's not; they've been there forever. I don't know what changed, but they are very different. They are very multiple. They change fronts. They disguise things very well."
Aliotti has played a lot of chess games with opposing offenses since he returned to Oregon for good in 1999. Shutting down Barkley and the Trojans on Saturday would help him further secure his grandmaster bona fides this fall.
October, 31, 2012
10/31/12
8:00
AM PT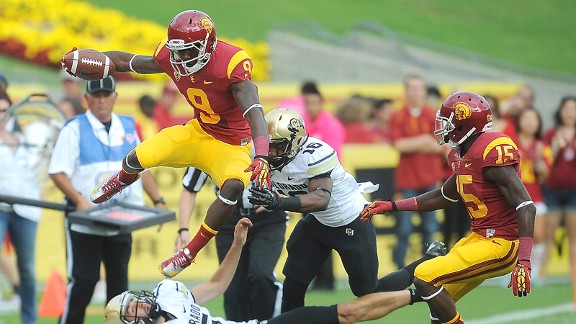 Jayne Kamin-Oncea/US PresswireUSC will need to elevate its game in order to knock off the high-powered Oregon Ducks.
Since Saturday's loss in Tucson, the misery of USC fans has been well-documented. Lane Kiffin, the undisciplined players who commit too many errors, the USC defense, even
Matt Barkley
-- they have all been targets of scorn, and to a large extent, rightly so. It does no good to add to that litany, so let me take a different position: There is no team better for the Trojans to play right now that the Oregon Ducks.
As I type that statement, I'm not sure I believe it. The Ducks may be the best team in the country. Their offense is better than last year's, with a better quarterback running it. The defense is probably the best coordinator Nick Aliotti has ever had. Who would want to play them after what USC showed last weekend?
After all, this is a USC team that hasn't played a complete game against a good opponent all year. Sure, there are flashes of brilliance and great displays of talent scattered throughout each game, but almost every game has also left you scratching your head to one degree or another. Trojan fans want to believe, so they have. They believed that USC would get its act together by the time this stretch run came. They believed USC wouldn't commit a staggering amount of penalties in a big game. They believed that the second-half struggles USC has shown in game after game were just a symptom of USC taking its foot off the gas, or maybe just working on the run game, and were even somehow purposeful -- not a reason for concern. I think the team believed all these things, as well. On Saturday in Tucson, that belief system ran smack into the reality that this is who these Trojans are right now. So again, as the Trojans come to grips with their reality, why would you want to play Oregon this week?
PAC-12 SCOREBOARD
Thursday, 9/3
Friday, 9/4
Saturday, 9/5