USC Trojans:

Nick Aliotti
October, 21, 2013
Oct 21
11:30
AM PT
I've never seen a diamond in the flesh
I cut my teeth on wedding rings in the movies
And I'm not proud of my address
In the torn up town, no post code envy.
August, 21, 2013
Aug 21
11:00
AM PT
Changing the perception of a league is no easy task. And for the Pac-12, bucking its offense-first image may never happen.
As long as Oregon keeps gobbling up points by the minute and yards by the mile; as long as Rich Rodriguez does what RichRod does and there are Air Raids and Bear Raids about, offense will always be associated with the Pac-12. As long as De'Anthony Thomas and Marion Grice can score from anywhere; as long as Marqise Lee keeps turning a 4-yard slant into an 80-yard touchdown; as long as Ka'Deem Carey is running wild and Marcus Mariota and Brett Hundley are burning up stat sheets, Pac-12 defenses will continue to be overshadowed.
And yet …
[+] Enlarge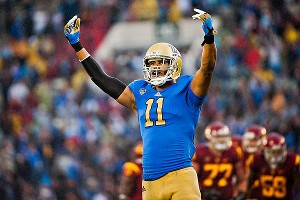 Jonathan Moore/Getty ImagesUCLA linebacker Anthony Barr leads an impressive group of defenders in the Pac-12.
"I would love to see an all-star game with our conference's defensive players on the same team," said Stanford coach David Shaw. "I think it would be phenomenal, and scary. Anthony Barr is borderline unblockable. Will Sutton gets in the backfield seemingly every play, single block, double block, whatever. Morgan Breslin, Sutton and Ben Gardner on the line and Shayne Skov sideline to sideline with Barr coming off the edge.
"Maybe we're getting to a golden era for defensive players in this conference because you've got good defensive units and some really elite standout players."
Last season, five Pac-12 teams ranked in the top 15 nationally in sacks per game including Stanford (first), Arizona State (second), USC (fourth), UCLA (eighth) and Washington State (14th). That's up from three teams in the top 20 in 2011, two teams in the top 20 in 2010 and zero teams in the top 10 in 2009.
ASU and Stanford were first and second, respectively, in tackles for a loss per game, and WSU and USC ranked in the top 11. It's a given that a lot of points will be scored in the Pac-12. But defenses are making it tougher.
"It's been an interesting evolution," said Oregon State coach Mike Riley, the dean of the Pac-12 who is entering his 13th season. "What you're seeing is a premium on speed and guys with a lot of flexibility. There are still big people that need to play on the interior. But your edges -- if you're going to lead the league in sacks -- then having a great edge rusher is always at a premium."
Guys like the aforementioned Barr, Sutton and Breslin, Stanford's Trent Murphy, Oregon State's Scott Crichton, Cal's Deandre Coleman and ASU's Carl Bradford are in that conversation. All of them are expected to rank among the nation's best in sacks and TFLs. That should make for a heated debate when picking the league's defensive player of the year.
And who says it will be someone from the front seven? Four Pac-12 teams were among the top 20 in interceptions last year, and Oregon led the country. The Ducks have the nation's best cornerback duo with Ifo Ekpre-Olomu and Terrance Mitchell, while Stanford boasts the outstanding safety tandem of Ed Reynolds and Jordan Richards. Oregon State's Ryan Murphy, USC's Dion Bailey and WSU's Deone Bucannon are also elite safeties.
Washington might have the best young defensive player in the league in Shaq Thompson.
"You can have a high-powered offense that puts up big points, but if you can't stop anybody, it's anyone's game," said Sutton. "With a great defense, you can accomplish anything."
Those who follow the league know there have been great defenses in the past. Washington in the early '90s and Arizona's Bear Down defense come to mind. Behind all of USC's Heisman quarterbacks a decade ago were outstanding defenses.
"I think what we're starting to see is the individual players and coordinators starting to get some notoriety," said Shaw, whose team ranked fifth nationally against the run last year -- an amazing statistic considering the running backs they faced in 2012. "When Oregon started being really good and scoring a ton of points, people didn't realize they were keeping people from scoring too and playing great defense. To this day I still think they have the most underrated defensive coordinator [Nick Aliotti] in the country."
One of the major challenges of being a defensive coach in the Pac-12 is the diversity of offenses. Oregon's spread is considered run-based, yet the Ducks had the most efficient passing attack in the league. Arizona's spread is considered pass-based, yet its running back led the nation in rushing. Stanford is considered "conventional" with its pro-style, but it'll use personnel groups with seven offensive linemen.
"I don't even know what pro-style means anymore," said UCLA coach Jim Mora. "The perceptions are distorted. You can break down a spread offense or a pro-style and they'll have the same route concepts. There are only so many. But the formations are different. The personnel is different. The motion before the snap is different. The league has so many speed athletes so one of the reasons we play a 3-4 is to get more speed athletes on the field."
It's time, says Bucannon, to let rest of the country know the Pac-12 can play a little defense, too.
"We have fast, up-tempo teams and marquee offensive players. At the same time, there are some great defensive players on that side of the ball," he said. "And we refuse to be overshadowed."
November, 2, 2012
11/02/12
12:30
PM PT
Nick Aliotti, a native of Walnut Creek, Calif., a graduate of Pittsburg High School, a former freshman MVP at running back for UC Davis, arrived at Oregon as a graduate assistant in 1978 under Rich Brooks. The Ducks celebrated his arrival by going 1-10.
After a 4-7 season the next year, Oregon State coach Joe Avezzano hired him to coach running backs. In 1984, he was the offensive coordinator at Chico State. The Ducks went 6-5 that year.
Funny how things turn out. Back then, there was little to suggest Aliotti would become a defensive coach, or that he would circle back to Oregon, or that there would be any reason to go back to Eugene. After all, if Aliotti wanted to climb the coaching ladder, didn't he want to go to a place where you had a chance to win?
Yet here he is, now close enough to an Oregon lifer that we're going to call him that, a guy who has been a firsthand witness to a program rising from nothing to respectability to legitimate goodness. And then to the cusp of greatness.
[+] Enlarge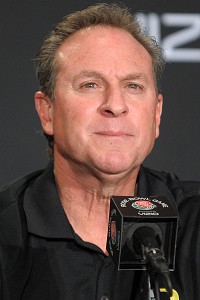 Kirby Lee/Image of Sport/US PresswireWhile Oregon's offense gets all the hype, Nick Aliotti's defense has also shined this season.
"I'll tell you how it feels for me personally," Aliotti said. "It feels fantastic."
And anyone who knows Aliotti, 58, will guess that there was a prelude to that quote -- "It's not about me" -- and a postlude -- "It's really, really special" -- as well as some entertaining parentheticals along the way.
Yet this season includes something new: respect.
Aliotti has been a good defensive coordinator for a long time, although his defenses often were outmanned. During the Ducks' rise under Chip Kelly, Oregon has played better defense than most folks realized, but it often required observers to look behind the numbers. And who has time for that?
Yet before this season began, more than a few pundits, including folks on the benighted East Coast, took a look at the Ducks' depth chart and noted that there were some salty characters on the mean side of the ball. The Ducks had some size to go along with their speed. There were some 300-pounders inside and there was, as coaches say, "great length" across the board, with seven of the top nine defensive linemen over 6-foot-4. And four over 6-6.
They passed the sight test.
What about the football part of football? Glad you asked. ESPN's numbers guy, Brad Edwards,
took a closer look at the Oregon defense this week
, noting that if you go beyond some superficial numbers that don't look impressive, you can make a case that the Ducks are playing defense on par with the finest teams in the country.
He took a measure of the Oregon defense only when an opponent was within 28 points, noting, "Using only statistics from when the score is within 28 points allows us to evaluate how teams perform when the starters are on the field and playing with maximum intensity."
What did he find? First, he found the Ducks have allowed 19 touchdowns this season -- one a pick-six against the offense -- but only seven were given up when the game margin was within 28 points.
Then he entered that into his Bat Computer.
Here's what he found. The Ducks ranked third in the nation, behind only Alabama and Notre Dame, in points per drive at 0.89. The Ducks allow just 4.03 yards per play, which ranks fourth in the nation. The Oregon defense leads the nation in red zone TD percentage at 22 percent, or four TDs allowed in 18 drives. Finally, on third-down conversion defense, the Ducks rank second, trailing only Oregon State, with a 24.7 percent success rate.
Not bad, eh?
Aliotti's defense, however, will face a major test on a big stage Saturday when it visits USC. Although the Trojans' offense has been surprisingly inconsistent this season, it still has all the main players from the squad that turned in a scintillating performance a year ago while ending the Ducks' 21-game Autzen Stadium winning streak with a 38-35 victory.
"Those great receivers and the quarterback were able to have their way with us last year," Aliotti said. "They beat our defense last year with their offense."
Matt Barkley
completed 26 of 34 passes for 323 yards with four touchdowns as the Trojans rolled up 462 yards.
Marqise Lee
, then a true freshman, caught eight passes for 187 yards and a score. Aliotti, by the way, was perhaps more upset about the Trojans' 139 rushing yards than the passing numbers.
Barkley is a four-year starter who has seen just about every defense. He's not easy to fool. But that doesn't mean Aliotti isn't going to try.
"The best I can answer is we're going to do a little bit of all of it," he said.
And Aliotti has a lot of tricks in his bag. When you talk to opposing offensive coaches, it's clear the Ducks' defense has evolved in the past few years. Calling it "multiple" doesn't do it justice. You could almost call it "nonstandard." Aliotti will give a general idea of the evolution, but he doesn't want even that to appear in print.
USC coach Lane Kiffin coached the Trojans' offense under Pete Carroll from 2001 to '06. He sees dramatic changes.
"You see no similarities," he said. "You'd think it was a different staff. Obviously it's not; they've been there forever. I don't know what changed, but they are very different. They are very multiple. They change fronts. They disguise things very well."
Aliotti has played a lot of chess games with opposing offenses since he returned to Oregon for good in 1999. Shutting down Barkley and the Trojans on Saturday would help him further secure his grandmaster bona fides this fall.
October, 31, 2012
10/31/12
8:00
AM PT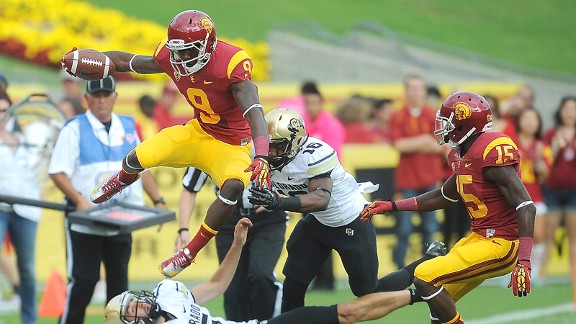 Jayne Kamin-Oncea/US PresswireUSC will need to elevate its game in order to knock off the high-powered Oregon Ducks.
Since Saturday's loss in Tucson, the misery of USC fans has been well-documented. Lane Kiffin, the undisciplined players who commit too many errors, the USC defense, even
Matt Barkley
-- they have all been targets of scorn, and to a large extent, rightly so. It does no good to add to that litany, so let me take a different position: There is no team better for the Trojans to play right now that the Oregon Ducks.
As I type that statement, I'm not sure I believe it. The Ducks may be the best team in the country. Their offense is better than last year's, with a better quarterback running it. The defense is probably the best coordinator Nick Aliotti has ever had. Who would want to play them after what USC showed last weekend?
After all, this is a USC team that hasn't played a complete game against a good opponent all year. Sure, there are flashes of brilliance and great displays of talent scattered throughout each game, but almost every game has also left you scratching your head to one degree or another. Trojan fans want to believe, so they have. They believed that USC would get its act together by the time this stretch run came. They believed USC wouldn't commit a staggering amount of penalties in a big game. They believed that the second-half struggles USC has shown in game after game were just a symptom of USC taking its foot off the gas, or maybe just working on the run game, and were even somehow purposeful -- not a reason for concern. I think the team believed all these things, as well. On Saturday in Tucson, that belief system ran smack into the reality that this is who these Trojans are right now. So again, as the Trojans come to grips with their reality, why would you want to play Oregon this week?
To continue reading this article you must be an Insider