USC Trojans:

Mike MacIntyre
December, 2, 2013
Dec 2
9:00
AM PT
If you don't like where you are in the Power Rankings, play better.
Click here for
last week's Power Rankings
.

1. Stanford
: With the win over Notre Dame, Stanford defeated its sixth ranked opponent in a single season for the first time in school history. It also clinched its fourth straight 10-win season. The Cardinal had just three 10-win seasons all time before this streak. They have a chance to secure a second consecutive Rose Bowl berth on Saturday at Arizona State.
2. Arizona State
: After blowing out Arizona, the Sun Devils have won seven in a row and are 7-0 at home this season with an average margin of victory of 28 points. If Stanford thinks the Pac-12 title game will be anything like the Sept. 21 game in Palo Alto, it will be in for a long night in Tempe on Saturday.
3. Oregon
: The Ducks showed grit winning in the fourth quarter against Oregon State, but it's also fair to say that performance didn't look anything like the September-October squad that dominated on both sides of the ball during an 8-0 start. It seems likely Oregon will eclipse the loser of the Pac-12 title game for the Valero Alamo Bowl slot because of its national brand.
4. UCLA
: UCLA's second consecutive win over USC means just what the Bruins and coach Jim Mora said afterward: They own L.A. It's also meaningful that they bounced back strong after the disappointing loss to Arizona State. Next challenge -- other than the bowl game -- is to dominate recruiting in Southern California.
5. USC
: Here's a guess that the loss to UCLA likely leaves interim Ed Orgeron outside looking in as far as becoming the Trojans' next coach. Losing to both Notre Dame and the Bruins weighs down a résumé, no matter how much better the product was post-Lane Kiffin.
6. Washington
: Steve Sarkisian and the Huskies got over the 7-6 hump with an eighth win in the Apple Cup. Win a bowl game and Sark and company will face a much more positive offseason compared to last year.
7. Washington State
: Despite losing the Apple Cup, the Cougars are clearly on an uptick under Mike Leach. A bowl win, of course, would accelerate the upticker.
8. Arizona
: It seemed as though the Wildcats used up their A-game in the upset win over Oregon. Rich Rodriguez has posted two solid seasons in Tucson, but going 0-2 versus the hated Sun Devils prevents Wildcats fans from feeling satisfied.
9. Oregon State
: The Beavers' preseason worst-case scenario was the possibility of a major second-half slide. That came true, see five consecutive losses. This team needs a bowl game -- to win a bowl game -- just to wash the bad taste out of its mouth.
10. Utah
: Lots of offseason questions for the Utes after a second-consecutive bowl-less season, but the chief one is at quarterback. Getting back to a bowl game in 2014 depends on it.
11. Colorado
: Even while losing at Utah, it was clear that this team took a big step forward in Year 1 under Mike MacIntyre. The Buffaloes darn near notched a huge comeback on the road, showing fight until the very end. A 4-8 season and 1-8 finish in Pac-12 play might not feel very good overall, but this team is much improved compared to 2012. Now, can it take a big step forward in 2014?
12. California
: There is no where to go but up, and Sonny Dykes needs to make some tough calls on his staff. The Bears could energize their fan base with some recruiting wins, seeing that none of those came in Pac-12 play.
November, 27, 2013
Nov 27
11:30
AM PT
I don't stop eating when I'm full. The meal isn't over when I'm full. It's over when I hate myself.
November, 6, 2013
Nov 6
11:30
AM PT
His subtle obsession with uniqueness troubled all his dreams.
November, 5, 2013
Nov 5
9:00
AM PT
Just cause it's the mailbag doesn't mean I mail it in.
Trojan Nation in (Downtown LA) writes:
For the mailbag ... Kevin! You picked
USC to lose against Oregon State
. You Picked
USC to lose against Utah
. When are you going to show us Trojans some love and admit that we're a good football team with great talent who are WINNING despite going through what no other college team in college football has to. Would any other team in college football be doing as well as SC is if it had the same restriction put unfairly upon them??? I think not!
[+] Enlarge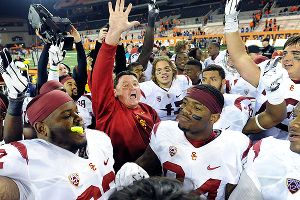 Steve Dykes/Getty ImagesEd Orgeron's Trojans have managed to overcome plenty of obstacles this season.
Kevin Gemmell
: I did, and I did. But I'll say the same thing to you that I said to the ASU fan
who berated my Washington pick
a couple of weeks ago: Where were the mailbag notes thanking me for my support when I picked
USC over Notre Dame
and
Washington State
or
Utah State
? Though I will admit, your note was far more polite and playful, which is appreciated.
Color me egg-faced, because you're right, USC is doing some pretty incredible things considering the roller coaster ride the program has been on with the sanctions and the coaching change and the injuries it has sustained.
When it comes to close games, I tend to lean toward the home team. And given USC's lack of recent success in Corvallis, I took the best data I had available and made a decision. I was wrong. Ted was right, so a tip of the cap to him.
What impressed me most about USC was the power running game. Getting
Silas Redd
back has obviously helped, but
Justin Davis
goes down,
Tre Madden
exits and
Buck Allen
steps in and absolutely throttles Oregon State. Say this for USC's depth, it's bad in a lot of places, but it's freaking awesome at tailback.
Now the Trojans are 3-1 since the coaching change, playing inspired defense and pushing people around on the lines. So yes, you are a good football team with great talent who is winning.
I'm not sure what to expect from USC down the stretch. But here's a spoiler alert, I'm going to go out on a limb and pick you guys this week.
---
Ryan in New York writes
: Kevin,
Nice article on the new coach at CU
. I wish them well this weekend and for the rest of the season. Snarky and spiteful? Ouch. I'll try and get back to my playful self. Let's be clear: I don't love UCLA, but Jim Mora's done a nice job and has handled himself admirably. I just think the media loves to over-hype sometimes, and given the Bruins' most impressive performances have been close losses, I do believe they need to win a meaningful game to earn so much praise. Keep up the good work and give your partner-in-crime a shout out, too.
Kevin Gemmell
: This is why Ryan is one of my favorite mailbaggers.
He flew off the handle a bit last week
. I called him on it and had to reel him back in. And he comes right back with another note. The dedication is appreciated.
First, thanks for the kudos on the Mike MacIntyre story. I know the wins and losses aren't there. And I don't think anyone expected a massive swing in the win column in just one season. But he's a proven rebuilder and recruiter, and I think he's got the program moving in the right direction.
Regarding UCLA, I still consider the win in Nebraska to be a meaningful game. Not just because of the tragic circumstances that led up to it, but simply for how explosive UCLA looked in that second half when everything was clicking. We got a glimpse of a team with remarkable offensive and defensive potential and saw firsthand that when it's clicking, it can hang with anybody.
Now, it wasn't clicking the past couple of weeks, and it clicked off and on against Colorado. A lot of that has to do with youth and injuries.
Right now ASU looks like the team to beat in the South. But I'm not banking on anything in this final month. With USC yet to play UCLA, and the Bruins and Sun Devils yet to play Arizona, a lot can, and probably will, happen.
---
Mahalo in Honolulu writes
: Hey Kevin, most of us Buff fans are happy with the new coach, yet are still skeptical on the outlook for the future -- primarily because of recruiting. High school kids don't have any memory of the glory days, the facilities are bleh, and the product on the field is, well, you know. What would you do to sell CU to the kids that can come here and help Mac build the Buffs to a contender?
Kevin Gemmell
: Your skepticism is valid. You've been jilted a few times over the past five or six years.
I don't know Mike MacIntyre as well as I do some of the other coaches. We've met a few times and speak on the phone every week during the teleconference. And for the story last week, he was gracious with his time and gave me an extended phone interview.
But there is a sense when talking to the man that he's going to at least get the program back to respectability or go down with the ship trying. He's a no-excuses guy. His pedigree is phenomenal, and there is no question about his dedication to the program.
That's what you sell. You buy into the man, not the facilities or the school's record 25 years ago. Take, for example, linebacker
Addison Gillam
. He had committed to MacIntyre at San Jose State. And when Mac changed to Colorado, Gillam followed. Here's a young man who had a chance to go to an 11-win team, ranked in the Top 25 and moving into the Mountain West, a very respected non-AQ conference. But he followed MacIntyre because he believes in the man and the vision. He wants to be a part of something special -- building up a program from scratch and restoring it.
There is something admirable about that. And I think that's MacIntyre's greatest asset in recruiting.
And though the wins aren't there yet, I think we definitely see a fiery, competitive team on the field. One playing with much more confidence than we've seen the past couple of seasons.
---
Daniel in Pittsburg writes
: Hey Kevin, as a diehard Stanford fan and family member, I'm curious to know what your projected BCS standings would be if Stanford beats Oregon? I would also like to know if a Baylor victory would also play a role? Thanks Kevin.
[+] Enlarge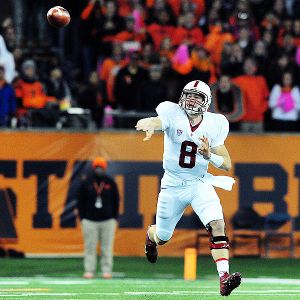 Steve Dykes/Getty ImagesEven if Stanford and Kevin Hogan beat Oregon, the Cardinal may need help from some other teams.
Kevin Gemmell
: Everything plays a role. A butterfly flaps its wings in Uzbekistan and the Colley Matrix blue screens.
I think Stanford would still need help, even if it beat Oregon, for the obvious reason that there are still undefeated teams in front of the Cardinal. If Florida State and Ohio State were to lose, then we could see the Cardinal jump into that No. 2 spot if they were to beat Oregon. And if Alabama loses, obviously the rest of the field moves up. So Stanford's best chance is to beat Oregon and hope for an assist from a Syracuse or Florida, an Indiana or a Michigan, or an LSU or Auburn.
Assuming everyone else wins, Stanford beating Oregon would further supplant Florida State as the No. 2 team and strengthen Ohio State even more as one of the few undefeated teams. Perhaps Stanford gets a couple of No. 2 or No. 3 votes in either of the human polls, but I'm not sure voters would spring them over an Ohio State team that hasn't lost in almost two seasons.
As for Baylor, I think it would enjoy a nice bump if it beat No. 10 Oklahoma. But I don't think it would be enough to vault the Bears over Stanford if the Cardinal beat Oregon. If Stanford loses, it's moot, because it will drop. If Baylor loses, it's moot, because the Bears will drop. Both teams need to win to keep pace, and I think Stanford's win would be viewed as more significant, so I don't see Baylor jumping the Cardinal.
---
Joe Bruin in Westwood writes
: Hey Kev ... Joe Bruin here. As a fan (and a mascot), I seem to be a little too worried about my team, especially after the games against Stanford and Oregon. I concur with Coach Mora when he said the team seemed to have a "hangover" from those games. Is it just me, or did the win against Colorado not look too impressive? Should I be worried about this team? Or will the Bruins get back in the swing of things?
Kevin Gemmell
: I'd be concerned about this game coming up. The Bruins haven't won in Tucson since 2003, Karl Dorrell's first season, and
Ka'Deem Carey
is obviously one of the nation's most elite playmakers. I know a lot of focus is on the Nov. 23 date with Arizona State -- and rightfully so -- but the Bruins still have a couple of tough tests in Arizona and Washington before that showdown.
However,
Brett Hundley
actually turned in the best quarterback performance of the week, per ESPN's Adjusted QBR rating (note, adjusted reflects opponent's strength).
Here's the other side of it. As I said earlier, Colorado is a better team than it was last fall so give those guys a little credit for coming in and not being intimidated.
I think Colorado provided a nice little test (when was the last time we typed that?) for UCLA to knock off some of the rust from the back-to-back losses. The Bruins figured a few things out, and the offensive line got some more experience.
And Mora has shown that he can rally the troops when they are down. And I wouldn't call the Bruins down right now. I'd just say they have a tough November ahead of them.
September, 24, 2013
Sep 24
10:30
AM PT
We're four weeks into the season and the Pac-12 has (mostly) made short work of its nonconference foes. Now the fun starts. League play kicks off conference-wide this week. But before we look forward, the ESPN blogosphere is looking back at some of the best and worst through the first four weeks of each conference.
Best game:
In terms of excitement, it's tough to beat an overtime shootout. And that's what happened when Oregon State traveled to Utah in Week 3. After building a 27-10 lead early in the third quarter, it looked like the Beavers would cruise. But
Travis Wilson
would lead the Utes back and they'd eventually grab a 38-37 lead. The teams swapped touchdowns in the closing three minutes to force overtime, where the
Sean Mannion
-to-
Brandin Cooks
connection gave the Beavers a 51-48 victory.
[+] Enlarge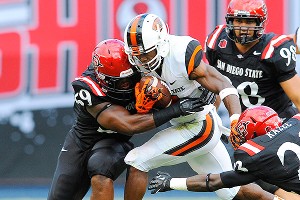 Christopher Hanewinckel/USA TODAY SportsBrandin Cooks leads the nation in catches, receiving touchdowns and first-down receptions. Yeah, that's good enough to get our best player vote.
Best player:
For as shaky as Oregon State's defense has been, its offense has been sensational. So we're going to give the nod to Cooks, who has 10 more receptions than anyone else in FBS football. Through four games he leads the nation in catches (43), receiving touchdowns (7) and first-down receptions (23). Mannion gets honorable mention, since someone has to throw the ball. But Cooks is head-and-shoulders above the rest of nation's receivers right now. Another honorable mention to Washington's
Bishop Sankey
, who has emerged over the last nine or so games as one of the country's elite running backs.
Best performance:
How about the Washington State defense -- that's right,
defense
-- for its performance in the 10-7 win at USC.
Damante Horton
nabs a pair of interceptions, including a game-changing pick-six.
Daquawn Brown
makes his first career start and has a team-high 11 tackles and two pass breakups. Toni Pole blocks a kick, the front seven gets 7.5 tackles for a loss and a sack. You can say USC's offensive inefficiency played a role. And you'd be right. But give credit where it's due. Mike Breske had the boys ready to go and the Cougs came to town and pushed their way to a win.
Best surprise:
Though his team has played in only two games so far this season, it's hard not to feel good about the comeback of Colorado wide receiver
Paul Richardson
-- and really the rebirth of the Buffs under Mike MacIntyre. Richardson has 417 yards in just two games, which puts him eighth in the country. Had Colorado played its game against Fresno State (which was postponed due to flooding), it's likely we'd see Richardson toward the top with Cooks. As for the Buffs in general, we don't want to get too far ahead of ourselves. They still have a long way to go. But you can definitely see an air of confidence about this team that's been lacking the last couple of seasons.
Biggest disappointment:
Head's: Oregon State's defense. Tails: USC's offense. Go ahead and flip. Either way, you're right. Both have been disappointing. Anytime a BCS conference team loses to an FCS team, it's disappointing. Anytime one of the country's proudest football institutions is averaging 22 points per game through four games, it's disappointing. Anytime a team -- once ranked in the top 25 (I guess that actually applies to both schools) -- is allowing an average of more than 35 points per game, it's disappointing. Both teams are 3-1. And probably counting their blessings that (1) USC's defense has been that good and (2) Oregon State's offense has been that good.
September, 8, 2013
Sep 8
10:00
AM PT
Five things we learned about the Pac-12 in Week 2.
The Pac-12 can rally: After going 7-3 in Week 1, the most disappointing of those losses being Oregon State's loss to Eastern Washington, the Pac-12 bounced back in Week 2, going 8-0 in its nonconference games. Most were blowouts. Some were dicier (cough, Cal, cough, Colorado, cough, Oregon State, sort of), but they were wins nevertheless. It was the kind of week the Pac-12 needed heading into a Week 3 that will see a significant uptick in the competition. The Pac-12 faces four Big Ten teams, three of which are ranked. And through the first two weeks of the season, the combined record of the nonconference foes in Week 3 is 18-2. The bar is raised. Despite the close calls, some very strong performances from ASU, Arizona, Utah and Stanford should not go unmarked. And does anyone else get the feeling that when Central Arkansas took a 24-17 lead in the fourth, the old Buffs would have wilted? Kudos to Mike MacIntyre for rallying his team (getting turnovers helps).

[+] Enlarge

AP Photo/Andrew ShurtleffDe'Anthony Thomas had little trouble against Virginia, but the Oregon offense wasn't perfect.

Good can be better: We know Oregon is good. We also know the Ducks can be better. For the second straight week, De'Anthony Thomas and Marcus Mariota rushed for at least 100 yards (124 for DAT, 122 for Mariota) and the scoreboard shows a dominating performance over Virginia. But there were uncharacteristic drops. Four drives stalled and turned into punts. And while we concede that Oregon will in fact have to punt from time to time, we certainly don't expect drives of three plays, 2 yards; three plays, minus-1 yard; three plays, minus-9 yards. Take it as a compliment that you can beat a BCS conference opponent, on the road, 59-10 and still have things to work on.

Lane Kiffin is on fire (not in a good way): The hottest seat in America just got a healthy dusting of thermite. The quarterback soap opera, which is now turning into horrific reality TV, is overshadowing what should be a couple of great performances from USC's defense. And it's actually gotten to the point where the quarterback play is hurting the defense. In USC's loss to Washington State, Cody Kessler was 8-of-13 for 41 yards with a pick-six. Max Wittek was 3-of-8 for 13 yards with an interception. Through two games, the quarterbacks are a combined 26-of-50 for 226 yards with one touchdown and three interceptions. Want some perspective? Arizona safety Tra'Mayne Bondurant has more interceptions returned for touchdowns (two) than both USC quarterbacks have touchdown passes. This make-or-break season for Kiffin is breaking, rapidly. Hats off to the Cougs, who have beaten two Top 25 teams in their last three games.

Goff and Wilson, young guns: The Utes have been star-crossed at quarterback the last couple of seasons, but they appear to have something special in Travis Wilson. Per ESPN Stats and Information, Wilson's showing against Weber State was one of the finest quarterback performances in the last decade. His raw QBR rating was 99.7. Raw meaning it will be adjusted to reflect quality of competition -- so it will drop. Still, he averaged 16.2 yards per play, accounted for five touchdowns and his rating of 99.7 is the eighth-ranked single-game score by any quarterback with at least 25 action plays since 2004 (fifth in the last five seasons). It's the highest total QBR with that many action plays since Andrew Luck posted a 99.9 versus Cal back in November 2010. If you still aren't up on the QBR, click here. You'll be seeing it a lot on the blog this season -- especially with quarterbacks like Mariota, Brett Hundley, Taylor Kelly, Kevin Hogan, Keith Price and apparently, Wilson. Speaking of bright young quarterbacks, also per our friends at Stats and Info, Cal's Jared Goff has 930 passing yards in two games. That's the second most by a quarterback in his team's first two games since 2000 (Colt Brennan had the most in 2007).

Stanford owns Cali: Stanford coach David Shaw improved to a perfect 10-0 against schools from California. The Cardinal's 34-13 win over San Jose State moved him to 3-0 against the Spartans since taking over in 2011. He's also 2-0 against USC, 3-0 against UCLA and 2-0 against California. If anyone is curious, the margin of victory in those 10 games is 16.1 points. But that's a bit skewed by a pair of 2011 victories over San Jose State (57-3) and UCLA (45-19). There have been some tight ones, like the three-overtime USC game in 2011, 31-28 over Cal in 2011, 20-17 over San Jose State in 2012, 27-24 over UCLA in 2012 and 21-14 over USC in 2012. Still, perfect is perfect.
September, 5, 2013
Sep 5
9:00
AM PT
A few storylines to keep an eye on in Week 2.
Heavy favorites: The Pac-12 is favored in all eight of its nonconference games this week. In fact, the league is favored by at least 10 points in every game and by at least 20 points in six of the eight. It should be a strong week for the conference. Should being the operative word.
League play kicks off: The ninth game this week features the first conference showdown of the season with Washington State traveling to USC. The Cougs are coming off a tough loss at Auburn, where Connor Halliday completed 35 of 65 passes for 344 yards and a touchdown. Cody Kessler is expected to start for the Trojans, but Max Wittek likely will see time again. USC's defense had four interceptions and seven sacks in its Week 1 win over Hawaii. WSU's last win at USC was in 2000.

Debuts: After spending last Saturday lounging around and watching football, Arizona State coach Todd Graham and Stanford coach David Shaw have to get back to work. The Sun Devils open the season on the cusp of the Top 25 and host Sacramento State on Thursday night. Stanford hosts San Jose State in the Bill Walsh Legacy Game. The Cardinal opened the season ranked No. 4 but got bumped down to No. 5 for their Week 1 laziness.

Off and running: The Pac-12 had seven players rush for at least 100 yards in Week 1, headlined by Washington's Bishop Sankey. He and the Huskies are off this week prepping for their game against Illinois on Sept. 14. Three of those seven came from Oregon -- a school record with De'Anthony Thomas, Byron Marshall and Marcus Mariota all eclipsing 100 yards. The other 100-yard rushers were Jordon James (UCLA, which is off this week), Daniel Jenkins (Arizona) and Tre Madden (USC).

2-oh? Colorado snapped an eight-game losing streak last week with its win over Colorado State. The Buffs host Central Arkansas on Saturday with a chance to start 2-0 for the first time since 2008.

Crazy eights: Stanford and San Jose State are both riding eight-game winning streaks dating back to last season. That's the first time in all of the years the schools have played that both have enjoyed simultaneous streaks.

Dominating the MWC: The Pac-12 went 5-0 against the Mountain West last week with Utah (Utah State), Colorado (Colorado State), USC (Hawaii), Washington (Boise State) and UCLA (Nevada) all scoring victories. The Pac-12 has three more games against the Mountain West this week with Arizona traveling to UNLV, Hawaii visiting Oregon State and San Jose State at Stanford. It was a rough opening weekend for the West Coast's little brother league, which went just 3-9.

Road warriors: No. 2 Oregon goes on the road for the first time this season and is riding the nation's best winning streak away from home. The Ducks have won 15 straight road games. Alabama and Northern Illinois are tied for second with nine. Oregon's last road loss was at Stanford in 2009.

Strong debuts: The three new coaches in the Pac-12 went 2-1 in their season openers. Mark Helfrich (Oregon) rolled over Nicholls State (no shocker there). Mike MacIntyre led Colorado to an emotional win over an in-state rival in Colorado State, and Sonny Dykes' California team put up a gritty effort in defeat against Northwestern.

Suspensions lifted: After being suspended for Week 1, Arizona running back Ka'Deem Carey, the nation's leading rusher last season, will make his debut against UNLV. Daniel Jenkins filled in quite nicely, rushing for 139 yards on 12 carries, including a 91-yard touchdown run. Washington tight end Austin Seferian-Jenkins, who was also suspended for Week 1, is expected to be on the field when the Huskies return to action next week. Cal linebacker Chris McCain had his suspension rescinded after he was ejected per the NCAA's new targeting rule and will play against Portland State.
September, 4, 2013
Sep 4
11:30
AM PT
When from our better selves we have too long
Been parted by the hurrying world, and droop,
Sick of its business, of its pleasures tired,
How gracious, how benign, is Solitude.
August, 27, 2013
Aug 27
4:00
PM PT
It all seemed so simple before Week 1 of last year. Six quarterback competitions, six resolutions before the first game of the year.
Taylor Kelly
had won the gig at ASU.
Jordan Webb
set foot on campus and was almost instantly Colorado's starter.
Marcus Mariota
outdistanced
Bryan Bennett
. Josh Nunes was Andrew Luck's successor.
Brett Hundley
was an exciting unknown, and Jeff Tuel was the guy to lead WSU's Air Raid.
Of course, simplicity doesn't always last. Be it injury or performance, Webb and Nunes weren't the starters at the end of the season and Tuel went back-and-forth with
Connor Halliday
. Mariota, Kelly and Hundley, however, went on to be three of the four most efficient quarterbacks in the league.
[+] Enlarge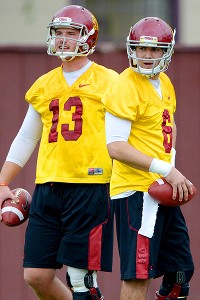 Kirby Lee/USA TODAY SportsMax Wittek (13) and Cody Kessler (6) will both see time at QB for the Trojans.
The moral of the story: Don't fear the unknown. But don't be too comfortable with it, either.
Which leads us to this year's crop of quarterback competitions. It's not as cut-and-dried as it was a year ago. At least two of them are ongoing and will probably stretch into the first weeks of the season.
The No. 24 Trojans open against Hawaii with
Cody Kessler
and
Max Wittek
still in the hunt for the right to replace Matt Barkley. Coach Lane Kiffin, however, said he has zero concerns that the competition hasn't been resolved.
"I see it as completely opposite," Kiffin said during Tuesday's Pac-12 conference call. "I think they have both performed so well. We feel great about both of them running our offense. I see it as a positive. I think they've really worked on their weaknesses … that way we don't have to call the game any different based on who is in. We can do all of our stuff."
Arizona coach Rich Rodriguez hasn't picked his guy yet, either. Though he did say he has seen some recent progress from
B.J. Denker
,
Javelle Allen
and
Jesse Scroggins
. A week ago, it was thought that as many as four or five guys could still be in the mix.
"I'd be more concerned if none of them made progress," Rodriguez said. "In the last week and a half, they have all made some pretty good progress. B.J. Denker and Javelle Allen, the guys that have been in the program, have made pretty good progress. And Jesse Scroggins has gotten better as well. I feel good about that. There's no question there is always more concern when you don't have experience there. B.J. has been in the system for a year and Javelle has been in the system for a year. We feel pretty confident they can run the whole entire offense and with Jesse it's just a matter of time."
And time is on Arizona's side. The Wildcats don't exactly have a pressing first month of the season. They host Northern Arizona this weekend, followed by a trip to UNLV before hosting UTSA on Sept. 14. Then it's a bye week before opening league play at Washington.
One report
last week had Oregon State playing the quarterback shuffle heading into Week 1. But Mike Riley put that to rest yesterday when he named
Sean Mannion
his starter.
"I had told some stories in the past of experience with two quarterbacks playing, but never intended to start a rotation situation here at all," Riley said. "We intended to name a starter and then have kind of left it up in the air … Sean is the starter and we'll go into the game like that."
Connor Wood
won the job at Colorado -- ending a QB competition that started with six but dwindled after injuries and transfers.
"He's big, he's athletic, he's got a strong arm, and he's a talented athlete," said coach Mike MacIntyre, who noted he was also very pleased with the progress of freshman
Sefo Liufau
. "He really started capturing the essence of our offense and understanding where to go with the ball and where to go with our run game. He kept improving."
Cal coach Sonny Dykes took a different approach, naming
Jared Goff
his starter as soon as he could.
"Anytime you have a starting quarterback, I think everyone is more comfortable," Dykes said. "The quarterback is more comfortable. The skill-position players can start to get on the same page. You develop a relationship with the center and quarterback and their ability to communicate with each other and the sense of timing that needs to exist there. I think what it does is settle everybody down."
August, 26, 2013
Aug 26
8:30
AM PT
And so it begins.
Welcome to game week. These are the preseason power rankings.
You can see our post-spring power rankings here
. They are different.
1. Stanford
: Both Kevin and Ted went against the popular grain --
as in the Pac-12 media poll
-- and picked Stanford to win the Pac-12. The biggest reason for that, other than the Cardinal winning in Eugene in 2012 and welcoming back a strong crew of starters, is the continuity in the head coaching office.
2. Oregon
: The Ducks are again a preseason top-five team and national title contender, with their North Division rivalry with Stanford becoming one of college football's must-see games. There are plenty of reasons to believe that new coach Mark Helfrich, stepping up from offensive coordinator, will maintain the juggernaut Chip Kelly built, including having just about all of Kelly's assistant coaches coming back. But there is certainty only in seeing it happen on the field. The Ducks do have an advantage in terms of schedule, with Stanford playing USC, UCLA and Arizona State, and Oregon missing the Trojans and Sun Devils. And Stanford doesn't play Colorado, either.
3. Arizona State
: The South Division seems to be a three-team toss-up. When Kevin and I tossed our coin, it came up with the Sun Devils.
Taylor Kelly
leads the offense and
Will Sutton
leads the defense. Pretty good start. Of course, the early schedule will reveal a lot.
4. UCLA
: The Bruins have the toughest conference schedule among South Division teams, mostly because they play Oregon. ASU and USC do not. There are some questions, but QB
Brett Hundley
and OLB
Anthony Barr
are a pair of future NFL first-round picks.
5. USC
: The Trojans were seventh in the spring, in large part because of residual fumes from a horribly disappointing 2012 campaign. Also, coach Lane Kiffin sits on the hottest seat in the conference. But if you look at the Trojans on paper, well, it's not too difficult to imagine this team getting on a roll, one that could lead it back into the nation's top 10.
6. Washington
: The Huskies not only have 20 starters back, they also are getting back several former starters who were injured last season, most notably DE
Hau'oli Kikaha
-- who changed his last name from Jamora -- and OG
Colin Tanigawa
. Both topped the depth chart released this weekend. This team, after three consecutive seven-win seasons, sets up for a return to national relevance. The opener in newly remodeled Husky Stadium against Boise State is, well, huge.
7. Oregon State
: The Beavers still haven't named a starting quarterback -- the Pac-12 blog is of the mind we'll likely see both
Sean Mannion
and
Cody Vaz
in at least the first two games. The big question, however, remains: How will things work out at defensive tackle? If that question is answered, it could be a big year in Corvallis.
8. Arizona
: The Wildcats are operating under the radar because of two questions: 1) QB play; 2) defense. They are replacing the highly productive Matt Scott, and even though a lot of folks are back on defense, that unit got run over in 2012. The defense is going to be better. How much is a fair question. And how much can the guy behind center do his best Scott imitation?
9. Utah
: The transition to the Pac-12 probably hasn't been as easy as most Utah folks -- coaches, players and fans -- expected. Still, if QB
Travis Wilson
takes a step forward under new co-offensive coordinator Dennis Erickson and the Utes fill some holes on defense, this team could move up at least to the middle of the conference. Needs to stay healthy, though.
10. California
: When you look at the Bears' depth chart, this seems low, even with a true freshman,
Jared Goff
, taking over behind center with a brutal early schedule. Still, there might be some growing pains under new coach Sonny Dykes, as his schemes on both sides of the ball are very different compared with what the Bears did under Jeff Tedford.
11. Washington State
: The Cougars welcome back 17 starters, and they seem certain to be improved in the second season under coach Mike Leach. The defense has sneaky-good talent, and the deep crew of receivers seems perfect for Leach's "Air Raid" scheme. Of course, dramatic improvement might mean only five victories against a rugged schedule, including the opener at Auburn.
12. Colorado
: The Buffaloes should be better this season under first-year coach Mike MacIntyre, but that likely won't be enough for them to move up in this conference.
July, 12, 2013
Jul 12
8:17
AM PT
Two weeks and counting. Ted and I are gearing up for media day. Are you? Here's what you should know.
When
: July 26
Where
: Sony Studios, Los Angeles

Who will be there (all times PT):
9 a.m. Larry Scott, Pac-12 commissioner
9:15 a.m. Washington State -- Coach Mike Leach, Elliott Bosch (OL), Deone Bucannon (DB)
9:30 a.m. California -- Coach Sonny Dykes, Bryce Treggs (WR), Nick Forbes (LB)
9:45 a.m. Washington -- Coach Steve Sarkisian, Keith Price (QB), Sean Parker (DB)
10 a.m. Oregon State -- Coach Mike Riley, Brandin Cooks (WR), Rashaad Reynolds (DB)
10:15 a.m. Oregon -- Coach Mark Helfrich, Marcus Mariota (QB), Ifo Ekpre-Olomu (CB)
10:30 a.m. Stanford -- Coach David Shaw, David Yankey (OL), Shayne Skov (LB)
10:45 a.m. Break
11 a.m. Colorado -- Coach Mike MacIntyre, Paul Richardson (WR), Chidera Uzo-Diribe(DE)
11:15 a.m. Utah -- Coach Kyle Whittingham, Jake Murphy (TE), Trevor Reilly (DE)
11:30 a.m. Arizona -- Coach Rich Rodriguez, Terrence Miller (WR), Jake Fischer (LB)
11:45 a.m. USC -- Coach Lane Kiffin, Marqise Lee (WR), Hayes Pullard (LB)
Noon Arizona State -- Coach Todd Graham, Taylor Kelly (QB), Will Sutton (DT)
12:15 p.m. UCLA -- Coach Jim Mora, Xavier Su'a Filo (OL), Anthony Barr (LB)
UPDATE
: Arizona State informed me Friday morning that it has decided to bring Will Sutton instead of safety
Alden Darby
. This is a good thing because Sutton was the league's defensive player of the year last season, and his presence helps bolster his name -- and the program -- in the eyes of the national media.
Who won't be there
: The biggest name missing is Arizona running back
Ka'Deem Carey
, who led the nation in rushing last season. Coaches tend to bring veterans and guys with experience. Yankey is a great spokesman for Stanford and a good candidate, but I know others wouldn't mind hearing some thoughts from Cardinal QB
Kevin Hogan
.
Five storylines:
Hitting? Scott is expected to announce the league's health and safety initiative, which will limit how much hitting can be done in practice. This isn't a new concept, but the league jumped in front of it by being the first to make a conference-wide mandate.
Bowl updates? We know the status of the Rose, Alamo, Holiday, Kraft Fight Hunger and Sun bowls. Not sure if the rest of the lineup for beyond this season will be announced at media day. But one of us will ask.
New coaches: This is the meet-the-world opportunity for the new head coaches in the league: Dykes, MacIntyre and Helfrich. Expect the requisite questions on the difficulty of changing cultures and rebuilding programs.
Preseason poll: Is there any fodder better than preseason polls? Oregon or Stanford? Stanford or Oregon? ASU, UCLA or USC? Your Pac-12 bloggers will be submitting their ballots this weekend after a visit to the Oracle of Delphi, a seance channeling Nostradamus and a dartboard.
Quirky questions: With the access of media day comes the spectacle of media day. Granted, it's not as bad as some of the quirks at Super Bowl media day. But there's bound to be a couple of left-field questions -- and they'll probably be directed at Leach, who is great and usually has fun with them. Last year he was asked which Pac-12 coach he'd go hunting with and which Civil War generals he'd compare some of his players to.
Ted and I will be trying something new this year (we think). Instead of the on-the-stage posts, we'll be doing a live chat during the entire stage session and bringing you info real time. So take note of the times (in Pacific, to save you the math) and be ready to interact.
May, 28, 2013
May 28
5:30
PM PT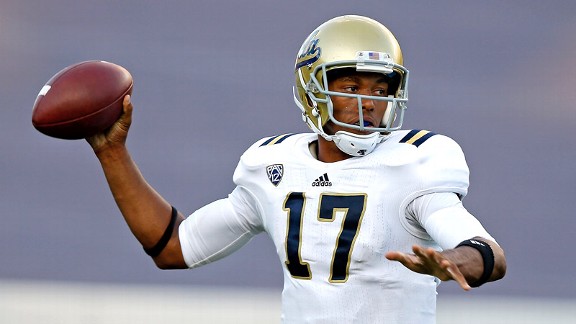 Scott Halleran/Getty ImagesOdds are good that UCLA quarterback Brett Hundley will throw for at least 2,500 yards in 2013.
Last year, we looked at returning
3,000-yard passers
, so the headline here shows how the Pac-12 has become more run-based, defensive minded of late.
And, of course, the conference's top two passers, Arizona's Matt Scott and USC's Matt Barkley, are both off to the NFL.
The returning members of the 2.5 K Club are:
There's a reason why Oregon, UCLA and Arizona State are highly thought of heading into 2013: Proven production returning behind center. And if Washington can get Price back to top form, the Huskies become a top-25 team.
So how does everyone else stack up? Which teams seem likely to get 2,500 yards passing next fall?
Well, there's lots of "To be determined" intrigue.
TBD, Arizona
:
B.J. Denker
will enter fall camp atop the depth chart, but this one is far from over. If USC transfer Jesse Scroggins, who owns by far the biggest arms on the roster, wins the job, the Wildcats are almost sure to pass for 2,500 yards. Coach Rich Rodriguez, though widely viewed as a spread-option coach, showed last year he's comfortable throwing, so Denker or incoming freshman Anu Solomon also could put up solid passing numbers.
TBD, California
: New coach Sonny Dykes likes to throw the rock around. Louisiana Tech averaged 351 yards passing per game last year. So whoever wins the QB job -- we're betting on
Zach Kline
-- will almost certainly hit the 2,500-yard mark.
TBD, Colorado
: The Buffaloes struggled to the throw the ball last year, but new coach Mike MacIntyre might solve that, seeing his
San Jose State Spartans
passed for 332 yards a game last fall.
Connor Wood
, the frontrunner to win the job, has the arm to throw the ball around, but it's a matter of putting it all together.
TBD, Oregon State
:
Sean Mannion
nearly made the above list, passing for 2,446 yards and 15 TDs with 13 interceptions last year, ranking fifth in the conference in passing efficiency and fourth in passing yards per game with 244.6. But he's still knotted with
Cody Vaz
in the competition for the starting job. If one guy starts the entire season, he will put up strong passing numbers because Mike Riley teams always do.
Kevin Hogan, Stanford
: The Cardinal ranked 10th in the conference in passing last year with just 200 yards per game, but part of that was a scheme that played to a rugged defense and Hogan not winning the job until after midseason. Hogan is plenty capable, and his supporting cast is solid. Expect Hogan to at least hit the 2,500-yard mark.
TBD, USC
: Whether it's
Cody Kessler
or
Max Wittek
, the USC QB will throw for at least 2,500 yards if he maintains his hold on the job. While Lane Kiffin likes balance, there are too many passing game weapons not to attack downfield, starting with All-American receiver
Marqise Lee
.
Travis Wilson, Utah
: The Utes were last in the Pac-12 and 97th in the nation in passing in 2012, but Dennis Erickson is now their co-offensive coordinator. One of the original architects of the spread passing attack, it's highly likely Utah will substantially boost the 190.7 yards passing a game it produced last fall. Wilson is fully capable of throwing for 2,500 yards, and the Utes are solid at the receiver position.
Connor Halliday, Washington State
: Halliday still isn't free-and-clear of redshirt freshman
Austin Apodaca
, but he's a solid frontrunner in the competition. Whoever wins the job, he will put up big numbers in Mike Leach's "Air Raid" system. The Cougars couldn't stick with a QB last year, going back and forth with Halliday and Jeff Tuel, but they still led the Pac-12 with 330.4 yards passing per game. If Halliday starts 12 games, he'll throw for 4,000 yards.
January, 8, 2013
Jan 8
7:12
AM PT
These are the final 2012 power rankings.
If you don't like where you finished in the power rankings, you should have played better.
See the pre-bowl-season power rankings here
.
1. Stanford
: Oregon received a higher final national ranking, and you could make a decent challenge in favor of the Ducks. They didn't get upset by Washington, didn't play a lot of close games and beat a top-five team in the Fiesta Bowl. But, on Nov. 17, the Cardinal went to Eugene and took care of business. Stanford is the Pac-12 champion, and Oregon is not. Ergo, Stanford sits atop the power rankings. And 2013 looks pretty darn good, too.
2. Oregon
: The cherry on the top of another special season for Oregon is the return of coach Chip Kelly. And we're of the mind that, if not for the slip against Stanford, Oregon would be sitting atop college football this morning after a fine evening of frolic in South Florida. The Ducks and Stanford will be national title contenders again in 2013. And guess which two teams are going to top the first 2013 power rankings?
3. Oregon State
: The loss to Texas in the Valero Alamo Bowl was baffling. The Beavers were a superior team that seemed to be looking for ways to lose in the fourth quarter. The quarterback carousel needs to be resolved. But the Beavers still won nine games, and their 6-3 conference record overcomes UCLA because of a head-to-head win on the road. Nice bounce back after consecutive losing seasons.
4. UCLA
: Yes, the Bruins flopped in the Bridgepoint Education Holiday Bowl against Baylor, but it's impossible not to see Year 1 under Jim Mora as a success, made even more notable by USC's flop. Like last season, the Bruins won the South Division, but this time they earned it.
5. Arizona State
: The Sun Devils won their final three games for the first time since 1978. That's how you go into an offseason with optimism. We hear a lot about "culture change" from programs with new coaches. The Sun Devils' culture change under Todd Graham was made manifest by what happened on the field.
6. Arizona
: The Wildcats did better than expected in Year 1 under Rich Rodriguez, and the season would have been a complete success if not for what happened against that team from up north. That loss hurts, but quality wins over Oklahoma State, USC and Washington, as well as an overtime game with Stanford, show this team competed better than in recent years.
7. Washington
: The Huskies finishing 7-6 against a brutal schedule probably was close to preseason expectations. But the two-game losing streak to end the season, which included a dreadful meltdown in the Apple Cup to Washington State, quashed the momentum a four-game winning steak from Oct. 27 to Nov. 17 had built. Perhaps that will make the Huskies hungrier in 2013, when they have a nice array of talent returning.
8. USC
: The Trojans' season was a complete disaster. USC started out at No. 1 but turned in a white flag performance while losing a sixth game in the Hyundai Sun Bowl to a middling Georgia Tech team. The Trojans were eclipsed by rivals UCLA and Notre Dame while wasting the much-ballyhooed return of QB
Matt Barkley
. Coach Lane Kiffin will be sitting on one of the nation's hottest seats in 2013.
We've been over this a few times
.
9. Utah
: The Utes' move up in class from the Mountain West Conference is proving tougher than some imagined. Utah missed out on playing in a bowl game for the first time since 2002, and there were issues on both sides of the ball. The Utes need an upgrade in talent and overall depth, sure, but consistent quarterback play would be a good place to start. Therein lies hope with promising freshman
Travis Wilson
.
10. California
: A dreadful 3-9 finish ended Jeff Tedford's tenure in Berkeley after 11 seasons. In early October, after consecutive wins over UCLA and Washington State, it seemed as though the Bears might be poised for a rally. Alas, they lost their final five games, including a horrid performance in a 62-14 drubbing at Oregon State. Sonny Dykes has enough returning talent to produce significant improvement in the fall.
11. Washington State
: New coach Mike Leach's season was bad on the field and off, but it ended on a notable uptick with an Apple Cup win over Washington that included a comeback from an 18-point fourth-quarter deficit. Still, 3-9 took a bite out of the enthusiasm Leach's hiring initially generated.
12. Colorado
: A horrid 1-11 finish that was capped by a controversial firing of Jon Embree after just two seasons. The Buffaloes are probably the worst AQ conference team over the past two seasons, and that is the considerable mess new coach Mike MacIntyre was hired to clean up. Of course, MacIntyre put together an impressive turnaround at San Jose State, so he looks like a good choice to bring the Buffs back to respectability.