USC Trojans:

Matt Leinart
January, 13, 2014
1/13/14
10:00
AM PT
We're looking back at the BCS era, which lasted from 1998 to 2013, so it made sense to make an all-Pac-12 BCS-era team.
Here's our shot at it. You surely will be outraged over the player from your team who got left out.
With our evaluation, NFL careers came into play with only the offensive linemen because they are so difficult to compare.
Offense
[+] Enlarge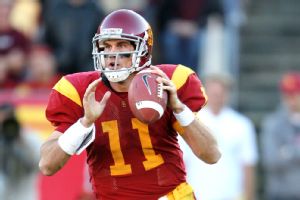 Jeff Lewis/USA TODAY SportsFormer USC QB Matt Leinart, the 2004 Heisman Trophy winner, threw 99 career TD passes.
QB Matt Leinart, USC
: Nearly won three national titles. Won 2004 Heisman Trophy and placed third in 2005. Threw 99 career TD passes.
RB Reggie Bush, USC
: The 2005 Heisman Trophy winner was one of the most dynamic players in college football history. (
Bush returned the Heisman in 2012.)
RB LaMichael James, Oregon
: Two-time first-team All-Pac-12, 2010 Doak Walker Award winner and unanimous All-American finished his career ranked second in Pac-12 history in rushing yards (5,082) and TDs (53). Nips other stellar RBs such as Arizona's Ka'Deem Carey, Stanford's Toby Gerhart and USC's LenDale White.
WR Mike Hass, Oregon State
: Two-time first-team All-Pac-12 and 2005 Biletnikoff Award winner was the first Pac-12 player to record three consecutive seasons over 1,000 yards receiving. His 3,924 receiving yards ranks third all time in the conference. This, of course, could have been fellow Beaver Brandin Cooks or USC's Marqise Lee, who both also won the Biletnikoff Award.
WR Dwayne Jarrett, USC
: A two-time consensus All-American, he set the Pac-12 standard with 41 touchdown receptions.
TE Marcedes Lewis, UCLA
: A 2005 consensus All-American and John Mackey Award winner as the nation's best tight end. Caught 21 career TD passes.
OL David Yankey, Stanford:
A unanimous All-American in 2013, he was a consensus All-American and Morris Trophy winner as the Pac-12's best offensive lineman in 2012.
OL Sam Baker, USC
: A 2006 consensus All-American and three-time first-team All-Pac-12 performer.
OL Ryan Kalil, USC
: Won the 2006 Morris Trophy. Two-time first-team All-Pac-12.
OL David DeCastro, Stanford
: A unanimous All-American in 2011 and two-time first-team All-Pac-12 performer.
OL Alex Mack, California
: A two-time winner of the Morris Trophy as the Pac-12's best offensive lineman (2007 & 2008).
K Kai Forbath, UCLA
: Consensus All-American and Lou Groza Award winner in 2009. Made 84.16 percent of his field goals, which is nearly 5 percent better than any other kicker in conference history.
Defense
LB Rey Maualuga, USC
: Was a consensus All-American and won the Bednarik Award as the nation's top defensive player in 2008. Three-time first-team All-Pac-12.
LB Trent Murphy, Stanford
: 2013 consensus All-American and two-time first-team All-Pac-12 performer.
LB Anthony Barr, UCLA
: Consensus All-American 2013 and two-time first-team All-Pac-12.
DL Will Sutton, Arizona State
: Two-time Pac-12 Defensive Player of the Year and Morris Trophy winner in 2012 and 2013. Consensus All-American in 2012.
DL Haloti Ngata, Oregon
: A consensus All-American and Morris Trophy winner in 2005.
DL Rien Long, Washington State
: Won the Outland Trophy and was a consensus All-American in 2002.
DL Terrell Suggs, Arizona State
: A unanimous All-American in 2002 after setting NCAA single-season record with 24 sacks. Won the Lombardi Trophy. Two-time first-team All-Pac-12.
CB Chris McAlister, Arizona
: Unanimous All-American in 1998. Three-time first-team All-Pac-12.
CB Antoine Cason, Arizona
: Won the Thorpe Award as the nation's best defensive back in 2007. Two-time first-team All-Pac-12.
S Troy Polamalu, USC
: Two-time All-Pac-10 and consensus All-American in 2002.
S Taylor Mays, USC
: A three-time All-American, he was a consensus All-American in 2008. Two-time first-team All-Pac-12.
P Bryan Anger, California:
A three-time first-team All-Pac-12 selection and two-time Ray Guy semifinalist.
September, 16, 2013
9/16/13
5:00
AM PT
So the
Cody Kessler
who looked so cool, confident and under control throughout training camp finally showed up in the third week of the season.
Amazing, huh? Well, maybe not.
What happened to Kessler is remarkably similar to what another aspiring, young quarterback went through at USC in 2003. You might have heard of him. His name is Matt Leinart.
September, 9, 2013
9/09/13
3:00
PM PT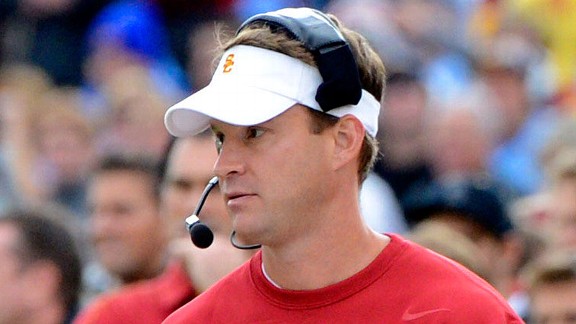 Richard Mackson/US PresswireBy maintaining play-calling duties, Lane Kiffin has put himself in the crosshairs.
In the spring of 2003, Pete Carroll decided that Matt Leinart should be named USC's starting quarterback over Matt Cassel. In the spring of 2008, he decided that Mark Sanchez should be named the Trojans' starter over Mitch Mustain and Aaron Corp.
While Carroll's dynastic run at USC was notoriously about non-stop competition, he also understood team dynamics. He believed that it was important to name a starting quarterback as soon as possible. When he saw separation, he believed a starter should be "anointed." And, yes,
that was the term he used
.
"Part of the reason for naming [Sanchez] is to see [leadership] come out," Carroll told me in 2008. "He wasn't able to show it. He hadn't been anointed yet."
That formal anointing allowed the quarterback to gain and then demonstrate confidence. He became the offensive leader.
In the spring of 2011, Washington coach Steve Sarkisian, formerly Carroll's offensive coordinator,
leaned on this lesson
when he opted to name Keith Price his starter over Nick Montana.
In all three cases, a coach made a decision and it turned out to be the right one. That is what good coaches do. They use their wisdom and intuition to make decisions that help their football team reach its potential.
At a place like USC, "reach its potential," means winning and winning big. And that is -- critically -- where USC coach Lane Kiffin, who also coached under Carroll, has fallen short. He has made decisions and they have turned out to be the wrong ones. Those wrong decisions now have him riding an 8-7 record since his team started the 2012 season ranked No. 1.
When judging Kiffin, that is what matters: The concrete decisions he makes and the real-world results of those decisions. It's not about folks who have never talked to him one-on-one judging his personality or character. It's not about the perception that he's smug or hasn't paid his coaching dues. Forget perception and personality. It's about results.
Two games into the 2013 season, after a miserably disappointing 2012 campaign, those results have been terrible, at least in the specific areas that Kiffin oversees: offense and quarterbacks. Though Clay Helton is the titular quarterbacks coach and offensive coordinator, Kiffin's decision -- another bad one -- to retain play-calling duties this fall makes him responsible entirely for the results on offense.
[+] Enlarge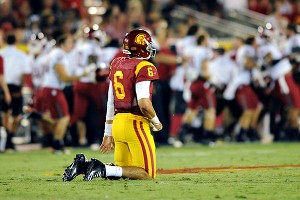 Chris Williams/Icon SMICody Kessler and the USC offense were brought to their knees by Washington State.
Those results? The Trojans' longest pass play this year is 19 yards. They passed for only 54 yards -- 2.6 yards per completion -- in the 10-7 loss Saturday to Washington State, which yielded 263 yards passing per game last year. Auburn, which is using a former defensive back as its quarterback, passed for 99 yards in a win over the Cougars the week before. USC is ranked 112th in the nation in passing offense, despite having the nation's best receiver in Marqise Lee, the extremely talented Nelson Agholor and two future NFL tight ends in Xavier Grimble and Randall Telfer.
Of course, a defense lawyer pleading Kiffin's case could try to change the narrative. He could say USC doesn't have a Leinart, Sanchez or even a Price on its roster. He could say the QB competition was too close to call -- to anoint -- at the end of spring practices. He could say Kiffin should be able to call plays because it's his team, as Carroll called plays on defense and Sarkisian calls his offensive plays. He could say USC is leading with its stout defense. He could say NCAA sanctions are hurting Kiffin's offense.
He could say the season is far from over, and that would be unquestionably true.
The easy and decisive counter to all that is to wheel in a TV and turn on a replay of the loss to Washington State. To use a Kiffin phrase, "It is what it is." And that is horrific. If the prosecutor wanted to pile on, he'd then make it a double-feature with the Sun Bowl loss to Georgia Tech.
Yet, it's also easy to counter each defense argument.
QB talent? Max Wittek was No. 3 and Cody Kessler was No. 29 in the ESPN.com ranking of QB recruits in 2011. True freshman Max Browne was the No. 2 QB in the 2013 class. Young QBs across the country are putting up big numbers, most of whom were lower rated than these guys.
Competition too close to call? There wasn't an observer during spring practices who didn't believe Kessler had outplayed Wittek.
Call his own plays because it's his team? As the head coach, it's his job to judge performance objectively. By any measure, USC's offensive playcaller in 2012 failed at his job. He also certainly failed through two games this season.
Leading with a stout defense? Well, take a look at the scoreboard. That stout defense needed more help if winning remains the goal.
NCAA sanctions? Really? You'd use that argument after losing at home to a team that has averaged 9.8 losses per season over the past five years?
Kiffin's chief problem in 2012 was getting distracted by little things. He seemed consumed with gimmicks and gamesmanship. He hasn't seemed to grasp the fundamental fact of coaching USC: If superior players execute well, they win just about every time.
USC still has superior players. While that advantage might not be as decisive these days when matched with Oregon and Stanford, or even a rising UCLA, it certainly is when standing opposite Washington State.
Kiffin made a pair of decisions entering the 2013 season: 1. He would retain play-calling duties; 2. He would play two quarterbacks. After two games, those decisions are abject failures by even charitable measures.
Based on the "Fire Kiffin" chants in the Coliseum as the clock wound down last weekend, more than a few folks are done with charitable measures.
July, 18, 2013
7/18/13
7:00
AM PT
By
WeAreSC
| ESPN Insider
One of the ideas mentioned for improvements at the Los Angeles Memorial Coliseum is a statue area to honor past USC greats. If you could put five statues, who would be your choices to represent the history of Trojans football?
To continue reading this article you must be an Insider
November, 24, 2012
11/24/12
11:25
PM PT
Things haven't been ending well for USC quarterbacks lately.
Max Wittek
's career began somewhat like Matt Leinart's ended, squeezed by the extraordinary frustration of not being able to pick up a few inches on fourth down.
That was an improvement over how things might have wrapped up for
Matt Barkley
, who walked down the tunnel to the field for the last time at the Coliseum -- in the most electric atmosphere this season -- without a helmet. He walked up it a few hours later in a sweat suit, struggling to keep his gear bag from slipping off his injured right shoulder.
What do the three Trojans quarterbacks have in common, aside from having attended the same Orange County high school? For much of their college careers, they relied on Lane Kiffin to call plays for them. And USC fans will be howling about the way Kiffin handled the end of Saturday's epic opportunity against top-ranked Notre Dame.
On first-and-goal from the 1-yard line, Kiffin tried to sneak Wittek in. He got nowhere.
Kiffin tried the same thing on second down. Wittek got nowhere.
After burning a timeout, Kiffin tried giving the ball to
Curtis McNeal
, who got -- yes, that's right -- nowhere.
Finally, eschewing a field goal try that likely would have made it a one-score game, Kiffin allowed Wittek to attempt a forward pass. The redshirt freshman with the big arm got a bit flustered, throwing it a little too low, a little too firmly, to fullback
Soma Vainuku
. It was incomplete ... and a disappointing season got just a little more disappointing.
Judging from the mutterings of some USC fans streaming out of the stadium Saturday night, Kiffin's iffy decision-making will be what a lot of people take away from the 22-13 loss that allowed the undefeated Fighting Irish to try their luck in the BCS title game.
Let it sink in for a while, though, and outrage shouldn't be the only takeaway from Saturday's events. The Trojans showed plenty of fight, with the defense stuffing Notre Dame at key times to force field goal tries.
And Wittek looked like a guy who could keep this program from falling off the cliff everyone has been dreading, what with Barkley's departure to the NFL. Then again, the way this season fizzled, perhaps we can expect more from USC in 2013 than we got in 2012. The Trojans will go into the season with about half the expectations, so they've got that going for them.
You can't expect a 19-year-old making his first college start -- against perhaps the best defense in the country -- to play mistake-free football. You probably can't expect him to play any better than Wittek did, either.
And although it will pain some USC fans to admit it, Kiffin deserves some of the credit for getting a team led by a first-time starter into the final minutes of a game against the No. 1 team in the country with a shot to win it. He established the run early, allowing Wittek's receivers to find some room to work and letting Wittek get his heartbeat under control.
He let Wittek use his most formidable weapon, a strong arm, to take some deep shots at times when an interception wasn't going to swing the game's outcome.
Wittek and Kiffin -- presuming athletic director Pat Haden keeps his word and retains the coach -- are going to be the pivotal figures for this team again next season, so you might as well settle in and see what kind of chemistry develops.
Wittek completed 14 of his 23 passes for 186 yards. He threw for a touchdown, and he tossed two interceptions (only one of which was truly a mistake). Those certainly aren't spectacular numbers, but, under the circumstances, this was a performance that suggested more promise than peril for this program.
When it was over, Barkley, whom Wittek has known for about six years, put his arm around his understudy and told him how proud he was.
"I don't regret anything at all," Wittek said. "Obviously, the circumstances of Matt not being able to play in the game is what really sucks about it."
Barkley didn't want to talk to reporters after the game, at first ignoring them, then muttering he wasn't in the mood to answer any questions. That left the people around him to interpret the emotions he was dealing with. He returned for his senior season intent on a national title run and got this laughably mediocre season. He might be healthy in time for the Holiday Bowl or Sun Bowl, USC's likeliest destinations, but neither of those games will have a fraction of the audience Saturday's game had. You come back to college for big moments, and Barkley had practically none this fall.
"The week was tough, and he'd already kind of lost it earlier at one point today," Kiffin said. "I just felt for him. My heart just felt for him, because I can take it. That's my job. That kid didn't deserve for it to end like that."
Nor did USC's fans.
But there's always another game ... and another quarterback trying to find a happier ending.
August, 16, 2012
8/16/12
10:00
AM PT
By
WeAreSC staff
| ESPN Insider
"Matt Barkley is following Matt Leinart in returning for a senior season at USC and a shot at a unique place in Trojan lore. What can Barkley learn from what Leinart went through? What are the key similarities and/or differences in what lies ahead for Barkley?"
Garry Paskwietz
Both Matt Leinart and
Matt Barkley
had the opportunity after their respective junior years at USC to turn pro and become first-round draft choices. Both had accomplished enough at the college level to justify a move to the NFL, but what I respect about the choices of both to return is that they did it to take a shot at something special.
To continue reading this article you must be an Insider
June, 24, 2012
6/24/12
2:47
PM PT
High school recruiting camps aren't the only camps going on these days as several former USC players who are now in the NFL returned to their Southern California roots this weekend to hold camps for young kids.
The Baker-Kalil camp was conducted at Centennial HS in Corona by former Trojans offensive linemen
Sam Baker
(
Atlanta Falcons
) and
Ryan Kalil
(
Carolina Panthers
). It's the fourth year that the duo has held the camp. Previously it was held at Kalil's high school, Servite in Anaheim, but this year it was held in his hometown of Corona.
Among the counselors at the camp were Kalil's brother Matt, a first-round pick of the
Minnesota Vikings
this year, and their former USC teammate and roommate
Kyle Williams
(formerly of the
Seattle Seahawks
). Also in attendance from the Panthers were running back
Jonathan Stewart
and offensive lineman
Jordan Gross
.
To continue reading this article you must be an Insider
December, 29, 2011
12/29/11
7:19
AM PT
With
Matt Barkley
announcing that the he will return for his senior season, the potential Heisman Trophy hopeful has immediately impacted the national title picture heading into next season.
But with his decision to stay, it has more importantly had a direct impact on his team and its psyche as they head into the offseason.
When Matt Leinart decide to return for his senior season after winning the Heisman Trophy and leading the team to a National Championship, it immediately raised the bar back up in everyone's mind and we knew that there couldn't be any excuse to not make it back to the National Championship game.
But it was the fact that he gave up possibly being the first quarterback selected in the draft, and the millions of dollars that come along with it, to come play with us for one more year showed that he had confidence in our team, which resulted in us elevating our game to an even higher level.
"There are a lot of talented quarterbacks out there, but not all of them can be top-10 picks in the NFL." said former USC All-American center Ryan Kalil. "So the fact that we had an NFL-caliber quarterback coming back, and not just a returning college starting quarterback, did a lot for the teams psyche."
Like Leinart, Barkley has already had the same impact on his team.
"Barkley is a great quarterback and the leader of our team, and by him coming back it shows us that's its not all about the money for him, but rather that the team is what he really cares about," offensive tackle Kevin Graf said. "That's what gives us the confidence that we can win the National Championship."
Almost all football players start playing the game with one goal in mind -- to play in the NFL. Both Leinart and Barkley postponed their ultimate dream of the NFL by leading their teams their senior year.
History has shown how Leinart's sacrifice had USC playing in the National Championship the next season, and with a lot of sweat and blood, maybe history will repeat itself now that Barkley is back under center for the Trojans.
December, 22, 2011
12/22/11
4:11
PM PT
USC, which finished this season 10-2 and ranked No. 5, will have 19 starters returning in 2012 including both specialists and a guy by the name of
Matt Barkley
.
The Trojans welcome back their top rusher, top three receivers, four starting offensive lineman and a guy by the name of Matt Barkley.
[+] Enlarge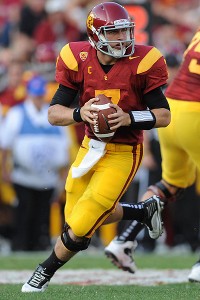 Kelvin Kuo/US PresswireMatt Barkley's decision to return to USC next season makes the Trojans a contender for the national championship.
Also back in 2012: The Trojans' top four tacklers. And five of their top six. And a first-team All-Pac-12 kicker. And a guy by the name of Matt Barkley.
The Trojans looked like a preseason top-10 team a month ago. They looked like the preseason Pac-12 South Division favorites. But when Barkley announced Thursday, "I have not yet finished my journey as a Trojan football player," it sent a shockwave across the college football landscape.
Remember that little girl staring at the TV snow in "Poltergeist"? All together now: "They're baaaaack!"
Barkley makes USC a national title contender. Barkley makes things around Heritage Hall feel like it's 2002-2008 all over again. Barkley means Trojans fans can stop thinking about the injustice it suffered when the NCAA whacked it with severe sanctions and start dreaming of BCS bowls again.
Just FYI: Miami on Jan. 7, 2013. What happened the last time the Trojans played in South Florida with big stakes?
Ah, the Oregon fans have just arrived. To borrow a phrase: Not so fast, my friend.
The Ducks are the three-time defending Pac-12 champions. They've got a whole bunch of key guys coming back in 2012, too. They, too, are a certain top-10 team, perhaps top-five. They will be the overwhelming favorites to win the North Division.
Both have highly favorable schedules. USC's nonconference schedule: Hawaii (with head coach Norm Chow!), at Syracuse and Notre Dame. Oregon's is, well, pitiful: Arkansas State, Fresno State and Tennessee Tech.
Oh, then there is this little date for both in LA next year. The Pac-12 schedules aren't official yet, but the conference confirmed to the Pac-12 blog that USC and Oregon will play in the Coliseum next fall. That regular-season game, not hard to project as a matchup of top-five teams, very likely could lead to a rematch in the Pac-12 title game, which could be a gateway to the national title game for the winner.
Ducks and Trojans: Feel free to talk amongst yourselves.
Meanwhile, Barkley, by passing up a chance to be a top-10 NFL draft pick as Matt Leinart and
Andrew Luck
did before him, immediately established himself as the leading 2012 Heisman Trophy candidate. His status as front-runner is only slightly less firm than Luck's was last year when he announced a shocking return.
And that point -- thump -- should provide a speed bump of moderation for our foray into admittedly hysterical hyperbole about Barkley and USC. Just about every time you try to write a college football season's story before it plays out, you end up being wrong.
Preseason predictions can be completely off: Oklahoma was the consensus preseason No. 1 this year. Or they can be slightly off: Luck and the overwhelming Heisman favorite in August. Or they can fall just short in the end: USC as the best team in college football history in 2005.
Or, then again, sometimes they are spot-on: USC in 2004 was preseason No. 1 as well as the postseason national champion.
Still, while grand scenarios are merely reasonably conceived potential endings for something that is a year away and laden with unforeseen variables, there is no downside on this day for USC. In fact, it spiderwebs positives throughout the program, from making the
future at QB more secure
, to bolstering the present recruiting effort, to getting USC fans excited and reinvested again, ready to fill up the Coliseum next fall.
By the way, USC folks aren't the only ones smiling. Pac-12 commissioner Larry Scott is grinning ear-to-ear. He sees another bright, articulate Heisman Trophy candidate who conducts himself with class acting as the face of the conference, as Luck did this past fall. He sees two big ticket national title contenders in 2012, just as the conference's new TV contract kicks in. He's got broadcast partners -- ESPN and Fox -- as well as a new Pac-12 Network that are going to be thrilled that the conference's ratings-driving bell cow is back under the klieg lights in LA.
Toss in four new, high-profile coaches, and there are plenty of sexy story lines for the Pac-12 in 2012.
The week started with USC fans slapping their foreheads over Ohio State's middling NCAA sanctions for severe infractions. It was a frustrating reminder of the seeming cosmic forces that conspired to end the USC dynasty, including Pete Carroll skipping town back to the NFL.
But the week ends with an early Christmas gift for USC. Matt Barkley telling it, "I am staying because I want to finish what I started."
Yes, college football fans across the country pricked up their ears Thursday and thought, "Drat. I hear those darn "Tribute To Troy" drums again."
PAC-12 SCOREBOARD
Thursday, 9/3
Friday, 9/4
Saturday, 9/5