USC Trojans:

Marquis Flowers
December, 2, 2013
12/02/13
12:50
PM PT
The Pac-12 has announced its first- and second-team all-conference squads and postseason awards for 2013.
[+] Enlarge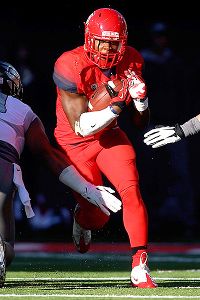 Mark J. Rebilas/USA TODAY SportsPac-12 Offensive Player of the Year Ka'Deem Carey was the only unanimous first-team pick.
Arizona running back
Ka'Deem Carey
has been named the league's offensive player of the year. Arizona State defensive lineman
Will Sutton
joins an elite fraternity, earning his second straight Pat Tillman Defensive Player of the Year award. Washington's Steve Emtman is the only other player to win the league's defensive player of the year award in back to back years (1990-1991).
UCLA's
Myles Jack
earned freshman of the year for both offense and defense with his 70 tackles as a linebacker and seven touchdowns as a running back. This is the first time since the awards were introduced in 2008 that the same player has won both sides.
Arizona State coach Todd Graham is the league's coach of the year for guiding the Sun Devils to a conference record of 8-1 and winning the South Division. The Sun Devils host Stanford this weekend in the Pac-12 championship game.
The team is selected by the Pac-12 head coaches.
Offensive player of the year:
Ka'Deem Carey, RB, Arizona
Pat Tillman Defensive Player of the Year:
Will Sutton, DE Arizona State
Freshman Offense and Defensive Player of the Year:
Myles Jack, RB/LB, UCLA
Coach of the Year:
Todd Graham, Arizona State
First team offense
QB
Marcus Mariota
, So., Oregon (2)
RB
Ka'Deem Carey, Jr., Arizona (2)
RB
Bishop Sankey
, Jr., Washington
WR
Brandin Cooks
, Jr., Oregon State
WR
Paul Richardson
, Jr., Colorado
TE
Chris Coyle
, Grad., Arizona State
OL
Evan Finkenberg
, Grad., Arizona State
OL
Hroniss Grasu
, Jr., Oregon (2)
OL
Marcus Martin
, Jr., USC
OL
Xavier Su'a-Filo
, Jr., UCLA (2)
OL
David Yankey
, Sr, Stanford (2)
First team defense
DL
Ben Gardner
, Sr., Stanford
DL
Trevor Reilly
, Sr., Utah
DL
Will Sutton, Sr., Arizona State
DL
Leonard Williams
, So., USC
LB
Anthony Barr
, Sr., UCLA (2)
LB
Trent Murphy
, Sr., Stanford (2)
LB
Shayne Skov
, Sr., Stanford
DB
Deone Bucannon
, Sr., Washington State
DB
Alden Darby
, Sr., Arizona State
DB
Ifo Ekpre-Olomu
, Jr., Oregon
DB
Robert Nelson
, Sr., Arizona State
DB
Ed Reynolds
, Sr., Stanford (2)
First team specialists
PK
Zane Gonzalez
, Fr., Arizona State
P
Tom Hackett
, So. Utah
RS
Ty Montgomery
, Jr., Stanford
ST
Soma Vainuku
, So. USC
Second team offense
QB
Taylor Kelly
, Jr., Arizona State
RB
Tyler Gaffney
, Sr., Stanford
RB
Marion Grice
, Sr. Arizona State
WR
Ty Montgomery, Jr., Stanford
WR
Jaelen Strong
, So., Arizona State
TE
Austin Seferian-Jenkins
, Jr., Washington
OL
Jamil Douglas
, Jr., Arizona State
OL
Cameron Fleming
, Sr., Stanford
OL
Andrus Peat
, So., Stanford
OL
Isaac Seumalo
, So., Oregon State
OL
Khalil Wilkes
, Sr. Stanford
Second team defense
DL
Scott Crichton
, Jr., Oregon State
DL
Taylor Hart
, Sr., Oregon
DL
Devon Kennard
, Sr., USC
DL
Hau'oli Kikaha
, Jr., Washington
DL
Tenny Palepoi
, Sr., Utah
LB
Carl Bradford
, Jr., Arizona State
LB
Myles Jack, Fr., UCLA
LB
Hayes Pullard
, Jr., USC
LB
Chris Young
, Sr., Arizona State
DB
Dion Bailey
, Jr., USC
DB
Osahon Irabor
, Grad., Arizona State
DB
Marcus Peters
, So., Washington
DB
Rashaad Reynolds
, Sr., Oregon State
Second team specialists
PK
Vincenzo D'Amato
, Sr., California
P
Travis Coons
, Sr., Washington
RS
Nelson Agholor
, So., USC
ST
Erick Dargan
, Jr., Oregon
ST
Joe Hemschoot
, Sr., Stanford
ST
Ryan Hofmeister
, Jr., UCLA
RS: Return Specialist
ST: special teams player (not a kicker or returner)
(2): Two-time first-team selection
Honorable mention
Arizona:
LB
Marquis Flowers
, Sr.; DL
Tevin Hood
, Sr.; WR
Nate Phillips
, Fr.; DB
Jared Tevis
, Jr.; LB
Scooby Wright
, Fr.
Arizona State:
DL
Davon Coleman
, Grad.;
Gannon Conway
, Sr.; ST
D.J. Foster
, So.; ST
De'Marieya Nelson
, Jr.
California:
DL
Deandre Coleman
, Sr.; QB
Jared Goff
, Fr.; WR
Bryce Treggs
, So.
Colorado:
RB
Mike Adkins
, Fr.; LB
Addison Gillam
, Fr.; PK
Will Oliver
, Jr.
Oregon:
WR/RS
Bralon Addison
, So.; WR
Josh Huff
, Sr.; OL
Tyler Johnstone
, So.; DL
Wade Keliikipi
, Sr.; LB
Derrick Malone
, Jr.; RB
Byron Marshall
, So.; DL
Tony Washington
, Jr.
Oregon State:
OL
Grant Enger
, Sr.; TE
Connor Hamlett
, JR.; QB
Sean Mannion
, Jr.; DB
Ryan Murphy
, Jr.; DB
Steven Nelson
, Jr.; ST
Terron Ward
, Jr.
Stanford:
DL
Henry Anderson
, Sr.; DB
Alex Carter
, So.; OL
Kevin Danser
, Sr.; DL
Josh Mauro
, Sr.; P
Ben Rhyne
, Sr.; DB
Jordan Richards
, Jr.; LB
A.J. Tarpley
, Sr.
UCLA:
OL
Jake Brendel
, So.; ST
Jayon Brown
, Fr.; P
Sean Covington
, Fr.; TE
Thomas Duarte
, Fr.; WR
Shaq Evans
, Sr.; WR
Devin Fuller
, So.; DB
Randall Goforth
, So.; QB
Brett Hundley
, So.; DB
Anthony Jefferson
, Jr.; LB
Eric Kendricks
, Jr.; DL
Cassius Marsh
, Sr.; DL
Ellis McCarthy
, So.; DB
Fabian Moreau
, So.; OL
Alex Redmond
, Fr.; DL
Eddie Vanderdoes
, Fr.; LB
Jordan Zumwalt
, Sr.
USC:
P
Kris Albarado
, So.; RB
Javorius Allen
, So.; WR Nelson Agholor, So.; DB
Su'a Cravens
, Fr.; OL
Kevin Graf
, Sr.; TE
Xavier Grimble
, Jr.; QB
Cody Kessler
, So.; WR
Marqise Lee
, Jr.; DB
Josh Shaw
, Jr.; DL
J.R. Tavai
, Jr.; OL Max Turek, So.; DL
George Uko
, Jr.
Utah:
WR
Dres Anderson
, Jr.; OL
Vyncent Jones
, Sr.; DB
Keith McGill
, Sr.; PK
Andy Phillips
, Fr.; LB
Jason Whittingham
, So.
Washington:
OL
Dexter Charles
, So.; PK
Travis Coons
, Sr.; OL
Mike Criste
, Jr.; OL
Micah Hatchie
, Jr.; DB
Sean Parker
, Sr.; QB
Keith Price
, Sr.; DL
Danny Shelton
, Jr.; LB
Shaq Thompson
, So.
Washington State:
OL
Elliott Bosch
, Sr.; WR
River Cracraft
, Fr.; PK
Andrew Furney
, Sr.; DB
Damante Horton
, Sr.;
Some notes on the teams:
By School:
Arizona State and Stanford placed the most players on the first team with six selections each.
By Class:
Of the 27 first-team selections, two are graduate students, 11 are seniors, nine are juniors, four are sophomores and one freshman.
Unanimous:
Only one player was named on the first-team ballot of all 12 head coaches -- RB Ka'Deem Carey of Arizona.
Two-time Selections:
Ten players are repeat first-team selections from last year.
All-Academic:
Two first team All-Pac-12 performers also were named to the Pac-12 All Academic second team -- RB Bishop Sankey of Washington and DB Ed Reynolds of Stanford, while Washington defensive lineman Hau'oli Kikaha was named to the All-Pac-12 second team and Pac-12 All-Academic first team. Arizona State QB Taylor Kelly earned second-team honors on both the Pac-12 All-Conference and All-Academic teams.
October, 9, 2013
10/09/13
6:00
AM PT
The last time a Pac-12 coach was fired midseason, his players shouldered some responsibility. They bunkered down through the upcoming bye week, got over their most recent conference road loss and then responded by taking out their frustrations on the next opponent.
If Arizona is a little anxious entering its Thursday night game at USC, the Wildcats can be forgiven. It is just that they know exactly what the Trojans are going through right now, and what that could mean come kickoff.


Mike Stoops was fired after a 1-5 start in 2011, and Arizona bounced back 10 days later with a 48-12 rout of UCLA under interim coach Tim Kish.
"That's when we all came together as a team," running back
Ka'Deem Carey
said. "When something happens like that, that's when teams just have to bond together and just get even closer and go out there and win, so I know that they're going to definitely be fired up coming in.
"We beat them last year, so they'll have a lot of fire going into this game."
There is that small matter, too.
Much of the downward spiral that ultimately spelled doom for Lane Kiffin at USC started last Oct. 27 in Tucson, where the Wildcats pulled off a 39-36 upset. It was the first of the then-No. 9 Trojans' five losses over their final six games, an ugly stretch that shook a program that had entered 2012 with a No. 1 ranking.
"The biggest memory I can think of is just that last play, the Hail Mary play, where our guys are jumping up for the ball and
Marqise Lee
and the others guys are jumping for the ball," safety
Tra'Mayne Bondurant
said, "and just wondering what was going to happen in the air and just the celebration after, and all the joy that we had after that game, winning it in a good fashion."
The sting of Lee setting a conference record with 345 receiving yards still lingers, but the junior is not expected to go for the Trojans this week because of a sprained left knee suffered in Kiffin's final outing two weeks ago.
"I try not to look at last year's game too much, but I remember Marqise Lee definitely just carving up our defense," linebacker
Marquis Flowers
said. "That's definitely one thing I do remember."
Even without their All-American receiver and with the burden of scholarship restrictions, it is not like the Trojans are at a loss for talent after landing nothing but top-15 recruiting classes under Kiffin.
Those bodies, plus the liberation of playing with house money, make them dangerous in their first game under interim coach Ed Orgeron.
"I know in our first game after our head coach got fired, it was a team that had a fire lit -- it was kind of like a relief, you know?" Flowers said. "Going into a new thing, it's a relief. You just play. You're just out there and you're just playing. You're going to play fast, you're going to keep the game plan simple and you're just going to play for each other, and they're going to come out and play inspired football, so we've got to be ready."
Rich Rodriguez echoed those sentiments this week at his press conference, cautioning that the Wildcats cannot adjust to the circumstances as they come off their first loss of the season, two weeks ago at Washington.
"I did tell the players that this game is going to be more difficult because USC is going to play extremely fired up, loose and come out with a chip on their shoulder," the second-year Arizona coach said. "We will get USC's best shot."
February, 23, 2012
2/23/12
10:34
AM PT
Pac-12 spring preview: South Division
Spring practice is almost here. Here's a snapshot at what to expect from the Pac-12 South in the coming weeks.

ARIZONA
Spring practice starts
: March 4
Spring game
: April 14
What to watch
:
Hello, my name is ... Like the other two teams in the South Division with new head coaches (Arizona State and UCLA) much of Arizona's first few weeks will be Rich Rodriguez evaluating his personnel and getting to know what he has to work with. Likewise, the players are going to have to figure out what this new coaching staff is about. Everything from how they do pre-practice stretches to how they call the cadence is going to change.
New scheme and a new scheme: A spread option on offense and a 3-3-5 on defense. That's a lot of new material to digest on both sides of the ball. Until Rodriguez can recruit the players he likes into his scheme, he's going to have to make it work with the players he has. Fortunately on the defensive side of the ball, Arizona has good depth in the secondary with Cortez Johnson, Marquis Flowers, Shaquille Richardson, Jourdon Grandon and Tra'Mayne Bondurant. The Wildcats should also get a boost with the return of injured players Jake Fischer (LB), Jonathan McKnight (CB) and Adam Hall (S).
Perfect fit? Former starter Matt Scott, who was beaten out by Nick Folesin 2009, is expected to reprise his starting role under Rodriguez. He redshirted the 2011 season and -- magically -- Foles never got hurt last year despite taking 23 sacks and countless hits. Scott is considered the more versatile quarterback and should fit nicely into the new run-based spread attack.

ARIZONA STATE
Spring practice starts
: March 13
Spring game
: April 21
What to watch
:
QB competition: We know what kind of offense new coach Todd Graham is going to run; now it's a matter of figuring out who is going to run it. Graham has his choice of three players -- Mike Bercovici, Taylor Kelly or Michael Eubank -- to replace NFL-bound Brock Osweiler. Graham said earlier this month that there are no favorites heading into the competition and each one brings his own skill set to the table. Eubank has the size (6-foot-5, 235 pounds), Bercovici (6-1, 205) is a mechanic and Kelly (6-1, 202) is a little bit of everything.
Get the locker room: By the end of the 2011 season, ASU's locker room wasn't just divided, it was completely splintered. Graham's task -- and that of his new coaching staff -- is to pick up the pieces, mend internal fences and find some chemistry on both sides of the ball. Linebacker Brandon Magee, long considered a great locker room leader, should help get the Sun Devils back on track as he returns from a season-ending Achilles injury.
Hands competition: The Sun Devils lose three of their top four wide receivers from last season -- Gerell Robinson, Aaron Pflugrad and Mike Willie. Jamal Miles returns after finishing second on the team last season with 60 catches and six touchdowns. Rashad Ross figures to be the No. 2 guy, but establishing depth in that corps -- especially if Graham wants to be up-tempo -- is key.

COLORADO
Spring practice starts
: March 10
Spring game
: April 14
What to watch:
Momentum, maybe? For as rough as 2011 was for the Buffs, they ended the year on a high note, winning two-of-three down the stretch -- including a 17-14 win over Utah in the season finale. But there is also the possibility that things might get worse before they get better. With just four returning starters on offense, spring in Boulder will likely be more about teaching and less about refining.
Where to start (offense)? Well, quarterback might be a good place. In the court of public opinion, Connor Wood, a transfer from Texas, seems to be the favorite. Nick Hirschman appeared in five games last season, mostly in mop-up time when the game was already out of hand. It's also possible a starter could be named by the end of spring ball. Finding offensive weapons to surround the new quarterback will also be a challenge. Wide receiver Paul Richardson caught 39 balls last season, and running back Tony Jones showed a flare for catching the ball out of the backfield. He'll likely step in as the new workhorse back for the departed Rodney Stewart.
Where to start (defense)? Last in this. Last in that. Last in almost every team statistic the Pac-12 has to offer. But there are some intriguing youngsters on the roster. Cornerback Greg Henderson was all-conference honorable mention as a freshman with a team-high nine passes broken up. Jered Bell also returns from injury after blowing out a knee last preseason. If healthy, he's expected to be a big contributor in the secondary. Linebacker Jon Majorreturns as the team's leading tackler, and if Doug Rippy is fully recovered from his knee injury, he'll look to build on what was a pretty good season last year before getting hurt.

UCLA
Spring practice starts
: April 3
Spring game
: May 5
What to watch
:
QB up for grabs: Like the majority of the conference, UCLA enters spring with a quarterback competition. New offensive coordinator Noel Mazzone said he doesn't care how much experience (or lack thereof) a player has -- if he can play, he wins the job. So don't be surprised if Brett Hundley passes Kevin Prince and Richard Brehautas the new man leading the Bruins. Fans have been clamoring for a change. Hundley might be it.
Attitude adjustment: One of the first things new head coach Jim Mora did was slam the team for its tradition of going "over the wall," a time-honored senior ditch day, saying if they want to jump the wall, they should just keep on going. How's that for sending a message? UCLA has earned a reputation for being soft and underachieving despite good talent. Attitude and toughness is needed -- and so far, Mora appears to be hammering that point home.
Speaking of toughness ... The defense has to get tougher. No two ways about it. It was weak against the run last season, allowing more than 190 yards per game on the ground; couldn't get to the quarterback; and couldn't get off the field almost 50 percent of the time on third down. It's time for potential all-conference players such as defensive end Datone Jones to start living up to the hype and the defense as a whole to stop getting pushed up and down the field. At 6-5, 275 pounds, Jones has the physical makeup to be a major force in the conference and catapult himself into the elite class of collegiate defensive players.

USC
Spring practice starts
: March 6
Spring game
: April 14
What to watch
:
Ignore the hype: Few teams ended last season hotter than USC and returning quarterback Matt Barkley. The Heisman talk has already started, the way-too-early rankings already have the Trojans as national championship contenders, and the public perception is that the offense is unstoppable. Nice to hear, but hype is a double-edged sword. Head coach Lane Kiffin has a knack for deflecting hype. This season will be his toughest test to date.
Insurance? The Trojans are loaded on both sides of the ball with returning players. But after the starting 22, things start to get dicey. Developing depth and keeping the starters healthy is a top priority -- particularly on the offensive and defensive lines and at running back, where experience is thin outside of the starters. The entire back seven returns on defense -- headlined by hard-hitting safety T.J. McDonald. Stopping the pass has been a major priority for Kiffin, and if this group stays healthy it should see the pass-efficiency numbers improve even more.
Other options: Along those same lines, wide receivers Robert Woods and Marqise Lee make up the most feared receiving duo in the conference -- maybe the country. But who are the Nos. 3 and 4 receivers behind them? George Farmer? Victor Blackwell? De'Von Flournoy? Don't overlook the tight end duo of Xavier Grimble and Randall Telfer, which should rival Stanford's Zach Ertz and Levine Toilolo as the best tight end tandem in the conference.

UTAH
Spring practice starts
: March 20
Spring game
: April 21
What to watch
:
Youthful approach: Head coach Kyle Whittingham turned some heads by naming former Utah quarterback Brian Johnson as his offensive coordinator. Johnson, who recently turned 25, said he's not looking to make wholesale changes to the offense, though he wants to put his stamp on it and continue to build around running back John White IV, who had a breakout season in his first year of major college football. Having quarterback Jordan Wynn back healthy should also help as the team transitions to Johnson running the offense.
Fixing the line: Who is going to protect Wynn (if he does indeed win back the starting job) and make holes for White? That's a major concern heading into spring as the Utes have to replace a pair of all-conference linemen in Tony Bergstrom and John Cullen. The Utes should be set at the interior but have to adjust to a new position coach, with Tim Davis leaving for Florida after just one season and Dan Finn -- a former Utah graduate assistant who was brought on to help Davis -- taking over the whole line following a one-year stint at San Diego State.
Work the experience: The defensive line should be one of the best in the conference, especially with the return of Star Lotulelei, who won the Morris Trophy last season as the conference's best defensive lineman. With the Kruger brothers returning to the line -- Joe at defensive end and Dave at tackle -- Derrick Shelby is the lone starter who has to be replaced. There's also some pretty good depth in the secondary that was tops in the conference last season in pass-efficiency defense.
PAC-12 SCOREBOARD
Saturday, 12/21
Monday, 12/23
Tuesday, 12/24
Thursday, 12/26
Friday, 12/27
Saturday, 12/28
Monday, 12/30
Tuesday, 12/31
Wednesday, 1/1
Thursday, 1/2
Friday, 1/3
Saturday, 1/4
Sunday, 1/5
Monday, 1/6