December, 6, 2013
12/06/13
5:30
PM PT
Welcome to the mailbag, Pac-12 championship and coaching carousel edition.
Follow the Pac-12 blog on Twitter
.
To the notes.
Elk from Los Angeles writes:
Who's the bigger winner in the coaching carousel, Washington or USC?
Ted Miller
: We have to declare a winner before Chris Petersen even holds his first news conference after replacing new USC coach Steve Sarkisian at Washington?

The only winner we can declare at this moment is the public relations and perception winner, and that is clearly Washington.
Petersen has long been a highly coveted candidate among AQ programs. Many sportswriters reacted with shock today when the news broke that after turning down some many suitors, Petersen was headed to Washington.
Fair to say the general consensus is that Petersen is a home run hire. Further, his track record suggests strongly he is not a climber. If he wins the Rose Bowl in 2017, he doesn't seem like the sort that would, say, jump to Texas.
As for Sarkisian to USC, the general reaction among sportswriters and USC fans was to be underwhelmed. Part of that was the belief that Trojans AD Pat Haden was going to make a home run hire that resonated nationwide -- as in Jon Gruden or Kevin Sumlin.
Sarkisian looked like a strong and legitimate USC candidate on Sept. 29, when Lane Kiffin was fired, but his Huskies immediately dropped three games in a row, and Huskies fans started to grumble.
Sark rebuilt Washington, but he never broke through in the Pac-12 North Division or the national rankings. Sarkisian is a good coach, but he's yet to distinguish himself with a landmark season. Petersen has with two BCS bowl victories and a sparkling 92-12 record.
So at this point, Washington is the clear winner.
Yet keep in mind that being the public relations and perception winner before either has coached a game or even recruited a player will be the least important victory either posts during their respective tenures.
It's all about what comes next, starting with their 2014 recruiting classes.
---
Flannel Beaver from Tacoma, Wash., writes:
I know this has been discussed, but seriously... when will the Pac-12 go to an eight-game conference schedule? I am all for holding the our moral superiority over all other conferences. Do you think the new Playoff Selection Committee will take that into account? Do bowls consider that when looking at options? Do pollsters REALLY consider it? Then why do we continue to do it? How can I as a fan change
Larry Scott
's stance on this?
Ted Miller
: Scott is a Machiavellian, "It's All About the Benjamins" sort. He'd go with eight games if the Pac-12 athletic directors were for it.
A nine-game conference schedule is favored by Pac-12 ADs for two reasons: 1. It means you only have to schedule three nonconference games, therefore less work; 2. An extra Pac-12 game tends to guarantee more ticket sales than a nonconference patsy, something that SEC schools don't worry about.
Once the conference expanded to 12 teams from 10, the nine-game schedule lost the symmetry that provided a true conference champion. But it was retained for the above reasons, even though it damages the conference's place in the national rankings.
The good news is most folk recognize the seriousness of this issue going forward into the four-team College Football Playoff. There will be pressure to level the playing field and have all the major conferences play nine-game schedules, as the Big 12 and Pac-12 currently do.
But if that doesn't happen, then it becomes the CFP selection committee's move. The first time a one-loss SEC team misses out to a one-loss Pac-12/Big 12 team, and the selection committee explains itself by saying, "The SEC choose to play a softer schedule than the Pac-12/Big 12, so that was the final measure that eliminated their team," then you'll see some changing.
In fact, it's too bad we don't have the playoff this year because it would be an interesting process. To me, the four-team playoff would be best served (based on today's records) by having Florida State, Ohio State, the SEC champ and the Pac-12 champ.
Yes, that would mean leaving out Alabama, which I still believe is the best team.
But if that happened because Stanford's/Arizona State's
schedules were dramatically more difficult
, you can bet that the SEC would man-up out of self interest.
---
Craig from Omaha writes:
Lifelong Huskers fan here but enjoy watching Pac-12 football. … My question to you is why is it that the Pac-12 does not play its conference championship game at a neutral site like every other major conference? Is it due to loyal fan bases that are willing to travel? Do they feel there are not adequate facilities to hold such an event? I would have to think of all the venues in Pac-12 country, there would be some place that would fit the bill?
Ted Miller
: The biggest problem with a neutral venue for the Pac-12 title game is the Pac-12 is much more spread out than the SEC, ACC and Big Ten. With just a week to make travel plans, it would be extremely expensive for fans to book flights. In the SEC, just about every fan base is within driving distance to Atlanta, and that's also mostly true in the Big Ten for Indianapolis and the ACC for Charlotte, N.C, though expansion has changed things a bit in that regard. For Texas A&M, it would be a 12-hour haul to drive to Atlanta.
That said, future change isn't off the table. Since the conference expanded, more than a few folks have tossed around the idea of playing the game in Las Vegas, which the Pac-12 blog would be all for, though there's not yet an appropriate stadium to play host. Another option would be rotating the game between major cities.
Truth is, the Pac-12 championship game has done fairly well at home sites -- the game Saturday at Arizona State is pretty close to a sellout. Last year's lackluster fan showing at Stanford was mostly because of torrential rain and a kickoff during Friday rush hour.
And there's something to be said for rewarding the No. 1 team with an advantage.
---

Scott from Homewood, Calif., writes:
I think you are
making the same mistake
as other media members about the Stanford roster. Although the depth chart lists several players as seniors, they are in eligibility only redshirt juniors because they list by academic class instead of eligibility. Guys like Tarpley,
Henry Anderson
, Parry, Reynolds, Fleming, Yankey are listed on the depth chart as seniors but all have a year left. Although Yankey likely will leave early, the others will most likely be back or have the option to come back. In reality, only four offensive starters are seniors and only three defensive starters are seniors. Jon Wilner has posted twice about this issue and I just wanted to spread the word.
Ted Miller
: I understand your point, but I use a depth chart that has both years.
The players Stanford loses on offense: OG
David Yankey
, C
Khalil Wilkes
, OG
Kevin Danser
, RB
Tyler Gaffney
, RB
Anthony Wilkerson
and FB
Ryan Hewitt
.
Players Stanford loses on defense: OLB
Trent Murphy
, LB
Shayne Skov
, DE
Ben Gardner
and DE
Josh Mauro
.
The Cardinal will again be in the thick of the Pac-12 North Division race in 2014, without question. But those are some big hits to the starting lineup.
---

Brian from Bend, Ore., writes:
Any reflection on why Marcus Mariota has been completely overlooked for QB awards and the Heisman? It seems that no one west of the Mississippi is allowed to lose games. He still has really good stats, was No. 1 in Total QBR until the Arizona game and is morally superior to any other NCAA player. Is this not the embodiment of the Heisman?
Ted Miller
: The bottom line is Oregon lost two of its final four games and Mariota didn't play well at Stanford, the Ducks' marquee national game of the season.
Further, when you remove
Jameis Winston
's off-field issues, as was done this week, the Florida State QB is a clear No. 1 at the position, while
Johnny Manziel
has been a force of nature for two seasons, and
AJ McCarron
has led one of the most successful runs in college football history.
I'm not saying I agree with all of that as a reason to demote Mariota. But that's what happened from a national perspective.
October, 31, 2013
10/31/13
11:00
AM PT
The Pac-12 has its share of ghosts, ghouls and goblins. So in the spirit of the Halloween weekend ...
Scary movie -- Worst loss of the season:
Washington headed to Arizona State ranked 20th, with national pollsters being forgiving of consecutive, competitive losses to Stanford and Oregon. A shocking 53-24 beatdown delivered by the Sun Devils, and the Huskies were dumped from the national rankings. The new storyline was a familiar one: Another seven-win season?
[+] Enlarge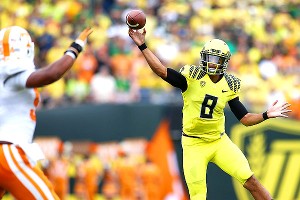 Jonathan Ferrey/Getty ImagesMarcus Mariota and the Ducks rocked Tennessee, 59-14, in the "biggest debacle of the season."
Rising from the dead
: Oregon State surely was headed for the slag heap after it opened with a 49-46 loss to Eastern Washington, an FCS team. The defense looked AWFUL. Fire Mark Banker! Fire Mark Banker! Panic in the streets of Corvallis! After all, we'd seen this before.The Beavers opened with a loss to Sacramento State in 2011 and then meandered to a woeful 3-9 finish. But the Beavers dusted themselves off and surged to six consecutive wins. Last weekend, they extended Stanford until the waning moments before falling 20-12. With QB
Sean Mannion
and WR
Brandin Cooks
fronting the nation's best passing offense, Oregon State remains a threat in the North Division.
Haunted House
: Arizona State struggles on the road, but it certainly has horrified visitors to Sun Devil Stadium. Of course, we can start with the, er,
unusual finish
against Wisconsin. Then there's the dismantling of both USC and Washington. Sure, the Sun Devils looked like a different team -- in a bad way -- while losing at Stanford and to Notre Dame in Cowboys Stadium, but visiting foes often leave Tempe with a haunted look.
Thriller
: The most exciting Pac-12 game so far this year is Oregon State's 51-48 overtime win at Utah. The Beavers jumped to a 20-7 lead, but the Utes tied things in regulation with a 21-point fourth quarter, including a 9-yard run from QB
Travis Wilson
for the tying TD on third-and-goal with 21 seconds left in the game. On the Beavers' side of things, QB Sean Mannion converted two critical fourth-down plays in the fourth and then threw the winning TD pass in overtime to, of course, Brandin Cooks.
Nightmare in Eugene -- Biggest debacle of the season
: Tennessee took a 7-0 lead at Oregon, and the folks in orange maybe starting thinking about "SEC!" chants. Then the Ducks scored 59 unanswered points by the end of the third quarter. Oregon fans started chanting "We want Bama."
House of horrors
: Horrors? We give you USC. The Trojans fired coach Lane Kiffin as he got off the team bus at LAX after a 62-41 beatdown at Arizona State, and they have suffered through epidemic injuries that are even worse for a team crippled by scholarship reductions. Meanwhile, the program has watched as the NCAA reduced Penn State's sanctions and provided a reprieve for Miami, which overlooked the scandalous doings of now-incarcerated booster Nevin Shapiro while under the leadership of late athletic director Paul Dee, who chaired the Committee of Infractions against USC.
Cursed team
: California, losers of 10 consecutive Pac-12 games, might be headed for its worst season since the regrettable Tom Holmoe Era. Start with one of the toughest schedules in the nation. Then move on to a roster decimated by injuries. The Bears have been slow to adjust to new schemes on both sides of the ball, and they presently ranked last in the conference in both scoring offense and scoring defense.
Halloween costumes
July, 12, 2013
7/12/13
8:17
AM PT
Two weeks and counting. Ted and I are gearing up for media day. Are you? Here's what you should know.
When
: July 26
Where
: Sony Studios, Los Angeles

Who will be there (all times PT):
9 a.m. Larry Scott, Pac-12 commissioner
9:15 a.m. Washington State -- Coach Mike Leach, Elliott Bosch (OL), Deone Bucannon (DB)
9:30 a.m. California -- Coach Sonny Dykes, Bryce Treggs (WR), Nick Forbes (LB)
9:45 a.m. Washington -- Coach Steve Sarkisian, Keith Price (QB), Sean Parker (DB)
10 a.m. Oregon State -- Coach Mike Riley, Brandin Cooks (WR), Rashaad Reynolds (DB)
10:15 a.m. Oregon -- Coach Mark Helfrich, Marcus Mariota (QB), Ifo Ekpre-Olomu (CB)
10:30 a.m. Stanford -- Coach David Shaw, David Yankey (OL), Shayne Skov (LB)
10:45 a.m. Break
11 a.m. Colorado -- Coach Mike MacIntyre, Paul Richardson (WR), Chidera Uzo-Diribe(DE)
11:15 a.m. Utah -- Coach Kyle Whittingham, Jake Murphy (TE), Trevor Reilly (DE)
11:30 a.m. Arizona -- Coach Rich Rodriguez, Terrence Miller (WR), Jake Fischer (LB)
11:45 a.m. USC -- Coach Lane Kiffin, Marqise Lee (WR), Hayes Pullard (LB)
Noon Arizona State -- Coach Todd Graham, Taylor Kelly (QB), Will Sutton (DT)
12:15 p.m. UCLA -- Coach Jim Mora, Xavier Su'a Filo (OL), Anthony Barr (LB)
UPDATE
: Arizona State informed me Friday morning that it has decided to bring Will Sutton instead of safety
Alden Darby
. This is a good thing because Sutton was the league's defensive player of the year last season, and his presence helps bolster his name -- and the program -- in the eyes of the national media.
Who won't be there
: The biggest name missing is Arizona running back
Ka'Deem Carey
, who led the nation in rushing last season. Coaches tend to bring veterans and guys with experience. Yankey is a great spokesman for Stanford and a good candidate, but I know others wouldn't mind hearing some thoughts from Cardinal QB
Kevin Hogan
.
Five storylines:
Hitting? Scott is expected to announce the league's health and safety initiative, which will limit how much hitting can be done in practice. This isn't a new concept, but the league jumped in front of it by being the first to make a conference-wide mandate.
Bowl updates? We know the status of the Rose, Alamo, Holiday, Kraft Fight Hunger and Sun bowls. Not sure if the rest of the lineup for beyond this season will be announced at media day. But one of us will ask.
New coaches: This is the meet-the-world opportunity for the new head coaches in the league: Dykes, MacIntyre and Helfrich. Expect the requisite questions on the difficulty of changing cultures and rebuilding programs.
Preseason poll: Is there any fodder better than preseason polls? Oregon or Stanford? Stanford or Oregon? ASU, UCLA or USC? Your Pac-12 bloggers will be submitting their ballots this weekend after a visit to the Oracle of Delphi, a seance channeling Nostradamus and a dartboard.
Quirky questions: With the access of media day comes the spectacle of media day. Granted, it's not as bad as some of the quirks at Super Bowl media day. But there's bound to be a couple of left-field questions -- and they'll probably be directed at Leach, who is great and usually has fun with them. Last year he was asked which Pac-12 coach he'd go hunting with and which Civil War generals he'd compare some of his players to.
Ted and I will be trying something new this year (we think). Instead of the on-the-stage posts, we'll be doing a live chat during the entire stage session and bringing you info real time. So take note of the times (in Pacific, to save you the math) and be ready to interact.
November, 28, 2012
11/28/12
6:38
PM PT
Arizona, Arizona State, USC and Washington fans:
Go here
. Soak it up. Take in the glory of Mississippi State.
(At this point, we'd encourage Mississippi State fans to turn away. Just as we are supposed to love the sinner but hate the sin, we love you but not your schedule).
The Bulldogs' best win this year was over Middle Tennessee, a team that lost to McNeese State. Its four SEC wins came against teams that went a combined 14-34.
Arizona, you beat Oklahoma State, Washington and USC. Arizona State, you beat Arizona. USC, you beat Arizona State and Washington. Washington, you beat Stanford and Oregon State. Heck, Arizona's win over Toledo and Washington's over San Diego State are better than anything Mississippi State did this year.
Each of you, I suspect, would pound Mississippi State. The Bulldogs, bless their hearts, aren't very good.
Ah, but the Bulldogs are 8-4. So many college football fans -- and media members -- look at their eight wins and your seven and say, "Mississippi State is better than Arizona, Arizona State, USC and Washington."
This is a ramification of having 7-5 disease, which some years is also known as 6-6 disease.
What's the big deal? Well, Mississippi State is probably going to go to the Franklin American Mortgage Music City Bowl where it will play an NC State team that just fired its coach, according to our friends with ESPN.com's SEC and ACC blogs. The Bulldogs should prevail -- NC State is, after all, the ACC's only bowl-eligible 7-5 team -- and load up a ninth victory.
[+] Enlarge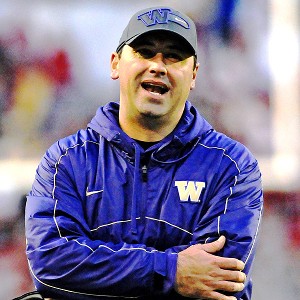 James Snook/US PresswireSteve Sarkisian's Washington team just couldn't escape the 7-5 disease outbreak.
And at 9-4, my guess is that the Bulldogs will end up ranked in the final AP poll. At 8-5, even after a nice bowl victory, Arizona, Arizona State, USC and Washington will be a a tougher sell.
The last 8-5 team to finished ranked was No. 23 Florida State in 2005.
The 14-team SEC has no 7-5 teams. The ACC has two. The Big East has one. The Big Ten has one.
Now go here
. Look over the Big 12 standings. Notice something?
The Big 12 has one 7-5 team (Texas Tech) and one 6-6 team (Iowa State). If Oklahoma State loses to Baylor on Saturday, both will be 7-5. If West Virginia beats Kansas, as expected, and TCU loses to Oklahoma, as expected, the Big 12 will have two more 7-5 teams.
The 10-team Big 12 could finish the season with four 7-5 teams and one 6-6 team, or three 7-5 teams and two 6-6 teams.
Now, we get to brass tacks: What do the Big 12 and Pac-12 share that the ACC, SEC and Big Ten do not?
If you said a nine-game conference schedule, you should give yourself a hand, pin a rose on your nose and exclaim, "Larry Scott, can we please -- PLEASE! -- kill the nine-game conference schedule?!"
I know I write this like, I don't know,
43 times a year
. But I'm writing this now because of
this column from my buddy
, David Ubben, the Big 12 blogger. David sounds a bit peeved that folks aren't giving his conference the respect it deserves because of that confounded nine-game conference schedule. He sounds a bit like me through the years.
By the way, Big 12, welcome to the frustration club on this one, though I do seem to recall many of you in past years waving away the nine-game versus eight-game argument when Pac-10 folks raised it. We won't bring up your weak nonconference scheduling right now because that would be a rude way to greet new members of the club.
The Big Ten actually thought about going to a nine-game schedule. It got wise, perhaps
because a certain blogger explained the math
.
The nine-game conference schedule was adopted by the Pac-10 in 2006. It's always been a terrible idea, but at least back then there was a concrete justification: The Pac-10 played a full round-robin schedule and therefore crowned a true champion because everyone played everyone else, even if some years a complicated tie-breaking system was needed.
Now all it does, by definition, is drop six extra losses into the conference every year and create scheduling imbalance, with some teams having five home conference games and some with four. It hurts the conference in both the human and computer polls.
The end result is this: Arizona, Arizona State, USC and Washington, instead of sitting at 8-4, become 7-5 teams with little hope of ending up nationally ranked after the bowl season.
Of course, the schedule doesn't deserve all the blame for a surfeit of Pac-12 mediocrity. If Arizona, USC and Washington took care of business last weekend in winnable games, the Pac-12 currently would have seven ranked teams with eight or more wins. That would have been great fun, though I'm sure giddy Sun Devils and Cougars fans couldn't care less about that.
College football will play its final year in the BCS system in 2013. The next season, we'll start a four-team playoff, which is likely the first step toward something bigger and far more lucrative.
Already the dynamic is changing. Where there were once six power conferences, there are now four. A great race for revenue is ahead as the conference pecking order is again redefined.
By playing nine conference games, the Pac-12 only will ensure it starts the race from behind.
December, 22, 2011
12/22/11
4:11
PM PT
USC, which finished this season 10-2 and ranked No. 5, will have 19 starters returning in 2012 including both specialists and a guy by the name of
Matt Barkley
.
The Trojans welcome back their top rusher, top three receivers, four starting offensive lineman and a guy by the name of Matt Barkley.
[+] Enlarge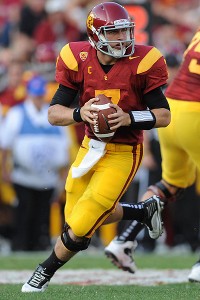 Kelvin Kuo/US PresswireMatt Barkley's decision to return to USC next season makes the Trojans a contender for the national championship.
Also back in 2012: The Trojans' top four tacklers. And five of their top six. And a first-team All-Pac-12 kicker. And a guy by the name of Matt Barkley.
The Trojans looked like a preseason top-10 team a month ago. They looked like the preseason Pac-12 South Division favorites. But when Barkley announced Thursday, "I have not yet finished my journey as a Trojan football player," it sent a shockwave across the college football landscape.
Remember that little girl staring at the TV snow in "Poltergeist"? All together now: "They're baaaaack!"
Barkley makes USC a national title contender. Barkley makes things around Heritage Hall feel like it's 2002-2008 all over again. Barkley means Trojans fans can stop thinking about the injustice it suffered when the NCAA whacked it with severe sanctions and start dreaming of BCS bowls again.
Just FYI: Miami on Jan. 7, 2013. What happened the last time the Trojans played in South Florida with big stakes?
Ah, the Oregon fans have just arrived. To borrow a phrase: Not so fast, my friend.
The Ducks are the three-time defending Pac-12 champions. They've got a whole bunch of key guys coming back in 2012, too. They, too, are a certain top-10 team, perhaps top-five. They will be the overwhelming favorites to win the North Division.
Both have highly favorable schedules. USC's nonconference schedule: Hawaii (with head coach Norm Chow!), at Syracuse and Notre Dame. Oregon's is, well, pitiful: Arkansas State, Fresno State and Tennessee Tech.
Oh, then there is this little date for both in LA next year. The Pac-12 schedules aren't official yet, but the conference confirmed to the Pac-12 blog that USC and Oregon will play in the Coliseum next fall. That regular-season game, not hard to project as a matchup of top-five teams, very likely could lead to a rematch in the Pac-12 title game, which could be a gateway to the national title game for the winner.
Ducks and Trojans: Feel free to talk amongst yourselves.
Meanwhile, Barkley, by passing up a chance to be a top-10 NFL draft pick as Matt Leinart and
Andrew Luck
did before him, immediately established himself as the leading 2012 Heisman Trophy candidate. His status as front-runner is only slightly less firm than Luck's was last year when he announced a shocking return.
And that point -- thump -- should provide a speed bump of moderation for our foray into admittedly hysterical hyperbole about Barkley and USC. Just about every time you try to write a college football season's story before it plays out, you end up being wrong.
Preseason predictions can be completely off: Oklahoma was the consensus preseason No. 1 this year. Or they can be slightly off: Luck and the overwhelming Heisman favorite in August. Or they can fall just short in the end: USC as the best team in college football history in 2005.
Or, then again, sometimes they are spot-on: USC in 2004 was preseason No. 1 as well as the postseason national champion.
Still, while grand scenarios are merely reasonably conceived potential endings for something that is a year away and laden with unforeseen variables, there is no downside on this day for USC. In fact, it spiderwebs positives throughout the program, from making the
future at QB more secure
, to bolstering the present recruiting effort, to getting USC fans excited and reinvested again, ready to fill up the Coliseum next fall.
By the way, USC folks aren't the only ones smiling. Pac-12 commissioner Larry Scott is grinning ear-to-ear. He sees another bright, articulate Heisman Trophy candidate who conducts himself with class acting as the face of the conference, as Luck did this past fall. He sees two big ticket national title contenders in 2012, just as the conference's new TV contract kicks in. He's got broadcast partners -- ESPN and Fox -- as well as a new Pac-12 Network that are going to be thrilled that the conference's ratings-driving bell cow is back under the klieg lights in LA.
Toss in four new, high-profile coaches, and there are plenty of sexy story lines for the Pac-12 in 2012.
The week started with USC fans slapping their foreheads over Ohio State's middling NCAA sanctions for severe infractions. It was a frustrating reminder of the seeming cosmic forces that conspired to end the USC dynasty, including Pete Carroll skipping town back to the NFL.
But the week ends with an early Christmas gift for USC. Matt Barkley telling it, "I am staying because I want to finish what I started."
Yes, college football fans across the country pricked up their ears Thursday and thought, "Drat. I hear those darn "Tribute To Troy" drums again."
PAC-12 SCOREBOARD
Thursday, 8/28
Friday, 8/29
Saturday, 8/30