May, 2, 2012
5/02/12
5:02
PM PT
Junior Seau wasn't the first player to wear No. 55 for the USC Trojans. He was just the first one to turn it into more than a number.
During his time at USC, Seau turned No. 55 into a statement. The Trojans have been blessed with terrific linebacker play over the years, but perhaps no season stands out quite like Seau's 1989 campaign, when he collected 19 sacks, 27 tackles for loss and was named Pac-10 Defensive Player of the Year. While his USC career was cut short due to academics on the front end and leaving a year early for the NFL on the back, few players in college football history have provided more of an impact in just two seasons.
[+] Enlarge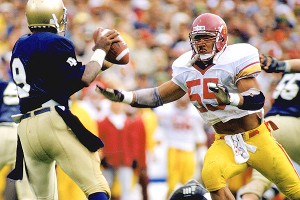 Jonathan Daniel/Getty ImagesJunior Seau dominated like no other at outside linebacker in 1989, recording a whopping 27 tackles for loss.
"Junior Seau was one of the greatest legends in USC football history," USC Athletic Director Pat Haden said in a statement. "He will always be remembered by USC as the original No. 55."
Without Seau's career at USC, it's difficult to say whether the legacy of the No. 55 jersey would have been established. Seau stands as the measuring stick for those who came after. Since Seau, the 55 jersey has been bestowed upon Willie McGinest, Israel Ifeanyi, Chris Claiborne, Markus Steele, Keith Rivers and Lamar Dawson.
"No disrespect to those who wore the number before him, but that's the man who started it," Claiborne said. "We've had some great linebackers. But for me, it was Junior. That guy right there set the whole standard."
Seau's ability and potential for greatness were so recognizable the No. 55 became synonymous with outstanding defensive play. Seau's dominance provided a springboard, as well as an easy transition to the next great defensive player.
"I was given it from the beginning," McGinest told ESPN's Andy Kamenetzky last October. "I did a photo shoot with Junior Seau, like he was passing the torch. I don't think he had to [explain the significance]."
Claiborne famously wanted to wear No. 3 upon arriving at USC, as he wanted to change the culture of the offensive number — worn by wide receivers Curtis Conway and Keyshawn Johnson. Instead, he was asked to carry on the tradition of another.
"[Coach John Robinson] said, 'No, you're going to wear 55,' Claiborne told Kamanetzky. "And you know what? I'm so grateful to him. He did a lot for me by putting that number on me. If I would have worn 3 and did the same things, yeah, it would have been great. It would have been nice. But wearing 55, that makes it special."
Claiborne said upon his arrival he quickly realized what the number meant. Though he was too young to remember Seau from his USC days, Claiborne studied him in the NFL.
"You can't move forward unless you know where you came from, so I went back and looked at all his old stuff," Claiborne said. "And watching him play in the pros, he was so electric."
Claiborne had several chances to meet Seau, as the former Chargers linebacker hosted a golf tournament every year in Southern California. There were a few chances to speak with him, but Claiborne said he was most impressed simply by the feeling he had being there.
"More than anything you're just kind of in awe," Claiborne said. "Just saying, 'He's here, he's the guy.' It was a chance to soak up his aura."
It wasn't just those who wore the number who looked up to Seau. All-American linebacker Brian Cushing might have worn No. 10, but he understood what Seau meant to USC.
"I tapped Junior's picture every single day before heading out to practice at USC. R.I.P. to a legend," Cushing tweeted upon hearing Wednesday's news.
The news of Seau's death hit Club 55 especially hard.
"Words can't express," McGinest tweeted before a link to an article about Seau's passing.
"Wow just heard about Junior. I'm shocked. He will be missed and loved. Will always have a special connection. #club55," Rivers tweeted.
"It's a great loss for the number 55 and the Trojan Family," Claiborne said. "I'm hurting today."
May, 2, 2012
5/02/12
4:46
PM PT
Here's a sample of Twitter reactions from the Trojan football family about the death of Junior Seau:

Clay Matthews III @ClayMatthews52
Tragic news regarding the passing of Junior Seau. His passion for the
game was unparalleled. One of the great LB's of our time. #fighton

Pete Carroll @PeteCarroll
So saddened by the news of Junior Seau's passing. The hearts of the
Trojan family go out to his relatives and friends.

Matt Kalil @Mattkalil
R.I.P. Junior Seau you will be missed, all time Trojan great.

T.J. McDonald @tmacUSC7
RIP Junior Seau .. Idk him personally but it's really messin with me.
#Trojangreat #55

Scott Starr @ScottStarr47
Rest in Paradise Junior Seau. You are a huge reason why USC football
is what it is today.

Allen Bradford @AllenBradford21
R.I.P. Junior Seau a SC legend prayers go out to his family and
friends and loved ones #fighton #respectnlove

Matt Barkley @MattBarkley
#RIPJuniorSeau You were one of the greatest Trojans of all time!

Nelson Agholor @NelsonAgh3
I am a Trojan, and today is a sad day for our family, one of the men
of Troy has fallen. #rip to JR. S
May, 2, 2012
5/02/12
3:34
PM PT
There's an old saying that you can't go home again, but for Junior Seau, a true San Diego legend, that cliché just didn't seem to apply.

His exploits at Oceanside High School in the north county section of San Diego were legendary. Not only did he lead his Pirates team to the 1986 section title in football as a Parade All-American linebacker, but he was also named the area player of the year in basketball and was a talented shot putter.

When it came time to attend college, he didn't go far when he chose to attend the University of Southern California. There was a brief obstacle to his career when he was forced to sit out his freshman season at USC after not qualifying academically, and he apologized to his Oceanside teachers, family and friends for that shortcoming.
May, 2, 2012
5/02/12
12:42
PM PT
The USC community was rocked this morning with the news that former Trojans linebacker Junior Seau was found dead at his San Diego area home.

There haven't been too many players more associated with dominant football at USC in the past 25 years than Seau, a fierce and aggressive defensive player who helped popularize the No. 55 as a revered jersey number for standout Trojans linebackers.

Seau played at USC from 1988-89 on a pair of highly successful teams. He had 19 sacks in his college career and was named to multiple All-American teams before becoming a first-round draft pick of his hometown San Diego Chargers in 1990.

During an illustrious NFL career he was named to 12 Pro Bowl teams, the NFL All-Decade team for the 1990's and the Chargers Hall of Fame. He was also inducted into the USC athletics Hall of Fame and recently made an appearance at the USC spring game as part of a group of legendary Trojans players.
PAC-12 SCOREBOARD
Thursday, 9/3
Friday, 9/4
Saturday, 9/5