December, 23, 2013
12/23/13
3:00
PM PT
With the news that junior safety
Dion Bailey
will make himself
available for the NFL draft
, that is one piece of the Trojans' defensive puzzle that is known for next year.
[+] Enlarge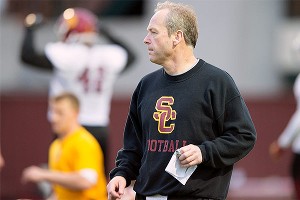 Joe Andras/WeAreSC.comUSC defensive coordinator Clancy Pendergast did wonders with the Trojans in 2013.
In the coming weeks, the Trojans will find out if other draft-eligible defensive stalwarts such as defensive end
George Uko
, linebacker
Hayes Pullard
and cornerback
Josh Shaw
will stay in school or choose to follow Bailey to the next level.
Those decisions will obviously have a huge impact on the fortunes of the 2014 USC defense as all of those players had prominent roles in the success this season. But there is another important cog in the defensive machine that is also unclear in terms of being back: defensive coordinator Clancy Pendergast.
New USC coach Steve Sarkisian has filled six spots on his staff -- including the news over the weekend that Trojans offensive coordinator Clay Helton would be retained -- but there has been no confirmed news as far as his plans for the defensive coordinator spot.
There is a lot of speculation that Justin Wilcox -- who served for the past two seasons as defensive coordinator for Sarkisian at Washington – would be coming down to join the staff at USC. The Huskies play in the Fight Hunger Bowl on December 27 so any update on Wilcox will likely come after that game.
Wilcox has certainly developed a reputation as an up-and-coming coach who bolstered the Huskies' defense and received consideration for the Boise State head coaching job after Chris Petersen left the Broncos to replace Sarkisian at Washington.
A quick check of Pendergast's one-season body of work, however, has many USC fans wondering why Pendergast wouldn't be a natural option to keep on the staff as well.
Pendergast took over a USC defense that gave up 394 yards per game in 2012, the second highest total in school history, and over 24 points per game, the fourth highest mark. In 2013 under Pendergast, the Trojans led the conference in passing defense and red zone defense and were No. 2 in total defense, run defense and scoring defense.
That improvement was seen with many of the same players that were on the team in 2012, except for a few key losses in current NFL players
T.J. McDonald
and
Nickell Robey
. There was a change in scheme, from the 4-3 to the 5-2. There were depth issues, coaching changes and double duty for Pendergast, who also served as secondary coach. And there was success against both ends of the offensive spectrum -- his defense held up against the physical power running attack of Stanford and against the highest-ranked passing game in the country with Fresno State.
There was improvement with many individual players.
Devon Kennard
had spent three years playing out of position and was coming off a missed season due to injury, but he ended up leading the team in sacks and was a Lott IMPACT Trophy finalist.
Leonard Williams
was named an ESPN All-American. Pendergast took a safety in Shaw and made him a valuable corner,
J.R. Tavai
moved from an interior D-lineman to a stand-up OLB and Bailey made the effortless switch from linebacker to safety.
Pendergast isn't flashy, but he's a relatively quiet coach on the field who holds his players accountable and gets obvious results. Players like Shaw have been quick to praise him for the work that was done this year. Oh, and if you want NFL swag, he's also got Super Bowl experience from a stint with the Arizona Cardinals.
There is a lot on Sarkisian's plate in terms of filling out his staff but one of his best options might just be to find a way to keep Pendergast around if at all possible.
November, 24, 2013
11/24/13
3:00
PM PT
The Trojans arrived home in Los Angeles on Sunday morning in a good position.
Coming off a satisfying
49-27 victory over Colorado
, USC extended its win streak to five games and an overall 6-1 record under interim coach Ed Orgeron. It might not have been enough to get the Trojans into the Pac-12 title game -- ASU clinched the berth from the south on Saturday night -- but that bit of news will do little to dampen the enthusiasm of the players and coaches.
[+] Enlarge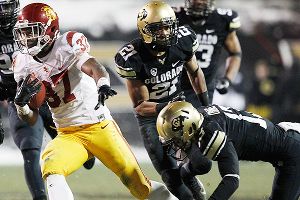 AP Photo/David ZalubowskiBuck Allen rushed for 145 yards and three touchdowns in the Trojans' win over Colorado.
There is too much else to celebrate about what this team has accomplished to worry about the title game. Yes, it would have been nice for the program, especially considering the Trojans have yet to play in the game as it enters its third year in existence. But to focus solely on the title game would be a disservice to everything else that has gone on with this program over the last seven weeks, a process that has seen the team continue to improve to the point where they are playing their best football of the year at a time when the Bruins come to the Coliseum.
Not only do the Trojans have a chance to put the finishing touches on an amazing in-season turnaround with a victory over UCLA, they also have a chance to right a painful memory from last year. In their first season under coach Jim Mora, the Bruins got the upper hand in 2012 with a 38-28 victory in the Rose Bowl, a win that was all the more notable considering USC had beaten UCLA 50-0 the previous year.
The Bruins have tried to use the momentum from last year to lay claim to ownership of Los Angeles, on the field and on the recruiting trail. The slow start to the USC season appeared to give credence to those efforts, all while UCLA got a big road win over Nebraska and had high-profile stars such as
Brett Hundley
and
Anthony Barr
.
Then came the coaching switch for USC and tides of change have swung local momentum back in favor of the Trojans. While USC has been thriving under Orgeron, the Bruins are 3-3 in their last six games. While the Bruins were once ranked in the top 10 and the Trojans were unranked, the two teams now stand right next to each other in the rankings at No. 22 (UCLA) and 23 (USC).
The USC players are certainly going to want revenge for last year. Trojans safety
Dion Bailey
said in the locker room following the Colorado game that he and his teammates needed to "remind the Bruins" of who runs the town. That bit of chatter about ownership rights of the city is always part of this rivalry so that's nothing new, but it doesn't figure to be the overriding storyline of this game.
The ongoing saga of Orgeron and his pursuit of the full-time USC job will dominate the discussions leading up to Saturday night, but what shouldn't get lost in the shuffle is the fact his team is playing well right now, as good as he could have hoped for in such an important matchup.
USC has a quarterback in
Cody Kessler
who has thrown five touchdowns and no interceptions in his last three games while growing into a clear leader of the offense. The running game has received a huge boost from the play of
Buck Allen
, with his nine rushing touchdowns in the last four games and the splash of explosiveness he adds on the ground. There is also the thought in opponents' minds now of a 260-pound fullback in
Soma Vainuku
who can move pretty well, too.
On the outside there is still the reality that
Marqise Lee
is bothered by injuries but
Nelson Agholor
has stepped up to help pick up some of the slack. Lee would love to be back on the field against UCLA to help make up for 2012 in what will likely be his final home game at the Coliseum. At tight end,
Xavier Grimble
showed on Saturday what can happen when the tight ends are healthy and utilized the right way as he led the team with six catches.
The development of the offensive line has to be considered one of the most pleasant surprises of the year. It's no accident when a team has four different running backs go for over 100 yards in a game, at some point the line is doing something right.
On defense, the USC front seven is starting to get recognition as one of the best units in college football.
Leonard Williams
is playing like an All-American and
Devon Kennard
isn't far behind. It makes it all the more impressive to think the Trojans are doing this lately without leading sacker
Morgan Breslin
, primarily due to the fine play of
J.R. Tavai
.
There has been the dependable leadership from
Hayes Pullard
while
Anthony Sarao
stepped in for an injured
Lamar Dawson
without missing a beat. And what was once the biggest weakness on the team, the secondary play and coverage at the corner spot, has been stabilized by the physical presence of
Josh Shaw
while Bailey has been a playmaker at safety.
On top of all that, kicker
Andre Heidari
battled through his job being put up for grabs to nail the biggest kick of his career in the win over Stanford.
Those are a lot of positives for the Trojans, players who are rising up and playing well, and by no means are these the only players getting it done. Orgeron has provided substance to the loose atmosphere he has fostered with the Trojans and now he and his team have a chance to finish this magnificent regular season run in style.
November, 5, 2013
11/05/13
2:00
PM PT
As the Trojans continue to battle injuries while they prepare for the final stretch of the 2013 season, here are 5 players who have stepped up when called upon due to injuries to other players at their position.
[+] Enlarge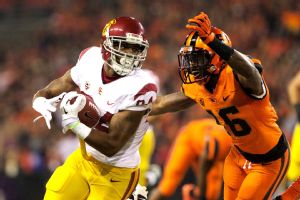 Jaime Valdez-USA TODAY SportsAfter missing a few games with injury, USC wideout Darreus Rogers has caught 12 passes in his last three games.
RB Buck Allen:
There is no bigger example of a player rising up and playing a key role than what Allen did last week in the win over Oregon State. There were flashes from Allen earlier in the season -- as well as his solid performance in fall camp -- but it was still a pleasant surprise for USC fans to see him get 16 carries for 133 yards and three touchdowns in such a critical game. With
Justin Davis
out for the season with ankle surgery and
Tre Madden
battling hamstring issues, the Trojans might be relying on a whole lot more from Buck in the coming weeks.
WR Darreus Rogers:
The freshman wide receiver had injury issues of his own early in the season but got healthy just as
Marqise Lee
and
Nelson Agholor
both were hurting as well. In a two-game stretch against Notre Dame and Utah, Rogers had 11 catches for 122 yards and was a reliable mid-range target.
TE's Nathan Guertler:
Through the first three years of his career, Guertler was a little-used walk-on offensive lineman who was known for his rugged style of play. In recent weeks, however, the Trojans have found themselves with serious depth issues at tight end so Guertler has thrown on a new jersey with a tight end number and played well against Oregon State as an extra blocker.
OLB J.R. Tavai:
After beginning this season as a backup to
Leonard Williams
at defensive end, Tavai was moved to outside linebacker when
Morgan Breslin
went down with a hip injury. Tavai responded with a pair of double-digit tackle games with his usual relentless motor and strength. It shouldn't be a surprise to see Tavai have such success considering he has played both inside and outside on the line in his USC career, but it is still a bonus for the Trojans to have a player who can move seamlessly between both spots.
DB Demetrius Wright:
The Trojans came into the season with great depth at safety but it has been tested with the move of
Josh Shaw
to corner, the redshirt season for
Gerald Bowman
and various injury issues for
Dion Bailey
and
Su'a Cravens
. Wright has stepped in as an experienced reserve and provided steady play along with some big hits. Interim coach Ed Orgeron has mentioned Wright multiple times as a key contributor in recent weeks.
June, 6, 2013
6/06/13
8:02
AM PT
By
WeAreSC staff
| ESPN Insider
Name two off-the-radar players -- one on offense and one on defense -- who could rise up and play larger-than-expected roles in 2013.
Garry Paskwietz
[+] Enlarge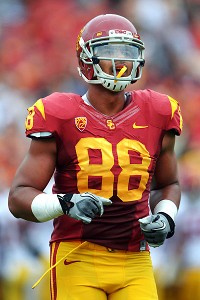 Kirby Lee/USA TODAY SportsDespite two tight ends ahead of him on the depth chart, this could be a breakout season for Jalen Cope-Fitzpatrick.
TE Jalen Cope-Fitzpatrick:
Sure, the Trojans already have a pretty good pair of co-starters in
Xavier Grimble
and
Randall Telfer
, who will likely get the bulk of action at tight end. But one thing we saw in spring is that Cope-Fitzpatrick is ready for a bigger role. He has real nice size at 6-foot-5, 245-pounds and showed good hands in extended action when both players ahead of him were slowed with injuries. That will be a key thing to watch in fall in terms of opportunity for Cope-Fitzpatrick. The tight end position is a physical one and there are bound to be times when Grimble or Telfer are banged up and he will get the call. Here's guessing he is ready to respond.
April, 3, 2013
4/03/13
7:13
AM PT
As the
USC Trojans
begin their fourth week of spring ball, it has become apparent that injuries are taking a toll, as 19 players sat out on Tuesday and two more left practice due to injury.
[+] Enlarge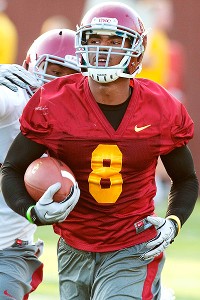 Joe Andras/WeAreSC.comGeorge Farmer is waiting for an MRI after being carted off the field on Tuesday with an apparent left leg injury.
Both wide receiver
George Farmer
and defensive back
Demetrius Wright
were forced to depart the Tuesday practice early due to injuries and there was no word on their status at the end of the day. Wright was walking and appeared to be fine, but there was concern about Farmer, who had to be carted off the field after suffering an apparent left leg/knee injury during a non-contact drill. Results of an MRI for Farmer are expected on Wednesday.
"It was a very physical practice," USC coach Lane Kiffin said. "I liked the defensive mentality at the end in the goal-line drill. It's been a very competitive spring. It reminds me of the spring when we first got here. We need that to establish a competitive mindset."
As Kiffin mentioned, the Trojans ended practice with a goal-line drill that got started with
Hayes Pullard
stuffing a run up the middle by Buck Allen. Justin Davis tried to slash into the end zone, but
J.R. Tavai
came across the line and knocked the ball out as he was bringing Davis to the ground, although
Randall Telfer
recovered for the offense. Davis did punch in a score at the end for the offense. There was also a little skirmish between a few offensive and defensive players after one play.
"It's always a tough line between physical play and getting penalties with the goal-line drill," Kiffin said.
Kiffin speaks with Enfield
Kiffin said he talked with new USC basketball coach Andy Enfield on Sunday night, prior to the announcement that Enfield had taken the job.
"I talked to him about the program and about working with Pat (Haden) and Max (Nikias)," Kiffin said. "I think it's a great hire. He brings an exciting style of play and kids will want to play in that style. He's also a guy who understands the academic side of being at a private school."
Brady on campus
New England Patriots quarterback Tom Brady worked out on the USC campus Tuesday, throwing passes to his new receiver, Danny Amendola. Kiffin said it is common for NFL quarterbacks to use the USC facilities in the offseason, mentioning Philip Rivers, Drew Brees and Matt Cassel as players who had thrown recently on the USC field.
Highlight plays
*
Anthony Brown
knocked away a pass at the sideline intended for
Nelson Agholor
. Brown has put together a very solid spring while consistently in the lineup as one of the starting corners.
* A few plays later, however, Brown went for a pick on a rope thrown over the middle by
Max Wittek
and missed, allowing De'Von Flournoy to go for a long gain. Flournoy also had a touchdown later in the drill when he caught a pass from Max Browne and split the safeties with his speed.
*
Victor Blackwell
caught a short pass and got loose from
Torin Harris
with a nice shake move.
*
Kevin Greene
had a sack on
Cody Kessler
.
*
Ryan Henderson
had a pick off Kessler, who was trying to get the ball to Blackwell.
*
George Uko
had a nice play to move along the line of scrimmage in pursuit of Davis and hold him to no gain.
* Davis provided yet another dazzling touchdown run, this one a 45-yarder behind a block from
Kevin Graf
.
* Allen had a 20-yard gain down the left sideline thanks to
Jahleel Pinner
, who got one block at the line and then hustled down field to get another block.
* Browne hooked up on a 25-yard pass to walk-on Robby Kolanz on the right sideline.
Notables in attendance
Nico Falah
,
Steven Mitchell
,
Adoree' Jackson
,
Dwight Williams
,
Chase Blakley
March, 29, 2013
3/29/13
8:31
AM PT
After a week away from action, the Trojans hit Brian Kennedy-Howard Jones Field on Tuesday as the spring slate of practices officially picked back up again. With a number of players coming off injuries trickling back into the rotation, not to mention some interesting position changes, there was plenty of movement up and down the lineup.
Quarterback
Max Wittek
(6-foot-4, 235 pounds, RS So.) OR
Cody Kessler
(6-1, 215, RS So.) OR
Max Browne
(6-5, 215, Fr.)
Wittek stepped back into the rotation on Tuesday after missing three practices due to a sprained MCL, and while he showed some rust, USC coach Lane Kiffin is optimistic he'll soon return to his old form, making this competition one to watch once again. Of the trio, Kessler continued to be the most consistent this week, with Browne showing promise at times.
To continue reading this article you must be an Insider
March, 29, 2013
3/29/13
7:25
AM PT
It was a spirited, full-pads practice session for the Trojans on Thursday and one that featured a nice performance from the offense. This was welcome news to USC coach Lane Kiffin, particularly after the defense had dominated a practice earlier in the week.
"The offense did a lot better today," Kiffin said. "It was good to see them bounce back that way after what happened on Tuesday. They came out today with a much better mindset."
[+] Enlarge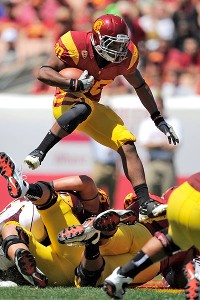 AP Photo/Mark J. TerrillBefore leaving practice with an undisclosed injury, D.J. Morgan was making a case to jump toward the front of USC's RB rotation.
The solid play was spread around through many players but one area that really stood out was the run game. With
Silas Redd
out for spring with injury and
Tre Madden
limited in contact, the tailback work has fallen to the trio of
D.J. Morgan
,
Buck Allen
and
Justin Davis
, and they responded on Thursday.
It was Davis who got things going with a pair of long touchdown runs in a team drill. The smooth freshman, who has provided multiple promising moments in his brief time at USC, took both runs to the left side and showed a combination of speed and moves to get to the end zone.
Morgan followed in the next drill with a 10-yard touchdown run, showing a quick burst through the line. A few plays later, Morgan took a handoff and went down in a pile after a short gain. When he came up, he was limping a little and did not return.
Allen took his turn as the lead runner at the end of the day when the Trojans were in goal-line situations. The chatter between the offense and defense had reached a crescendo as time was running out in practice and both sides were eager for victory. With the ball at the five-yard line, Allen was able to punch in two touchdowns, including the final play of the day to signal a win for the offense. Davis also had a short touchdown run in the goal-line drill.
"I thought D.J. Morgan was having a very good day before he went down," Kiffin said. "Justin Davis had a great day."
It was also a good day at the quarterback spot,
Max Wittek
looked much better than he did on Tuesday, while
Max Browne
had his best practice as a Trojan.
Wittek got things going early with a deep touchdown pass to
De'Von Flournoy
against solid coverage from
Ryan Henderson
.
In a red-zone drill, Browne hit
Nelson Agholor
as
Torin Harris
went for the ball and missed, so Agholor was able to go in for the 20-yard score. Browne also hit a pair of short touchdowns to
Jalen Cope-Fitzpatrick
. The highlight throw of the day for Browne came when he hit Farmer on a 55-yard completion. It was yet another sign of the accurate touch that Browne has shown on the deep ball so far, and of the fact that Farmer is continuing to make plays as well.
"George has stayed healthy and he's doing well," Kiffin said. "We need him to make the hard plays, to be physical, and he's doing that. It's been great to see."
O-line adjusting to coaching changes
One of the primary areas of emphasis for the Trojans this year will be to get more physical, and that starts with the line. To that end, Kiffin has put two coaches on the offensive line, adding Mike Summers and keeping James Cregg, who had been the line coach for the past three years, as his assistant. There was some curiosity as to how the arrangement would work but, through the first three weeks, Kiffin is pleased with what he sees.
"Mike Summers has done a really good job of coming in and capturing the group," Kiffin said. "It's worked out like we had hoped with the two of them in combination, that's why we put two coaches at such an important position."
Injury report
Xavier Grimble
will miss the remainder of spring with a chest fracture. There was no update on Morgan after practice.
Jordan Simmons
missed practice after getting sick earlier in the afternoon.
Defensive highlights
* Ryan Henderson had multiple solid tackles on the day coming up from his corner position. Two of them were on Agholor, including one at the end of the day when emotions were high and his big hit brought a huge roar from the defensive sideline.
*
Anthony Brown
also had a solid tackle for no gain from the corner spot.
*
Josh Shaw
read a screen pass from
Cody Kessler
to Agholor and he was able to bat the ball down.
*
J.R. Tavai
recorded a sack of Browne.
*
Leonard Williams
tracked Davis along the line of scrimmage for no gain.
Notables in attendance
Naijiel Hale
,
David Sills
,
Steven Mitchell
,
Nico Falah
and several members of the Chaminade Eagles program.
Quotebook
"It was a slow adjustment at first for me because things are so different at this level. There were little things I could get away with in high school, some bad habits, but you need to pay attention to those techniques here. I'm getting those little things down right now. The good thing is that I get a first chance to learn everything now in spring and then I will get another camp in the fall. That will really help me learn the playbook. I'm not sure about redshirting, I'll just work hard every day and see what happens." -- Justin Davis
March, 20, 2013
3/20/13
8:30
AM PT
The Trojans are navigating through their share of injuries this spring. But at this time of year, as long as the injuries are not serious, they can offer a mixed blessing of sorts.
When one player is forced to sit on the sideline, it gives another player the chance for extended reps with the hope of showing the coaches he is ready for a bigger role. For the injured player, there is still plenty of time to return either in spring or in fall camp before the season begins. As quarterback
Max Wittek
noted after a recent knee injury, "you never want this to happen, but if it's going to happen, better to have it happen now."
[+] Enlarge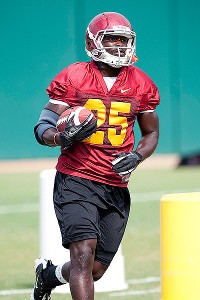 AP Photo/Grant HindsleySilas Redd's knee injury opens the door for other USC tailbacks to impress this spring.
Wittek is perhaps the most notable USC injury right now, primarily because he is engaged in a battle for the starting quarterback spot. Wittek suffered the knee sprain on March 9 prior to a scrimmage at the Coliseum and has been out ever since. He is expected to return when the Trojans practice on March 26.
Cody Kessler
has played well with Wittek out and any small gains by either player can end up meaning a lot in a competition that is so close.
On the same day that Wittek got hurt,
Marqise Lee
also went down with a "minor" knee injury and has been held out as well. There isn't as much of an impact here as Lee certainly isn't in any competition for his starting job. If anything, his absence gave the other receivers a chance to step up and the overall group is doing well from top to bottom. Right now,
Nelson Agholor
appears to be the clear leader for the starting spot opposite Lee.
A recent loss came with the news that
Silas Redd
would undergo surgery this week for a torn meniscus. Redd is the established senior starter at tailback, but he has only been on the USC campus for eight months, so any time spent on the field was beneficial. Instead, Redd will be out until fall camp and the Trojans are further limited at tailback with
Tre Madden
still not cleared for full contact due to his knee rehab. That means the remaining spring practices will be huge for guys like
D.J. Morgan
,
Buck Allen
and maybe even
Justin Davis
, although it remains to be seen how much a recent broken finger will hamper him.
The offensive line had been fairly healthy until the news that
Chad Wheeler
will miss the rest of spring with a knee injury. Wheeler had added bulk and was progressing nicely as the No. 2 left tackle.
On the defensive side of the ball, injuries are really impacting the interior depth on the line and the safety positions.
There are three linemen who have missed all of spring:
J.R. Tavai
,
Greg Townsend
and
Cody Temple
. All three figure to provide important depth at the three interior spots of the 5-2 defense, so it's vital to get them back on the field. Right now, the Trojans have
Kenny Bigelow
as a legit reserve at nose tackle, but the other spots are being manned by players out of position such as
Charles Burks
.
Scott Starr
is also out of action until fall, and he is expected to be a key reserve behind
Morgan Breslin
.
[+] Enlarge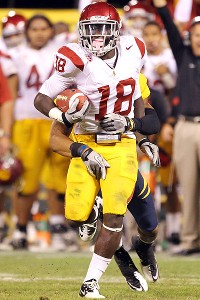 Ezra Shaw/Getty ImagesAs Dion Bailey recovers from shoulder surgery, the question of whether he'll play safety or linebacker in 2013 remains unanswered.
In the secondary, the Trojans have a lot of talent but not much is going to be settled until the coaches figure out where to put
Dion Bailey
. Most speculation centers around Bailey ending up at safety rather than linebacker, but he won't be available for spring after recent shoulder surgery. So
Josh Shaw
,
Demetrius Wright
and
Su'a Cravens
are auditioning for starting spots.
Gerald Bowman
could also be in that mix, but he is also out this spring. This means it's likely the safety rotation won't be determined until well into fall camp.
At corner, the top player through the early part of spring was
Kevon Seymour
, but he has missed the last couple of days with an ankle injury.
Devian Shelton
is also out with a foot injury. That means extended reps for
Torin Harris
,
Anthony Brown
and
Ryan Henderson
, as well as the freshman
Chris Hawkins
.
USC coach Lane Kiffin said after Saturday's scrimmage that the time off for spring break this week was coming at a good time for a team looking to get a few bodies back. The Trojans return to the practice field next Tuesday and having some of those injured players on the field will go a long way toward helping to determine starting spots.
Kiffin also acknowledged that the extra hitting in practices so far this spring -- done to achieve his goal of returning to a more physical style of play -- has played a part in having so many injuries. He said the team will continue to practice with full hitting for the rest of spring but gave no word on if there will be any changes in philosophy beyond that point.
January, 4, 2013
1/04/13
8:02
AM PT
With the 2012 USC football season now in the books, it's time to look ahead to what will be an absolutely crucial spring for the program. Here are five key position battles to watch this spring as USC coach Lane Kiffin looks to find the right combination of talent to get the Trojans back on the winning track.
[+] Enlarge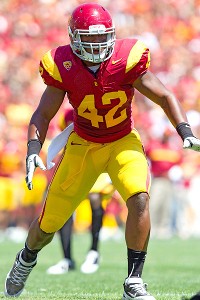 Jeff Lewis/Icon SMIAfter a year lost to injury, Devon Kennard hopes to reclaim his spot on the defensive line opposite Morgan Breslin.
Defensive End
The emergence of defensive end
Morgan Breslin
was the big story on defense for the Trojans in 2012, but with Wes Horton's departure, the other side is wide open with a long list of suitors looking to make their presence felt.
Devon Kennard
-- who has 18 starts under his belt as a linebacker and end -- had a fantastic spring a year ago, but then he tore a chest muscle during offseason workouts and missed the entire season. Now healthy, this is the last chance for the senior to live up to all of the lofty expectations that followed him when he arrived at USC as a freshman in 2009. Challenging Kennard will be
J.R. Tavai
, an extremely athletic and versatile option who can play end or tackle, as well as
Greg Townsend Jr.
, whose larger frame might pair up nicely with Breslin.
Kevin Greene
and
Jabari Ruffin
could also get looks here.
To continue reading this article you must be an Insider
PAC-12 SCOREBOARD
Thursday, 9/3
Friday, 9/4
Saturday, 9/5