USC Trojans:

Jesse Scroggins
August, 27, 2013
Aug 27
4:00
PM PT
It all seemed so simple before Week 1 of last year. Six quarterback competitions, six resolutions before the first game of the year.
Taylor Kelly
had won the gig at ASU.
Jordan Webb
set foot on campus and was almost instantly Colorado's starter.
Marcus Mariota
outdistanced
Bryan Bennett
. Josh Nunes was Andrew Luck's successor.
Brett Hundley
was an exciting unknown, and Jeff Tuel was the guy to lead WSU's Air Raid.
Of course, simplicity doesn't always last. Be it injury or performance, Webb and Nunes weren't the starters at the end of the season and Tuel went back-and-forth with
Connor Halliday
. Mariota, Kelly and Hundley, however, went on to be three of the four most efficient quarterbacks in the league.
[+] Enlarge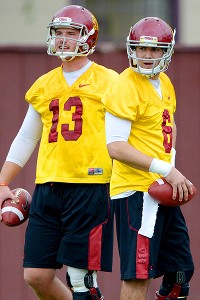 Kirby Lee/USA TODAY SportsMax Wittek (13) and Cody Kessler (6) will both see time at QB for the Trojans.
The moral of the story: Don't fear the unknown. But don't be too comfortable with it, either.
Which leads us to this year's crop of quarterback competitions. It's not as cut-and-dried as it was a year ago. At least two of them are ongoing and will probably stretch into the first weeks of the season.
The No. 24 Trojans open against Hawaii with
Cody Kessler
and
Max Wittek
still in the hunt for the right to replace Matt Barkley. Coach Lane Kiffin, however, said he has zero concerns that the competition hasn't been resolved.
"I see it as completely opposite," Kiffin said during Tuesday's Pac-12 conference call. "I think they have both performed so well. We feel great about both of them running our offense. I see it as a positive. I think they've really worked on their weaknesses … that way we don't have to call the game any different based on who is in. We can do all of our stuff."
Arizona coach Rich Rodriguez hasn't picked his guy yet, either. Though he did say he has seen some recent progress from
B.J. Denker
,
Javelle Allen
and
Jesse Scroggins
. A week ago, it was thought that as many as four or five guys could still be in the mix.
"I'd be more concerned if none of them made progress," Rodriguez said. "In the last week and a half, they have all made some pretty good progress. B.J. Denker and Javelle Allen, the guys that have been in the program, have made pretty good progress. And Jesse Scroggins has gotten better as well. I feel good about that. There's no question there is always more concern when you don't have experience there. B.J. has been in the system for a year and Javelle has been in the system for a year. We feel pretty confident they can run the whole entire offense and with Jesse it's just a matter of time."
And time is on Arizona's side. The Wildcats don't exactly have a pressing first month of the season. They host Northern Arizona this weekend, followed by a trip to UNLV before hosting UTSA on Sept. 14. Then it's a bye week before opening league play at Washington.
One report
last week had Oregon State playing the quarterback shuffle heading into Week 1. But Mike Riley put that to rest yesterday when he named
Sean Mannion
his starter.
"I had told some stories in the past of experience with two quarterbacks playing, but never intended to start a rotation situation here at all," Riley said. "We intended to name a starter and then have kind of left it up in the air … Sean is the starter and we'll go into the game like that."
Connor Wood
won the job at Colorado -- ending a QB competition that started with six but dwindled after injuries and transfers.
"He's big, he's athletic, he's got a strong arm, and he's a talented athlete," said coach Mike MacIntyre, who noted he was also very pleased with the progress of freshman
Sefo Liufau
. "He really started capturing the essence of our offense and understanding where to go with the ball and where to go with our run game. He kept improving."
Cal coach Sonny Dykes took a different approach, naming
Jared Goff
his starter as soon as he could.
"Anytime you have a starting quarterback, I think everyone is more comfortable," Dykes said. "The quarterback is more comfortable. The skill-position players can start to get on the same page. You develop a relationship with the center and quarterback and their ability to communicate with each other and the sense of timing that needs to exist there. I think what it does is settle everybody down."
February, 22, 2013
Feb 22
8:03
AM PT
Here are some keys and storylines to watch this spring in the South Division. Yesterday Ted looked at
the North Division.
ARIZONA WILDCATS

Start date:
March 3
Spring game:
April 13
What to watch:
New battery: The Wildcats are looking to replace a top-notch quarterback-center combo in Matt Scott and Kyle Quinn. The rock-solid duo helped produce one of the top offenses in the league. Jesse Scroggins and B.J. Denker are among those in the mix to run the offense and several returning offensive linemen are versatile enough to move around. Chris Putton and redshirt freshman Beau Boyster could be in the mix at center.
Many happy return(er)s: Arizona returns a big chunk of its offensive production -- including running back Ka'Deem Carey and receiver Austin Hill. Both should be on all sorts of preseason teams and awards watch lists. But behind the big names, there's also David Richards, Johnny Jackson, Tyler Slavin and Garic Wharton back in the mix.
No learning curve: Last spring, the talk was about Rich Rodriguez calling out his team for its lack of physical conditioning. The fact that the majority of the team understands what is expected -- and they don't need to spend the whole spring learning new systems, should be a huge help. Consider that the Wildcats return their entire defense from a group that was, at times, shaky, but will certainly benefit from another full season of playing in the 3-3-5 scheme.
ARIZONA STATE SUN DEVILS

Start date
: March 19
Spring game:
April 13
What to watch:
Plugging the middle: One of the few losses to ASU's roster is middle linebacker Brandon Magee -- a leader on and off the field and an all-around heck of a player. Carlos Mendoza looks to be a good fit -- though he's likely to miss spring while continuing to recover from a shoulder injury suffered against Illinois. Folks might remember his two interceptions before going down for the year.
Catching on: Unlike last spring, the Sun Devils have their quarterback. And he's a good one. Now, they need to find folks he can throw to. JC transfers De'Marieya Nelson (H-back, 6-3, 230) and Jaelen Strong (WR, 6-4, 205) are both big bodies who could step in and contribute immediately.
Wait and see: The kicker here is a lot of these players who are expected to compete won't arrive until the fall. So in the meantime, a lot of the younger players and redshirts will get a ton of reps in the system. And speaking of kicker, don't underestimate how much of an impact Josh Hubner made at punter. Iowan Matt Haack, who arrives in the fall, is a rugby-style kicker who can kick with either foot. That's just cool.
COLORADO BUFFALOES

Start date:
March 7
Spring game
: April 13
What to watch:
Meet your QB: Whomever it will be. There are five on the roster and a sixth coming in. Safe to say, quarterback play was extremely inconsistent last season for the Buffs. With an entirely new coaching staff coming in and installing the pistol, this could be one of the more interesting and wide-open position battles in the league.
Curious defense: One needs only to review Colorado's national rankings last year to realize they struggled. As one Buffs insider mentioned to me, they were ranked No. 1 in a lot of categories. Unfortunately, that "1" was followed by two more numbers. Only three defensive ends have playing experience. However a secondary that lacked experience in 2012 has a lot more looking into 2013.
Receiver options: The Buffs welcome back Paul Richardson, who missed all of last season with a knee injury. Colorado's premier offensive playmaker will be a nice veteran presence to whomever wins the quarterback job. Grayshirt Jeff Thomas also is back. An improved passing attack should help give the quarterback some confidence and open up the running game.
UCLA BRUINS

Start date:
April 2
Spring game
: April 27
What to watch:
Life after Franklin: The Bruins say goodbye to the best statistical back in school history -- leaving a huge void in the backfield. Johnathan Franklin was a great presence for young quarterback Brett Hundley, but now someone has to step up to fill that role, either solo or along with a committee. Look for Jordon James, Steven Manfro and Damien Thigpen to all get looks.
New No. 1: The Y-receiver, aka hybrid tight end, was filled wonderfully by Joseph Fauria -- Hundley's favorite red zone target. Darius Bell and Ian Taubler both had looks last year, but Fauria too will be tough to replace. Shaq Evans, Devin Fuller, Jordan Payton and Devin Lucien round out a pretty good receiving corps.
Secondary solutions: The Bruins must replace two corners and a safety -- Sheldon Price, Aaron Hester, Andrew Abbott -- and there isn't a ton of starting experience. Randall Goforth has five starts, but veterans such as Brandon Sermons and Anthony Jefferson have more special-teams experience than actual secondary play. Keep an eye on the secondary too when the Bruins start fall camp to see if any freshmen jump into the mix immediately.
USC TROJANS

Start date
: TBD
Spring game
: April 13
New defensive scheme: The Trojans will move to a 5-2 defensive scheme under Clancy Pendergast, and the spring drills will be the first opportunity to see the defense in action. The Trojans will have an experienced front seven, but four new starters are expected in the secondary.
Replacing Barkley: Max Wittek got the first extended audition in the battle to take over for Matt Barkley, but he didn't do enough in two late-season starts to claim the job. Cody Kessler and freshman spring enrollee Max Browne also will be looking to take the reins at one of the glamour positions in college football.
Lane Kiffin on the hot seat: The Trojans are coming off a disappointing season, and the fans are howling in protest, but so far his boss Pat Haden has maintained full support for his coach. Now is the time for Kiffin to show why that support is warranted. -- Garry Paskwietz, WeAreSC
UTAH UTES

Start date
: March 19
Spring game:
April 20
What to watch:
Erickson impact: The biggest question was what sort of role Dennis Erickson would play in the offense once he arrived. We'll know sooner than later. He already has talked about putting an identity on the Utah offense. That starts in spring when routines are established and expectations are set. And with Erickson on board to give the offense a push, the expectations will be much higher.
Wilson maturing: That leads us to the presumptive starting quarterback -- Travis Wilson -- who jumped in midseason after Jordan Wynn got hurt and Jon Hays struggled to produce. Wilson went from OK to pretty good in just a few weeks. A nice jump considering his experience level. With an entire offseason knowing he'll be the starter -- and with Erickson and Brian Johnson molding him -- it will be interesting to see what progress he makes this spring.
D-line makeover: The Utes lose some talent on the defensive line -- specifically All-American defensive tackle Star Lotulelei. Look for DE/LB Trevor Reilly to spend more time with his hand down. Tenny Palepoi, LT Tuipulotu and JC transfer Sese Ianu could all see time in the mix at defensive tackle.
June, 4, 2012
6/04/12
1:08
PM PT
Sophomore quarterback
Jesse Scroggins
will be leaving the USC football program and intends to transfer to another school.
This news does not come as a complete surprise to Trojans fans. Scroggins was having academic issues and was forced to miss time this spring while also recuperating from injury. USC coach Lane Kiffin had made it clear throughout spring that Scroggins had work to do in order to remain with the team and Scroggins also lost valuable practice time to fellow quarterbacks
Max Wittek
and
Cody Kessler
, who received the majority of the workload.
When he committed to USC out of Lakewood (Calif.) High School in 2010, Scroggins had hoped to be the heir apparent to
Matt Barkley
. Scroggins was the No. 2 quarterback in the ESPN 150 that year and played in the Under Armour All-America Game. He chose USC over offers from Florida, LSU, Tennessee (where he was offered by Kiffin) and Nebraska. Scroggins was known for having a strong arm with loads of potential, but he was also considered a raw quarterback. Because of that, his ceiling was thought to be high with a lot of opportunity for development.
Scroggins redshirted in his first year at USC and then suffered a thumb injury in fall camp before the 2011 season. It was a tough blow for Scroggins because he had been performing well and looked to be the No. 2 quarterback heading into the season. With Scroggins out of action for the first six games, Kessler was named the backup quarterback. By the time Scroggins returned to action, there wasn't much of an opportunity to make an impact. He took the final snap of the game against Washington, which was the extent of his USC playing career.
The missed opportunity to compete this spring is what ultimately damaged Scroggins. There was still a chance for him to stay in the competition with Wittek and Kessler, but his absence just put those two farther ahead. The academic troubles served as a double whammy, because head coaches have to trust that their quarterbacks are taking care of business.
It was going to be an uphill battle for Scroggins to completely get back in good graces and earn a legitimate shot at the starting job in 2013. Perhaps the academic hurdles were too much. Regardless, he has chosen to take his chances elsewhere. Wherever he lands, somebody is going to get a good quarterback. Scroggins has some real talent and it's hard to find too many guys with an arm as strong as his.
As far as the Trojans are concerned, the quarterback spot is still in good shape for the future. In addition to Wittek and Kessler, USC will welcome
Max Browne
, the No. 2 pocket passer in the ESPN position rankings, next spring. It remains to be seen whether the Trojans will pursue another quarterback in this class now that Scroggins is gone.
April, 23, 2012
4/23/12
11:22
AM PT
LOS ANGELES -- There are still unanswered questions for several reserve skill players on offense who were limited or unavailable in spring ball due to injuries.
George Farmer
couldn't have asked for a better start to spring with the way he looked on the first day. It was only one day, but it was a clear look at the potential he brings to the wide receiver group. Then he got hurt on the second day and didn't return until some brief action at the end.
Lane Kiffin has been clear about stating how good Farmer can be but has also expressed frustration at the injuries that have continued to slow his progression during his first year at USC.
To continue reading this article you must be an Insider
LOS ANGELES -- In watching
Tony Burnett
over the past several years, one thing has become clear. The guy knows how to jump around.
Burnett originally attended USC on a track scholarship, where he took part in the long jump and triple jump, winning the Trojan Tri-Meet and Trojan Invitational in the latter last season. Eventually, Burnett found his way over to the football team and began his career as a safety before moving to cornerback last season. Tuesday saw Burnett make yet another leap up one level, as he ran with the first unit at strongside linebacker.
"I'm a pretty quick learner and I'm having to learn things fast," Burnett said. "They threw me into the fire. It was pretty good for my first day ever playing the position."
To continue reading this article you must be an Insider
March, 28, 2012
3/28/12
8:00
AM PT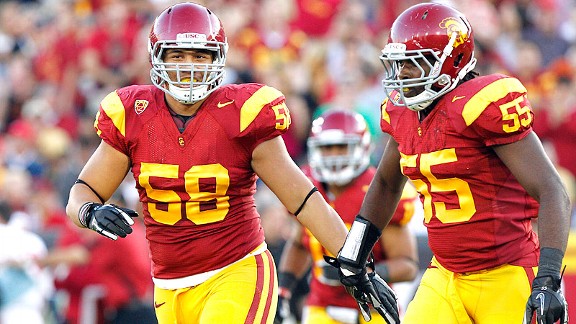 Ric Tapia/Icon SMISophomore J.R. Tavai has been solid this spring and seems to have locked down the starting nose tackle position.
LOS ANGELES -- As the Trojans reach the midway point of spring practice drills we take a look at the progress of some of the most competitive position battles:
1) No. 2 quarterback -- There really isn't anything separating
Max Wittek
and
Cody Kessler
right now. Both look fairly comfortable working with the offense and they've been getting plenty of quality reps as Lane Kiffin limits the work for
Matt Barkley
.
Jesse Scroggins
has not taken part in practices yet so he's fallen behind the other two, but he is expected back soon. Kiffin has said there is no timetable to name a No. 2 guy.
To continue reading this article you must be an Insider
March, 22, 2012
3/22/12
8:50
PM PT
While much of the talk after the past two practices has focused on
Tre Madden
's move to tailback, just as much could be said about one of the guys primarily responsible for shutting him down. After being demoted to the second team for Tuesday's practice after a subpar effort last weekend,
George Uko
has responded in a big way, drawing praise from head coach Lane Kiffin for his outstanding play.
"He has really responded," Kiffin said of Uko and the wrist slap he received. "He had a dominant practice on Tuesday and he is doing a great job."
The Trojans graduated both interior defensive linemen from last year's team and it's no secret that much of the responsibility inside will fall on Uko's shoulders as the starting defensive tackle. That's something that is just fine with the 6-foot-3, 285-pound redshirt sophomore.
To continue reading this article you must be an Insider
March, 20, 2012
3/20/12
9:55
PM PT
Not many college football teams can raid the linebacker meeting room for tailback help, but
Tre Madden
proved Tuesday that the
USC Trojans
have that versatility in stock. After standing out at outside linebacker during the first full pads practice of spring, Madden donned a cardinal jersey on Tuesday, making the move to tailback.
"Having a week to sit around and think about what our team needs, this is a time to try it," said head coach Lane Kiffin.
Kiffin acknowledged that the experiment could end shortly and Madden would be on his way back to strongside linebacker, but he also gave several reasons supporting a possible permanent move.
To continue reading this article you must be an Insider
March, 13, 2012
3/13/12
12:33
PM PT
LOS ANGELES -- Because of the long layoff after USC's final regular season game against UCLA, head coach Lane Kiffin wanted to begin spring practice early in order to get his players back on the field as quickly as possible. The early start also allowed for spring break to land immediately following the first week of practice. This week off likely comes at a good time for all players looking to clear their heads after the first full-pads practice and come back refreshed for the next four weeks. But for some players, the break comes at a perfect time to hopefully bounce back from a slow start or nagging injury.
Kiffin chalked up some of the injuries to skill players as the result of extra reps due to limited numbers, but missed time is missed time, and the longer they are out, the better their chances of falling behind.
1. Quarterback
Jesse Scroggins
-- It's already a heated battle for the backup quarterback spot, and rolling up and down the field as punishment for missing a team function isn't the best way to move forward in that race. Scroggins hasn't gone through a full practice yet, as he sat out the first one due to a hip injury, then the next two for disciplinary reasons. He has all the tools to throw himself in the mix to become the next quarterback at USC, and a week off to get things right mentally and physically could be huge for his progress.
To continue reading this article you must be an Insider
March, 11, 2012
3/11/12
2:08
PM PT
Here are five things that have stood out from the opening week of USC spring ball practice:
• Reserve wide receivers -- It's already well-established that the Trojans have the best starting duo of wide receivers in the country, but the first week of spring has confirmed that the trio battling behind them is pretty good too.
George Farmer
was the MVP of day one and came out strong. He looked good on the second day too before a hamstring injury sidelined him for the next week or so.
Victor Blackwell
hasn't been quite as flashy but has some speed and big-play ability of his own. De'Von Flournoy -- a fourth-year junior -- looks like an experienced player in the system with crisp routes and fundamentals. This is his window to prove to the coaches that he is ready to be counted on before the talented freshmen arrive in the fall.
To continue reading this article you must be an Insider
March, 6, 2012
3/06/12
7:59
PM PT
* Lane Kiffin called wide receiver
George Farmer
the MVP of day 1 of spring ball. It certainly came as no surprise to those watching. Early on in the day, I wrote next to Farmer's name in my notes: "Locked in." Kiffin said Farmer was playing with confidence and it showed. He made several nice catches, including one on a deep ball down the sideline where he went high over
Isiah Wiley
and came down with the ball while falling to the ground.
* Injury report:
Kevin Greene
(ankle), Josh Shaw (back),
Nathan Guertler
(hamstring),
Jesse Scroggins
(hip),
Robert Woods
(ankle),
Torin Harris
,
Christian Heyward
,
Kyle Negrete
,
Christian Thomas
, Chad Wheeler and DeVante Wilson. Greene and Woods took part in some of Tuesday's practice. Kiffin said Harris, Heyward, Negrete, Thomas, Wheeler and Wilson would all likely be out for all of spring. During practice, tight ends
Xavier Grimble
and
Junior Pomee
were injured and did not return to action.
* Not really any surprises with the starting lineups. Defensively, it was
Wes Horton
,
George Uko
,
J.R. Tavai
and
Devon Kennard
up front,
Dion Bailey
,
Lamar Dawson
and
Hayes Pullard
at linebacker, and
Nickell Robey
,
T.J. McDonald
,
Jawanza Starling
and Wiley in the secondary. Offensively, the line read
Kevin Graf
,
Marcus Martin
,
Khaled Holmes
,
John Martinez
and
Aundrey Walker
from left to right.
Cyrus Hobbi
took a few reps at left guard with the first team, and moved there for good when Martin left early for class.
Matt Barkley
started at quarterback.
To continue reading this article you must be an Insider
February, 6, 2012
2/06/12
1:08
PM PT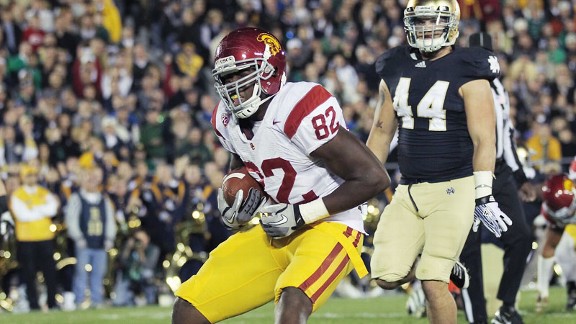 onathan Daniel/Getty ImagesWith Randall Telfer (pictured) and Xavier Grimble leading the way, USC is stacked at tight end.
Nothing is set in stone and your job is always on the line when you step on to the practice field, but here is my projected two-deep heading into next season.
QB
Matt Barkley
(Sr./Sr.) -- Projected No. 1 NFL draft pick.
To continue reading this article you must be an Insider
January, 30, 2012
1/30/12
9:47
AM PT
1. Offensive Tackle -- USC is extremely thin at the tackle position. The only true pro style tackle the Trojans have is
Kevin Graf
. While
Aundrey Walker
will anchor the right tackle spot, I wouldn't be surprised if by his junior or senior season he isn't moved down to guard like Deuce Lutui was in 2005. However, the only way this can happen is if the Trojans can lock up at least one more top tackle in this year's recruiting class.
2. Defensive tackle -- With the losses of
Christian Tupou
and
DaJohn Harris
, the Trojans arevthin and inexperienced at defensive tackle. On paper, the most likely replacements for the two seniors will be redshirt freshman
George Uko
and either one of the two true freshmen,
J.R. Tavai
or
Antwaun Woods
. Although Uko and Woods should hold their own against the run, the Trojans need a true pass rusher who can get to the quarterback and create pressure up the middle.
3. Safety -- The safeties will be a strength for the Trojans this season.
T.J. McDonald
and
Jawanza Starling
will both be seniors and should pick up right were they left off last season. However, the depth at the position is shallow when looking towards the future. The Trojans did pick up a couple of transfers, but with the bulk of backfield being seniors, USC still needs more top talent at the position.
To continue reading this article you must be an Insider