USC Trojans:

Javorius Allen
May, 14, 2013
May 14
8:00
AM PT
USC coach Lane Kiffin has made it clear that he wants to instill an increased physical presence in the USC offense in 2013, and a key factor in doing that will be an emphasis on a power run game.
For longtime USC fans, this is music to their ears. The Trojans offense in recent years, while certainly capable of putting up points and yards in bunches, has seen a reduction in the reliance on the philosophy of "big man on big man football."
It was legendary USC player and coach Marv Goux who made that statement popular, reflecting the tough, blue collar image that defined USC football through the years. USC was known as "Tailback U" for a reason with a seemingly endless supply of quality tailbacks and a pipeline of offensive linemen that were destined for the NFL. It was a pretty good formula that served USC well for a long time.
In recent years, however, the balance of the USC offensive identity has shifted to feature the passing game more. Kiffin has a background as a quarterback who later coached wide receivers, so it's no secret that he likes to throw the ball around. But Kiffin has always maintained that he wants to have a balanced offense that starts with the run game. You only have to look back as far as LenDale White and Reggie Bush to see how well that can work.
In his first season as head coach of the Trojans, Kiffin did run the ball more than he threw it -- 477 rush attempts to 453 passes. The last two seasons have trended the other direction; 392 rush attempts in both 2011 and 2012 compared to 447 passes in 2011 and 461 in 2012.
[+] Enlarge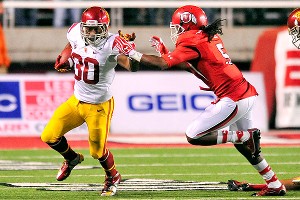 Boyd Ivey/Icon SMID.J. Morgan is in the mix for backup carries behind leading rusher Silas Redd.
A case can certainly be made for throwing a little more when you have Matt Barkley,
Robert Woods
and
Marqise Lee
. But as the Trojans look back at 2012, it's clear that a toughness mindset was missing when it came to running the football. It's not that the Trojans didn't run the ball well -- they averaged a solid 5.0 yards per attempt -- but they weren't able to control the ball on the ground when they needed to. That is the danger when you get away from running the ball -- you can't always go back to it when you really need it.
Running the football is a mentality as much as anything. It takes a commitment that starts with the play calling but ultimately rests with the players, which bodes well for the Trojans in 2013. The USC running back stable is deep and talented -- Kiffin calls it the best overall RB group he's had at USC -- and it appears ready to go if called upon.
The leader of the group will likely be
Silas Redd
, the senior transfer from Penn State who led the Trojans in rushing last season. If there is one thing Redd proved in 2012, it's that he's a tough runner. That should come as no surprise considering his background in the Big Ten, but his physical running style was also reminiscent of USC running backs from the past. Redd underwent surgery on a torn meniscus during spring ball but is expected to be back for fall camp.
Assuming Redd is the lead ballcarrier, the competition for the primary backup spot is wide open. Right now there would be three primary candidates;
Tre Madden
,
Justin Davis
and
D.J. Morgan
. Madden and Morgan have battled injuries in their USC careers but each possess the kind of skills which could allow them to break out. Madden brings a power game at 225 pounds while Morgan is the speediest of the backs. Davis opened a lot of eyes in spring ball as an early enrollee with a smooth and weaving style of running that was very effective.
There will be others in the mix, as
Javorius Allen
was much improved this spring and
Ty Isaac
will arrive this fall bringing a physical element with his 6-foot-3, 220-pound frame.
On top of that, the Trojans have a pair of fullbacks in
Soma Vainuku
and
Jahleel Pinner
who will be entering their sophomore seasons while the offensive line features a veteran starting lineup and a new coach in Mike Summers who preaches toughness in the run game.
The ability to run the football as part of the offensive identity will only be one part of the Trojans' offense in 2013, but it might be the most telling in terms of overall success.
May, 10, 2013
May 10
8:00
AM PT
By
Johnny Curren
| ESPN.com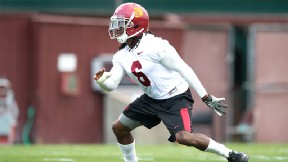 Joe Andras/WeAreSC.comWhere USC decides to play Josh Shaw could go a long way in determining the starters at cornerback and safety.
A look at nine positions marked by competition this offseason at USC.
Quarterback
Cody Kessler
,
Max Wittek
and
Max Browne
all had their moments this past spring, but after 15 workouts, USC head coach Lane Kiffin decided that this was a battle that simply needed more time. It was Kessler, right from the get-go, who made the biggest statement with his play, most notably in the scrimmages. Wittek suffered a MCL sprain that caused him to miss a week of workouts, but with tremendous physical skills, he showed enough when he was healthy to keep this competition too close to call. Showing flashes of the talent that made him such a prized commodity coming out of high school, Browne isn't out if it yet, either, and there's no telling how far he just might take his game in the coming weeks. And that goes for all three quarterbacks, because with almost three months remaining until the start of fall camp, how they develop this summer will play a key part in determining who will ultimately line up behind center in 2013.
Cornerback
With Nickell Robey declaring early for the NFL draft and
Josh Shaw
making the move back to safety, the Trojans entered spring ball needing to find two new starting cornerbacks. On the post-spring depth chart,
Anthony Brown
was listed first on one side, with
Torin Harris
and
Kevon Seymour
sharing the other. But with Kiffin openly expressing his disappointment with the performance of this unit, it's safe to say that both starting jobs remain open for the taking, with
Chris Hawkins
,
Devian Shelton
and
Ryan Henderson
also factoring into the conversation. Additionally, there's a very real possibility that Shaw will switch back over to cornerback, where he started seven games in 2012. He's still been lining up at safety during the offseason throwing sessions, though. Kiffin has also opened up the possibility of using star receivers
Marqise Lee
and
Nelson Agholor
here.
Safety
Taking the place of three-year starters T.J. McDonald and Jawanza Starling -- now in the NFL -- for the majority of the spring was Shaw at strong safety and
Demetrius Wright
at free safety. Two impressive veteran athletes, both ultimately wound up sharing the top spot at their respective positions on the post-spring depth chart with a couple of early entrant freshmen who made a lightning-quick transition to the college game in strong safety
Su'a Cravens
and free safety
Leon McQuay III
. Complicating matters further,
Dion Bailey
and
Gerald Bowman
are set to return later this summer from injury, and both figure to challenge for a starting role -- particularly Bailey, who will make the transition from linebacker to strong safety. With so much talent, the potential move of Shaw back over to cornerback certainly makes sense on a number of levels.
April, 17, 2013
Apr 17
8:00
AM PT
By
Johnny Curren
| ESPN.com
At every major college football program across the country spring ball represents a time not just for the established stars to refine their skills, but also for the lesser-knowns to take a step forward to show that they might be ready to contribute. That's precisely what happened at USC in March and April, as more than a few under-the-radar Trojans made a major impression. They weren't necessarily the players sitting at the top of the watch list heading into the spring, but here are six sleepers who made the most of the 15 workouts.
RB
Justin Davis
(6-foot-1, 215 pounds, Fr.)
It's not as if Davis, an early entrant who enrolled at USC just this past January, arrived on campus without plenty of accolades. But with veterans such as
Silas Redd
already entrenched at tailback, he didn't figure to make an overly significant immediate impact. Taking advantage of the increased opportunity that came with injuries to both Redd and
D.J. Morgan
, the Stockton (Calif.) Lincoln product was arguably the top tailback of the spring. Showcasing a fundamentally sound north-south running style with plenty of physicality, USC head coach Lane Kiffin has stated that the young freshman has the ability to start right off the bat this fall, and listed him along with Redd and Madden atop the post-spring depth chart Monday.
To continue reading this article you must be an Insider
April, 10, 2013
Apr 10
9:34
AM PT
By
Johnny Curren
| ESPN.com
There is no doubt about it -- the USC running back corps has had an extremely productive spring. Even after last season's leading rusher,
Silas Redd
, went down with a torn meniscus in his knee, others were quick to step up. Most notably,
Javorius "Buck" Allen
and freshman
Justin Davis
picked up the slack.
Still, if you ask running backs coach Tommie Robinson which player has made the most pronounced strides this spring, it's not one of those highly regarded tailbacks. It's a fullback --
Jahleel Pinner
.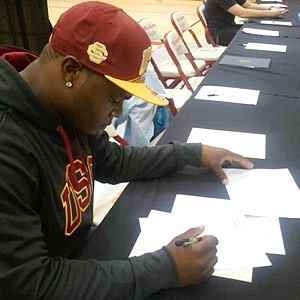 Courtesy Pinner FamilyUSC fullback Jahleel Pinner has come a long way since he signed with the Trojans last year.
"Of all of the running backs -- the whole group -- I'm more proud of what this guy is doing than all of the long runs and all of that stuff," Robinson said without hesitation. "Right now, he's the unsung hero of the group."
Coming off a freshman season that saw him garner significant playing time as the season wore on, Pinner has carried that momentum into this spring. With 2012 starter
Soma Vainuku
sidelined with a PCL injury since the team's second scrimmage, he's taken full advantage of the extended opportunity to make an impression.
"When Soma got hurt, I just realized that it's my turn to show the coaches what I can do," Pinner said. "I just got it in my mind that every play is a battle for me."
Standing 6-foot tall and weighing 238 pounds, Pinner has brought a perfect blend of physicality and athleticism to the fullback position this spring. More than anything, however, it's his work ethic that has caught everyone's attention. As one of only two healthy fullbacks on scholarship – along with recently converted linebacker
Simione Vehikite
-- the former Mission Viejo (Calif.) standout has been relied upon heavily, and he's answered the call time and time again.
"The kid ran 65 snaps today, and that doesn't include all of the other periods," Robinson said following Tuesday's practice. "Not one time did he say a word about getting tired. I've never practiced a kid to run that many snaps in a practice. He's very unselfish, he's doing an outstanding job and he never complains. He has a mentality where he just shuts up and goes to work."
With that unwavering drive and determination, it's no wonder Pinner has come so far in such a short period of time. In particular, it's his growth in terms of understanding his role within the playbook and in reading defenses that he attributes most to his rapid improvement.
"I've come a long ways in the mental part of my game," Pinner said. "I know a lot more about what the defense is going to do with their blitzes, and what they're going to do based on their alignments. It's definitely helped me on the field."
Still, Pinner isn't a finished piece of work just yet. And with coach Lane Kiffin stressing the importance of getting more offensive production out of the fullback position, Pinner is more focused on that aspect of his game than ever.
"They're putting me in the offense in little wrinkles here and there, so whatever they try to put me in, I'm going to go 100 percent," Pinner said. "As a football player, you always want to prove yourself. And especially as a fullback, we don't get as many chances as the tailbacks or receivers, so when I get the ball in my hands, I have to make the most of it."
With Pinner's mindset, not to mention his recent uptick in production, there's reason to believe he might be making a case for more playing time next season. But as Robinson points out, there is a whole offseason, as well as fall camp to get through before thinking about that. But if Pinner does continue to work hard and develop, there is no denying he might have a very bright future ahead of him.
"Am I gaining confidence that I can put him out on the field, knowing that I don't have to worry about him? Yes, I am," Robinson said. "Does he have work to do? Yes, he does. But he's getting there. This was his 13th practice, and we've got two more -- he has two more opportunities to get better before we head into the fall. He is growing up right before our eyes, and if he'll continue to make that kind of progress every day, this kid is going to be all right."
April, 10, 2013
Apr 10
6:29
AM PT
As the Trojans begin the final week of practices prior to the spring game it was shoulder pads and shorts practice on Tuesday. The team has been hit with injuries during the physical spring and, even though the load was lightened a little, USC coach Lane Kiffin was happy with the intensity.
"We really wanted to focus on keeping guys staying up today and that usually happens when we don't go full pads," Kiffin said. "I thought we were still able to have a physical practice."

Highlight plays
From deep in his own end, Cody Kessler stood in the pocket against strong pressure and fired late to Nelson Agholor for 12 yards and a first down.
Max Wittek had his chance with the ball near his goal line and he found Victor Blackwell with a quick strike, and Blackwell put on the jets to race for a long touchdown despite valiant pursuit from Leon McQuay III.
Jalen Cope-Fitzpatrick made a nice catch of a low-thrown ball across the middle from Wittek.
McQuay popped the ball loose from Cope-Fitzpatrick after a short catch.
Goal-line intensity
One of the most fiery drills of any practice is when the ball is placed inside the 5-yard line and the offense takes its shots at the end zone.
April, 5, 2013
Apr 5
8:05
AM PT
By
Johnny Curren
| ESPN.com
The Trojans are now in the final stretch of spring ball with just over a week of practice remaining on the schedule. As injuries continue to mount and position battles rage on, here's how a potential depth chart just might look if one were released today.
Quarterback
To continue reading this article you must be an Insider
April, 5, 2013
Apr 5
5:58
AM PT
By
Johnny Curren
| ESPN.com
LOS ANGELES – Heading into the spring, the USC tailback unit certainly wasn't at the top of Lane Kiffin's list of concerns, thanks in large part to senior
Silas Redd
. The team's leading rusher last season, he solidified his standing throughout the course of the early slate of spring workouts as a virtual lock to be the Trojans' starting ball carrier in 2013.
To continue reading this article you must be an Insider
March, 29, 2013
Mar 29
8:31
AM PT
By
Johnny Curren
| ESPN.com
After a week away from action, the Trojans hit Brian Kennedy-Howard Jones Field on Tuesday as the spring slate of practices officially picked back up again. With a number of players coming off injuries trickling back into the rotation, not to mention some interesting position changes, there was plenty of movement up and down the lineup.
Quarterback
Max Wittek
(6-foot-4, 235 pounds, RS So.) OR
Cody Kessler
(6-1, 215, RS So.) OR
Max Browne
(6-5, 215, Fr.)
Wittek stepped back into the rotation on Tuesday after missing three practices due to a sprained MCL, and while he showed some rust, USC coach Lane Kiffin is optimistic he'll soon return to his old form, making this competition one to watch once again. Of the trio, Kessler continued to be the most consistent this week, with Browne showing promise at times.
To continue reading this article you must be an Insider
March, 22, 2013
Mar 22
9:30
AM PT
By
Johnny Curren
| ESPN.com
For college football players across the country, the spring marks a time of opportunity, a chance to dive headfirst into position battles and to make a move up the depth chart -- particularly for those lesser-known players, as well as the new additions to the rosters.
But for Lane Kiffin's USC squad, which now has two weeks of spring ball under its belt, that atmosphere of opportunity and competition has been even more pronounced than usual. With four new assistant coaches added to the staff this winter, not to mention a complete change in defensive philosophy, there has been a feeling permeating throughout the program that everyone is starting out fresh. It's in this environment that a number of players looking to take a giant leap forward, not to mention a few newcomers, have shined at times this spring, showing that they could be ready to make a significant impact.
Here's a look at 10 maybe not-so-familiar faces who have made the most of the spring so far.
To continue reading this article you must be an Insider
March, 20, 2013
Mar 20
8:30
AM PT
The Trojans are navigating through their share of injuries this spring. But at this time of year, as long as the injuries are not serious, they can offer a mixed blessing of sorts.
When one player is forced to sit on the sideline, it gives another player the chance for extended reps with the hope of showing the coaches he is ready for a bigger role. For the injured player, there is still plenty of time to return either in spring or in fall camp before the season begins. As quarterback
Max Wittek
noted after a recent knee injury, "you never want this to happen, but if it's going to happen, better to have it happen now."
[+] Enlarge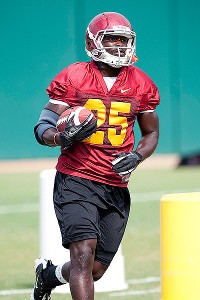 AP Photo/Grant HindsleySilas Redd's knee injury opens the door for other USC tailbacks to impress this spring.
Wittek is perhaps the most notable USC injury right now, primarily because he is engaged in a battle for the starting quarterback spot. Wittek suffered the knee sprain on March 9 prior to a scrimmage at the Coliseum and has been out ever since. He is expected to return when the Trojans practice on March 26.
Cody Kessler
has played well with Wittek out and any small gains by either player can end up meaning a lot in a competition that is so close.
On the same day that Wittek got hurt,
Marqise Lee
also went down with a "minor" knee injury and has been held out as well. There isn't as much of an impact here as Lee certainly isn't in any competition for his starting job. If anything, his absence gave the other receivers a chance to step up and the overall group is doing well from top to bottom. Right now,
Nelson Agholor
appears to be the clear leader for the starting spot opposite Lee.
A recent loss came with the news that
Silas Redd
would undergo surgery this week for a torn meniscus. Redd is the established senior starter at tailback, but he has only been on the USC campus for eight months, so any time spent on the field was beneficial. Instead, Redd will be out until fall camp and the Trojans are further limited at tailback with
Tre Madden
still not cleared for full contact due to his knee rehab. That means the remaining spring practices will be huge for guys like
D.J. Morgan
,
Buck Allen
and maybe even
Justin Davis
, although it remains to be seen how much a recent broken finger will hamper him.
The offensive line had been fairly healthy until the news that
Chad Wheeler
will miss the rest of spring with a knee injury. Wheeler had added bulk and was progressing nicely as the No. 2 left tackle.
On the defensive side of the ball, injuries are really impacting the interior depth on the line and the safety positions.
There are three linemen who have missed all of spring:
J.R. Tavai
,
Greg Townsend
and
Cody Temple
. All three figure to provide important depth at the three interior spots of the 5-2 defense, so it's vital to get them back on the field. Right now, the Trojans have
Kenny Bigelow
as a legit reserve at nose tackle, but the other spots are being manned by players out of position such as
Charles Burks
.
Scott Starr
is also out of action until fall, and he is expected to be a key reserve behind
Morgan Breslin
.
[+] Enlarge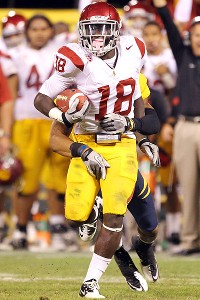 Ezra Shaw/Getty ImagesAs Dion Bailey recovers from shoulder surgery, the question of whether he'll play safety or linebacker in 2013 remains unanswered.
In the secondary, the Trojans have a lot of talent but not much is going to be settled until the coaches figure out where to put
Dion Bailey
. Most speculation centers around Bailey ending up at safety rather than linebacker, but he won't be available for spring after recent shoulder surgery. So
Josh Shaw
,
Demetrius Wright
and
Su'a Cravens
are auditioning for starting spots.
Gerald Bowman
could also be in that mix, but he is also out this spring. This means it's likely the safety rotation won't be determined until well into fall camp.
At corner, the top player through the early part of spring was
Kevon Seymour
, but he has missed the last couple of days with an ankle injury.
Devian Shelton
is also out with a foot injury. That means extended reps for
Torin Harris
,
Anthony Brown
and
Ryan Henderson
, as well as the freshman
Chris Hawkins
.
USC coach Lane Kiffin said after Saturday's scrimmage that the time off for spring break this week was coming at a good time for a team looking to get a few bodies back. The Trojans return to the practice field next Tuesday and having some of those injured players on the field will go a long way toward helping to determine starting spots.
Kiffin also acknowledged that the extra hitting in practices so far this spring -- done to achieve his goal of returning to a more physical style of play -- has played a part in having so many injuries. He said the team will continue to practice with full hitting for the rest of spring but gave no word on if there will be any changes in philosophy beyond that point.
February, 22, 2013
Feb 22
8:27
AM PT
By
Johnny Curren
| ESPN.com
To say that this past week has been big for
Tre Madden
would be an understatement.
From the Trojans' first players-only passing session of the winter on Tuesday to the first coaches-led conditioning workout on Thursday, the rising redshirt sophomore running back showcased hints of the power and speed that helped make him the story of last spring -- until he went down with an injury in April.
[+] Enlarge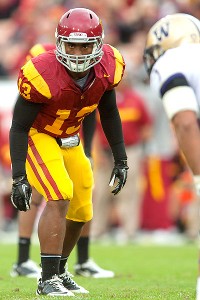 Joe Andras/WeAreSC.comA former linebacker who missed all of 2012 with a torn ACL, Tre Madden is excited to get back on the field as a running back this year.
He suffered a torn anterior cruciate ligament in his left knee that would require surgery, forcing Madden -- who lined up at linebacker as a freshman -- to miss the entire 2012 season.
But after rehabbing and working himself back into shape for the better part of a year, Madden was back in action.
"It feels amazing to be back with the team and running," Madden said. "Running, especially, I appreciate that a lot more now that I went through everything that I did. I really missed being out on the field. It was hard last year to just be on the sideline and watch."
And while Madden already looks good to go as a member of the Trojans' running back corps, every effort is being made to ensure that the former Mission Viejo (Calif.) standout doesn't jump back into the flow of things a little too soon. It's precisely for that reason that he still isn't cleared to participate in the more physical aspects of the upcoming slate of spring practices -- something that isn't likely to change until the start of fall camp.
"I'm cleared for everything but contact, so I'll get out there, catch balls, run routes and get the offense down," Madden said.
Still, after all that he's been through, the fact he's simply taking part in any drills this winter and spring is impressive and reason for optimism when it comes to his potential impact in 2013.
Set to join
Silas Redd
,
D.J. Morgan
,
Javorious Allen
as well as incoming freshmen
Justin Davis
and
Ty Isaac
, Madden figures to be a key component of a much deeper USC running back unit than the 2012 version.
"We've got a lot of guys with specific talents, and we know that our coaches are going to use us to the best of our abilities and help the team," Madden said.
Davis, who is enrolled at USC and taking part in team workouts, has already made a positive impression on Madden.
"He's a great athlete, a hard worker," Madden said. "He doesn't talk too much, but that's good as a freshman. He just wants to learn from everyone and work hard. He just puts his head to work and goes out there."
But not everything has gone smoothly for the USC running backs this offseason. It was less than two weeks ago that they learned of the departure of their position coach, Kennedy Polamalu. And while the loss of one of the most respected members of the staff has affected each member of the unit, Madden is intent on staying focused, and also eager to meet the replacement, who's expected to be named soon.
"We're going to miss Coach Polamalu, but we're not focused on what we're missing -- we're focused on getting ready to meet our new coach on Sunday, and to keep getting out here and working," Madden said.
With that determined mindset, it's no wonder Madden's road to recovery has taken him full circle. And to be sure, no one is more appreciative than he is.
"I'm very thankful," Madden said. "I'm blessed to be able to still play football. It really opened my eyes. I appreciate every play now, every opportunity to work out, to be out here with the team, to be at SC and to be on the field. It's a great opportunity."
February, 8, 2013
Feb 8
8:00
AM PT
By
Johnny Curren
| ESPN.com
With signing day now in the books, here's a look at where the current USC depth chart might stand on the offensive side of the ball with the new additions factored in.
Quarterback
Max Wittek
(6-4, 235, RS So.) OR
Cody Kessler
(6-1, 215, RS So.) OR
Max Browne
(6-5, 215, Fr.).
To continue reading this article you must be an Insider