USC Trojans:

Giovanni Di Poalo
June, 3, 2014
Jun 3
11:00
AM PT
No position group at USC entered the spring surrounded by more uncertainty than the offensive line. With the key losses of
Marcus Martin
,
Kevin Graf
,
John Martinez
and
Abe Markowitz
, a new position coach in Tim Drevno, and the offense transitioning into Steve Sarkisian's up-tempo, shotgun-based attack, no one knew quite what to expect. While there was certainly plenty of good to take away from their performance this spring, this is still a unit with more than a few question marks.
Both guard spots open
[+] Enlarge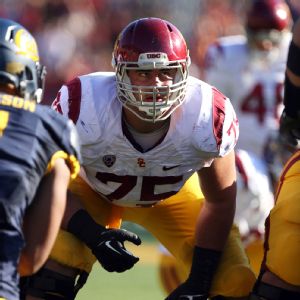 Kelley L Cox/USA TODAY SportsNo matter the position, Max Tuerk figures to have a starting job on USC's OL.
With only eight healthy scholarship players available, it was hard to ever get a real solid read on the offensive line, and as Sarkisian recently noted, this is a unit that will need to be solidified in the coming months.
That's particularly the case at the guard positions, where, during spring drills, the Trojans featured a starting duo of early-entrant freshman
Toa Lobendahn
at left guard and second-year freshman
Khaliel Rodgers
at right guard.
And while both players – particularly Lobendahn -- showed promise, the entire competition at those spots is set to change dramatically as the Trojans gain an influx of talent from incoming freshmen as well as players returning from injury.
Of those players on the mend, senior
Aundrey Walker
, who is returning from a broken ankle, will be watched with particular interest. Establishing himself as a reliable starter at right guard in 2013 after an up-and-down 2012 campaign at tackle, he possesses veteran experience that could be invaluable to this unit.
Jordan Simmons
, returning from a torn ACL, is a big mauler who was really starting to stand out in practice prior to his injury in the fall, and he's another player who could make a run at a starting job on the interior.
Of course, in the case of both Walker and Simmons, it's how their recovery goes, and what kind of shape they come back in -- particularly with the conditioning required for the new offense -- that will likely play the biggest role in determining whether or not they're able to jump in and perform at a high level when fall camp opens up.
And then there is fifth-year senior
Giovanni Di Poalo
, as well as a pair of incoming freshmen guard candidates --
Damien Mama
and
Viane Talamaivao
. Both youngsters arrive not only with more than their fair share of accolades, but also with unique talent and tremendous size -- giving them the look of potential instant impact performers.
Center of attention
With Martin off to the NFL, one of the new staff's biggest priorities heading into spring practice was to find a capable starter at center.
Max Tuerk
, a tried and tested veteran who started 13 games at left guard in 2013, and the majority of the prior season at left tackle, wound up getting the call. While he did have some occasional difficulties in the snapping department, he performed solidly for the most part.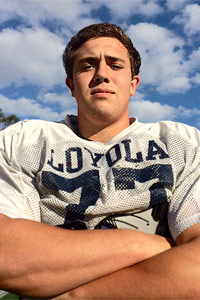 Blair Angulo/ESPNIncoming freshman Chris Brown has been taking a lot of reps at right tackle during summer workouts.
Still, while Sarkisian lauded Tuerk's overall ability during the recent Pac-12 football coaches teleconference, he also appeared to leave the door open for competition through fall camp, so this isn't over just yet. Both Di Poalo and Lobendahn lined up at the position in the spring, and have continued to do so this summer during the team's volunteer workouts. Talamaivao is another key name to watch here, as he too, has been taking reps at this spot over the course of the last week. It will also be interesting to see if Mama gets a look here when he arrives on campus.
If Sarkisian and Co. did decide to go with someone other than Tuerk here, it's a virtual certainty that the junior would still line up as a starter somewhere else. Arguably the Trojans' sturdiest pound-for-pound offensive lineman, he could conceivably slide back over to left guard or either of the tackle spots without a hitch.
Stability at tackle
While the interior of the line still isn't totally set, the Trojans do appear to be in better shape at both of the tackle spots -- at least when it comes to the starters.
No player drew more praise from Sarkisian following spring drills than third-year sophomore left tackle
Chad Wheeler
. Having started every game last season, he looks primed for a fantastic 2014 campaign.
Over on the right side, the emergence of
Zach Banner
-- who sat out most of last season after having hip surgery -- was one of the great revelations of the spring. Performing at the highest level of his career, the 6-foot-9, 345-pounder took over with the No. 1 group in place of
Nathan Guertler
midway through camp and never looked back. Considering the fact that he said that he wasn't even quite back to 100 percent during those workouts, there's reason to believe he's only going to get better, and it will be interesting to see just how much farther he can continue to progress this offseason.
Still, Drevno needs to find out who else he can count on to contribute at tackle, if nothing else, to provide depth. Early entrant freshman
Jordan Austin
and Guertler were the primary backups in the spring, and then there's also
Nico Falah
-- returning from a back injury. Highly touted incoming freshman
Chris Brown
has also been taking reps at right tackle during summer drills.
March, 21, 2014
Mar 21
8:15
AM PT
With spring practice set to start back up again for USC next week, here's a look at 10 players who entered the March and April workouts as somewhat hidden commodities but who showed in the first week of spring practice that they just might have the potential to take on a larger role for the Trojans in 2014.
TE Jalen Cope-Fitzpatrick (6-foot-4, 255 pounds, junior):
With
Xavier Grimble
off to the NFL draft and
Randall Telfer
currently sidelined by injury, Cope-Fitzpatrick is the lone active scholarship tight end available for the Trojans this spring, and he's made the most of what has been a golden opportunity to demonstrate what he's capable of doing in USC head coach Steve Sarkisian's new up-tempo, tight end-friendly offense. Cope-Fitzpatrick displayed sure hands and a high level of athleticism in the first week, catching virtually everything thrown in his direction.
OLB Quinton Powell (6-2, 220, sophomore):
Powell was one of the more exciting practice players to watch last fall as a reserve Will linebacker, and now that he's made the move back outside -- where he played in high school -- to Sam linebacker, he looks to have found the perfect spot to showcase his talents. Long, athletic and extremely active, he was equally as strong coming off the edge as he was in pass coverage while running with the No. 1 defensive group.
[+] Enlarge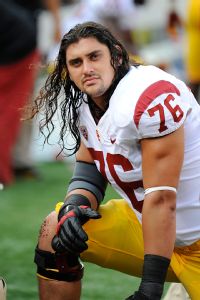 AP Photo / Chris BernacchiFormer walk-on Nathan Guertler earned a scholarship and is in the mix on the offensive line.
Rush end/OLB Scott Starr (6-2, 220, redshirt sophomore):
Hampered by injuries early in his career, Starr is now healthy and it's made a world of difference. Lining up with the starting group at rush end in Justin Wilcox's 3-4 multiple-front defense, he's obviously already gained a level of confidence from the new coaching staff with his ability as a pass rusher and as a disruptive force, in general, near the line of scrimmage.
CB Chris Hawkins (5-11, 185, redshirt freshman):
There's little denial the Trojans need to shore up the cornerback spots heading into the 2014 season, and with
Josh Shaw
sidelined by a stress fracture in his foot, Hawkins got plenty of work during the first three workouts of spring. He was solid, for the most part. After redshirting as a freshman last fall, he looks to be playing with a greater level of confidence than he did just a few months ago. His interception of a
Cody Kessler
pass on the first day of practice was one of the highlights of the week.
DL Delvon Simmons (6-6, 300, redshirt junior):
Forced to sit out the 2013 season after transferring to USC from Texas Tech, Simmons has stepped into the starting lineup this spring at defensive end and looks primed to make an instant impact as part of what should be an outstanding defensive line. Possessing a huge frame to go along with a strong motor, he already has the veteran experience that comes with having started 13 games for the Red Raiders in 2012.
OL Nathan Guertler (6-5, 280, redshirt senior):
Originally arriving at USC as a walk-on in 2010, Guertler was recently awarded a scholarship by the new coaching staff, and it's safe to say it's an honor he more than deserves. A tireless worker who made the switch to tight end last season when the team had low numbers at the position, he's now getting an extensive look with the first team at right tackle. And while it certainly isn't a foregone conclusion that he'll remain there in the fall, he's shown enough to ensure that he's worthy of being in the discussion.
OL Khaliel Rodgers (6-3, 310, redshirt freshman):
Figured by many to be a prime contender for the open center spot going into the spring, Rodgers instead ran with the 1s at right guard and looked to be at home. As an aggressive blocker who possesses a mean streak on the field, he would appear to be a perfect fit as part of an offensive line unit that, under Tim Drevno, has placed an emphasis on being physical. Figuring to face plenty of additional competition in the fall in the form of freshmen
Chris Brown
,
Damien Mama
and
Viane Talamaivao
, the experience Rodgers is gaining now could give him a leg up heading into fall camp.
DL Kenny Bigelow (6-3, 300, redshirt freshman):
Fairly raw when he first arrived on campus a little more than a year ago, Bigelow looks to have made strides in terms of where he is physically, as well as mentally, and it wouldn't be a surprise to see him factor heavily into the defensive line rotation in 2014. With players such as
Leonard Williams
and
Greg Townsend Jr.
sidelined, Bigelow worked with the first team at one of the interior defensive end spots for a majority of the first week of practice.
S Gerald Bowman (5-11, 195, redshirt senior):
Back from a shoulder injury that forced him to miss most of the 2013 season, Bowman has re-emerged this spring as one of only three available scholarship safeties. With the ability to play both safety spots, he served an important role throughout the first three practices as a backup and a key contributor in nickel situations.
OL Giovanni Di Poalo (6-4, 275, redshirt senior):
For Di Poalo, 2014 marks his last shot to make a real impact for the Trojans, and to his credit it looks like he's doing everything he can to try to make that happen. Taking advantage of the fresh start he's gained with a new staff in place, in addition to the fact that USC simply doesn't have a lot of healthy bodies ready to go along the offensive line right now, he took reps exclusively with the No. 1 unit at left guard last week. Things will get a whole lot more interesting in fall camp when those highly touted freshmen arrive, but Di Poalo appears to be making a statement that he won't back down easily.
March, 7, 2014
Mar 7
12:30
PM PT
When the Trojans hit the field on Tuesday to take part in the first spring practice session of the Steve Sarkisian era, competition will be the name of the game, as several players will vie for a host of spots that have been declared up for grabs by the new head coach.
And while much of the attention will naturally be directed at quarterback, where the incumbent
Cody Kessler
and rising second-year freshman
Max Browne
are slated to duke it out for the No. 1 role, it's the fight up front -- for the starting center job left vacant by Marcus Martin's early departure to the NFL -- that just might be the most crucial position battle of all.
After all, as everyone found out in 2012, when Khaled Holmes went down with an injury against Syracuse -- leaving the Trojans with an inexperienced
Cyrus Hobbi
to struggle in a loss to Stanford -- the fact of the matter is without a dependable performer at center to anchor down the line, the offense more often than not is going to have a difficult time moving the ball down field, no matter who else is in the lineup.
As such, one of the top priorities for new offensive line coach Tim Drevno this spring will be to unearth and groom USC's next starting center.
Of course, filling the shoes of Martin – a 2013 All-Pac-12 first-team selection – won't be easy, but the Trojans do have several promising candidates.
One player who will not be among those players, however, is Hobbi. It was recently revealed that the Scottsdale (Ariz.) Saguaro graduate is no longer a part of the team.
[+] Enlarge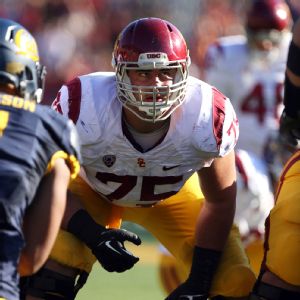 Kelley L Cox/USA TODAY SportsMax Tuerk is likely to start somewhere on the USC offensive line. He'd be perhaps the safest choice at center.
That twist turns the competition into essentially a three-man race, with
Max Tuerk
,
Khaliel Rodgers
and
Toa Lobendahn
standing out as the primary contenders.
Tuerk, a junior, is the Trojans' most accomplished and versatile returning offensive lineman. Having started games at guard and tackle during his career, while also taking snaps at center last spring, he has the unique ability to slide in anywhere along the line. The big question with Tuerk, though, is where does USC need him most? With the graduation of
Kevin Graf
, on top of
Jordan Simmons
likely being relegated to the sideline this spring as he recovers from a knee injury and
Zach Banner
's potentially limited status because of fall hip surgery, Tuerk looks to be a natural fit at right tackle. He lined up there as a starter against Oregon State last season. Still, if no one else steps up at center, he just might be the safest option there.
Rodgers, who arrived at USC as a member of the Trojans' 2013 recruiting class from Elkton (Md.) Eastern Christian Academy, spent his first season on campus learning the tricks of the trade as a member of the scout team. Generating a fair amount of buzz for his performance on the practice field while lining up primarily at guard, he's a stout and powerfully built blocker who plays with a mean streak, and he would appear to possess all of the attributes needed to succeed at center. Still, no one will know for sure until he's thrown into the fire this spring.
Lobendahn just arrived at USC this past January as an early entrant after a fantastic senior season at La Habra (Calif.). At 6-foot-3 and 290 pounds, he's similar to Tuerk in that he has the ability to play just about anywhere along the line. At The Opening last summer, he took reps at tackle, guard and center, shining at all three spots while going up against the nation's top high school defensive line talent. Possessing an exceptional work ethic to go along with a strong all-around skill set, there is certainly much to be excited about in Lobendahn. But as a green rookie just a few months removed from high school, is it too much to ask from him to step in and immediately contribute? Will he be able to meet the physical and mental demands of lining up at a position that holds so much responsibility right off the bat? Everyone will soon find out.
One more possible, although perhaps somewhat unlikely, candidate could be
Giovanni Di Poalo
. A fifth-year senior who has yet to make a real splash as a Trojan, he was listed as a backup center as a freshman, and again in 2012, but he seems to have settled in more at guard.
Viane Talamaivao
is a highly touted member of USC's recent recruiting haul who will arrive this summer, and he also could enter the discussion at center in addition to guard, but not until fall camp.
In either case, with the field of contenders who are already in the mix, there's reason to believe that the battle for the starting center job just might be the real position battle to watch this spring. And with so much hinging on the potential outcome, it's a competition that can't begin soon enough.
February, 18, 2014
Feb 18
11:00
AM PT
When USC opens spring practice on March 11, new offensive line coach Tim Drevno will begin the process of finding the most productive combination of players to fill out the starting unit. A collection of veterans, unproven underclassmen and two early entry freshmen make up a talented-but-thin group which will immediately be thrown into an atmosphere marked by heightened competition.


January, 24, 2014
Jan 24
9:00
AM PT
The Pac-12 has 26 of the 98 early entrants in the NFL draft. That's impressive. Some players are locks to get drafted. Others might have jumped the gun a bit and find themselves on practice squads or brushing up on their Canadian. We'll see.
What we're more concerned about here is who is going to replace them. Some answers are clearer than others. Some teams might have to alter their schemes just to account for a departed player.
Here's a look at the possible replacement players in the Pac-12 South. We'll look at the North later this morning.
Leaving:
Ka'Deem Carey
, RB, Arizona.
The replacement:
Jared Baker
should be in the mix, though an injury will keep him out of spring ball. He's expected to return in time for fall camp.
Pierre Cormier
and
Zach Green
will also get looks. Speaking with folks at Arizona, the word right now is that it's wide open. One player could emerge, or it could end up being a by-committee approach. Nothing is off the table at this point.
Leaving:
Carl Bradford
, LB, Arizona State
The replacement:
There really isn't anyone who has Bradford's skill set in the program yet, so the position is wide open.
Viliami Latu
has potential. So does
Chans Cox
, who was hurt a lot last season. They are also excited about incoming freshman
Ismael Murphy-Richardson
. He might not be ready to jump in immediately, but he could be the Devil backer by 2015.
[+] Enlarge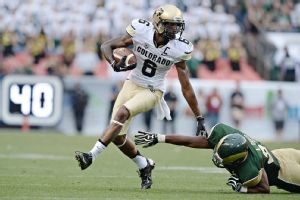 Ron Chenoy/USA TODAY SportsColorado will have a hard time replacing the explosive plays that Paul Richardson provided.
Leaving:
Paul Richardson
, WR, Colorado
The replacement:
It was probably going to be
Jeff Thomas
before he transferred. Now it's probably going to be a rotation of
D.D. Goodson
,
Devin Ross
, or redshirt freshmen
Bryce Bobo
or
Elijah Dunston
.
Nelson Spruce
has been solid, but he's not the breakaway threat Richardson was. This will be a key spring battle to watch.
Leaving:
Xavier Su'a-Filo
, OL, UCLA
The replacement:
Simon Goines
should be back after starting six games at left tackle before an injury forced him out.
Scott Quessenberry
stepped in and played five games at left guard, which is where he'll likely be next season with Goines back at tackle.
Leaving:
Dion Bailey
, LB, USC
The replacement:
Leon McQuay III
saw some playing time and is very highly regarded by the coaching staff. His contributions last season were mostly on special teams, but he'll take on a larger role with Bailey's departure.
Leaving:
Marqise Lee
, WR, USC
The replacement:
Remember
George Farmer
? He's still around and could be in for a big season if healthy.
Darreus Rogers
and
Steven Mitchell
both are promising, but both have missed time with injury. You never truly replace a Biletnikoff winner, but playing opposite a surging
Nelson Agholor
could help boost the production of whoever gets in the regular rotation.
Leaving:
George Uko
, DT, USC
The replacement:
Transfer
Delvon Simmons
is coming off a redshirt season, as is freshman
Kenny Bigelow
. Both should get some serious looks, as this will be one of the hot position battles this spring. Someone will ultimately win the job, but expect a rotation with both next season.
Leaving:
Marcus Martin
, C, USC
The replacement:
Lots of ifs here. It could be
Max Tuerk
moving over from guard, but he'll also be in the mix for right tackle to replace
Kevin Graf
.
Khaliel Rodgers
redshirted and is an option at guard or center.
Giovanni Di Poalo
could also get a look.
Leaving:
Xavier Grimble
, TE, USC
The replacement:
Grimble and
Randall Telfer
were basically co-starters, so all this probably means is Telfer's workload increases as he becomes the clear No. 1.
Jalen Cope-Fitzpatrick
is the only other scholarship tight end on the roster.
Leaving:
Jake Murphy
, TE, Utah
The replacement:
Westlee Tonga
seems like the logical fit. He has been around for a few years and has some experience, but was injured most of last year. He'll get another opportunity to be the lead tight end in the newest installment of Utah's offense.
August, 19, 2013
8/19/13
9:13
PM PT
As the Trojans enter the final week of fall camp, the team held a high-energy practice Monday with players sensing that game week is near.

"I feel like we have things going in the right direction," USC coach Lane Kiffin said. "It's easy to have good energy when you're in a night practice at the Coliseum but it's another to come out today in the heat and respond the way they did. I thought that was a very good test for our team."
The Trojans moved out of their camp dorms Sunday and into their fall housing. They will get a day off on Thursday and then begin game week practices on Friday in preparation for the matchup with Hawaii next week.
"Yeah, we're getting a little antsy," USC quarterback
Max Wittek
said. "It's human nature at some point to want to play somebody with a different color jersey."
Injuries continue to be an issue as
Aundrey Walker
and
Demetrius Wright
left practice today, but the good news was that
Silas Redd
got the most action he's had all camp and
Marqise Lee
was basically back to normal with a full day of work.
"Hopefully we can get mostly healthy in the next few days," Kiffin said.
For Lee, the yellow jersey was still on but the competition mode was in full effect and he made several plays. He beat
Chris Hawkins
on a pass down the sideline, caught a nice over the shoulder ball from Wittek and had a short touchdown at the end of the day when he caught a screen pass from
Cody Kessler
and got a good block from
Nathan Guertler
on Hawkins to scoot untouched into the end zone.
"I feel great," Lee said. "I was just going out there and catching the ball. I'm ready to play a game, everybody is ready to play a game. I know the defense is ready."
Lee gave a lot of praise to the unit he faces every day in practice and says he has paired with his roommate to try and fire up his teammates.
"The secondary is amazing right now," Lee said. "They are going a great job, starting with AB (
Anthony Brown
). He uses the sideline really well to push you over there. Me and
Josh Shaw
are roommates so we started jawing out here to get guys going. Once we started, he went to
George Uko
and got him going, so I went to
Marcus Martin
on our line. It was on after that."
Lee also gave his thoughts on the pending quarterback battle.
"I'm glad I'm not the coach in this case with the quarterbacks. This one is on Kiff's back," Lee said while smiling.
Kiffin had no announcement on a starting quarterback and gave no indication of when an answer is coming.
As for other news on the injury front,
Kevon Seymour
was back Monday in limited action after leaving the practice on Sunday night.
Scott Starr
,
Morgan Breslin
,
Dion Bailey
,
Torin Harris
and
Ryan Henderson
did not practice.
Marcus Martin sat out after leaving practice on Sunday so
Max Tuerk
took the majority of first unit snaps at center with Aundrey Walker at left guard and
John Martinez
at right guard. Abe Markowitz also took some reps with the first unit at center while
Giovanni Di Poalo
was with the 1's at left guard after Walker went out.
Redd looked solid in his extended reps and he wore a yellow jersey along with fellow tailbacks
Tre Madden
and
Justin Davis
.
Ty Isaac
and Buck Allen were also available so it was a good day for depth at the spot.
The most productive player was
Quinton Powell
, who continues to make his presence felt from the inside linebacker position. Powell started the day with a sack on Kessler, stripped Ty Isaac of the ball after a long run and added a late interception of a ball that had been tipped in the air.
Other highlight plays included nice catches from reserve tight ends
Kevin Greene
and Chris Willson. The Willson grab in particular was a pretty one-handed effort. Wittek hit
Jahleel Pinner
with a 20-yard pass down the middle but Leon McQuay was right there and would have smacked him in a game setting. McQuay also had a blocked kick in a field goal drill, something he has done a few times this camp.
Kenny Bigelow
,
Anthony Sarao
and
Devian Shelton
all had sacks. Shelton also got bulldozed by Tre Madden in the flat and Madden went for about ten extra yards.
Quotebook
"I was scared for a moment. I took my time getting up because they didn't know what was wrong but as soon as I got a chance to get up and move around I was fine. I kept telling coach Kiffin I was ready to go back in. I'm solid now, I'm ready to go." -- Marqise Lee, talking about his bone bruise injury suffered on Aug. 9.
April, 5, 2013
4/05/13
8:05
AM PT
The Trojans are now in the final stretch of spring ball with just over a week of practice remaining on the schedule. As injuries continue to mount and position battles rage on, here's how a potential depth chart just might look if one were released today.
Quarterback
To continue reading this article you must be an Insider
April, 5, 2013
4/05/13
5:46
AM PT
LOS ANGELES -- Injuries continue to be one of the big stories for the Trojans this spring as it was confirmed after practice that both
George Farmer
and
Su'a Cravens
will undergo knee surgeries.
The news was more dire for Farmer after Kiffin confirmed the earlier media reports of a torn ACL and MCL in his left knee, which will force him to miss the 2013 season. For Cravens, he has a torn meniscus in his right knee and will undergo surgery Friday. The injury is the same as the one suffered by
Silas Redd
. Cravens is expected to miss 4-6 weeks and will be back in plenty of time for fall camp.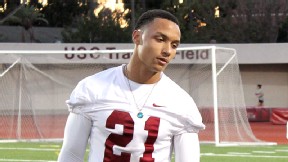 Garry Paskwietz/WeAreSC.comSu'a Cravens is the latest USC player to get dinged in spring practice.
"Whenever there is an injury you hope, like Su'a, that's it's not going to be a long setback," USC coach Lane Kiffin said. "With guys like George, those are the ones you feel really bad for. A guy who battles back and was playing well and then to have this setback."
The Trojans entered the Thursday practice session with 20 players out of action because of injury and two more left practice –
Torin Harris
and
Cyrus Hobbi
.
"I don't see any way we could practice like this in the fall. We wouldn't be able to play a game," Kiffin said. "Of the 22 guys who ended up being out today, 18 of them are scholarship players. With the roster reductions we already have we would not be able to give up that many players. We will start fall camp practicing this way, but I don't think we will end fall camp this way."
There was some good news on the injury front as
Marqise Lee
returned, albeit in a limited role, after missing two-and-a-half weeks with a knee injury. Lee seemed to be running fine with no major issues but he was held out of contact team drills.
Kevon Seymour
and
Jordan Simmons
also returned to action.
"Marqise was back, which was obviously good to see," Kiffin said. "He basically took part in the first hour of practice and we'll add to him as we go."
George Uko
was out today and
J.R. Tavai
took his spot with the first unit at defensive end. During the final team drill,
Aundrey Walker
was out and
Max Tuerk
had moved to center with Hobbi out, so the first unit left side of the line was walk-on
Nathan Guertler
at tackle and
Giovanni Di Poalo
at guard.
Receiver shuffle
With Farmer out, that means opportunities for players such as
Victor Blackwell
and
De'Von Flournoy
along with first-year players
Darreus Rogers
and
Steven Mitchell
. Kiffin also made sure to note the high level of play from
Nelson Agholor
this spring when discussing the receiver group.
March, 30, 2013
3/30/13
5:58
PM PT
LOS ANGELES -- The Trojans held a scrimmage on Saturday at the Los Angeles Memorial Coliseum, with the offense having the most balanced day of the spring.
[+] Enlarge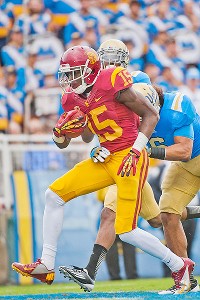 Jonathan Moore/Getty ImagesReceiver Nelson Agholor proved last season that he can be a deep threat for USC.
"I thought this was the best day for the offense in terms of having a good balance of running the ball and throwing the ball downfield," USC coach Lane Kiffin said. "Both of the quarterbacks were accurate, they handled things well, and I thought the offensive line has put together two of their best practices in a row."
There was plenty of scoring in the scrimmage, including two touchdowns each from
Nelson Agholor
(four catches for 93 yards) and
Justin Davis
(11 rushes, 54 yards).
Agholor has scored at least one long touchdown in each of the three spring scrimmages so far. Today, it was a 59-yard effort on the opening series on a pretty pass from
Cody Kessler
down the right sideline.
It was the second eye-opening practice in a row for Davis. Not only did he get into the end zone twice but his most impressive run might have been when he bowled over
Leon McQuay III
on an 11-yard gain in the red zone.
Both quarterbacks did well too. In addition to the opening touchdown to Agholor, Kessler also had a scoring pass courtesy of a great effort from
Victor Blackwell
. With the offense at the 25-yard line Kessler lofted a pass into the right corner of the end zone, where
Torin Harris
had solid coverage on Blackwell, only to see Blackwell simply leap up and get the ball for the score.
As a side note, Blackwell's high school coach, Bruce Rollinson from Santa Ana (Calif.) Mater Dei, was standing on the sidelines near the play and had a big smile on his face for his former star. Kessler ended the day completing five of nine passes for 99 yards and two touchdowns.
Wittek, who also played for Rollinson at Mater Dei, hit Agholor for a 15-yard score, but his best throw of the day came when he threw down the right sideline to
George Farmer
for a 47-yard gain. Wittek completed three of five passes for 84 yards and one touchdown, he also had one potential touchdown pass dropped by Blackwell.
On defense, the two most active players were
J.R. Tavai
and
Josh Shaw
.
March, 25, 2013
3/25/13
8:00
AM PT
One of the primary areas of emphasis for the USC Trojans over the remaining three weeks of spring ball will be solidifying the rotation along the offensive line.
To continue reading this article you must be an Insider
March, 6, 2013
3/06/13
6:30
AM PT
LOS ANGELES -- The
USC Trojans
opened up the 2013 spring ball practice session with a spirited workout, which is typical for the first day of spring.

"I thought things looked good today," USC coach Lane Kiffin said. "That is usually the case in spring, guys are fired up to get out here and start going to work. I also liked what I saw from our coaches, especially since some of them have only been with us for a short time. They were really ready to go."
One of the new items to watch for the Trojans this spring is the 5-2 defense which is run by new defensive coordinator Clancy Pendergast. Kiffin said that getting the new defense set is the top priority of spring and the highlight play of the day was an example of how the defense can shine.
Jabari Ruffin
-- who was lined up at defensive end -- had an interception of a
Cody Kessler
pass after dropping back into coverage and leaping in the air to make the play.
Kessler is part of what is expected to be an intense quarterback competition along with
Max Wittek
and
Max Browne
. Kiffin said Kessler was on schedule to be named MVP of the day until the interception and he also liked what he saw from his true freshman.
March, 4, 2013
3/04/13
8:00
AM PT
With the start of spring practice set for Tuesday, here's a position-by-position look at who you can expect to see lining up for the Trojans on offense.
Quarterback
To continue reading this article you must be an Insider
February, 8, 2013
2/08/13
8:00
AM PT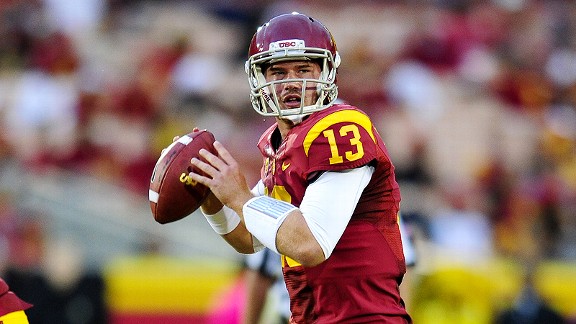 Cal Sport Media/AP ImagesMax Wittek should enter spring ball as the No. 1 QB, but there will be serious competition.
With signing day now in the books, here's a look at where the current USC depth chart might stand on the offensive side of the ball with the new additions factored in.
Quarterback
Max Wittek
(6-4, 235, RS So.) OR
Cody Kessler
(6-1, 215, RS So.) OR
Max Browne
(6-5, 215, Fr.).
To continue reading this article you must be an Insider
January, 4, 2013
1/04/13
8:02
AM PT
With the 2012 USC football season now in the books, it's time to look ahead to what will be an absolutely crucial spring for the program. Here are five key position battles to watch this spring as USC coach Lane Kiffin looks to find the right combination of talent to get the Trojans back on the winning track.
[+] Enlarge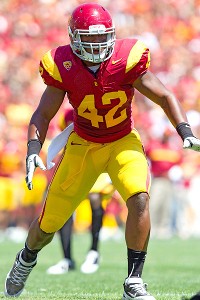 Jeff Lewis/Icon SMIAfter a year lost to injury, Devon Kennard hopes to reclaim his spot on the defensive line opposite Morgan Breslin.
Defensive End
The emergence of defensive end
Morgan Breslin
was the big story on defense for the Trojans in 2012, but with Wes Horton's departure, the other side is wide open with a long list of suitors looking to make their presence felt.
Devon Kennard
-- who has 18 starts under his belt as a linebacker and end -- had a fantastic spring a year ago, but then he tore a chest muscle during offseason workouts and missed the entire season. Now healthy, this is the last chance for the senior to live up to all of the lofty expectations that followed him when he arrived at USC as a freshman in 2009. Challenging Kennard will be
J.R. Tavai
, an extremely athletic and versatile option who can play end or tackle, as well as
Greg Townsend Jr.
, whose larger frame might pair up nicely with Breslin.
Kevin Greene
and
Jabari Ruffin
could also get looks here.
To continue reading this article you must be an Insider
PAC-12 SCOREBOARD
Thursday, 8/28
Friday, 8/29
Saturday, 8/30