USC Trojans:

Bryan Bennett
August, 27, 2013
8/27/13
4:00
PM PT
It all seemed so simple before Week 1 of last year. Six quarterback competitions, six resolutions before the first game of the year.
Taylor Kelly
had won the gig at ASU.
Jordan Webb
set foot on campus and was almost instantly Colorado's starter.
Marcus Mariota
outdistanced
Bryan Bennett
. Josh Nunes was Andrew Luck's successor.
Brett Hundley
was an exciting unknown, and Jeff Tuel was the guy to lead WSU's Air Raid.
Of course, simplicity doesn't always last. Be it injury or performance, Webb and Nunes weren't the starters at the end of the season and Tuel went back-and-forth with
Connor Halliday
. Mariota, Kelly and Hundley, however, went on to be three of the four most efficient quarterbacks in the league.
[+] Enlarge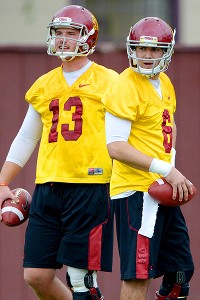 Kirby Lee/USA TODAY SportsMax Wittek (13) and Cody Kessler (6) will both see time at QB for the Trojans.
The moral of the story: Don't fear the unknown. But don't be too comfortable with it, either.
Which leads us to this year's crop of quarterback competitions. It's not as cut-and-dried as it was a year ago. At least two of them are ongoing and will probably stretch into the first weeks of the season.
The No. 24 Trojans open against Hawaii with
Cody Kessler
and
Max Wittek
still in the hunt for the right to replace Matt Barkley. Coach Lane Kiffin, however, said he has zero concerns that the competition hasn't been resolved.
"I see it as completely opposite," Kiffin said during Tuesday's Pac-12 conference call. "I think they have both performed so well. We feel great about both of them running our offense. I see it as a positive. I think they've really worked on their weaknesses … that way we don't have to call the game any different based on who is in. We can do all of our stuff."
Arizona coach Rich Rodriguez hasn't picked his guy yet, either. Though he did say he has seen some recent progress from
B.J. Denker
,
Javelle Allen
and
Jesse Scroggins
. A week ago, it was thought that as many as four or five guys could still be in the mix.
"I'd be more concerned if none of them made progress," Rodriguez said. "In the last week and a half, they have all made some pretty good progress. B.J. Denker and Javelle Allen, the guys that have been in the program, have made pretty good progress. And Jesse Scroggins has gotten better as well. I feel good about that. There's no question there is always more concern when you don't have experience there. B.J. has been in the system for a year and Javelle has been in the system for a year. We feel pretty confident they can run the whole entire offense and with Jesse it's just a matter of time."
And time is on Arizona's side. The Wildcats don't exactly have a pressing first month of the season. They host Northern Arizona this weekend, followed by a trip to UNLV before hosting UTSA on Sept. 14. Then it's a bye week before opening league play at Washington.
One report
last week had Oregon State playing the quarterback shuffle heading into Week 1. But Mike Riley put that to rest yesterday when he named
Sean Mannion
his starter.
"I had told some stories in the past of experience with two quarterbacks playing, but never intended to start a rotation situation here at all," Riley said. "We intended to name a starter and then have kind of left it up in the air … Sean is the starter and we'll go into the game like that."
Connor Wood
won the job at Colorado -- ending a QB competition that started with six but dwindled after injuries and transfers.
"He's big, he's athletic, he's got a strong arm, and he's a talented athlete," said coach Mike MacIntyre, who noted he was also very pleased with the progress of freshman
Sefo Liufau
. "He really started capturing the essence of our offense and understanding where to go with the ball and where to go with our run game. He kept improving."
Cal coach Sonny Dykes took a different approach, naming
Jared Goff
his starter as soon as he could.
"Anytime you have a starting quarterback, I think everyone is more comfortable," Dykes said. "The quarterback is more comfortable. The skill-position players can start to get on the same page. You develop a relationship with the center and quarterback and their ability to communicate with each other and the sense of timing that needs to exist there. I think what it does is settle everybody down."
August, 31, 2012
8/31/12
12:00
PM PT
There are five new quarterbacks in the Pac-12 this season:
Taylor Kelly
at Arizona State,
Jordan Webb
at Colorado,
Marcus Mariota
at Oregon,
Josh Nunes
at Stanford and
Brett Hundley
at UCLA.
Our question this week: Which of them will have the most success this season?
[+] Enlarge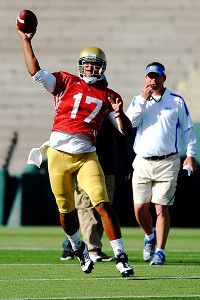 Chris Williams/Icon SMIUCLA quarterback Brett Hundley will be tested often this season.
Kevin Gemmell:
Poor, poor Ted. I know your brain is mush right now. You've been grinding away so hard on the best-worst scenarios that you've got nothing left for a Take 2. Obviously, the easy choice here is Oregon quarterback Marcus Mariota.
I'll tell you what, buddy, since I'm going first this week, I'm going to leave the softball for you and take a different approach. No, no. You don't need to thank me now. Just buy me a Cuban sandwich when we're in Miami for the USC-Oregon national championship game and we'll call it even.
When you're measuring the success of a new quarterback, you have to first look at what's the definition of success. Because I think the measuring stick is going to be a lot different for Mariota than, let's say, UCLA quarterback Brett Hundley.
If Hundley wins eight games and takes his team to a mid-level bowl game, I'd call that a pretty successful debut season. If Mariota wins eight games and takes his team to a mid-level bowl game, Oregon would probably call 2012 a massive failure of a season. Teams that start the year ranked in the top five don't want to end up in San Diego in December -- no disrespect to this beautiful city I'm blessed to call home.
The Bruins, however, I think would be awfully pleased with an appearance in the Holiday Bowl.
Consider what Hundley is up against: a new head coach, who by the way has never coached in college (that's not a knock on Jim Mora, just a fact), a new offensive coordinator with an offense that is a complete 180 from what the Bruins were running previously, and while I think UCLA has some playmakers, Hundley doesn't have the weapons around him that Mariota does. Also, most would agree at this point that Oregon has the superior offensive line.
But I think Hundley overcomes all of that to lead his team to seven or eight wins and a pretty decent bowl game. The reason I think that -- aside from the fact that Hundley is a very talented player -- is because of UCLA offensive coordinator Noel Mazzone and the way he transforms quarterbacks. His system is proven, even if Hundley is not, and it's going to allow Hundley to do what he does best: sling the ball around to a lot of different receivers and make plays with his feet when it's needed.
This was the same offense that produced 33 points per game last year when Mazzone was with Arizona State and dropped 43 on the
USC Trojans
; the same offense that averaged 32 points per game in 2010 that went for more than 40 points four times. Some might remember the 55 they scored on the Bruins that year.
Because of all the immediate factors working against Hundley, people are going to allow him a little more wiggle room to develop than they would Mariota.
And I think you can say the same thing for Josh Nunes at Stanford, Taylor Kelly at ASU or even an experienced newcomer like Jordan Webb at Colorado. They have the luxury of working their way into success, rather than instant success being demanded.
Huh, maybe Mariota isn't such a slam dunk after all. I guess the Cuban sandwiches are on me.
Ted Miller:
Thanks for making things easy on me, Kevin.
[+] Enlarge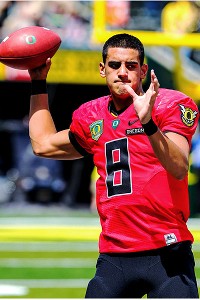 Steve Conner/Icon SMIBetween a stellar supporting cast and a proven coach, the stage is set for Marcus Mariota at Oregon.
I've been reading the tea leaves, and Marcus Mariota is going to be a revelation.
Now it's perfectly fair for someone to point out that I've only see Mariota in action once -- his much-ballyhooed performance in the 2012 spring game. So my -- and anyone else's -- sample size for extrapolating success is extremely limited.
Still, there are three things that make him the pick for immediate success.
First, he beat out
Bryan Bennett
, a guy who has long been touted and who played very well in relief of an injured Darron Thomas last year. If Mariota is better than Bennett, then he's got to be pretty darn good.
Second, his supporting cast will make him look good. He's got plenty of offensive weapons surrounding him as well as a top-notch offensive line. He doesn't have to throw it 40 yards to get a 40 yard completion. He merely needs to dump it to
Kenjon Barner
,
De'Anthony Thomas
or
Josh Huff
and let them do the legwork. The stat sheet doesn't make a distinction.
Third, who's the coach of this team? That's right, Chip Kelly. What's his track record with quarterbacks at Oregon? Let's review.
Oregon fans hated Dennis Dixon -- oh, yes you did! -- until Kelly arrived in 2007. Dixon went from being an infuriating underachiever who threw a lot of interceptions to the nation's top Heisman Trophy candidate until he blew out his knee.
Then, after Nate Costa blew out his knee before the 2008 season, Kelly was left with, well, just about nobody. Recall that Jeremiah Masoli was a summer addition to the roster whom no one had heard of. He led the Ducks to a Holiday Bowl victory and then to the first of three conference titles in 2009.
And when Masoli got the boot, Kelly surprised many when he tapped Thomas over Costa. Thomas then led the Ducks to the national title game and a Rose Bowl victory.
Think how good the Ducks' QB play has been since Kelly arrived in Eugene. Now, how many of these former Ducks quarterbacks had NFL success? It's obvious that Kelly finds ways to make his QB successful.
And guess what: Mariota is the most physically talented signal-caller Kelly has coached. He could become the first Kelly QB to become a high NFL draft pick and then a starter.
Sure, the bar has been set high. Anything less than another BCS bowl appearance would disappoint most Oregon fans. But, as things look at present, the odds are fairly good the Ducks will receive a fourth consecutive BCS bowl berth.
Finally, there is always this: Mariota is a redshirt freshman. He's, inevitably, going to have some boneheaded moments. But his youth also means the Ducks -- and Kelly -- will have him for at least three more seasons. (If he opted to leave for the NFL draft after his redshirt sophomore year, well, he'd probably be pretty darn good).
That's the consolation if he's merely pretty good this year: He's got plenty of time to become outstanding.
But the guess here is Mariota puts up plenty of numbers as a dual-threat this season. And leaves us with plenty of "Wow!" moments.
May, 11, 2012
5/11/12
10:00
AM PT
How much can we really learn from spring? Funky scrimmages with backwards scoring systems; depleted depth charts; completely new installs for four teams. Actually, more than you'd think. Here are five things we learned about the Pac-12 during spring.

Quarterbacks are still in limbo: Be it Stanford, Arizona State, UCLA, Oregon or Colorado, almost half of the teams still don't know who is going to be under center when the season starts. Stanford funneled its list of five down to two, Josh Nunes and Brett Nottingham. ASU still has a three-way battle with Michael Eubank, Mike Bercovici and Taylor Kelly -- though coach Todd Graham said they have a better idea than they are probably letting on publicly. The very private competition between Marcus Mariota and Bryan Bennett at Oregon remains in question -- though Mariota was spectacular in the spring game while Bennett faltered. Still, coach Chip Kelly said that one game isn't going to be his basis for comparison. UCLA coach Jim Mora wanted to name a starter by the end of spring, but no one has "grabbed" it, so we'll have to wait until August before learning whether Brett Hundley, Kevin Prince or Richard Brehaut gets the gig. And at Colorado, the competition was put on hiatus when Nick Hirschman broke a bone in his foot and couldn't compete in spring drills. One has to think that was a huge advantage for Connor Wood to get almost all of the reps with the first-team offense.
Not everyone has quarterback issues: Teams thought to have quarterback question marks heading into spring seemed to have resolved them. In Utah, Jordan Wynn is completely healthy, and both coach Kyle Whittingham and offensive coordinator Brian Johnson have declared Wynn their guy. While Mike Leach hasn't officially declared Jeff Tuel his starter, it's hard to imagine anyone else winning the job in the fall, short of Tuel suffering a significant injury or amnesia. He had a splendid spring, and appears to be a great fit for Leach's offense. And at Arizona, Matt Scott seized the job early and left little room for any competition. Coach Rich Rodriguez has been gushing about how quickly Scott has adjusted to the offense. At Cal, Zach Maynard, once thought to be challenged by freshman Zach Kline, appears to not only have held on to the job, but distanced himself from pursuers.
Wide receivers aplenty: And there are plenty of those in the conference. USC has probably the best tandem in the country in Robert Woods and Marqise Lee. Cal's Keenan Allen (though he missed spring drills) should continue to put up big numbers, and Washington State's Marquess Wilson should flourish in the Cougars' new system with Tuel as his quarterback. Markus Wheaton and Brandin Cooks could challenge the USC duo statistically if quarterback Sean Mannion continues to develop. There are stars on the rise at Arizona State (Jamal Miles) and Stanford (Ty Montgomery), and a potential star at Washington (James Johnson). Look out Biletnikoff, the Pac-12 is a comin'…
The conference of defense? The Pac-12 might never bunk its reputation as an offensive-centric conference (especially when it keeps churning out offensive talent). But there is a surplus of talented defenses and defensive players who were on display this spring. Washington seems to have plugged its leaks with new defensive coordinator Justin Wilcox. There's a 3-4 trend sweeping the conference, and with notable playmakers like Star Lotulelei (Utah), John Boyett (Oregon), Dion Jordan (Oregon), Chase Thomas (Stanford), Josh Shirley (Washington), T.J. McDonald (USC) and DeAndre Coleman (Cal), it's easy to see why some of the Pac-12 defenses will get the same kind of love as the offenses do in 2012.
Confidence is at an all-time high: As it should be in the spring. The four new coaches all feel confident about the systems they have installed. Stanford feels as good as it ever has about its running game. USC and Oregon should get lofty preseason rankings, and this is the time of the year when fans go through the schedules game by game and always seem to come up with a minimum of six wins. Sorry to say, there are teams in the conference that won't make it to a bowl game this season. But when you hear the coaches talk about their teams, you'd think the conference is going to go 12-0 in the postseason. This is a magical time for fans filled with hope and possibility. Enjoy it while it lasts.
January, 18, 2012
1/18/12
10:23
AM PT
I get paid to go to football games. It beats digging ditches for a living.
Some games, however, are better than others, mostly because of the location and magnitude of the game. So here are my top-six game-day environments from 2011.
1.
Rose Bowl: Oregon vs. Wisconsin
: Not much to say here. It's the Rose Bowl. All the other ESPN.com bloggers are doing lists, but they are playing for No. 2 because the Rose Bowl is the most righteous sports atmosphere in all the world. Other than the
World Cup final
.
2.
Stanford at USC, Oct. 29
: An instant classic. Two high-quality teams with super-elite quarterbacks going blow for for blow until it was decided in Stanford's favor in triple-overtime. And with 93,607 on hand, it was an old-school crowd at the Coliseum.
3.
Oregon vs. LSU, Cowboys Stadium
: Cowboys Stadium is the ultimate statement of sporting excess, which is to say it's awesome. And this was a rare season-opener matching top-five teams from the two best conferences over the past decade or so. And it would have been a good game if we could have made the third quarter disappear, eh Ducks?
4.
Arizona State at Oregon, Oct.
15
: Went to Autzen Stadium three times this season, and this was the best atmosphere. Crowd of 60,055 was a stadium record, and they were thrilled when backup quarterback
Bryan Bennett
came off the bench for an injured
Darron Thomas
to lead the Ducks to 17 unanswered points in a come-from-behind 41-27 win.
5.
Oregon at Stanford, Nov. 11
: I did not attend this game, but here's what Stanford blogger Kevin Gemmel had to say: "The Cardinal faithful packed Stanford Stadium for arguably the biggest game in school history that ultimately ended with a resounding thud. The pregame atmosphere was phenomenal. But as it became more apparent the Cardinal were not going to win, the once excitable, sellout crowd became placid and subdued. Great atmosphere, but only for about a quarter and change."
6.
Missouri at Arizona State, Sept. 9
: Many have forgotten how well the Sun Devils started the season. This 37-30 overtime win on ESPN was played in front of a packed house at Sun Devil Stadium -- 70,236 -- and just about everyone was wearing black for a "blackout." Might have been quarterback
Brock Osweiler
's best game.
November, 3, 2011
11/03/11
7:41
AM PT
Issues to consider heading into the 10th week of games.
Is Oregon sharp and efficient at QB
? The first question here is: Who? If
Darron Thomas
is healthy, it's almost certain he starts. But is his knee 100 percent? Will he be able to pose a legitimate running threat? Will he be sharp throwing the ball? Even before the injury, Thomas was off-and-on as a passer this year. And then if Thomas gets replaced by
Bryan Bennett
, how will the redshirt freshman react to a potentially competitive game on the road against Washington? He was outstanding against Arizona State at home and solid on the road at Colorado, but this game should be more taxing. Oregon's offense can score so many ways that it doesn't have to be perfect in the passing game. Heck, sometimes it doesn't need to throw at all. But the Huskies chances of recording the upset go up substantially if the Ducks are running at 75-80 percent at QB.
[+] Enlarge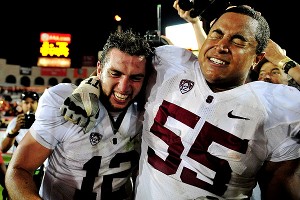 Gary A. Vasquez/US PRESSWIREA letdown is likely for Andrew Luck and Stanford following an emotional triple-overtime victory over USC last week.
Are USC and Stanford going to have letdown games
? After a triple-overtime thriller, it's hard to imagine that USC and Stanford will bring their "A-games" to road dates with Colorado and Oregon State, respectively. For one, both games look like mismatches, so it's possible that players won't be as focused and intense as they normally would. And, second, both could be running on half-tanks of energy after a physical, emotional game. Don't be surprised if they both start slowly and perhaps look a little sloppy. The question is can they pull it together enough to secure a comfortable win or will they allow the Buffs and Beavs to keep things interesting?
Good Cal or bad Cal? Good Maynard or bad Maynard
? California has been all over the place this year, and so has QB
Zach Maynard
. It appeared that he'd found his groove during a 34-10 win over Utah, but then he lost it when he threw four interceptions in a 31-14 loss at UCLA. It's certainly not all his fault. Cal has been fickle for a while, looking like a top-25 team one week, then like an FCS one the other. The Bears should beat Washington State at home. But they will have to show up to do so. And Maynard needs to be on-target or he could lose his starting job.
Will Neuheisel and/or Wulff pick up a signature win
? UCLA and Washington State fans have been waiting for Rick Neuheisel and Paul Wulff to turn their sagging programs around for four years. Neither has produced results that have fans happy. Neither has a meaningful, A-list conference victory that provided a strong indication that better things were ahead (the Bruins beating Texas last year proved a mirage and was a nonconference game). If Neuheisel and the Bruins can beat Arizona State, they will take control of the Pac-12's South Division. That would seem like a win that could resonate. If Wulff and the Cougars could pick up a fourth win at Cal, then it would keep bowl hopes alive and, at worst, show the program was making clear progress.
Foles versus the Utah D
: While Utah's first season in the conference has been disappointing, it's played good, consistent defense. It ranks first in the Pac-12 in total defense and second in scoring. While Arizona's season has been disappointing, QB
Nick Foles
can fling the rock. He ranks first in the Pac-12 in passing yards per game with 366.1, 80 more than anyone else. That matchup alone makes this game worth watching.
Washington's run defense
: Oregon is No. 1 in the conference and No. 4 in the nation in rushing offense (309 yards per game). Washington's defense is best against the run. Of course, that requires qualification. Good running teams -- Nebraska and Stanford -- ran all over the Huskies. And, as a whole, the Huskies defense had been rotten, surrendering 430 yards and 33.4 points per game. If Washington is to have any chance, it must 1. find a way to at least slow down the Ducks running game; 2. force turnovers. Time for coordinator Nick Holt to earn his paycheck.
Arizona needs to run, stop the run
: Utah is second in the conference with 23 sacks. That suggests that it's in Foles' best interest to hand the ball off at least a few times to slow down the Utes' pass rush. So the Wildcats shouldn't abandon the run. Meanwhile, the Wildcats defense has mostly struggled this year, but the Utes offer a limited, one-dimensional offense that relies on running back
John White
. That means Arizona should gang up on the line of scrimmage and force
Jon Hays
to throw the ball. While the Wildcats have been worse against the pass this year than the run -- opponents are completing 69 percent of their throws -- Hays has yet to show he can throw consistently and move his team down the field.
Do Colorado and/or Oregon State have anything left
? Colorado is 1-8. Oregon State is 2-6. Both are coming off blowout losses. Both will be at home in front of uninspired crowds. Both are playing foes with a lot more talent than them. Both look like candidates to take a whipping. And yet. Football is a funny game. If one or the other or both come out playing with fire, they might keep things competitive. And when a game gets into the fourth quarter, crazy things can happen.
October, 20, 2011
10/20/11
6:34
PM PT
Issues to consider heading into the eighth week of games.
Price vs. Luck
: Think back to your college football brain in August. Now look that bolded intro. Who would've thunk it, right? Well, turns out that
Andrew Luck
is a heck of a quarterback, but at present not only is Washington's
Keith Price
nipping at his heels in terms of passing efficiency, but he's also got more touchdown passes than the leading Heisman Trophy contender -- 21 vs. 18. Luck is almost certain to play well at home against a fair-to-middling Huskies defense. To lead the upset for Washington, Price will need to match -- if not exceed -- Luck's numbers.
[+] Enlarge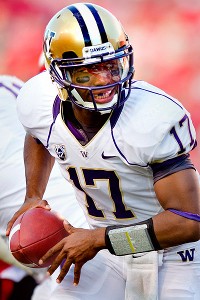 Douglas C. Pizac/US PresswireWashington quarterback Keith Price enters Saturday's game with 21 TD passes, more than Stanford counterpart Andrew Luck.
Barkley to Woods
: USC QB
Matt Barkley
and WR
Robert Woods
are the best pass-catch combination in the Pac-12, and one of the two or three best in the nation. They've combined for six TDs and 130.5 yards per game. But they were not in sync last week against California. It's likely the Trojans will struggle to run against a tough Notre Dame front seven. So the way USC wins in South Bend is Barkley to Woods, Barkley to Woods.
Who starts at QB, RB for Oregon
? Not much to this one: Do
Darron Thomas
(knee) and
LaMichael James
(elbow) start for the Ducks at Colorado? Or do their backups:
Bryan Bennett
and
Kenjon Barner
? This pretty much is the only expected intrigue in Boulder on Saturday.
Hays or Maynard
? While there's no single reason Utah and California are both 0-3 in Pac-12 play, the biggest is inconsistent play at QB. Utes QB
Jon Hays
replaced injured starter
Jordan Wynn
for the second half against Washington and has mostly improved in two starts. Cal's
Zach Maynard
started the season well but has struggled since the conference slate began, bottoming out last Thursday with three interceptions against USC. With two good defenses at AT&T Park, it's unlikely either offense will be able to run the ball 40 times and win. The team that is more efficient passing the ball likely ends up smiling.
Wildcats set free
? There's a feeling that Arizona's players were playing tight -- more worried more about mistakes than focused on making plays -- in recent weeks as the losses piled up and coach Mike Stoops got more frenzied on the sidelines. We'll get a better feel for that Thursday night. The Wildcats have started slowly all season. If they get off to a quick, enthusiastic start against UCLA, you'd have to think a lot of players have loosened up since Stoops was fired. That shouldn't be over-construed as an indictment of Stoops, by the way. After all that losing and a coach firing, sometimes it becomes easier to play when you have nothing to lose.
Tuel time
: Washington State QB
Jeff Tuel
didn't pick a great team for his first start since a fractured clavicle forced him to miss the Cougars' first five games: Stanford. While Tuel had his moments, he looked a little out of sorts against an A-list defense. But after getting his game legs back, Oregon State's defense offers a much softer landing. Tuel is the Cougars unquestioned leader. This is a must-win game for the Cougs' bowl hopes and for coach Paul Wulff — and in such games, unquestioned leaders step up, lead and make plays that turn must-wins into victories.
Hogs on the Farm
: While the rise of Stanford football is not unreasonably connected to Luck, more than a few folks will tell you a culture shift was more important. A program that was seen as soft, one populated by smart young men with aspirations other than pro football -- because they wanted to make more money than the NFL could pay them -- transformed into an edgy, physical and, yes, maybe slightly dirty unit that played until the very echo of the whistle. Washington coach Steve Sarkisian has been talking about the Huskies playing physical football since he was hired to take over a team that went soft under Tyrone Willingham. The Huskies have taken some big steps forward -- see the dominant victory over Nebraska in the 2010 Holiday Bowl. But they aren't there yet on either line. Or are they? We'll see Saturday in the trenches.
Prince wears the crown
:
Kevin Prince
is (again) UCLA's quarterback. While this has many Bruins fans slapping their foreheads, Prince was a capable passer in 2009 and ran the pistol offense well in 2010. He's just never been consistent and, most important, never stayed healthy. Well,
Richard Brehaut
is out for the year, so the QB job is (again) Prince's. At least as long as he can stay healthy, and barring any horrible play -- see Prince against Texas -- that forces embattled coach Rick Neuheisel to turn to true freshman
Brett Hundley
. Yet there is a potential positive spin here. What if Prince rises to the occasion? A UCLA win at Arizona would set the Bruins up nicely for a second-half run.
PAC-12 SCOREBOARD
Thursday, 9/3
Friday, 9/4
Saturday, 9/5