USC Trojans:

Brock Osweiler
February, 3, 2014
2/03/14
5:30
PM PT
Another Super Bowl is in the books, and Pac-12 alumni played a major role in the Seattle
Seahawks' 43-8 win over the Denver Broncos
. Is it any surprise that the team with the most Pac-12 players won the game? (Hint, hint, Mr. Elway).

In all, there were 16 active players on both rosters: 11 for the Seahawks and five for the Broncos. There are other Pac-12 players on the rosters or practice squads, but they were either injured, suspended or inactive for XLVIII.
The standout was former USC linebacker
Malcolm Smith
, who was named MVP for an inspired defensive performance. The Pac-12 had hit a bit of an MVP dry spell. After
John Elway
(Stanford) won the MVP in 1999, the league went more than a decade without having an MVP. Now it has two in the last four years after
Aaron Rodgers
(Cal) was MVP of XLV, and now it's Smith's turn.
Here's a look at how the the Pac-12 alumni performed.
Seattle Seahawks
Doug Baldwin, WR, Stanford: Started at wide receiver. Led the Seahawks with five catches for 66 yards, including a 10-yard touchdown. Also had an assisted tackle on special teams.
Derrick Coleman, RB, UCLA: Recorded one tackle on special teams.
Jermaine Kearse, WR, Washington: Caught four balls for 65 yards, including a 24-yard touchdown.
Marshawn Lynch, RB, Cal: Started at running back. Carried 15 times for 39 yards, including a 1-yard touchdown.
Brandon Mebane, DT, Cal: Posted three tackles, including a tackle for a loss.
Zach Miller, TE, ASU: Started at tight end. Had one catch for 10 yards and recovered an onside kick.
Mike Morgan, LB, USC: Appeared, but did not record any stats.
Richard Sherman, CB, Stanford: Started at left cornerback. Posted three tackles (two solo) with one pass defended. Left game with an injury in the fourth quarter.
Malcolm Smith, LB, USC: Crowned Super Bowl MVP. Returned an interception 69 yards for a touchdown and recovered a fumble to go along with 10 tackles (six solo) and a defended pass.
Walter Thurmond, CB, Oregon: Started at cornerback. Posted three tackles (one solo).
Max Unger, C, Oregon: Started at center.
Denver Broncos
February, 23, 2012
2/23/12
10:34
AM PT
Pac-12 spring preview: South Division
Spring practice is almost here. Here's a snapshot at what to expect from the Pac-12 South in the coming weeks.

ARIZONA
Spring practice starts
: March 4
Spring game
: April 14
What to watch
:
Hello, my name is ... Like the other two teams in the South Division with new head coaches (Arizona State and UCLA) much of Arizona's first few weeks will be Rich Rodriguez evaluating his personnel and getting to know what he has to work with. Likewise, the players are going to have to figure out what this new coaching staff is about. Everything from how they do pre-practice stretches to how they call the cadence is going to change.
New scheme and a new scheme: A spread option on offense and a 3-3-5 on defense. That's a lot of new material to digest on both sides of the ball. Until Rodriguez can recruit the players he likes into his scheme, he's going to have to make it work with the players he has. Fortunately on the defensive side of the ball, Arizona has good depth in the secondary with Cortez Johnson, Marquis Flowers, Shaquille Richardson, Jourdon Grandon and Tra'Mayne Bondurant. The Wildcats should also get a boost with the return of injured players Jake Fischer (LB), Jonathan McKnight (CB) and Adam Hall (S).
Perfect fit? Former starter Matt Scott, who was beaten out by Nick Folesin 2009, is expected to reprise his starting role under Rodriguez. He redshirted the 2011 season and -- magically -- Foles never got hurt last year despite taking 23 sacks and countless hits. Scott is considered the more versatile quarterback and should fit nicely into the new run-based spread attack.

ARIZONA STATE
Spring practice starts
: March 13
Spring game
: April 21
What to watch
:
QB competition: We know what kind of offense new coach Todd Graham is going to run; now it's a matter of figuring out who is going to run it. Graham has his choice of three players -- Mike Bercovici, Taylor Kelly or Michael Eubank -- to replace NFL-bound Brock Osweiler. Graham said earlier this month that there are no favorites heading into the competition and each one brings his own skill set to the table. Eubank has the size (6-foot-5, 235 pounds), Bercovici (6-1, 205) is a mechanic and Kelly (6-1, 202) is a little bit of everything.
Get the locker room: By the end of the 2011 season, ASU's locker room wasn't just divided, it was completely splintered. Graham's task -- and that of his new coaching staff -- is to pick up the pieces, mend internal fences and find some chemistry on both sides of the ball. Linebacker Brandon Magee, long considered a great locker room leader, should help get the Sun Devils back on track as he returns from a season-ending Achilles injury.
Hands competition: The Sun Devils lose three of their top four wide receivers from last season -- Gerell Robinson, Aaron Pflugrad and Mike Willie. Jamal Miles returns after finishing second on the team last season with 60 catches and six touchdowns. Rashad Ross figures to be the No. 2 guy, but establishing depth in that corps -- especially if Graham wants to be up-tempo -- is key.

COLORADO
Spring practice starts
: March 10
Spring game
: April 14
What to watch:
Momentum, maybe? For as rough as 2011 was for the Buffs, they ended the year on a high note, winning two-of-three down the stretch -- including a 17-14 win over Utah in the season finale. But there is also the possibility that things might get worse before they get better. With just four returning starters on offense, spring in Boulder will likely be more about teaching and less about refining.
Where to start (offense)? Well, quarterback might be a good place. In the court of public opinion, Connor Wood, a transfer from Texas, seems to be the favorite. Nick Hirschman appeared in five games last season, mostly in mop-up time when the game was already out of hand. It's also possible a starter could be named by the end of spring ball. Finding offensive weapons to surround the new quarterback will also be a challenge. Wide receiver Paul Richardson caught 39 balls last season, and running back Tony Jones showed a flare for catching the ball out of the backfield. He'll likely step in as the new workhorse back for the departed Rodney Stewart.
Where to start (defense)? Last in this. Last in that. Last in almost every team statistic the Pac-12 has to offer. But there are some intriguing youngsters on the roster. Cornerback Greg Henderson was all-conference honorable mention as a freshman with a team-high nine passes broken up. Jered Bell also returns from injury after blowing out a knee last preseason. If healthy, he's expected to be a big contributor in the secondary. Linebacker Jon Majorreturns as the team's leading tackler, and if Doug Rippy is fully recovered from his knee injury, he'll look to build on what was a pretty good season last year before getting hurt.

UCLA
Spring practice starts
: April 3
Spring game
: May 5
What to watch
:
QB up for grabs: Like the majority of the conference, UCLA enters spring with a quarterback competition. New offensive coordinator Noel Mazzone said he doesn't care how much experience (or lack thereof) a player has -- if he can play, he wins the job. So don't be surprised if Brett Hundley passes Kevin Prince and Richard Brehautas the new man leading the Bruins. Fans have been clamoring for a change. Hundley might be it.
Attitude adjustment: One of the first things new head coach Jim Mora did was slam the team for its tradition of going "over the wall," a time-honored senior ditch day, saying if they want to jump the wall, they should just keep on going. How's that for sending a message? UCLA has earned a reputation for being soft and underachieving despite good talent. Attitude and toughness is needed -- and so far, Mora appears to be hammering that point home.
Speaking of toughness ... The defense has to get tougher. No two ways about it. It was weak against the run last season, allowing more than 190 yards per game on the ground; couldn't get to the quarterback; and couldn't get off the field almost 50 percent of the time on third down. It's time for potential all-conference players such as defensive end Datone Jones to start living up to the hype and the defense as a whole to stop getting pushed up and down the field. At 6-5, 275 pounds, Jones has the physical makeup to be a major force in the conference and catapult himself into the elite class of collegiate defensive players.

USC
Spring practice starts
: March 6
Spring game
: April 14
What to watch
:
Ignore the hype: Few teams ended last season hotter than USC and returning quarterback Matt Barkley. The Heisman talk has already started, the way-too-early rankings already have the Trojans as national championship contenders, and the public perception is that the offense is unstoppable. Nice to hear, but hype is a double-edged sword. Head coach Lane Kiffin has a knack for deflecting hype. This season will be his toughest test to date.
Insurance? The Trojans are loaded on both sides of the ball with returning players. But after the starting 22, things start to get dicey. Developing depth and keeping the starters healthy is a top priority -- particularly on the offensive and defensive lines and at running back, where experience is thin outside of the starters. The entire back seven returns on defense -- headlined by hard-hitting safety T.J. McDonald. Stopping the pass has been a major priority for Kiffin, and if this group stays healthy it should see the pass-efficiency numbers improve even more.
Other options: Along those same lines, wide receivers Robert Woods and Marqise Lee make up the most feared receiving duo in the conference -- maybe the country. But who are the Nos. 3 and 4 receivers behind them? George Farmer? Victor Blackwell? De'Von Flournoy? Don't overlook the tight end duo of Xavier Grimble and Randall Telfer, which should rival Stanford's Zach Ertz and Levine Toilolo as the best tight end tandem in the conference.

UTAH
Spring practice starts
: March 20
Spring game
: April 21
What to watch
:
Youthful approach: Head coach Kyle Whittingham turned some heads by naming former Utah quarterback Brian Johnson as his offensive coordinator. Johnson, who recently turned 25, said he's not looking to make wholesale changes to the offense, though he wants to put his stamp on it and continue to build around running back John White IV, who had a breakout season in his first year of major college football. Having quarterback Jordan Wynn back healthy should also help as the team transitions to Johnson running the offense.
Fixing the line: Who is going to protect Wynn (if he does indeed win back the starting job) and make holes for White? That's a major concern heading into spring as the Utes have to replace a pair of all-conference linemen in Tony Bergstrom and John Cullen. The Utes should be set at the interior but have to adjust to a new position coach, with Tim Davis leaving for Florida after just one season and Dan Finn -- a former Utah graduate assistant who was brought on to help Davis -- taking over the whole line following a one-year stint at San Diego State.
Work the experience: The defensive line should be one of the best in the conference, especially with the return of Star Lotulelei, who won the Morris Trophy last season as the conference's best defensive lineman. With the Kruger brothers returning to the line -- Joe at defensive end and Dave at tackle -- Derrick Shelby is the lone starter who has to be replaced. There's also some pretty good depth in the secondary that was tops in the conference last season in pass-efficiency defense.
February, 6, 2012
2/06/12
9:10
AM PT
We like doing Power Rankings at ESPN.com. These are the post-signing day Power Rankings.
If you want to see where your team stood on Jan. 10,
go here
.
The schedule does not factor into these. This is a projected pecking order based on where a team stands right now.

And if you don't like where your team is in the post-signing day Power Rankings, then I'd suggest whining about it until your team plays better.
1.
USC
: The Trojans ranked 13th in the final recruiting rankings with just 12 signees. They will be ranked in the preseason top 5, perhaps even No. 1. If things go according to plan, USC will blow a big raspberry at Paul Dee next January.
2.
Oregon
: The Ducks surprisingly lost QB Darron Thomas to the NFL, but the far more important news is not losing coach Chip Kelly to the Tampa Bay Buccaneers. A strong recruiting class and another likely top-5 preseason rankings sets the Ducks up nicely to enter the national title chase.
3.
Stanford
: Stanford signed the best recruiting class in the Pac-12. It was ranked 12th by ESPN Recruiting and much higher by just about every other recruiting service. While the Cardinal have big holes to fill -- most notably behind center -- a glance through the roster suggests those rooting for the program to topple after a grand rise are going to be disappointed.
4.
Washington
: Much of the recruiting season had been disappointing for the Huskies, particularly losing almost all of the top in-state prospects, including a pair of A-list linemen who would have addressed major needs. But Steve Sarkisian made a series of aggressive moves rebuilding his coaching staff, most notably with the hiring of defensive coordinator Justin Wilcox and ace recruiter Tosh Lupoi. That supplies much of the positive momentum here.
5.
Utah
: The Utes signed a strong recruiting class and welcome back a wealth of starters from a team that won eight games without much production at QB. The promotion of 24-year-old Brian Johnson to offensive coordinator was a surprising move, particularly with fans rooting for a "celebrity" hire. It could prove to be a stroke of genius, but the onus is now on Johnson to make it become so.
6.
UCLA
: The Bruins are the big climbers from our Jan. 10 power rankings -- moving up from No. 10 -- but that's what happens when new coach Jim Mora punches back at skepticism with an outstanding recruiting class. A team that looked like a "neh" is moving closer to a "maybe."
7.
California:
Despite all the hand-wringing over the loss of Lupoi and receivers coach Eric Kiesau to Washington, the Bears still signed a top-25 recruiting class that addresses needs. Still, perception matters, and at present, Bears fans seem more worried than optimistic. Nothing, of course, a few wins in a shiny remodeled stadium can't change.
8.
Arizona
: Rich Rodriguez's recruiting class finished at or near the bottom of the Pac-12, according to most rankings. That said, Rodriguez got his man at defensive coordinator, Jeff Casteel, which is significant because most trace the problems at Michigan to his failure to do so for the Wolverines.
9.
Washington State
: The Cougars didn't soar in the recruiting rankings just because of the hiring of coach Mike Leach. Still, that doesn't appear to be dampening the enthusiasm in Pullman.
10.
Arizona State
: New coach Todd Graham did a solid job salvaging the Sun Devils' recruiting class. But the loss of QB Brock Osweiler to the NFL and the NCAA's rejection of receiver T.J. Simpson's bid for a sixth year of eligibility leave the program with plenty of questions on offense. And just as many on defense.
11.
Oregon State
: The Beavers were victimized by a handful of late recruiting flips that put dents in what was shaping up to be a strong class. And the loss of secondary coach Keith Heyward to Washington also was a blow. On the plus side, the Beavers will see 17 returning starters during spring practices.
12.
Colorado
: The Buffaloes remain at the bottom because the bottom line is this: They welcome back 13 starters from a team that went 3-10 and ranked last in both scoring offense and scoring defense. Still, coach Jon Embree put together a solid recruiting class, one that could become the foundation of his substantial rebuilding project.
January, 10, 2012
1/10/12
1:29
PM PT
It's never too early to look ahead, and even if it is, it's not against the law or anything.
And so we have our way-too-early 2012 power rankings.

By the way, schedule does not factor into these. This is a projected pecking order based on where a team stands right now -- Jan. 10, 2012.
And, by the way No. 2, if you don't like where your team is in the way-too-early power rankings, then I'd suggest whining about it until you get to play better.
By the way No. 3, Nos. 1 & 2 were easy. The rest is pretty darn murky, not in small part due to four new coaches.
1.
USC
: The Trojans welcome back 19 starters from a top-five team, including quarterback
Matt Barkley
. They beat Oregon in Autzen Stadium on Nov. 19. USC might be the preseason No. 2. Or No. 3.
2.
Oregon
: The Ducks have a strong mix of talent coming back from a team that won the Rose Bowl, but it's not just about 16 returning starters. If you want a reason to favor the Ducks over the Trojans, it's depth. Oregon welcomes back most of its
two-deep
. By the way, old Ducks fans probably grin about the idea of their team having better depth than USC.
3.
Utah
: The Utes welcome back 18 starters, though replacing both offensive tackles will be a huge task this spring. The defense has a chance to be beastly. The key? Utah proved it can win eight games with poor-to-middling quarterback play. But does a healthy
Jordan Wynn
-- back to late 2009, early 2010 form -- mean 10 wins?
4.
Stanford
: Many will count out the Cardinal, post-
Andrew Luck
. The Pac-12 blog will not. The over-under with this team is eight wins. Two gigantic holes on the offensive line and at both safeties are major issues, as is quarterback.
5.
Washington
: The Huskies welcome back seven starters on both sides of the ball, including up-and-coming quarterback
Keith Price
. The question is how quickly the defense can improve under Justin Wilcox.
6.
California
: While Cal only welcomes back 11 starters, there's plenty of intriguing talent on the roster, particularly on defense. Will quarterback
Zach Maynard
take a step forward? And what about his receivers after
Keenan Allen
? The pressure is on Jeff Tedford to win inside a renovated Memorial Stadium in 2012. If things come together, he just might do that.
7.
Arizona
: The Wildcats have more potential than most realize, starting with five returning starters on the offensive line and three defensive starters returning from injury, as well as an experienced quarterback in
Matt Scott
, who looks like a nice fit for Rich Rodriguez's spread-option offense.
8.
Washington State
: With 18 starters back, I'll go ahead and type it: New coach Mike Leach will lead the Cougars to a bowl game. And, hopefully, someone tips their cap to former coach Paul Wulff for collecting some solid talent, including two quarterbacks,
Jeff Tuel
and
Connor Halliday
, who appear capable of flinging the rock as Leach likes to, as well as a potential All-American receiver in
Marquess Wilson
.
9.
Oregon State:
The Beavers could be a surprise team if all the young players who were inconsistent in 2011 grow up in 2012, starting with true freshman quarterback
Sean Mannion
. With 17 starters back, experience won't be an issue. But those returning players went 3-9, so it's difficult to project a top-half finish. At least, not at this point.
10.
UCLA
: New coach Jim Mora doesn't start with an empty cupboard -- 16 starters are back. But the overall talent is dubious and, even more challenging, Mora needs to rebuild a culture. Further, taking the Bruins back to a pro-style offense, if that's the ultimate plan, might be a struggle in Year 1. First question: Is
Kevin Prince
the quarterback, or does Mora go with talented redshirt freshman
Brett Hundley
?
11.
Arizona State
: The Sun Devils tumbled in these rankings when quarterback
Brock Osweiler
, curiously, opted to enter the NFL draft. With just 10 starters back, a quarterback with no real game experience -- whoever wins the job -- and a challenging locker room, new coach Todd Graham might find the going rough in Year 1.
12.
Colorado
: The Buffs welcome back 13 starters from a team that went 3-10 and ranked last in both scoring offense and scoring defense. The rebuilding job on offense, in particular, will be significant with the loss of quarterback
Tyler Hansen
, running back
Rodney Stewart
and receiver
Toney Clemons
. The rebuilding job in Boulder won't happen overnight-- or over two seasons -- for second-year coach Jon Embree.
October, 13, 2011
10/13/11
9:43
AM PT
Issues to consider heading into the seventh week of games.
Thomas takes over
: With RB
LaMichael James
out, QB
Darron Thomas
becomes the veteran presence inside a young Ducks offensive huddle. He's the guy everyone will look to. Arizona State's defense has rattled some pretty good QBs, most notably USC's
Matt Barkley
. Thomas hasn't put up big numbers this year, but he's thrown 15 TD passes and just two interceptions. It's likely strong passing numbers from Thomas will be a key in this game.
[+] Enlarge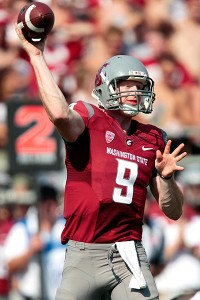 AP Photo/Dean HareMarshall Lobbestael faces a big challenge Saturday in the form of the Stanford defense.
Lobbestael vs. Luck
: It's fun to ha-ha at the absurdity of that -- Washington State's backup QB vs. the most talented QB in college football in a decade -- but that's what we've got Saturday in Pullman: The almost certain No. 1 overall pick in the NFL draft this spring versus a guy who has admirably filled in for starter
Jeff Tuel
but who may be seeing the last football of his career. There's some poetry there. By the way,
Marshall Lobbestael
is good enough to give Stanford's secondary some trouble if he gets time to throw.
Barkley-Woods
: Last year against California, Barkley threw five first-half TD passes, tying a USC -- full-game -- record.
Robert Woods
might be the best receiver in the nation in terms of pure talent. If you wonder what Cal needs to be concerned with tonight, it's Barkley-Woods, Barkley-Woods, particularly with starting CB Marc Anthony out.
Price increases Buffs' secondary costs
: Washington QB
Keith Price
ranks second in the Pac-12 in passing efficiency and first in TD passes. Colorado's patchwork secondary, which has been riddled by injuries and suspensions, ranks 10th in the conference in passing efficiency defense and has yielded 14 TD passes, most in the conference. Not a good matchup for the Buffs. Colorado's solution to a struggling secondary is to attack with blitzes -- see 17 sacks, tied for most in the conference. The Huskies have yielded 11 sacks. If Price gets time to throw, he can make Colorado pay. But will he?
Utes up front
: Utah's strength is its lines, and it needs to lean on that strength at Pittsburgh. The Panthers on offense are mostly one guy: RB
Ray Graham
, the nation's second leading rusher. The Panthers aren't good if they have to pass. They yield 4.67 sacks per game, most in the nation, and rank 96th in the nation in passing efficiency. So it's obvious: Make Pitt throw. On the other side, the Utes probably will faces that same strategy. The Panthers will try to make new Utes starting QB
Jon Hays
beat them. But RB
John White
and a solid offensive line might be good enough to still win that battle in the trenches.
Beavers fall
: Every year is a new year, so past trends don't always matter. Until they do. This year started out particularly bad for Oregon State, but losing Septembers are -- sorry -- standard in Corvallis. That's the bad news. The good news is the Beavers typically seem to get better. They have entered October with losing records eight consecutive years. But since 2004, they are 38-15 in October, November and December. After an 0-4 start, they are now 1-0 in October. Can they maintain their trend of mid-to-late-season improvement?
The 6-8 QB
: Inside Autzen Stadium, everything starts with the opposing QB. How well can he handle the noise? Can he maintain focus and make plays and avoid miscues. Arizona State's
Brock Osweiler
, who it will be noted at least once on Saturday is 6-foot-8, made his first career start at Autzen in 2009 as a true freshman. That evening started badly and ended quickly when he was knocked out of the game. Suffice it to say, he's a different guy these days: Skilled, confident, knowledgeable. It's also impossible to believe the Sun Devils can record an upset without him playing lights out -- as he did against Missouri and USC.
Cougs up front
: While
Andrew Luck
gets all the publicity, Stanford is as much about being physical up front on both lines as it is about Luck. Luck will stress the Washington State secondary, but the real measure of the Cougars' ability to hang with Stanford will be on both lines. Can the Cougs slow down the Stanford running game and force Luck to throw? That doesn't sound like a great thing, but it's critical in terms of slowing down Stanford. And, on the other side of the ball, will the Cougs be able to run well enough that the Cardinal doesn't load up with blitzes on Lobbestael? Playing at home will help. But Washington State's only chance is not getting exploited at the line of scrimmage.
PAC-12 SCOREBOARD
Thursday, 9/3
Friday, 9/4
Saturday, 9/5