October, 17, 2013
10/17/13
10:00
AM PT
LOS ANGELES -- There is nothing quite like a Notre Dame football Saturday in South Bend, and yet in all its beauty and aura, there is something dramatically different when USC comes to this little northern Indiana hamlet.

"I think our players will be the first ones to admit that this is our rivalry game," said Irish head coach Brian Kelly. "This is our game that we look forward to against USC.

"It's one that it's on our calendar as I don't want to say a red-letter game, but one that we look forward to. It's such a great matchup, great tradition, great history. It's part of the history of Notre Dame football that they really recognize as that one singular game."


October, 16, 2013
10/16/13
5:30
PM PT
USC travels to Notre Dame Stadium for a Saturday night showdown in what is one of the nation's top rivalries. Both teams are 4-2 and unranked, but the Trojans appeared to have been granted a new lease on life under interim coach Ed Orgeron, as they topped Arizona in their first game without Lane Kiffin in charge. The Irish, meanwhile, are coming off a much-needed win over Arizona State and a bye, as they look to make it three-for-their-last-four against USC after previously dropping eight in a row.


Matt Fortuna and Ted Miller take a look at this weekend's matchup.
Matt
: We'll start with the obvious, Ted. USC is a talented team that just got a bit of a second wind this past week under Orgeron. Was the performance against Arizona simply the culmination of weeks of frustration? Or do you think these Trojans have new life and need to be looked at as the kind of threat many of us have been expecting them to be the last two years?
Ted
: Is it fair for a know-it-all sportswriter to type that he has no idea? USC has been so difficult to read the past two seasons. You look at the 22 starters and think, "That's a lot of talent." But it doesn't translate to execution. Was that all Kiffin's fault? I don't think so, though the offense looked significantly better with Clay Helton calling the plays. Even the quasi-redemptive win over Arizona revealed the Trojans' tangible Achilles heel -- depth. USC jumped to an impressive first-half lead but seemed to wear down in the second half. I do think the locker room will continue to unite around Orgeron, as fiery a motivator as there is. The question is whether USC will be as motivated and focused on the road as it was at home. And can it maintain that in the fourth quarter?
Speaking of mercurial teams, the Fighting Irish. I picked Notre Dame to beat Arizona State (reaches around, pats self on back), but I did that as much because of the Sun Devils' tendency to throw up on themselves just when they seem to take a step forward as believing the Irish were better. Where does this team stand? How did the week off help -- or hurt -- the cause?
Matt
: Well, this answer may sound quite familiar, too, but I think we're all still trying to figure out the Irish. A loss to ASU would have been brutal, as BCS hopes would have been eliminated by the mid-point of the season. Of course, USC can erase those scenarios this week, too, much the same way it did two years ago in a similar situation -- seventh game of the season, prime time at Notre Dame Stadium, Irish coming off a bye. Everyone slept on those Trojans that time, and they ended up turning in a 10-2 campaign while the Irish locker room nearly revolted on its head coach in that game's aftermath.
Notre Dame's front-loaded schedule looks a little less daunting in retrospect -- losses to Michigan and Oklahoma look worse by the week, as does a tight win at Purdue. But there is that small matter of Stanford underwhelming, too, and the Cardinal are easily the toughest opponent the Irish have left after the USC one, so it is not out of the question to see Notre Dame make a final push for a 10-2 mark and BCS bid.
That said, it needs to take some of the lessons from the ASU win and apply them moving forward. Coach Brian Kelly showed his players a highlight tape of three tight wins from 2012 leading up to that game in an effort to demonstrate just how razor-thin the margin for error was. We saw a much more complete performance from the Irish against the Sun Devils, but there was still a pick-six and a defense that looked little like last year's dominating unit.
I'll say this: USC's improved play under the one-game regime of Orgeron has seemed to add a much-needed jolt going into this matchup. It's USC-Notre Dame, with the Irish looking like they may have turned a corner in the rivalry last year and going for three wins out of four this year. Do you think the Trojans, having seen the Irish clinch a title-game berth on their field last season, carry a bit of a chip on their shoulder coming into this year's game? I know it sounds cliche, but from over here it looks like USC's 2013 issues have been more mental than anything else.
Ted:
This is one of the truly great college football rivalries, one that is unique with its cross-country feel. If the Trojans can't get fired up for this one, then that will show you the Trojans' problems were as much the sort of player they recruited as the guy leading them onto the field. And, of course, in a rivalry game, the players who lost the year before should be particularly motivated to exact revenge.
Still, I see that as an uphill slog for USC. For one, the Trojans are banged up, with receiver
Marqise Lee
and outside linebacker
Morgan Breslin
, among others, highly questionable for the game. Second, Notre Dame is superior on both lines. I see USC hanging early but then getting worn down. Further, the pass defense has been poor, which means Irish quarterback
Tommy Rees
could again look like the solid decision-maker he was against Arizona State.
That said, if USC does manage to get the upset, we might have to re-evaluate USC's prospects this season. And, perhaps, even raise an eyebrow at what Orgeron is doing leading the Trojans.
September, 19, 2013
9/19/13
6:00
AM PT
They're only college football opinions, but at least they're all mine:
This is the week we begin to find out about USC's defense. Has it really improved as much as it has appeared so far? Or has it just looked good against inferior competition? Utah State's high-powered offense should provide the first clues …
The oddsmakers know. Even with all the Trojans' gaudy defensive stats, they opened as only 6 1/2-point favorites at home …
To continue reading this article you must be an Insider
December, 17, 2012
12/17/12
7:57
AM PT
LOS ANGELES -- The USC Trojans made a strong push for a former commit Saturday night.
USC coaches Lane Kiffin, Marvin Sanders, Tee Martin, Kennedy Polamalu and John Baxter met with four-star athlete
Max Redfield
(Mission Viejo, Calif./Mission Viejo) during an in-home visit ahead of the fast-approaching dead period. Redfield decommitted from the Trojans on Nov. 4, about three weeks after his official visit to Notre Dame, but USC has shown a willingness to continue recruiting the No. 4-rated athlete.
[+] Enlarge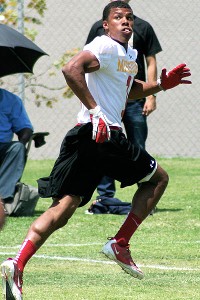 Erik McKinney/ESPN.comUSC coaches are making a late push for ESPN 150 athlete Max Redfield, who decommitted from the Trojans last month.
The coaches left Redfield's home at around 10 p.m. on Saturday. Their main selling point during the meeting: location.
To continue reading this article you must be an Insider
November, 25, 2012
11/25/12
9:37
AM PT
LOS ANGELES -- Notes, quotes and anecdotes from the Los Angeles Memorial Coliseum after USC's (7-5, 5-4 Pac-12) 22-13 loss to Notre Dame (12-0).
Lane Kiffin comments:
[+] Enlarge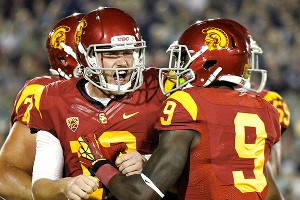 AP Photo/Danny MoloshokMarqise Lee and the Trojans were impressed with Max Wittek's performance in his first start.
On the Irish:
"Notre Dame showed me that they have phenomenal senior leadership. I think Coach Kelly said at the luncheon that they have 28 seniors on the team. You can see those guys understand the game. They play well together; they are very physical. They are not very exotic, but they don't give things up. You can see that today that they went 69 plays without allowing a turnover."
On QB Max Wittek:
"I thought Max did really well under the circumstances. Playing the No. 1 team in the country, I thought he did a good job handling himself."
On what he would tell the fans:
"I am disappointed too. I know those are not our standards here, regardless of the scholarship situation. We have to do better and obviously that starts with me."
Notre Dame coach Brian Kelly comments:
On the victory:
"If you followed us at all this year, that's how we've played. We come up big defensively sometime during the game. We did that again."
On his team's goal-line stand:
"Unbelievable goal line stand. To hold any program, any team, to get inside your two and come up with a goal-line stand. We ran the ball effectively in the fourth quarter when we needed to get those three points on the board. Those were the two critical parts of the game for us."
November, 25, 2012
11/25/12
8:45
AM PT
LOS ANGELES -- Brian Kelly emerged from the Coliseum field flanked by security guards left and right, looking nearly disheveled. He held his white Notre Dame baseball cap up toward the sky in a brief moment of bravado, his ensuing toss falling a good 10 feet short of the fans.
The coach of the nation's No. 1 team was already near his locker room by the time the cap landed, his star player rushing to catch up to him. Kelly and
Manti Te'o
embraced, the 51-year-old bear-hugging the linebacker, looking more excited than any of his players were after they had just pulled off the unthinkable.
"I can't remember what I said," Kelly recalled of the moment. "But what we've been saying all along is that we're in this together. It's really been about both of us, player and coach, driving this thing. And I think we were probably sharing that embrace, that we got it one step closer."
From South Bend, Ind., to Southern California, the Fighting Irish now will march on to South Beach, one step closer to holding up that prized crystal football. They will do it after winning Saturday night at rival USC,
22-13
, to clinch a spot in the BCS National Championship Game, which will be played Jan. 7 in Miami Gardens, Fla.
They will go there under a third-year coach, the standard for all legendary Notre Dame leaders, four of whom won national titles with the Irish in Year 3 and have statues on campus to show for it.
They will go there under the nation's best defensive player, who has emerged as an icon amid personal tragedy, who might or might not have some hardware already in hand after another interception Saturday, his seventh of the season.
"If a guy like Manti Te'o's not going to win the Heisman, they should just make it an offensive award," Kelly said afterward. "Give it to the offensive player every year, and let's just cut to the chase. He is the backbone of a 12-0 football team that has proven itself each and every week, and showed it tonight again with another key interception and a great play in the end zone on
Marqise Lee
to save another touchdown.
"If the Heisman Trophy is what it is, I just don't know how Manti Te'o is left out of that conversation."
With the Irish up 19-10 early in the fourth quarter, Te'o hit Lee, USC's Heisman candidate, in the back of the end zone on a third-and-goal play, forcing the ball to the ground and forcing the Trojans to settle for a field goal.
Te'o and the Notre Dame defense returned to that area of the field on USC's next drive, after a 43-yard Lee kick return and a 53-yard Lee reception. Backs against the wall, a 22-13 lead and a little more than five minutes from a perfect regular season, the Irish lined up, prepared to stop a first-and-goal play from the 2.
Eight plays and three minutes later, the visitors sideline was coming apart at the seams, Notre Dame's fate all but sealed. The Irish had kept USC's lethal attack out of the end zone, again. They had made a remarkable goal-line stand, again.
Six weeks earlier, against Stanford, Notre Dame had kept the Cardinal out of the end zone on four consecutive overtime plays from inside the 5. That was the moment everything came to fruition for athletic director Jack Swarbrick, who confessed Saturday night that this season's title run had come a year earlier than expected.
"Coming into the year, I thought Stanford was the test," Swarbrick said. "I just think in the past two years they were more physical than we were, bigger and tougher than we were. I thought, 'That's going to be our benchmark.' And when we survived that, especially the way we did, I thought this team had a chance."
Swarbrick came to Notre Dame as a student in 1973, just in time for Ara Parseghian's second national title. He graduated in the spring of 1977, just missing Dan Devine's first.
He came back to his alma mater four years ago, before a season that ended in this same building, the reporters that time surrounding him for comment about the status of former coach Charlie Weis after another blowout loss here.
"It's what gets you up in the morning," Swarbrick said of restoring the Notre Dame lore.
He helped do that by hiring Kelly, who now has a 12-0 team for the second time in four years. His previous one, at Cincinnati, did not get to play for the national title. This one, after entering the season unranked, after enduring questions from quarterback play to recruiting methods to injury concerns, will.
"We believed in each other," Te'o said of the journey, which took a detour last season after a loss to USC, leading to Kelly comments that threatened to fracture the locker room. "Our coaches believed in us, and we believed in our coaches. It showed the type of camaraderie we have on our team. It's the camaraderie on our team that has helped us be successful."
Upon reaching the visitors locker room after Saturday's win, Kelly greeted a group of players who were, in his words, singing and dancing and laughing. He said a few words to them before presenting the game ball to
Theo Riddick
, who had carved up the Trojans for 146 rushing yards.
Then Te'o, the leader who spurned USC four years ago for Notre Dame, who spurned the NFL last season for this moment, stood up unexpectedly. He said a few words himself, these ones about his coach, and then he presented Kelly with a game ball of his own. Teammates called it a speechless moment.
Notre Dame is back on college football's grandest stage. Not much else is left to be said.
November, 21, 2012
11/21/12
8:00
AM PT
An underwhelming season has hardly affected USC's recruiting efforts, as the Trojans have maintained their standing atop the new ESPN class rankings. Preseason aspirations of a BCS championship have since been deflated, but USC commits have, for the most part, stood firm.
[+] Enlarge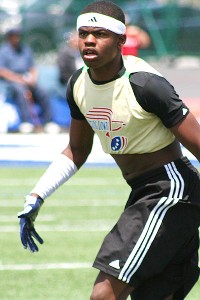 Erik McKinney/ESPN.comA disappointing season for the Trojans hasn't scared off ESPN 150 recruits likes Chris Hawkins.
Aside from the unsurprising decommitment of four-star athlete
Max Redfield
(Mission Viejo, Calif./Mission Viejo) earlier this month, the Trojans' bumpy campaign has arguably helped solidify the stance of some in the nation's No. 1 recruiting class.
"I just want to see the Trojans win," four-star cornerback commit
Chris Hawkins
(Rancho Cucamonga, Calif./Rancho Cucamonga) said. "We've been fighting hard battles. I just want to see them get back on their feet and win. It was very tough to see them lose. The defense, in particular the defensive backs, haven't played very well. It just makes me want to get there even more. Hopefully, I can get there and help my team win games."
Redfield, who USC has recruited as a free safety, decommitted a day after the disappointing 62-51 defeat to Oregon at the Coliseum. He attended the game, but the decision to re-open his recruitment had nothing to do the Trojans' record.
Redfield simply wanted to give Notre Dame, Oregon, LSU and Washington clean, unbiased looks. The success of the Fighting Irish under third-year coach Brian Kelly hasn't hurt, but it's not entirely why Redfield has decided to weigh his options.
Apart from that, there has been minimal activity since late July when USC bagged its final commitment. Yet, that steadiness could change as the Trojans limp through the end of the regular season following a loss to rival UCLA.
To continue reading this article you must be an Insider
November, 19, 2012
11/19/12
8:31
AM PT
What:
USC Trojans
(7-4 overall, 5-4 in Pac-12) vs.
Notre Dame Fighting Irish
(11-0)
When:
Saturday, November 24, 5 p.m. PT
Where:
Los Angeles Memorial Coliseum
[+] Enlarge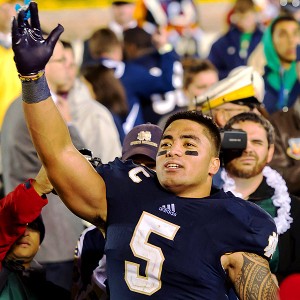 Matt Cashore/US PresswireLinebacker Manti Te'o is the heart and soul of Notre Dame's dominant defense.
TV:
ABC
Radio:
ESPNLA 710 (pregame show begins at 12 p.m.)
Scouting Notre Dame:
As Notre Dame celebrates its 125th year of football, third-year coach Brian Kelly has his squad off to its best start (11-0) since 1993 following last Saturday's 38-0 home victory over Wake Forest.
Sophomore QB
Everett Golson
(151-of-256, 59.0 percent, 1,918 yards, 11 TD, five INT in 2012, plus 80 carries, 258 yards, 3.2 per carry, five TD) has been directing the offense. Top rushers include senior RBs
Theo Riddick
(160 carries, 734 yards, 4.6 per carry, four TD, plus 32 rec for 331 yards, a 10.3 avg and one TD), a converted wide receiver, and
Cierre Wood
(102 carries for 720 yards, a 7.1 average and four TD, plus two receptions for nine yards) and sophomore RB
George Atkinson III
(49 carries for 346 tards, a 7.1 average and five TD, plus 15 kick returns for 307 yards, 20.5 avg). Senior TE
Tyler Eifert
(40 receptions, 555 yards, 13.9 avg, four TD), a 2011 All-American, and junior WR
TJ Jones
(40 receptions, 519 yards, 13.0 avg, four TD) lead the pass-catching corps.
The Irish sport one of the nation's top defenses, as it ranks first nationally in scoring defense (10.1), fifth in rushing defense (92.2), sixth in total defense (287.8), 11th in pass-efficiency defense (104.6), 13th in sacks (2.8) and 24th in pass defense (195.6). ND has held five opponents to single digits and 10 to fewer than 20 points. Senior ILB
Manti Te'o
(98 tackles, 5.5 for loss, 1.5 sacks, six INT, two fumble recoveries) is the heart of the ND defense. Sophomore DE
Stephon Tuitt
(40 tackles, 13 for loss, 12 sacks, three forced fumbles) is tied for eighth nationally in sacks per game (1.0), while junior CB
Bennett Jackson
(55 tackles, 1.5 for loss, four INT) is tied for 19th in interceptions. -- courtesy USC sports information
PAC-12 SCOREBOARD
Thursday, 9/3
Friday, 9/4
Saturday, 9/5