November, 28, 2012
11/28/12
6:38
PM PT
Arizona, Arizona State, USC and Washington fans:
Go here
. Soak it up. Take in the glory of Mississippi State.
(At this point, we'd encourage Mississippi State fans to turn away. Just as we are supposed to love the sinner but hate the sin, we love you but not your schedule).
The Bulldogs' best win this year was over Middle Tennessee, a team that lost to McNeese State. Its four SEC wins came against teams that went a combined 14-34.
Arizona, you beat Oklahoma State, Washington and USC. Arizona State, you beat Arizona. USC, you beat Arizona State and Washington. Washington, you beat Stanford and Oregon State. Heck, Arizona's win over Toledo and Washington's over San Diego State are better than anything Mississippi State did this year.
Each of you, I suspect, would pound Mississippi State. The Bulldogs, bless their hearts, aren't very good.
Ah, but the Bulldogs are 8-4. So many college football fans -- and media members -- look at their eight wins and your seven and say, "Mississippi State is better than Arizona, Arizona State, USC and Washington."
This is a ramification of having 7-5 disease, which some years is also known as 6-6 disease.
What's the big deal? Well, Mississippi State is probably going to go to the Franklin American Mortgage Music City Bowl where it will play an NC State team that just fired its coach, according to our friends with ESPN.com's SEC and ACC blogs. The Bulldogs should prevail -- NC State is, after all, the ACC's only bowl-eligible 7-5 team -- and load up a ninth victory.
[+] Enlarge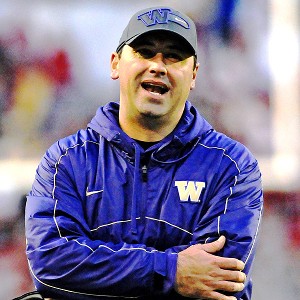 James Snook/US PresswireSteve Sarkisian's Washington team just couldn't escape the 7-5 disease outbreak.
And at 9-4, my guess is that the Bulldogs will end up ranked in the final AP poll. At 8-5, even after a nice bowl victory, Arizona, Arizona State, USC and Washington will be a a tougher sell.
The last 8-5 team to finished ranked was No. 23 Florida State in 2005.
The 14-team SEC has no 7-5 teams. The ACC has two. The Big East has one. The Big Ten has one.
Now go here
. Look over the Big 12 standings. Notice something?
The Big 12 has one 7-5 team (Texas Tech) and one 6-6 team (Iowa State). If Oklahoma State loses to Baylor on Saturday, both will be 7-5. If West Virginia beats Kansas, as expected, and TCU loses to Oklahoma, as expected, the Big 12 will have two more 7-5 teams.
The 10-team Big 12 could finish the season with four 7-5 teams and one 6-6 team, or three 7-5 teams and two 6-6 teams.
Now, we get to brass tacks: What do the Big 12 and Pac-12 share that the ACC, SEC and Big Ten do not?
If you said a nine-game conference schedule, you should give yourself a hand, pin a rose on your nose and exclaim, "Larry Scott, can we please -- PLEASE! -- kill the nine-game conference schedule?!"
I know I write this like, I don't know,
43 times a year
. But I'm writing this now because of
this column from my buddy
, David Ubben, the Big 12 blogger. David sounds a bit peeved that folks aren't giving his conference the respect it deserves because of that confounded nine-game conference schedule. He sounds a bit like me through the years.
By the way, Big 12, welcome to the frustration club on this one, though I do seem to recall many of you in past years waving away the nine-game versus eight-game argument when Pac-10 folks raised it. We won't bring up your weak nonconference scheduling right now because that would be a rude way to greet new members of the club.
The Big Ten actually thought about going to a nine-game schedule. It got wise, perhaps
because a certain blogger explained the math
.
The nine-game conference schedule was adopted by the Pac-10 in 2006. It's always been a terrible idea, but at least back then there was a concrete justification: The Pac-10 played a full round-robin schedule and therefore crowned a true champion because everyone played everyone else, even if some years a complicated tie-breaking system was needed.
Now all it does, by definition, is drop six extra losses into the conference every year and create scheduling imbalance, with some teams having five home conference games and some with four. It hurts the conference in both the human and computer polls.
The end result is this: Arizona, Arizona State, USC and Washington, instead of sitting at 8-4, become 7-5 teams with little hope of ending up nationally ranked after the bowl season.
Of course, the schedule doesn't deserve all the blame for a surfeit of Pac-12 mediocrity. If Arizona, USC and Washington took care of business last weekend in winnable games, the Pac-12 currently would have seven ranked teams with eight or more wins. That would have been great fun, though I'm sure giddy Sun Devils and Cougars fans couldn't care less about that.
College football will play its final year in the BCS system in 2013. The next season, we'll start a four-team playoff, which is likely the first step toward something bigger and far more lucrative.
Already the dynamic is changing. Where there were once six power conferences, there are now four. A great race for revenue is ahead as the conference pecking order is again redefined.
By playing nine conference games, the Pac-12 only will ensure it starts the race from behind.
November, 12, 2012
11/12/12
12:30
PM PT
The Pac-12 takes center stage this week with two of the three matchups of ranked teams, and both games are chock full of national intrigue.
No. 2 Oregon plays host to No. 13 Stanford with the Pac-12 North Division on the line (mostly). The Ducks, of course, are fighting for a berth in the national title game, but first they want to secure home-field advantage for the Pac-12 championship game on Nov. 30.
[+] Enlarge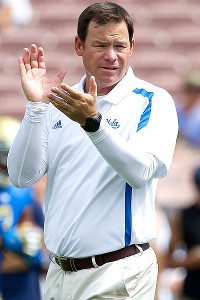 AP Photo/Nick LuceroThe annual rivalry game with USC will have more than bragging rights at stake this season for coach Jim Mora and UCLA.
And No. 18 USC visits No. 17 UCLA with the South Division on the line (completely). The Battle for L.A. is once again relevant, with the Bruins and first-year coach Jim Mora having a chance to reverse a decade of negative momentum with one big Saturday statement.
The other game with ranked teams? No. 23 Texas Tech at No. 24 Oklahoma State. Neh.
Stanford will be the highest-ranked opponent that Oregon has faced thus far this season, but the Ducks have owned the Cardinal of late. Not only have the Ducks won nine of the past 10 games in the series, they've scored 105 points combined in the past two games while winning each by more than 20 points.
Stanford, however, controls its own destiny just like Oregon. If it beats the Ducks, and then finishes its season with a win at UCLA, it wins the North. If Stanford beats Oregon but loses to UCLA, and the Ducks also go down at Oregon State, the Cardinal would win the North Division because it would have head-to-head victories over both the Ducks and Beavers.
As for USC-UCLA, the Trojans have dominated the series of late, winning five straight and 12 of the past 13. All five victories during the current winning streak have been by at least 14 points, including a 50-0 bludgeoning last season. UCLA's last win in the series came in 2006 when they upset the Trojans 13-9 at home.
This showcase weekend is a seeming climax for an interesting year for the Pac-12. For one, the conference has joined the SEC and the Big 12 as the nation's dominant leagues, with decisive superiority -- 17 members of the present BCS standing's top 25 -- compared to other "AQ conferences." Six of 12 Pac-12 teams are ranked in the BCS standings. For the Big 12, it's five of 10, and the SEC features not just six of 14 but six in the top 9.
Yet it's possible for the first time in three years the Pac-12 won't get a second BCS bowl team, which would dock the conference's 2012-13 bowl payout by about $6.1 million, or $508,333 per team. Just to be eligible, a second team must be ranked in the final top 14 of the BCS standings. Further complicating matters is Notre Dame. If Oregon earns a berth in the national title game, more than a few projections have the Rose Bowl picking Notre Dame -- undefeated or with one loss -- over a three-loss Pac-12 team.
Still, there's enough football left complicating potential scenarios that the speculation is mostly an academic exercise at present, not unlike guessing who-done-it two-thirds of the way through a mystery novel.
As for the rest of the Pac-12, things also are intriguing. Seven teams are already bowl eligible, and only three -- California, Colorado and Washington State -- are guaranteed losing records. To become bowl eligible, Arizona State needs to win one of its final two games -- Washington State and at Arizona -- and Utah needs to win both its final two -- Arizona and at Colorado.
If the conference has eight or even nine bowl eligible teams, things could get interesting. For one, the conference's seven contracted bowls have plenty of flexibility for choosing teams. There figures to be some politicking among conference teams. And, perhaps, some hurt feelings. Further, the 6-6 teams at the end of the bowl pecking order likely will be scrambling free agents, ending up in bowl games you probably haven't paid any attention to before.
This should be the best weekend of the Pac-12 season so far. It may provide further clarity. Or it might just thicken the plot.
July, 31, 2012
7/31/12
4:00
PM PT
We've told you about the
preseason Pac-12 media poll
, which projected things as most folks believed it would. But what about all the other media polls out there for teams that cross paths with Pac-12 teams this fall?
Don't worry. We are here to help.

The Pac-12 has dates with the preseason SEC (LSU-Washington) and Big Ten (Wisconsin-Oregon State) favorites, but there also is plenty of mediocrity on the nonconference slate this season. There's only one game between the conference and the ACC (Duke-Stanford) and Big 12 (Oklahoma State-Arizona). There's two between the Pac-12 and SEC because Missouri (Arizona State) switched its affiliation away from the Big 12.
And it's clear the Big Ten, the Pac-12's Rose Bowl rival, is still the chief partner for quality nonconference action. There also are dates with Illinois (Arizona State), Ohio State (California) and Nebraska (UCLA).
There also are seven dates with the Mountain West Conference: Colorado State (Colorado), Fresno State (Oregon, Colorado), Nevada (California), Hawaii (USC), San Diego State (Washington State) and UNLV (Washington State).
BYU and Notre Dame, as Independents, aren't in preseason media polls. FCS teams aren't included
Arizona
: Toledo (first in MAC West Division); Oklahoma State (fourth in Big 12)
Arizona State
: Illinois (fourth in the Big Ten Leaders Division); Missouri (fourth in SEC East)
California
: Nevada (second in Mountain West); Ohio State (second in Big Ten Leaders Division);
Colorado
: Colorado State (eighth in Mountain West); Fresno State (third in Mountain West)
Oregon
: Arkansas State (second in Sun Belt); Fresno State (third in Mountain West)
Oregon State
: Wisconsin (first in Big Ten Leaders Division)
Stanford
: San Jose State (third in WAC); Duke (last in ACC Coastal Division)
UCLA
: Rice (fifth in Conference USA West Division); Nebraska (first in Big Ten Legends Division; Big Ten champs); Houston (first in Conference USA West Division)
USC
: Hawaii (seventh in Mountain West), Syracuse
Utah
: Utah State (second in WAC)
Washington
: San Diego State (fifth in Mountain West); LSU (first in SEC West, SEC champs)
Washington State
: UNLV (ninth in Mountain West)