December, 20, 2013
12/20/13
6:00
PM PT
Happy Friday. Welcome to the mailbag.
Follow the Pac-12 blog on Twitter
. Santa is watching and you don't want to be added to the naughty list.
George from Phoenix writes:
I've read Kevin and your pre-bowl comments
on how well the Pac-12 needs to (and should do) in the bowls. "Favored in all games (or 8/9)". "Opponents are overmatched," etc. I believe the hype.
Then I read Mark Schlabach predictions yesterday
which has the Pac-12 going a measly 3-6, including a loss in the BCS game you have so wisely noted is most important for Pac-12 perception!!!! Should I panic? What's a guy to believe?!?!
Ted Miller
: I would say Mark shouldn't get too close to Vegas this holiday season.
If the Pac-12 goes 3-6 in its bowl games, Kevin has agreed to wear nothing but a burlap sack for a week. If the Pac-12 goes 3-6 in its bowl games, I will listen only to Adele songs for two weeks. OK, a week. No… a day. An entire day! An entire work day.
Everybody has opinions. And sportswriters are often asked to pick games. They can go the easy route and pick the favorites over and over again. Or they can try to spice things up by predicting upsets. It's also possible that Mark suspected he'd get a rise out of Pac-12 fans, so he's already 1-0 this bowl season. (George was not the only one to note Schlabach's Pac-12 bowl picks.)
But there might be method to his madness, or at least a justifiable logic.
You have two Pac-12 teams, USC and Washington, going through coaching turmoil. You have an Oregon team that had players complaining about the Rose Bowl now playing in the Valero Alamo Bowl against a Texas team that surely will be trying to win one for outgoing coach
Mack Brown
.
You have Arizona and Oregon State teams that have been pretty mercurial this season. You have Stanford facing a Michigan State team that is playing as well as any squad in the nation.
There are ways to script a 3-6 bowl season. Even Jon Wilner has the
Pac-12 going a meager 5-4
.
I think both will be wrong.
But ask Cal and Oregon State fans how often I'm right.
---
Mike from Springfield, Missouri, writes:
I will miss the BCS
because it really does make every game more interesting throughout the year. I don't deny that the playoffs will be more exciting than the current bowls. But I think the rest of the regular season will be much less interesting.
I would not have been watching the Iron Bowl this year because I would have known that even with a Bama loss, they would still be in the top four and making the playoffs and still probably be the favorite to win it, and so that game would have been not nearly as big as news as it was. We would then be talking about how it was good for Bama to lose because then they didn't even have to play the SEC title game and would be playing for the national title. Same thing years back when No. 1 Ohio State was playing No. 2 Michigan.
As well as Bama recruits, Bama will always start off ranked high in the polls and so the regular season won't get any headlines til Bama loses twice. I would have probably not watched a game all year this year with as good as Bama was, knowing that it would take two losses for them to not win the title and would probably just watch the playoffs. I think there will ultimately be a lot of fans like me and college football will find out that they had a good thing even with as much controversy as it had (there will always be controversy with a league with 119 teams that doesn't have equal schedules).
Ted Miller
: You make a fair point.
On the one hand, by adopting a four-team College Football Playoff compared to a two-team BCS title game, we are increasing the pool and therefore the opportunity. It seems more democratic, eh?
But there are always unintended consequences when change comes to a system. It's possible the biggest beneficiaries of the CFP will be the college football superpowers, teams that get the benefit of the doubt after a loss (or two).
If Alabama, USC, Texas, and LSU (group A) had just one loss, and Duke, Northwestern, Boise State and Texas Tech (group B) also had just one loss, how many teams from group A get into the playoff compared to group B?
If the selection committee is, like the national polls, heavily reliant on reputation, the elite powers will typically get the benefit of the doubt.
When a highly ranked Alabama/USC/LSU/Texas team loses its first game, it won't tumble precipitously in the polls, whereas a Duke/Northwestern/Boise State/Texas Tech that is climbing the polls after being unranked in the preseason doesn't get the same consideration.
Further, as you noted, increasing the pool to four teams over two decreases the value of the regular season, the one undeniable strength of the BCS system.
Many think we're headed toward an eight-team playoff. That sounds far more equitable, but that would reduce the value of the regular season even further -- significantly.
It will be interesting to see how the CFP affects how we perceive and react to the regular season. It's still going to be college football, so it will continue to be awesome. And it will still provoke controversies.
It is possible that those controversies won't be as juicy.
---

Ryan from Kennewick, Wash., writes:
Anything is possible in college football. "Never say never" and "Texas (UT) has unlimited resources" are two things we hear a lot. Even though there are provisions in the UT athletic director's contract to keep him from hiring ASU's staff, what are the chances that Texas uses their "resources" to go after one of them anyway? (Obviously I'm primarily referring to Todd Graham.)
Ted Miller
: If Texas really, really wants to hire Todd Graham away from Arizona State, it will go after him. And I personally would have no problem with Graham taking the job because this is the United States of America, and if you are a football coach, you should want to coach at Texas and make $5 million a year.
(Kevin has told me that Texas is the only job that could lure him away from the Pac-12 blog. Mine would be Florida Keys Community College -- because, hey, you're living in the Florida Keys!).
I know there was an agreement between Arizona State and its former athletic director Steve Patterson, now at Texas, that Patterson
wouldn't bring Sun Devils staffers with him to Austin
.
But this is the United States of America. If you have money and good lawyers, you can make just about anything happen you want.
Other than get Nick Saban.
---

Scott from London writes:
Just wondering what your thoughts are on
B.J. Denker
's 898 yards rushing and how his propensity to ball-hog on the read option hurt Carey's chances at the Doak/Heisman Awards?I know Carey was still a workhorse, but who should be running the ball? Your All-American RB or your gangly 6-2 QB?
Ted Miller
: Everyone needs to read Scott's note with a British accent. I first used my best Jeeves/P.G. Wodehouse then went all Oliver Twisty cockney on it.
It might sound counterintuitive, but sometimes the best thing for a running back is not getting the ball. It's the same when an A-list quarterback has a beastly running back lining up behind him.
Most defensive coordinators will tell you the first thing they do is try to take away what an offense most likes to do. With Arizona, that was hand the ball to Carey. So that means forcing the Wildcats to show they have other threats to worry a defense.
Denker averaged 5.4 yards per rush -- despite losing 121 yards on sacks -- and scored 12 TDs. A defense has to respect that. A read-option keeper from Denker, which was more often successful than not, forced a defense to obsess just a little bit less about Carey. That translated to a few split seconds of divided attention here or there that probably increased the size of holes Carey saw when he got the ball.
I think Arizona fans should be grateful for what they got out of Denker this year. I know he was doubted by just about everyone in August, including me. He became a solid QB for the Wildcats, and his outstanding performance against Oregon was one he should never forget. Not sure anyone made more out of his talents this year than Denker.
---
Nick from Seattle writes:
"Again,
this is a Fujis vs. Honey Crisp discussion
. But when you look at overall consistency -- "Now you've done it. Now you have absolutely lost all credibility. How dare you suggest Fujis are better apples than Honey Crisp in any way?! Utter blasphemy...
Ted Miller
: I told Kevin that if he uses apples-to-apples analogies, he's wading into deep and emotional waters, particularly with Washington fans. And Washington State fans for that matter.
I'm with you on this one. Kevin has lost all credibility -- ALL OF IT! -- when it comes to comparing apples to apples.
(Cue the Fuji apple fans with their outrage and advanced statistical analysis that proves -- PROVES! -- Fujis are just as good as Honey Crisp.)
December, 6, 2013
12/06/13
5:30
PM PT
Welcome to the mailbag, Pac-12 championship and coaching carousel edition.
Follow the Pac-12 blog on Twitter
.
To the notes.
Elk from Los Angeles writes:
Who's the bigger winner in the coaching carousel, Washington or USC?
Ted Miller
: We have to declare a winner before Chris Petersen even holds his first news conference after replacing new USC coach Steve Sarkisian at Washington?

The only winner we can declare at this moment is the public relations and perception winner, and that is clearly Washington.
Petersen has long been a highly coveted candidate among AQ programs. Many sportswriters reacted with shock today when the news broke that after turning down some many suitors, Petersen was headed to Washington.
Fair to say the general consensus is that Petersen is a home run hire. Further, his track record suggests strongly he is not a climber. If he wins the Rose Bowl in 2017, he doesn't seem like the sort that would, say, jump to Texas.
As for Sarkisian to USC, the general reaction among sportswriters and USC fans was to be underwhelmed. Part of that was the belief that Trojans AD Pat Haden was going to make a home run hire that resonated nationwide -- as in Jon Gruden or Kevin Sumlin.
Sarkisian looked like a strong and legitimate USC candidate on Sept. 29, when Lane Kiffin was fired, but his Huskies immediately dropped three games in a row, and Huskies fans started to grumble.
Sark rebuilt Washington, but he never broke through in the Pac-12 North Division or the national rankings. Sarkisian is a good coach, but he's yet to distinguish himself with a landmark season. Petersen has with two BCS bowl victories and a sparkling 92-12 record.
So at this point, Washington is the clear winner.
Yet keep in mind that being the public relations and perception winner before either has coached a game or even recruited a player will be the least important victory either posts during their respective tenures.
It's all about what comes next, starting with their 2014 recruiting classes.
---
Flannel Beaver from Tacoma, Wash., writes:
I know this has been discussed, but seriously... when will the Pac-12 go to an eight-game conference schedule? I am all for holding the our moral superiority over all other conferences. Do you think the new Playoff Selection Committee will take that into account? Do bowls consider that when looking at options? Do pollsters REALLY consider it? Then why do we continue to do it? How can I as a fan change
Larry Scott
's stance on this?
Ted Miller
: Scott is a Machiavellian, "It's All About the Benjamins" sort. He'd go with eight games if the Pac-12 athletic directors were for it.
A nine-game conference schedule is favored by Pac-12 ADs for two reasons: 1. It means you only have to schedule three nonconference games, therefore less work; 2. An extra Pac-12 game tends to guarantee more ticket sales than a nonconference patsy, something that SEC schools don't worry about.
Once the conference expanded to 12 teams from 10, the nine-game schedule lost the symmetry that provided a true conference champion. But it was retained for the above reasons, even though it damages the conference's place in the national rankings.
The good news is most folk recognize the seriousness of this issue going forward into the four-team College Football Playoff. There will be pressure to level the playing field and have all the major conferences play nine-game schedules, as the Big 12 and Pac-12 currently do.
But if that doesn't happen, then it becomes the CFP selection committee's move. The first time a one-loss SEC team misses out to a one-loss Pac-12/Big 12 team, and the selection committee explains itself by saying, "The SEC choose to play a softer schedule than the Pac-12/Big 12, so that was the final measure that eliminated their team," then you'll see some changing.
In fact, it's too bad we don't have the playoff this year because it would be an interesting process. To me, the four-team playoff would be best served (based on today's records) by having Florida State, Ohio State, the SEC champ and the Pac-12 champ.
Yes, that would mean leaving out Alabama, which I still believe is the best team.
But if that happened because Stanford's/Arizona State's
schedules were dramatically more difficult
, you can bet that the SEC would man-up out of self interest.
---
Craig from Omaha writes:
Lifelong Huskers fan here but enjoy watching Pac-12 football. … My question to you is why is it that the Pac-12 does not play its conference championship game at a neutral site like every other major conference? Is it due to loyal fan bases that are willing to travel? Do they feel there are not adequate facilities to hold such an event? I would have to think of all the venues in Pac-12 country, there would be some place that would fit the bill?
Ted Miller
: The biggest problem with a neutral venue for the Pac-12 title game is the Pac-12 is much more spread out than the SEC, ACC and Big Ten. With just a week to make travel plans, it would be extremely expensive for fans to book flights. In the SEC, just about every fan base is within driving distance to Atlanta, and that's also mostly true in the Big Ten for Indianapolis and the ACC for Charlotte, N.C, though expansion has changed things a bit in that regard. For Texas A&M, it would be a 12-hour haul to drive to Atlanta.
That said, future change isn't off the table. Since the conference expanded, more than a few folks have tossed around the idea of playing the game in Las Vegas, which the Pac-12 blog would be all for, though there's not yet an appropriate stadium to play host. Another option would be rotating the game between major cities.
Truth is, the Pac-12 championship game has done fairly well at home sites -- the game Saturday at Arizona State is pretty close to a sellout. Last year's lackluster fan showing at Stanford was mostly because of torrential rain and a kickoff during Friday rush hour.
And there's something to be said for rewarding the No. 1 team with an advantage.
---

Scott from Homewood, Calif., writes:
I think you are
making the same mistake
as other media members about the Stanford roster. Although the depth chart lists several players as seniors, they are in eligibility only redshirt juniors because they list by academic class instead of eligibility. Guys like Tarpley,
Henry Anderson
, Parry, Reynolds, Fleming, Yankey are listed on the depth chart as seniors but all have a year left. Although Yankey likely will leave early, the others will most likely be back or have the option to come back. In reality, only four offensive starters are seniors and only three defensive starters are seniors. Jon Wilner has posted twice about this issue and I just wanted to spread the word.
Ted Miller
: I understand your point, but I use a depth chart that has both years.
The players Stanford loses on offense: OG
David Yankey
, C
Khalil Wilkes
, OG
Kevin Danser
, RB
Tyler Gaffney
, RB
Anthony Wilkerson
and FB
Ryan Hewitt
.
Players Stanford loses on defense: OLB
Trent Murphy
, LB
Shayne Skov
, DE
Ben Gardner
and DE
Josh Mauro
.
The Cardinal will again be in the thick of the Pac-12 North Division race in 2014, without question. But those are some big hits to the starting lineup.
---

Brian from Bend, Ore., writes:
Any reflection on why Marcus Mariota has been completely overlooked for QB awards and the Heisman? It seems that no one west of the Mississippi is allowed to lose games. He still has really good stats, was No. 1 in Total QBR until the Arizona game and is morally superior to any other NCAA player. Is this not the embodiment of the Heisman?
Ted Miller
: The bottom line is Oregon lost two of its final four games and Mariota didn't play well at Stanford, the Ducks' marquee national game of the season.
Further, when you remove
Jameis Winston
's off-field issues, as was done this week, the Florida State QB is a clear No. 1 at the position, while
Johnny Manziel
has been a force of nature for two seasons, and
AJ McCarron
has led one of the most successful runs in college football history.
I'm not saying I agree with all of that as a reason to demote Mariota. But that's what happened from a national perspective.
November, 18, 2013
11/18/13
11:00
AM PT
Taking stock of Week 12 in the Pac-12.
Team of the week:
USC started with a great plan against Stanford. Then it played smart, disciplined football and executed that plan. And when Stanford looked like it was asserting itself, the Trojans persevered, making clutch plays at the end to beat the Cardinal
20-17
. USC is now 5-1 under interim coach Ed Orgeron, looking nothing like the sloppy, uninterested team from the beginning of the season.
[+] Enlarge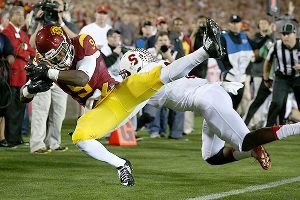 Jeff Gross/Getty ImagesMarqise Lee caught six passes for 83 yards in USC's upset win over Stanford.
Best game:
On a mostly ho-hum weekend, USC-Stanford wasn't decided until the final moments. Moreover, the stakes were high. Stanford was knocked out of the lead spot in the North Division and the Trojans are now squarely in the South race.
Biggest play:
Was it the athletic interception from freshman
Su'a Cravens
that set up the final USC drive? Or was it the fourth-and-2 completion from
Cody Kessler
to
Marqise Lee
for 13 yards to the Stanford 35-yard line on the game-winning drive? Or the 47-yard field goal from
Andre Heidari
? Each was critical in the final turn toward USC in the fourth quarter.
Offensive standout:
Colorado WR
Paul Richardson
caught 11 passes for 140 yards in the Buffaloes'
41-24 win
over California, which gave them their first Pac-12 win since September 2012. Richardson broke the school's single-season receiving record, eclipsing the record previously held by Charles E. Johnson. He sits at 1,201 receiving yards, which ranks second in the Pac-12.
Defensive standout:
Stanford OLB
Trent Murphy
had eight tackles, with four coming for a loss, two sacks and a forced fumble against USC. The Cardinal lost, but it sure wasn't Murphy's fault. He now leads the Pac-12 in both sacks (12) and tackles for a loss (18).
Defensive standout 2:
Arizona State safety
Robert Nelson
had two interceptions -- one he returned 23 yards for a touchdown -- and a fumble recovery in the Sun Devils'
30-17 win
over Oregon State. He also had five tackles.
Special teams standout:
It has been a long season for Heidari, but he was the difference for the Trojans in their upset win over Stanford. He kicked a 47-yard field goal with 19 seconds to play that provided the winning margin. He also kicked a 23-yard field goal and was 2-for-2 on PATs.
Smiley face:
We'd gush more about Orgeron's leadership at USC, but there at least needs to be a hat tip to Washington State and coach Mike Leach going to Tucson and grabbing a much-needed victory with some late-game heroics from QB
Connor Halliday
. His 25-yard TD pass to Isiah Myers for the tiebreaking touchdown with 2:15 to play gave the Cougars a
24-17 win
, keeping their bowl hopes alive.
Frowny face:
As impressive as USC's win over Stanford was, it probably wasn't very popular among 10 other Pac-12 teams. Oregon, of course, is thrilled. The Ducks now control their North Division destiny and Rose Bowl hopes. But Stanford's losing makes it unlikely the conference will have two BCS bowl teams, which means every conference team lost about $500,000 when the Cardinal went down. It will be the first time since 2009 conference ADs won't enrich their coffers with that extra check.
Thought of the week:
Arizona State and UCLA have a recent history of disappointing their fans and falling short of expectations. But guess what? Both teams are 8-2 and ranked heading into their critical showdown Saturday. They are about where optimistic preseason expectations placed them after 10 games. Both have showed resolve under second-year head coaches. No matter who wins Saturday, both programs seem to be on a decided uptick.
Questions for the week:
Who salvages their season? Several Pac-12 teams' seasons are on the brink, and two games in particular are of note: Washington visits Oregon State and Washington State plays host to Utah. As far as the Huskies and Beavers, the loser of that game will officially be able to call its season a disappointment. The Huskies would then face the specter of another 7-6 season -- or worse -- and that could make Steve Sarkisian's seat pretty hot. The Beavers would be set up to lose their final five regular-season games after a 6-1 start, pending the result of the Civil War against Oregon. Utah needs to win in order to keep its bowl hopes alive, and failing to reach a bowl game for a second consecutive year would have folks getting chippy in Salt Lake. The game is not a must-win for the Cougars' bowl hopes, but they'd probably rather not hang their hopes on the Apple Cup the following week.
November, 1, 2013
11/01/13
5:30
PM PT
Happy Friday -- hey, there's a game tonight!
Follow the Pac-12 blog on Twitter
.
To the notes!
Dave from Neverland writes:
On Tuesday, John Canzano
posted a letter he had purportedly received
from a former Ducks player. This player outlined the abhorrent fan behavior he observed while sitting in the stands. There have been countless other stories about the wretched behavior of Ducks fans, not just at Autzen, but also other stadiums they visit. An article a few years back by one of your competitor websites surveyed fans and the survey concluded that Oregon fans are generally perceived as being the worst in the conference, by far. Reading the comments of the Canzano blog post, the fan comments seemed to substantiate the article. My question: Is the perception about Oregon fans aligned with reality? Are Oregon fans truly as awful as they are made out to be, or are we just hated because we win?
Ted Miller
: I was asked about this in my Thursday chat, and my chief response was to deride the anonymity of the letter writer.
I stand by that. If you're going to attack something, you need to have the courage to step up and identify yourself. That, by the way, is not a slight on Canzano for posting the letter, only on its writer.
[+] Enlarge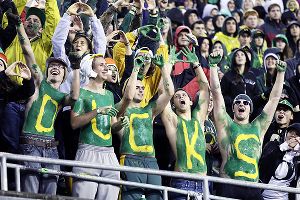 AP Photo/Don RyanAre Oregon fans worse than the rest of the Pac-12?
Are Oregon fans "truly as awful as they are made out to be or are we just hated because we win?"
The short answer is no, Ducks fans are not uniquely awful. At least, I find such a sociological oddity difficult to believe. That said, I am not an expert on this: As a sportswriter, I have not sat in the stands of a college football game since the early 1990s.
Oregon is going through an unprecedented run of winning. That inspires gloating. Lots of it. And plenty of entitlement, too. The stadium is packed and the program is rich. Rivals are jealous, and therefore easy and frequent targets -- in the stands or anywhere else. And, suddenly, a two-loss season sounds like a disaster and everyone is a football expert.
Even without siting in the stands, I have personally witnessed reprehensible fan behavior at just about every Pac-12 venue. Back in my Seattle days,
I wrote about the near-riot in Martin Stadium
after the controversial 2002 Apple Cup and some Washington State fans took exception, often by trying to rewrite the facts of what happened. So I know how things might be for Canzano now.
There are all sorts of fans and each of those sorts roots for every team. Some love cheering and bonding with family and friends. Some find comfort in wide-eyed zealotry, the my-team-right-or-wrong adherence that defies all reasonable counterargument.
As I've previously noted, there are two foundations for fandom: Those who derive most of their joy from rooting for something. And those who most enjoy rooting against something. The first group is looking for something with which to align themselves. The second group is looking for a villain.
Yes, the loudest voices in the Pac-12 blog comment section are typically the latter. And, yes, those often are the sort of fans who can ruin the game-day experience of even folks wearing the same colors.
My belief is that if Washington or Oregon State started winning at the same rate Oregon has for the past four-plus years, its fans would act the same, or at least be perceived to act the same.
Yet there is a clear takeaway from this that is a positive. Reasonable people should have the guts to stand up to bad fan behavior. Don't be a passive onlooker. If someone is acting like a jerk, you should: 1. Calmly and with a minimum amount of confrontation, tell him/her to settle down; 2. Get security.
And Oregon itself should remain as vigilant as possible when it comes to making sure that reasonable standards of behavior are enforced.
---
Duck Fam from Camas, Wash., writes:
There have been quite a few articles this week about "The Eye Test", and which two teams would be most deserving in a three or four-team race. For the sake of this question, let's assume that Oregon, Florida State and Alabama win out.Florida State seems to be getting quite a bit of hype relative to Oregon. Florida State certainly has history behind its program, including a national title, but has been off and on in the last few years. Many voters won't budge on Alabama (with the exception of the intelligent, educated few, such as those that blog for the Pac-12), the rationale being that until someone knocks them off, they deserve to be No. 1. So it seems that many pundits love Florida State THIS YEAR, right NOW, rather than taking the longer view. My question, then, is this: Should not the same logic apply to Oregon? Oregon has been ranked No. 2 much more frequently than Florida State, including last year's final rankings, and has certainly been more consistent. Six losses in four years, and never an NC State kind of upset. The Pac-12 is a tougher conference than the ACC. Why, then, is Oregon not the obvious choice as No. 2, the way Alabama seems to be the obvious choice as No. 1? Is it Oregon's supposed lack of pedigree, or is it the dreaded East Coast Bias?
Ted Miller
: Sigh.
The "eye-test" debate, while always inspiring strong feelings across the country, is irrelevant the first weekend of November. Five weeks remain in the regular season, and Alabama, Florida State and Oregon will each need to then win their conference championship games to remain in the national title hunt.
Every year, we speculate on apocalyptic visions of, say, four unbeaten teams from AQ conferences -- who goes to the title game! And then at least two of those teams lose.
Let's at least wait until we reach late November before beginning the earnest lobbying for prioritizing the specific subjective distinction that favors your team.
Further, Oregon fans, while there's a lot of noise out there, the general consensus from long-time observers of the BCS process, is that if Oregon wins out, it will at least end up No. 2 in the final BCS standings. It could, in fact, end up No. 1 if the SEC continues to cannibalize itself.
The Pac-12 is stronger than the ACC, and it's unlikely voting patterns in the coaches and Harris polls will dramatically change if the present course is maintained.
---
Sad Cougar fan from Bellevue, Wash.,writes:
Ted, real talk for a minute. After over a decade of misery, all Coug fans pointed to Leach as our hope. But after yet another Wulff-like performance from the team last night. They were outcoached in every phase of the game. Was our hope foolish? In today's NCAA,and today's Pac-12, do we honestly EVER have a shot at being relevant again? The glory years were a perfect storm. UW was bad, Oregon wasn't Oregon yet. Stanford wasn't Stanford yet, USC was just getting started. Honestly. We're never going to be good ever again are we? I am slipping into "mariners mindset?" Get excited for opening day, then stop caring by June.
Ted Miller
: No question that was a dreadful performance against Arizona State. And it's been a bad three-week conference run since a 4-2 start inspired optimism.
However, yes, Washington State has a shot at being relevant again. In fact, I'm certain it eventually happen, whether that's about next year or seven years from now. How many programs have played in two Rose Bowls since 1997? It's simply a matter of getting the right players and the right coach together.
Sure, the euphoria after hiring Mike Leach has waned considerably. The mistake with that probably was believing he brought with him some magical elixir that immediately made the program bowl-eligible and then, shortly thereafter, Rose Bowl worthy.
Further, while most of us saw Leach inheriting an intriguing roster from Paul Wulff, he didn't share that view. Leach definitely has his own ideas about how to run a program and the sort of players he wants, in terms of both athletic ability and mental makeup. That he decided to mostly erase what was there and then re-draw from scratch his own plan is making the growing pains last longer. And be more painful.
This is only Year 2 with Leach. Feel free to feel bad. But don't panic yet.
---
Devin from Keizer, Ore., writes:
What would it take for OSU to make it to the Rose Bowl if Oregon goes to the championship game?
Ted Miller
: First, the Beavers need to win out -- other than the Civil War -- and finish 9-3 and earn at least a No. 14 ranking in the final BCS poll. That might require strong finishes from the remaining foes -- USC, Arizona State and Washington -- in order to boost the human and computer rankings.
Then there's the question of Stanford and the South Division contenders.
Stanford, at 10-2 with a win over Oregon State, would almost certainly be ranked higher. Even though the Cardinal played in the Rose Bowl last year, the bowl committee would go with Stanford. This is how the
Pac-12 blog is presently projecting things
. So Oregon State needs the Cardinal to lose again, at least a third game. Maybe a fourth.
As for the South teams, the Beavers could give themselves the edge over Arizona State with a head-to-head win. They don't play UCLA, so they should be rooting for the Sun Devils to beat the Bruins. The South champion also would pick up a loss in the Pac-12 title game, which would boost the Beavers.
A lot of things would have to fall into place. But Oregon State should start with a simple plan: Keep winning.
---
John from Dublin, Calif., writes:
This week, everybody at ESPN has been making a big deal about how the Trojans have not fared well of late in Corvallis, and it's true. However, all these pundits seem to forget the Trojans' record vs. the Beavers in L.A.. Eisenhower was president the last time Oregon State won in the Coliseum. Why can't you guys give equal time to the Trojans' streak?
Ted Miller
: I think the biggest reason is the game tonight is going to be played in Corvallis, not the Coliseum, which makes factoids about Oregon State-USC games played in the Coliseum less relevant.
But I promise that next year, we will note that Oregon State has not won at USC since 1960.
---
Eric from Culver City, Calif., writes:
Eleanor Catton, author of the Luminaries, won the Man Booker prize at the age of 28. Are you excited for her, or sad for Jim Crace and Colm Toibin? Also: please tell Puddles that I can't take another heartbreak.
Ted Miller
: Funny story. Went to buy "
The Luminaries
" the other day, at which point I discovered it was 828 pages. That, my friends, is an offseason read.
Good for Catton, though she might want to
rethink lecturing the world about how she should be received
.
If she really cares about unfairness, she should consider championing the great American male writers who have been unjustifiably slighted by the Swedish Academy when it awards the Nobel Prize to lesser-lights on an annual basis, most notably Thomas Pynchon, Philip Roth, Cormac McCarthy and Don DeLillo.
And Puddles, after he stopped writing letters to Canzano, has been alerted.
October, 21, 2013
10/21/13
11:00
AM PT
Taking stock of Week 7 in the Pac-12.
Team of the week
: Utah knocked down Stanford last week, but the Cardinal got up, wiped away the blood and posted an inspired performance on both sides of the ball in a 24-10 win over UCLA. RB
Tyler Gaffney
rushed for a career-high 171 yards, including 84 yards in the fourth quarter, while the defense throttled QB
Brett Hundley
and the Bruins.
Best game
: Utah's visit to Arizona was a back-and-forth affair and wasn't iced until Wildcats running back
Ka'Deem Carey
capped an epic night with a 44-yard touchdown run in a 35-24 victory. Both teams showed resolve, with the Utes fighting back after losing starting QB
Travis Wilson
to a hand injury, and the Wildcats bouncing back after losing a big first-half lead.
[+] Enlarge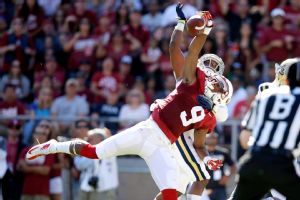 Ezra Shaw/Getty ImagesStanford's defense was spectacular in a 24-10 win over previously unbeaten UCLA, but Kodi Whitfield's one-handed touchdown grab might be the play of the year.
Biggest play
: Stanford receiver
Kodi Whitfield
's 30-yard touchdown reception against UCLA gave Stanford a 10-3 lead in the third quarter, so it was important. But this time we're more about best play instead of biggest. As in ... best play of the year? His twisting, one-handed grab between two defenders was unbelievable. It certainly will make a top-10 list of plays for the 2013 college football season. It's also amusing that such an acrobatic catch came from the son of a former All-Pac-10 offensive lineman, Bob Whitfield.
Offensive standout(s)
: We have a "chicken or the egg" deal with Oregon State. QB
Sean Mannion
completed 35 of 45 passes for 481 yards with four touchdowns and no interceptions in the blowout win over California. Receiver
Brandin Cooks
caught 13 passes for 232 yards and a touchdown. He also rushed for a score. Mannion leads the nation in passing and touchdown passes. Cooks lead the nation in every notable statistical category for his position, including receiving yards and touchdowns. Feel free to tap whichever one is your personal favorite.
Offensive standout 2
: Carey rushed 40 times for 236 yards against a tough Utah run defense. It was a big-time performance by a big-time player when his team really needed it.
Offensive standout 3
: Arizona State RB
Marion "006" Grice
rushed for 158 yards on 21 carries -- 7.5 yards per rush -- with two touchdowns in the 53-24 win over Washington. He also caught four passes for 37 yards and a score. He now has 18 total touchdowns this season.
Defensive standout
: Arizona State's defensive effort against Washington was beastly, particularly considering the Huskies had decent success against the two best defenses in the Pac-12: Stanford and Oregon. The Sun Devils held the Huskies to 212 total yards, including minus-5 yards rushing.
Bishop Sankey
, who entered the game leading the nation in rushing, had 22 yards on 13 carries. The Sun Devils had seven sacks and 12 tackles for a loss. That Huskies offense, by the way, ranked 15th in the nation in rushing, eighth in total offense (526.8 yards per game) and averaged 35 points per game.
Defensive standout 2:
Stanford safety
Jordan Richards
had a team-high 10 tackles as well as two interceptions in the win over UCLA.
Special teams standout
: It's not good when your punter is called upon 11 times, but Washington's
Travis Coons
averaged 46.8 yards on 11 boots with a long of 61 yards. He also made a 27-yard field goal and three PATs.
Smiley face
: The Pac-12 is playing defense this fall. The five winners Saturday plus USC, which lost 14-10 at Notre Dame, combined to hold their opponents to 19.6 points per game, and many of those points -- hello, Washington State, says Nick Aliotti -- came in obvious fourth-quarter garbage time. The Pac-12 offenses, of course, are still good, other than a few stragglers (USC!), so there's strength on both sides of the ball. And fewer 52-50 games.
Frowny face
: Washington!
Washington
! That performance at Arizona State was abysmal (though we type that without taking credit away from an inspired Sun Devils effort and game plan). If the Huskies win in Tempe, they buck the "overrated!" taunt that their adversaries -- mostly Ducks fans but also many Cougars and Beavers -- have enjoyed tossing their way for, oh, 12 or so years. A win at Arizona State would have hinted at a team headed toward nine or 10 wins. Now the ugly possibility of a fourth consecutive 7-6 season -- how is that possible! -- is in play.
Thought of the week
: The Pac-12 is the center of the college football universe this weekend with two matchups of ranked teams in the BCS standings. And it's all happening in the state of Oregon! In Eugene, with ESPN's "College GameDay" setting up camp, the No. 3 Ducks play host to No. 12 UCLA, while No. 6 Stanford is visiting No. 25 Oregon State just up the road in Corvallis. The Ducks are looking to further burnish their national title game resume, while UCLA is looking for a breakthrough win. The Beavers are trying to move up in the North Division pecking order and make themselves the top challenger for the Ducks. And Stanford is trying to get to its Nov. 7 showdown with Oregon in control of its destiny.
Questions of the week
: Which quarterback(s) has the best weekend in Oregon? Does Ducks QB
Marcus Mariota
make a loud Heisman Trophy statement, or is he upstaged by Mannion? And what about the visitors? Does Hundley rediscover his mojo at Oregon? Or does Stanford's
Kevin Hogan
show everyone that steady and unspectacular wins the day when you've got a great defense?
Question of the week 2
: Who rises above the noise and consistently plays to its ability over the homestretch of the season? It's not easy to go unbeaten, even when you're more talented than everyone on your schedule, because it's difficult to get 40 or so guys to bring their A-game 12 games in a row. It's not easy to go 8-4 and know your team reached its max winning potential, that you only lost to superior teams. And it's hard to win on the road. Take Arizona State. The version of the Sun Devils who blistered USC and Washington at home would have romped Notre Dame in Cowboys Stadium, but that team didn't show up that evening in Arlington, Texas. And the Huskies that nearly beat Stanford and whipped Boise State would have won in Tempe. Stanford's tumble at Utah, Oregon State's defeat to Eastern Washington -- losses full of regret. The pressure is building. Which teams win all the games they are supposed to -- as favorites -- and which teams fall to underdogs?
May, 22, 2013
5/22/13
12:43
PM PT
The 2013 season will be the final year of the BCS era.
And there was much rejoicing!
So, what have been the Pac-12 highs and lows of this often confounding system? Thanks for asking!
Best
1.
USC drubs Oklahoma for the 2004 national title:
The 55-19 victory over unbeaten Oklahoma was the most dominant display of the BCS era. It was also the pinnacle of the Trojans' dynasty under Pete Carroll. It's worth noting that future Pac-12 member Utah also whipped Pittsburgh in the Fiesta Bowl to finish unbeaten that same year.
[+] Enlarge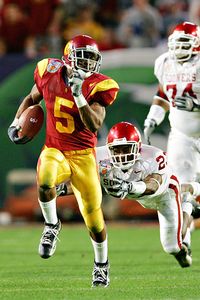 Jamie Squire/Getty ImagesReggie Bush and USC ran away with the 2004 national title.
2.
USC wins "real" national title:
In 2003, USC was No. 1 in the AP and Coaches polls at season's end. If you had eyes and knew anything about football, it was clear the Trojans were the nation's most-talented team on both sides of the football, a notion that was reinforced the following season. Two teams picked by computers played in New Orleans -- most folks outside of Louisiana don't even remember who -- and that forced the Trojans to settle for three-fourths of a national title after dominating Michigan 28-14.
3.
The year of the Northwest:
After the 2000 season, three teams from the Northwest finished ranked in the AP top seven. Washington beat Purdue in the Rose Bowl and finished third. Oregon State drubbed Notre Dame in the Fiesta Bowl and finished fourth. Oregon beat Texas in the Holiday Bowl to finish seventh.
4.
Oregon gets left out but finishes No. 2:
One of the grand faux paus of the BCS era was Nebraska playing Miami for the 2001 national title. Nebraska was coming off a 62-36 loss to Colorado, but the computers failed to notice, and the Cornhuskers were euthanized by the Hurricanes before halftime. The Ducks would whip that same Colorado team 38-16 in the Fiesta Bowl and finish ranked No. 2.
5.
Oregon and Stanford both win:
The 2012-13 bowl season wasn't good to the Pac-12, but Oregon pounded Kansas State in the Fiesta Bowl and Stanford beat Wisconsin in the Rose Bowl. The Ducks finished ranked No. 2 and Stanford was seventh. It was just the second time two Pac-10/12 teams won BCS bowl games in the same season.
Worst
1.
Just one BCS national title, lots of frustration:
No conference has more legitimate gripes with the BCS system than the Pac-12. Multiple seasons saw the conference have teams skipped over, most notably Oregon in 2001 and USC in 2003 and 2008. And ask California fans about how Texas coach Mack Brown gamed the system in 2004, preventing the Bears from playing in the Rose Bowl.
2.
USC's three-peat gets Vince Younged:
It's difficult to look at Texas's epic 41-38 win over USC as anything but great college football art -- perhaps the all-time greatest game -- but Trojans fans don't feel that way. The loss prevented USC from claiming three consecutive national titles and, of course, a second BCS crown for the Pac-10/12.
3.
Oregon falls short versus Auburn:
Oregon looked like a great team and Auburn a team with two great players before the BCS title game after the 2010 season. The Ducks chose a bad time to play one of their worst games of the season, but they still nearly prevailed before being undone by a dramatic game-winning drive from the Tigers.
4.
Make a field goal, Stanford:
Stanford kicker
Jordan Williamson
missed three field goals, including a certain game-winner from 35 yards on the last play of regulation, in the Cardinal's 41-38 loss to No. 3 Oklahoma State in the Fiesta Bowl after the 2011 season. Williamson also missed from 43 yards in overtime, which set the Cowboys up for the win. Stanford dominated the game, outgaining the Cowboys 590 yards to 412, with a 243-13 edge in rushing.
5.
Ducks drop Rose Bowl:
Oregon fell flat in Chip Kelly's first BCS bowl game, with the favored Ducks losing to Ohio State 26-17 in the Rose Bowl after the 2009 season. Buckeyes QB Terrelle Pryor had perhaps the best game of his career -- 266 yards passing, 72 rushing -- and the Ducks offense struggled, gaining just 260 yards.
November, 3, 2012
11/03/12
2:45
PM PT
LOS ANGELES -- In August, the thought was USC-Oregon and LSU-Alabama would give the college football nation an epic Nov. 3 weekend featuring a simultaneous matchup of four unbeaten, top-five teams in college football's two best conferences. It didn't quite work out like that.
Alabama and Oregon held serve, and LSU is fifth in the BCS rankings, the top-ranked one-loss team. But USC has flopped, losing a pair of games and often playing sloppy and inconsistent football.
USC is last in the nation in penalties, and it gave away five turnovers in a loss at Arizona last weekend. That's not what anyone expected from a team that welcomed back 19 starters from a 10-2 team.
"Everybody is really disappointed in Saturday," USC quarterback
Matt Barkley
said this week. "There were so many times when we could win the game, and we really screwed up time and time again."
And yet, Barkley adds, there is still plenty for the Trojans to play for. While the national title is no longer in play, the Pac-12 title and the Rose Bowl are respectable consolation prizes.
Barkley and the Trojans, if they play smart, efficient football, have the talent to beat the Ducks. Heck, they have the talent to beat anyone.
The question is whether it all comes together this evening.
On the other side of the football, is Oregon quarterback
Marcus Mariota
, a redshirt freshman. He's passed every test this season with flying colors, mostly because no team has really tested the Ducks, who have yet to play a game with any second-half intrigue. It's fair to wonder how he might react in front of 94,000 fans in the fourth quarter of a tight game.
After playing a soft early schedule, Oregon hopes to announce itself as a full-on national title contender, the best team to play Alabama or the eventual SEC champion. USC, which dumped the Ducks' national title hopes a year ago, is playing the role of spoiler, trying to position itself for the South Division title.
That would mean a spot in the Pac-12 title game, and perhaps in a rematch against Oregon, with the Rose Bowl on the line.
While this game no longer lusters, it certainly will be revealing. Or unmasking.
October, 25, 2012
10/25/12
10:00
AM PT
Last weekend, Arizona's
Matt Scott
and USC's
Matt Barkley
led their teams to victory and played well. And you heard a lot more about Barkley than Scott.
Barkley was brilliant, and Scott was just very good. Barkley completed 19 of 20 passes for 298 yards with six touchdowns and zero interceptions against Colorado. It was the most efficient performance in the country this season and the most efficient in the history of the Pac-12. He now has 102 career TD passes, a Pac-12 record.
[+] Enlarge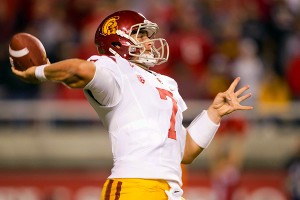 Russ Isabella/US PresswireSenior QB Matt Barkley has the Trojans sitting at 6-1 (4-1 Pac-12) entering Week 9.
Scott, who leads the Pac-12 in passing yards per game with 336.4, played a more supporting role while throwing for 256 yards and four touchdowns and rushing for 43 yards and a score in a blowout win over Washington.
Yet it felt familiar. USC is always big news, even when it's not winning championships. And Barkley is the most famous college quarterback in the country, even if he's not going to win the Heisman Trophy.
Scott? His outstanding numbers and quick adoption of new coach Rich Rodriguez's offense resonates only regionally, if at all.
That might change. These two seniors meet Saturday in Tucson, Ariz., with Barkley, a four-year starter, trying to lead the Trojans back into the national title picture, which means not overlooking Scott and the Wildcats because of their Nov. 3 date with Oregon.
These two did meet once before. Let's hope this one is as fun as the first time: Oct. 4, 2007. That's when Barkley, a junior at top-ranked Mater Dei in Santa Ana, Calif., and already highly celebrated, and Scott, a senior at No. 2 Centennial High of Corona, clashed in front of roughly 10,000 fans in the Santa Ana Bowl.
[+] Enlarge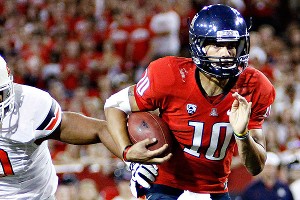 AP Photo/Wily LowSenior QB Matt Scott and the Wildcats are 4-3 (1-3 Pac-12) entering Week 9.
Mater Dei
won 51-37
in a game that featured 58 first downs and 1,295 yards of offense, a California high school record that didn't fall until this season.
"The fans definitely got their money's worth," Mater Dei coach Bruce Rollinson told reporters after the game. "That was some show."
Scott passed for 176 yards and rushed for 178. Barkley was 21 of 31 for 364 yards and two touchdowns. The Centennial defense featured Vontaze Burfict,
Brandon Magee
, Shelly Lyons and
Will Sutton
, who all signed with Arizona State. In a joint interview in 2011, the Pac-12 blog asked Burfict, Magee and Lyons about this game, and they all became a bit grumpy. It's fairly well-known that Barkley and Burfict
are not exactly close
.
Barkley was a five-star prospect in 2008, the nation's highest-rated quarterback. He signed with USC, which was on a dynastic run atop the then-Pac-10, with a 6-1 record in BCS bowl games over the previous seven years and two national titles.
So what does Rodriguez think of Barkley?
"He's obviously been one of the best quarterbacks in the history of the Pac-12," he said. "He's likely to be the first pick in the NFL draft. We're facing one of the all-time greats and also a tremendous leader."
Scott, a year ahead of Barkley, was a three-star prospect who picked Arizona over California, Boise State and Utah. The Wildcats went 5-7 in 2007, their ninth consecutive non-winning season. He beat out Nick Foles for the starting spot in 2009 but lost the job to Foles three games into the season. When Foles was hurt in 2010, Scott came off the bench and played well, but he opted to redshirt in 2011 so he could finally inherit the keys to the offense as a fifth-year senior.
When asked about Scott, USC coach Lane Kiffin's first word is "Wow."
"He's a phenomenal player," Kiffin said. "I didn't realize he is as fast as he is -- accurate, arm strength. He's playing great, doing an unbelievable job with the system."
So there's plenty of admiration for both quarterbacks.
Scott said he and Barkley know each other from football camps and recruiting and get along well, but, yes, it would be meaningful to best Barkley on Saturday.
"They are the No. 9-ranked team, so it's going to mean a lot more," Scott said. "It's a big stage. A great quarterback is coming in here. It would mean a lot to outplay him."
If Take 2 is anything like Take 1, this one figures to be pretty interesting.
August, 2, 2012
8/02/12
10:00
AM PT
USC wasn't eligible for the coaches' poll in 2011 due to NCAA sanctions, but it will start 2012 almost at the top.

The Trojans
are ranked third
, behind No. 1 LSU and No. 2 Alabama, the two SEC teams that played for the BCS national title last season.
The vote at the top was tight. USC, with 19, and Alabama, with 20, actually got more No. 1 votes than LSU (18). That should be your first warning of the "What the heck" nature of the poll. LSU, which welcomes back 15 starters from a 13-1 team and upgraded at quarterback with
Zach Mettenberger
, seems like a clear No. 1 to the Pac-12 blog.
LSU, with 1,403 points, was just ahead of Alabama, at 1,399. USC got 1,388.
It's a little surprising that USC isn't No. 2. Alabama only has 11 position players returning, including just five from last season's outstanding defense. But coaches tend to tip their caps to defending champs, and it's not unlikely that each of the seven SEC coaches in the poll -- the Pac-12 had six -- voted the SEC teams one-two. I also have a hunch a Pac-12 coach -- or two -- didn't vote USC either No. 1 or 2.
And, of course, the coaches poll, though it is unfortunately included in the BCS standings, is the least respected of all polls due to its regional biases, obvious conflicts of interest, lack of transparency and the simple fact that few coaches pay attention to teams they don't play. Oh, and many of the coaches hand off their votes to sports information directors.
Oregon comes in at No. 5, 18 points behind No. 4 Oklahoma. Stanford is 18th, just ahead of the Oklahoma State team that nipped the Cardinal in the Fiesta Bowl.
And that's it for the Pac-12 in the top-25. Washington came in at No. 26 and Utah at 32nd, based on the "others receiving votes" tally.
The SEC led all conferences with seven ranked teams. The Big 12 had six, including new members West Virginia and TCU. The Big Ten had four, the ACC three.
It's also evident that the voters ran out of steam in the top 25. Florida, Notre Dame and Auburn combined for 16 losses in 2011, but were ranked Nos. 23, 24 and 25, respectively.
As we noted, "What the heck!"
Here are the coaches who voted, per USA Today, including the six Pac-12 coaches, who are bolded:
The USA TODAY Board of Coaches is made up of 59 head coaches at Bowl Subdivision schools. All are members of the American Football Coaches Association. The board for the 2012 season: David Bailiff, Rice; Frank Beamer, Virginia Tech; Tim Beckman, Illinois; Bret Bielema, Wisconsin; Terry Bowden, Akron; Art Briles, Baylor; Troy Calhoun, Air Force; Matt Campbell, Toledo; Gene Chizik, Auburn; Dave Christensen, Wyoming; Mark Dantonio, Michigan State; Tim DeRuyter, Fresno State; Dave Doeren, Northern Illinois; Sonny Dykes, Louisiana Tech; Jimbo Fisher, Florida State; Kyle Flood, Rutgers; James Franklin, Vanderbilt; Al Golden, Miami (Fla.); Jim Grobe, Wake Forest; Darrell Hazell, Kent State; Brady Hoke, Michigan; Dana Holgorsen, West Virginia; Skip Holtz, South Florida; Mark Hudspeth, Louisiana-Lafayette; Curtis Johnson, Tulane; Ellis Johnson, Southern Miss; Butch Jones, Cincinnati; Brian Kelly, Notre Dame; Lane Kiffin, Southern California; Mike Leach, Washington State; Pete Lembo, Ball State; Tony Levine, Houston; Mike London, Virginia; Rocky Long, San Diego State; Dan McCarney, North Texas; Mike MacIntyre, San Jose State; Ruffin McNeill, East Carolina; Gus Malzahn, Arkansas State; Bronco Mendenhall, BYU; Les Miles, LSU; George O'Leary, Central Florida; Paul Pasqualoni, Connecticut; Bo Pelini, Nebraska; Chris Petersen, Boise State; Joker Phillips, Kentucky; Paul Rhoads, Iowa State; Mark Richt, Georgia; Mike Riley, Oregon State; Rich Rodriguez, Arizona; Nick Saban, Alabama; Steve Sarkisian, Washington; Frank Solich, Ohio; Steve Spurrier, South Carolina; Rick Stockstill, Middle Tennessee; Bob Stoops, Oklahoma; Dabo Swinney, Clemson; Jeff Tedford, California; Tommy Tuberville, Texas Tech; Kevin Wilson, Indiana.
June, 28, 2012
6/28/12
9:00
AM PT
By
WeAreSC staff
| ESPN Insider
Give your initial thoughts on the new NCAA football playoff system.

Garry Paskwietz
Based on an early understanding of the college football playoff model, there are more pros than cons.

November, 6, 2011
11/06/11
12:55
PM PT
What did we learn from Week 10 of Pac-12 action?
Stanford and Oregon reached their destination
: In the preseason, Oregon-Stanford looked like the Pac-12 game of the year. Things often don't go as planned in college football, but this one did. The only way it could be better is if the Ducks had opened with a win against LSU. Stanford could play itself into the national title game, but at the very least the Pac-12 North and BCS bowls are at stake.
[+] Enlarge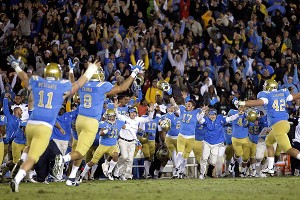 AP Photo/Jae C. HongUCLA controls its own destiny in the Pac-12 after upsetting Arizona State at the Rose Bowl.
Rick Neuheisel and UCLA are alive
! Just when you thought it was safe to start thinking about who UCLA's next coach was going to be, Neuheisel leads his team into first place in the Pac-12 South after beating Arizona State. If the Bruins win out, they will play in the Pac-12 championship game. And if they win that, they'd go to the Rose Bowl. As it is, Neuheisel now has a signature conference victory. His team, now 5-4 with three to play after winning consecutive games for the first time this season, now appears headed to a bowl game. Neuheisel is not a man who goes away easily, eh?
Utah could finish strong
: When the Utes lost 34-10 at California and fell to 0-4 in Pac-12 play, many dismissed them with knowing smirks: Welcome to a
real
conference. Don't look now, but look at who's won two conference games in a row. And who has a good shot at winning it's next three and finishing 8-4 and 5-4 in conference play? When the Utes protect the football, good things tend to happen to them.
Paul Wulff is in trouble
: Washington State started 3-1, and there was reasonable hope that the Cougars had turned a corner. But after five consecutive losses, including a pounding at Cal on Saturday, most of the early-season optimism is gone. The schedule ahead -- Arizona State, Utah and Washington -- is rugged. The Cougs will be underdogs in each game. But if coach Paul Wulff doesn't produce an upset or two, it's hard to imagine him keeping his job.
Arizona State hasn't arrived:
The way the schedule set up, the Sun Devils looked to be headed to a 10-2 regular season and the Pac-12 championship game. Now they have to win-out and hope UCLA loses at some point. Truth is, there's a good chance that happens: UCLA has a tough schedule ahead, Arizona State does not. But by losing to UCLA, the Sun Devils cost themselves a special season. And a national ranking.
October, 17, 2011
10/17/11
8:58
AM PT
»
Power Rankings
:
ACC
|
Big 12
|
Big East
|
Big Ten
|
Pac-12
|
SEC
If you don't like where you are in the power rankings, play better.
See last week's
power rankings here
.
1.
Oregon
: The Ducks retake the top spot after an impressive win against Arizona State. Need to get healthy.
2.
Stanford
: The Cardinal have an opportunity to notch a quality win against Washington on Saturday, which might help in the beauty contest we call the BCS standings.
3.
Washington
: The Huskies have a chance for a landmark victory against Stanford, one that would reconfigure the North Division race and provide the proverbial, "We're baaaaack!" to the college football nation.
4.
Arizona State
: There was little to suggest from a highly competitive game at Oregon that the Sun Devils can't play with anyone.
5.
USC
: Trojans continue to linger, winning games but not many admirers. But if they win at Notre Dame, national folks will be forced to take notice, though most likely not without giving in to their apparently inexorable urges to tweak Lane Kiffin.
6.
UCLA
: The Bruins play at Arizona on Thursday night after a bye week. And, yes, beating a team that just fired its coach makes this a must-win for Rick Neuheisel. The potential parallel is too difficult to ignore.
7.
Washington State
: In the first half against Stanford, the Cougars showed how much they have improved. In the second half, they revealed how far they still have to go. And beating Oregon State on Saturday is critical for bowl hopes and coach Paul Wulff.
8.
Utah
: The Utes are 0-3 in Pac-12 play but have two of the better nonconference wins -- at BYU, at Pittsburgh -- in the conference. It's cool how coach Kyle Whittingham read the Pac-12 blog last week and then told his players to stop turning the ball over five times per game, as they had done the previous two weeks. Coach, that's the sort of advice you get from an AQ conference blogger.
9.
California
: It feels like the Bears' chances for a successful season might hang on beating Utah at home on Saturday. Neither team wants to start 0-4 in Pac-12 play, but Jeff Tedford and the Bears have been doing this a bit longer.
10.
Oregon State
: At 1-5, salvaging a respectable season is a more reasonable goal than a bowl game. Losing a second consecutive year to Washington State probably wouldn't go over well about the Beavers faithful.
11.
Colorado
: The cold reality has set in: The Buffs don't have enough horses to compete in the Pac-12 at present. One word: Recruiting. Another word: Recruiting.
12.
Arizona
: The Wildcats have had a bye week to digest the sudden termination of coach Mike Stoops. It will be interesting to see how they react against UCLA on Thursday. Will they be energized or will they look uninterested?
PAC-12 SCOREBOARD
Thursday, 9/3
Friday, 9/4
Saturday, 9/5