USC Trojans:

Andrew Furney
June, 20, 2014
6/20/14
2:30
PM PT
April, 3, 2014
4/03/14
12:00
PM PT
Washington was the final Pac-12 school to host its pro day Wednesday, essentially putting an end to 40-yard-dash season. Here is a look at some of the conference's top prospects and a few others who helped their cause over the past month.
Arizona (March 6)

Big name:
RB
Ka'Deem Carey
. After getting clocked at 4.70 in the 40 at the combine, Carey's pro day was a bit more intriguing than some of the other big-name players. There was some improvement -- various reports had him in the high 4.6-range -- but it wasn't enough to change the book on him. Still, Carey's production should make up for his perceived shortcomings.
Sleeper:
OLB
Marquis Flowers
. Flowers
reportedly ran in the 4.4s
and had a good showing in position drills.
Arizona State (March 7)

Big name:
DT
Will Sutton
. The Sun Devils' pro day further cemented what scouts learned at the combine, when he turned in below average numbers. There was slight improvement at the pro day, according to several reports, but nothing to save his falling stock.
Sleeper:
RB
Marion Grice
. Grice was invited to the combine, but didn't participate as he recovers from a broken leg suffered late in the season. He also didn't participate at the pro day, but will hold an individual workout for NFL scouts on April 8.
California (March 19)

Big name:
DT
Deandre Coleman
. Coleman only participated in the bench press at the combine, but fared well in field drills on campus with
a reported 40 time
in the mid 4.9-range. Coleman is projected by most to be a mid-round selection.
Sleeper:
RB
Brendan Bigelow
. Bigelow was perhaps the player with the most to gain at pro day. The book on him has always been that he's loaded with talent and the physical skills necessary to be an impact player. It didn't happen for the Bears before he decided to leave early for a shot at Sunday football. Despite
injuring his hamstring
midway through his 40, Bigelow still was reported as running in the high 4.4-range with former Cal running backs
Marshawn Lynch
and
Jahvid Best
looking on.
Colorado (March 12)

Big name:
WR
Paul Richardson
. There were 24 teams on hand, with Richardson the obvious prize of the nine that worked out. He only participated in the vertical jump, short shuttle and three-cone drills.
Sleeper:
LS
Ryan Iverson
. Iverson will not be drafted, but after four years as the Colorado long snapper he has a chance to make some money at the next level. His 27 reps on the bench press were a team high. All the Colorado results
can be viewed here
.
Oregon (March 13)

Big name:
RB
De'Anthony Thomas
. Thomas' 4.50 40 time at the combine was among the disappointments for the conference and turned a perceived strength into average attribute. After his showing in Eugene -- a 4.34 40 time -- the world is back on its axis. On his combine performance, Thomas
told the Ducks' official website
: "I ran a 4.5 in ninth grade, so I was like, 'Wow, that's crazy'. I feel like that made me train harder and I used it as motivation."
Sleeper:
CB
Avery Patterson
. Patterson was left puzzled by his own performance after putting up just 10 repetitions in the bench press, but the two-year starter remains focused on making the jump to the next level. He's likely the type of player that will have to earn his way on a team via a training camp invitation and possibly a practice squad.
Oregon State (March 14)

Big name:
WR
Brandin Cooks
. The Biletnikoff Award winner could have showed up to the Beavers' pro day as a spectator and it likely wouldn't have mattered. His showing at the combine was enough to solidify his stock as a first-round pick. Cooks didn't take part in field drills, but did run routes.
Sleeper:
WR
Micah Hatfield
. Yes, a receiver with 20 career catches helped his cause. One scout
told the Oregonian
he had Hatfield at 4.33 in the 40 -- the same times Cooks clocked when he was the fastest receiver at the combine.
Stanford (March 20)

Big name:
OL
David Yankey
. Kansas City, Tampa Bay and St. Louis were the only no-shows at Stanford. If the mock drafts are to be trusted, Yankey figures to be the first Stanford player of the board. He improved slightly on the bench press (22 to 25) and clocked the same 40 time (5.48) from the combine.
Sleeper:
DE
Ben Gardner
. Is it fair to call Gardner a sleeper after earning some form of all-Pac-12 recognition the past three years? Probably not, but after
not being invited to the NFL combine
we'll go ahead and list him here anyways. Gardner benefitted most from the day, quantifying his explosiveness and athleticism with a 39.5-inch vertical jump.
UCLA (March 11)

Big name:
OLB
Anthony Barr
. After running a 4.66 40 at the combine, Barr was clocked at 4.45 to ease any lingering doubt about his straight-line speed. Barr helped his case to become a top-10 pick and will likely be the first player from the Pac-12 selected.
Sleeper:
RB
Malcolm Jones
. The Gatorade national high school player of the year never developed into the player UCLA fans were hoping for, but he's still hanging on to hopes of an NFL career. He was credited with a 4.57 40 at the Bruins' pro day.
USC (March 12)

Big name:
WR
Marqise Lee
. Lee went Jerry Seinfeld and
chose not to run
, letting his combine performance serve as the final measurement of his ability. After not lifting in Indianapolis, Lee finished with 11 reps in the bench. He's tagged for the first round.
Sleeper:
DE
Morgan Breslin
. Like Gardner, who he has been working out with in San Ramon, Calif., Breslin was a combine snub. He ran a 4.75 40, put up 26 reps on the bench and registered a 35.5-inch vertical jump. Here are the
complete results
for the 18 players who took part.
Utah (March 19)

Big name:
CB
Keith McGill
. One of the fastest risers since the season has ended, McGill decided to
participate in every drill
despite a good showing at the combine. His 40 time (4.52) was a hundredth of second slower than what he did at combine, and his vertical leap (35.5) was about four inches less.
Sleeper:
FB
Karl Williams
. The 240-pound former walk-on clocked a 4.5, which will could give him a shot to get in a training camp.
Washington (April 2)

Big name:
RB
Bishop Sankey
. Content with his good showing in Indy, Sankey elected to just run the 60-yard shuttle and catch passes. Most mock drafts have Sankey, who left with a year of eligibility remaining, as the No. 2 running back.
Sleeper:
QB
Keith Price
. There were 19 quarterbacks at the combine, but Price was not one of them, marking the first time since at least 1999 that the conference didn't send a quarterback -- and it could be longer -- we could only find combine rosters dating back that far.
Price got good reviews
for his performance Wednesday, but it would still be surprising if he gets drafted.
Washington State (March 13)

Big name:
S
Deone Bucannon
. WSU's remote location and limited number of pro prospects resulted in
less than a dozen
scouts on hand, but those that were there got to see one of the conference's most intriguing prospects. Bucannon just participated in position drills after performing well across the board in Indianapolis.
Sleeper:
K
Andrew Furney
. Furney showed a leg capable of hitting from beyond 60 yards and further established himself as a potential candidate for training camp invitations.
March, 10, 2014
3/10/14
5:30
PM PT
Our look at position groups in the Pac-12 continues with place-kickers.

Arizona
:
Casey Skowron
,
Bret Miller
and
Michael Unzicker
are all in the mix this spring to replace
Jake Smith
, who converted 12 of 19 kicks (63.2 percent) last season, including a long of 53. The 12 converted field goals were the lowest in the conference, as was the conversion percentage.

Arizona State
: No team in the Pac-12 attempted more field goals in 2013 than the Sun Devils -- and
Zane Gonzalez
was one of the few bright spots for an otherwise dismal ASU special teams unit. The freshman All-American converted 25 of 30 attempts (83.3) and had a streak of 18 straight.

California
: With
Vincenzo D'Amato
gone (he was 17 of 20 last season), it's looking like
James Langford
,
Noah Beito
and
Matt Anderson
will all get looks. Langford might have the edge as the kickoff guy with Beito a potential early frontrunner for field goals.

Colorado
: Senior
Will Oliver
is back after converting 17 of 24 kicks last year (70.8 percent). He was perfect inside the 30 (7 of 7) and missed just once inside of 40 yards. Three of his misses came from 50-plus (2 of 5). He's a potential All-American candidate. Strong-legged
Diego Gonzalez
from Guadalupe, Mexico, is waiting in the wings.

Oregon
: Oregon's kicking adventures weren't as interesting in 2013 as they've been in the past. While the Ducks attempted the fewest field goals in the conference,
Matt Wogan
was a solid 7 of 9, and
Alejandro Maldonado
was 3 of 5 for a combined 71.4 percent -- seventh in the conference. Wogan returns and should be considered the frontrunner to handle all kicking duties, including punting.

Oregon State
:
Trevor Romaine
returns as a fourth-year starter after converting 14 of 20 attempts last season. He was mostly money inside of 40 yards, converting 11 of 13 attempts. But struggled on the longer kicks, converting just 2 of 5 between 40-49 yards and 1 of 2 beyond 50.

Stanford
:
Jordan Williamson
is back after connecting on 18 of 22 kicks in 2013, including a long of 48. Of his four misses, two of them came from 50 yards or longer, where he was 0 for 2. He was automatic inside the 30 and 15 of 16 inside of 40 yards. Time to finally put the 2011 Fiesta Bowl to rest. He's one of the league's most consistent kickers.

UCLA
:
Ka'imi Fairbairn
returns after a hit-and-miss year where he connected on 14 of 21 kicks with a long of 48. He had a stretch where he converted on eight in a row. But also had some inconsistent games (2 of 4 against Nebraska, 2 of 4 against ASU).

USC
:
Andre Heidari
had an up-and-down season. He struggled greatly in the 40-49 yard range, converting on just 3 of 8 kicks. Overall, he was 15 of 22, and his 2013 will most likely be remembered for his 47-yard game-winner against Stanford. Heidari also handled almost every kickoff, though punter
Kris Albarado
is available if needed.

Utah
: "Automatic"
Andy Phillips
returns after making quite the splash in his first season of football. The former skier became a household name -- well, at least a name in Pac-12 households -- after converting on the first 11 field goals of his career. He's got a big leg, converting on 9 of 11 from 40 yards or longer.

Washington
: No easy task replacing
Travis Coons
, who handled kicking and punting for the Huskies. He was the Pac-12's most accurate kicker in 2013, converting on 15 of 16 attempts.
Cameron Van Winkle
handled some kickoffs before an injury set him back, and
Tristan Vizcaino
comes in this fall and should be in the mix.

Washington State
: Strong-legged
Andrew Furney
is gone.
Wes Concepcion
and
Erik Powell
are the kickers on the roster. Powell was a walk-on, but the coaching staff is high on him. Concepcion likely will handle punting but could kick if needed.
Previous positions
Safety
Cornerback
Linebacker
Defensive end
Tight end
Quarterback
Running back
Receiver
Offensive line

Defensive tackle
January, 14, 2014
1/14/14
10:00
AM PT
Today we put a bow on the 2013 season (almost -- a few more review posts are coming up, and then probably a few more after that). But today across the blogosphere, we're categorizing some of the top moments and individuals from the Pac-12 season. These are set in stone and in no way open to argument or interpretation.
Best coach
: Arizona State's Todd Graham was voted as the league's coach of the year by his peers. And it's hard to argue with that, given the fact that the Sun Devils had the best league record and won their division. But you can't discount the job of the L.A. coaches (interim or otherwise). Ed Orgeron did a phenomenal job in relief at USC before Steve Sarkisian was hired, and Jim Mora shepherded his team through a difficult time early.
Best player, offense
:
Ka'Deem Carey
was named the Pac-12 offensive player of the year. And the Pac-12 blog agrees. Certainly, cases can be made for Oregon quarterback
Marcus Mariota
, who was on the Heisman Trophy track before being derailed by a knee injury. And there is the debate between Carey and Washington running back
Bishop Sankey
,
which will rage until the end of days
.
Best player, defense
: The coaches went with Arizona State defensive tackle
Will Sutton
. And there's nothing wrong with that selection. But cases certainly can be made for outside linebackers
Trent Murphy
(Stanford) and
Anthony Barr
(UCLA).
Best moment
: Lots of them. Shocking upsets (see below) and stellar individual performances dusted the landscape of the 2013 Pac-12 season. But in terms of moments that were seared into our memories, it's tough not to think about UCLA's come-from-behind win at Nebraska way back on Sept. 14, following the death of Nick Pasquale. Specifically,
Anthony Jefferson
recovering a red zone fumble and then sprinting off the field to give the ball to Mora, followed by a big hug. It was as authentic and genuine a moment as you'll find in sports.
[+] Enlarge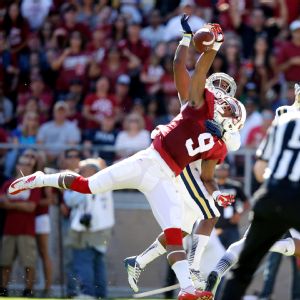 Ezra Shaw/Getty ImagesStanford's Kodi Whitfield had a highlight touchdown grab against UCLA.
Biggest upset
: Take your pick between Utah topping Stanford or Arizona topping Oregon. Both were road losses for the favorites and both shook up the national and league landscape. Granted, Utah's win over Stanford came earlier in the season, and early-season losses are easier to rebound from. Oregon's loss to Arizona came at the end and cost the Ducks all kinds of postseason possibilities.
Best workhorse performance
: It's a tie between Stanford's
Tyler Gaffney
and Carey -- both of whom put in the work in their teams' victories over Oregon. Carey rushed for 206 yards and four touchdowns on 48 carries; Gaffney carried 45 times for 157 yards and a touchdown.
Best play:
One of the most subjective categories, for sure, but
Kodi Whitfield
's
one-handed touchdown catch
against UCLA was nothing short of spectacular. He elevated between two Bruins defenders and backhanded the ball out of the air for a 30-yard touchdown. Something about UCLA-Stanford brings out the one-handed catches. Recall in 2011,
Andrew Luck
hauled in a one-handed catch against the Bruins, and a few plays later,
Coby Fleener
snagged a one-handed dart from Luck for a touchdown.
Best performance, offense
: Again, wildly subjective. Take your pick from
Ty Montgomery
's five-touchdown day against Cal,
Marion Grice
's four touchdowns against USC or Wisconsin, or
Myles Jack
's four touchdowns against Washington.
Brandin Cooks
had a pretty nice day against Cal with his 232 receiving yards. There were games with seven touchdown tosses from Mariota and
Taylor Kelly
.
Connor Halliday
's losing effort against Colorado State was spectacular. In terms of impact, it's hard not to go back to Carey's effort against Oregon.
Best performance, defense
: As in every other category here, plenty to go around. But think way back to Washington State's win over USC.
Damante Horton
had a 70-yard interception return that tied the game at 7-7 in the second quarter. Then, after
Andrew Furney
's 41-yard field goal put the Cougars ahead 10-7 with 3:15 left in the game, Horton picked off
Max Wittek
, which allowed WSU to run out the clock.
December, 2, 2013
12/02/13
12:50
PM PT
The Pac-12 has announced its first- and second-team all-conference squads and postseason awards for 2013.
[+] Enlarge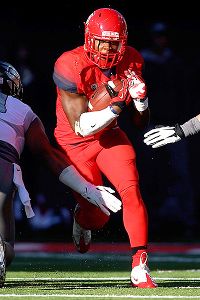 Mark J. Rebilas/USA TODAY SportsPac-12 Offensive Player of the Year Ka'Deem Carey was the only unanimous first-team pick.
Arizona running back
Ka'Deem Carey
has been named the league's offensive player of the year. Arizona State defensive lineman
Will Sutton
joins an elite fraternity, earning his second straight Pat Tillman Defensive Player of the Year award. Washington's Steve Emtman is the only other player to win the league's defensive player of the year award in back to back years (1990-1991).
UCLA's
Myles Jack
earned freshman of the year for both offense and defense with his 70 tackles as a linebacker and seven touchdowns as a running back. This is the first time since the awards were introduced in 2008 that the same player has won both sides.
Arizona State coach Todd Graham is the league's coach of the year for guiding the Sun Devils to a conference record of 8-1 and winning the South Division. The Sun Devils host Stanford this weekend in the Pac-12 championship game.
The team is selected by the Pac-12 head coaches.
Offensive player of the year:
Ka'Deem Carey, RB, Arizona
Pat Tillman Defensive Player of the Year:
Will Sutton, DE Arizona State
Freshman Offense and Defensive Player of the Year:
Myles Jack, RB/LB, UCLA
Coach of the Year:
Todd Graham, Arizona State
First team offense
QB
Marcus Mariota
, So., Oregon (2)
RB
Ka'Deem Carey, Jr., Arizona (2)
RB
Bishop Sankey
, Jr., Washington
WR
Brandin Cooks
, Jr., Oregon State
WR
Paul Richardson
, Jr., Colorado
TE
Chris Coyle
, Grad., Arizona State
OL
Evan Finkenberg
, Grad., Arizona State
OL
Hroniss Grasu
, Jr., Oregon (2)
OL
Marcus Martin
, Jr., USC
OL
Xavier Su'a-Filo
, Jr., UCLA (2)
OL
David Yankey
, Sr, Stanford (2)
First team defense
DL
Ben Gardner
, Sr., Stanford
DL
Trevor Reilly
, Sr., Utah
DL
Will Sutton, Sr., Arizona State
DL
Leonard Williams
, So., USC
LB
Anthony Barr
, Sr., UCLA (2)
LB
Trent Murphy
, Sr., Stanford (2)
LB
Shayne Skov
, Sr., Stanford
DB
Deone Bucannon
, Sr., Washington State
DB
Alden Darby
, Sr., Arizona State
DB
Ifo Ekpre-Olomu
, Jr., Oregon
DB
Robert Nelson
, Sr., Arizona State
DB
Ed Reynolds
, Sr., Stanford (2)
First team specialists
PK
Zane Gonzalez
, Fr., Arizona State
P
Tom Hackett
, So. Utah
RS
Ty Montgomery
, Jr., Stanford
ST
Soma Vainuku
, So. USC
Second team offense
QB
Taylor Kelly
, Jr., Arizona State
RB
Tyler Gaffney
, Sr., Stanford
RB
Marion Grice
, Sr. Arizona State
WR
Ty Montgomery, Jr., Stanford
WR
Jaelen Strong
, So., Arizona State
TE
Austin Seferian-Jenkins
, Jr., Washington
OL
Jamil Douglas
, Jr., Arizona State
OL
Cameron Fleming
, Sr., Stanford
OL
Andrus Peat
, So., Stanford
OL
Isaac Seumalo
, So., Oregon State
OL
Khalil Wilkes
, Sr. Stanford
Second team defense
DL
Scott Crichton
, Jr., Oregon State
DL
Taylor Hart
, Sr., Oregon
DL
Devon Kennard
, Sr., USC
DL
Hau'oli Kikaha
, Jr., Washington
DL
Tenny Palepoi
, Sr., Utah
LB
Carl Bradford
, Jr., Arizona State
LB
Myles Jack, Fr., UCLA
LB
Hayes Pullard
, Jr., USC
LB
Chris Young
, Sr., Arizona State
DB
Dion Bailey
, Jr., USC
DB
Osahon Irabor
, Grad., Arizona State
DB
Marcus Peters
, So., Washington
DB
Rashaad Reynolds
, Sr., Oregon State
Second team specialists
PK
Vincenzo D'Amato
, Sr., California
P
Travis Coons
, Sr., Washington
RS
Nelson Agholor
, So., USC
ST
Erick Dargan
, Jr., Oregon
ST
Joe Hemschoot
, Sr., Stanford
ST
Ryan Hofmeister
, Jr., UCLA
RS: Return Specialist
ST: special teams player (not a kicker or returner)
(2): Two-time first-team selection
Honorable mention
Arizona:
LB
Marquis Flowers
, Sr.; DL
Tevin Hood
, Sr.; WR
Nate Phillips
, Fr.; DB
Jared Tevis
, Jr.; LB
Scooby Wright
, Fr.
Arizona State:
DL
Davon Coleman
, Grad.;
Gannon Conway
, Sr.; ST
D.J. Foster
, So.; ST
De'Marieya Nelson
, Jr.
California:
DL
Deandre Coleman
, Sr.; QB
Jared Goff
, Fr.; WR
Bryce Treggs
, So.
Colorado:
RB
Mike Adkins
, Fr.; LB
Addison Gillam
, Fr.; PK
Will Oliver
, Jr.
Oregon:
WR/RS
Bralon Addison
, So.; WR
Josh Huff
, Sr.; OL
Tyler Johnstone
, So.; DL
Wade Keliikipi
, Sr.; LB
Derrick Malone
, Jr.; RB
Byron Marshall
, So.; DL
Tony Washington
, Jr.
Oregon State:
OL
Grant Enger
, Sr.; TE
Connor Hamlett
, JR.; QB
Sean Mannion
, Jr.; DB
Ryan Murphy
, Jr.; DB
Steven Nelson
, Jr.; ST
Terron Ward
, Jr.
Stanford:
DL
Henry Anderson
, Sr.; DB
Alex Carter
, So.; OL
Kevin Danser
, Sr.; DL
Josh Mauro
, Sr.; P
Ben Rhyne
, Sr.; DB
Jordan Richards
, Jr.; LB
A.J. Tarpley
, Sr.
UCLA:
OL
Jake Brendel
, So.; ST
Jayon Brown
, Fr.; P
Sean Covington
, Fr.; TE
Thomas Duarte
, Fr.; WR
Shaq Evans
, Sr.; WR
Devin Fuller
, So.; DB
Randall Goforth
, So.; QB
Brett Hundley
, So.; DB
Anthony Jefferson
, Jr.; LB
Eric Kendricks
, Jr.; DL
Cassius Marsh
, Sr.; DL
Ellis McCarthy
, So.; DB
Fabian Moreau
, So.; OL
Alex Redmond
, Fr.; DL
Eddie Vanderdoes
, Fr.; LB
Jordan Zumwalt
, Sr.
USC:
P
Kris Albarado
, So.; RB
Javorius Allen
, So.; WR Nelson Agholor, So.; DB
Su'a Cravens
, Fr.; OL
Kevin Graf
, Sr.; TE
Xavier Grimble
, Jr.; QB
Cody Kessler
, So.; WR
Marqise Lee
, Jr.; DB
Josh Shaw
, Jr.; DL
J.R. Tavai
, Jr.; OL Max Turek, So.; DL
George Uko
, Jr.
Utah:
WR
Dres Anderson
, Jr.; OL
Vyncent Jones
, Sr.; DB
Keith McGill
, Sr.; PK
Andy Phillips
, Fr.; LB
Jason Whittingham
, So.
Washington:
OL
Dexter Charles
, So.; PK
Travis Coons
, Sr.; OL
Mike Criste
, Jr.; OL
Micah Hatchie
, Jr.; DB
Sean Parker
, Sr.; QB
Keith Price
, Sr.; DL
Danny Shelton
, Jr.; LB
Shaq Thompson
, So.
Washington State:
OL
Elliott Bosch
, Sr.; WR
River Cracraft
, Fr.; PK
Andrew Furney
, Sr.; DB
Damante Horton
, Sr.;
Some notes on the teams:
By School:
Arizona State and Stanford placed the most players on the first team with six selections each.
By Class:
Of the 27 first-team selections, two are graduate students, 11 are seniors, nine are juniors, four are sophomores and one freshman.
Unanimous:
Only one player was named on the first-team ballot of all 12 head coaches -- RB Ka'Deem Carey of Arizona.
Two-time Selections:
Ten players are repeat first-team selections from last year.
All-Academic:
Two first team All-Pac-12 performers also were named to the Pac-12 All Academic second team -- RB Bishop Sankey of Washington and DB Ed Reynolds of Stanford, while Washington defensive lineman Hau'oli Kikaha was named to the All-Pac-12 second team and Pac-12 All-Academic first team. Arizona State QB Taylor Kelly earned second-team honors on both the Pac-12 All-Conference and All-Academic teams.
November, 25, 2013
11/25/13
6:00
PM PT
Arizona running back
Ka'Deem Carey
has been named the Pac-12 offensive player of the week, along with Arizona State linebacker
Chris Young
, who was named defensive player of the week and UCLA returner
Ishmael Adams
, who was named special teams player of the week.
Here's some more on the trio per the Pac-12's release:
Carey, a junior from Tucson, Ariz., racked up 206 yards on a school-record 48 carries to become the Wildcats' all-time leading rusher with 3,913 career yards as Arizona upset No. 5 Oregon 42-16 on Saturday afternoon in Tucson. His four touchdowns on the day established a new program mark for career touchdowns with 49 while his 45 career rushing touchdowns are also a school record. The 48 carries were the most by an FBS player in a game this season and his string of 14 straight 100-yard rushing games is tied for the longest streak by an FBS player over the past ten seasons. The nation's second-leading rusher (155.9 ypg) earns the conference offensive player of the week honor for the second time this year.

Young, a senior from Seattle, Wash., led an Arizona State defense that limited a potent UCLA offense and squashed a fourth-quarter comeback bid in a 38-33 win over the Bruins at the Rose Bowl on Saturday night as the Sun Devils clinched the Pac-12 South Division title with the victory. He collected a game-leading 13 tackles, including 12 solo, and three sacks for a loss of 27 yards. His two fourth-quarter sacks and game-ending tackle on the Bruins' final two drives secured the win for the Sun Devils, who earned a spot in the Pac-12 Football Championship Game on Dec. 7.

Adams, a sophomore from Woodland Hills, Calif., collected 234 return yards in his first game serving as the return man in the Bruins' 38-33 loss to Arizona State. His efforts in the return game led to three UCLA scores, including a 58-yard return on the Sun Devils' first kickoff of the game to set up a 42-yard scoring pass on the next play and a 49-yard punt return that set up a 48-yard field goal that put the Bruins ahead late in the first quarter.

Also nominated for offensive player of the week honors were quarterbacks Taylor Kelly of Arizona State and Connor Halliday of Washington State; running backs Javorius Allen of USC and Bishop Sankey of Washington; and wide receivers Ty Montgomery of Stanford and Shaq Evans of UCLA. Also nominated for defensive player of the week honors were linebackers Anthony Barr of UCLA and Justin Sagote of Washington State; cornerbacks Shaquille Richardson of Arizona and Marcus Peters of Washington; and defensive end Leonard Williams of USC and free safety Jered Bell of Colorado. Also nominated for special teams player of the week honors was Washington State kicker Andrew Furney and USC fullback/special teams member Soma Vainuku.
November, 26, 2012
11/26/12
10:00
AM PT
Taking stock of Week 13 in the Pac-12.
Team of the week
: Quick: Name the team that you saw as a certainty to lose this past weekend. Washington State, right? The Cougars were 2-9, mired in controversy, and their best defensive player, OLB
Travis Long
, was out with an injury. Further, rival Washington was riding high, having won four games in a row. And when the Huskies took an 18-point lead into the fourth quarter, that certainty felt confirmed. Heck, the Pac-12 blog even tweeted a postmortem, declaring the Cougs dead. But despite all that was against them, the Cougars rose up and won. Kudos, particularly to the seniors, who end their careers on a high note.
Best game
: The Apple Cup was exciting -- it went to overtime -- but it was terribly sloppy. No. 1 Notre Dame's 22-13 win over USC, while certainly not elegantly played by the Trojans, was a high-stakes affair that wasn't resolved until the waning moments of the fourth quarter. While Notre Dame was seemingly in control throughout, USC's offensive talent made it seem as though things could change quickly. The Fighting Irish stopped USC eight straight times inside the 10-yard line with 2:33 left to ice the game, which was pretty darn dramatic (though USC fans might use another term).
Biggest play
: With less than six minutes left and the score tied at 27, Arizona lined up to punt from its 15-yard line. The Wildcats already had lost momentum, allowing a 10-point lead to slip away, but there was no reason it couldn't swing back their way. Unless they gave up a blocked punt, which they did.
Kevin Ayers
got the block, and it was recovered at the Arizona 8-yard line. A TD run from
Cameron Marshall
later, the Sun Devils took a lead they'd never relinquish.
[+] Enlarge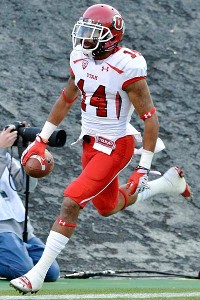 Ron Chenoy/US PresswireUtah's Reggie Dunn runs into the end zone after his one 100-yard TD kickoff return late in the fourth quarter against Colorado.
Defensive standout
: Arizona State LB
Brandon Magee
, a Pac-12 blog favorite, collected a career-high 17 tackles -- 14 solos -- with three coming for a loss in the Sun Devils' win over Arizona.
Defensive standout II
: Stanford outside linebacker
Chase Thomas
, who has had a better season than his overall numbers indicate, was dominant against UCLA, recording two sacks in the win over the Bruins.
Offensive standout
: It hasn't been the scintillating year many projected for Oregon WR/RB
De'Anthony Thomas
, a preseason Heisman Trophy candidate, but he came through big for the Ducks when they needed him in the Civil War. With
Kenjon Barner
banged up, Thomas turned in his best game of the season, rushing for 122 yards on 17 carries with three touchdowns. TD runs of 5 and 29 yards in the third quarter transformed a close game into a blowout.
Special-teams standout
: Utah's
Reggie Dunn
quite simply has posted the best season a college football kick returner has ever had. In the win over Colorado, just after the Buffs tied the game with a 100-yard kickoff return, Dunn went 100 yards for a score on the ensuing kickoff, providing the winning points. It was the fourth time this season and fifth time in his career Dunn has gone 100 yards for a touchdown on a kick return. Both are NCAA records.
Special-teams standout II
: Washington State kicker
Andrew Furney
came up big in the Cougs' come-from-behind Apple Cup win. He tied the game with a 45-yard field goal and won it in overtime with a 21-yard kick. On the night, he was 3-for-3.
Smiley face
: It was reasonable to wonder how Stanford might react at UCLA after its emotional, hard-fought win at Oregon. But the Cardinal were efficient, businesslike and dominant on both sides of the ball against a very good Bruins team. I'd bet if you asked the SEC champion which team it wouldn't want to play for the national title, Stanford might be the first team mentioned.
Frowny face
: Late in the fourth quarter and holding a nine-point lead, Notre Dame stopped USC eight straight times inside the 10-yard line. First, you give credit to Notre Dame, which plays outstanding defense. Then you acknowledge that Lane Kiffin's play calling at this crucial moment was ... terrible, as
L.A. Times columnist Bill Plaschke wrote in detail here
.
Thought of the week
: With the Rose Bowl berth on the line, UCLA gets a second crack at Stanford on Friday in the Pac-12 championship game. With just six days separating that and their regular-season game, how might this matchup look different? Did the Bruins save some schematic ideas? Remember: UCLA already had won the South Division. With Oregon's win over Oregon State, the Cardinal needed to win at UCLA to earn the Pac-12 North Division crown. The Bruins' stakes were much lower: pride. If you're one for realpolitik in college football, a win Saturday would have sent the Bruins to boisterous Autzen Stadium for the Pac-12 title game. UCLA's chances to get to the Rose Bowl might be better at Stanford than they would have been at Oregon.
Questions for the week
: Who had Stanford and UCLA as their North and South Division winners in August? Anyone? Anyone? I can't recall a published prediction picking either. But I now have written a post-it note that is now stuck to my desk: "There are no sure things. There are no sure things. Never forget." Of course, you know I will forget this.
PAC-12 SCOREBOARD
Thursday, 9/3
Friday, 9/4
Saturday, 9/5