USC Trojans:

Alabama Crimson Tide
November, 3, 2012
11/03/12
2:45
PM PT
LOS ANGELES -- In August, the thought was USC-Oregon and LSU-Alabama would give the college football nation an epic Nov. 3 weekend featuring a simultaneous matchup of four unbeaten, top-five teams in college football's two best conferences. It didn't quite work out like that.
Alabama and Oregon held serve, and LSU is fifth in the BCS rankings, the top-ranked one-loss team. But USC has flopped, losing a pair of games and often playing sloppy and inconsistent football.
USC is last in the nation in penalties, and it gave away five turnovers in a loss at Arizona last weekend. That's not what anyone expected from a team that welcomed back 19 starters from a 10-2 team.
"Everybody is really disappointed in Saturday," USC quarterback
Matt Barkley
said this week. "There were so many times when we could win the game, and we really screwed up time and time again."
And yet, Barkley adds, there is still plenty for the Trojans to play for. While the national title is no longer in play, the Pac-12 title and the Rose Bowl are respectable consolation prizes.
Barkley and the Trojans, if they play smart, efficient football, have the talent to beat the Ducks. Heck, they have the talent to beat anyone.
The question is whether it all comes together this evening.
On the other side of the football, is Oregon quarterback
Marcus Mariota
, a redshirt freshman. He's passed every test this season with flying colors, mostly because no team has really tested the Ducks, who have yet to play a game with any second-half intrigue. It's fair to wonder how he might react in front of 94,000 fans in the fourth quarter of a tight game.
After playing a soft early schedule, Oregon hopes to announce itself as a full-on national title contender, the best team to play Alabama or the eventual SEC champion. USC, which dumped the Ducks' national title hopes a year ago, is playing the role of spoiler, trying to position itself for the South Division title.
That would mean a spot in the Pac-12 title game, and perhaps in a rematch against Oregon, with the Rose Bowl on the line.
While this game no longer lusters, it certainly will be revealing. Or unmasking.
November, 2, 2012
11/02/12
12:30
PM PT
Nick Aliotti, a native of Walnut Creek, Calif., a graduate of Pittsburg High School, a former freshman MVP at running back for UC Davis, arrived at Oregon as a graduate assistant in 1978 under Rich Brooks. The Ducks celebrated his arrival by going 1-10.
After a 4-7 season the next year, Oregon State coach Joe Avezzano hired him to coach running backs. In 1984, he was the offensive coordinator at Chico State. The Ducks went 6-5 that year.
Funny how things turn out. Back then, there was little to suggest Aliotti would become a defensive coach, or that he would circle back to Oregon, or that there would be any reason to go back to Eugene. After all, if Aliotti wanted to climb the coaching ladder, didn't he want to go to a place where you had a chance to win?
Yet here he is, now close enough to an Oregon lifer that we're going to call him that, a guy who has been a firsthand witness to a program rising from nothing to respectability to legitimate goodness. And then to the cusp of greatness.
[+] Enlarge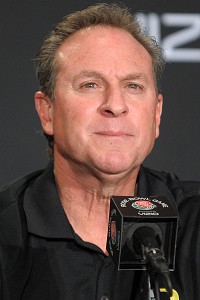 Kirby Lee/Image of Sport/US PresswireWhile Oregon's offense gets all the hype, Nick Aliotti's defense has also shined this season.
"I'll tell you how it feels for me personally," Aliotti said. "It feels fantastic."
And anyone who knows Aliotti, 58, will guess that there was a prelude to that quote -- "It's not about me" -- and a postlude -- "It's really, really special" -- as well as some entertaining parentheticals along the way.
Yet this season includes something new: respect.
Aliotti has been a good defensive coordinator for a long time, although his defenses often were outmanned. During the Ducks' rise under Chip Kelly, Oregon has played better defense than most folks realized, but it often required observers to look behind the numbers. And who has time for that?
Yet before this season began, more than a few pundits, including folks on the benighted East Coast, took a look at the Ducks' depth chart and noted that there were some salty characters on the mean side of the ball. The Ducks had some size to go along with their speed. There were some 300-pounders inside and there was, as coaches say, "great length" across the board, with seven of the top nine defensive linemen over 6-foot-4. And four over 6-6.
They passed the sight test.
What about the football part of football? Glad you asked. ESPN's numbers guy, Brad Edwards,
took a closer look at the Oregon defense this week
, noting that if you go beyond some superficial numbers that don't look impressive, you can make a case that the Ducks are playing defense on par with the finest teams in the country.
He took a measure of the Oregon defense only when an opponent was within 28 points, noting, "Using only statistics from when the score is within 28 points allows us to evaluate how teams perform when the starters are on the field and playing with maximum intensity."
What did he find? First, he found the Ducks have allowed 19 touchdowns this season -- one a pick-six against the offense -- but only seven were given up when the game margin was within 28 points.
Then he entered that into his Bat Computer.
Here's what he found. The Ducks ranked third in the nation, behind only Alabama and Notre Dame, in points per drive at 0.89. The Ducks allow just 4.03 yards per play, which ranks fourth in the nation. The Oregon defense leads the nation in red zone TD percentage at 22 percent, or four TDs allowed in 18 drives. Finally, on third-down conversion defense, the Ducks rank second, trailing only Oregon State, with a 24.7 percent success rate.
Not bad, eh?
Aliotti's defense, however, will face a major test on a big stage Saturday when it visits USC. Although the Trojans' offense has been surprisingly inconsistent this season, it still has all the main players from the squad that turned in a scintillating performance a year ago while ending the Ducks' 21-game Autzen Stadium winning streak with a 38-35 victory.
"Those great receivers and the quarterback were able to have their way with us last year," Aliotti said. "They beat our defense last year with their offense."
Matt Barkley
completed 26 of 34 passes for 323 yards with four touchdowns as the Trojans rolled up 462 yards.
Marqise Lee
, then a true freshman, caught eight passes for 187 yards and a score. Aliotti, by the way, was perhaps more upset about the Trojans' 139 rushing yards than the passing numbers.
Barkley is a four-year starter who has seen just about every defense. He's not easy to fool. But that doesn't mean Aliotti isn't going to try.
"The best I can answer is we're going to do a little bit of all of it," he said.
And Aliotti has a lot of tricks in his bag. When you talk to opposing offensive coaches, it's clear the Ducks' defense has evolved in the past few years. Calling it "multiple" doesn't do it justice. You could almost call it "nonstandard." Aliotti will give a general idea of the evolution, but he doesn't want even that to appear in print.
USC coach Lane Kiffin coached the Trojans' offense under Pete Carroll from 2001 to '06. He sees dramatic changes.
"You see no similarities," he said. "You'd think it was a different staff. Obviously it's not; they've been there forever. I don't know what changed, but they are very different. They are very multiple. They change fronts. They disguise things very well."
Aliotti has played a lot of chess games with opposing offenses since he returned to Oregon for good in 1999. Shutting down Barkley and the Trojans on Saturday would help him further secure his grandmaster bona fides this fall.
October, 16, 2012
10/16/12
11:27
AM PT
By
Pedro Moura
| ESPN.com
With the release of the first edition of the BCS standings, we ask what's on the minds of the most diehard USC fans: Can the Trojans climb back into the national championship picture?

The answer is, it's possible . . . if they win out.

If the Trojans win their remaining seven games, they could still be one of the top two teams in the BCS standings come December and in Miami come January. They sit at No. 10 right now, without yet having played a team the computers or pollsters consider elite, and coming down the stretch the Trojans could play three games against teams in the current BCS top 10.

They have upcoming regular-season matchups with Oregon and Notre Dame and could potentially square off in a Pac-12 championship game with either Oregon a second time or Oregon State (if the Beavers beat the Ducks in the Civil War). If they won each of those games they would jump at least those three teams -- No. 3 Oregon, No. 5 Notre Dame and No. 8 Oregon State.

They wouldn't be a lock for the No. 2 spot, of course (Oregon, Notre Dame and OSU would need to continue their winning ways and Kansas State would need to lose), but four of the remaining teams in the current top 10 -- Alabama, Florida, LSU and South Carolina -- play in the same conference (SEC), so further attrition seems likely. And a 12-1 USC team that began the year as the preseason AP No. 1, lost its only game in mid-September, and finished strong against quality opponents would seem to have a resume strong enough to compete with any other one-loss teams, even ones from the SEC.

So it's possible. If they win out.

But is it a lock? No.

First, they need help. Kansas State has yet to lose a game and has already beaten its toughest opponent -- No. 9-ranked Oklahoma. Jumping them would be unlikely were they to remain undefeated.

Second, they need to get better. The Trojans have demonstrated significant deficiencies through the first six games of the season -- including a 57th-ranked offense and the highest penalty average among all FBS teams – that would make beating a team like Oregon twice a seriously tall order.

In order to win out, in order to have any hope of beating teams like Oregon, Notre Dame and Oregon State, USC will have to show real improvement in both areas and continue to perform at a very high level on defense.

It's possible they can do that. And the end of the season gets very intriguing if they pull it off. But don't hold your breath. Not yet. Let them beat Oregon (at least once) first.



October, 10, 2012
10/10/12
1:45
PM PT
JACKSONVILLE, Fla. -- ESPN Watch List inside linebacker
Kain Daub
(Jacksonville, Fla./Sandalwood) will likely be one of the top linebackers in the country next year. After the 6-foot-3, 227-pound athlete committed to LSU on July 14, he shut down his recruitment. But now he is thinking about opening things back up.
"My LSU commit is still pretty solid, but I think I'm going to open up the doors up again," Daub said. "Anything could happen, there could be a coaching change and I just want something to fall back on and not just close all doors just because I committed to LSU."
Daub recently transferred from Ponte Vedra (Fla.) Nease to Sandalwood High School and is now playing alongside Alabama defensive end commit
DeMarcus Walker
. Daub, who has more than 15 offers, said Walker continually tries to get him to switch to Alabama.
To continue reading this article you must be an Insider
October, 7, 2012
10/07/12
4:36
PM PT
Oregon remained No. 2 behind Alabama, but Oregon State moved up to No. 10 in the
latest AP poll
.
USC is 11th and Stanford is 17th.
Last week, the Pac-12 had six ranked teams, but No. 23 Washington lost to the Ducks 52-21 and No. 25 UCLA was upset by California 43-17.
Arizona State, which plays host to Oregon on Oct. 18, and Washington both received votes, tying for 31st. Arizona also received votes.
South Carolina moved up to No. 3 behind the Ducks, ahead of No. 4 Florida. Those SEC East rivals play on Oct. 20th.
West Virginia is No. 5, Kansas State No. 6 and Notre Dame is No. 7. Kansas State visits West Virginia on Oct. 20, which looks like an excellent day for college football.
Stanford visits Notre Dame on Saturday. The Fighting Irish are at USC on Nov. 24.
September, 17, 2012
9/17/12
10:29
AM PT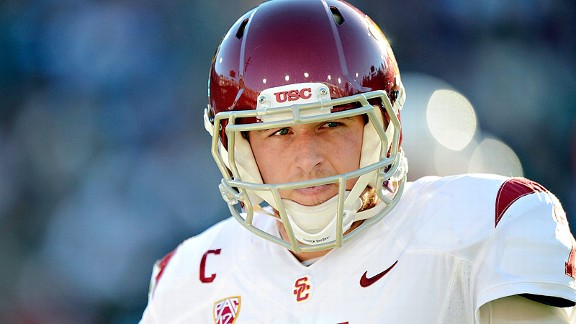 Bob Stanton/Icon SMIMatt Barkley and the Trojans must now look to rebound after being upset by Stanford.
The good news is there's no longer a need to regurgitate comparisons between USC in 2012 and USC in 2005. In 2005, the Trojans beat Stanford by 30. In 2012, the Cardinal forced a fourth-quarter tap out.
The 2005 team went undefeated in the regular season and lost an epic clash with Texas for the national title. The 2012 team got pushed around in Game 3.
While USC's turnovers and penalties were notable at Stanford, they were only foot-notable. The primary narrative was how USC got whipped on both lines, most obviously in the fourth quarter when the screws tightened. Stanford asserted itself and the Trojans wilted.
There are many ways to lose, and some losses are easier to rationalize. Last year, Oregon opened with a loss to LSU. Sure, there was a false narrative -- LSU dominated those gimmicky Ducks! -- but the true narrative was Oregon played sloppily and LSU did not. You can rationalize a sloppy loss because you can envision corrected mistakes and better ball security.
It's more difficult to rationalize USC's loss to Stanford. Yes, the absence of center
Khaled Holmes
, maybe the best offensive lineman in the conference, was significant. Still, if you came to the game with no preconceptions, you'd be hard-pressed to imagine how the Trojans might reverse the scoreboard in a rematch.
But the purpose here is not to read the entrails of the
Trojans' 21-14 defeat
that knocked them from No. 2 to No. 13. It's to consider the present and to speculate on the future for USC in 2012.
The present is a test of the Trojans' heart and backbone. It starts with the leadership of Lane Kiffin and his coaching staff, then trickles down to quarterback
Matt Barkley
and safety
T.J. McDonald
, the guys who came back as seniors to take care of "unfinished business."
The point A after the loss, however, was a USC failure. The Trojans' postgame despondency, particularly Barkley's, was perfectly understandable. It was
normal
. But exceptional people, the sorts who are supposed to lead great teams, don't do despondency. They don't do feel sorry for yourself.
Don't hate me for going here, but
this is what you do
.
Yeah, I pulled out Tim Tebow's news conference speech after Florida's embarrassing
31-30 home loss to Ole Miss
on Sept. 27, 2008. While I know Tebow is a Rorschach test in this country, what can't be denied is his ability to inspire those who compete beside him, who wear the same uniform.
My expectation is Barkley, after regaining his composure, will deliver a similar message to his teammates. The message is this: We will get back to work. We will rededicate. We will fight with everything we have to get everything we can from this season. And if we do this, good things will happen.
August, 22, 2012
8/22/12
4:58
PM PT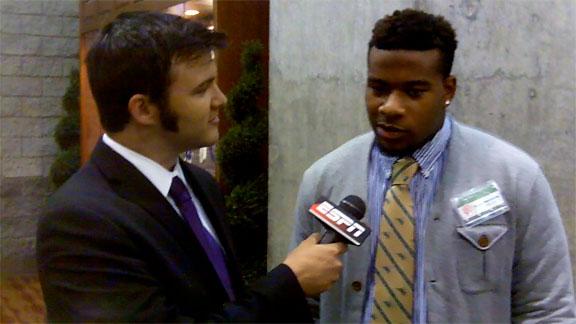 Robert Nkemdiche committed to Clemson, but that didn't slow down his recruiting. Kipp Adams talks with the nation's top recruit about his recruitment since committing to Clemson, and his goals for the 2012 season.
August, 2, 2012
8/02/12
10:00
AM PT
USC wasn't eligible for the coaches' poll in 2011 due to NCAA sanctions, but it will start 2012 almost at the top.

The Trojans
are ranked third
, behind No. 1 LSU and No. 2 Alabama, the two SEC teams that played for the BCS national title last season.
The vote at the top was tight. USC, with 19, and Alabama, with 20, actually got more No. 1 votes than LSU (18). That should be your first warning of the "What the heck" nature of the poll. LSU, which welcomes back 15 starters from a 13-1 team and upgraded at quarterback with
Zach Mettenberger
, seems like a clear No. 1 to the Pac-12 blog.
LSU, with 1,403 points, was just ahead of Alabama, at 1,399. USC got 1,388.
It's a little surprising that USC isn't No. 2. Alabama only has 11 position players returning, including just five from last season's outstanding defense. But coaches tend to tip their caps to defending champs, and it's not unlikely that each of the seven SEC coaches in the poll -- the Pac-12 had six -- voted the SEC teams one-two. I also have a hunch a Pac-12 coach -- or two -- didn't vote USC either No. 1 or 2.
And, of course, the coaches poll, though it is unfortunately included in the BCS standings, is the least respected of all polls due to its regional biases, obvious conflicts of interest, lack of transparency and the simple fact that few coaches pay attention to teams they don't play. Oh, and many of the coaches hand off their votes to sports information directors.
Oregon comes in at No. 5, 18 points behind No. 4 Oklahoma. Stanford is 18th, just ahead of the Oklahoma State team that nipped the Cardinal in the Fiesta Bowl.
And that's it for the Pac-12 in the top-25. Washington came in at No. 26 and Utah at 32nd, based on the "others receiving votes" tally.
The SEC led all conferences with seven ranked teams. The Big 12 had six, including new members West Virginia and TCU. The Big Ten had four, the ACC three.
It's also evident that the voters ran out of steam in the top 25. Florida, Notre Dame and Auburn combined for 16 losses in 2011, but were ranked Nos. 23, 24 and 25, respectively.
As we noted, "What the heck!"
Here are the coaches who voted, per USA Today, including the six Pac-12 coaches, who are bolded:
The USA TODAY Board of Coaches is made up of 59 head coaches at Bowl Subdivision schools. All are members of the American Football Coaches Association. The board for the 2012 season: David Bailiff, Rice; Frank Beamer, Virginia Tech; Tim Beckman, Illinois; Bret Bielema, Wisconsin; Terry Bowden, Akron; Art Briles, Baylor; Troy Calhoun, Air Force; Matt Campbell, Toledo; Gene Chizik, Auburn; Dave Christensen, Wyoming; Mark Dantonio, Michigan State; Tim DeRuyter, Fresno State; Dave Doeren, Northern Illinois; Sonny Dykes, Louisiana Tech; Jimbo Fisher, Florida State; Kyle Flood, Rutgers; James Franklin, Vanderbilt; Al Golden, Miami (Fla.); Jim Grobe, Wake Forest; Darrell Hazell, Kent State; Brady Hoke, Michigan; Dana Holgorsen, West Virginia; Skip Holtz, South Florida; Mark Hudspeth, Louisiana-Lafayette; Curtis Johnson, Tulane; Ellis Johnson, Southern Miss; Butch Jones, Cincinnati; Brian Kelly, Notre Dame; Lane Kiffin, Southern California; Mike Leach, Washington State; Pete Lembo, Ball State; Tony Levine, Houston; Mike London, Virginia; Rocky Long, San Diego State; Dan McCarney, North Texas; Mike MacIntyre, San Jose State; Ruffin McNeill, East Carolina; Gus Malzahn, Arkansas State; Bronco Mendenhall, BYU; Les Miles, LSU; George O'Leary, Central Florida; Paul Pasqualoni, Connecticut; Bo Pelini, Nebraska; Chris Petersen, Boise State; Joker Phillips, Kentucky; Paul Rhoads, Iowa State; Mark Richt, Georgia; Mike Riley, Oregon State; Rich Rodriguez, Arizona; Nick Saban, Alabama; Steve Sarkisian, Washington; Frank Solich, Ohio; Steve Spurrier, South Carolina; Rick Stockstill, Middle Tennessee; Bob Stoops, Oklahoma; Dabo Swinney, Clemson; Jeff Tedford, California; Tommy Tuberville, Texas Tech; Kevin Wilson, Indiana.
July, 1, 2012
7/01/12
2:41
PM PT
BRADENTON, Fla. -- Five-star cornerback prospect
Vernon Hargreaves III
(Tampa, Fla./Wharton) won defensive MVP of the IMG Madden 7-on-7 National Championship tournament on Sunday after Team Tampa beat Max Ex Blue 28-17 to win the tournament.
The 5-foot-11, 185-pound athlete had several interceptions over the course of the two-day tournament, including one against Michigan quarterback commit
Shane Morris
in the championship game.
As for recruiting, the talented corner who has more than 50 scholarship offers said three schools are starting to stand out to him.
To continue reading this article you must be an Insider
June, 18, 2012
6/18/12
7:05
PM PT
Monday was a busy day for commitments in the West region, but defensive tackle
Eddie Vanderdoes
(Auburn, Calif./Placer) isn't exactly ready to jump into the commitment scene. More than half of the top 30 players in the West have already made verbal commitments, but Vanderdoes is taking things slowly. On Monday, the 6-foot-3, 285-pound lineman took to twitter to release a list of his top 15 schools.
Alabama, Baylor, California, Florida, Georgia Tech, LSU, Miami, Michigan, Michigan State, Nebraska, Oregon, Penn State, UCLA, USC and Washington all made the cut. Vanderdoes included in his tweet that he will be cutting that down to a top 10 group soon.
To continue reading this article you must be an Insider
June, 18, 2012
6/18/12
2:01
PM PT
GAINESVILLE, Fla. -- Five-star offensive lineman
Laremy Tunsil
(Lake City, Fla./Columbia) visited Alabama, Georgia and Florida over the last week. The 6-foot-6, 295-pound tackle named a top three after his visit to Florida on Sunday.
"I would say they are my top three," Tunsil said of the three schools he visited. "It's a tie right now with all of them."
Tunsil, who camped at Alabama last weekend, visited Georgia on Friday and Saturday before heading to Gainesville on Sunday. The No. 3-ranked player in the country said he was impressed by what Georgia had to offer.
To continue reading this article you must be an Insider
February, 13, 2012
2/13/12
7:45
AM PT
JACKSONVILLE, Fla. -- Five-star wide receiver prospect
Ahmad Fulwood
(Jacksonville, Fla./Bishop Kenny) will be one of the most highly recruited prospects in the state of Florida for the 2013 class, but he is likely headed out of state to play college football.
Fulwood lists Clemson, Alabama, USC, Arkansas, Georgia, Ohio State and Notre Dame as schools that he is most interested. The 6-foot-4, 200-pound receiver said that out of those schools, he likely will visit Georgia, Clemson, Ohio State and possibly USC this spring.
Noticeably missing are in-state schools Florida, Florida State and Miami. Fulwood said he is likely to leave the state to attend college. Fulwood, who is from New Jersey, said there is no particular reason he wants to leave the state.
To continue reading this article you must be an Insider
February, 3, 2012
2/03/12
11:59
AM PT
ESPN The Magazine and RecruitingNation compiled the past five years (2007-11) of ESPNU 150 rankings and then crowned college football's
top 10 recruiting programs
.

Here's how they did it:
Our methodology was simple: We re-tallied the scores following signing day and ranked the schools based on total number of ESPNU 150 recruits (there have been 900) hauled in over the last six years. Of course, like success on the field, recruiting is cyclical -- and fans of programs both on and off this list might look back on Feb. 1, 2012 as the day their team began its rise (or fall) on the trail.
Here's the top-10.
1. Florida
2. Texas
3. USC

4. Alabama
5. Florida State
6. Notre Dame
T-7. Georgia
t-7: LSU
9. Miami
T-10. Ohio State
T-10. Oklahoma
Here's what it says about USC:
Top states: California (36), Florida (six), Arizona (four)
Surprise state: Georgia (three)
Sure, the Trojans have California locked up. But USC has also signed four of Arizona's 12 ESPNU 150 prospects and Georgia's second-best preps in 2008 (WR Brice Butler of Norcross) and 2010 (WR Markeith Ambles of McDonough). In 2012, USC signed seven ESPNU 150 commits -- OT Zach Banner (Lakewood, Wash.) was the lone out-of-state recruit.
(USC actually signed three out-of-state recruits, including receiver
Nelson Agholor
and DT
Leonard Williams
, who are both from Florida).
What's clear from this list: Sometimes teams with lots of ESPNU 150 players produce on the field (Alabama, LSU, Oklahoma, Ohio State) and sometimes they do not (Florida, Texas, Florida State, Notre Dame and Miami).
Florida is 15-11 over the past two seasons, when these highly rated classes should have been peaking. Texas is 13-12 over the same span. Miami has lost fewer than six games just once since 2007. Notre Dame's best years came the past two seasons -- both 8-5. Florida State has averaged 4.8 losses since 2007. Georgia was 10-4 this season, but it was a combined 14-12 in 2009 and 2010. Ohio State probably can be forgiven its 6-7 finish this year, based on the NCAA issues and firing of coach Jim Tressel. Oklahoma's lone blip was an 8-5 campaign in 2009. USC's "downturn" came in 2009 and 2010 when the Trojans went 17-9.
Conclusions?
Well, it's possible that Florida recruiting -- as good as it is -- is overrated. Perhaps the same can be said for Texas. Or at least these four programs -- Florida, Florida State, Miami and Texas -- aren't doing the best job of evaluating their wealth of in-state talent.
December, 27, 2011
12/27/11
7:12
AM PT
GAINESVILLE, Fla. -- Four-star cornerback prospect Tracy Howard (Miramar, Fla./Miramar) will take his fifth and final visit to Florida at the end of January. Howard had previously considered visiting USC with his final visit but decided on Gainesville instead.
Howard's mother, Shaiy, confirmed the plans on Monday. Howard, who will participate in the U.S. Army Bowl on Jan. 7, already has visited Florida State and West Virginia. In addition to the Florida visit, Howard also will visit Alabama and LSU.
To continue reading this article you must be an Insider