USC Trojans:

2012 pac-12 take 2
November, 2, 2012
11/02/12
12:00
PM PT
What are the keys to Saturday's showdown between USC and Oregon? Glad you asked.
Ted Miller
: USC can beat Oregon on Saturday, but it needs to play efficient, disciplined football.
That sounds like coach-speak, and I don't like it any more than you. But after watching USC's bafflingly sloppy effort at Arizona, it's clear that we can't really know these Trojans, who unquestionably have loads of talent, until they get out of their own darn way. Or perhaps they're just a group that is incapable of doing that.
[+] Enlarge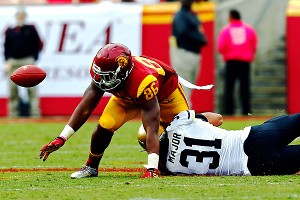 Cal Sport Media via AP ImagesSloppy with the ball all season, USC's 18 turnovers are the most for all but two Pac-12 teams.
Consider the numbers. USC is the nation's most penalized team. That includes 18 personal fouls, which is horrid and doesn't speak well for the Trojans or their coaches. They've turned the ball over 18 times. Only Washington State and Colorado have more in the Pac-12. The Trojans are tied for the league "lead" with 10 fumbles. Quarterback
Matt Barkley
has eight interceptions, one more than he threw all of last year.
USC needs to win the turnover battle and avoid the yellow hanky to beat Oregon. That alone won't guarantee victory, seeing the way the Ducks have been playing, but it's impossible to imagine that the Trojans' can win if their effort doesn't have that as a Point A.
That won't be easy. The Ducks force a lot of turnovers -- 23 -- and are tied for the Pac-12 lead with 15 interceptions. The Ducks have returned four of those picks for touchdowns.
Of course, there is more than one way to skin a cat. USC can win the turnover battle 5-2 just as it could win it 3-0. USC has also forced 23 turnovers this season and grabbed 15 interceptions.
The Trojans don't have to be perfect. They just need to be more perfect than Oregon. More disciplined, more efficient.
If USC pulls the upset, here's a confident bet that it will have fewer turnovers and penalties than the Ducks.
Kevin Gemmell:
One of the cool things about working for ESPN is we have access to all kinds of obscure stats. So a tip of the cap to the ESPN Stats & Information group for coming up with this little gem that I will now share with you: On 42 of
De'Anthony Thomas
' 113 career carries, he hasn't been touched until he was 5 yards beyond the line of scrimmage. That means 37.2 percent of the time he carries the ball, he's getting 5 yards without so much as a finger finding fabric. And that goes a long way toward explaining his 9.7 career yards-per-carry average.
[+] Enlarge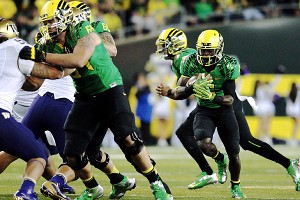 Scott Olmos/US PresswireThe big fellows up front are key in getting De'Anthony Thomas, right, into the clear untouched.
What's the point, you ask? Well, if you're looking for keys to the game for Oregon, you'd probably start with
Kenjon Barner
and finish with Thomas. Barner, who has four consecutive 100-yard games, and eight touchdowns over that span, is the key to the Oregon offense. He'll pound away at USC's defensive line inside and out, but it's Thomas who can deliver the proverbial knockout punch with one of his trademark jaw-droppers.
So the key to the game for Oregon: just keep doing what it has been doing. For USC, it's all about getting penetration from the front four. Easier said than done, right?
Ah, but peel back the layers and you find it's not just about Thomas and Barner.
I think back to the fumble
Will Sutton
caused in the first series of the game at Arizona State. Sutton blasted up the middle and disrupted the play in the backfield, causing a fumble that led to the subsequent ASU touchdown. Unfortunately, Sutton was injured on the play -- and much of the Sun Devils' defensive game plan revolved around moving Sutton up and down the line. I still think Oregon would have won that game regardless of the Sutton injury, but this serves as an example that with good penetration, the Ducks can get rattled.
Try as it might, USC isn't going to make Oregon one-dimensional. It just doesn't happen that way. Oregon can fail on 20 consecutive plays and then go for an 80-yard touchdown on the 21st. And then when you figure out what happened on the last series, they've scored again. It happens that fast.
So while this game might be chock-full of big-name players at the skill positions, it's the five up front for Oregon and the four up front for USC (and the many who will shuffle in throughout the game) that will really make the difference. And therein lies the true key to the game. After all, Oregon's front five are a big reason why Barner has 100-plus his past four games and Thomas can jaunt 5 yards without getting touched. For all the fancy stats and numbers, it still comes down to one undeniable truth: Win at the point of attack, win the football game.
October, 19, 2012
10/19/12
12:00
PM PT
As we turn the corner at the midway point of the season, your Pac-12 bloggers recount what has surprised them the most in the first half of the season. One is a pleasant surprise. The other, not so much.
Kevin Gemmell:
I think we're all a bit taken aback by the remarkable success Oregon State has had so far this season. Let's be honest -- even the most devout of Beavers believers didn't think their team was going to have the school's best start since 1939. If you did, you are a real-McCoy psychic and you should immediately send all relevant stock tips
here
.
What's so impressive -- aside from the 5-0 start and top-10 spot in the BCS standings -- is the way Oregon State has gone about doing it. Great offense. Great defense. And above all, a no-nonsense, physical approach to football. There is an attitude -- a focused swagger, if you will -- that is really fun to watch.
[+] Enlarge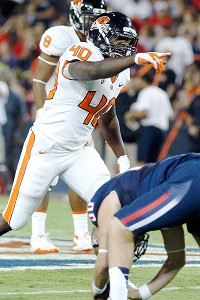 Rick Scuteri/US PresswireLinebacker Michael Doctor has helped point the way for Oregon State's top-five rush defense.
The Beavers have been solid in the trenches on offense and relentless on defense. The offensive line has come together faster than most anticipated -- which obviously has contributed to a rushing attack that averages 119.6 yards per game (up from a league-worst 86.9 in 2011).
Defensively, you can't say enough about the play of
Scott Crichton
,
Jordan Poyer
and a player I think is flying under the radar:
Michael Doctor
.
Naturally, the growth of quarterback
Sean Mannion
has been helpful. He's done a much better job taking care of the ball (OSU ranks 12th nationally in turnover margin), and we've been talking about
Markus Wheaton
and
Brandin Cooks
as a potential breakout duo since we started doing weekly Take 2s in the spring.
Heading into this week's games, the Beavers owned the second-best pass attack in the Pac-12. Again, with teams such as Washington State, USC and UCLA expected to air it out, did anyone really see that one coming?
And the fact that they can plug in
Cody Vaz
and not miss a beat is impressive.
But as much credit as Mike Riley deserves for the offense, defensive coordinator Mark Banker deserves equal praise -- if not more. The Beavers have the top rush defense in the conference and the No. 4 rush defense in the country, allowing just 70 yards per game on the ground. That's elite status, and it takes more than just talented players to attain it. It takes an attitude. It takes an unwavering mentality that our defense is going to dictate to you, not the other way around.
Talking with Poyer and Crichton throughout the season, they said the simplest answer is that they are motivated by being 3-9 in 2011. It was a crummy season, and they didn't want to feel like that again. That's pretty good motivation.
The fact that Oregon State is better than last season isn't a surprise. It's the fact that the Beavers are
so
much better that is both surprising and pleasant.
Ted Miller
: The mediocrity of USC's offense is shocking. No one saw that coming.
This is where someone claims he or she saw it coming. No you didn't. Stop it. No you didn't. Hush.
USC welcomed back nine starters from an offense that in 2011 averaged 35.8 points, 456.8 yards and 294.2 passing yards per game. Among those starters were quarterback
Matt Barkley
, the nation's leading Heisman Trophy candidate; 2011 All-American wide receiver
Robert Woods
; second-team All-Pac-12 wideout
Marqise Lee
, the co-freshman offensive player of the year; second-team All-Pac-12 center
Khaled Holmes
; and 1,000-yard rusher
Curtis McNeal
.
October, 5, 2012
10/05/12
12:00
PM PT
Who has the best wide receiver duo in the Pac-12 right now? We thought for sure it would be a no-brainer with the guys at USC. But a pair of receivers from Oregon State are making a case. That's the question your Pac-12 bloggers attempt to tackle today.
Ted Miller:
Despite popular belief, the season isn't over. They play 12 regular-season games, then a Pac-12 title game and then a bowl game. Some guys who are blowing up statistically now will fall off. Others who are struggling will find their rhythm. It happens every season.
That's why I've still got a "buy" rating on USC's
Robert Woods
and
Marqise Lee
as the Pac-12's best receiver combination. Both will be All-Pac-12 by season's end.
Lee is already well on his way. He leads the conference with 10 receptions per game and six touchdown catches. Sure, he trails the outstanding Oregon State tandem of
Brandin Cooks
and
Markus Wheaton
in yards per game, but his 114.2 ypg still ranks 10th in the nation.
[+] Enlarge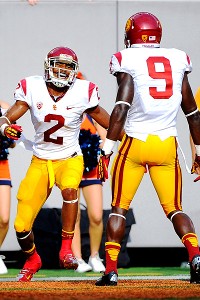 Rich Barnes/US PresswireRobert Woods (2) hasn't put up the numbers of teammate Marqise Lee (9), but there's much season left.
Woods has four touchdowns, which is good, and 50.8 yards per game, which isn't. But having seen Woods for two years, do you really believe his numbers are going to stay down? I don't either. I mean … he's Robert
Freaking
Woods, a 2011 All-America, for criminy sakes!
I suspect that Wheaton and Cooks shortly will get the Woods-Lee treatment. Opposing defenses will decide to use a lot of Cover 2 and bracket coverages that practically function like double-teams and dare the Beavers to run the ball. Defenses will decide they'd prefer that Beavers quarterback
Sean Mannion
look elsewhere when he drops back -- or be forced to take chances throwing into multiple defenders. Those defenses also would rather take their chances with the Beavers still questionable, though clearly improved, running game.
I expect USC coach Lane Kiffin and quarterback
Matt Barkley
to figure things out over the second half of the season. They will find ways to get the ball to Woods and Lee. They will counterpunch against schemes that have worked during the early going. They'll take more shots down field, but they'll also create glorified handoffs with short dumps to let them both do their thing in space.
Stanford tackled well in the secondary when it upset USC. Not all teams will.
By season's end, both Lee and Woods will have more than 100 yards receiving per game. And we'll wonder why we ever doubted them and Barkley.
Kevin Gemmell:
When we're wrong, you guys love to tell us -- over, and over and over -- usually accompanied by colorful language and GPS-like directions about where we can stick our opinions.
So the few times we're right, we have no trouble patting ourselves on the back. And a few months ago, we did
a Take 2 on potential breakout players in the conference
. I went with Cooks. I felt good about the pick then. I feel great about the pick now.
[+] Enlarge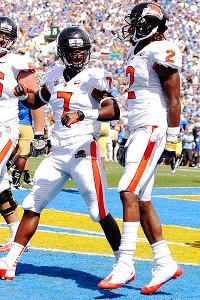 Adam Davis/Icon SMIBrandin Cooks (7) and Markus Wheaton (2) are both averaging more than 134 yards per game.
The Wheaton/Cooks duo is coming together just as Oregon State coach Mike Riley had hoped. Mannion is an older, wiser quarterback and is playing big-boy football. The offensive line has come together and is playing well and the Beavers have a running game. That means play-action. And that means big plays downfield, as evidenced by their stellar yards per catch (19.2 for Cooks, 14.9 for Wheaton).
There are only three players in the Pac-12 who are averaging more than 100 receiving yards per game. One is from USC, two are from Oregon State. There are only two players averaging more than 130 yards per game. Neither of them are from USC. So, at least as of right now, I would say that puts an end to the debate.
And you're right, Ted. Teams are going to start paying more attention to them. That's fine, because there is no defense for speed. We know Wheaton can blaze. And Cooks has comparable speed. If you look at some of their big plays -- a lot of the ground that is covered comes after the catch -- such as Cooks' 75-yard touchdown against UCLA. Mannion saw the blitz and hit Cooks on a quick slant, and his legs did the rest.
Plus, the West Coast offense is the perfect scheme for busting the Cover 2 because the short-to-intermediate routes suck up the safeties. You can't bracket every down against a pro-style team (unless you want your defense on the field for 15-play, seven-minute drives all of the time). All it takes is one play-action and either of these guys can be gone.
And if a big throw with a soft touch is needed, Mannion has shown several times this year that he can split defenders and lead his receivers. And so long as they have half a step, he can place it where it needs to be and hit those guys in stride.
Lee is great. In fact, I'm more than willing to declare him the No. 1 wide receiver in the conference -- and country -- right now. Woods is great. And Ted could be right, noting that by the end of the year they might emerge as the top duo. But right now, I trust my eyes and I trust the numbers. And both, indisputably, favor the Beavers' tandem.
PAC-12 SCOREBOARD
Thursday, 9/3
Friday, 9/4
Saturday, 9/5