USC Trojans:

Vontaze Burfict
February, 18, 2014
2/18/14
7:00
PM PT
Elliot Harrison of NFL.com wanted to make a list of up-and-coming NFL players,
so he tapped an all-under-25 NFL team
, and nine of his 26 selections played in the Pac-12.
Not only that, the conference, stereotyped as offense-first, had just as many defensive players -- four -- as offense. And his omission of
Star Lotulelei
, the former Utah defense tackle now starring for the
Carolina Panthers
, is notable because he finished fourth in the AP Defensive Rookie of the Year vote.
Further, these nine guys came from seven conference teams, so this isn't just about USC's pipeline of five-star recruits to the NFL.
Here's the Pac-12 players on his team.
Offense
QB
Andrew Luck
(Stanford), Indianapolis Colts
WR
Keenan Allen
(California), San Diego Chargers
OT
Tyron Smith
(USC), Dallas Cowboys
OG
David DeCastro
(Stanford), Pittsburgh Steelers
Defense
DT
Jurrell Casey
(USC), Tennessee Titans
LB
Vontaze Burfict
(Arizona State), Cincinnati Bengals
LB
Kiko Alonso
(Oregon), Buffalo Bills
CB
Desmond Trufant
(Washington), Atlanta Falcons
Special teams
P
Johnny Hekker
(Oregon State), St. Louis Rams
Of these players, only Burfict and Allen received high recruiting rankings from ESPN.com. Burfict was the nation's No. 1 inside linebacker and Allen was the nation's No. 5 "athlete." ESPN.com ranked Luck the nation's seventh-best quarterback in 2008.
Casey, DeCastro, Trufant and Alonso rated as solid to off-the-radar prospects in most recruiting rankings.
So, again, the best response when Pac-12 teams don't rate highly in recruiting rankings to shrug and move on with your day.
October, 25, 2012
10/25/12
10:00
AM PT
Last weekend, Arizona's
Matt Scott
and USC's
Matt Barkley
led their teams to victory and played well. And you heard a lot more about Barkley than Scott.
Barkley was brilliant, and Scott was just very good. Barkley completed 19 of 20 passes for 298 yards with six touchdowns and zero interceptions against Colorado. It was the most efficient performance in the country this season and the most efficient in the history of the Pac-12. He now has 102 career TD passes, a Pac-12 record.
[+] Enlarge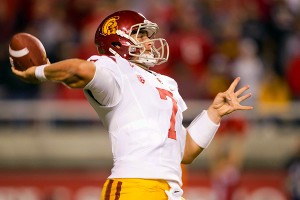 Russ Isabella/US PresswireSenior QB Matt Barkley has the Trojans sitting at 6-1 (4-1 Pac-12) entering Week 9.
Scott, who leads the Pac-12 in passing yards per game with 336.4, played a more supporting role while throwing for 256 yards and four touchdowns and rushing for 43 yards and a score in a blowout win over Washington.
Yet it felt familiar. USC is always big news, even when it's not winning championships. And Barkley is the most famous college quarterback in the country, even if he's not going to win the Heisman Trophy.
Scott? His outstanding numbers and quick adoption of new coach Rich Rodriguez's offense resonates only regionally, if at all.
That might change. These two seniors meet Saturday in Tucson, Ariz., with Barkley, a four-year starter, trying to lead the Trojans back into the national title picture, which means not overlooking Scott and the Wildcats because of their Nov. 3 date with Oregon.
These two did meet once before. Let's hope this one is as fun as the first time: Oct. 4, 2007. That's when Barkley, a junior at top-ranked Mater Dei in Santa Ana, Calif., and already highly celebrated, and Scott, a senior at No. 2 Centennial High of Corona, clashed in front of roughly 10,000 fans in the Santa Ana Bowl.
[+] Enlarge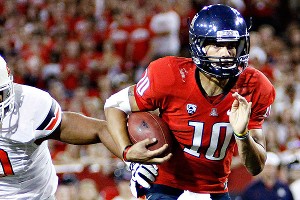 AP Photo/Wily LowSenior QB Matt Scott and the Wildcats are 4-3 (1-3 Pac-12) entering Week 9.
Mater Dei
won 51-37
in a game that featured 58 first downs and 1,295 yards of offense, a California high school record that didn't fall until this season.
"The fans definitely got their money's worth," Mater Dei coach Bruce Rollinson told reporters after the game. "That was some show."
Scott passed for 176 yards and rushed for 178. Barkley was 21 of 31 for 364 yards and two touchdowns. The Centennial defense featured Vontaze Burfict,
Brandon Magee
, Shelly Lyons and
Will Sutton
, who all signed with Arizona State. In a joint interview in 2011, the Pac-12 blog asked Burfict, Magee and Lyons about this game, and they all became a bit grumpy. It's fairly well-known that Barkley and Burfict
are not exactly close
.
Barkley was a five-star prospect in 2008, the nation's highest-rated quarterback. He signed with USC, which was on a dynastic run atop the then-Pac-10, with a 6-1 record in BCS bowl games over the previous seven years and two national titles.
So what does Rodriguez think of Barkley?
"He's obviously been one of the best quarterbacks in the history of the Pac-12," he said. "He's likely to be the first pick in the NFL draft. We're facing one of the all-time greats and also a tremendous leader."
Scott, a year ahead of Barkley, was a three-star prospect who picked Arizona over California, Boise State and Utah. The Wildcats went 5-7 in 2007, their ninth consecutive non-winning season. He beat out Nick Foles for the starting spot in 2009 but lost the job to Foles three games into the season. When Foles was hurt in 2010, Scott came off the bench and played well, but he opted to redshirt in 2011 so he could finally inherit the keys to the offense as a fifth-year senior.
When asked about Scott, USC coach Lane Kiffin's first word is "Wow."
"He's a phenomenal player," Kiffin said. "I didn't realize he is as fast as he is -- accurate, arm strength. He's playing great, doing an unbelievable job with the system."
So there's plenty of admiration for both quarterbacks.
Scott said he and Barkley know each other from football camps and recruiting and get along well, but, yes, it would be meaningful to best Barkley on Saturday.
"They are the No. 9-ranked team, so it's going to mean a lot more," Scott said. "It's a big stage. A great quarterback is coming in here. It would mean a lot to outplay him."
If Take 2 is anything like Take 1, this one figures to be pretty interesting.
September, 24, 2012
9/24/12
11:48
AM PT
By
Pedro Moura
| ESPN.com
What's going on with
Robert Woods
?
The All-American USC receiver has experienced a dramatic downturn in production so far this season, and the Trojans' overall offense is suffering as a result.
How far have his numbers fallen? A look at USC's first four games in the 2011 and 2012 seasons shows a significant decline.
Last season, Woods was targeted 59 times in the Trojans' first four games. Forty-one of those attempts resulted in completions, of which four went for touchdowns. Seventeen of the passes intended for Woods were incompletions and one was an interception (remember Vontaze Burfict's pick?).
On those 59 total tries, Woods gained 492 yards, which meant that for every time Barkley tried to throw to him the Trojans gained approximately 8.3 yards.
This season, Woods has been targeted 48 times in USC's first four games. Twenty-five of those attempts resulted in completions, four of which went for touchdowns, and another four went for pass-interference penalties, which we'll count as positive outcomes for the purpose of this analysis. Sixteen of the passes intended for Woods were incompletions and three were interceptions.
On those 48 total tries, Woods gained 203 yards through the air and another 47 yards on penalties, which meant that for every time Barkley tried to throw to him, the Trojans averaged approximately 5.2 yards.
So the Trojans are more than three yards less productive each time they have thrown to Woods so far this season.
By comparison, both
Silas Redd
and
Curtis McNeal
are comfortably over that 5.2-yards-per-play average on the ground this year -- Redd at 5.8 yards per carry and McNeal at 6.8.
Why the drop? It's pretty simple, really.
One, the Trojans' other outstanding wideout,
Marqise Lee
, has more big-play potential than Woods, and Barkley has targeted him 54 times so far this season because of that. (Lee is averaging 8.5 yards per target without accounting for penalty yardage.) Lee's hands aren't quite as good as Woods', but Lee is a better leaper and a more dynamic playmaker.
Two, opposing teams are giving Woods a great deal of respect and focusing on him in their defensive gameplans. Cal assigned its top corner,
Marc Anthony
, to Woods for the majority of the game on Saturday, while second corner
Steve Williams
was isolated on Lee several times. Head coach Lane Kiffin mentioned this week that teams are switching their defenses up specifically to stop both Woods and Lee.
Add to that the fact that Woods missed considerable time in the preseason while recovering from an ankle injury (Woods says he's 100 percent healthy now, but Kiffin said this week that Woods has yet to fully participate in a week of practice this season), and you have a receiver who might still be working his way back into polished form and into ideal timing with his quarterback.
And finally, factor in Kiffin's play-calling, which has featured short passes and quick outs in the early going, passes that haven't given Woods the same opportunities to stretch out his catches for long gains.
It's not that Woods can't be counted on to break plays for big gains at some point. He's still fast, he's still agile, and he's still smart in the open field. He works hard and his timing with Barkley should continue to improve as the season progresses.
But it's been a struggle in the early part of the season. And it bears watching from here on out.
PAC-12 SCOREBOARD
Thursday, 9/3
Friday, 9/4
Saturday, 9/5