USC Trojans:

Trojans-Cardinal-091512
September, 16, 2012
9/16/12
5:17
PM PT
PALO ALTO, Calif. -- It is only Sept. 15, USC. Jan. 7 in Miami is 11 games away. It is entirely possible that you Trojans will run out of the tunnel at Dolphins Stadium and play for the school's third national championship in the last decade, give or take a vacated trophy.
On that happy night in south Florida, what happened at Stanford Stadium on Saturday will be a distant memory. Only the Cardinal fans will recall how No. 21 Stanford wore down No. 2 USC diminished by scholarship penalties, injuries and the sheer physicality of the Cardinal on both sides of the line of scrimmage.
That is how the Trojans and their fans must think. They must forget the reality of their 21-14 loss before a sellout crowd of 50,360. They must tuck away the disappointment in losing a fourth straight to Stanford for the first time since the rivalry began in 1905. They must ignore the other possibility, that for all the attention paid to Matt Barkley & Co., USC only looked the part of a national championship contender.
The Trojans appeared real -- blond, good-looking quarterback, playmaking wide receivers, hype out the wazoo. This may come as a surprise to anyone outside the moviemaking capital of the world, but appearances can deceive. Hollywood's Team played Saturday night as if it had been constructed by a Hollywood set designer. Behind the fašade, there wasn't a whole lot.
For Ivan Maisel's full column, click
here
.
September, 16, 2012
9/16/12
12:19
AM PT
PALO ALTO, Calif. – Stanford's
Kevin Danser
was living an offensive lineman's dream Saturday night.
"You finish your block and you're on the ground, and then you look up and your running back is still going," said Stanford's guard. "Man, that's a great feeling. How about that guy? Man, not a lot of people can do what 33 can do."
That guy -- 33 -- is Stanford running back
Stepfan Taylor
, who was the offensive catalyst in Stanford's ugly-but-effective
21-14 victory
over No. 2 USC in front of a sold-out (50,360) Stanford Stadium. Classes don't start until next week, but that didn't stop the students in attendance from rushing the field and celebrating Stanford's fourth consecutive win over the Trojans.
It's the second time in the past five meetings that Stanford has beaten USC when the Trojans were ranked second nationally. They did it in Los Angeles in 2007 on a last-minute touchdown pass by Tavita Pritchard, winning 24-23 when Stanford was a 41-point underdog.
Saturday night, the Trojans (2-1) weren't as heavily favored, but they were still considered a grade above No. 21 Stanford (3-0). Taylor saw to disprove that. He chipped, chipped and then broke through. Then he chipped and chipped again. And then he broke through again. And when he was done chipping, he had broken USC's defense.
"That guy is a rock," said Stanford fullback
Ryan Hewitt
. "I get to see his yards after contact because he usually blows right by me. And it's impressive."
Taylor looked like the best player on the field Saturday night -- not exactly a passing statement when he was sharing the field with USC quarterback
Matt Barkley
and A-list wide receivers
Marqise Lee
and
Robert Woods
. Taylor rushed for 153 yards on 27 carries (5.9 average) and a touchdown to go with five catches for 60 yards and a score.
"We were going to keep giving him the ball," said Stanford head coach David Shaw. "He never gets tired. He drags people, he breaks tackles. By one out-of-town paper I was called 'the king of hyperbole' [when talking about Taylor] but
that
is why I love talking about him. We typically like to rest him, but when we need him, I told him two years ago, we are going to put a saddle on him and ride him."
[+] Enlarge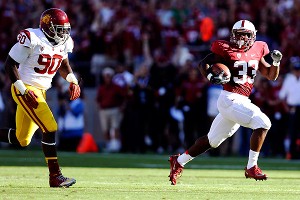 AP Photo/Marcio Jose SanchezStepfan Taylor scoots away from USC's George Uko for the first of his two touchdowns.
And Stanford needed him Saturday. With a new quarterback still learning his way around the offense and a rebuilt offensive line, the Cardinal looked stilted at times on offense. Then again, so did Barkley, the Heisman frontrunner who probably lost a few voters with his 20-of-41 performance and two interceptions. But more damning to his campaign were the zero touchdowns -- almost unheard of with playmakers like Lee and Woods at his disposal. The Cardinal kept Barkley under constant pressure and sacked him four times.
"They played better football than us," said an extremely despondent Barkley. "We were prepared. They played better."
Taylor certainly had his share of highlights. His 59-yard touchdown run that knotted the score at 7-7 in the first quarter was pretty. So was his 23-yard screen pass that went for a touchdown, tying the score at 14-14 in the third quarter. But he saved some of his best running for the end of the game -- and he didn't even get in the end zone. His 2- and 3-yard runs were turning into 7- and 8-yard runs by the second half. The final 8 minutes, 40 seconds was exactly the kind of football Shaw wants his team to play. The Cardinal started at their own 19 and pounded; Taylor for 1, Taylor for 7, Taylor for 2, Taylor for 8, etc., etc., etc. At the end of the scoreless drive, the Cardinal had run 10 plays and eaten 5 minutes, 56 seconds of clock.
The Trojans took over with 2 minutes, 44 seconds left at their own 11, trailing 21-14. But penalties and a pair of Stanford sacks ended the drive, and the game. The Cardinal threw all kinds of blitzes and pressure at Barkley all night -- and without starting center
Khaled Holmes
, the Trojans were unable to adjust.
"If you sit back there, the quarterback is too good," Shaw said. "Regardless of what happened tonight, that is the best quarterback in the country. If you give him too much time, he will kill you. You have to get after him. Those receivers are really good. We had to mix it up. Some plays we came after him and some plays we sat back. Our secondary made all the tackles."
For
Josh Nunes
, tasked with replacing Andrew Luck as Stanford's quarterback, having a back like Taylor has made life a lot easier. He was 15-of-32 for 215 yards with two touchdowns and two interceptions.
"He's a quarterback's best friend," Nunes said. "This game was a testament to our style of football, the guys up front, and certainly Stepfan Taylor."
September, 15, 2012
9/15/12
8:41
PM PT
PALO ALTO, Calif. -- Classes at Stanford don't start until next week. But that doesn't mean the students moving in couldn't rush the field. And a field-storming was warranted when the No. 21 Cardinal shocked No. 2 USC
21-14
. Here's how it went down in Palo Alto:


It was over when
:
Matt Barkley
failed to convert a fourth-and-40 (yeah, you're reading that right) and the Cardinal took over on downs with nine seconds left. The Trojans took over with 2:44 left, trailing 21-14, and Barkley was sacked twice on a drive that included one fourth-down conversion.
Game ball goes to
: Stanford running back
Stepfan Taylor
, who rushed for 156 yards and a touchdown on 29 carries. He also had four catches for 61 yards and a score.
Stat of the game
: Stanford's defense held USC to 276 yards of total offense, including just 23 on the ground. Conversely, Stanford totaled 415 yards.
Stat of the game take 2
: 4 -- that's how many interceptions were thrown between Barkley and
Josh Nunes
during an eight-play stretch in the second quarter, including consecutive interceptions from both quarterbacks on three straight plays.
What this means for USC:
For starters, the Trojans' national title hopes are now in serious jeopardy. (Are Stanford's alive?) Not only did they lose, but they looked bad doing it. USC couldn't run the football, nor could it stop the run -- especially in the fourth quarter, when Taylor wore the Trojans down. Barkley's Heisman campaign just took a turn for the worse as well.
What this means for Stanford
: It owns the Trojans, pure and simple. The Cardinal have now won four straight against USC. Moving forward, the Cardinal now have a signature victory and are back in the national picture.
September, 15, 2012
9/15/12
6:46
PM PT
Stat of the half:
Turnovers -- 3 for USC, 2 for Stanford. USC had a lost fumble by
Silas Redd
and a pair of interceptions from
Matt Barkley
, but the Trojans countered with interceptions of Stanford quarterback
Josh Nunes
by
Dion Bailey
and
Jawanza Starling
. Those are uncharacteristic numbers for these two teams.


Player of the half:
T.J. McDonald
. The Trojans senior safety has been physical and active in helping to limit the Stanford run game. The Cardinal have 103 rushing yards on 13 carries, but 59 of those yards came on one run by
Stepfan Taylor
.
What's working for our team:
Explosive plays. The two USC touchdowns came as a result of short passes that went for long gains thanks to yards-after-catch by
Nelson Agholor
(48) and
Robert Woods
(24). The play by Woods came on a 4
th
-and-19 play where he was able to get outside for the first down.
What's not working:
Run game. The Trojans have 17 carries for 35 yards, but 26 of those yards came on one carry late by
Curtis McNeal
. Part of the reason for the lack of numbers is the fact that both McNeal and Redd went to the sidelines during the game with injuries, although McNeal later returned to action. The Trojans are also without
Khaled Holmes
in the middle of the offensive line.
PAC-12 SCOREBOARD
Thursday, 9/3
Friday, 9/4
Saturday, 9/5