October, 31, 2013
10/31/13
5:00
AM PT
With the way the USC secondary has performed at times this season, facing the top-ranked passing attack in the country would figure to be a post-Halloween fright night for the Trojans.
That is exactly what awaits the USC defense on Friday night as
Sean Mannion
and the Oregon State offense come into the game averaging a nation-leading 420.8 yards per game. If guys such as
Taylor Kelly
from Arizona State and
Tommy Rees
from Notre Dame can have success throwing the ball against the Trojans, what will Mannion and company be expected to do?
[+] Enlarge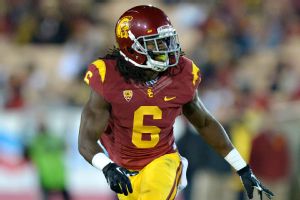 Kirby Lee/USA TODAY SportsUSC is hoping that the move of Josh Shaw from safety to cornerback can help it defend Oregon State's top-ranked passing attack.
The Trojans will look to answer that question in two primary ways.
One is the move of
Josh Shaw
from safety back to cornerback. Shaw has seen time at both spots in his USC career, but the defense seems to perform better when he lines up at corner. Shaw will be joined in the starting lineup by
Kevon Seymour
, who has been playing well after battling injuries early in the season.
It will be important to watch how the move of Shaw impacts the rotation at safety, especially since the Trojans will be in nickel package for much of the game. The normal starters would be
Dion Bailey
and
Su'a Cravens
. Both are likely to play, but they have missed practice time this week due to injuries. USC fans can expect to see a lot of
Demetrius Wright
and
Leon McQuay III
after both played well last week against Utah.
The second key will be to get pressure on Mannion to disrupt his timing. That's easy to say, but not always easy to do. Mannion averages nearly 50 pass attempts a game and completes close to 70 percent of them, throwing 30 touchdown passes to only three interceptions.
The Beavers' offensive line had done a solid job protecting Mannion for the most part by allowing only nine sacks through the first seven games before allowing eight sacks to Stanford last week. The Trojans are No. 10 nationally in sacks but will be without their sack leader, as
Morgan Breslin
will miss the game with a hip injury. The Trojans will look to
J.R. Tavai
to fill in for Breslin. In the two games that Tavai has started for Breslin he has totaled 21 tackles and 5.5 sacks.
Leonard Williams
and
Devon Kennard
will also look to play big roles for the USC front seven.
October, 21, 2013
10/21/13
6:00
AM PT
Here are some selected quotes from USC head coach Ed Orgeron's Sunday night conference call following the Trojans' 14-10 loss to Notre Dame.

Opening statement:

"After reviewing the film, there were some outstanding efforts by our guys. ... We felt that the penalties hurt us at the end, and put us in a bad position on third down ... too many penalties and too many mistakes put us in crucial situations.
October, 20, 2013
10/20/13
3:00
PM PT
There are some losses that simply hurt more for fans than others and the
14-10 USC defeat
last night in South Bend, Ind., certainly qualifies.
What makes this one so tough is the missed opportunities. This wasn't a game for the ages in the USC-Notre Dame rivalry and it wasn't particularly well played on either side, but it was there for the taking for the Trojans and you hate to lose those opportunities when you have them.
[+] Enlarge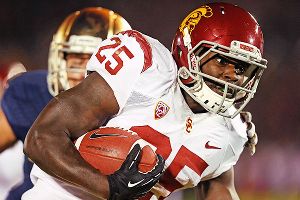 Jonathan Daniel/Getty ImagesTailback Silas Redd rushed for 112 yards vs. Notre Dame but the Trojans offense struggled mightily in the second half.
Things started so well for the Trojans with a
Troy Polamalu
-esque goal line stop on fourth down by
Su'a Cravens
on the opening drive by the Irish. Then the USC offense responded with a beautiful 13-play, 96-yard drive that ended with a
Silas Redd
touchdown to go up 7-0. And that was about it for the SC highlights on the night.
For the remainder of the game, it just seemed as if the Trojans couldn't get out of their own way. Redd ran for 91 yards in the first half and eventually became the first runner this year to go over 100 yards against the Irish. Redd was the one USC player who seemed capable of pounding Notre Dame all night but for some reason his touches in the second half were limited.
Nelson Agholor
was another bright spot -- both as a receiver and punt returner -- but even he could only do so much after
Marqise Lee
had gone out of the game with an injury. Lee had tried to come back from a recent knee injury but he had another key drop, this one on a potential touchdown pass on a well-thrown ball by quarterback
Cody Kessler
.
Kessler had a commendable game, completing 20 of 34 pass attempts for 201 yards. He was under constant pressure from the Notre Dame defensive line and was throwing to a depleted pass-catching group that eventually was missing three of the five scholarship receivers and the top two tight ends.
And we haven't even gotten to the penalties yet. The Trojans committed 11 penalties for 95 yards and so many of them seemed to come at critical times to negate a big play or first down. The biggest came on a holding call that brought back a Kessler scramble down to the Irish 3-yard line late in the game. There was also a non-call against Notre Dame as a pass interference penalty was not called on an Irish defender against
Jalen Cope-Fitzpatrick
on the final USC drive.
There was a big hit by
Lamar Dawson
that knocked Irish quarterback
Tommy Rees
out of the game after Rees had looked sharp throwing the ball, particularly in the direction of USC cornerback
Anthony Brown
. The replacement for Rees,
Andrew Hendrix
, was not able to complete a pass in the game but, once again, the Trojans were unable to take advantage.
Even with all that, the Trojans still had their chances. They had three straight drives in the second half that started on the Irish side of the field and a fourth that began at the USC 48-yard line, yet they were unable to score. There were five USC drives in the second half that went six yards or less. After converting the first two third-down conversions of the game, the Trojans did not convert their next 11 tries. The Trojans also missed a pair of field goals that would have provided a winning margin if successful. It was simply one of those nights.
So where do the Trojans go from here after such a disappointing loss? There are no easy answers for interim coach Ed Orgeron. The momentum had been going in such a positive direction since Orgeron took over but this game magnified the realities of where USC is at for the rest of the season. There are issues with the pass defense, the O-line, penalties and third-down conversions. There are injury issues to key players. There doesn't seem to be a clear identity yet for the offense under Clay Helton and opposing offenses are suddenly having a lot of success against Clancy Pendergast's defense.
One thing Orgeron praised is that the USC players showed fight against Notre Dame. As frustrating as it was to watch the Trojans fail to find a way to pull out the game, it was clear that the effort was there from the team right up until the end. You can't imagine that so many factors are going to go against you in the way that they did against the Irish so if the effort can be maintained, that gives Orgeron something to build on.
The
Utah Utes
are coming to town next week and they are more than capable of putting up a fight. Maybe the Trojans can get Lee back, perhaps
Xavier Grimble
and
Randall Telfer
too. Maybe there are some shake-ups in personnel. Whatever changes need to be made, Orgeron needs to make them. What does he have to lose? The worse thing that could happen to this team is to let the Notre Dame game beat them twice. Chalk up the gut-wrenching loss to the Irish and move on because there is still plenty left to play for this season and it starts next Saturday at the Coliseum.
October, 20, 2013
10/20/13
1:00
PM PT
And now, Pat Haden, USC turns its lonely eyes toward you.
The focus of the Trojans' immediate future will be off the field, not on it. The only thing left to look forward to at this point is the athletic director's eventual choice of a new head coach.
[+] Enlarge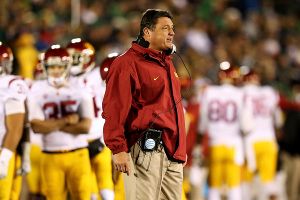 Jonathan Daniel/Getty ImagesEd Orgeron has done an admirable job filling in as USC's interim coach, but it's highly unlikely he will be retained as head coach after the season.
A 2013 season that began disintegrating with horrid performances against Washington State and Arizona State and the inevitable firing of Lane Kiffin somehow managed to perk up momentarily under fun-meister Ed Orgeron.
But on a chilly Saturday night in South Bend, Ind., the Trojans' season quickly plunged back into the depths of mediocrity.
The cold reality is that right now, at this sad point in its history, USC isn't really USC anymore.
Trojans' offensive linemen aren't supposed to get overpowered the way they were by
Stephon Tuitt
and friends at Notre Dame. USC's secondary isn't supposed to be more leaky than your average TMZ report. And USC's overall composure isn't supposed to wilt the way it did in a penalty-infested fourth quarter in Indiana.
The crumbling of the foundation under Kiffin cannot be immediately repaired by Orgeron's gifts of cookies and loud music in the locker room. The cracks run too deep. The ensuing holes are about to grow too wide.
The scary part of what happened in South Bend is that Notre Dame is a decent team, but hardly a great one. The Irish already had lost to two opponents ranked outside the Top 10 in Michigan and Oklahoma. And then, with nine minutes left to play in the third quarter on Saturday, they lost starting quarterback
Tommy Rees
to injury.
When backup
Andrew Hendrix
entered the game, it was clear coach Brian Kelly's team wouldn't score again. All USC had to do was cobble together one touchdown drive, or two field goals, in the final 24 minutes. But the Trojans couldn't do it and lost, 14-10.
When USC quarterback
Cody Kessler
wasn't under fierce pressure, he played like the redshirt freshman he is, appearing tentative after his one interception and limiting himself to check down passes instead of confidently throwing downfield.
It didn't help that star receiver
Marqise Lee
, continuing his strange, injury-marred season, dropped a potential touchdown pass in the second quarter, or that slumping kicker
Andre Heidari
missed two makeable field goals that would have won the game. Or that
Silas Redd
, the night's most effective tailback, didn't seem to get as many carries as he should have in the second half.
To continue reading this article you must be an Insider
October, 20, 2013
10/20/13
5:00
AM PT
LOS ANGELES – A look at the positives and negatives for the Trojans after the
14-10 loss to Notre Dame
on Saturday.
THREE UP


1. Nelson Agholor:
Agholor stepped up for the second consecutive game, showcasing the unique playmaking skills that have had USC coaches and fans buzzing about the sophomore receiver's potential since last season. He hauled in six passes for 89 yards against Notre Dame, while also making a huge impact on special teams, returning four punts for 100 yards. One of those returns, a 48-yarder in the second quarter, set up an
Andre Heidari
field goal.
2. Silas Redd:
For a player who just returned to practice full-time a couple of weeks ago, Redd's outing was more than impressive. Finishing with 112 yards and a touchdown on 19 carries, the senior running back was particularly effective in the first half. Unfortunately for the Trojans, he was left standing on the sidelines for large stretches of time during the final two quarters, his role having been inexplicably diminished.
3. Su'a Cravens:
Cravens has been one of the most consistent performers on defense throughout the season -- a trend that continued on Saturday. He came up clutch early when he stopped running back
Cam McDaniel
on a fourth-down play as the fighting Irish were knocking on the door from inside the USC 1-yard line, and then again in the fourth quarter when he forced a McDaniel fumble and recovered it, returning it to the Notre Dame 34-yard line. Cravens finished with six tackles, including two for a loss.
THREE DOWN
1. Second-half offensive line play:
The Trojans offense had every opportunity to put this game away in the second half, beginning four-straight drives inside the Notre Dame 50-yard line, but they just couldn't move the ball, and the primary reason was the play up front. When members of the offensive line weren't committing penalties -- including two crucial holding infractions each by
Aundrey Walker
and
Max Tuerk
-- they were being out-muscled by the physical Fighting Irish defensive line. As a whole, USC was flagged 11 times, and offensive coordinator Clay Helton didn't appear to help matters on this night, executing a game-plan that appeared to be conservative, while also hiding Redd in the second half.
2. USC pass defense:
Notre Dame quarterback
Tommy Rees
, who came into the matchup with USC having completed just 41.7 percent of his passes over his last three games, looked like a world-beater against the Trojans, going 14 of 21 (67 percent) for 166 yards and two touchdowns in just a little over two quarters of play. Tight end
Troy Niklas
was a particular thorn in the side of the secondary, which struggled tremendously in pass coverage for the third game in a row. The USC defense did improve in the second half, but that likely had more to do with the ineffectiveness of Fighting Irish backup signal-caller
Andrew Hendrix
than anything else.
3. Andre Heidari:
Heidari finished 1 of 3 on field goal attempts, with his two misses serving as the difference between USC and a victory over their intersectional rival. What made those failed attempts -- which both sailed wide-right -- especially disheartening was the fact that each of them were from what most would consider a makeable distance – 40 and 46 yards. Having lost faith in Heidari late, the Trojans completely abandoned the kicking option, choosing instead to go for it on fourth down.
October, 17, 2013
10/17/13
9:00
AM PT
By
WeAreSC staff
| ESPN.com
What is the key matchup of the game?
Garry Paskwietz:
I'll go with the USC defensive line against the Fighting Irish offensive line. Notre Dame has allowed a total of only four sacks this season, a mark than ranks No. 5 in the country. The Trojans, meanwhile, are averaging three sacks per game, ranking No. 13. Something has to give in this department. USC will be looking to put pressure on
Tommy Rees
and protect a corner spot that has proved to be vulnerable lately. Notre Dame will be hoping that Rees can improve upon his 41.7 completion percentage over the last three games.
[+] Enlarge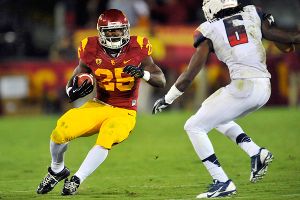 Gary A. Vasquez/USA TODAY SportsWhile USC's running game has been a strength, Silas Redd and Co. will be tested by a stout Notre Dame D-line.
Johnny Curren:
USC rushing offense vs. Notre Dame rushing defense. The Trojans average an impressive 200.3 yards per game on the ground, and the play of the tailbacks has been a huge bright spot. So while the passing game has made great strides as of late, I still think the key to the success of the USC offense this weekend will lie in its ability to establish a strong rushing attack. But it won't be easy, the Fighting Irish defense ranks No. 23 nationally against the run -- allowing just 122.3 yards per game -- thanks in large part to a hulking defensive line headlined by
Stephon Tuitt
and
Louis Nix III
. The Trojans offensive line will need to get a good push going against the talented unit, and
Silas Redd
and Co. will need to have another strong outing for USC to come away with a victory.
Greg Katz:
The key matchup is the Trojans offensive line versus a tough Notre Dame defensive line because the Men of Troy have to establish the run to control the ball, the pace of the game, and shorten the clock, all of which will keep the Irish offense off the field and away from the vulnerable USC secondary.
Who will be the big-time player to make the key play in this rivalry game?
Garry Paskwietz:
Silas Redd. I don't know if Redd and the offensive line are getting enough credit for that final drive against Arizona. The ability to close out a game on the ground is not something that has come easy to the Trojans in recent years, but the drive showcased the kind of big-boy running that Redd brings to the table. In no game will that trait be needed more than this one, and here's guessing that Redd makes his presence felt in a memorable way.
Johnny Curren:
Nelson Agholor
. While the Fighting Irish are stout against the run, they've been picked apart at times by capable passing attacks, allowing an average of 252.2 passing yards per game -- the No. 87 mark nationally. With that in mind, I think that there is a significant opportunity for Agholor to come up with some big plays at wide out, particularly with Clay Helton appearing to have placed a greater emphasis on having
Cody Kessler
throw vertically than Lane Kiffin did.
Greg Katz
: Assuming they're both healthy, wide receivers Nelson Agholor and
Marqise Lee
should have success against the Irish secondary if the offensive line can give Cody Kessler some time to look down field. Now, if you're looking for a hidden surprise, it wouldn't shock me if freshman receiver
Darreus Rogers
had a big game.
Which was the bigger moment: Fourth-and-9 or Bush Push?
Garry Paskwietz:
I have literally gone back and forth on this one. At first I wrote out an answer for fourth-and-9, then I changed it to the Bush Push, now I'm going back to fourth-and-9. The Bush Push was awesome -- it was the dramatic game-clinching play with Leinart falling backwards, with help from a friend, into the end zone. But for pure emotion, a true edge-of-your-seat moment, I don't think you can beat fourth-and-9. That was the moment where all of a sudden everything was on the line, the win streak, the three-time national championship dream, all of it. USC needed one play amidst chaos. And the Trojans delivered.
Johnny Curren:
Fourth-and-9. Without Dwayne Jarrett's clutch catch, there is no Bush Push, period. It was a phenomenal play, not just because of the fact that it was the perfect call, or because of the tremendous athleticism and determination shown by the lanky wideout, but because it dealt a devastating blow to the psyche of the Fighting Irish defense. Meanwhile, Matt Leinart and the USC offense fed off of the energy and renewed hope created by the play, using the momentum to ultimately carry themselves into the Notre Dame end zone.
Greg Katz:
The bigger moment was 4th and 9 because without the audible by quarterback Matt Leinart and the perfect pass placement and then brilliant reception by receiver Dwayne Jarrett, there would never have been a Bush Push.
October, 16, 2013
10/16/13
5:30
PM PT
USC travels to Notre Dame Stadium for a Saturday night showdown in what is one of the nation's top rivalries. Both teams are 4-2 and unranked, but the Trojans appeared to have been granted a new lease on life under interim coach Ed Orgeron, as they topped Arizona in their first game without Lane Kiffin in charge. The Irish, meanwhile, are coming off a much-needed win over Arizona State and a bye, as they look to make it three-for-their-last-four against USC after previously dropping eight in a row.


Matt Fortuna and Ted Miller take a look at this weekend's matchup.
Matt
: We'll start with the obvious, Ted. USC is a talented team that just got a bit of a second wind this past week under Orgeron. Was the performance against Arizona simply the culmination of weeks of frustration? Or do you think these Trojans have new life and need to be looked at as the kind of threat many of us have been expecting them to be the last two years?
Ted
: Is it fair for a know-it-all sportswriter to type that he has no idea? USC has been so difficult to read the past two seasons. You look at the 22 starters and think, "That's a lot of talent." But it doesn't translate to execution. Was that all Kiffin's fault? I don't think so, though the offense looked significantly better with Clay Helton calling the plays. Even the quasi-redemptive win over Arizona revealed the Trojans' tangible Achilles heel -- depth. USC jumped to an impressive first-half lead but seemed to wear down in the second half. I do think the locker room will continue to unite around Orgeron, as fiery a motivator as there is. The question is whether USC will be as motivated and focused on the road as it was at home. And can it maintain that in the fourth quarter?
Speaking of mercurial teams, the Fighting Irish. I picked Notre Dame to beat Arizona State (reaches around, pats self on back), but I did that as much because of the Sun Devils' tendency to throw up on themselves just when they seem to take a step forward as believing the Irish were better. Where does this team stand? How did the week off help -- or hurt -- the cause?
Matt
: Well, this answer may sound quite familiar, too, but I think we're all still trying to figure out the Irish. A loss to ASU would have been brutal, as BCS hopes would have been eliminated by the mid-point of the season. Of course, USC can erase those scenarios this week, too, much the same way it did two years ago in a similar situation -- seventh game of the season, prime time at Notre Dame Stadium, Irish coming off a bye. Everyone slept on those Trojans that time, and they ended up turning in a 10-2 campaign while the Irish locker room nearly revolted on its head coach in that game's aftermath.
Notre Dame's front-loaded schedule looks a little less daunting in retrospect -- losses to Michigan and Oklahoma look worse by the week, as does a tight win at Purdue. But there is that small matter of Stanford underwhelming, too, and the Cardinal are easily the toughest opponent the Irish have left after the USC one, so it is not out of the question to see Notre Dame make a final push for a 10-2 mark and BCS bid.
That said, it needs to take some of the lessons from the ASU win and apply them moving forward. Coach Brian Kelly showed his players a highlight tape of three tight wins from 2012 leading up to that game in an effort to demonstrate just how razor-thin the margin for error was. We saw a much more complete performance from the Irish against the Sun Devils, but there was still a pick-six and a defense that looked little like last year's dominating unit.
I'll say this: USC's improved play under the one-game regime of Orgeron has seemed to add a much-needed jolt going into this matchup. It's USC-Notre Dame, with the Irish looking like they may have turned a corner in the rivalry last year and going for three wins out of four this year. Do you think the Trojans, having seen the Irish clinch a title-game berth on their field last season, carry a bit of a chip on their shoulder coming into this year's game? I know it sounds cliche, but from over here it looks like USC's 2013 issues have been more mental than anything else.
Ted:
This is one of the truly great college football rivalries, one that is unique with its cross-country feel. If the Trojans can't get fired up for this one, then that will show you the Trojans' problems were as much the sort of player they recruited as the guy leading them onto the field. And, of course, in a rivalry game, the players who lost the year before should be particularly motivated to exact revenge.
Still, I see that as an uphill slog for USC. For one, the Trojans are banged up, with receiver
Marqise Lee
and outside linebacker
Morgan Breslin
, among others, highly questionable for the game. Second, Notre Dame is superior on both lines. I see USC hanging early but then getting worn down. Further, the pass defense has been poor, which means Irish quarterback
Tommy Rees
could again look like the solid decision-maker he was against Arizona State.
That said, if USC does manage to get the upset, we might have to re-evaluate USC's prospects this season. And, perhaps, even raise an eyebrow at what Orgeron is doing leading the Trojans.
October, 2, 2013
10/02/13
5:00
AM PT
With the dismissal of Lane Kiffin and the naming of Ed Orgeron as interim coach, the current bye week provides an opportune time for USC (3-2 overall, 0-2 Pac-12) to take a deep breath. But with the most challenging stretch of their schedule still to come, the Trojans will need to regroup in a hurry. With that in mind, here's a week-by-week look at USC's remaining regular-season opponents.
Oct. 10
Arizona
Record:
3-1, 0-1 Pac-12
Key team statistics

Rushing offense: 291.5 yards per game (No. 2 Pac-12, No. 9 overall)
Passing offense: 111.2 yards per game (No. 12 Pac-12, No. 117 overall)
Notes: Hosting a rare Thursday night contest, the Trojans will take on an Arizona team that began the season on the right foot, but was brought back down to earth by Washington this past Saturday. Still, the Wildcats are no pushover, and tailback Ka'Deem Carey -- No. 3 in rushing nationally with 143.7 yards per game -- spearheads an extremely potent ground attack. Quarterback
B.J. Denker
is another capable rushing threat, but he's struggled in the passing department, completing just 50 percent of his throws. On the other side of the ball the Wildcats have made strides since last season, ranking No. 2 in the Pac-12 with a turnover margin of plus-five.
Oct. 19
At Notre Dame
Record:
3-2
Key team statistics

Total offense: 380.2 yards per game (No. 88 overall)
Total defense: 364 yards per game (No. 46 overall)
Notes: A team that started out with high hopes, Notre Dame has hit a couple of bumps in the road so far. The Irish were completely overmatched in their recent 35-21 loss to Oklahoma. The defense has looked sharp at times, but not on a consistent basis like last year's unit. Quarterback
Tommy Rees
has completed just 39.7 percent of his passes over the last two games, and he was picked off three times against the Sooners.
Oct. 26
Utah
Record:
3-1, 0-1 Pac-12
Key team statistics

Scoring offense: 42 points per game (No. 4 Pac-12, No. 19 overall)
Passing defense: 288.2 yards per game (No. 11 Pac-12, No. 111 overall)
Notes: Utah's only loss came in a 51-48 overtime thriller to Oregon State, and as a whole, the Utes appear to have improved from 2012.
Travis Wilson
has settled in nicely at quarterback, directing an offense that averages more than 500 total yards per game. Led by a stout front seven, the defense has already compiled 15 sacks in four contests but the secondary has been picked apart at times.
Nov. 1
At Oregon State
Record:
4-1, 2-0 Pac-12
Key team statistics

Passing offense: 420.6 points per game (No. 1 Pac-12, No. 2 overall)
Total defense: 405.6 yards per game (No. 10 Pac-12, No. 71 overall)
Notes: The Beavers haven't faced the stiffest of competition as of yet, and they lost in an opening day stunner to Eastern Washington, 49-46, so it's hard to gauge just where they are. Quarterback
Sean Mannion
has been lighting it up, completing more than 67 percent of his passes for 403.6 yards per game -- the No. 1 mark in the nation. The defense hasn't been so efficient, however, allowing 31.6 points per game.
Nov. 9
At California
Record:
1-3, 0-1 Pac-12
Key team statistics

Total defense: 512.5 yards per game (No. 12 Pac-12, No. 119 overall)
Passing offense: 373 yards per game (No. 2 Pac-12, No. 4 overall)
Notes: It's been a rough go for coach Sonny Dykes in his first year in Berkeley, as the team's sole victory came against FCS-level Portland State. Cal was blasted by Oregon last Saturday 55-16, due in part to another less than stellar outing from a defense that ranks near the bottom of the conference in just about every statistical category. Freshman signal caller
Jared Goff
has showed promise, passing for 1,317 passing yards -- the No. 12 mark nationally -- but he appeared shell-shocked against the Ducks and was pulled in the first quarter.
Nov. 16
No. 5 Stanford
Record:
4-0, 2-0 Pac-12
Key team statistics

Rushing offense: 219.5 yards per game (No. 5 Pac-12, No. 31 overall)
Rushing defense: 105 yards per game (No. 3 Pac-12, No. 21 overall)
Notes: The 2012 conference champs, the Cardinal have been a thorn in the Trojans' side as of late, taking five of the last six meetings. They're currently in the midst of a 12-game winning streak. Featuring an imposing offensive line, a physical tailback corps and the Pac-12's top-rated passer in
Kevin Hogan
, Stanford has been grinding it out on offense with typical efficiency. Defensively, linebacker
Shayne Skov
and Co. have been staunch, particularly against the run.
Nov. 23
At Colorado
Record:
2-1, 0-1 Pac-12
Key team statistics

Rushing offense: 115.7 yards per game (No. 10 Pac-12, No. 103 overall)
Passing defense: 300.3 yards per game (No. 12 Pac-12, No. 115 overall)
Notes: While Colorado has already doubled the team's win total from 2012, it was exposed this past weekend in its first matchup with a formidable opponent, losing 44-17 to Oregon State. Quarterback
Connor Wood
and wide receiver
Paul Richardson
have certainly developed some solid chemistry, but the Buffs have failed to establish any element of a ground attack, and the defensive backfield has been exploited.
Nov. 30
No. 12 UCLA
Record:
3-0, 0-0 Pac-12
Key team statistics

Total offense: 614.3 yards per game (No. 1 Pac-12, No. 2 overall)
Scoring defense: 18 points per game (No. 4 Pac-12, No. 29 overall)
Notes: No matter what happens leading up to the Trojans' clash with the Bruins, there will still be plenty on the line as USC will look to make a statement in the battle for Los Angeles. It won't be easy though. UCLA head coach Jim Mora has the Bruins rolling right now, thanks to a prolific offense led by quarterback
Brett Hundley
, who ranks No. 11 nat8ionally in total offense (335 yards per game).
October, 20, 2011
10/20/11
6:35
PM PT
Offense. USC and Notre Dame. Who's better?
I
wrote this in my game predictions
:
Notre Dame 28, USC 24: The Trojans are much better on offense, while Notre Dame is much better on defense. The tipping point is the Fighting Irish playing at home under the lights.
And I got this in the mailbag:
Kevin from Springfield, Va., writes
: I was hoping that you could explain to me how you keep a job with ESPN for posting such stupid, clearly uninformed statements as you did in your game prediction of Notre Dame vs USC, when you stated: "the Trojans are much better on offense, while Notre Dame is much better on Defense." I just had to laugh at how that because clearly you have done zero research. Notre Dame has the 29th ranked passing attack in the country at 273.5 yards per game vs the 20th ranked attack of USC at 297.3 yards per game. ND also has the 29th ranked rushing attack at 194 yds per game vs the 77th ranked attack of 133.5 per game by USC. Lastly, ND has the 36th ranked scoring offense at 32.3 ppg, whereas USC ranks 46th at 23.5 ppg. So let me get this straight, Notre Dame gains 37 more yards per game and scores 9 more points per game against a MUCH tougher schedule, but USC has the "much better" offense? I'd really appreciate an email explanation of how you can get away with making such careless, uninformed statements and keep your job. I certainly wish had the same luxury at my job. If there is a trick to how you can pull that off, please let me know.
Tai from Ashland, Ore., writes
: In your prediction for the USC/Notre Dame game, you said that "The Trojans are much better on offense, while Notre Dame is much better on defense." Where are you getting the idea that USC is much better on offense, or even better at all, for that matter?Notre Dame averages 467 yards per game and 6.57 yards per play, while USC is at 431 and 6.17. Those aren't great metrics since they don't adjust for opponents, but then we have the
Football Outsiders FEI ratings
(one of the few computer ranking systems that distinguishes offense and defense) where Notre Dame ranks 6th on offense and USC ranks 29th. And in my own
adjusted yards per play rankings
, I actually show Notre Dame as the #1 offense in the country (with Oregon #2), while USC comes in at 28th.
Guess which writer I like better?
Then I also
wrote this in my chat
:
Chris (Raleigh, NC):
Hey Ted, In your prediction, you say that "The Trojans are much better on offense". Wait, what? Can you explain that one? They have a very good passing game but they can't run the ball and Notre Dame's passing game isn't exactly a 70s wishbone team. Notre Dame's running game is averaging 194 yards a game with I think ranks about 29th nationally.
Ted Miller (3:35 PM
): USC has a better offense because it's players are better and if you asked any coach "You can have Notre Dame's offense or USC's offense" they'd all pick USC. Notre Dame's numbers are skewed by scoring 58 against Air Force.
Tom (South Bend):
LOL. ND's stats skewed by Air Force? Take out that game and ND's rushing average drops by 14.4 yards per game and passing and passing average by a massive 3.2 yards per game.
Ted Miller (3:55 PM
): And yet you'd still pick USC's offense because... wait for it... wait for it... It's got better players! Look... you can fire away stats but that doesn't change the ignorance of not acknowledging USC is better on offense than ND. It's an absurd position to hold.
Er, no it's not.
And, yes, after the chat, I tried to figure out a way to better quantify my position. I couldn't. That was disappointing.
I imagined Kevin in his Springfield, Va., mansion, sitting by his infinity pool, surrounded by starlets, sipping a cold drink with an umbrella in it just handed to him by his servant cackling at my expense as he sent his crew of ninja assassins after me.
In other words, when I wrote "the Trojans are much better on offense" I was wrong.
In fact, I was also mostly wrong about "Notre Dame is much better on defense," seeing that the defensive numbers are also comparable, too, with the Irish again having a slight edge.
Therefore, we can definitely say that the first sentence of my Notre Dame-USC pick was, at best, carelessly constructed if not simply wrong. My bad.
So what's my excuse?
Well, couple of things. I watched at least parts of Notre Dame's first two games. And I saw parts of the Pittsburgh game, too. So my recollection was: "Neh." (It didn't help that I also watched Utah push Pittsburgh around last weekend).
Second, much of my take -- as it often is in the Pac-12 -- was based on QBs. USC is clearly better there with Matt Barkley, though Tommy Rees is certainly solid.
And I still stand by the gist of my unfortunately snarky chat response: I do believe most coaches, giving their choice of units, would pick the Trojans because they'd see more overall talent.
But there is no way, at this point of the season, to statistically quantify a position that the Trojans have a better offense than Notre Dame.
In other words, consider this an 800-word apology. Yes, what I typed was wrong. Sorry.
PAC-12 SCOREBOARD
Thursday, 9/3
Friday, 9/4
Saturday, 9/5