USC Trojans:

Tevin Washington
January, 1, 2013
1/01/13
9:00
AM PT
EL PASO, Texas -- Notes, quotes, and anecdotes from the Hyundai Sun Bowl after the Trojans' (7-6) 21-7 loss to Georgia Tech (7-7).
USC coach Lane Kiffin comments:
On the Game:
Turnovers and efficiency: "Obviously very disappointing day, coming down to turning the ball over and third-down efficiency really nullifying anything on offense. I thought our defense did a good job today. I thought they played very hard, obviously wore down a bit there late, but that's to be expected when we turn the ball over that many times."
Taking responsibility: How much is Kiffin taking the blame for the Trojans season? The coach said, "All of it, we can't be 7-6 -- not at SC -- and that's not our expectations and not why we came here and obviously we have some work to do to get that fixed. We are a young team, we started one senior on offense today, so we got to continue to recruit, continue to get better and obviously coach better."
Georgia Tech coach Paul Johnson comments:
The defensive key: "Well, I think we stayed away from giving up the big play and we did well on third down. We created some turnovers and it was just one of those things where we were able to make some big plays. We played pretty consistently. It became a field position game."
More notes and anecdotes
[+] Enlarge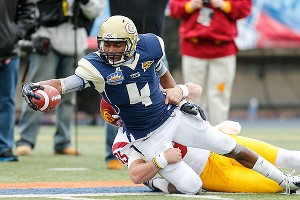 AP Photo/Tim WarnerJamal Golden's punt return to USC's 1-yard line early in the third quarter helped put Georgia Tech up for good.
Key to victory: A 56-yard punt return by Georgia Tech's
Jamal Golden
early in the third quarter set up a 1-yard touchdown run by Yellow Jackets quarterback
Tevin Washington
to help put Tech up 14-7.
The puzzle: Commenting on why the Trojans had such good bowl practices but came out flat, junior offensive tackle
Kevin Graf
said, "I don't know why we played this way. We had a great week of practice. We're a lot better team. I promise you this team will work hard to get back to where we belong."
The offensive scoring average: The Trojans scored seven points against Georgia Tech. Prior to the game with the Yellow Jackets, the Trojans were averaging 34.2 points per game.
Out of the Woods: Junior wide receiver
Robert Woods
(33 yards on three catches) announced he was declaring for the 2013 NFL draft. Woods said, "Today is a sad day. I had my mind set that I was leaving, so I came into today's game on a good note. The wind had an impact. Balls were sailing and curving. I was not frustrated with Max [Wittek]. It was the wind. I knew he could get the ball out there."
Rush to defend: Prior to the Georgia Tech game, the Trojans defense was allowing a net total of 156.4 yards rushing per game. Against the Yellow Jackets, the Trojans allowed 294 rushing yards.
It's offensive: Prior to the Georgia Tech game, the Trojans were averaging 451.9 yards per game in total offense. Against the Yellow Jackets, the Trojans had 205 total yards.
January, 1, 2013
1/01/13
8:00
AM PT
A look at the positives and negatives from USC's 21-7 loss to Georgia Tech in the 2012 Hyundai Sun Bowl.
THREE UP
1. Hayes Pullard
The performance of Pullard, a sophomore linebacker, is one of the few positives that the Trojans can take away from the loss. Pacing the team with 16 tackles -- 10 in the first half -- he was easily the most active component of a Trojans defense that found some moderate success containing Georgia Tech's vaunted triple-option offense.
2. Leonard Williams
Just a freshman, Williams was impressive, collecting 14 tackles -- a staggering number for a defensive tackle. Whether it was straight up the middle, going sideline to sideline, or tracking a ball carrier down from behind, he was all over the place.
3. T.J. McDonald
Just as he has throughout his entire career at USC, McDonald played with grit and determination, something that became a hallmark of his play as a Trojan long ago. On Monday, the senior safety was fast to the ball and made a number of ferocious hits, ultimately finishing with 13 stops in his final game in a cardinal and gold uniform.
THREE DOWN
1. USC team energy
Unfortunately, the Trojans came out and played exactly as many outside observers predicted -- uninspired and flat-out bored -- particularly on offense. Converting on just 3 of 15 third-downs and outgained 369-205, Lane Kiffin's squad looked like it couldn't wait to get home.
2. USC passing offense
To say that the Trojans' passing game was woeful would be an understatement.
Marqise Lee
and
Robert Woods
were held to a combined nine receptions for 74 yards, and redshirt freshman quarterback
Max Wittek
was completely out of whack. Connecting on just 14 of 37 passes for 107 yards and one touchdown, he threw three crucial interceptions, including one inside the Yellow Jackets' 10-yard line with just over a minute left that sealed the game for Georgia Tech.
3. USC special teams
Andre Heidari
's missed 38-yard field goal didn't help the Trojans' cause, but that wasn't the low point for John Baxter's special-teams unit. That came in the third quarter, when the punt coverage unit overran a line drive
Kyle Negrete
boot that Georgia Tech's
Jamal Golden
ultimately returned to the USC 1-yard line.
Tevin Washington
punched it into the end zone a few plays later, giving the Yellow Jackets a 14-7 lead.
December, 31, 2012
12/31/12
3:19
PM PT
Georgia Tech scored a
21-7 upset victory
over the
USC Trojans
in the Hyundai Sun Bowl. The Yellow Jackets got good production from the quarterback spot --
Tevin Washington
and
Vad Lee
both threw touchdown passes and Washington added a scoring run -- and a strong defense to get the win.


Game was over when:
Jamal Golden
intercepted a
Max Wittek
pass at the goal line with just over a minute left. The score was 21-7 in favor of Georgia Tech, but the Trojans had driven the ball for a late scoring attempt before the Wittek pass was tipped by
Quayshawn Nealy
into the arms of Golden. Golden also had a key punt return in the third quarter while Nealy had an end-zone interception of his own earlier in the fourth quarter.
Game ball goes to:
Georgia Tech's defense, a unit that gave up 30 points per game and was facing a USC offense that came in averaging over 34 points per game. The Yellow Jackets held the Trojans to a touchdown, and the only opponent to score fewer points this year against Georgia Tech was the
Presbyterian Blue Hose
, who scored a field goal. USC came into game averaging over 450 total yards per game and was held to 205. The Yellow Jackets limited 2012 Biletnikoff Award winner
Marqise Lee
to six catches for 41 yards.
Stat of the game:
USC's inability to convert. The Trojans were 3-of-16 on third- and fourth-down conversion attempts. That includes a stretch of six consecutive drives to begin the second half that were either three-and-out or turned over on downs.
What Georgia Tech learned:
What it feels like to win a bowl game for the first time in eight years. The Yellow Jackets had lost seven straight bowl games prior to Monday's win.
What USC learned:
That the 2012 season was disappointing to the end.
December, 31, 2012
12/31/12
5:30
AM PT
Who to watch:
This could be another national showcase for USC wide receiver
Marqise Lee
to prove that he is the most dynamic player in the country. Lee won the Biletnikoff Award winner and was named the Pac-12 Offensive Player of the Year after a season which saw him set a conference mark for catches (112 -- the leading total nationally) and receiving yards (1,680). He also led the conference in kickoff return yardage. Lee left USC practice early on Saturday with an undisclosed leg injury and did not return but is expected to play in the game.
What to watch:
The most compelling matchup should be the USC defense against the Georgia Tech "flexbone" triple-option offense. The Trojans have struggled in 2012 against various versions of the option, and Tech executes its run-based version at a very high level -- it was No. 4 in the nation with more than 312 rushing yards per game. The Yellow Jackets have a talented senior at quarterback in
Tevin Washington
, and he has an impressive 19 touchdowns on the ground. Look for USC senior safety
T.J. McDonald
to be very aggressive near the line of scrimmage in run support.
Why to watch:
There have been a lot of questions about how motivated the Trojans would be for the Sun Bowl after a disappointing 7-5 season following their preseason No. 1 ranking. That perception was helped by some disparaging player tweets toward the host city of El Paso, Texas, and a late arrival to a bowl dinner. USC coach Lane Kiffin has preached to his team for the need to stay focused on the game, and the performance of his team will show how well that message was received. Georgia Tech is certainly an opponent that is capable of taking advantage of any lack of game readiness.
Prediction:
USC 31, Georgia Tech 21
At the end of the day, the Trojans will simply make more plays than the Yellow Jackets. Lee isn't the only playmaker on the USC offense, there are guys such as
Robert Woods
,
Silas Redd
and
Curtis McNeal
who can explode at any time. This could be the final college game for Woods, who will announce after the game if he is leaving school early for the NFL draft. The Trojans will enter the game without
Matt Barkley
, who will sit out with a shoulder injury, but
Max Wittek
can get the ball downfield with his strong arm. Georgia Tech A-back
Orwin Smith
will help keep things close for the Yellow Jackets. He has missed the last two games with an ankle injury but is averaging over nine yards per carry this season.
December, 28, 2012
12/28/12
8:00
AM PT
HYUNDAI SUN BOWL


USC (7-5, 5-4) versus Georgia Tech (6-7, 5-3)
Where:
El Paso, Texas
December, 20, 2012
12/20/12
6:59
PM PT
LOS ANGELES -- After taking part in an early evening practice on Wednesday, the Trojans went right back to the grind Thursday afternoon, impressing USC head coach Lane Kiffin with their ability to bounce back with another strong bowl game workout after such a short break.

"It's not easy, they're coming back after a later practice yesterday -- less than 24 hours off for back-to-back, full-padded, full-tackling practices -- that's very unusual," Kiffin said. "So, I thought they responded well."

The unorthodox schedule over the last two days occurred primarily because of finals, but Kiffin believes that there is also some strategic value in it.

"One of the things about bowl games is trying to get players to buy into the [idea] that it's not a soft, long time atmosphere -- rather than tell them, 'Well, we still have 10 more [practices or] we still have 9 more,' " Kiffin said. "The problem with that is then you're finally practicing, and you've had a long layoff of having really physical stuff. So our plan has been to have a couple of really hard ones right now, almost as if you're playing a game."


December, 20, 2012
12/20/12
9:14
AM PT
The Trojans hit Brian Kennedy-Howard Jones Field on Wednesday for a rare evening practice that once again drew rave reviews from USC coach Lane Kiffin as the team has put together a string of five impressive post-season workouts in a row now.
[+] Enlarge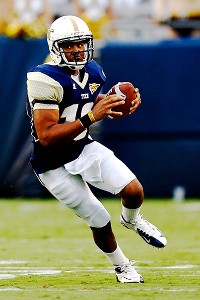 Josh D. Weiss/US PresswireIt's been a challenge for the Trojans to simulate dynamic Georgia Tech quarterback Tevin Washington in practice.
"Through five practices, especially the last three, this is the best they've been," Kiffin said. "I hope a lot of that has to do with what we talked about … to stop living in the past, and to stop talking about what we could have done different on this play, and this guy could have caught this, this guy could have made this tackle and our record would be this … so we don't even like going back and talking about that stuff, because we can't change it no matter what happens. We are 7-5. We have to accept that. So let's move forward and finish really strong, get back out playing football and then have a good time doing it."
Later practices in 2013?
There has been an extra bounce in the Trojans' step over the past three practices that Kiffin has acknowledged, something that could be due to the team's recent time off. But perhaps it's also worth noting that all three of those workouts have had later start times than the typical practice during the year.
And while Kiffin is quick to note that early practices are no excuse for the team's performance in 2012, he did admit on Wednesday he is exploring with the idea of moving them from the morning, when they're held now, to the late afternoon next season.
"There's been a lot of thought put into the afternoon practices like the previous format, so we'll look at it after the season," Kiffin said. "That's got nothing to do with being 7-5. We practiced the same way when we were 10-2, so I think it's just looking at the overall energy sometimes. Those days are rough, you know, when kids are getting up at 5 a.m. There's a lot of good things to it. So we'll look at it."
Defense gets up-close look at Yellow Jackets' offense
The Trojans began installing their game plan for the team's matchup with Georgia Tech on Wednesday, giving the USC defense its first real taste of what it will be like to go up against the Yellow Jackets' vaunted triple-option offense. With walk-on senior tailback Robert Mojica playing the part of Georgia Tech quarterback Tevin Washington, the Trojans' scout-team offense did its best to give the USC first-teamers an accurate look.
"It was interesting," Kiffin said. "I'm glad we have a lot of time. I don't know how people do it in one week. The hardest thing is to get the service team to do it right -- much like when we played Oregon -- more than how you actually play everything. So it was a little bit of a growing process today, but we'll keep going."
Additional Notes:
Kiffin said sophomore running back Tre Madden, who suffered a torn knee ligament last April and has missed the entire season, is on track to participate in spring practice.
The team will take part in a number pre-bowl activities before it leaves for El Paso, including a "premier movie night" tomorrow, as well as dinner later in the week at Kiffin's house followed by a trip to a Clippers game.
PAC-12 SCOREBOARD
Thursday, 9/3
Friday, 9/4
Saturday, 9/5