USC Trojans:

Terrance Mitchell
February, 26, 2014
2/26/14
12:00
PM PT
Before Washington State safety
Deone Bucannon
made his way to Indianapolis for the NFL combine, he said he
wanted to be a first-round pick
.
While the first round still seems like a bit of a reach, Bucannon certainly helped his cause Tuesday with an impressive display of athleticism across the board. He turned in the day's fastest 40 time among the Pac-12's six defensive backs that participated (4.49) and ranked in the top-three among safeties in the 40, bench press, vertical jump, broad jump and three-cone drill.
NFL Network's Mike Mayock
ranks Bucannon as the draft's No. 5 safety
:
"He's got size, and he's got four years of high-quality production," Mayock said. Bucannon, who measured 6-1 and 211 pounds, had 383 tackles and 15 interceptions in his Cougars career. "I like him in the box, but he has the range to play on the back end," Mayock said.
Utah cornerback
Keith McGill
, who drew solid reviews at the Senior Bowl, also seemingly helped his draft stock by running 4.51 in the 40. Equally impressive was his 39-inch vertical leap which, at 6-foot-3, makes McGill a unique combination of athleticism and size.
McGill fits the mold mentioned
here by ESPN's John Clayton
:
The other bonus is the draft class offers corners with decent size and long arms. Many teams want to copy what the Seahawks have done with Richard Sherman and others. Going to a man-to-man scheme on the outside of a defense that uses a three-deep zone is going to be the trend if defenses can find the type of corners to run those strategies.
Oregon State receiver
Brandin Cooks
probably made himself quite a bit of money after running the fastest 40-time among receivers over the weekend, but added $100,000 to his bounty because he did it wearing adidas cleats. The shoe company offered up that amount to whatever player at the combine clocked the fastest 40 time wearing its cleats. Kent State's
Dri Archer
ran the fast time, but wasn't wearing adidas.
Former Oregon tight end
Colt Lyerla
earned a payoff of $10,000 from adidas for running the fastest 40 at his position group.
Here are how the defensive backs did in the 40 and bench press:
Cornerback
McGill, Utah: 4.51/did not lift
Rashaad Reynolds
, Oregon State: 4.51/20 reps
Terrance Mitchell
, Oregon: 4.63/did not lift
Safety
Bucannon, Washington State: 4.49/19 reps
Ed Reynolds
, Stanford: 4.57/15 reps
Dion Bailey
, USC: 4.66/did not lift
January, 20, 2014
1/20/14
7:00
PM PT
The Pac-12 has seen a flurry of defensive coordinator movement over the last couple of weeks -- starting with the
power struggle for former Washington defensive coordinator Justin Wilcox
to the recent exoduses of Stanford's
Derek Mason to Vanderbilt
as head coach and UCLA's
Lou Spanos to the Tennessee Titans
as linebackers coach. Oregon's promotion of
Don Pellum to defensive coordinator
to replace Nick Aliotti will also shine a spotlight on the Ducks' defense in 2014 and beyond.
And then there is, of course, former USC defensive coordinator Clancy Pendergast, who mysteriously continues to be out of work.
[+] Enlarge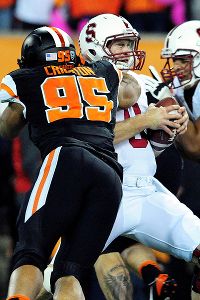 Steve Dykes/Getty ImagesOregon State defensive end Scott Crichton is among the Pac-12 defensive stars entering the NFL in 2014.
Look at the top five scoring defenses in the Pac-12 in 2013: Stanford, Oregon, USC, Washington and UCLA, respectively. All five have had defensive coordinators in flux in the young offseason.
That makes for an interesting transition period for the Pac-12. Defenses had closed the gap in recent years with several teams ranking in the top 25 nationally in scoring defense. That in itself is an achievement considering the level of offensive skill players and the diversity of offenses in the conference.
But when you look ahead to 2014, there are a lot of quarterbacks coming back to man the league's high-powered offenses --
Marcus Mariota
,
Brett Hundley
,
Taylor Kelly
,
Sean Mannion
,
Connor Halliday
, etc. You combine that with a massive talent drain of defensive players graduating or declaring for the NFL, plus all of the shifting within the defensive coaching ranks, and you have to wonder if 2014 is going to be the Year of Offense in the Pac-12.
Consider a few of the defensive standouts leaving:
Anthony Barr
(UCLA),
Will Sutton
(ASU),
Shayne Skov
(Stanford),
Dion Bailey
(USC),
Terrance Mitchell
(Oregon),
Scott Crichton
(Oregon State),
Trent Murphy
(Stanford),
Carl Bradford
(ASU),
Deone Bucannon
(Washington State),
Trevor Reilly
(Utah). There are a couple dozen others who aren't mentioned who were high-impact guys like Stanford's
Ben Gardner
and
Ed Reynolds
,
Jordan Zumwalt
and
Cassius Marsh
from UCLA and
Alden Darby
,
Osahon Irabor
and
Robert Nelson
from ASU.
In total, 19 of the 25 all-conference defensive players from 2013 will be gone next year -- including 10 of 12 from the first team. Plus about a dozen more that were honorable mention are leaving or graduating. That is a major hit to the defensive talent in the league.
The Pac-12 is rarely appreciated nationally for its defensive prowess, either from a player or coaching perspective. And now three of the best coordinators in the conference are gone, one has moved from Washington to USC and another is looking for a gig.
Pac-12 offenses are going to be loaded in 2014 while the defenses have huge question marks. There is plenty of young talent. Guys like
Myles Jack
(UCLA),
Addison Gillam
(Colorado) and
Su'a Cravens
(USC) have all made names for themselves early in their careers. There are also some very notable returners like
Ifo Ekpre-Olomu
(Oregon),
Henry Anderson
(Stanford),
Shaq Thompson
(Washington) and
Hayes Pullard
(USC).
But a lot more is gone than is coming back.
That opens the door for all sorts of comparison storylines. Wilcox did an outstanding job re-tooling the defense at Washington. And now Pete Kwiatkowski will be measured against what Wilcox was able to accomplish. Likewise, Pendergast probably should have been USC's MVP for what he did with the Trojans in one season. Now Wilcox has to take over an outfit that is losing a lot of playmakers to the NFL. No doubt, he'll be compared to his predecessor. Just as Pellum will be compared to Aliotti, and whoever fills the seats at Stanford and UCLA will be compared to what Mason and Spanos were able to accomplish.
The guard is changing, as it does every year in college football. This year it might be the Pac-12 defenses that take a step back.
January, 16, 2014
1/16/14
11:00
AM PT
While a number of big-name players opted to stick around for another year of Pac-12, most notably Oregon QB
Marcus Mariota
, UCLA QB
Brett Hundley
and Oregon State QB
Sean Mannion
, the conference was hit hard by early defections.
Here's the complete list of Pac-12 players who entered the NFL draft despite remaining eligibility.
Ka'Deem Carey
, RB, Arizona
Carl Bradford
, LB, Arizona State
Brendan Bigelow
, RB, California
Richard Rodgers
, TE, California
Khairi Fortt
, LB, California
Kameron Jackson
, CB, California
Viliami Moala
, DT, California
Paul Richardson
, WR, Colorado
De'Anthony Thomas
, RB/WR, Oregon
Colt Lyerla, TE, Oregon (was kicked off the team in October)
Terrance Mitchell
, CB, Oregon
Brandin Cooks
, WR, Oregon State
Scott Crichton
, DE, Oregon State
David Yankey
, OG, Stanford
Cameron Fleming
, OT, Stanford
Ed Reynolds
, S, Stanford
Xavier Su'a-Filo
, OG, UCLA
Dion Bailey
, LB, USC
Marqise Lee
, WR, USC
George Uko
, DT, USC
Marcus Martin
, C, USC
Xavier Grimble
, TE, USC
Jake Murphy
, TE, Utah
Bishop Sankey
, RB, Washington
Austin Seferian-Jenkins
, TE, Washington
January, 6, 2014
1/06/14
12:30
PM PT
While the return of UCLA QB
Brett Hundley
for his redshirt junior season was the weekend's big news, an early-entry to the NFL draft talent drain is hitting the Pac-12 hard.
While a number of big-name players have not yet formally announced their intensions -- such as Arizona RB
Ka'Deem Carey
, Stanford OG
David Yankey
, Oregon CB
Ifo Ekpre-Olomu
, Arizona State LB
Carl Bradford
and Oregon State QB
Sean Mannion
-- already 17 players have announced they will give up their remaining eligibility to turn professional.
The deadline to declare is Jan. 15.
There has been good news at quarterback. Hundley joins Oregon's
Marcus Mariota
as pretty significant surprises that they opted to return to school, and that means the 2014 class of Pac-12 quarterbacks will be without peer in the nation by a wide margin.
Here's the early-entry list so far:
Dion Bailey
, LB, USC
Marqise Lee
, WR, USC
George Uko
, DT, USC
Marcus Martin
, C, USC
Xavier Su'a-Filo
, OG, UCLA
Brandin Cooks
, WR, Oregon State
Scott Crichton
, DE, Oregon State
Paul Richardson
, WR, Colorado
Bishop Sankey
, RB, Washington
Austin Seferian-Jenkins
, TE, Washington
De'Anthony Thomas
, RB/WR, Oregon
Colt Lyerla, TE, Oregon*
Terrance Mitchell
, CB, Oregon
Khairi Fortt
, LB, California
Kameron Jackson
, CB, California
Richard Rodgers
, TE California
Jake Murphy
, TE, Utah
*Lyerla was kicked off the team at Oregon in October.
January, 3, 2014
1/03/14
2:30
PM PT
October, 15, 2013
10/15/13
7:00
PM PT
Welcome to the second half.
Greg in Salt Lake City writes:
"If you don't like where you are in the Power Rankings, play better." Oh, like maybe beat No. 5 Stanford? Done. Wait, that didn't really help. Utah is a few turnovers away from being undefeated, they get better every week and just beat Stanford. Because
Power Rankings
take the most recent games into account more we should definitely be ahead of Oregon State and Washington -- neither of which has beat a team that is still ranked. I would think a former MWC guy would show a little more respect ;)
Kevin Gemmell
: I appreciate the passion, Greg. I really do. And I particularly appreciate the emoticon wink. And as a former MWC guy, I've followed Utah's rise in that conference and transition to the Pac-12 with great interest.
For the record, it did help. You moved up from seventh to sixth in this week's Power Rankings.
No, you shouldn't be ahead of Oregon State or Washington. You lost to Oregon State. Any way you slice it, the Beavers have more wins and beat you at home. As for Washington, we'll find out more about them this week when the Huskies travel to Arizona State. Washington lost to Stanford on the road by a field goal. You beat Stanford at home by two field goals. Washington's two losses have been to top-five teams. Utah's losses have been to a top 15 team and an unranked team. Plus Utah has had the luxury of not having to go out of state yet.
I think the Stanford win was a critical stepping stone for the Utes, but it's how they follow it up that will be extremely telling.
This isn't the Mountain West where the entire season boils down to one game against TCU. You beat Stanford. Great. Now can you go on the road and beat Arizona? At USC? Can you avenge the beating you took last year from ASU? Can you win at Autzen?
Recall Washington scored two wins over top-10 teams last year, but still finished with seven wins and the season was perceived as unsuccessful. If Utah fails to make it to the postseason, how much does this one win really mean? Not a whole lot. You'll be viewed as the team that just caught Stanford on a bad day on the road rather than a team that is climbing the Pac-12 pecking order.
It was a good win. What are you going to do with it?
Ducku03 in Eugene writes:
Hey Kevin I've been reading a lot about that Heisman Moment that takes a candidate over the top. It seems to me that all of these moments, the media talks about, are come-from-behind moments that give their team a miraculous win. Isn't it a little unfair to degrade a Heisman campaign just because your team is always ahead in the fourth quarter such as the case for
Marcus Mariota
?
Kevin Gemmell
: Aside from "mandatory" and "colonoscopy," there are no two words put together that irk me more than "Heisman" and "moment." It's a sham. A fluke. Just as I railed in last week's mailbag about one play being a determining factor in a game, one moment doesn't, couldn't, shouldn't determine something as important as a Heisman.
I can think of about two dozen Heisman moments for Marcus Mariota already. And, as you noted, none of them involved a come-from-behind victory. That's because he's got his team so far ahead.
I've written a couple of times on the Heisman in recent years. It's a completely
subjective award
that is open to all kinds of interpretation. I don't think that's a bad thing, but I happen to disagree with how some people go about their voting process. That's what makes the Heisman so controversial.
As I noted in 2011
, Andrew Luck had plenty of Heisman moments, they just weren't "traditional" Heisman moments.
I don't think Mariota's campaign will be slowed down if the Ducks don't have a come-from-behind-fourth-quarter win. What he's done so far has been too impressive. Obviously, the Stanford game will be of significance. It will be nationally televised and East Coast voters should stay up to watch.
The whole Heisman exercise has gotten out of hand. It's taken on such a life of its own that it's essentially downgraded the importance of some other awards like the Maxwell and Walter Camp, the Outland and the Rimington. I hate that the metrics aren't there for linemen or defensive players to win it. And the spread offense has completely slanted the playing field in favor of quarterbacks. The whole process feels less like a celebration of greatness and more like, well, a mandatory colonoscopy.
Tommy Trojan in a beach chair on the beach writes
: I know and the USC faithful know how important a win against ND this weekend is for the future of the program and for the rivalry. What does a USC win mean in the world of the Pac-12 down the stretch?
Kevin Gemmell:
In terms of the standings, not a whole lot. In terms of their perception, it's huge. USC's brand has taken a huge hit over the last 12 months. With that comes negative recruiting from other schools and a general uneasy feeling about the state of the program.
But USC is still a brand. And it will endure. Because there are always going to be elite athletes who want to come to USC.
The Trojans aren't out of the South Division hunt yet, but they'll need some help along the way. All they can do is hope to win out and restore the confidence of the fan base and potential future Trojan players. Winning at Notre Dame would be a huge first step toward rebuilding that.
Chris in Foresthill, Calif. writes:
Sonny Dykes is on record that Cal has the prerequisites "location, facilities, weather, academics and access to state-wide and national talent" to be a national championship contender. I don't see it due to the predominance of pro sports in the Bay Area. In three to five years, do you see Cal as a contender, pretender or also-ran?
Kevin Gemmell:
I think what we have right now, this year, with Cal is the perfect storm of a young team adjusting to new schemes, a horrific string of injuries and one of the toughest schedules in the country.
The Bears have been able to move the ball, they just haven't been able to score. I still think the skill position players are really good, they just haven't been able to translate it on the field on Saturdays.
Losing 10 of 11 potential starters on defense doesn't help. Dykes said today that he's never seen this many season-ending injuries in one year in his career.
In three to five years I think Cal should certainly be a mainstay in the postseason. Cal has too many advantages not to, at the very least, be a six-win team. I'm cutting Dykes and Co. some slack simply because of all the dice loaded against them this season. But there are still six opportunities left for progress. And six opportunities for a lot of younger players to get some valuable experience.
Don in Newberg, Ore. writes:
Kevin, Most impressive aspect of the Ducks' win @ Washington? When the season started, there was no argument that Oregon's best three offensive players were Mariota, DAT and Lyerla. They beat the Dawgs without two of those three. That says something.
Kevin Gemmell
: I'd argue that
Ifo Ekpre-Olomu
and
Terrance Mitchell
were right up there in terms of preseason hype. And so far Oregon's secondary has been beastly. I'd say that was the most impressive aspect.
Keith Price
did what he could, but the Ducks held him to his lowest output of the season in terms of yards and touchdowns. His longest pass was 28 yards. His completion percentage was below 60 percent for just the second time this year (the Arizona rain game was his lowest).
For as much as people want to talk about what Oregon is doing on offense -- and full disclosure, I'm one of those guys talking about their offense -- the defense has quietly been one of the best in league. Just as it was quietly one of the best in the league last year, and the year before that. They are allowing a league-low 13.8 points per game and have only allowed four touchdowns in the air. Be impressed with the offense. But don't forget what the guys on the other side of the ball are doing.
Darin in Monterey, Calif. writes:
I have a couple of questions about QBR ratings. Can you explain to me how you get a high QBR rating? Mariotta has an average of 96 or something like that and Mannion only has 82. When Oregon State played Colorado Mannion only recorded a QBR of 61, while scoring 6 TDs. … I understand that Colorado isn't exactly a powerhouse, but Mariotta scored a 96 QBR against Nicholls St. while throwing less touchdowns and about the same pass completions. So, what's the difference?
Kevin Gemmell
: You basically have two different QBR ratings. One is raw QBR, the other is adjusted QBR. Adjusted takes into account the strength of opponent and various other factors.
Essentially, it boils down to how much of a contribution did the quarterback make? What was his completion percentage on first, second or third down? What were the circumstances under which a touchdown was scored?
Here's
the complete guide to the QBR
that fully explains it all. It's a lot to take in, and requires reading it a few times. But once it all settles, you'll start to look at QB stats differently.
Like all stats, it's not a complete representation of the player. But it's, in my opinion, the best statistical measuring stick out there.
Scappoozer in Scappoose, Ore. writes:
I won't say I told you so. I like your coverage of Pac-12 football and a little homerism to boot but you and Ted have never jumped on your potential champions bandwagon the way the SEC bloggers have never wavered over Alabama. You start your article by saying Oregon is the national title contender we thought they were, huh? Last week Ted puts Stanford back to No. 1 in the Power Rankings? Pick a team and stick with them. Win the Decade is soooo sweet. You drank the Washington Kool-aid, yes they are a good team but pupil of the spread was not ready to beat the teacher of the spread. I've said all along Stanford is too slow and it showed, Washington might be better. I just felt like nationally and through voting the rest of the nation were closer to reality than the Pac-12 bloggers I follow. Washington was overrated and you guys always had them ranked too high and they are not ready to compete for a national championship let alone a Pac-12 championship. Our local reporters can't even pronounce our QB's name correctly, it's MARIO-TA. Go Ducks!
Kevin Gemmell:
First off, the "I told you so" doesn't fly with me. I went back through my entire mailbag for the last six months and this is the first note I got from you. But I'm happy to answer it.
Second, I challenge you go to back through the blog and find a single instance where either Ted or I wrote that Washington was ready to compete for a national championship. I'll save you the time. It's not there. Neither of us ever wrote that.
Did Ted and I like Washington coming into the season? Yep. Still do. Did we expect them to be where they are right now? Yep. No shame in losing on the road to Stanford and at home to Oregon.
The Stanford is too slow argument doesn't work, either. Does anyone really think
Ty Montgomery
looked slow the last couple of weeks?
Yes, Ted did put Stanford on top of the Power Rankings last week. As he noted, he and I squabbled over that decision. But since he gets the final byline, he pulled rank. Just as he had
Paul Richardson
at No. 10 in his midseason top 10 player re-ranking. But since I had the final byline, I swapped Richardson out for Montgomery and I pulled rank.
I get it. You're excited about your team. We're excited about them too. Coming into the season, we both felt it was 50-50 with Stanford and Oregon, and our only reservations where the coaching change. It's clear now that Mark Helfrich has done a phenomenal job and the Ducks haven't missed a beat. In fact, they've gotten better.
We've said all season long we thought the Pac-12 had two teams that could challenge for a national championship. Oregon was always one of those teams.
So go ahead and keep being excited for your team and their possible date with the BCS championship game. But don't forget what happened last year when everyone said Stanford was down. All they did was run off 12 straight, beat Oregon in Eugene and win the Rose Bowl.
Be confident. Be excited. Be proud. But don't get cocky until you're holding a crystal ball.
That, my new friend from whom I expect to hear more, you can quote me on.
September, 4, 2013
9/04/13
11:30
AM PT
When from our better selves we have too long
Been parted by the hurrying world, and droop,
Sick of its business, of its pleasures tired,
How gracious, how benign, is Solitude.
August, 21, 2013
8/21/13
11:00
AM PT
Changing the perception of a league is no easy task. And for the Pac-12, bucking its offense-first image may never happen.
As long as Oregon keeps gobbling up points by the minute and yards by the mile; as long as Rich Rodriguez does what RichRod does and there are Air Raids and Bear Raids about, offense will always be associated with the Pac-12. As long as De'Anthony Thomas and Marion Grice can score from anywhere; as long as Marqise Lee keeps turning a 4-yard slant into an 80-yard touchdown; as long as Ka'Deem Carey is running wild and Marcus Mariota and Brett Hundley are burning up stat sheets, Pac-12 defenses will continue to be overshadowed.
And yet …
[+] Enlarge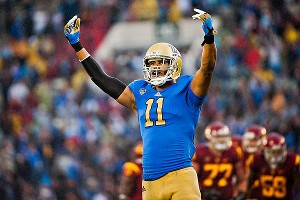 Jonathan Moore/Getty ImagesUCLA linebacker Anthony Barr leads an impressive group of defenders in the Pac-12.
"I would love to see an all-star game with our conference's defensive players on the same team," said Stanford coach David Shaw. "I think it would be phenomenal, and scary. Anthony Barr is borderline unblockable. Will Sutton gets in the backfield seemingly every play, single block, double block, whatever. Morgan Breslin, Sutton and Ben Gardner on the line and Shayne Skov sideline to sideline with Barr coming off the edge.
"Maybe we're getting to a golden era for defensive players in this conference because you've got good defensive units and some really elite standout players."
Last season, five Pac-12 teams ranked in the top 15 nationally in sacks per game including Stanford (first), Arizona State (second), USC (fourth), UCLA (eighth) and Washington State (14th). That's up from three teams in the top 20 in 2011, two teams in the top 20 in 2010 and zero teams in the top 10 in 2009.
ASU and Stanford were first and second, respectively, in tackles for a loss per game, and WSU and USC ranked in the top 11. It's a given that a lot of points will be scored in the Pac-12. But defenses are making it tougher.
"It's been an interesting evolution," said Oregon State coach Mike Riley, the dean of the Pac-12 who is entering his 13th season. "What you're seeing is a premium on speed and guys with a lot of flexibility. There are still big people that need to play on the interior. But your edges -- if you're going to lead the league in sacks -- then having a great edge rusher is always at a premium."
Guys like the aforementioned Barr, Sutton and Breslin, Stanford's Trent Murphy, Oregon State's Scott Crichton, Cal's Deandre Coleman and ASU's Carl Bradford are in that conversation. All of them are expected to rank among the nation's best in sacks and TFLs. That should make for a heated debate when picking the league's defensive player of the year.
And who says it will be someone from the front seven? Four Pac-12 teams were among the top 20 in interceptions last year, and Oregon led the country. The Ducks have the nation's best cornerback duo with Ifo Ekpre-Olomu and Terrance Mitchell, while Stanford boasts the outstanding safety tandem of Ed Reynolds and Jordan Richards. Oregon State's Ryan Murphy, USC's Dion Bailey and WSU's Deone Bucannon are also elite safeties.
Washington might have the best young defensive player in the league in Shaq Thompson.
"You can have a high-powered offense that puts up big points, but if you can't stop anybody, it's anyone's game," said Sutton. "With a great defense, you can accomplish anything."
Those who follow the league know there have been great defenses in the past. Washington in the early '90s and Arizona's Bear Down defense come to mind. Behind all of USC's Heisman quarterbacks a decade ago were outstanding defenses.
"I think what we're starting to see is the individual players and coordinators starting to get some notoriety," said Shaw, whose team ranked fifth nationally against the run last year -- an amazing statistic considering the running backs they faced in 2012. "When Oregon started being really good and scoring a ton of points, people didn't realize they were keeping people from scoring too and playing great defense. To this day I still think they have the most underrated defensive coordinator [Nick Aliotti] in the country."
One of the major challenges of being a defensive coach in the Pac-12 is the diversity of offenses. Oregon's spread is considered run-based, yet the Ducks had the most efficient passing attack in the league. Arizona's spread is considered pass-based, yet its running back led the nation in rushing. Stanford is considered "conventional" with its pro-style, but it'll use personnel groups with seven offensive linemen.
"I don't even know what pro-style means anymore," said UCLA coach Jim Mora. "The perceptions are distorted. You can break down a spread offense or a pro-style and they'll have the same route concepts. There are only so many. But the formations are different. The personnel is different. The motion before the snap is different. The league has so many speed athletes so one of the reasons we play a 3-4 is to get more speed athletes on the field."
It's time, says Bucannon, to let rest of the country know the Pac-12 can play a little defense, too.
"We have fast, up-tempo teams and marquee offensive players. At the same time, there are some great defensive players on that side of the ball," he said. "And we refuse to be overshadowed."
PAC-12 SCOREBOARD
Thursday, 9/3
Friday, 9/4
Saturday, 9/5