December, 31, 2012
12/31/12
4:39
PM PT
Every time the CBS cameras showed Lane Kiffin during Monday's 21-7 loss to Georgia Tech in the Sun Bowl, he had a big, black hood over his head and he wore sunglasses that obscured much of his face.
[+] Enlarge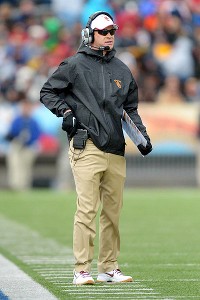 Kirby Lee/Image of Sport/USA TODAY SportsCoach Lane Kiffin and the Trojans take on Utah State on Saturday on ABC.
Kiffin's aim, presumably, was to counter the blustery, oddly sunny conditions in El Paso, but it looked as if he was trying not to be noticed. Who can blame him?
Monday's two-touchdown loss -- to a team that got blown out by Middle Tennessee, finished below .500 and had to petition to play in a bowl game -- seemed like a fitting finale to USC's season, in which expectations and reality meshed as well as garlic and peppermint ice cream.
To me, it seemed like the No. 1 ranking was a bit much back in September, but I never would have predicted such a mess of a season from a team with good senior leadership and so many playmakers.
It all seems to suggest changes need to come for 2013, from the way Kiffin approaches the offense to the way the defense approaches spread offenses. This USC season went from bad to worse to embarrassing in incremental steps and Monday the Trojans finally reached the ground floor.
The damage had already been done way before the Trojans got to the far west corner of Texas. Tough losses to Oregon, Stanford and Notre Dame stung. Bad losses to UCLA and Arizona infuriated. When a team disappoints as thoroughly as this USC team did, how it fares in some far-off bowl in between holidays doesn't linger much in most fans' memories.
But there has to be accountability for the way this season unraveled at the end. ESPN's Pac-12 blogger, Ted Miller, wrote that USC is "three touchdowns better than the Yellow Jackets," but it didn't look like Georgia Tech's only edge Monday was motivation. The Yellow Jackets looked better-coached. They looked more confident. They looked like they were playing with more joy and more togetherness.
USC's defensive guru, Monte Kiffin, coached his last game for the Trojans on Monday. The 72-year-old NFL legend decided to step down after a series of defensive breakdowns in the Trojans' biggest games. It's nice that his defense sent him off with a solid effort, better than the score reflects. Georgia Tech scored one of its touchdowns on a punt return.
That's fine, but -- how's this for a depressing thought for 2013 -- USC looked awful in every phase other than defense against Georgia Tech. Quarterback
Max Wittek
, the presumptive starter next season, looked lost at sea, flinging balls over receivers' heads, into opponents' arms, off defensive ends' hands and skipping off the turf. He completed only the easiest of throws, but for some reason Kiffin kept giving him difficult ones.
Playing in blustery conditions, punter
Kyle Negrete
drove a third-quarter punt low and short, a mistake that turned into Georgia Tech's second touchdown -- the easiest special-teams score you're going to find. You would think Negrete would have gotten in rhythm, considering he had to punt eight times.
It took USC more than 21 minutes of the second half to pick up a first down. Wittek threw three interceptions and his average completion was for 2.9 yards.
Maybe by next spring, nobody will be thinking about this game any longer. Hopefully, Wittek won't let it consume him for the next few months because he still could have a bright future at USC.
Maybe it will be just a lousy game, one of those that some day will raise a giggle or two from USC fans remembering a sad season.
But Kiffin has to learn from it, or nobody's going to be laughing any longer.
December, 15, 2012
12/15/12
6:00
PM PT
LOS ANGELES -- After more than a week away, the Trojans were back at work in shorts, shoulder pads and helmets on Saturday in preparation for the team's Hyundai Sun Bowl matchup with Georgia Tech. USC head coach Lane Kiffin was pleased in general with what he saw.
"Good to get back out here after players taking finals, and classes and coaches out recruiting," Kiffin said. "Good to have
Marqise [Lee]
back out here after a while off. It didn't look like he's missed a beat. There were a number of big plays today and I thought the defense did a great job early on, led by
Hayes Pullard
."
Kiffin glad to still have Martin
It's safe to assume that there were some nervous moments inside the John McKay Center last week, as Tee Martin mulled over a job offer from his alma mater, Tennessee. Fortunately for Kiffin and Co., the highly regarded wide receivers coach decided to remain at USC, a move that figures to pay off for USC not just because of Martin's ability as a coach, but because of his talents as a recruiter as well.
"It would have been tough to replace him as a coach, it would have been tough to replace him as a recruiter, and certainly we couldn't have replaced the relationships that he's already developed with recruits and with players," Kiffin said. "We're going to lose him some day because he's going to be a head coach here pretty soon, but I'm glad we didn't lose him quite yet."
Barkley not ready yet
Matt Barkley
did not practice on Saturday as he still recovers from a sprained AC joint suffered against UCLA on Nov. 17, but Kiffin does anticipate the senior quarterback to return to action once the team arrives in El Paso for their bowl week workouts on Dec. 26. In his place,
Max Wittek
and
Cody Kessler
once again saw extensive time running the offense.
December, 3, 2012
12/03/12
8:18
AM PT
Some selected quotes from Lane Kiffin's Sunday night conference call following the announcement that USC will be playing in the 2012 Hyundai Sun Bowl in El Paso, Texas against Georgia Tech.
Open:
"On behalf of all of USC, we're very excited about this matchup, and coming down there for a New Year's Eve game. And, obviously, we have a very quality opponent who has finished their season very strong down the stretch. They've had a long run of great bowl games and they're extremely well coached. We're excited to get to work and start our preparations this week for the game."
[+] Enlarge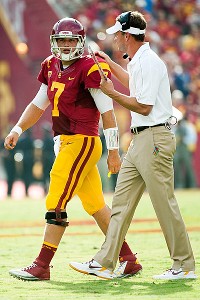 Jonathan Moore/Getty ImagesLane Kiffin expects to have Matt Barkley back for the Sun Bowl on New Year's Eve.
On what has gone wrong for the Trojans in 2012:
"I think that it's been well documented. We turned the ball over too much on offense, and we didn't play very good defense a lot of times. So when you give up the numbers that we did on defense, and then the turnover margin -- the way we turned the ball over the last half of the season -- that's where we're at today. We started the season -- I think we're 6-1, getting ready to go 7-1 -- up 15 at Arizona, and then it went downhill from ther,e and we had five really bad weeks where we went 1-4 in those games."
On playing in a bowl for the first time since 2009:
"It's very exciting, especially for two years of sitting at home and not being able to go to a bowl game. We're excited about a very good bowl and a great matchup."
On whether Matt Barkley is expected to play:
"We anticipate that Matt will play."
On whether Monte Kiffin will coach the bowl game:
"He will, yes."
On whether Georgia Tech has an edge playing in the same bowl in 2011:
"Well, I think that having gone through that as coaches and players, that there is some advantage, but I don't think that it's that big. Every year people go to bowl games, and most of the time they have not been to that bowl game with that current team over the last couple of years. So I don't think that it's that big of an advantage."
On facing Georgia Tech's triple-option offense:
"Yes, it's obviously going to be very different, and they're unbelievable at it. They've done a great job and they understand the adjustments so well. So our video guy got everything cut up today of their whole season, and we'll go to work in the morning."
On how going to the Sun Bowl will help the program:
"Well, it's great first off just because you get more practices for our young players who are our future. You know, to have these practices that we've not had over the last two years."
On whether or not Kiffin has ever faced Georgia Tech's Paul Johnson:
"No, I have not. I just have a lot of respect for the way that his teams have played. I think it's well documented that [they] haven't recruited a bunch of five-star players over the years -- he's done an unbelievable job of making the most out of their players. They've been playing extremely competitive for years."
On the significance of the game for Matt Barkley:
"He hasn't gone to a bowl game over the last couple of years, so it's a chance to go to one and finish off strong – for him and for the senior class. It's a great opportunity for him."
On if Kiffin knows when he plans to hire a new defensive coordinator:
"I do not."
On how many practices USC will use in preparation for the Sun Bowl:
"There will probably be somewhere between 13-15."
On the team's mood after landing in the Sun Bowl:
"I think they're excited because they haven't had a bowl game the last two years. You know, the chance to do that as opposed to sitting at home. I think they're very excited for it."
The team's reaction to Monte Kiffin's resignation:
"Well, I think they're a little bit sad because they've had a lot of experience with him -- some recruits came here partially because of him -- but I know that they respect him for his work ethic and what he's done, and how much energy he put in to try to make them better."
December, 2, 2012
12/02/12
8:44
PM PT
By
Pedro Moura
| ESPN.com
LOS ANGELES --
Matt Barkley
is expected to play, Monte Kiffin will still coach and
USC
will practice 13-15 times before its New Year's Eve appearance at the Hyundai Sun Bowl against ACC runner-up
Georgia Tech
.
That's all the Trojans know for now -- and the game's in El Paso, Texas at 11 a.m. PT. USC coach Lane Kiffin said he'll begin to review tape on the Yellow Jackets and their famed triple-option offense on Monday morning.
But, he said Sunday night, earning a bowl bid this season was "very exciting, especially after two years of sitting at home of not being able to play."
Kiffin went on to say he and the Trojans were "excited" or the bowl announcement was "exciting" at least five more times in a conference call lasting less than 10 minutes.
He also said that he anticipates Barkley will play one last collegiate game. The senior signal-caller missed last month's regular-season finale against Notre Dame because of a sprained shoulder suffered against UCLA.
Kiffin said USC's players were a "little bit sad" when they heard Thursday's news that assistant coach Monte Kiffin would resign after the bowl game.
"Some recruits came here partially because of him," Lane Kiffin said. "But I know that they respect him for his work ethic and what he's done."
Georgia Tech (6-7) is the only team with a losing record that will play in a bowl this postseason. The Yellow Jackets' offense, averaging 34.5 points, is fourth in the country in rushing yards per game, at over 300.
Quarterback
Tevin Washington
has 19 rushing touchdowns this season, an ACC single-season record. He's one of three Yellow Jackets to rush for at least 300 yards this season.
The Tech defense allows nearly 30 points per game but held No. 13 Florida State to just 21 points in a six-point loss in the ACC championship on Saturday.
USC will begin bowl-game practices on Wednesday and practice between 13 and 15 times before the Sun Bowl, Kiffin said.
The bowl's late date -- the other options would've been on Dec. 22 or Dec. 27 -- gives USC more practice time, and also allows Barkley more time to heal his shoulder.
December, 2, 2012
12/02/12
6:43
PM PT
By
Pedro Moura
| ESPN.com
LOS ANGELES --
USC
will play
Georgia Tech
in the Hyundai Sun Bowl on New Year's Eve, the school announced Sunday night.
USC (7-5) started the season as the No. 1 team in the AP poll but plummeted out of the rankings after losing four of its final five games. Now, the Trojans will play the only team with a losing record eligible for a bowl in 6-7 Georgia Tech.
"After not being in a bowl the past two years, we look forward to playing in a bowl with the tradition of the Sun Bowl," USC coach Lane Kiffin said in a statement. "Georgia Tech is a very well-coached team and will present a challenge on both sides of the ball, especially with their great ability to run the ball.
"Although our season didn't go as well as we hoped, we appreciate the opportunity we now have to play another game and attempt to go out on a winning note."
USC was ineligible for postseason play the last two seasons due to NCAA sanctions. The last time the Trojans played in a bowl was December 2009, in the Emerald Bowl against Boston College. USC won that game 24-13.
The Yellow Jackets lost to No. 13 Florida State in Saturday's ACC championship Game but had already applied for and been granted a waiver for eligibility. They also played in the Sun Bowl in 2011 and lost to Utah in overtime.
Georgia Tech won only one game over a team with a winning record this season. Yellow Jackets coach Paul Johnson, who runs a triple-option offense, said USC will be a unique challenge.
"Coach Kiffin is an outstanding coach with some outstanding players, so that'll be a huge challenge," Johnson said.
PAC-12 SCOREBOARD
Thursday, 9/3
Friday, 9/4
Saturday, 9/5