December, 30, 2012
12/30/12
1:35
PM PT
LAKE BUENA VISTA, Fla. -- Four-star defensive end
Quinton Powell
(Daytona Beach, Fla./Mainland) has set his official visit to USC for Jan. 18. The 6-foot-2, 200-pound athlete said he will also visit South Carolina, Oregon and possibly Miami.
"I set up Jan. 18 for USC," Powell said today at Under Armour All-America Game registration at Disney's Yacht Club Resort. "South Carolina, I'm taking that around the 20th of January. Oregon, I'll have to set up something with them too. Miami, I really haven't talked to them but I'm going to, I'm going to after this game."
Powell said he talks to former high school teammate
Leonard Williams
, a freshman defensive tackle at USC, about his experience at USC.
To continue reading this article you must be an Insider
November, 28, 2012
11/28/12
6:38
PM PT
Arizona, Arizona State, USC and Washington fans:
Go here
. Soak it up. Take in the glory of Mississippi State.
(At this point, we'd encourage Mississippi State fans to turn away. Just as we are supposed to love the sinner but hate the sin, we love you but not your schedule).
The Bulldogs' best win this year was over Middle Tennessee, a team that lost to McNeese State. Its four SEC wins came against teams that went a combined 14-34.
Arizona, you beat Oklahoma State, Washington and USC. Arizona State, you beat Arizona. USC, you beat Arizona State and Washington. Washington, you beat Stanford and Oregon State. Heck, Arizona's win over Toledo and Washington's over San Diego State are better than anything Mississippi State did this year.
Each of you, I suspect, would pound Mississippi State. The Bulldogs, bless their hearts, aren't very good.
Ah, but the Bulldogs are 8-4. So many college football fans -- and media members -- look at their eight wins and your seven and say, "Mississippi State is better than Arizona, Arizona State, USC and Washington."
This is a ramification of having 7-5 disease, which some years is also known as 6-6 disease.
What's the big deal? Well, Mississippi State is probably going to go to the Franklin American Mortgage Music City Bowl where it will play an NC State team that just fired its coach, according to our friends with ESPN.com's SEC and ACC blogs. The Bulldogs should prevail -- NC State is, after all, the ACC's only bowl-eligible 7-5 team -- and load up a ninth victory.
[+] Enlarge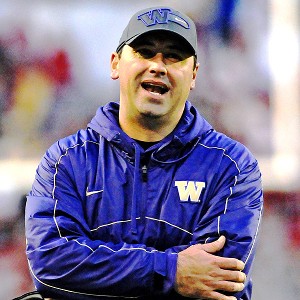 James Snook/US PresswireSteve Sarkisian's Washington team just couldn't escape the 7-5 disease outbreak.
And at 9-4, my guess is that the Bulldogs will end up ranked in the final AP poll. At 8-5, even after a nice bowl victory, Arizona, Arizona State, USC and Washington will be a a tougher sell.
The last 8-5 team to finished ranked was No. 23 Florida State in 2005.
The 14-team SEC has no 7-5 teams. The ACC has two. The Big East has one. The Big Ten has one.
Now go here
. Look over the Big 12 standings. Notice something?
The Big 12 has one 7-5 team (Texas Tech) and one 6-6 team (Iowa State). If Oklahoma State loses to Baylor on Saturday, both will be 7-5. If West Virginia beats Kansas, as expected, and TCU loses to Oklahoma, as expected, the Big 12 will have two more 7-5 teams.
The 10-team Big 12 could finish the season with four 7-5 teams and one 6-6 team, or three 7-5 teams and two 6-6 teams.
Now, we get to brass tacks: What do the Big 12 and Pac-12 share that the ACC, SEC and Big Ten do not?
If you said a nine-game conference schedule, you should give yourself a hand, pin a rose on your nose and exclaim, "Larry Scott, can we please -- PLEASE! -- kill the nine-game conference schedule?!"
I know I write this like, I don't know,
43 times a year
. But I'm writing this now because of
this column from my buddy
, David Ubben, the Big 12 blogger. David sounds a bit peeved that folks aren't giving his conference the respect it deserves because of that confounded nine-game conference schedule. He sounds a bit like me through the years.
By the way, Big 12, welcome to the frustration club on this one, though I do seem to recall many of you in past years waving away the nine-game versus eight-game argument when Pac-10 folks raised it. We won't bring up your weak nonconference scheduling right now because that would be a rude way to greet new members of the club.
The Big Ten actually thought about going to a nine-game schedule. It got wise, perhaps
because a certain blogger explained the math
.
The nine-game conference schedule was adopted by the Pac-10 in 2006. It's always been a terrible idea, but at least back then there was a concrete justification: The Pac-10 played a full round-robin schedule and therefore crowned a true champion because everyone played everyone else, even if some years a complicated tie-breaking system was needed.
Now all it does, by definition, is drop six extra losses into the conference every year and create scheduling imbalance, with some teams having five home conference games and some with four. It hurts the conference in both the human and computer polls.
The end result is this: Arizona, Arizona State, USC and Washington, instead of sitting at 8-4, become 7-5 teams with little hope of ending up nationally ranked after the bowl season.
Of course, the schedule doesn't deserve all the blame for a surfeit of Pac-12 mediocrity. If Arizona, USC and Washington took care of business last weekend in winnable games, the Pac-12 currently would have seven ranked teams with eight or more wins. That would have been great fun, though I'm sure giddy Sun Devils and Cougars fans couldn't care less about that.
College football will play its final year in the BCS system in 2013. The next season, we'll start a four-team playoff, which is likely the first step toward something bigger and far more lucrative.
Already the dynamic is changing. Where there were once six power conferences, there are now four. A great race for revenue is ahead as the conference pecking order is again redefined.
By playing nine conference games, the Pac-12 only will ensure it starts the race from behind.
November, 12, 2012
11/12/12
12:30
PM PT
The Pac-12 takes center stage this week with two of the three matchups of ranked teams, and both games are chock full of national intrigue.
No. 2 Oregon plays host to No. 13 Stanford with the Pac-12 North Division on the line (mostly). The Ducks, of course, are fighting for a berth in the national title game, but first they want to secure home-field advantage for the Pac-12 championship game on Nov. 30.
[+] Enlarge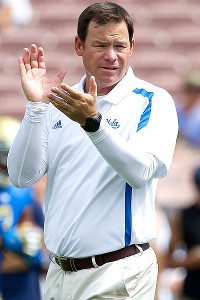 AP Photo/Nick LuceroThe annual rivalry game with USC will have more than bragging rights at stake this season for coach Jim Mora and UCLA.
And No. 18 USC visits No. 17 UCLA with the South Division on the line (completely). The Battle for L.A. is once again relevant, with the Bruins and first-year coach Jim Mora having a chance to reverse a decade of negative momentum with one big Saturday statement.
The other game with ranked teams? No. 23 Texas Tech at No. 24 Oklahoma State. Neh.
Stanford will be the highest-ranked opponent that Oregon has faced thus far this season, but the Ducks have owned the Cardinal of late. Not only have the Ducks won nine of the past 10 games in the series, they've scored 105 points combined in the past two games while winning each by more than 20 points.
Stanford, however, controls its own destiny just like Oregon. If it beats the Ducks, and then finishes its season with a win at UCLA, it wins the North. If Stanford beats Oregon but loses to UCLA, and the Ducks also go down at Oregon State, the Cardinal would win the North Division because it would have head-to-head victories over both the Ducks and Beavers.
As for USC-UCLA, the Trojans have dominated the series of late, winning five straight and 12 of the past 13. All five victories during the current winning streak have been by at least 14 points, including a 50-0 bludgeoning last season. UCLA's last win in the series came in 2006 when they upset the Trojans 13-9 at home.
This showcase weekend is a seeming climax for an interesting year for the Pac-12. For one, the conference has joined the SEC and the Big 12 as the nation's dominant leagues, with decisive superiority -- 17 members of the present BCS standing's top 25 -- compared to other "AQ conferences." Six of 12 Pac-12 teams are ranked in the BCS standings. For the Big 12, it's five of 10, and the SEC features not just six of 14 but six in the top 9.
Yet it's possible for the first time in three years the Pac-12 won't get a second BCS bowl team, which would dock the conference's 2012-13 bowl payout by about $6.1 million, or $508,333 per team. Just to be eligible, a second team must be ranked in the final top 14 of the BCS standings. Further complicating matters is Notre Dame. If Oregon earns a berth in the national title game, more than a few projections have the Rose Bowl picking Notre Dame -- undefeated or with one loss -- over a three-loss Pac-12 team.
Still, there's enough football left complicating potential scenarios that the speculation is mostly an academic exercise at present, not unlike guessing who-done-it two-thirds of the way through a mystery novel.
As for the rest of the Pac-12, things also are intriguing. Seven teams are already bowl eligible, and only three -- California, Colorado and Washington State -- are guaranteed losing records. To become bowl eligible, Arizona State needs to win one of its final two games -- Washington State and at Arizona -- and Utah needs to win both its final two -- Arizona and at Colorado.
If the conference has eight or even nine bowl eligible teams, things could get interesting. For one, the conference's seven contracted bowls have plenty of flexibility for choosing teams. There figures to be some politicking among conference teams. And, perhaps, some hurt feelings. Further, the 6-6 teams at the end of the bowl pecking order likely will be scrambling free agents, ending up in bowl games you probably haven't paid any attention to before.
This should be the best weekend of the Pac-12 season so far. It may provide further clarity. Or it might just thicken the plot.
October, 29, 2012
10/29/12
10:45
AM PT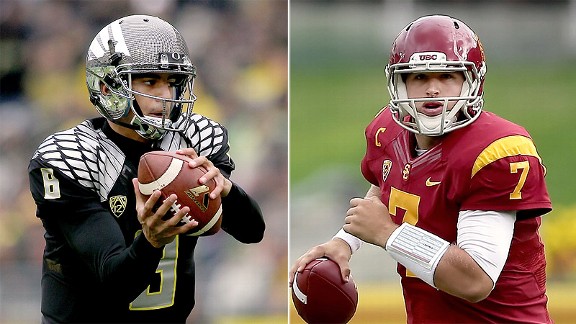 Getty ImagesA win this weekend for Oregon and quarterback Marcus Mariota over USC and QB Matt Barkley could represent a power shift in the Pac-12.
Is Oregon-USC about a passing of the guard?
The one absolute history teaches us is there will be change. Nothing lasts forever. Empires fall. In ancient times, no one could conceive a world without Roman domination.
Look at Italy now
.
USC has 11 national championships. Oregon has none. And it wasn't too long ago that USC under Pete Carroll made a dynastic run that terrorized college football. From 2002 to 2008, USC was college football's pre-eminent power, the lone program that made the SEC quake in fear.
But there is a distinct sense that Chip Kelly and the
Oregon Ducks
are headed to the Coliseum on Saturday to grab the Pac-12 sword from Tommy Trojan and take it back to Eugene.
It wasn't supposed to be like this. In the preseason, the overwhelming consensus was USC was ready to reclaim its place atop college football. The Trojans, emerging from a two-year postseason ban courtesy of the NCAA, welcomed back 19 starters from a team that went 10-2 and won at Oregon. They looked like a potentially all-time great team on offense, with a talented defense playing a strong supporting role.
Meanwhile, Oregon was replacing six offensive starters, including a two-year starter at quarterback in Darron Thomas and its all-time leading rusher, LaMichael James. The defense looked stout, but there were plenty of questions. It seemed premature, despite three consecutive Pac-12 titles, to call the Ducks a "reload, not rebuild" outfit.
Au contraire.
Oregon has been a well-oiled machine. It has rolled over everyone like an army of steamrollers and sat its starters for large portions of the second half. Sure, the schedule hasn't featured any A-list foes. But Arizona, Arizona State and Washington are a combined 14-10 with wins over Oklahoma State, Stanford, Oregon State and USC, and the Ducks beat them by a combined count of 144-42.
USC has flashed brilliance at times on both sides of the ball this season, but that only serves to provide a stark contrast for the moments of inexplicable mediocrity and sloppiness. The Trojans are 120th -- last! -- in the nation in penalties and penalty yards per game.
And last by a fairly wide margin
.
Quarterback Matt Barkley has thrown eight interceptions. He threw seven all of last year.
And to cut to the chase, USC already has two losses, to Stanford and Arizona, that have thrown a blanket of "Neh" over what was supposed to be not only the Pac-12 game of the year, but also perhaps the national game of the year.
So it's fair to ask what it might mean -- big picture -- if Oregon prevails and then goes on to win a fourth consecutive Pac-12 title: Are the Ducks poised to displace USC atop the conference for the long term?
USC fans would rightly counter, "Well, how about the Ducks win a national title first?" That's fair.
Oregon fans probably would admit there's a reasonable -- and nagging -- qualifier here also: "As long as coach Chip Kelly stays in Eugene."
While Oregon probably wouldn't tumble into mediocrity if Kelly bolted for the NFL -- the program is too rich and too Nike'd -- this run of dominance feels like its foundation is built on Kelly's cult of "Win the Day" personality.
But the Pac-12 blog, just like Kelly quashing an interesting question, won't deal in hypotheticals.
So then, if the Ducks roll over the Trojans on Saturday by multiple touchdowns -- an unthinkable idea in the preseason -- and go on to win a fourth consecutive Pac-12 title, that feels like it could be a resonating statement.
Further, USC has two more years of scholarship sanctions. It can sign no more than 15 players for the next two recruiting classes (though there's some backwards-looking wiggle room coach Lane Kiffin has skillfully exploited) and can't exceed more than 75 players on scholarship, instead of the standard 85. All along, the point has been repeatedly made that USC will be most taxed by sanctions over the next two to three years.
Meanwhile, a glance at Oregon's roster, led by redshirt freshman QB
Marcus Mariota
, and sophomore fancypants
De'Anthony Thomas
, suggests the Ducks aren't going anywhere. This is almost certainly a preseason top-five team in 2013.
It seems like a potential old-school to new-school transition is at hand. From a program with iconic uniforms and pageantry that is immediately recognizable to college football fans across the country, to a program that changes uniforms every week and isn't afraid to wear lime-green socks.
Of course, the reality is USC won't go easily into the night. It has too much tradition. And let's not forget this: Location, location, location. USC's presence in Southern California's recruiting hotbed means the potential for program greatness is built-in.
And maybe USC pulls the shocker on Saturday and gets to smirk back at all the doubters.
Yet if Oregon takes care of business as most now expect, something might very well change. When someone asks, "Tell me about the Pac-12?" The new response will be, "Well, of course, there's Oregon first. You know about them, right?"
October, 10, 2012
10/10/12
1:45
PM PT
JACKSONVILLE, Fla. -- ESPN Watch List inside linebacker
Kain Daub
(Jacksonville, Fla./Sandalwood) will likely be one of the top linebackers in the country next year. After the 6-foot-3, 227-pound athlete committed to LSU on July 14, he shut down his recruitment. But now he is thinking about opening things back up.
"My LSU commit is still pretty solid, but I think I'm going to open up the doors up again," Daub said. "Anything could happen, there could be a coaching change and I just want something to fall back on and not just close all doors just because I committed to LSU."
Daub recently transferred from Ponte Vedra (Fla.) Nease to Sandalwood High School and is now playing alongside Alabama defensive end commit
DeMarcus Walker
. Daub, who has more than 15 offers, said Walker continually tries to get him to switch to Alabama.
To continue reading this article you must be an Insider
September, 24, 2012
9/24/12
6:29
PM PT
GAINESVILLE, Fla. -- ESPN 150 defensive tackle
Greg Gilmore
(Home Mills, N.C./South View) took an official visit to Florida this past weekend. The 6-foot-4, 285-pound four-star tackle said he enjoyed his trip to Gainesville.
"It was great man," Gilmore said. "I had a great time. It was a good game. The defensive front played well and that's really what I'm looking for is the defensive front. The whole defense, the whole offense, everybody played well.
"I talked to the coaches all the time I was there pretty much. They told me I would be a key essential to putting their defense together. They were saying they need more guys -- more guys that are good coming out of high school and more guys that need less development. I mean everyone needs development, but they are looking for guys that can play early."
To continue reading this article you must be an Insider
August, 27, 2012
8/27/12
12:30
PM PT
In 2000, Oklahoma won the national title without any starters missing a game due to injury. Think about that. Think of all the injuries that your team has suffered through the years that make you go "what if?" I hear you Oregon, 2007.
With that thought, we introduce you to the 2012
USC Trojans
-- a team loaded with talent and top-ranked by the Associated Press. If the national title game were to be played Saturday, the Trojans would be solid favorites against anyone.
And, yes, when that's the case, the media hype machine opens its maw wide and spews forth words, pictures and video that function as polarizing, love-hate attention-getters. USC and coach Lane Kiffin don't inspire many neutral reactions across the college football nation. Switzerland, USC is not.
As for talent, USC's is fairly remarkable, particularly on offense. There is no better offensive troika in the nation than quarterback
Matt Barkley
and receivers
Robert Woods
and
Marqise Lee
. More than a handful of NFL teams would trade what they have for what USC has. There are a pair of 1,000-yard rushers behind Barkley:
Curtis McNeal
, who averaged 6.9 yards per rush in 2011, and Penn State transfer
Silas Redd
. Four starters are back from an offensive line that was very good last year. And both tight ends are NFL prospects.
[+] Enlarge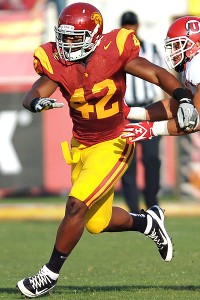 Cal Sport Media via AP ImagesThe Trojans were already replacing three starters on the D-line when they likely lost defensive end Devon Kennard for the season.
On defense, the back seven returns intact. And the Trojans welcome back both specialists.
Of course, you've read this before. In fact, this accounting of USC's starting 24 has become redundant. As is the caveat that the Trojans -- limited to 75 scholarships, 10 below the typical limit per NCAA sanctions -- are thin behind that strong starting lineup. In fact, most measures show the Trojans at present with just 71 scholarship players.
Yes, on paper today, this team looks better than anyone. But 12 regular-season games and a Pac-12 championship game lie between the Trojans and a berth in the BCS national title game. Attrition is typically an immutable -- and frustrating -- rule of college football. A redo of Oklahoma in 2000 is probably too much for Trojans fans to expect.
So, starting with a home date with Hawaii on Saturday -- Norm Chow finally getting his chance as a head coach -- the million dollar question is, can USC stay healthy enough to claw its way back to the top of college football? That's the first issue.
The second? How do folks feel about USC's quick return to the national title race despite brutal -- and brutally unfair -- NCAA sanctions that were intended to cripple a dominant power?
In the Pac-12, Oregon fans feel slighted by the USC hype. After all, the Ducks stepped up when the Trojans stepped down and won three consecutive conference titles. Nationally, there's the widespread -- and ignorant -- opinion that USC is one of the nation's corrupt , football-first programs. And down South there's the whispered suspicion that the biggest threat to SEC supremacy is USC.
Wherever you stand, be prepared: If USC piles up wins and impressive performances, the hype churn will only get more frenzied. Just the way it is.
As for depth issues -- so mundane! -- plenty of teams are thinner than the Trojans, whose roster is still full of four- and five-star recruits. But it's not difficult to create worry when fiddling with a black marker and the USC depth chart, particularly on defense.
For example, what if you mark off sophomore
George Uko
, the Trojans' best and most experienced defensive tackle? The remaining four defensive tackles are all freshmen. The Trojans already were replacing three starters on their defensive line when end
Devon Kennard
was likely lost for the season due to a torn pectoral. Kennard split time with
Wes Horton
last year. Any further hit to the D-line could mean trouble.
Or take away one of those talented sophomore linebackers. "Uh-oh" is right. In fact, the only position on defense where there's solid, proven depth is safety.
Things are deeper on offense, though it's worth noting both of Barkley's backups are redshirt freshmen.
As for the schedule, USC stands as a clear favorite -- today -- against all 12 foes, including Oregon on Nov. 3. There's a tough Week 3 road date at Stanford, and then back-to-back visits to Utah (a Thursday night game) and Washington. Those certainly won't be walkovers.
But it's not difficult to look at USC's depth chart -- today -- and look at the schedule and conclude this team will be headed Jan. 7 to South Florida, where it won its last national title in 2004.
The "USC Watch," with all the cheers and jeers it will inspire, begins in earnest this week.
But an observer who can contain his emotions about the polarizing program might want to focus on the Trojans' injury report, which could prove as telling in the early going as the scoreboard.
August, 2, 2012
8/02/12
10:00
AM PT
USC wasn't eligible for the coaches' poll in 2011 due to NCAA sanctions, but it will start 2012 almost at the top.

The Trojans
are ranked third
, behind No. 1 LSU and No. 2 Alabama, the two SEC teams that played for the BCS national title last season.
The vote at the top was tight. USC, with 19, and Alabama, with 20, actually got more No. 1 votes than LSU (18). That should be your first warning of the "What the heck" nature of the poll. LSU, which welcomes back 15 starters from a 13-1 team and upgraded at quarterback with
Zach Mettenberger
, seems like a clear No. 1 to the Pac-12 blog.
LSU, with 1,403 points, was just ahead of Alabama, at 1,399. USC got 1,388.
It's a little surprising that USC isn't No. 2. Alabama only has 11 position players returning, including just five from last season's outstanding defense. But coaches tend to tip their caps to defending champs, and it's not unlikely that each of the seven SEC coaches in the poll -- the Pac-12 had six -- voted the SEC teams one-two. I also have a hunch a Pac-12 coach -- or two -- didn't vote USC either No. 1 or 2.
And, of course, the coaches poll, though it is unfortunately included in the BCS standings, is the least respected of all polls due to its regional biases, obvious conflicts of interest, lack of transparency and the simple fact that few coaches pay attention to teams they don't play. Oh, and many of the coaches hand off their votes to sports information directors.
Oregon comes in at No. 5, 18 points behind No. 4 Oklahoma. Stanford is 18th, just ahead of the Oklahoma State team that nipped the Cardinal in the Fiesta Bowl.
And that's it for the Pac-12 in the top-25. Washington came in at No. 26 and Utah at 32nd, based on the "others receiving votes" tally.
The SEC led all conferences with seven ranked teams. The Big 12 had six, including new members West Virginia and TCU. The Big Ten had four, the ACC three.
It's also evident that the voters ran out of steam in the top 25. Florida, Notre Dame and Auburn combined for 16 losses in 2011, but were ranked Nos. 23, 24 and 25, respectively.
As we noted, "What the heck!"
Here are the coaches who voted, per USA Today, including the six Pac-12 coaches, who are bolded:
The USA TODAY Board of Coaches is made up of 59 head coaches at Bowl Subdivision schools. All are members of the American Football Coaches Association. The board for the 2012 season: David Bailiff, Rice; Frank Beamer, Virginia Tech; Tim Beckman, Illinois; Bret Bielema, Wisconsin; Terry Bowden, Akron; Art Briles, Baylor; Troy Calhoun, Air Force; Matt Campbell, Toledo; Gene Chizik, Auburn; Dave Christensen, Wyoming; Mark Dantonio, Michigan State; Tim DeRuyter, Fresno State; Dave Doeren, Northern Illinois; Sonny Dykes, Louisiana Tech; Jimbo Fisher, Florida State; Kyle Flood, Rutgers; James Franklin, Vanderbilt; Al Golden, Miami (Fla.); Jim Grobe, Wake Forest; Darrell Hazell, Kent State; Brady Hoke, Michigan; Dana Holgorsen, West Virginia; Skip Holtz, South Florida; Mark Hudspeth, Louisiana-Lafayette; Curtis Johnson, Tulane; Ellis Johnson, Southern Miss; Butch Jones, Cincinnati; Brian Kelly, Notre Dame; Lane Kiffin, Southern California; Mike Leach, Washington State; Pete Lembo, Ball State; Tony Levine, Houston; Mike London, Virginia; Rocky Long, San Diego State; Dan McCarney, North Texas; Mike MacIntyre, San Jose State; Ruffin McNeill, East Carolina; Gus Malzahn, Arkansas State; Bronco Mendenhall, BYU; Les Miles, LSU; George O'Leary, Central Florida; Paul Pasqualoni, Connecticut; Bo Pelini, Nebraska; Chris Petersen, Boise State; Joker Phillips, Kentucky; Paul Rhoads, Iowa State; Mark Richt, Georgia; Mike Riley, Oregon State; Rich Rodriguez, Arizona; Nick Saban, Alabama; Steve Sarkisian, Washington; Frank Solich, Ohio; Steve Spurrier, South Carolina; Rick Stockstill, Middle Tennessee; Bob Stoops, Oklahoma; Dabo Swinney, Clemson; Jeff Tedford, California; Tommy Tuberville, Texas Tech; Kevin Wilson, Indiana.
July, 31, 2012
7/31/12
4:00
PM PT
We've told you about the
preseason Pac-12 media poll
, which projected things as most folks believed it would. But what about all the other media polls out there for teams that cross paths with Pac-12 teams this fall?
Don't worry. We are here to help.

The Pac-12 has dates with the preseason SEC (LSU-Washington) and Big Ten (Wisconsin-Oregon State) favorites, but there also is plenty of mediocrity on the nonconference slate this season. There's only one game between the conference and the ACC (Duke-Stanford) and Big 12 (Oklahoma State-Arizona). There's two between the Pac-12 and SEC because Missouri (Arizona State) switched its affiliation away from the Big 12.
And it's clear the Big Ten, the Pac-12's Rose Bowl rival, is still the chief partner for quality nonconference action. There also are dates with Illinois (Arizona State), Ohio State (California) and Nebraska (UCLA).
There also are seven dates with the Mountain West Conference: Colorado State (Colorado), Fresno State (Oregon, Colorado), Nevada (California), Hawaii (USC), San Diego State (Washington State) and UNLV (Washington State).
BYU and Notre Dame, as Independents, aren't in preseason media polls. FCS teams aren't included
Arizona
: Toledo (first in MAC West Division); Oklahoma State (fourth in Big 12)
Arizona State
: Illinois (fourth in the Big Ten Leaders Division); Missouri (fourth in SEC East)
California
: Nevada (second in Mountain West); Ohio State (second in Big Ten Leaders Division);
Colorado
: Colorado State (eighth in Mountain West); Fresno State (third in Mountain West)
Oregon
: Arkansas State (second in Sun Belt); Fresno State (third in Mountain West)
Oregon State
: Wisconsin (first in Big Ten Leaders Division)
Stanford
: San Jose State (third in WAC); Duke (last in ACC Coastal Division)
UCLA
: Rice (fifth in Conference USA West Division); Nebraska (first in Big Ten Legends Division; Big Ten champs); Houston (first in Conference USA West Division)
USC
: Hawaii (seventh in Mountain West), Syracuse
Utah
: Utah State (second in WAC)
Washington
: San Diego State (fifth in Mountain West); LSU (first in SEC West, SEC champs)
Washington State
: UNLV (ninth in Mountain West)
June, 18, 2012
6/18/12
2:01
PM PT
GAINESVILLE, Fla. -- Five-star offensive lineman
Laremy Tunsil
(Lake City, Fla./Columbia) visited Alabama, Georgia and Florida over the last week. The 6-foot-6, 295-pound tackle named a top three after his visit to Florida on Sunday.
"I would say they are my top three," Tunsil said of the three schools he visited. "It's a tie right now with all of them."
Tunsil, who camped at Alabama last weekend, visited Georgia on Friday and Saturday before heading to Gainesville on Sunday. The No. 3-ranked player in the country said he was impressed by what Georgia had to offer.
To continue reading this article you must be an Insider
March, 6, 2012
3/06/12
12:08
PM PT
GAINESVILLE, Fla. -- ESPNU 150 Watch List defensive back
Priest Willis
(Tempe, Ariz./Marcos De Niza) has seen his stock increase in the last few weeks.
The 6-foot-1, 200-pound athlete has added offers from Texas A&M, West Virginia, Florida, Colorado, LSU, Oklahoma and Oklahoma State recently. Willis also holds offers from UCLA, Cal, Florida State and USC.
Willis said he is excited about the Florida offer.
To continue reading this article you must be an Insider
February, 13, 2012
2/13/12
7:45
AM PT
JACKSONVILLE, Fla. -- Five-star wide receiver prospect
Ahmad Fulwood
(Jacksonville, Fla./Bishop Kenny) will be one of the most highly recruited prospects in the state of Florida for the 2013 class, but he is likely headed out of state to play college football.
Fulwood lists Clemson, Alabama, USC, Arkansas, Georgia, Ohio State and Notre Dame as schools that he is most interested. The 6-foot-4, 200-pound receiver said that out of those schools, he likely will visit Georgia, Clemson, Ohio State and possibly USC this spring.
Noticeably missing are in-state schools Florida, Florida State and Miami. Fulwood said he is likely to leave the state to attend college. Fulwood, who is from New Jersey, said there is no particular reason he wants to leave the state.
To continue reading this article you must be an Insider
January, 10, 2012
1/10/12
5:40
PM PT
With signing day less than a month away you would think top wide receiver
Stefon Diggs
(Olney, Md./Our Lady of Good Counsel) would be closing in on making his decision. Diggs, however, says he's nowhere near ready to make a college choice.
"I don't have a leader or top five or anything like that," Diggs said Tuesday night. "I'm wide open, and I'm planning on waiting until after signing day to make my final decision."
Diggs, ranked the No.10 player in the country by the ESPNU 150, will visit Auburn this weekend but said he's not sure what his plans will be in the future.
To continue reading this article you must be an Insider
December, 27, 2011
12/27/11
7:12
AM PT
GAINESVILLE, Fla. -- Four-star cornerback prospect Tracy Howard (Miramar, Fla./Miramar) will take his fifth and final visit to Florida at the end of January. Howard had previously considered visiting USC with his final visit but decided on Gainesville instead.
Howard's mother, Shaiy, confirmed the plans on Monday. Howard, who will participate in the U.S. Army Bowl on Jan. 7, already has visited Florida State and West Virginia. In addition to the Florida visit, Howard also will visit Alabama and LSU.
To continue reading this article you must be an Insider