September, 8, 2012
9/08/12
5:26
PM PT
Game ball goes to:
Robert Woods
.
Marqise Lee
grabbed the spotlight last week, but in this game it was Woods who reminded everyone of how good he can be when healthy. Woods -- who missed offseason workouts while rehabbing from ankle surgery -- was back to his playmaking self with 10 catches for 93 yards and two touchdowns, a 76-yard run from scrimmage and a 31-yard punt return.


Stat of the Game:
Six touchdown passes for
Matt Barkley
. It wasn't the most explosive night for Barkley --
he only passed for 187 yards
-- but he made the most of those completions by tying his own USC record for most touchdown passes in a game.
It was over when:
The Syracuse onside kick failed in the fourth quarter. The Orange had just scored a touchdown to pull within 35-22 and there was plenty of time left for a potential comeback.
Ryan Nassib
was in rhythm, so if Syracuse had recovered things could have gotten interesting, but
Marquis Simmons
made the play for the Trojans.
What we learned about USC:
The Trojans are 2-0. Lane Kiffin said his goal for the week was to win the game and get on a plane back home. Mission accomplished. The Trojans suffered through penalties in the first half which prevented any kind of offensive flow, but eventually the big-play abilities of Woods helped get things going and helped lead the 42-point effort.
What we learned about Syracuse:
The Orange are as good as any 0-2 team in college football. They started slow but stayed in the game early and played physical football with the Trojans in the first half. Syracuse was able to get the passing game going more in the second half and they eventually outgained the Trojans in overall yardage -- 455 to 445.
September, 7, 2012
9/07/12
12:13
PM PT
By
Pedro Moura
| ESPN.com
The No. 2
USC Trojans
play their first road game of the 2012 season against Syracuse (12:30 p.m. PT) on Saturday at MetLife Stadium in East Rutherford, N.J. Here are five things to watch:
1. A different approach in the backfield.
Who could have predicted that
Curtis McNeal
and
Silas Redd
, both 1,000-yard rushers in 2011, would have combined to carry the ball 14 times against Hawaii? Not many. But the Trojans are sure to alter that distribution of the play calls this week, both to keep McNeal and Redd happy and to show teams on tape that they're not overly reliant on the pass. Also of note: With
D.J. Morgan
out after undergoing knee surgery, who's going to be USC's third back? A quick look at the depth chart would tell you it's redshirt freshman Buck Allen, but it would not be surprising if fullback
Soma Vainuku
ended up getting the majority of the carries behind McNeal and Redd.
2. Passing talent.
Ryan Nassib
, Syracuse's senior quarterback, can play. He had success against USC last season at the Coliseum, with a 68 percent completion rate and no picks, and he had a lot of success in Syracuse's opener last week against Northwestern, with a school-record 470 passing yards. The Trojans have enough talent in their secondary to keep the Orange offense from really getting going, but there are still some questions. Last week, Hawaii found it could attack the Trojans' second and third corner slots and consistently advance the ball. If that's the case again Saturday, it could lead to a bit of trouble for USC. Syracuse's leading receiver in 2011,
Alec Lemon
, sat out Week 1 and is questionable this week.
3. Injured returns?
Cornerback
Torin Harris
and linebacker
Lamar Dawson
, two of the three Trojans who missed last week's opener because injury, said this week that they'll be back for Syracuse. So that will add some intrigue, especially since Trojans coach Lane Kiffin seems to think Harris could solidify that second corner spot if healthy. Adding Dawson into the mix given his weeks of missed camp could be a risky proposition, but USC clearly feels it makes more sense to introduce him this week than next week in Palo Alto. He has to start playing again sometime if he's going to be the Trojans' regular middle linebacker.
4. The road and NFL atmosphere.
USC will play in at least two NFL stadiums this season -- Saturday at MetLife and next month at CenturyLink Field in Seattle (Washington's home stadium is being renovated). This week's venue is particularly interesting because it's being used for two NFL games in a five-day span surrounding USC's appearance. The New York Giants played the Dallas Cowboys there Wednesday, and the New York Jets will host the Buffalo Bills on Sunday. But reports out of New Jersey say the entire top level of MetLife Stadium will be closed down for USC-Syracuse, cutting the max number of attendees from 82,000 to roughly 40,000.
5. Barkley and Lee, Barkley vs. Lee
. It was widely assumed in the offseason that
Matt Barkley
would be USC's top Heisman Trophy candidate. It only made sense, with a senior quarterback returning to a preseason BCS favorite. But
Marqise Lee
sort of stole the show in Week 1, and if he keeps up that type of play into the meat of the Trojans' schedule, he could conceivably start to take away votes from Barkley. So, in these early-season games where the outcome isn't much in doubt, it'll be fun to follow the statistical race between the two. What's better, a 200-yard, two-touchdown game as a receiver or a 400-yard, four-touchdown game as a quarterback? It's also Barkley's 22nd birthday on Saturday, so maybe he'll get the benefit of the doubt this time.
September, 6, 2012
9/06/12
12:33
PM PT
The Trojans held a brief practice session on Thursday that was more a "mental" session, according to USC head coach Lane Kiffin.
"This is a business trip for us," Kiffin said. "It's not about playing in an NFL stadium, or players getting to see their families. It's about winning the game and getting on a plane to come back home."
The Trojans will depart for New Jersey early on Thursday afternoon and will take part in a walk-through at MetLife Stadium on Friday. The team normally doesn't do a walk-through in the stadium where it will play the next day, but Kiffin said he made an exception this time because the team is staying so close to the stadium.
As far as the goals for the game, Kiffin mentioned slowing down Syracuse quarterback
Ryan Nassib
and continue to get more playing time for his younger guys.
"We want to try and get Nassib in third-and-long situations," Kiffin said. "He is so good with his short passes and getting rid of the ball quickly, he doesn't get rattled. We need to do everything we can to get to him and disrupt his timing.
"We also need to continue playing younger players. We did it in the first game and it's something we're committed to doing. We're going to need them at some point during the season."
The USC vs Syracuse game will be shown on ABC at 12:30 p.m. PT with pre-game radio coverage beginning at 8:00 a.m. PT on ESPNLA radio (710am).
September, 6, 2012
9/06/12
7:40
AM PT
Each week we will take a look at five important storylines heading into Saturday's game. Here are some things to watch for at the Trojans travel to New York to take on Syracuse.
1. Matt Barkley in the Big Apple:
One of college football's marquee players in the biggest media market of them all. The spotlight will be bright and America will get an up-close look at how real it is with Barkley, on and off the field. There will also be talk of a possible return to the city for the Heisman Trophy ceremony in December.

2. Establishing the run game:
The Trojans only rushed for 81 yards against Hawaii, not a bad number but certainly one that Lane Kiffin wants to improve on in the coming weeks. Don't be surprised if
Curtis McNeal
gets a lot of early touches.
To continue reading this article you must be an Insider
September, 6, 2012
9/06/12
7:35
AM PT
By
Johnny Curren
| ESPN.com
Each week We Are SC will take a look at five storylines involving its Saturday opponent. Here are some key things to watch about Syracuse.
1. Nassib with a test:
Ryan Nassib
certainly started the season off on the right foot, setting single-game records for passing yards (482), completions (45), attempts (66) and total offense (512 yards). And while his talent is undeniable, the three-year starter faces a much stiffer test this week as he goes up against a Trojans defense led by safety
T.J. McDonald
.

2. Tall task for defense:
With
Matt Barkley
,
Marqise Lee
and
Robert Woods
acting as the headliners, The Trojans offense presents a daunting challenge for the Syracuse defense. Players like defensive end
Markus Pierce-Brewster
and linebacker
Dan Vaughan
will need to pressure Barkley if the Orange are going to have a chance here.
To continue reading this article you must be an Insider
September, 5, 2012
9/05/12
1:42
PM PT
By
ESPN Stats
and
Information
| ESPN.com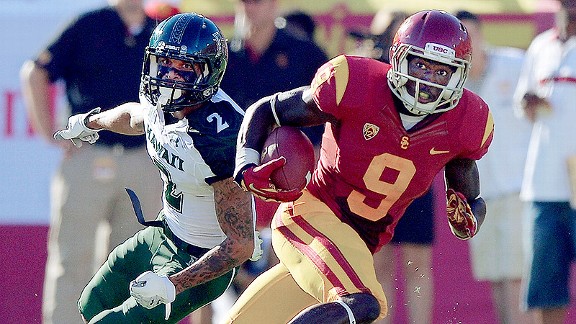 AP Photo/Mark J. TerrillIf Marqise Lee was an FBS team, the 138 yards-after-catch that he racked up in week one against Hawaii would have tied him for fifth in the nation.
This will be the first of a series of statistical looks at the USC football program. This blog post is designed to take you beyond the box score of last week's game and briefly look ahead to next week's matchup with Syracuse
.
Recap of 49-10 win against Hawaii
USC quarterback
Matt Barkley
picked up where he left off at the end of last season, throwing for 372 passing yards and four touchdowns on Saturday versus Hawaii.
It was Barkley's sixth game with at least 300 yards passing and four touchdowns since the start of last season, two more than any active FBS player.
Barkley has his teammates to thank for this offensive output.
USC gained 224 of its 394 passing yards after the catch on Saturday, led by
Marqise Lee
, who gained 138 of his 197 yards after the catch.
The Trojans led all top 25 teams in yards gained after the catch in Week 1, amassing their second-most yards after the catch since the start of 2009 (gained 234 YAC against UCLA in final game of 2011).
Most Yards After the Catch in Week 1
AP Top 25 Teams
USC 224<<
West Virginia 176
Oklahoma State 176
Arkansas 174
Texas 138
>>138 by Marqise Lee
Lee continued to dominate in all facets of the game, becoming the second FBS player since 2000 with 10 receiving, 150 receiving yards, receiving touchdown, and a kickoff return in the same game.
Since Week 9 of 2011, Lee has averaged 212 rushing, receiving and return yards per game, most among active players who have played at least 4 games.
Looking Ahead to Game 2: at Syracuse
Syracuse played one of the most exciting games of Week 1, losing to Northwestern in a 42-41 thriller.
Quarterback
Ryan Nassib
threw for an FBS-leading 470 pass yards in that game, including 17 completions of 10 yards or longer.
The Trojans have struggled stopping deep passes since Lane Kiffin took over as head coach. Only Tulsa has allowed more completions of 10-plus yards than the 293 that USC has allowed since the start of 2010.
Syracuse has averaged just 120.9 rush yards per game since the start of last season (97th in FBS), so the key to USC's defense will be limiting Nassib and his big-play abilities.
When USC is on offense, Syracuse must slow Lee and
Robert Woods
after the catch. Additionally, Syracuse should limit its blitz against Barkley, who has 21 touchdowns and no interceptions since the start of last season when opponents send five or more pass rushers.
In Week 3 against the Orange last year, Barkley completed 9 of 10 passes with four touchdowns and no interceptions while averaging 14.6 yards per attempt when Syracuse sent a blitz.
Barkley is the only player in FBS to have thrown at least four touchdowns in three straight games. He will look to continue this streak in the Meadowlands in his first nationally televised game of 2012.
September, 5, 2012
9/05/12
1:22
PM PT
By
Johnny Curren
| ESPN.com
LOS ANGELES -- It was a surprisingly overcast morning during Trojans' practice on what USC head coach Lane Kiffin called "Syracuse Wednesday."
"An up and down day today for us," Kiffin said. "I thought the defense came out and played a lot better than yesterday, until the end. So we'll go back and look at the film. We have lot of work to do."
Practice started out on an upbeat tone as Kiffin tossed the ball over to various players during warmups, while
Kyle Negrete
boomed some punts off to the side with some impressive hang-time.
September, 5, 2012
9/05/12
9:00
AM PT
It is hard enough to prepare to play the No. 2 team in the country.
Imagine having to play that team off a heartbreaking last-minute loss that featured a questionable call that impacted the outcome.
[+] Enlarge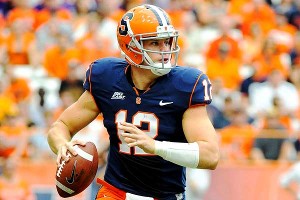 Rich Barnes/US PresswireRyan Nassib is one of several key starters Syracuse will be losing as it heads into the ACC.
Such is the task facing Syracuse this Saturday, as it takes on No. 2 USC at MetLife Stadium. While the 42-41 loss to Northwestern was itself disappointing, coach Doug Marrone is not hanging his head or feeling discouraged. In fact, he feels better about his team after this loss than he did after opening the season with an overtime win over Wake Forest last season.
"I explained that there were some things -- even though we won the game last year -- that I had a major concern about the direction we were headed," Marrone said. "I didn't feel that way about this team. We worked extremely hard. I'm very encouraged about this football team and that was my message to them. We are heading in the right direction."
His quarterback encouraged him first and foremost.
Ryan Nassib
had an unbelievable day throwing the football, going 45-of-66 for 482 yards — all school records — with four touchdown passes, to rally the Orange from a 22-point third-quarter deficit to a six-point lead with 2:40 left in the fourth quarter.
Nassib also ran the ball for 30 yards on 12 carries, on pace to shatter his single-season rushing high of 39. His 512 yards of total offense were the best by an FBS player in the opening week of the season. Consider some of the other eye-popping numbers from a team that generally does not produce this much offense:
Syracuse had 33 first downs, and the first time since Nov. 24, 2001, against Boston College (30) the Orange had at least 30 rst downs.
The Orange totaled 596 yards of offense, topping the 500-yard mark for the first time since gaining 518 yards in a 49-47 triple-overtime win against North Carolina in 2003. It was also Syracuse's highest yardage total since Nov. 9, 2002 against Virginia Tech (604 yards), a game that also went three overtimes.
Syracuse ran 95 total plays (66 pass, 29 run).
"I knew what our offense could do and what it was capable of, what the skill players and O-line were capable of, so it's no shock to me," Nassib said on a call with reporters. "Going back, learning from those mistakes only makes us more confident going into this game."
What also helps is that Syracuse played USC last season, so the intimidation factor is gone. Though the Trojans won handily 38-17, there is no "mystique" about playing them.
"There's a little less intimidation with the fact that they are USC," Nassib said. "At the end of the day, we're playing football. Any given day, a team can be beat regardless of who they are."
Defensively, one major sign of encouragement was the pass rush. Syracuse recorded five sacks. That only happened once all last season. So there are some good signs. But there is no question Syracuse is in the middle of an extremely challenging start to the season with back-to-back games against opponents from major conferences.
Getting a win, however improbable it may seem, would be monumental.
"We've been working on getting this program back on top and that would be a great way to start," linebacker
Marquis Spruill
said.
September, 4, 2012
9/04/12
1:02
PM PT
By
Johnny Curren
| ESPN.com
LOS ANGELES -- It was another beautiful day on Brian Kennedy/Howard Jones field on Tuesday as the team prepared to take on Syracuse and its explosive quarterback,
Ryan Nassib
, on Saturday. Right from the get-go, defensive backs coach Marvin Sanders could be heard emphatically explaining to his unit that Syracuse threw the ball more than 60 times in its last game, so the Trojans DBs had better be ready. It was a common theme on the day that Lane Kiffin and the rest of the staff made sure to hammer home to the defense.
"We wanted to make sure that our guys understand that we're going to play a really good team," Kiffin said. "We purposely made sure that we attacked them in the passing game. I totally believe that this is a big-time test. I don't care who you play or where it's at -- everybody played a football game on Saturday and nobody threw for more yards than they did. This is a really good quarterback and he started really well last year versus us."
September, 3, 2012
9/03/12
9:13
AM PT
USC (1-0 overall) vs. Syracuse (0-1)
Saturday, Sept. 8, 12:30 p.m. PT
MetLife Stadium (East Rutherford, N.J.)
TV: ABC
Radio: ESPNLA 710am (pre-game show starts at 8 a.m. PT)
Scouting Syracuse:
Syracuse, which went 5-7 in 2011, is in its final season of play in the Big East (it moves to the ACC in 2013). SU overcame a 22-point third quarter deficit last weekend at home to Northwestern before falling 42-41 on a last-minute Wildcat touchdown. The Orange, guided by fourth-year head coach Doug Marrone, have five starters back on offense, is led by senior QB
Ryan Nassib
(44-of-65, 67.7%, 470 yds, 4 TD, 1 int in 2012, plus 12 tcb, 30 yds, 2.5 avg), a 3-year starter who entered SU's season record book for completions (259), attempts (415), passing yards (2,685) and passing TDs (22) in 2011, and senior WRs
Alec Lemon
, who set the Orange season mark for receptions (68) last fall and is 10 catches shy of the school's career mark of 139, and
Marcus Sales
(11 rec, 117 yds, 10.6 avg, 1 TD in 2012, plus 1 tcb, 12 yds, 12.0 avg.). Nassib is the nation's total offense leader (500.0) and Sales is third in receptions (11.0) as SU tops the country in passing offense (470.0) and is ninth in total offense (596.0). The defense, with 8 returning starters and 6 of its top 7 tacklers from 2011, features senior SS
Shamarko Thomas
(2 tac, 1 for loss, 1 sack, 1 FF in 2012), junior LB
Marquis Spruill
(8 tac, 2 for loss, 1 sack in 2012) and senior DT
Deon Goggins
(3 tac, 1.5 for loss, 1 sack in 2012). The Orange had 5 sacks and 12 tackles for loss versus Northwestern. Junior PK
Ross Krautman
(2-of-3 FG, 3-of-3 PAT in 2012) has made 35-of-41 field goals in his career.
- courtesy USC sports information
September, 2, 2012
9/02/12
1:29
PM PT
D-line encouragement:
It's no secret that one of the biggest concerns for the Trojans heading into the season was the lack of experience along the defensive line, a situation that wasn't helped when
Wes Horton
was forced to miss the game. What this group did against Hawaii, however, was nothing less than encouraging.
It wasn't just that a single player or two stood out, it was the fact that so many players along the line did something to make a play.
Morgan Breslin
had a pair of quarterback pressures on third downs that forced incompletions and punts. He also added a sack and two tackles for loss. Greg Townsend, Jr. had a sack that could have qualified as a mauling.
Christian Heyward
recovered a fumble that led to the
Silas Redd
touchdown run.
Leonard Williams
had a sack, a fumble recovery, a tackle for loss and a pass break-up.
Remember, these are all guys who had never played a down for the Trojans before this game.
George Uko
, the veteran of the group, had a sack and a forced fumble.
J.R. Tavai
had good intensity and
Kevin Greene
looked as good as he has in his USC career. When you take this performance and add in the potential return of Horton, suddenly there is reason to be optimistic about the growth curve of the d-line.
To continue reading this article you must be an Insider