May, 12, 2014
5/12/14
7:00
PM PT
There were
34 Pac-12 players selected
during the NFL draft, but there will be more than twice that many rookies in NFL training camps this summer. Shortly after the draft ended, the dominoes started falling and those who went undrafted started signing free-agent contracts.
The following list of undrafted free agent signings, which was compiled from various announcements and media reports, could change in the coming days:
Arizona
Arizona State
California
Note:
K
Vincenzo D'Amato
will
reportedly attend
Green Bay's rookie minicamp.
Colorado
Oregon
Oregon State
Stanford
Notes:
S
Devon Carrington
(Pittsburgh) and LB
Jarek Lancaster
(Oakland) will attend rookie minicamps.
UCLA
USC
Utah
Notes:
DT
LT Tuipulotu
will attend Green Bay's rookie minicamp and C
Vyncent Jones
told the Deseret News
he will attend minicamps for Pittsburgh and Kansas City.
Washington
Note:
S
Sean Parker
will
reportedly attend
Washington Redskins rookie minicamp.
Washington State
Note:
K
Andrew Furney
will attend Seattle Seahawks rookie minicamp.
March, 31, 2014
3/31/14
7:00
PM PT
Last week, Mel Kiper Jr. and Todd McShay updated their top-10 lists at each position for the
upcoming NFL draft
.

Here's a look at how the Pac-12 offensive players stack up:
Quarterback
Marcus Mariota
might have been taken No. 1 overall if he decided to leave Oregon, but without him the Pac-12 doesn't have any top-10 representation. Washington's
Keith Price
, who was not invited to the NFL combine, has a big day on Wednesday when the Huskies hold their pro day. Barring a team taking a flyer on him in the draft, Price is probably going to have to take the undrafted route to forge a NFL career.
Running back/fullback
The surprise here is how little both analysts think of Carey, who was the Pac-12 Offensive Player of the Year and ranked No. 3 in the nation in rushing yards. Sure, his 40-yard dash time at the NFL combine (4.70) didn't do him any favors, but this feels like a situation where the film isn't speaking as loudly as it does for others.
The love for Thomas was a bit surprising as well, but it's also tough to compare him to the rest of the group because he doesn't project as a true running back in the NFL. His versatility undoubtedly scored him points, but it also should be noted that 10 other running backs clocked faster 40 times at the combine -- including Stanford's
Tyler Gaffney
. See the whole list
here

.
Receiver/tight end
Cooks and Lee, a pair of Biletnikoff Award winners, will both expect to hear their name called in the first round. After that, it will be interesting to see how the rest of the pass-catchers fall into place.
[+] Enlarge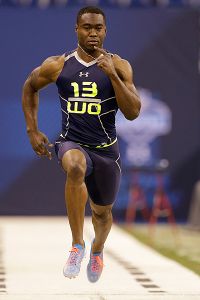 AP Photo/Nam Y. HuhOregon State wideout Brandin Cooks could be a first-round pick.
Notably absent is Colorado WR
Paul Richardson
, who ran a 4.40 40 at the combine and caught 83 passes for 1,343 yards and 10 touchdowns for the Buffaloes. He still figures to have a shot to go in the second-round to third-round range.
McShay lists Lyerla as the pass-catcher with the biggest risk:
Lyerla has some significant behavioral and emotional issues (leaving the Oregon program at midseason in 2013 and being arrested for cocaine possession weeks later) that just aren't worth dealing with, even for the potential reward his talent promises, were he to straighten things out.
See the whole list
here

.
Offensive line
If they were quarterbacks, Yankey and Su'a-Filo would be forever linked. Widely regarded as two of the best offensive guards in the country, it will be interesting to see who goes off the board first. Su'a-Filo was the players' choice as the best offensive lineman in the conference in 2013, but Yankey was given the honor in 2012.
Martin is one of eight players Kiper and McShay agree is the best player at his position. See the whole list
here

.
February, 24, 2014
2/24/14
11:00
AM PT
Raise your hand if you thought Stanford running back
Tyler Gaffney
would run a faster 40-yard dash than Oregon's
De'Anthony Thomas
at the NFL combine.
Put your hand down, liar.
Granted, it was still only by a hundredth of a second -- Gaffney ran 4.49 and Thomas 4.50 -- but, still, Thomas built his reputation on speed, while Gaffney's was more on toughness and vision. It ranked as one of the surprise performances among Pac-12 players over the weekend at the NFL combine.
[+] Enlarge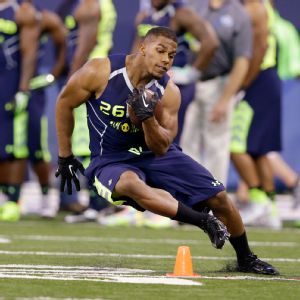 AP Photo/Michael ConroyWashington running back Bishop Sankey made a move up draft boards with his performance at the NFL combine.
Sunday proved to be a great day for Washington running back
Bishop Sankey
, who might have jumped Arizona's
Ka'Deem Carey
on some draft boards,
according to ESPN's John Clayton
.
From Clayton's story:
There may not be a running back who could entice a team to use a first-round pick, but the backs who ran Sunday looked great. Bishop Sankey of Washington may have entered the combine as the No. 3 halfback, but his stock probably rose with a 4.49 40 time along with a good show of lifting strength. Tre Mason of Auburn displayed second-round numbers with his 4.5. Both backs might have jumped ahead of Ka'Deem Carey of Arizona, who had a 4.70.
Sankey ranked No. 2 among running backs with 26 reps on the bench press and his 40-time was tied for No. 9.
Another one of the weekend's big winners was Oregon State receiver
Brandin Cooks
, who turned in the fastest 40 among receivers. His time of 4.33 was second to only to Kent State running back
Dri Archer
, who ran a 4.26.
Cooks, who set Pac-12 single-season records with 128 catches and 1,730 receiving yards this year, also turned in the fastest time registered in the 60-yard shuttle (10.72) at the combine
since at least 2006
. During that same time period, he's
tied for the fastest time
in the 20-yard shuttle (3.81) with Tennessee cornerback Jason Allen from 2006.
Washington tight end
Austin Seferian-Jenkins
, the John Mackey Award winner, has a stress fracture in his foot that is expected to need six to eight weeks to recover,
according to a report from the Tacoma News Tribune
. Due to the injury, Seferian-Jenkins was able to participate only in the bench press. He put up 20 reps, which ranked tied for No. 10 among the 15 tight ends who participated.
See the complete list of Pac-12 invitees.
Here are the Saturday and Sunday results from the Pac-12 players in the 40 and bench press:
Running back
Gaffney, Stanford: 4.49/did not lift
Sankey, Washington: 4.49/26 reps
Thomas, Oregon: 4.50/8 reps
Carey, Arizona: 4.70/19 reps
Silas Redd
, USC: 4.70/18 reps
Ryan Hewitt
, Stanford (fullback): 4.87/did not lift
Marion Grice
, Arizona State: Did not participate
Lache Seastrunk
, Baylor (transferred from Oregon): 4.51/15 reps
Wide receiver
Cooks, Oregon State: 4.33/16 reps
Paul Richardson
, Colorado: 4.40/did not lift
Shaquelle Evans
, UCLA: 4.51/13 reps
Josh Huff
, Oregon: 4.51/14 reps
Marqise Lee
, USC: 4.52/did not lift
Offensive line
Xavier Su'a-Filo
, OG, UCLA: 5.04/25 reps
Cameron Fleming
, OT, Stanford: 5.28/26 reps
David Yankey
, OG, Stanford: 5.48/22 reps
Marcus Martin
, C, USC: did not run/23 reps
Tight end
Colt Lyerla, formerly of Oregon: 4.61/16 reps
Anthony Denham
, Utah: 4.77/did not lift
Jake Murphy
, Utah: 4.79/24 reps
Richard Rodgers
, TE, California: 4.87/16 reps
Seferian-Jenkins, Washington: did not run/20 reps
Xavier Grimble
, USC: did not run or lift
Quarterback
No Pac-12 quarterbacks are at the combine, which is a rarity. The conference has sent at least one every year since at least 1999, which was as far back as we could go to find combine rosters.
September, 16, 2012
9/16/12
12:19
AM PT
PALO ALTO, Calif. – Stanford's
Kevin Danser
was living an offensive lineman's dream Saturday night.
"You finish your block and you're on the ground, and then you look up and your running back is still going," said Stanford's guard. "Man, that's a great feeling. How about that guy? Man, not a lot of people can do what 33 can do."
That guy -- 33 -- is Stanford running back
Stepfan Taylor
, who was the offensive catalyst in Stanford's ugly-but-effective
21-14 victory
over No. 2 USC in front of a sold-out (50,360) Stanford Stadium. Classes don't start until next week, but that didn't stop the students in attendance from rushing the field and celebrating Stanford's fourth consecutive win over the Trojans.
It's the second time in the past five meetings that Stanford has beaten USC when the Trojans were ranked second nationally. They did it in Los Angeles in 2007 on a last-minute touchdown pass by Tavita Pritchard, winning 24-23 when Stanford was a 41-point underdog.
Saturday night, the Trojans (2-1) weren't as heavily favored, but they were still considered a grade above No. 21 Stanford (3-0). Taylor saw to disprove that. He chipped, chipped and then broke through. Then he chipped and chipped again. And then he broke through again. And when he was done chipping, he had broken USC's defense.
"That guy is a rock," said Stanford fullback
Ryan Hewitt
. "I get to see his yards after contact because he usually blows right by me. And it's impressive."
Taylor looked like the best player on the field Saturday night -- not exactly a passing statement when he was sharing the field with USC quarterback
Matt Barkley
and A-list wide receivers
Marqise Lee
and
Robert Woods
. Taylor rushed for 153 yards on 27 carries (5.9 average) and a touchdown to go with five catches for 60 yards and a score.
"We were going to keep giving him the ball," said Stanford head coach David Shaw. "He never gets tired. He drags people, he breaks tackles. By one out-of-town paper I was called 'the king of hyperbole' [when talking about Taylor] but
that
is why I love talking about him. We typically like to rest him, but when we need him, I told him two years ago, we are going to put a saddle on him and ride him."
[+] Enlarge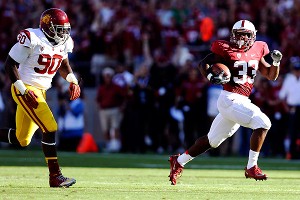 AP Photo/Marcio Jose SanchezStepfan Taylor scoots away from USC's George Uko for the first of his two touchdowns.
And Stanford needed him Saturday. With a new quarterback still learning his way around the offense and a rebuilt offensive line, the Cardinal looked stilted at times on offense. Then again, so did Barkley, the Heisman frontrunner who probably lost a few voters with his 20-of-41 performance and two interceptions. But more damning to his campaign were the zero touchdowns -- almost unheard of with playmakers like Lee and Woods at his disposal. The Cardinal kept Barkley under constant pressure and sacked him four times.
"They played better football than us," said an extremely despondent Barkley. "We were prepared. They played better."
Taylor certainly had his share of highlights. His 59-yard touchdown run that knotted the score at 7-7 in the first quarter was pretty. So was his 23-yard screen pass that went for a touchdown, tying the score at 14-14 in the third quarter. But he saved some of his best running for the end of the game -- and he didn't even get in the end zone. His 2- and 3-yard runs were turning into 7- and 8-yard runs by the second half. The final 8 minutes, 40 seconds was exactly the kind of football Shaw wants his team to play. The Cardinal started at their own 19 and pounded; Taylor for 1, Taylor for 7, Taylor for 2, Taylor for 8, etc., etc., etc. At the end of the scoreless drive, the Cardinal had run 10 plays and eaten 5 minutes, 56 seconds of clock.
The Trojans took over with 2 minutes, 44 seconds left at their own 11, trailing 21-14. But penalties and a pair of Stanford sacks ended the drive, and the game. The Cardinal threw all kinds of blitzes and pressure at Barkley all night -- and without starting center
Khaled Holmes
, the Trojans were unable to adjust.
"If you sit back there, the quarterback is too good," Shaw said. "Regardless of what happened tonight, that is the best quarterback in the country. If you give him too much time, he will kill you. You have to get after him. Those receivers are really good. We had to mix it up. Some plays we came after him and some plays we sat back. Our secondary made all the tackles."
For
Josh Nunes
, tasked with replacing Andrew Luck as Stanford's quarterback, having a back like Taylor has made life a lot easier. He was 15-of-32 for 215 yards with two touchdowns and two interceptions.
"He's a quarterback's best friend," Nunes said. "This game was a testament to our style of football, the guys up front, and certainly Stepfan Taylor."
September, 14, 2012
9/14/12
9:00
AM PT
Pretty straight forward this week. The first Pac-12 Conference game features two ranked teams with a fun recent history. Make your case:
Ted Miller:
Stanford has two chief keys against USC on Saturday. It must run the ball well. And it must contain USC's passing attack. The reason the Trojans are going to win this football game -- and end a three-game losing streak in the series -- is Stanford won't be able to do either consistently.
Against San Jose State and Duke, the Cardinal averaged 3.7 yards per rush. I know this is a risky thing to type, but you guys know I'm not afraid to write bold things: USC's defense has more talent than San Jose State and Duke. No, really.
[+] Enlarge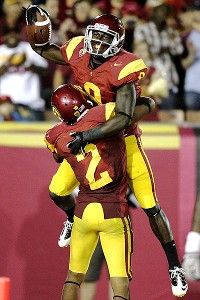 Shelly Castellano/Icon SMIMarqise Lee and Robert Woods (2) are as good a receiving tandem as Stanford coach David Shaw says he's seen.
If Stanford's offensive line can't get a push against San Jose State and Duke, it will not do so against the Trojans. Which means new starting quarterback
Josh Nunes
will be forced to throw into a very good secondary, one that already has four interceptions.
Nunes throwing a lot is what USC wants. Stanford is still lacking at receiver, so the Trojans' back half will have a significant athletic advantage. And it doesn't hurt that Nunes and not old what's-his-name will be delivering the ball.
Speaking of athleticism at receiver ... hey, USC!
Robert Woods
and
Marqise Lee
. And tight ends
Xavier Grimble
and
Randall Telfer
. Those are four superior athletes, all of whom made plays last year against the Cardinal.
Quarterback
Matt Barkley
threw for 284 yards and three touchdowns in last year's triple-overtime classic, and Stanford is replacing three starters from its secondary. Barkley's numbers will be big on Saturday.
Against San Jose State and Duke, Stanford grabbed four interceptions and surrendered just one touchdown pass. That's the good news. The bad news is a 67.3 percent completion rate and 290 yards passing per game. And just five sacks seems modest for a team with such a salty, talented front seven.
While Stanford's scheme is about stopping the run first and foremost, which it has done very well in the first two games, it might have to change its approach against the Trojans. More nickel and dime looks will mean the Cardinal will be forced from their comfort zone. And that could open up the Trojans' running game.
A balanced USC is a scary thought, with Barkley & Co. ready to pull the trigger on a deep fade route when they see one-on-one coverage.
Then there's this: What about a close game? USC is capable of winning this one going away, but that's not what I foresee. I expect the game to be won in the fourth quarter.
Stanford has won consecutive nail-biters against the Trojans. It's difficult to not attribute that ability to win the fourth quarter to having an advantage at quarterback. That advantage now belongs to USC by a wide margin. And that will be the difference.
Kevin Gemmell:
A good debater can come at a problem from all sides. But since ESPN wouldn't hire one just for a Take 2, and since Ted went first, I guess I'll take a swing at making the case for Stanford.
We both picked the Trojans to win
, but détente makes for poor debate.
Stanford coach David Shaw knows how to attack the Trojans. When Shaw was coaching quarterbacks and wide receivers with the Baltimore Ravens, you know who the defensive coordinators were? Mike Nolan and Rex Ryan. You don't think he picked up a couple of tips on how to call plays against a sophisticated, Rex Ryan defense? The past five meetings, when Shaw was either offensive coordinator or head coach, Stanford has increased its total offensive yards in every game against the Trojans. As a playcaller, Shaw is 4-1 and averages 413 total yards and 39 points per game against USC.
[+] Enlarge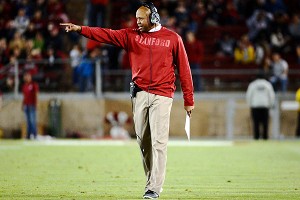 Kyle Terada/US PresswireStanford is 4-1 against the Trojans with David Shaw calling the offensive plays.
On paper, this game should be a double-digit win for the Trojans. Even Shaw said he has never seen a pair of wide receivers like Woods and Lee on the same team in the modern football era.
But there are intangible factors at play. The Cardinal have to be -- at least a little bit -- in the heads of Trojans players given the circumstances of the last few meetings. It's not a matter of USC "owing" one to Stanford from a tight game the previous year. The Trojans owe the Cardinal three, and there are only so many times you can go to the "we-owe-them-one" well. At some point, that becomes a mental hurdle.
The world expects USC to win this game. But here's a little worm that might be wiggling into a few Trojans' brains.
What if they don't?
What if Stanford takes a 14-0 lead? What if there's a pick-six or a special-teams touchdown that swings momentum and it all starts to fall apart? It probably will take something out of the ordinary -- a special teams touchdown, a crucial turnover or a trick play (anyone know if Nunes can catch?) to swing the tide. But the Cardinal lead the conference in turnover margin at plus-5. They've allowed fewer red-zone touchdowns than any team in the Pac-12 (except Oregon State, which has played one game). USC's defense is allowing teams to convert third downs at an alarming 45.5 percent. It's one thing to give up yards and allow completions. But the longer Stanford's offense stays on the field, the less time the Trojans' touted troika is playing.
Stanford's defense, which looked sluggish in the opener, was much livelier and motivated when
Shayne Skov
returned to the lineup last week. Expect the same emotional boost when
Ryan Hewitt
returns to the offense. Barring any setbacks on his ankle, he's expected to play. And his presence opens up a lot for Stanford: stronger run blocking, more receiver options, more diversity in offensive personnel groupings and formations.
Anyone who remembers last year's Stanford-Oregon game knows the Cardinal buckled under the weight of expectation. Every victory was another ton of bricks they carried leading up to that moment. This game has similar implications, sans the bricks. All of the pressure is on the Cardinal & Gold, not the Cardinal.
PAC-12 SCOREBOARD
Thursday, 9/3
Friday, 9/4
Saturday, 9/5