May, 22, 2013
May 22
12:43
PM PT
The 2013 season will be the final year of the BCS era.
And there was much rejoicing!
So, what have been the Pac-12 highs and lows of this often confounding system? Thanks for asking!
Best
1.
USC drubs Oklahoma for the 2004 national title:
The 55-19 victory over unbeaten Oklahoma was the most dominant display of the BCS era. It was also the pinnacle of the Trojans' dynasty under Pete Carroll. It's worth noting that future Pac-12 member Utah also whipped Pittsburgh in the Fiesta Bowl to finish unbeaten that same year.
[+] Enlarge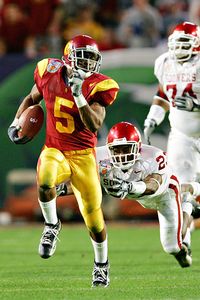 Jamie Squire/Getty ImagesReggie Bush and USC ran away with the 2004 national title.
2.
USC wins "real" national title:
In 2003, USC was No. 1 in the AP and Coaches polls at season's end. If you had eyes and knew anything about football, it was clear the Trojans were the nation's most-talented team on both sides of the football, a notion that was reinforced the following season. Two teams picked by computers played in New Orleans -- most folks outside of Louisiana don't even remember who -- and that forced the Trojans to settle for three-fourths of a national title after dominating Michigan 28-14.
3.
The year of the Northwest:
After the 2000 season, three teams from the Northwest finished ranked in the AP top seven. Washington beat Purdue in the Rose Bowl and finished third. Oregon State drubbed Notre Dame in the Fiesta Bowl and finished fourth. Oregon beat Texas in the Holiday Bowl to finish seventh.
4.
Oregon gets left out but finishes No. 2:
One of the grand faux paus of the BCS era was Nebraska playing Miami for the 2001 national title. Nebraska was coming off a 62-36 loss to Colorado, but the computers failed to notice, and the Cornhuskers were euthanized by the Hurricanes before halftime. The Ducks would whip that same Colorado team 38-16 in the Fiesta Bowl and finish ranked No. 2.
5.
Oregon and Stanford both win:
The 2012-13 bowl season wasn't good to the Pac-12, but Oregon pounded Kansas State in the Fiesta Bowl and Stanford beat Wisconsin in the Rose Bowl. The Ducks finished ranked No. 2 and Stanford was seventh. It was just the second time two Pac-10/12 teams won BCS bowl games in the same season.
Worst
1.
Just one BCS national title, lots of frustration:
No conference has more legitimate gripes with the BCS system than the Pac-12. Multiple seasons saw the conference have teams skipped over, most notably Oregon in 2001 and USC in 2003 and 2008. And ask California fans about how Texas coach Mack Brown gamed the system in 2004, preventing the Bears from playing in the Rose Bowl.
2.
USC's three-peat gets Vince Younged:
It's difficult to look at Texas's epic 41-38 win over USC as anything but great college football art -- perhaps the all-time greatest game -- but Trojans fans don't feel that way. The loss prevented USC from claiming three consecutive national titles and, of course, a second BCS crown for the Pac-10/12.
3.
Oregon falls short versus Auburn:
Oregon looked like a great team and Auburn a team with two great players before the BCS title game after the 2010 season. The Ducks chose a bad time to play one of their worst games of the season, but they still nearly prevailed before being undone by a dramatic game-winning drive from the Tigers.
4.
Make a field goal, Stanford:
Stanford kicker
Jordan Williamson
missed three field goals, including a certain game-winner from 35 yards on the last play of regulation, in the Cardinal's 41-38 loss to No. 3 Oklahoma State in the Fiesta Bowl after the 2011 season. Williamson also missed from 43 yards in overtime, which set the Cowboys up for the win. Stanford dominated the game, outgaining the Cowboys 590 yards to 412, with a 243-13 edge in rushing.
5.
Ducks drop Rose Bowl:
Oregon fell flat in Chip Kelly's first BCS bowl game, with the favored Ducks losing to Ohio State 26-17 in the Rose Bowl after the 2009 season. Buckeyes QB Terrelle Pryor had perhaps the best game of his career -- 266 yards passing, 72 rushing -- and the Ducks offense struggled, gaining just 260 yards.
November, 26, 2012
11/26/12
10:00
AM PT
Taking stock of Week 13 in the Pac-12.
Team of the week
: Quick: Name the team that you saw as a certainty to lose this past weekend. Washington State, right? The Cougars were 2-9, mired in controversy, and their best defensive player, OLB
Travis Long
, was out with an injury. Further, rival Washington was riding high, having won four games in a row. And when the Huskies took an 18-point lead into the fourth quarter, that certainty felt confirmed. Heck, the Pac-12 blog even tweeted a postmortem, declaring the Cougs dead. But despite all that was against them, the Cougars rose up and won. Kudos, particularly to the seniors, who end their careers on a high note.
Best game
: The Apple Cup was exciting -- it went to overtime -- but it was terribly sloppy. No. 1 Notre Dame's 22-13 win over USC, while certainly not elegantly played by the Trojans, was a high-stakes affair that wasn't resolved until the waning moments of the fourth quarter. While Notre Dame was seemingly in control throughout, USC's offensive talent made it seem as though things could change quickly. The Fighting Irish stopped USC eight straight times inside the 10-yard line with 2:33 left to ice the game, which was pretty darn dramatic (though USC fans might use another term).
Biggest play
: With less than six minutes left and the score tied at 27, Arizona lined up to punt from its 15-yard line. The Wildcats already had lost momentum, allowing a 10-point lead to slip away, but there was no reason it couldn't swing back their way. Unless they gave up a blocked punt, which they did.
Kevin Ayers
got the block, and it was recovered at the Arizona 8-yard line. A TD run from
Cameron Marshall
later, the Sun Devils took a lead they'd never relinquish.
[+] Enlarge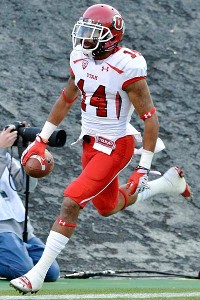 Ron Chenoy/US PresswireUtah's Reggie Dunn runs into the end zone after his one 100-yard TD kickoff return late in the fourth quarter against Colorado.
Defensive standout
: Arizona State LB
Brandon Magee
, a Pac-12 blog favorite, collected a career-high 17 tackles -- 14 solos -- with three coming for a loss in the Sun Devils' win over Arizona.
Defensive standout II
: Stanford outside linebacker
Chase Thomas
, who has had a better season than his overall numbers indicate, was dominant against UCLA, recording two sacks in the win over the Bruins.
Offensive standout
: It hasn't been the scintillating year many projected for Oregon WR/RB
De'Anthony Thomas
, a preseason Heisman Trophy candidate, but he came through big for the Ducks when they needed him in the Civil War. With
Kenjon Barner
banged up, Thomas turned in his best game of the season, rushing for 122 yards on 17 carries with three touchdowns. TD runs of 5 and 29 yards in the third quarter transformed a close game into a blowout.
Special-teams standout
: Utah's
Reggie Dunn
quite simply has posted the best season a college football kick returner has ever had. In the win over Colorado, just after the Buffs tied the game with a 100-yard kickoff return, Dunn went 100 yards for a score on the ensuing kickoff, providing the winning points. It was the fourth time this season and fifth time in his career Dunn has gone 100 yards for a touchdown on a kick return. Both are NCAA records.
Special-teams standout II
: Washington State kicker
Andrew Furney
came up big in the Cougs' come-from-behind Apple Cup win. He tied the game with a 45-yard field goal and won it in overtime with a 21-yard kick. On the night, he was 3-for-3.
Smiley face
: It was reasonable to wonder how Stanford might react at UCLA after its emotional, hard-fought win at Oregon. But the Cardinal were efficient, businesslike and dominant on both sides of the ball against a very good Bruins team. I'd bet if you asked the SEC champion which team it wouldn't want to play for the national title, Stanford might be the first team mentioned.
Frowny face
: Late in the fourth quarter and holding a nine-point lead, Notre Dame stopped USC eight straight times inside the 10-yard line. First, you give credit to Notre Dame, which plays outstanding defense. Then you acknowledge that Lane Kiffin's play calling at this crucial moment was ... terrible, as
L.A. Times columnist Bill Plaschke wrote in detail here
.
Thought of the week
: With the Rose Bowl berth on the line, UCLA gets a second crack at Stanford on Friday in the Pac-12 championship game. With just six days separating that and their regular-season game, how might this matchup look different? Did the Bruins save some schematic ideas? Remember: UCLA already had won the South Division. With Oregon's win over Oregon State, the Cardinal needed to win at UCLA to earn the Pac-12 North Division crown. The Bruins' stakes were much lower: pride. If you're one for realpolitik in college football, a win Saturday would have sent the Bruins to boisterous Autzen Stadium for the Pac-12 title game. UCLA's chances to get to the Rose Bowl might be better at Stanford than they would have been at Oregon.
Questions for the week
: Who had Stanford and UCLA as their North and South Division winners in August? Anyone? Anyone? I can't recall a published prediction picking either. But I now have written a post-it note that is now stuck to my desk: "There are no sure things. There are no sure things. Never forget." Of course, you know I will forget this.
November, 12, 2012
11/12/12
12:30
PM PT
The Pac-12 takes center stage this week with two of the three matchups of ranked teams, and both games are chock full of national intrigue.
No. 2 Oregon plays host to No. 13 Stanford with the Pac-12 North Division on the line (mostly). The Ducks, of course, are fighting for a berth in the national title game, but first they want to secure home-field advantage for the Pac-12 championship game on Nov. 30.
[+] Enlarge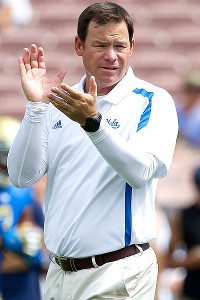 AP Photo/Nick LuceroThe annual rivalry game with USC will have more than bragging rights at stake this season for coach Jim Mora and UCLA.
And No. 18 USC visits No. 17 UCLA with the South Division on the line (completely). The Battle for L.A. is once again relevant, with the Bruins and first-year coach Jim Mora having a chance to reverse a decade of negative momentum with one big Saturday statement.
The other game with ranked teams? No. 23 Texas Tech at No. 24 Oklahoma State. Neh.
Stanford will be the highest-ranked opponent that Oregon has faced thus far this season, but the Ducks have owned the Cardinal of late. Not only have the Ducks won nine of the past 10 games in the series, they've scored 105 points combined in the past two games while winning each by more than 20 points.
Stanford, however, controls its own destiny just like Oregon. If it beats the Ducks, and then finishes its season with a win at UCLA, it wins the North. If Stanford beats Oregon but loses to UCLA, and the Ducks also go down at Oregon State, the Cardinal would win the North Division because it would have head-to-head victories over both the Ducks and Beavers.
As for USC-UCLA, the Trojans have dominated the series of late, winning five straight and 12 of the past 13. All five victories during the current winning streak have been by at least 14 points, including a 50-0 bludgeoning last season. UCLA's last win in the series came in 2006 when they upset the Trojans 13-9 at home.
This showcase weekend is a seeming climax for an interesting year for the Pac-12. For one, the conference has joined the SEC and the Big 12 as the nation's dominant leagues, with decisive superiority -- 17 members of the present BCS standing's top 25 -- compared to other "AQ conferences." Six of 12 Pac-12 teams are ranked in the BCS standings. For the Big 12, it's five of 10, and the SEC features not just six of 14 but six in the top 9.
Yet it's possible for the first time in three years the Pac-12 won't get a second BCS bowl team, which would dock the conference's 2012-13 bowl payout by about $6.1 million, or $508,333 per team. Just to be eligible, a second team must be ranked in the final top 14 of the BCS standings. Further complicating matters is Notre Dame. If Oregon earns a berth in the national title game, more than a few projections have the Rose Bowl picking Notre Dame -- undefeated or with one loss -- over a three-loss Pac-12 team.
Still, there's enough football left complicating potential scenarios that the speculation is mostly an academic exercise at present, not unlike guessing who-done-it two-thirds of the way through a mystery novel.
As for the rest of the Pac-12, things also are intriguing. Seven teams are already bowl eligible, and only three -- California, Colorado and Washington State -- are guaranteed losing records. To become bowl eligible, Arizona State needs to win one of its final two games -- Washington State and at Arizona -- and Utah needs to win both its final two -- Arizona and at Colorado.
If the conference has eight or even nine bowl eligible teams, things could get interesting. For one, the conference's seven contracted bowls have plenty of flexibility for choosing teams. There figures to be some politicking among conference teams. And, perhaps, some hurt feelings. Further, the 6-6 teams at the end of the bowl pecking order likely will be scrambling free agents, ending up in bowl games you probably haven't paid any attention to before.
This should be the best weekend of the Pac-12 season so far. It may provide further clarity. Or it might just thicken the plot.
October, 30, 2012
10/30/12
9:00
AM PT
There is a lot on the line as USC gets ready to take on Oregon on Saturday at the Coliseum. The game may not have national title implications for both sides, but there is still plenty at stake in terms of the Pac-12 title and a potential Rose Bowl berth.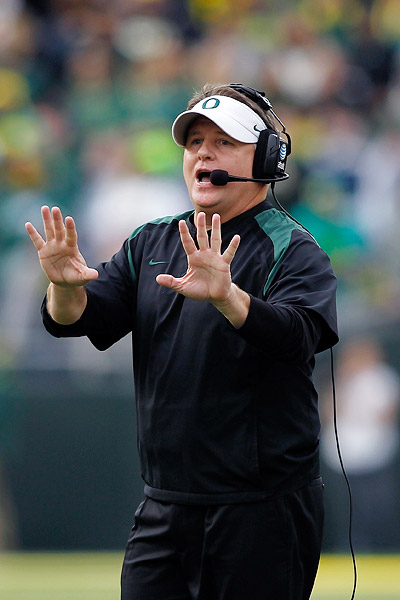 Jonathan Ferrey/Getty ImagesA USC win over Chip Kelly's high-powered Ducks will go a long way toward easing the pain from last week's Arizona loss.
As much as the loss to Arizona stung the Trojans last weekend, the reality is that USC still controls its destiny for a berth in the conference title game. Right now, the Trojans are one of three teams in the Pac-12 South with two conference losses, and it just so happens the other two teams (Arizona State and UCLA) are on the USC schedule following Oregon.
If the Trojans can get by the Ducks -- and then get wins over the Sun Devils and Bruins -- it would possibly give USC home-field advantage for the conference title game. A victory in that game would then propel USC into a New Year's Day berth at the Trojans' home away from home, the Rose Bowl.
Sounds simple, doesn't it? Well, of course, it isn't. Not by a long shot. But just because it isn't simple doesn't mean it can't be done. In fact, it would represent one of the best finishes in USC history, especially if it also included a victory over unbeaten Notre Dame at the Coliseum.
Let's face it: Very little about this season has been easy. The Trojans were expected to be a smooth-running machine with so many starters returning from a team that was on the rise at the end of last season. Through the first two months of 2012, however, there have been an unexpected number of sputtering moments mixed in with some bouts of inspired play. There have also been penalties and mental lapses fans just didn't see coming from such a veteran group.
Even with all that, the Trojans still have a chance. And the scheduling gods didn't mess around either, as the Ducks are next up and they have been as good as advertised.
Oregon has taken the Trojans' spot atop the Pac-12 mountain in recent years, but there were legitimate questions coming into the season. The Ducks had lost stars at quarterback and running back -- players who had seen a lot of success -- and there was uncertainty about their replacements.
It's a tribute to Oregon coach Chip Kelly's system that the Ducks haven't skipped a beat with the new starters. When you add a defense as good as any Oregon has put on the field in recent years, you have a team that has emerged as one of the favorites to reach the national title game. How perfectly did the stars align to have the Ducks visit the Coliseum at a time when the Trojans need a really big win?
Last year, USC's victory over the Ducks was a huge step for a program looking to reclaim a place among the nation's elite. This year, the result could make an even bigger statement on the direction of the program.
A victory for the Trojans would be a special start to a November march toward a Rose Bowl berth that would be a fitting ending for this team. A loss? Well, a loss puts this season in a place that no USC fan wants it to go. This much we know: The Ducks are coming to town on Saturday and the Trojans are going to need to be ready.
October, 27, 2012
10/27/12
7:46
PM PT
TUCSON, Ariz. -- The Arizona defender had fallen down, and USC receiver
Robert Woods
was all alone running down the sideline. Quarterback
Matt Barkley
leaned back and heaved the ball. Woods ran, the ball arced. It looked like a sure touchdown, one that probably would have started the conversation about the Trojans' huge game with Oregon the following weekend.
Woods ran. It felt perfectly scripted, a pair of superstars hooking up and making a definitive statement together.
Then the ball thudded to the turf a few yards in front of Woods. Barkley flat-out missed what should have been an easy 87-yard touchdown midway through the third quarter that would have pushed the USC lead to 22.
"I'll be thinking about that play all night," Barkley said. "I got a little too excited. I just didn't put enough air under the ball."
When your singular goal is a national title, every play matters. The details matter.
What happened next is Arizona took over the game, scoring 26 consecutive points, then holding on at the end for a
39-36 victory
, with a Barkley Hail Mary pass falling harmlessly to the turf on the game's final play.
Just like that -- poof! -- USC's national title hopes died. The Trojans, who in the preseason looked like they were again ready for their national close-up after an NCAA-imposed two-year hiatus, now merely become the potential spoiler when the Ducks come to the Coliseum hoping to keep their national title run alive.
Arizona outlasted USC in this infinitely sloppy four-hour affair. The Trojans lost despite one of the all-time great performances from
Marqise Lee
, who broke the Pac-12 single-game receiving record with 345 yards on 16 receptions with two touchdowns. He also had a 72-yard kickoff return that set up a quick touchdown with 4:40 remaining that briefly perked up USC's hopes.
[+] Enlarge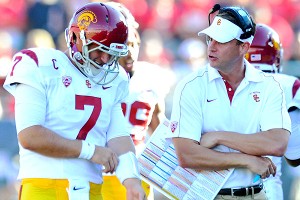 Matt Kartozian/US Presswire"There are plays in every game that haunt you," USC coach Lane Kiffin said -- and quarterback Matt Barkley, left, agreed.
All USC needed to do was get a quick stop on defense. It didn't. The Wildcats got two first downs, forced USC to burn its final two timeouts and left Barkley and company with just 55 seconds from their 13-yard line to make a miracle comeback.
But this USC team, which seemed destined for greatness in the preseason, couldn't find that miracle.
And now the hard question: With its chief goals dashed, how will the Trojans (6-2, 4-2 Pac-12) react?
"We stick together," Barkley said. "That's the beauty of football. You experience the most exhilarating moments of your life and you learn how to cope and deal with some of these losses."
He then added, "We can still do something special."
USC could still go to the Rose Bowl. It could still win the South Division and then win the Pac-12 title game. Or it could collapse, losing four or five games. None of USC's final four games -- Oregon, Arizona State, at UCLA and Notre Dame -- are gimmes.
While Arizona (5-3, 2-3) played well in the second half, asserting itself as the Trojans seemed to wilt, the Trojans also were stunningly mistake-prone. Two of the Trojans' five turnovers were baffling Barkley interceptions. Arizona had only one turnover, a
Jawanza Starling
interception that he immediately fumbled back to the Wildcats on his return.
USC also surrendered a 60-yard pass from Arizona quarterback
Matt Scott
to
Austin Hill
on a third-and-22 play from the Wildcats' 16-yard line. That play set up the Wildcats' go-ahead score early in the fourth quarter.
"There are plays in every game that haunt you," USC coach Lane Kiffin said.
Kiffin further expressed bafflement at how penalty-prone the Trojans are. USC was flagged 13 times for 117 yards. Of course, Arizona had 14 penalties for 129 yards, So, yeah, it was sloppy for both sides.
Arizona coach Rich Rodriguez immediately noted that his team "didn't play very well." But he also liked what beating the Trojans means for his team.
"I think it makes us more relevant -- it should," he said. "I don't think we're a top-10 team, we've lost three games, but it gives us confidence. I hope it makes people notice. I hope it makes recruits notice."
On this day, Arizona's chief relevance came in making USC irrelevant nationally.
In one of the most celebrated moments of the offseason, Barkley stood in front of a Christmas tree last December in Heritage Hall and announced he was returning to USC for his senior season to take care of "unfinished business."
It will remain that way.
January, 18, 2012
1/18/12
10:23
AM PT
I get paid to go to football games. It beats digging ditches for a living.
Some games, however, are better than others, mostly because of the location and magnitude of the game. So here are my top-six game-day environments from 2011.
1.
Rose Bowl: Oregon vs. Wisconsin
: Not much to say here. It's the Rose Bowl. All the other ESPN.com bloggers are doing lists, but they are playing for No. 2 because the Rose Bowl is the most righteous sports atmosphere in all the world. Other than the
World Cup final
.
2.
Stanford at USC, Oct. 29
: An instant classic. Two high-quality teams with super-elite quarterbacks going blow for for blow until it was decided in Stanford's favor in triple-overtime. And with 93,607 on hand, it was an old-school crowd at the Coliseum.
3.
Oregon vs. LSU, Cowboys Stadium
: Cowboys Stadium is the ultimate statement of sporting excess, which is to say it's awesome. And this was a rare season-opener matching top-five teams from the two best conferences over the past decade or so. And it would have been a good game if we could have made the third quarter disappear, eh Ducks?
4.
Arizona State at Oregon, Oct.
15
: Went to Autzen Stadium three times this season, and this was the best atmosphere. Crowd of 60,055 was a stadium record, and they were thrilled when backup quarterback
Bryan Bennett
came off the bench for an injured
Darron Thomas
to lead the Ducks to 17 unanswered points in a come-from-behind 41-27 win.
5.
Oregon at Stanford, Nov. 11
: I did not attend this game, but here's what Stanford blogger Kevin Gemmel had to say: "The Cardinal faithful packed Stanford Stadium for arguably the biggest game in school history that ultimately ended with a resounding thud. The pregame atmosphere was phenomenal. But as it became more apparent the Cardinal were not going to win, the once excitable, sellout crowd became placid and subdued. Great atmosphere, but only for about a quarter and change."
6.
Missouri at Arizona State, Sept. 9
: Many have forgotten how well the Sun Devils started the season. This 37-30 overtime win on ESPN was played in front of a packed house at Sun Devil Stadium -- 70,236 -- and just about everyone was wearing black for a "blackout." Might have been quarterback
Brock Osweiler
's best game.
December, 21, 2011
12/21/11
8:26
AM PT
Breathe, USC fans, breathe.
In fact, I'd suggest you ignore
what happened Tuesday
with Ohio State and its slap on the wrist from the NCAA for a massive systemic breakdown and a coverup by head coach, Jim Tressel.
Yes, when you hold up the Ohio State case and the USC case, it's impossible not to conclude the Ohio State case was
far more severe
. It was, of course, without question. No informed, objective person believes differently.
[+] Enlarge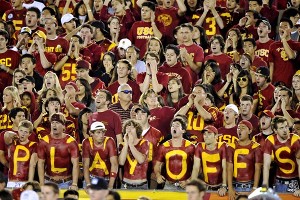 Kirby Lee/US PresswireTrojans fans spell out the word playoffs, but there won't be any postseason play for USC this season.
But here's the thing: Being outraged will accomplish nothing. You will be unhappy and your team will still be docked 30 scholarships over the next three years for what one player secretly did while Ohio State will be down just nine scholarships over the same time period for the rule-breaking of five with full knowledge of their head coach. And your unhappiness will provide great joy to folks who don't like your team.
Adopting a placid pose — at least as best as you can — will be good practice for handling potentially more infuriation ahead. The NCAA also likely will give even worst upcoming cases — North Carolina and the
University of Miami at Paul Dee
— less severe penalties than it gave USC.
Why? Because the NCAA treated USC unfairly — everybody in college sports knows this — and it likely won't revisit such irrational harshness. In the end, the justification for such severe penalties, meted out in contrast to past precedent, was little more than "just because."
But the NCAA, an organization not endowed with a sense of self-awareness, failed to foresee when it curb-stomped USC that among the lawbreakers in college football, the Trojans were jaywalkers amid a mob of bank robbers. Ohio State's sanctions, in fact, represent a return to NCAA normalcy: Mostly toothless penalties that will have little effect on the program's prospects, other than a single-season bowl ban.
There we go again: Fretting the particulars and the injustice of it all.
The point is USC fans have been quite reasonably been shaking their fists at the heavens or, more accurately, the NCAA home office in Indianapolis for two years. That anger has accomplished nothing, other than emboldening taunts from opposing fans.
You know: Fans whose teams didn't finish 10-2 and ranked No. 5 in the nation.
And therein lies the ultimate revenge: Winning.
It's hard to imagine the next five years won't see a USC downturn. Losing 30 scholarships is a tough burden. Things could be particularly difficult in 2014 and 2015, when the true cumulative impact arrives. And it could be even more galling if Ohio State is back in the national title hunt those years. Maybe playing Miami in a Fiesta Bowl rematch!
But if the Trojans can somehow remain in the picture, perhaps playing in a Rose Bowl -- or two -- along the way that would be a heck of a panacea, wouldn't it?
It's a longshot, sure. But other than that, we've got nothing for you USC. Sorry.
Easy, now. Breathe, breathe. Happy place. Happy place.
Oh, no.
That's exactly what we were trying to avoid
.
November, 25, 2011
11/25/11
7:19
AM PT
Issues to consider heading into the 13th week of games.
Is QB Matt Barkley going to put on a big show in his final game at USC
? Or is this
not
going to he Barkley's last game at USC? In any event, UCLA's only chance to win this game is if Barkley is off, which he hasn't been of late. And, if Barkley throws another four TD passes or so, does he deserve some Heisman Trophy consideration? Or at least, does he have a chance to steal All-Pac-12 first-team honors from
Andrew Luck
?
[+] Enlarge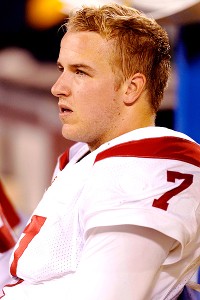 Jason O. Watson/US PRESSWIREWould another big game from Matt Barkley make him a Heisman finalist?
Andrew Luck answers his critics
: Notre Dame is always a big show, so if Andrew Luck turns in a big-time performance after a couple of shaky -- read: merely good -- outings, it's likely he gets his Heisman Trophy campaign back on track. The Irish defense is good enough to challenge Stanford. Barring Oregon losing the Civil War, this will be Luck's last game in Stanford Stadium. Will he put on a show?
Does Oregon State have any chance in the Civil War
? Oregon is a four-TD favorite over Oregon State. The Ducks appear headed to a third consecutive Pac-12 title and BCS bowl game, while the Beavers are headed toward a second-consecutive losing season. That combination has Oregon State fans a tad grumpy. So, can the Beavers come into Autzen Stadium and challenge the Ducks? It will take a perfect game. But Oregon State's beating Washington last weekend showed that the Beavers still have some fight and can't be completely written off.
Does Arizona State have any fight left
? Speaking of teams with dubious fight, there's Arizona State. The Sun Devils collapse has been odd because their three consecutive embarrassing losses, nonetheless, haven't stopped this from being true: The Sun Devils are still in the Rose Bowl hunt. If Arizona State wins and UCLA loses and Utah wins this weekend, the Sun Devils win the South Division and play for the Pac-12 title on Dec. 2. But after three consecutive defeats, it doesn't appear the Sun Devils care much. Maybe they will be motivated by the 50-17 humbling they suffered at Cal last season. Or maybe they'll just wake up and play up to their capabilities. Or maybe they'll just stink it up and watch coach Dennis Erickson walk away.
John White, John White, John White
: At this moment, you could make an argument that Utah running back John White is the best running back in the Pac-12. Yes, better than Oregon's
LaMichael James
and better than Washington's
Chris Polk
. White leads the conference with 1,377 yards rushing and is second with 14 TDs, ahead of both James and Polk. Anyway, suffice it to say, White is really good even though the opposing defense knows White is coming because the Utes don't throw much. Colorado has the worst run defense in the conference. That's trouble. Two hundred rushing yards for White might guarantee him first-team All-Pac-12 status.
Nick Holt vs. Marshall Lobbestael
: Washington's defense was supposed to be good this year. It hasn't been. Nick Holt is the Pac-12's highest paid defensive coordinator not named Monte Kiffin. Marshall Lobbestael is Washington State's No. 3 QB. He started the season as
Jeff Tuel
's backup, played well while Tuel was hurt, then was displaced by talented freshman
Connor Halliday
. But both Tuel and Halliday are hurt for the game, and the gritty Lobbestael now faces Holt's defense. Who wins?
Arizona reaction on Rodriguez week
: Arizona notched a huge win over rival Arizona State last weekend. It was emotional and surely satisfying during a lost season. But now the Wildcats have to get up for another game against Louisiana-Lafayette. How will the Wildcats respond after an emotional win, playing against an opponent that won't inspire much awe, but one that is -- oh, by the way -- 8-3. Will there be any reaction to the hiring of Rich Rodriguez? The Wildcats new coach is watching, and he likely will raise an eyebrow at players who step up. And those who don't.
November, 6, 2011
11/06/11
12:55
PM PT
What did we learn from Week 10 of Pac-12 action?
Stanford and Oregon reached their destination
: In the preseason, Oregon-Stanford looked like the Pac-12 game of the year. Things often don't go as planned in college football, but this one did. The only way it could be better is if the Ducks had opened with a win against LSU. Stanford could play itself into the national title game, but at the very least the Pac-12 North and BCS bowls are at stake.
[+] Enlarge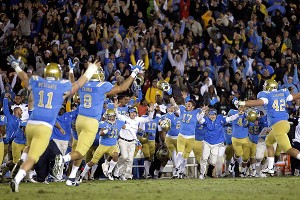 AP Photo/Jae C. HongUCLA controls its own destiny in the Pac-12 after upsetting Arizona State at the Rose Bowl.
Rick Neuheisel and UCLA are alive
! Just when you thought it was safe to start thinking about who UCLA's next coach was going to be, Neuheisel leads his team into first place in the Pac-12 South after beating Arizona State. If the Bruins win out, they will play in the Pac-12 championship game. And if they win that, they'd go to the Rose Bowl. As it is, Neuheisel now has a signature conference victory. His team, now 5-4 with three to play after winning consecutive games for the first time this season, now appears headed to a bowl game. Neuheisel is not a man who goes away easily, eh?
Utah could finish strong
: When the Utes lost 34-10 at California and fell to 0-4 in Pac-12 play, many dismissed them with knowing smirks: Welcome to a
real
conference. Don't look now, but look at who's won two conference games in a row. And who has a good shot at winning it's next three and finishing 8-4 and 5-4 in conference play? When the Utes protect the football, good things tend to happen to them.
Paul Wulff is in trouble
: Washington State started 3-1, and there was reasonable hope that the Cougars had turned a corner. But after five consecutive losses, including a pounding at Cal on Saturday, most of the early-season optimism is gone. The schedule ahead -- Arizona State, Utah and Washington -- is rugged. The Cougs will be underdogs in each game. But if coach Paul Wulff doesn't produce an upset or two, it's hard to imagine him keeping his job.
Arizona State hasn't arrived:
The way the schedule set up, the Sun Devils looked to be headed to a 10-2 regular season and the Pac-12 championship game. Now they have to win-out and hope UCLA loses at some point. Truth is, there's a good chance that happens: UCLA has a tough schedule ahead, Arizona State does not. But by losing to UCLA, the Sun Devils cost themselves a special season. And a national ranking.