September, 26, 2013
9/26/13
8:40
PM PT
USC is
making one last run at the NCAA
, hoping the organization that crushed it with severe sanctions in June of 2010 will finally aspire toward some degree of belated justice.
But don't hold your breath.
[+] Enlarge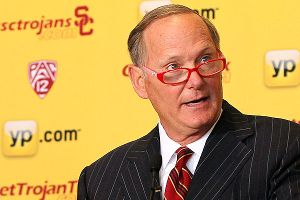 Victor Decolongon/Getty ImagesUSC AD Pat Haden is smart to appeal to the NCAA for reductions, but that's doesn't mean it will happen.
Athletic director Pat Haden
released a statement Thursday
saying he and USC's vice president for compliance Dave Roberts spent the last two days in Indianapolis meeting with NCAA officials, including NCAA President Mark Emmert.
The meeting had been scheduled weeks earlier, so it was purely serendipitous that it coincided with the NCAA's extraordinary decision to reduce previous sanctions against Penn State due to good behavior.
Still, Haden, who's been criticized for not going after the NCAA's poorly reasoned and factually challenged judgment against USC, saw an opportunity and at least wanted to score a public relations point with his frustrated fans.
Noted Haden in the statement, "We felt compelled to discuss USC's sanctions in a new light. As I have stated on numerous occasions, I believe the penalties imposed on our football program in 2010 were unprecedented and inconsistent with NCAA precedent in prior cases."
Haden then said he and Roberts "argued for some consideration regarding the 2010 sanctions during the last year of our penalty."
Meaning Haden is asking the NCAA to restore some scholarships to USC that it can use for the 2014 recruiting class, which has been docked 10 scholarships from a typical class of 25.
Haden concluded, "After candid discussions, the NCAA asked us to provide additional information and indicated it would study our suggestions. Because time is of the essence regarding these issues, we have asked for the NCAA's response as soon as practical."
The problem here is Penn State's situation was a special case, one that allowed the NCAA to both punish and then show newfound mercy outside the bounds of its typical process. Yes, the NCAA made up the rules as it went along with Penn State, which allows plenty flexibility for an organization that prides itself on being just the opposite.
With USC, the NCAA would have to make an unprecedented reversal of long-accepted processes. USC already failed with two appeals. If Emmert were to take executive action, it would be a slap in the face to the members of the Committee on Infractions who handed down the ruling against the Trojans.
That the COI, which was chaired by the late Paul Dee, athletic director at Miami and
good buddy with jailed super booster/shyster
Nevin Shapiro, from the USC case deserves a slap in the face is probably not relevant, even if it should be.
Still, maybe there is some leeway for justice. If Emmert
merely read USC's appeal
, it would be impossible for him -- or any other objective reader -- not to recognize the compelling strength of USC's position.
But, again, don't hold your breath.
February, 6, 2012
2/06/12
9:10
AM PT
We like doing Power Rankings at ESPN.com. These are the post-signing day Power Rankings.
If you want to see where your team stood on Jan. 10,
go here
.
The schedule does not factor into these. This is a projected pecking order based on where a team stands right now.

And if you don't like where your team is in the post-signing day Power Rankings, then I'd suggest whining about it until your team plays better.
1.
USC
: The Trojans ranked 13th in the final recruiting rankings with just 12 signees. They will be ranked in the preseason top 5, perhaps even No. 1. If things go according to plan, USC will blow a big raspberry at Paul Dee next January.
2.
Oregon
: The Ducks surprisingly lost QB Darron Thomas to the NFL, but the far more important news is not losing coach Chip Kelly to the Tampa Bay Buccaneers. A strong recruiting class and another likely top-5 preseason rankings sets the Ducks up nicely to enter the national title chase.
3.
Stanford
: Stanford signed the best recruiting class in the Pac-12. It was ranked 12th by ESPN Recruiting and much higher by just about every other recruiting service. While the Cardinal have big holes to fill -- most notably behind center -- a glance through the roster suggests those rooting for the program to topple after a grand rise are going to be disappointed.
4.
Washington
: Much of the recruiting season had been disappointing for the Huskies, particularly losing almost all of the top in-state prospects, including a pair of A-list linemen who would have addressed major needs. But Steve Sarkisian made a series of aggressive moves rebuilding his coaching staff, most notably with the hiring of defensive coordinator Justin Wilcox and ace recruiter Tosh Lupoi. That supplies much of the positive momentum here.
5.
Utah
: The Utes signed a strong recruiting class and welcome back a wealth of starters from a team that won eight games without much production at QB. The promotion of 24-year-old Brian Johnson to offensive coordinator was a surprising move, particularly with fans rooting for a "celebrity" hire. It could prove to be a stroke of genius, but the onus is now on Johnson to make it become so.
6.
UCLA
: The Bruins are the big climbers from our Jan. 10 power rankings -- moving up from No. 10 -- but that's what happens when new coach Jim Mora punches back at skepticism with an outstanding recruiting class. A team that looked like a "neh" is moving closer to a "maybe."
7.
California:
Despite all the hand-wringing over the loss of Lupoi and receivers coach Eric Kiesau to Washington, the Bears still signed a top-25 recruiting class that addresses needs. Still, perception matters, and at present, Bears fans seem more worried than optimistic. Nothing, of course, a few wins in a shiny remodeled stadium can't change.
8.
Arizona
: Rich Rodriguez's recruiting class finished at or near the bottom of the Pac-12, according to most rankings. That said, Rodriguez got his man at defensive coordinator, Jeff Casteel, which is significant because most trace the problems at Michigan to his failure to do so for the Wolverines.
9.
Washington State
: The Cougars didn't soar in the recruiting rankings just because of the hiring of coach Mike Leach. Still, that doesn't appear to be dampening the enthusiasm in Pullman.
10.
Arizona State
: New coach Todd Graham did a solid job salvaging the Sun Devils' recruiting class. But the loss of QB Brock Osweiler to the NFL and the NCAA's rejection of receiver T.J. Simpson's bid for a sixth year of eligibility leave the program with plenty of questions on offense. And just as many on defense.
11.
Oregon State
: The Beavers were victimized by a handful of late recruiting flips that put dents in what was shaping up to be a strong class. And the loss of secondary coach Keith Heyward to Washington also was a blow. On the plus side, the Beavers will see 17 returning starters during spring practices.
12.
Colorado
: The Buffaloes remain at the bottom because the bottom line is this: They welcome back 13 starters from a team that went 3-10 and ranked last in both scoring offense and scoring defense. Still, coach Jon Embree put together a solid recruiting class, one that could become the foundation of his substantial rebuilding project.
December, 21, 2011
12/21/11
8:26
AM PT
Breathe, USC fans, breathe.
In fact, I'd suggest you ignore
what happened Tuesday
with Ohio State and its slap on the wrist from the NCAA for a massive systemic breakdown and a coverup by head coach, Jim Tressel.
Yes, when you hold up the Ohio State case and the USC case, it's impossible not to conclude the Ohio State case was
far more severe
. It was, of course, without question. No informed, objective person believes differently.
[+] Enlarge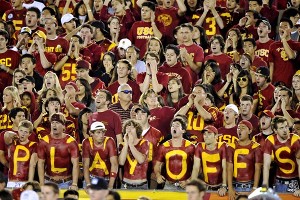 Kirby Lee/US PresswireTrojans fans spell out the word playoffs, but there won't be any postseason play for USC this season.
But here's the thing: Being outraged will accomplish nothing. You will be unhappy and your team will still be docked 30 scholarships over the next three years for what one player secretly did while Ohio State will be down just nine scholarships over the same time period for the rule-breaking of five with full knowledge of their head coach. And your unhappiness will provide great joy to folks who don't like your team.
Adopting a placid pose — at least as best as you can — will be good practice for handling potentially more infuriation ahead. The NCAA also likely will give even worst upcoming cases — North Carolina and the
University of Miami at Paul Dee
— less severe penalties than it gave USC.
Why? Because the NCAA treated USC unfairly — everybody in college sports knows this — and it likely won't revisit such irrational harshness. In the end, the justification for such severe penalties, meted out in contrast to past precedent, was little more than "just because."
But the NCAA, an organization not endowed with a sense of self-awareness, failed to foresee when it curb-stomped USC that among the lawbreakers in college football, the Trojans were jaywalkers amid a mob of bank robbers. Ohio State's sanctions, in fact, represent a return to NCAA normalcy: Mostly toothless penalties that will have little effect on the program's prospects, other than a single-season bowl ban.
There we go again: Fretting the particulars and the injustice of it all.
The point is USC fans have been quite reasonably been shaking their fists at the heavens or, more accurately, the NCAA home office in Indianapolis for two years. That anger has accomplished nothing, other than emboldening taunts from opposing fans.
You know: Fans whose teams didn't finish 10-2 and ranked No. 5 in the nation.
And therein lies the ultimate revenge: Winning.
It's hard to imagine the next five years won't see a USC downturn. Losing 30 scholarships is a tough burden. Things could be particularly difficult in 2014 and 2015, when the true cumulative impact arrives. And it could be even more galling if Ohio State is back in the national title hunt those years. Maybe playing Miami in a Fiesta Bowl rematch!
But if the Trojans can somehow remain in the picture, perhaps playing in a Rose Bowl -- or two -- along the way that would be a heck of a panacea, wouldn't it?
It's a longshot, sure. But other than that, we've got nothing for you USC. Sorry.
Easy, now. Breathe, breathe. Happy place. Happy place.
Oh, no.
That's exactly what we were trying to avoid
.
PAC-12 SCOREBOARD
Thursday, 9/3
Friday, 9/4
Saturday, 9/5