USC Trojans:

Pat Fitzgerald
October, 9, 2013
10/09/13
1:30
PM PT
They're only college football opinions, but at least they're all mine:

• It makes sense for USC to keep
Marqise Lee
on the sidelines and healing this week, hoping he'll be ready for interim coach Ed Orgeron's first big one at Notre Dame on Oct. 19.
So it turns out the Trojans' defense isn't as good as it looked early, but I still don't think it's as bad as it appeared against Arizona State.
• Speaking of Arizona State, the Sun Devils didn't do much for the overall image of the Pac-12, allowing themselves to get outmuscled by a good, but hardly great, Notre Dame team.
• Take away
Ty Montgomery
's two big kickoff returns, and Stanford's offense generated only 17 points against Washington's much-improved defense. That's not a good sign for the Cardinal.
David Shaw has done a great job maintaining the level of Stanford's program after Jim Harbaugh's departure, but his conservative coaching approach late in games hurt him against Arizona State and almost cost him dearly vs. Washington.
I went into the season thinking Stanford was talented enough to beat Oregon for a second straight time, but now I'm not so sure.
• I am sure, however, that Steve Sarkisian's Washington team is the real deal, although it's unfortunate that coming off that emotionally draining, close loss at Stanford, the Huskies now have to take on Oregon's point-a-minute Ducks.
In coaching parlance, Washington tailback
Bishop Sankey
is "a load." The kid is one of the better between-the-tackle runners in the country.
• After five weeks of cupcake opponents, Oregon must play Washington, UCLA and Stanford in three of its next four games. We'll know a lot more about Mark Helfrich's group then.
• Stanford quarterback
Kevin Hogan
completed only 12 passes against Washington. I don't think you can beat any of the nation's top teams that way.
• Even in defeat, Northwestern's Pat Fitzgerald demonstrated he has one of the great, young coaching minds in the country. Ohio State's talent is far superior, but Fitz's kids hung in that game right to the end.
And yes, Fitzgerald's name should be high on Pat Haden's list of potential USC coaching candidates.
• Ohio State didn't look like the best team in the nation in that game, but there really is no one on the rest of the Buckeyes' schedule that should pose a serious threat.
• There is no reason for UCLA to be wary of its game with Cal this weekend. The Bears weren't competitive against good teams even before their siege of injuries this past Saturday. Take the Bruins in a rout.
• South Carolina's
Jadeveon Clowney
acts like he's too good for college football. It's sad when a kid that young already thinks he's bigger than the game.
• It figures to get ugly for Mack Brown and Texas against Oklahoma on Saturday. Another Sooners' blowout, and Brown could be headed for the same early exit as Lane Kiffin.
• Whoever came up with the "Famous Jameis" tag for Florida State's
Jameis Winston
should get an immediate bonus. That nickname alone will guarantee this immensely talented freshman quarterback a ton of notoriety.
October, 3, 2013
10/03/13
9:00
AM PT
They're only college football opinions, but at least they're all mine:

Is the USC head coaching position really wide open, or is Pat Haden merely conducting a perfunctory search while knowing that Jack Del Rio is already his guy? It's an interesting question, and the answers you get from connected boosters vary . . .


September, 29, 2013
9/29/13
11:37
AM PT
If nothing else, the ugly aftermath of the Lane Kiffin era is clear.
[+] Enlarge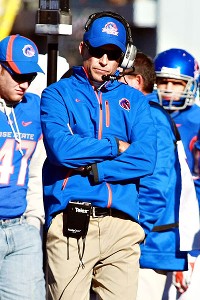 Brian Losness/US PresswireUSC would be wise to give Boise State head coach Chris Petersen a look.
USC should never be a proving ground for head coaches. It should be a place for only a head coach who already has demonstrated the ability to win at this level.
That should be athletic director Pat Haden's mantra as he begins the coaching search that will dictate the Trojans' football future.
Get a proven guy. Don't gamble with someone who looks the part. Go with someone who already KNOWS the part.
Much of the early speculation has centered on Jack Del Rio, currently the defensive coordinator of the Denver Broncos. Del Rio is a former Trojans star with deep USC roots, a ruggedly handsome guy who would look great in front of the TV cameras.
But Del Rio had limited success in his lone head-coaching attempt at Jacksonville and has no coaching or recruiting experience at the collegiate level. This is not to say he couldn't get the job done. Maybe he could. But again, you'd be rolling the dice.
To continue reading this article you must be an Insider
September, 20, 2013
9/20/13
2:30
PM PT
Welcome to the week 4 mailbag. It will be done in sanskrit.
Follow the Pac-12 blog on Twitter
. It's this new Internet thing that just might work out.
To the notes!
Scott from Norfolk, Va., writes:
Todd Graham really does seem like a great fit at ASU and he really did seem to bring about a very positive and much-needed cultural overhaul to the program. That said, doesn't his
contract extension
and raise seem a little premature? He's great so far, but "so far" is only 15 games, in which he's 10-5. Dennis Erickson was 12-3 in his first 15 games. I have to imaging this increases Graham's buyout (though I haven't seen direct mention of it, perhaps you can inform us as to whether that's true?), so isn't ASU unnecessarily limiting its options down the road here? Or am I overreacting and this is par for the course (and it's only fair that if coaches are now getting fired after two years they should also get raises on the same time scale)?
Ted Miller
: I see this as a renewal of vows, Arizona State and Graham making it clear to everyone they are happy -- at present -- with each other (and let's also note the same can be said for AD Steve Patterson, whose contract was also extended).
Of course, we all know college contracts often end up getting broken, one way or another. A coach can leave for a big-money job, at which point the new school often picks up the buyout tab, or boosters can get so worked up about a surprising downturn that the school decides to eat the contract and move on. And, yes, sometimes extensions bite a school in the butt -- see Colorado with Dan Hawkins and Iowa with Kirk Ferentz, two coaches who got big-money extensions that proved too expensive to buy out when things went south.
This new contract isn't a big risk for either party. Graham's current contract runs through 2016, this new one runs through 2018. He wasn't given a 10-year deal that could expose Arizona State should the Sun Devils start losing two years from now. As for Graham,
his buyout of $1.5 million isn't terribly big
. Chip Kelly's buyout at Oregon was $3.5 million.
Another interesting detail, though, is Graham is forbidden from taking a Pac-12 job through the life of the former contract. If I were a Pac-12 AD, I 'd always try to get that written into a head coach's contract. It's a good way to protect program secrets. Not saying any Pac-12 program would ever have any.
But, yes, if Texas wanted to hire Graham, it could easily handle the buyout, even though this extension is intended to prevent Graham's name from getting aggressively thrown into the rumor mill.
Why now? Well, you might have noticed the rumor mill already is starting to grind. From the ASU perspective, just about everything Graham has done thus far with the Sun Devils has been positive, and that's not just about winning.
Kevin, as you know,
spent a lot of time with Graham and his staff last week
. I think the picture he paints is of a highly functioning coaching staff with a strong, driven, organized leader running the show.
I know media members aren't allowed to write nice things about Graham. Kevin's and my problem is we actually have spent enough time with him to actually know what we are talking -- and writing -- about.
---
Sam from Sammamish, Wash., writes:
I am noticing some chippiness of late between long-time conference allies, the Pac-12 and the Big Ten. Here is a link to a story about Sark thinking on
the fly about where to practice on Friday prior to the game in Chicago
. What the story neglects to mention is Northwestern University decided to deny UW access to its practice fields less than 24 hours prior to arrival because it would give their Big Ten brethren Illinois an unfair disadvantage. Add this questionable gesture or lack thereof to the Wisconsin/ASU officiating debacle and methinks there may be some outright animosity building up?
Ted Miller
: The Rose Bowl conferences are business partners, but that doesn't mean they aren't rivals who desperately want to win and claim superiority. That sometimes involves gamesmanship, which is what it appears Northwestern did in this instance.
Here's what coach Steve Sarkisian
said on the matter
:
"It's an unfortunate situation. I don't think there's a whole lot of love lost right now between the Big Ten and Pac-12 right now, quite honestly, especially after the Arizona State-Wisconsin game. So it is what it is. Pat Fitzgerald and I exchanged some comments, and we're fine. I don't know where it's going to go from a conference level. It was unfortunate, but in the end, I think it was a positive. It just kept lending to, there's no distractions for us on this team. If we have to walk through the streets of Chicago to a park in downtown Chicago with a light pole in the middle of the field to practice, we'll do it. And our guys didn't skip a beat. It actually worked out really well for us. It's not a big deal for us anymore. We've moved on."
Oh, well. I've got a really high regard for Fitzgerald, so he gets a pass from me. Sark and Huskies fans might feel differently.
The bottom line is Washington beat Illinois 34-24 and the Pac-12 is 3-2 versus the Big Ten. So pffft to our friends from the Midwest.
---
Bill from Portland writes:
What are the odds of USC and Texas meeting in the Holiday Bowl, and if they did, would those be some of the hottest hot seats in college football? P.S. How crazy is it that in the same year it is a good possibility that USC, Texas and Nebraska may be looking for new coaches at the same time?
Ted Miller
: Those certainly are some A-list jobs that might open up by season's end. Suffice it to say, there's already plenty of chatter about how those potential openings might go.
It's certainly not that long of a shot that the Trojans and Longhorns could play in the Holiday Bowl -- or the Alamo Bowl for that matter -- for the first time since their epic national title game after the 2005 season, albeit in far different circumstances. Of course, both teams will need to climb a bit in their respective conference's pecking order to make it happen, particularly 1-2 Texas.
That said, I'm not sure either team would embrace the idea, though both would like an invitation to a quality bowl game. After all, the theme of most advance stories would be: Look how the mighty have fallen!
---
Lee from Ripon, Wisconsin writes:
You are so incredibly stupid it is beyond belief.
To compare a judgment call (pass interference) with a failure of the game officials to call a play by the rules defies basic logic
. Of course basic logic is obviously beyond you. But when you make statements that are factually incorrect, you really display your stupidity. The Pac-12 is the only major conference that uses officials from its league for home nonconference games. The other conferences have the game officials in essence travel with the visiting team. The game officials that worked the ASU at Wisconsin game in 2010 were from the Pac-12. The referee was the same individual who worked the Ohio State at Cal game Saturday night. It was NOT a Big Ten official who missed the pass interference call that you are basing your fallacious argument on; it was a Pac-12 official. If you weren't so fricking lazy you would have checked this out prior to making a factually incorrect statement; it is called research. I will be sending this email to the president of ESPN and suggest that they fire your sorry butt. An individual too fricking lazy to do basic research and as a result base an "argument" (what you stated doesn't meet the definition of a sound argument, but obviously the explanation of what qualifies as a sound argument is way beyond your severely limited mental capacity) isn't qualified to be a sports reporter. You aren't even qualified to be a dog catcher, or a member of the Bush cabinet. Hell, you aren't even qualified to be a Pac-12 football game official.
Ted Miller
: Thank you for your interest in the Pac-12 blog. We value your input. Please press one for customer service, two for new accounts ...
Lee, you are correct. I am stupid and lazy. That has never been so clear until this week when many Wisconsin fans showed up to help become smarter-er. But, to be honest, your world of Badger sophistication frightens and confuses me. I read "factually incorrect" and I want to bury my face into my blankie. I read "fricking lazy" and "research" and I want to know, "Where did these highfalutin concepts get created...
The Kollege Klub
?"
But there is one thing I
do
know.
That referee
Bill LeMonnier
led a
Big Ten crew on Sept. 18, 2010 inside Camp Randall Stadium
for Arizona State's visit to Wisconsin.
I guess I'm just lucky my computer is connected to the Internet-S.
---
Don from Palo Alto, Calif., writes:
Ted --Please pass this on to Kevin -- seems every time I try and click on "send email to Kevin" it displays your smiling face. Is this part of your evil scheme?I wanted to commend Kevin on his very fine profile of Todd Graham. It was well written, informative and unflinching. As a Stanford fan, and Stanford having not played ASU since 2010, I had kind of lost track of the program (although certainly the Graham hire made news). So with the game coming up this week, it was time to get into Graham and the program a bit, and Kevin's piece filled out everything very nicely. Pac-12 blog rocks!
Ted Miller
: I have many evil schemes. This is not one of them, though now I'm sort of wishing it were. A guy can never have too many evil schemes, right?
Yet just two seconds ago, I was gazing at Kevin's Clooney-esque mug.
Did you click here
? There are two places to send your Pac-12 mail, one to me and one to Kevin.
Typically, if you are angry and want to insult us, those notes should go to Kevin. If you want to write how great the Pac-12 blog is, those notes go to me.
---
Jesse from Portland writes:
I know of your long gripe with the word, "Natty." However, an Oregon player first invented that word. And since it has gone global in it's usage, though originating in Oregon, we claim that word. If you actually took the time to visit every single sports forum and blog, you would quickly see that this word is used by every single fan nationally describing the NCG. It has become a universal word and has so for three years now. Get with the times. You are getting old. The only people who hate that word are Oregon haters, cause they know a Duck invented it. And because it was first invented by a Oregon player, we are NOT going to to stop using that word, not now, not ever! We are the only Pac-12 team to go to a Natty in the last eight years. And we are projected to make another one this year. So we have every right to use that word. So Natty, Natty, Natty, wish you were at the Natty. Natty is here to stay. Both now, forever and into all time. It is a Oregon thing, going to a Natty. And unless you are a Duck, you just cannot understand. You Natty old reporters ... don't like the Natty? Well ... go Duck yourself then. Natty times are here to stay!
Ted Miller:
(A sigh ... and then a slow clap ... everyone in the coffee shop slowly stands and joins in).
PAC-12 SCOREBOARD
Thursday, 9/3
Friday, 9/4
Saturday, 9/5