USC Trojans:

Pac-12 football
October, 30, 2012
10/30/12
9:00
AM PT
There is a lot on the line as USC gets ready to take on Oregon on Saturday at the Coliseum. The game may not have national title implications for both sides, but there is still plenty at stake in terms of the Pac-12 title and a potential Rose Bowl berth.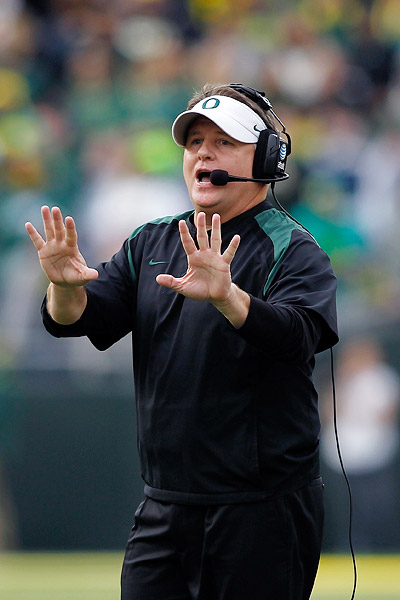 Jonathan Ferrey/Getty ImagesA USC win over Chip Kelly's high-powered Ducks will go a long way toward easing the pain from last week's Arizona loss.
As much as the loss to Arizona stung the Trojans last weekend, the reality is that USC still controls its destiny for a berth in the conference title game. Right now, the Trojans are one of three teams in the Pac-12 South with two conference losses, and it just so happens the other two teams (Arizona State and UCLA) are on the USC schedule following Oregon.
If the Trojans can get by the Ducks -- and then get wins over the Sun Devils and Bruins -- it would possibly give USC home-field advantage for the conference title game. A victory in that game would then propel USC into a New Year's Day berth at the Trojans' home away from home, the Rose Bowl.
Sounds simple, doesn't it? Well, of course, it isn't. Not by a long shot. But just because it isn't simple doesn't mean it can't be done. In fact, it would represent one of the best finishes in USC history, especially if it also included a victory over unbeaten Notre Dame at the Coliseum.
Let's face it: Very little about this season has been easy. The Trojans were expected to be a smooth-running machine with so many starters returning from a team that was on the rise at the end of last season. Through the first two months of 2012, however, there have been an unexpected number of sputtering moments mixed in with some bouts of inspired play. There have also been penalties and mental lapses fans just didn't see coming from such a veteran group.
Even with all that, the Trojans still have a chance. And the scheduling gods didn't mess around either, as the Ducks are next up and they have been as good as advertised.
Oregon has taken the Trojans' spot atop the Pac-12 mountain in recent years, but there were legitimate questions coming into the season. The Ducks had lost stars at quarterback and running back -- players who had seen a lot of success -- and there was uncertainty about their replacements.
It's a tribute to Oregon coach Chip Kelly's system that the Ducks haven't skipped a beat with the new starters. When you add a defense as good as any Oregon has put on the field in recent years, you have a team that has emerged as one of the favorites to reach the national title game. How perfectly did the stars align to have the Ducks visit the Coliseum at a time when the Trojans need a really big win?
Last year, USC's victory over the Ducks was a huge step for a program looking to reclaim a place among the nation's elite. This year, the result could make an even bigger statement on the direction of the program.
A victory for the Trojans would be a special start to a November march toward a Rose Bowl berth that would be a fitting ending for this team. A loss? Well, a loss puts this season in a place that no USC fan wants it to go. This much we know: The Ducks are coming to town on Saturday and the Trojans are going to need to be ready.
September, 30, 2012
9/30/12
12:31
PM PT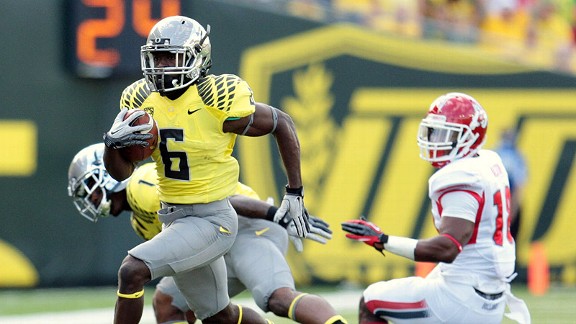 Scott Olmos/US PresswireDe'Anthony Thomas has Oregon on top of the Pac-12 with dreams of a national championship.
The 2012 Pac-12 football season has been unpredictable to say the least, with upsets and surprise performances completely shaking up the landscape on a weekly basis. Here's a look at how the race to the conference championship game is shaping up so far, and just where the Trojans fit into it all.
Pac-12 North Standings
Oregon (2-0 Pac-12, 5-0 overall)
Oregon State (2-0 Pac-12, 3-0 overall)
Washington (1-0 Pac-12, 3-1 overall)
Stanford (1-1 Pac-12, 3-1 overall)
Washington State (0-2 Pac-12, 2-3 overall)
California (0-2 Pac-12, 1-4 overall)
North Division Breakdown:
Here we are five weeks into the season, and just about the only constant has been the standout play by North Division leader Oregon. With an explosive offense led by running backs De'Anthony Thomas and Kenjon Barner, the Ducks haven't seriously been challenged by anyone.
What is a bit stunning is how the chips have fallen within the rest of the division. Oregon State came up with another huge win against Arizona on Saturday, and the Beavers have emerged as one of the surprise stories in all of college football. What was particularly impressive in the Beavers' most recent victory was the way the ground game came alive to support the standout play of quarterback Sean Mannion. It's still too early, but it's hard not to look ahead to that November 24 Civil War matchup between Oregon and Oregon State, and just imagine what it could mean.
Like the Beavers, Washington controls its own destiny after a 17-13 victory over Stanford that completely changed the outlook of the division. The Huskies face Oregon this Saturday in what is now a pivotal game. Meanwhile, a Stanford team that upset USC just two weeks ago, now needs to win out in Pac-12 play, and see Washington lose at least two conference games, in order to win the North.
Pac-12 South Standings
Arizona State (2-0 Pac-12, 4-1 overall)
UCLA (1-1 Pac-12, 4-1 overall)
USC (1-1 Pac-12, 3-1 overall)
Colorado (1-1 Pac-12, 1-4 overall)
Utah (0-1 Pac-12, 2-2 overall)
Arizona (0-2 Pac-12, 3-2 overall)
South Division Breakdown:
The Trojans still control their fate, with an important clash with Utah coming up on Thursday night. But the USC offense will need to come together and be more consistent if it's going to fend off a much stronger collection of South Division opponents than anyone ever imagined.
Arizona State sits atop the standings, although its conference victories have come against California and Utah -- two squads that have struggled so far. But with a high-scoring offense and a defense that currently ranks No. 1 in the conference in total yards allowed, the Sun Devils shouldn't be overlooked. ASU and the Trojans meet up on Nov. 10 in Los Angeles.
Like USC, UCLA is 1-1 in conference play, and the turnaround in Westwood under Jim Mora Jr. has been dramatic. Since the Bruins' only loss came at the hands of Oregon State out of the North, they too can determine their own future. The November 17 crosstown rivalry game with the Trojans could have extra meaning this year.
Picked to finish No. 2 in the Pac-12 preseason poll, Utah has underperformed, but it's important to note that the Utes miss both Oregon and Stanford on this year's schedule, so a turnaround is possible.
Colorado is theoretically still in the mix, although its 1-4 record doesn't exactly instill confidence. And a talented Arizona team is unexpectedly in the cellar of the division.
Key Pac-12 games:
Oct. 6
Washington at Oregon
Oct. 13
USC at Washington
Oct. 18
Oregon at Arizona State
Oct. 27
UCLA at Arizona State
Oregon State @ Washington
Nov. 3
Oregon at USC
Arizona State at Oregon State
Nov. 10
Arizona State at USC
Oregon State at Stanford
Nov. 17
Stanford at Oregon
USC at UCLA
Nov. 24
Oregon at Oregon State
Stanford at UCLA
PAC-12 SCOREBOARD
Thursday, 9/3
Saturday, 9/5