USC Trojans:

Noel Mazzone
December, 3, 2013
12/03/13
5:30
PM PT
Pushed the mailbag back a few hours to field some questions on Steve Sarkisian, the all-league teams and more. Plenty to talk about with only two teams playing this week.

Tim in Atlanta writes:
Is there really any justification for
Josh Huff
being left off
the 2nd team all-Pac team this year
? He had 200 more yards than montgomery and 57% more TD than Strong. Standings shouldn't matter in this, and the fact that Huff is the first WR in years to have 1000 yards in Oregon's spread-it-around system should say a lot. Seems like voters punished him for Oregon's offensive firepower instead of rewarding a guy for standing out on a team full of offensive talent... or maybe they didn't the game on friday.
Kevin Gemmell
: Well, the voters are the coaches. And having talked to the coaches over the last couple of years, I can tell you this isn't something they farm out to assistants. The ones I've spoken with about the process take it pretty seriously.
The stats are there, no question. And I was sitting in a bar in Pasadena Friday night watching the Civil War feeling very happy for Huff to have that kind of a game. He's taken a lot of heat over the last month -- some of it was deserved, some of it wasn't.
But I think that also could have played a factor. Coaches are bias, just like everyone else who votes. They have their favorites. And perhaps Huff's Rose Bowl comments didn't sit well with the coaches. I'm just speculating, but I don't think it's too far of a reach.
A lot of questions and speculation about the Pac-12's Rose Bowl partner
– including questions from Kelly in Bend, Ore., Josh in Mesa, Ariz., and Greg in San Francisco. So I'll lump them all together into one answer. It breaks down to this: Could Alabama play in the Rose Bowl Game presented by VIZIO.
Kevin Gemmell
: Short answer: yes, with an if. And no, with a but.
The winner of the Pac-12 championship game heads to the Rose Bowl no matter what, since neither Stanford nor Arizona State are under consideration for the VIZIO BCS National Championship game.
The Big Ten is a different story since Ohio State is now in play for the title game. If Ohio State beats Michigan State, chances are it goes to the BCS championship game and therefore the Big Ten forfeits its entry into the Rose Bowl. That leaves a void.
The obvious solution is Michigan State to Pasadena. The kicker, however, is whether Michigan State is still in the top 14 of the BCS rankings. If Michigan State wins, it will go to the Rose Bowl. If it loses and falls out of the top 14, a replacement team needs to be found.
The optimal solution is for either Michigan State to win or Ohio State to win, but Michigan State puts up a good enough fight that it stays within the top 14. There is nothing the Rose Bowl committee wants more than a Pac-12-Big Ten matchup for the 100th game. Preserving that tradition is important to them.
But it might be out of their control.
Assuming Florida State goes to the championship game, the Discover Orange Bowl would have the first pick at filling its spot. It's hard to imagine Alabama slipping through. However, if for some reason it does, then I wouldn't be shocked for the Rose Bowl to snatch up Alabama. But a few things need to happen for that scenario to play out.
John in Los Angeles writes
: A case for [Jim] Mora being Coach of the Year. First, let me say I don't know much about the other teams in the conference. Being in LA I of course know the saga of Southern Cal, and I do think Coach Orgeron has done a great job. That having been said, here are my points (in no particular order save point 1).
The death of a player: You have brought this up a few times and it likely goes without saying how this impacted the team. Some might say kids this age are resilient and there is some truth to that notion. However I still think Mora did a great job in handling the situation.
Replacing Franklin: I don't really remember seeing this mentioned much other than at the start of the season. Franklin not only became the schools leading rusher he was a team leader. That is a tough combination to replace.
Replacing the secondary: This job became even harder when Riley had to retire. I don't know how young we were back there but IIRC it was fairly young all season.
Injuries along the offensive line: This one is pretty well documented.
Freshman punter: I don't think people appreciate how good Jeff Locke was last year in terms of field position. Then to have to replace him with a true freshman to boot (pun intended).
With all of those things UCLA was one poor half away from winning the South. Like I said, I don't know much about the other teams and what they had to go through this year. But I think going 9-3 with 2 of the three losses coming on the road to (then) top 5 teams in back to back weekends and the only other loss to a top 20 team with having to deal with all the stuff above, Mora deserves some serious consideration for Coach of the Year.
Kevin Gemmell
: This one came in on Sunday, before the coach of the year was named, but I still think everything John just mentioned is worth addressing, because everything he says is correct. And I don't know what the totals were in terms of voting for coach of the year. I have to imagine Mora got a few votes.
But it's tough to ignore the job Todd Graham has done at Arizona State. Before the season, most people didn't expect the Sun Devils to win the South (outside of the Pac-12 blog) and they started the year unranked. When you look at the schedule they played and the way they won games down the stretch -- home and away, blowouts and come-from-behinds -- I would have voted for Graham also.
Mora did a fantastic coaching job this year. And winning at the Coliseum last week was obviously a huge step forward for the program. But they had a chance to seize control of the division at home and couldn't get it done.
From where ASU started the season -- unranked -- to where it is now, Graham was the right choice.
The Heisman Committee in New York writes
: Kevin, you told us recently that the Pac-12 would send 1 Heisman finalist and it would be
Marcus Mariota
? Should Carey go? Should he take Mariota's place? Is there any chance we invite both? Do either have a chance of beating Winston and the field given Winston's legal troubles? We're so overwhelmed by this season that we could really use all the help we can get.
Kevin Gemmell
: Pretty sure I told you that in October during a chat. Chat answers are obviously gut feelings at the time, and at the time Mariota seemed like a safe choice.
Have the circumstances changed? Absolutely. I think when all is said and done, it should either be
Ka'Deem Carey
or
Bishop Sankey
who represents the Pac-12 in the Heisman voting.
I made a case earlier today
for one of the two Pac-12 backs winning the Doak Walker. And I think if the Heisman doesn't go to a quarterback, then it should go to one of the two backs. And I'd be a Carey lean simply because of the consistency every week.
Yes, Sankey supporters, I know he sat out a lot of the Idaho State and Colorado games. Carey missed time too. Both are phenomenal backs and regular Pac-12 blog readers know that I've been high on Sankey for a very long time.
But his performances in the ASU and UCLA games are the sort of showing that haunt players when it comes to postseason awards. If I were a voter, my main focal point would be consistency and complete body of work. And Carey showed that against the toughest competition he played his best ball.
Emily in LA writes
: Well, I guess you can ignore my last question now that it's completely irrelevant after today's news. I'll withhold judgment on Sarkisian (and learn to spell his name) after I see how he does, but I'm still sad about Coach O leaving.
Kevin Gemmell
: Emily submitted a question on Sunday showing support for Ed Orgeron and questioning whether the UCLA loss should play a major factor in Pat Haden's decision. It can still be answered despite the changes, because we now have the benefit of hindsight.
I'm pretty sure it didn't rest on that one game -- though it probably made it easier. No doubt, Orgeron did a magnificent job. He tapped into something special with his players and rode it for as long as he could.
For kicks, let's say he were named the head coach. A lot of the inspiration he had this season -- that nothing-to-lose attitude -- would be gone. That's not to say he couldn't get the job done. But these past seven weeks have been a pretty exceptional situation.
Haden is thinking about the long-term health of the program. It can't just be five weeks from now. It has to be five years from now. And it's tough to separate the emotion of what went on the last few weeks with what the future is going to hold.
Keep in mind though the two games Orgeron did lose -- Notre Dame and UCLA. Those are rivalry games. USC fans expect their team to beat Cal and Utah and yes, even Oregon State in Corvallis. But they also expect wins over rivals. And that's something Orgeron failed to provide.
Don't get me wrong. The Pac-12 blog was very impressed with what Orgeron was able to do. And there is obviously a level of disappointment in him leaving.
But he had to go. Sark needs a clean slate to start with, and Orgeron's presence, while probably wanted by the players, would have been more of a distraction to the new administration.
It's like breaking up with your girlfriend, but tagging along with her on dates so you can tell her new man her likes and dislikes. It's uncomfortable and awkward.
October, 17, 2013
10/17/13
10:15
AM PT
A few storylines to keep an eye on this week in the Pac-12:
1. Title game rematch
: UCLA and Stanford will face each other for the third time in the last 10 months. Only this time it's the Bruins who are the higher-ranked team, coming in at No. 9 after Stanford slid to No. 13 following its loss at Utah. Remember all of those side-to-side swing passes that Dennis Erickson and Utah used to keep Stanford off balance? Remember who worked for Erickson at ASU? Yep, Noel Mazzone. And UCLA loves to hit its receivers in the flat. Keep an eye on what happens after the second-half kickoff, as well. The Bruins are outscoring opponents 71-0 in the third quarter this year. Stanford has a 12-game home winning streak -- third longest in the nation -- and is 10-1 at home against ranked opponents since 2009. Stanford hasn't lost consecutive games since the middle of the 2009 season.
[+] Enlarge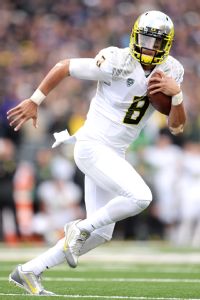 Allen Kee/ESPN ImagesMarcus Mariota and the Ducks are expected to be one of the top two teams when the BCS standings are released on Sunday.
2. BCS time
: The first Harris Poll of the season was released Sunday and featured four Pac-12 teams in the top 25: Oregon (2), UCLA (9), Stanford (12) and Washington (25). The first BCS standings will be released this week -- which comes on the heels of the announced selection committee for the College Football Playoff that starts next year. We're all expecting Oregon to be in one of the top two spots. Question is, where will UCLA or Stanford land?
3. North vs. South:
Two more critical North versus South showdowns this week with UCLA traveling to Stanford and Washington heading to Arizona State. The UCLA-Stanford game takes center stage for obvious reasons. But Washington-ASU has all the makings of a thriller. This is one of those 50-50 games that either team needs to win to show they belong in the upper tier of the Pac-12. The quarterbacks,
Keith Price
and
Taylor Kelly
, are obviously the mechanisms that make their teams go. But Washington running back
Bishop Sankey
(899 yards) has rushed for at least 125 yards in five of six games and ASU gives up almost 170 yards per game on the ground. Look for him to probably break 1,000 for the season by the final whistle. On the flip side, ASU's
Marion Grice
already has 15 total touchdowns. He had 19 last year, so look for him to eclipse that mark in the next couple of games.
4. Making up is hard to do
: Colorado will face Charleston Southern this week as a makeup for the Sept. 14 game against Fresno State that was canceled because of severe rain and flooding in Colorado. Charleston Southern is a perfect 7-0 on the year and is receiving votes in the Sports Network FCS College Football Poll. The Buffs are looking to get to 3-3 for the first time since 2010. And they are making a change at quarterback with
Sefo Liufau
stepping in after going 18 of 26 for 169 yards and a touchdown and two interceptions in relief against Arizona State.
5. No. 5?
The Cougars are looking for their fifth win for the first time since 2007. Tough draw, however, this week with a trip to Oregon. The Ducks are averaging 56.8 points per game and are second in the country in total offense with 630.5 yards per game.
6. Taking care of the ball
: Speaking of Oregon, quarterback
Marcus Mariota
, the Heisman frontrunner through the first half of the season, continues to impress with turnover-free performances. Though his completion percentage is down from last year, he hasn't thrown an interception in 165 pass attempts this year -- which extends a streak dating back to last season of 233 attempts. His last interception was against Stanford. During that stretch, he's completed 100 passes for 1,724 yards and 17 touchdowns. Receivers
Josh Huff
and
Bralon Addison
have 27 catches each for a combined 1,054 yards and 11 touchdowns.
7. Rebuilding the brand:
Nothing can unite the USC fan base like a win against Notre Dame. Better yet, a win
at
Notre Dame. The Trojans won their first game of the Ed Orgeron era and look to follow it up against the Irish. Neither team is ranked, but the names carry a lot of weight. This is a game that could re-energize the Trojans moving forward.
Marqise Lee
and
Morgan Breslin
have both practiced and it's looking like both will play. That should be a huge boost after getting running back
Silas Redd
back last week.
8. Momentum building?
What do the Utes do with their big win over Stanford? Do they keep the momentum rolling? They have to go on the road for four of their next six -- including leaving the state for the first time this season when they travel to face Arizona. The Wildcats are still looking for their first conference win, though quarterback
B.J. Denker
had a strong statistical performance in the loss last week to USC, completing 28 of 44 passes for a career high 363 yards and four touchdowns.
9. Who needs a running game?
The Pac-12's top two passing offenses square off with Oregon State's trip to Cal. OSU quarterback
Sean Mannion
has six straight games of 350 passing yards and the Beavers lead the conference with 433.2 passing yards per game and 25 passing touchdowns. Cal averages 371.3 yards in the air -- second in the league, but just 11 passing touchdowns, third worst. The Bears can move it, they just haven't been able to convert yards into points.
10. No off week:
For the second straight week, all 12 schools will be in action. This was supposed to be a bye week for Colorado, but the Charleston Southern game fills the void. Next week Arizona State and Washington State are on bye. It will be the first of two byes in three weeks for the Cougars, who will have opened the year with eight straight games following this week's matchup with Oregon.
October, 3, 2013
10/03/13
10:15
AM PT
A few storylines to keep an eye on in Week 6 in the Pac-12. (Really? Week 6 already?)
[+] Enlarge

AP Photo/Nati HarnikUCLA signal-caller Brett Hundley will lead the Bruins into Utah on Thursday night.

50 for five? Oregon set a school record last week by scoring at least 50 points in four consecutive games. This week it faces a Colorado team that appears to be stronger than last year's but still has some holes on both sides of the ball. Sans De'Anthony Thomas, the Ducks had little trouble negotiating Cal -- and mother nature -- en route to a 55-16 win. Is a fifth straight 50-plus-point game in the cards?
Kicking it: Great stat from our friends at the Pac-12 offices: "Entering last weekend's play, Pac-12 teams were 186-of-188 on PATs (.989). However, weather conditions in the Pacific Northwest last weekend wreaked havoc on the kickers as high winds and rain contributed to a combined six missed extra-point attempts in games in Corvallis, Eugene and Seattle. While kickers struggled with extra points last weekend, combining for 38-of 45 (.844), they did have considerable success from further out as they connected on 8-of-9 field-goal attempts (.889)." What's the takeaway? Don't try to understand kickers.
Nine in a row: UCLA has both of its bye weeks in the rearview mirror and will play nine consecutive games to close out the season, starting tonight with a trip to Utah. Quarterbacks (and their offensive coordinators) take center stage in this matchup. UCLA's Brett Hundley and Utah's Travis Wilson are both off to fantastic starts. And UCLA offensive coordinator Noel Mazzone was the OC for Dennis Erickson at Arizona State. Erickson is of course now the OC at Utah.
Quick starts? There are lots of intriguing storylines in the Washington-Stanford matchup. For starters, it's a pair of top-15 teams, which is always exciting. But the Huskies have outscored opponents 38-0 in the first quarter and are yet to trail in a game this season. Stanford is outscoring teams 37-12 in the first frame. This kicks off the first of three straight games for the Huskies against ranked opponents, who are home to No. 2 Oregon next week and at No. 22 ASU on Oct. 19.
Irish x 3: The Sun Devils travel to Arlington, Texas, to take on Notre Dame -- the first of three games between the Irish and Pac-12 teams. Notre Dame will host USC under the lights on Oct. 19 and then close out the season at Stanford on Nov. 30. The Sun Devils are trying to become the first team to beat USC and Notre Dame in consecutive weeks. It has happened only 13 times that a team has played USC and Notre Dame in back-to-back weeks.
Raids a'plenty: Washington State travels to Cal in a showdown of the Air Raid vs. the Bear Raid. Cal coach Sonny Dykes, of course, learned his offensive philosophies from working under Washington State coach Mike Leach at Texas Tech and was his GA at Kentucky.
Quarterback change? Cal, which has gone with true freshman Jared Goff as its signal-caller this season, released its depth chart this week with an "or" between Goff and redshirt freshman Zach Kline. Dykes said he felt Kline deserved to get some reps, and both quarterbacks took reps with the first team offense this week. Does it mean Goff is out? Not necessarily. Goff said he's fine with the competition -- despite averaging 329.2 yards per game. Goff was 3 of 6 for 11 yards and lost a pair of fumbles in unfavorable weather at Oregon. Kline stepped in, making his collegiate debut, and was 18 of 37 for 165 yards with a touchdown and an interception.
Arms race: Half of the Pac-12 quarterbacks rank in the top 25 of Total QBR heading into the week: Marcus Mariota (2), Kevin Hogan (5), Brett Hundley (11), Travis Wilson (16) and Keith Price (21) are all in action this week. Sean Mannion (22) is on bye. Four of those QBs are going head to head with Wilson and Hundley tonight and Hogan and Price on Saturday.
Catching on: Per the hard-working folks of Arizona State's media relations office, ASU's Jaelen Strong is off to one of the best starts of any ASU wide receiver in school history. Through his first four games, he has more catches and yards than any other receiver. So far he has 31 catches for 433 yards and two touchdowns. Lenzie Jackson and Jon Mistler had four touchdowns through their first four games, but Strong is way out in front in catches and yards. He faces a Notre Dame defense that gives up 364 yards per game.
Taking a breather: Arizona, Oregon State and USC are on a bye this week. The Trojans return to action for the first time without Lane Kiffin when they host Arizona next Thursday. Oregon State travels to Pullman to take on Washington State on Oct. 12.
November, 14, 2012
11/14/12
12:00
PM PT
Heading into Week 12 of
Matt Barkley
's first season as a true freshman starting quarterback for USC, the reviews -- and the performances -- ran hot and cold.
He was 7-2 as a starter (missing the loss to Washington with a sore shoulder), was 3-2 against teams in the top 25 and was completing 57 percent of his throws with 11 passing touchdowns and 10 interceptions.
[+] Enlarge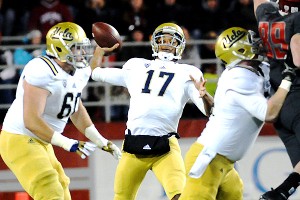 James Snook/US PresswireBrett Hundley's first season starting has been smoother than it was for fellow LA QB Matt Barkley.
Heading into Week 12 of
Brett Hundley
's first season as a redshirt freshman starting quarterback for UCLA, the reviews are glowing. He's 8-2 as a starter, 2-0 against teams in the top 25 and is completing 69 percent of his throws with 24 passing touchdowns to nine interceptions. (Hundley has also rushed for six touchdowns.)
Barkley would go on to have one of the finest careers in Pac-12 history. Hundley appears to be well on his way.
"Hundley is a raw talent," said Arizona State head coach Todd Graham, who has seen Hundley and Barkley in the past three weeks. "He's a guy that's tough to bring down in the pocket. He's just strong. He's young, but he's getting better with every rep. Barkley, obviously, is seasoned. Great deep ball. Total command of the offense."
When the Trojans travel across town Saturday to face the Bruins in a game that will decide the Pac-12 South Division, it will also represent a changing of the guard, of sorts. Not only are the Bruins looking to supplant the Trojans as the team to beat in Los Angeles, but Hundley could see his Heisman star on the rise in coming years -- much as it has been for his cross-town counterpart.
"I always knew he was a big-time quarterback doing big-time things," said Hundley, who regularly watched Barkley on TV when he was in high school. "I wanted to start as a true freshman, so I would research other quarterbacks who started as freshmen and his name kept popping up. He's a great quarterback and I have a ton of respect for him."
To Barkley's credit, his freshmen numbers came as a true freshman. Hundley has had the benefit of a redshirt year, during which he grew physically and had a season to learn the speed of the game. Barkley wasn't as fortunate.
"It was rough, but I came in with the intention of starting and it kind of worked out pretty well with Mark [Sanchez] leaving that I got a chance to compete for the spot," Barkley said of his freshman season. "I had some seniors who helped me get used to the speed of the game. But it was challenging. I think I was a little oblivious to the whole thing at the time, to tell you the truth, and the magnitude of what was going on. I don't think I realized how big of a game it was going to Ohio State to play in the Horseshoe. Looking back, it was hard. Harder than Division I high school football, that's for sure."
Another big difference is that Hundley is in an offense that is a little more forgiving on quarterbacks. UCLA's spread attack moves the pocket and allows Hundley to rely on his athleticism, whereas Barkley was thrown into a pro-style system in which he dropped back and had to take his lumps within the pocket.
Still, the fact that Hundley is doing what he has able to do at such a young age bodes well for the future of the Bruins.
"He's playing great," USC head coach Lane Kiffin said. "It's very unusual for a freshman to have so few mistakes. He doesn't get rattled. It's almost like if you keep watching, you're expecting to see more mistakes, but you just don't see it."
In retrospect, Hundley is thankful for his redshirt season. Naturally, he believes he also could have started as a true freshman. But the extra year has been extremely beneficial. But he'll need to keep progressing and gaining experience if he hopes to catapult himself from phenom to top-end NFL prospect, which is where Barkley currently sits.
"Brett is going through a lot of the growing pains that freshmen go through, as I'm sure Matt went through them as well when he was a freshman," UCLA offensive coordinator Noel Mazzone said. "Brett is still learning how to play the game and handle all kinds of new experiences that you have to play through; running a two-minute drill to win a game, getting a crucial third down to win a game, being down 14 points and leading your team back. These are all things Brett is doing for the first time. Matt has done all of those things a bunch of times."
And as one college career is budding, another is about to come to a close. Maybe not the way Barkley had intended it, but nevertheless, he's not one for regrets.
"I can't even imagine it going the other way," Barkley said of his decision to return for his senior year. "I haven't looked back once. I haven't doubted myself and I couldn't be happier with where I am. … Honestly, I haven't had much time to reflect on the entirety of everything. I'll do that at the end of the season."
October, 17, 2012
10/17/12
9:15
AM PT
The major preseason stories in the Pac-12 were four new coaches, the return of
Matt Barkley
, the nation's leading Heisman Trophy candidate, and USC and Oregon apparently headed for a showdown with national-championship implications on Nov. 3.
The major midseason stories are a little different.
USC and Oregon could still be an epic clash, just not as epic because USC already has lost. Also, Barkley's middling numbers for an offense that hasn't been consistently in sync have diminished the national perception of the Trojans. The Ducks are now the Pac-12 team at the center of the national discussion.
As for the four new coaches, three have gotten off to great-to-solid starts in year one. But how will they finish? And will Mike Leach get Washington State on track?
Will Arizona State maintain its fast start, or are the Sun Devils headed for a tough dose of reality as the schedule firms up, starting with Oregon on Thursday?
Speaking of fast starts: Oregon State. The Beavers have surged, and coach Mike Riley has moved from the hot seat to the throne of a national-coach-of-the-year candidate. Oregon and Oregon State are the only two unbeaten teams in the conference, so it's not inconceivable that the Civil War could be for the North Division crown, a spot in the Pac-12 title game and, perhaps, a chance to play for the national title.
It could become the season's true epic clash.
As for hot-seat talk, as distasteful as it is, nearly all of such focus will be on California coach Jeff Tedford. The Bears have won two in a row after a 1-4 start, but it remains in the air whether this team can be consistent enough to earn a bowl berth. A losing record wouldn't be good for Tedford.
[+] Enlarge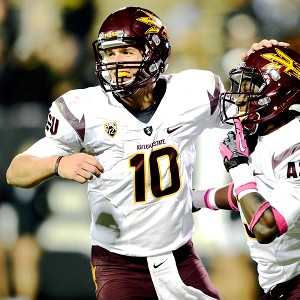 Ron Chenoy/US PresswireWith Taylor Kelly back at quarterback, Arizona State could be doing a lot of celebrating in 2013.
Finally, in terms of individual awards, it will be interesting to see if any Pac-12 player emerges as a true Heisman Trophy contender. Might Barkley turn it up during the second half? Will Oregon's
De'Anthony Thomas
start to fill up "SportsCenter" with highlights? Is there a potential dark-horse candidate?
Ultimately, midseason reviews don't mean much. Teams and players can reverse course -- positively or negatively -- at any moment.
But what it is fair to say is there are plenty of rich plot lines heading into the season's second half, even if those were not the stories that advanced the season.
Bold prediction
: The conference will fill all seven of its bowl obligations, plus one. Oregon is already in; Oregon State, Arizona State, USC and UCLA are all one win from being bowl-eligible. If you follow the Sunday zaniness that is
our weekly bowl projections
, you know your bloggers project Oregon to the national championship, which opens up one more spot. We see Stanford and Washington bowling. That's seven right there. The eighth spot is up for grabs, with Arizona and Cal the likely candidates. Cal could get to .500 this week, then would need two more wins with Utah, Washington, Oregon and Oregon State remaining. If Arizona takes care of Colorado and Utah in the second half, that leaves it looking for one more win over from among Washington, USC, UCLA and Arizona State.
Looking forward to
: The race in the Pac-12 South. Once thought to be gift-wrapped for the Trojans, the recent inconsistent play of USC opens up the possibility of someone else as the South's representative in the title game. The Trojans are still the favorite, but Arizona State and UCLA aren't going to make it easy. Both of UCLA's losses have come to North Division teams, USC's loss was to Stanford and ASU's was out of conference. It's more wide-open than we ever could have imagined in August.
Top five games (by date, not importance):
Oct. 18, Oregon at Arizona State
: Time to find out if the Sun Devils are for real. They have the conference's No. 1 scoring defense facing Oregon's top-ranked scoring offense. The Sun Devils rank second in scoring. Both teams are getting phenomenal quarterback play and both like to work fast.
Oct. 27, UCLA at Arizona State
: This is a pivotal game in the aforementioned race for the South Division title. It features two explosive offenses and two of the league's brightest young quarterbacks. Some pretty good players from both defenses as well.
Nov. 3, Oregon at USC
: This is still the big one. An Oregon win gives the Ducks some much-needed national credibility, while a USC victory puts the Trojans back in the BCS championship hunt. Might be a last-gasp Heisman run for Thomas and/or Barkley.
Nov. 17, USC at UCLA
: A new chapter in this historic rivalry begins with Jim Mora at the helm for the Bruins. He has made them a player in the Pac-12 South, and lest we forget, coordinator Noel Mazzone's offense put up 43 points on USC last year when he was with ASU. This one could decide the South champion.
Nov. 24, Oregon at Oregon State
: The stakes could be stratospheric -- as in national championship implications for both schools. If the Ducks take care of business Nov. 3 and Oregon State can navigate a second-half schedule that includes Stanford and ASU, then all of Oregon will show up for what could conceivably be the Pac-12 game of the year.
August, 31, 2012
8/31/12
12:00
PM PT
There are five new quarterbacks in the Pac-12 this season:
Taylor Kelly
at Arizona State,
Jordan Webb
at Colorado,
Marcus Mariota
at Oregon,
Josh Nunes
at Stanford and
Brett Hundley
at UCLA.
Our question this week: Which of them will have the most success this season?
[+] Enlarge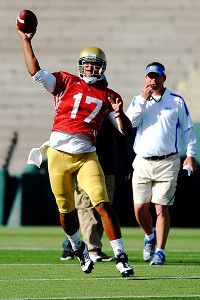 Chris Williams/Icon SMIUCLA quarterback Brett Hundley will be tested often this season.
Kevin Gemmell:
Poor, poor Ted. I know your brain is mush right now. You've been grinding away so hard on the best-worst scenarios that you've got nothing left for a Take 2. Obviously, the easy choice here is Oregon quarterback Marcus Mariota.
I'll tell you what, buddy, since I'm going first this week, I'm going to leave the softball for you and take a different approach. No, no. You don't need to thank me now. Just buy me a Cuban sandwich when we're in Miami for the USC-Oregon national championship game and we'll call it even.
When you're measuring the success of a new quarterback, you have to first look at what's the definition of success. Because I think the measuring stick is going to be a lot different for Mariota than, let's say, UCLA quarterback Brett Hundley.
If Hundley wins eight games and takes his team to a mid-level bowl game, I'd call that a pretty successful debut season. If Mariota wins eight games and takes his team to a mid-level bowl game, Oregon would probably call 2012 a massive failure of a season. Teams that start the year ranked in the top five don't want to end up in San Diego in December -- no disrespect to this beautiful city I'm blessed to call home.
The Bruins, however, I think would be awfully pleased with an appearance in the Holiday Bowl.
Consider what Hundley is up against: a new head coach, who by the way has never coached in college (that's not a knock on Jim Mora, just a fact), a new offensive coordinator with an offense that is a complete 180 from what the Bruins were running previously, and while I think UCLA has some playmakers, Hundley doesn't have the weapons around him that Mariota does. Also, most would agree at this point that Oregon has the superior offensive line.
But I think Hundley overcomes all of that to lead his team to seven or eight wins and a pretty decent bowl game. The reason I think that -- aside from the fact that Hundley is a very talented player -- is because of UCLA offensive coordinator Noel Mazzone and the way he transforms quarterbacks. His system is proven, even if Hundley is not, and it's going to allow Hundley to do what he does best: sling the ball around to a lot of different receivers and make plays with his feet when it's needed.
This was the same offense that produced 33 points per game last year when Mazzone was with Arizona State and dropped 43 on the
USC Trojans
; the same offense that averaged 32 points per game in 2010 that went for more than 40 points four times. Some might remember the 55 they scored on the Bruins that year.
Because of all the immediate factors working against Hundley, people are going to allow him a little more wiggle room to develop than they would Mariota.
And I think you can say the same thing for Josh Nunes at Stanford, Taylor Kelly at ASU or even an experienced newcomer like Jordan Webb at Colorado. They have the luxury of working their way into success, rather than instant success being demanded.
Huh, maybe Mariota isn't such a slam dunk after all. I guess the Cuban sandwiches are on me.
Ted Miller:
Thanks for making things easy on me, Kevin.
[+] Enlarge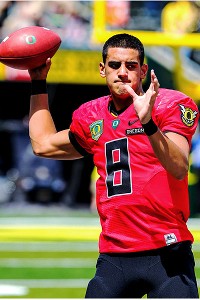 Steve Conner/Icon SMIBetween a stellar supporting cast and a proven coach, the stage is set for Marcus Mariota at Oregon.
I've been reading the tea leaves, and Marcus Mariota is going to be a revelation.
Now it's perfectly fair for someone to point out that I've only see Mariota in action once -- his much-ballyhooed performance in the 2012 spring game. So my -- and anyone else's -- sample size for extrapolating success is extremely limited.
Still, there are three things that make him the pick for immediate success.
First, he beat out
Bryan Bennett
, a guy who has long been touted and who played very well in relief of an injured Darron Thomas last year. If Mariota is better than Bennett, then he's got to be pretty darn good.
Second, his supporting cast will make him look good. He's got plenty of offensive weapons surrounding him as well as a top-notch offensive line. He doesn't have to throw it 40 yards to get a 40 yard completion. He merely needs to dump it to
Kenjon Barner
,
De'Anthony Thomas
or
Josh Huff
and let them do the legwork. The stat sheet doesn't make a distinction.
Third, who's the coach of this team? That's right, Chip Kelly. What's his track record with quarterbacks at Oregon? Let's review.
Oregon fans hated Dennis Dixon -- oh, yes you did! -- until Kelly arrived in 2007. Dixon went from being an infuriating underachiever who threw a lot of interceptions to the nation's top Heisman Trophy candidate until he blew out his knee.
Then, after Nate Costa blew out his knee before the 2008 season, Kelly was left with, well, just about nobody. Recall that Jeremiah Masoli was a summer addition to the roster whom no one had heard of. He led the Ducks to a Holiday Bowl victory and then to the first of three conference titles in 2009.
And when Masoli got the boot, Kelly surprised many when he tapped Thomas over Costa. Thomas then led the Ducks to the national title game and a Rose Bowl victory.
Think how good the Ducks' QB play has been since Kelly arrived in Eugene. Now, how many of these former Ducks quarterbacks had NFL success? It's obvious that Kelly finds ways to make his QB successful.
And guess what: Mariota is the most physically talented signal-caller Kelly has coached. He could become the first Kelly QB to become a high NFL draft pick and then a starter.
Sure, the bar has been set high. Anything less than another BCS bowl appearance would disappoint most Oregon fans. But, as things look at present, the odds are fairly good the Ducks will receive a fourth consecutive BCS bowl berth.
Finally, there is always this: Mariota is a redshirt freshman. He's, inevitably, going to have some boneheaded moments. But his youth also means the Ducks -- and Kelly -- will have him for at least three more seasons. (If he opted to leave for the NFL draft after his redshirt sophomore year, well, he'd probably be pretty darn good).
That's the consolation if he's merely pretty good this year: He's got plenty of time to become outstanding.
But the guess here is Mariota puts up plenty of numbers as a dual-threat this season. And leaves us with plenty of "Wow!" moments.
February, 23, 2012
2/23/12
10:34
AM PT
Pac-12 spring preview: South Division
Spring practice is almost here. Here's a snapshot at what to expect from the Pac-12 South in the coming weeks.

ARIZONA
Spring practice starts
: March 4
Spring game
: April 14
What to watch
:
Hello, my name is ... Like the other two teams in the South Division with new head coaches (Arizona State and UCLA) much of Arizona's first few weeks will be Rich Rodriguez evaluating his personnel and getting to know what he has to work with. Likewise, the players are going to have to figure out what this new coaching staff is about. Everything from how they do pre-practice stretches to how they call the cadence is going to change.
New scheme and a new scheme: A spread option on offense and a 3-3-5 on defense. That's a lot of new material to digest on both sides of the ball. Until Rodriguez can recruit the players he likes into his scheme, he's going to have to make it work with the players he has. Fortunately on the defensive side of the ball, Arizona has good depth in the secondary with Cortez Johnson, Marquis Flowers, Shaquille Richardson, Jourdon Grandon and Tra'Mayne Bondurant. The Wildcats should also get a boost with the return of injured players Jake Fischer (LB), Jonathan McKnight (CB) and Adam Hall (S).
Perfect fit? Former starter Matt Scott, who was beaten out by Nick Folesin 2009, is expected to reprise his starting role under Rodriguez. He redshirted the 2011 season and -- magically -- Foles never got hurt last year despite taking 23 sacks and countless hits. Scott is considered the more versatile quarterback and should fit nicely into the new run-based spread attack.

ARIZONA STATE
Spring practice starts
: March 13
Spring game
: April 21
What to watch
:
QB competition: We know what kind of offense new coach Todd Graham is going to run; now it's a matter of figuring out who is going to run it. Graham has his choice of three players -- Mike Bercovici, Taylor Kelly or Michael Eubank -- to replace NFL-bound Brock Osweiler. Graham said earlier this month that there are no favorites heading into the competition and each one brings his own skill set to the table. Eubank has the size (6-foot-5, 235 pounds), Bercovici (6-1, 205) is a mechanic and Kelly (6-1, 202) is a little bit of everything.
Get the locker room: By the end of the 2011 season, ASU's locker room wasn't just divided, it was completely splintered. Graham's task -- and that of his new coaching staff -- is to pick up the pieces, mend internal fences and find some chemistry on both sides of the ball. Linebacker Brandon Magee, long considered a great locker room leader, should help get the Sun Devils back on track as he returns from a season-ending Achilles injury.
Hands competition: The Sun Devils lose three of their top four wide receivers from last season -- Gerell Robinson, Aaron Pflugrad and Mike Willie. Jamal Miles returns after finishing second on the team last season with 60 catches and six touchdowns. Rashad Ross figures to be the No. 2 guy, but establishing depth in that corps -- especially if Graham wants to be up-tempo -- is key.

COLORADO
Spring practice starts
: March 10
Spring game
: April 14
What to watch:
Momentum, maybe? For as rough as 2011 was for the Buffs, they ended the year on a high note, winning two-of-three down the stretch -- including a 17-14 win over Utah in the season finale. But there is also the possibility that things might get worse before they get better. With just four returning starters on offense, spring in Boulder will likely be more about teaching and less about refining.
Where to start (offense)? Well, quarterback might be a good place. In the court of public opinion, Connor Wood, a transfer from Texas, seems to be the favorite. Nick Hirschman appeared in five games last season, mostly in mop-up time when the game was already out of hand. It's also possible a starter could be named by the end of spring ball. Finding offensive weapons to surround the new quarterback will also be a challenge. Wide receiver Paul Richardson caught 39 balls last season, and running back Tony Jones showed a flare for catching the ball out of the backfield. He'll likely step in as the new workhorse back for the departed Rodney Stewart.
Where to start (defense)? Last in this. Last in that. Last in almost every team statistic the Pac-12 has to offer. But there are some intriguing youngsters on the roster. Cornerback Greg Henderson was all-conference honorable mention as a freshman with a team-high nine passes broken up. Jered Bell also returns from injury after blowing out a knee last preseason. If healthy, he's expected to be a big contributor in the secondary. Linebacker Jon Majorreturns as the team's leading tackler, and if Doug Rippy is fully recovered from his knee injury, he'll look to build on what was a pretty good season last year before getting hurt.

UCLA
Spring practice starts
: April 3
Spring game
: May 5
What to watch
:
QB up for grabs: Like the majority of the conference, UCLA enters spring with a quarterback competition. New offensive coordinator Noel Mazzone said he doesn't care how much experience (or lack thereof) a player has -- if he can play, he wins the job. So don't be surprised if Brett Hundley passes Kevin Prince and Richard Brehautas the new man leading the Bruins. Fans have been clamoring for a change. Hundley might be it.
Attitude adjustment: One of the first things new head coach Jim Mora did was slam the team for its tradition of going "over the wall," a time-honored senior ditch day, saying if they want to jump the wall, they should just keep on going. How's that for sending a message? UCLA has earned a reputation for being soft and underachieving despite good talent. Attitude and toughness is needed -- and so far, Mora appears to be hammering that point home.
Speaking of toughness ... The defense has to get tougher. No two ways about it. It was weak against the run last season, allowing more than 190 yards per game on the ground; couldn't get to the quarterback; and couldn't get off the field almost 50 percent of the time on third down. It's time for potential all-conference players such as defensive end Datone Jones to start living up to the hype and the defense as a whole to stop getting pushed up and down the field. At 6-5, 275 pounds, Jones has the physical makeup to be a major force in the conference and catapult himself into the elite class of collegiate defensive players.

USC
Spring practice starts
: March 6
Spring game
: April 14
What to watch
:
Ignore the hype: Few teams ended last season hotter than USC and returning quarterback Matt Barkley. The Heisman talk has already started, the way-too-early rankings already have the Trojans as national championship contenders, and the public perception is that the offense is unstoppable. Nice to hear, but hype is a double-edged sword. Head coach Lane Kiffin has a knack for deflecting hype. This season will be his toughest test to date.
Insurance? The Trojans are loaded on both sides of the ball with returning players. But after the starting 22, things start to get dicey. Developing depth and keeping the starters healthy is a top priority -- particularly on the offensive and defensive lines and at running back, where experience is thin outside of the starters. The entire back seven returns on defense -- headlined by hard-hitting safety T.J. McDonald. Stopping the pass has been a major priority for Kiffin, and if this group stays healthy it should see the pass-efficiency numbers improve even more.
Other options: Along those same lines, wide receivers Robert Woods and Marqise Lee make up the most feared receiving duo in the conference -- maybe the country. But who are the Nos. 3 and 4 receivers behind them? George Farmer? Victor Blackwell? De'Von Flournoy? Don't overlook the tight end duo of Xavier Grimble and Randall Telfer, which should rival Stanford's Zach Ertz and Levine Toilolo as the best tight end tandem in the conference.

UTAH
Spring practice starts
: March 20
Spring game
: April 21
What to watch
:
Youthful approach: Head coach Kyle Whittingham turned some heads by naming former Utah quarterback Brian Johnson as his offensive coordinator. Johnson, who recently turned 25, said he's not looking to make wholesale changes to the offense, though he wants to put his stamp on it and continue to build around running back John White IV, who had a breakout season in his first year of major college football. Having quarterback Jordan Wynn back healthy should also help as the team transitions to Johnson running the offense.
Fixing the line: Who is going to protect Wynn (if he does indeed win back the starting job) and make holes for White? That's a major concern heading into spring as the Utes have to replace a pair of all-conference linemen in Tony Bergstrom and John Cullen. The Utes should be set at the interior but have to adjust to a new position coach, with Tim Davis leaving for Florida after just one season and Dan Finn -- a former Utah graduate assistant who was brought on to help Davis -- taking over the whole line following a one-year stint at San Diego State.
Work the experience: The defensive line should be one of the best in the conference, especially with the return of Star Lotulelei, who won the Morris Trophy last season as the conference's best defensive lineman. With the Kruger brothers returning to the line -- Joe at defensive end and Dave at tackle -- Derrick Shelby is the lone starter who has to be replaced. There's also some pretty good depth in the secondary that was tops in the conference last season in pass-efficiency defense.
PAC-12 SCOREBOARD
Thursday, 9/3
Friday, 9/4
Saturday, 9/5