March, 24, 2014
3/24/14
2:30
PM PT
It is absolutely necessary, for the peace and safety of mankind, that some of earth's dark, dead corners and unplumbed depths be left alone; lest sleeping abnormalities wake to resurgent life, and blasphemously surviving nightmares squirm and splash out of their black lairs to newer and wider conquests.
January, 29, 2014
1/29/14
2:30
PM PT
All those mopes in bracelets and not one of them named Osama.
October, 25, 2012
10/25/12
10:00
AM PT
Last weekend, Arizona's
Matt Scott
and USC's
Matt Barkley
led their teams to victory and played well. And you heard a lot more about Barkley than Scott.
Barkley was brilliant, and Scott was just very good. Barkley completed 19 of 20 passes for 298 yards with six touchdowns and zero interceptions against Colorado. It was the most efficient performance in the country this season and the most efficient in the history of the Pac-12. He now has 102 career TD passes, a Pac-12 record.
[+] Enlarge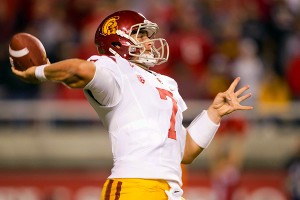 Russ Isabella/US PresswireSenior QB Matt Barkley has the Trojans sitting at 6-1 (4-1 Pac-12) entering Week 9.
Scott, who leads the Pac-12 in passing yards per game with 336.4, played a more supporting role while throwing for 256 yards and four touchdowns and rushing for 43 yards and a score in a blowout win over Washington.
Yet it felt familiar. USC is always big news, even when it's not winning championships. And Barkley is the most famous college quarterback in the country, even if he's not going to win the Heisman Trophy.
Scott? His outstanding numbers and quick adoption of new coach Rich Rodriguez's offense resonates only regionally, if at all.
That might change. These two seniors meet Saturday in Tucson, Ariz., with Barkley, a four-year starter, trying to lead the Trojans back into the national title picture, which means not overlooking Scott and the Wildcats because of their Nov. 3 date with Oregon.
These two did meet once before. Let's hope this one is as fun as the first time: Oct. 4, 2007. That's when Barkley, a junior at top-ranked Mater Dei in Santa Ana, Calif., and already highly celebrated, and Scott, a senior at No. 2 Centennial High of Corona, clashed in front of roughly 10,000 fans in the Santa Ana Bowl.
[+] Enlarge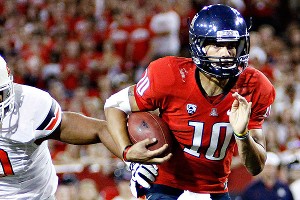 AP Photo/Wily LowSenior QB Matt Scott and the Wildcats are 4-3 (1-3 Pac-12) entering Week 9.
Mater Dei
won 51-37
in a game that featured 58 first downs and 1,295 yards of offense, a California high school record that didn't fall until this season.
"The fans definitely got their money's worth," Mater Dei coach Bruce Rollinson told reporters after the game. "That was some show."
Scott passed for 176 yards and rushed for 178. Barkley was 21 of 31 for 364 yards and two touchdowns. The Centennial defense featured Vontaze Burfict,
Brandon Magee
, Shelly Lyons and
Will Sutton
, who all signed with Arizona State. In a joint interview in 2011, the Pac-12 blog asked Burfict, Magee and Lyons about this game, and they all became a bit grumpy. It's fairly well-known that Barkley and Burfict
are not exactly close
.
Barkley was a five-star prospect in 2008, the nation's highest-rated quarterback. He signed with USC, which was on a dynastic run atop the then-Pac-10, with a 6-1 record in BCS bowl games over the previous seven years and two national titles.
So what does Rodriguez think of Barkley?
"He's obviously been one of the best quarterbacks in the history of the Pac-12," he said. "He's likely to be the first pick in the NFL draft. We're facing one of the all-time greats and also a tremendous leader."
Scott, a year ahead of Barkley, was a three-star prospect who picked Arizona over California, Boise State and Utah. The Wildcats went 5-7 in 2007, their ninth consecutive non-winning season. He beat out Nick Foles for the starting spot in 2009 but lost the job to Foles three games into the season. When Foles was hurt in 2010, Scott came off the bench and played well, but he opted to redshirt in 2011 so he could finally inherit the keys to the offense as a fifth-year senior.
When asked about Scott, USC coach Lane Kiffin's first word is "Wow."
"He's a phenomenal player," Kiffin said. "I didn't realize he is as fast as he is -- accurate, arm strength. He's playing great, doing an unbelievable job with the system."
So there's plenty of admiration for both quarterbacks.
Scott said he and Barkley know each other from football camps and recruiting and get along well, but, yes, it would be meaningful to best Barkley on Saturday.
"They are the No. 9-ranked team, so it's going to mean a lot more," Scott said. "It's a big stage. A great quarterback is coming in here. It would mean a lot to outplay him."
If Take 2 is anything like Take 1, this one figures to be pretty interesting.
February, 23, 2012
2/23/12
10:34
AM PT
Pac-12 spring preview: South Division
Spring practice is almost here. Here's a snapshot at what to expect from the Pac-12 South in the coming weeks.

ARIZONA
Spring practice starts
: March 4
Spring game
: April 14
What to watch
:
Hello, my name is ... Like the other two teams in the South Division with new head coaches (Arizona State and UCLA) much of Arizona's first few weeks will be Rich Rodriguez evaluating his personnel and getting to know what he has to work with. Likewise, the players are going to have to figure out what this new coaching staff is about. Everything from how they do pre-practice stretches to how they call the cadence is going to change.
New scheme and a new scheme: A spread option on offense and a 3-3-5 on defense. That's a lot of new material to digest on both sides of the ball. Until Rodriguez can recruit the players he likes into his scheme, he's going to have to make it work with the players he has. Fortunately on the defensive side of the ball, Arizona has good depth in the secondary with Cortez Johnson, Marquis Flowers, Shaquille Richardson, Jourdon Grandon and Tra'Mayne Bondurant. The Wildcats should also get a boost with the return of injured players Jake Fischer (LB), Jonathan McKnight (CB) and Adam Hall (S).
Perfect fit? Former starter Matt Scott, who was beaten out by Nick Folesin 2009, is expected to reprise his starting role under Rodriguez. He redshirted the 2011 season and -- magically -- Foles never got hurt last year despite taking 23 sacks and countless hits. Scott is considered the more versatile quarterback and should fit nicely into the new run-based spread attack.

ARIZONA STATE
Spring practice starts
: March 13
Spring game
: April 21
What to watch
:
QB competition: We know what kind of offense new coach Todd Graham is going to run; now it's a matter of figuring out who is going to run it. Graham has his choice of three players -- Mike Bercovici, Taylor Kelly or Michael Eubank -- to replace NFL-bound Brock Osweiler. Graham said earlier this month that there are no favorites heading into the competition and each one brings his own skill set to the table. Eubank has the size (6-foot-5, 235 pounds), Bercovici (6-1, 205) is a mechanic and Kelly (6-1, 202) is a little bit of everything.
Get the locker room: By the end of the 2011 season, ASU's locker room wasn't just divided, it was completely splintered. Graham's task -- and that of his new coaching staff -- is to pick up the pieces, mend internal fences and find some chemistry on both sides of the ball. Linebacker Brandon Magee, long considered a great locker room leader, should help get the Sun Devils back on track as he returns from a season-ending Achilles injury.
Hands competition: The Sun Devils lose three of their top four wide receivers from last season -- Gerell Robinson, Aaron Pflugrad and Mike Willie. Jamal Miles returns after finishing second on the team last season with 60 catches and six touchdowns. Rashad Ross figures to be the No. 2 guy, but establishing depth in that corps -- especially if Graham wants to be up-tempo -- is key.

COLORADO
Spring practice starts
: March 10
Spring game
: April 14
What to watch:
Momentum, maybe? For as rough as 2011 was for the Buffs, they ended the year on a high note, winning two-of-three down the stretch -- including a 17-14 win over Utah in the season finale. But there is also the possibility that things might get worse before they get better. With just four returning starters on offense, spring in Boulder will likely be more about teaching and less about refining.
Where to start (offense)? Well, quarterback might be a good place. In the court of public opinion, Connor Wood, a transfer from Texas, seems to be the favorite. Nick Hirschman appeared in five games last season, mostly in mop-up time when the game was already out of hand. It's also possible a starter could be named by the end of spring ball. Finding offensive weapons to surround the new quarterback will also be a challenge. Wide receiver Paul Richardson caught 39 balls last season, and running back Tony Jones showed a flare for catching the ball out of the backfield. He'll likely step in as the new workhorse back for the departed Rodney Stewart.
Where to start (defense)? Last in this. Last in that. Last in almost every team statistic the Pac-12 has to offer. But there are some intriguing youngsters on the roster. Cornerback Greg Henderson was all-conference honorable mention as a freshman with a team-high nine passes broken up. Jered Bell also returns from injury after blowing out a knee last preseason. If healthy, he's expected to be a big contributor in the secondary. Linebacker Jon Majorreturns as the team's leading tackler, and if Doug Rippy is fully recovered from his knee injury, he'll look to build on what was a pretty good season last year before getting hurt.

UCLA
Spring practice starts
: April 3
Spring game
: May 5
What to watch
:
QB up for grabs: Like the majority of the conference, UCLA enters spring with a quarterback competition. New offensive coordinator Noel Mazzone said he doesn't care how much experience (or lack thereof) a player has -- if he can play, he wins the job. So don't be surprised if Brett Hundley passes Kevin Prince and Richard Brehautas the new man leading the Bruins. Fans have been clamoring for a change. Hundley might be it.
Attitude adjustment: One of the first things new head coach Jim Mora did was slam the team for its tradition of going "over the wall," a time-honored senior ditch day, saying if they want to jump the wall, they should just keep on going. How's that for sending a message? UCLA has earned a reputation for being soft and underachieving despite good talent. Attitude and toughness is needed -- and so far, Mora appears to be hammering that point home.
Speaking of toughness ... The defense has to get tougher. No two ways about it. It was weak against the run last season, allowing more than 190 yards per game on the ground; couldn't get to the quarterback; and couldn't get off the field almost 50 percent of the time on third down. It's time for potential all-conference players such as defensive end Datone Jones to start living up to the hype and the defense as a whole to stop getting pushed up and down the field. At 6-5, 275 pounds, Jones has the physical makeup to be a major force in the conference and catapult himself into the elite class of collegiate defensive players.

USC
Spring practice starts
: March 6
Spring game
: April 14
What to watch
:
Ignore the hype: Few teams ended last season hotter than USC and returning quarterback Matt Barkley. The Heisman talk has already started, the way-too-early rankings already have the Trojans as national championship contenders, and the public perception is that the offense is unstoppable. Nice to hear, but hype is a double-edged sword. Head coach Lane Kiffin has a knack for deflecting hype. This season will be his toughest test to date.
Insurance? The Trojans are loaded on both sides of the ball with returning players. But after the starting 22, things start to get dicey. Developing depth and keeping the starters healthy is a top priority -- particularly on the offensive and defensive lines and at running back, where experience is thin outside of the starters. The entire back seven returns on defense -- headlined by hard-hitting safety T.J. McDonald. Stopping the pass has been a major priority for Kiffin, and if this group stays healthy it should see the pass-efficiency numbers improve even more.
Other options: Along those same lines, wide receivers Robert Woods and Marqise Lee make up the most feared receiving duo in the conference -- maybe the country. But who are the Nos. 3 and 4 receivers behind them? George Farmer? Victor Blackwell? De'Von Flournoy? Don't overlook the tight end duo of Xavier Grimble and Randall Telfer, which should rival Stanford's Zach Ertz and Levine Toilolo as the best tight end tandem in the conference.

UTAH
Spring practice starts
: March 20
Spring game
: April 21
What to watch
:
Youthful approach: Head coach Kyle Whittingham turned some heads by naming former Utah quarterback Brian Johnson as his offensive coordinator. Johnson, who recently turned 25, said he's not looking to make wholesale changes to the offense, though he wants to put his stamp on it and continue to build around running back John White IV, who had a breakout season in his first year of major college football. Having quarterback Jordan Wynn back healthy should also help as the team transitions to Johnson running the offense.
Fixing the line: Who is going to protect Wynn (if he does indeed win back the starting job) and make holes for White? That's a major concern heading into spring as the Utes have to replace a pair of all-conference linemen in Tony Bergstrom and John Cullen. The Utes should be set at the interior but have to adjust to a new position coach, with Tim Davis leaving for Florida after just one season and Dan Finn -- a former Utah graduate assistant who was brought on to help Davis -- taking over the whole line following a one-year stint at San Diego State.
Work the experience: The defensive line should be one of the best in the conference, especially with the return of Star Lotulelei, who won the Morris Trophy last season as the conference's best defensive lineman. With the Kruger brothers returning to the line -- Joe at defensive end and Dave at tackle -- Derrick Shelby is the lone starter who has to be replaced. There's also some pretty good depth in the secondary that was tops in the conference last season in pass-efficiency defense.
November, 3, 2011
11/03/11
7:45
AM PT
Went 5-1
last week
-- Cal! Man! What. Is. UP? -- and the season record is now 48-16.
And, yes, the Washington-Arizona prediction looks a lot like the final score.
Friday
USC 44, Colorado 24
: If Colorado, indeed, gets RB
Rodney Stewart
and WR
Paul Richardson
back, the Buffaloes will pose a far stiffer challenge than their 1-8 record suggests. Don't be surprised if USC is a little flat after all the emotions of last weekend against Stanford. Trojans had better not be too flat.
Saturday
Washington 41, Oregon 38
: Got to pick an upset every once in a while, right? At some point, Washington is going to beat Oregon again. Maybe it's this weekend, which would mess up the Pac-12's big show at Stanford on Nov. 12.
Stanford 44, Oregon State 20
: Not unlike USC, it wouldn't be surprising if the Cardinal start slowly and allow the Beavers to hang around. But having a leader like
Andrew Luck
likely prevents a slow start from enduring too long.
California 28, Washington State 24
: I'd really prefer to not pick games involving California, but my bosses said I had to (insert whine). If this game were in Pullman, I'd pick the Cougars, but the Bears play better at "home," even if that's AT&T Park.
Arizona 33, Utah 24
:
Nick Foles
and the Wildcats playing at home is the difference here. The Utes have a good defense but won't be able to keep up on offense.
Arizona State 38, UCLA 28
: The Bruins are going to fight hard -- they understand that this game could transform their season -- but the Sun Devils should assert themselves early in the fourth quarter.
November, 3, 2011
11/03/11
7:41
AM PT
Issues to consider heading into the 10th week of games.
Is Oregon sharp and efficient at QB
? The first question here is: Who? If
Darron Thomas
is healthy, it's almost certain he starts. But is his knee 100 percent? Will he be able to pose a legitimate running threat? Will he be sharp throwing the ball? Even before the injury, Thomas was off-and-on as a passer this year. And then if Thomas gets replaced by
Bryan Bennett
, how will the redshirt freshman react to a potentially competitive game on the road against Washington? He was outstanding against Arizona State at home and solid on the road at Colorado, but this game should be more taxing. Oregon's offense can score so many ways that it doesn't have to be perfect in the passing game. Heck, sometimes it doesn't need to throw at all. But the Huskies chances of recording the upset go up substantially if the Ducks are running at 75-80 percent at QB.
[+] Enlarge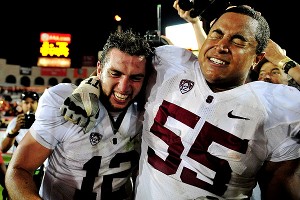 Gary A. Vasquez/US PRESSWIREA letdown is likely for Andrew Luck and Stanford following an emotional triple-overtime victory over USC last week.
Are USC and Stanford going to have letdown games
? After a triple-overtime thriller, it's hard to imagine that USC and Stanford will bring their "A-games" to road dates with Colorado and Oregon State, respectively. For one, both games look like mismatches, so it's possible that players won't be as focused and intense as they normally would. And, second, both could be running on half-tanks of energy after a physical, emotional game. Don't be surprised if they both start slowly and perhaps look a little sloppy. The question is can they pull it together enough to secure a comfortable win or will they allow the Buffs and Beavs to keep things interesting?
Good Cal or bad Cal? Good Maynard or bad Maynard
? California has been all over the place this year, and so has QB
Zach Maynard
. It appeared that he'd found his groove during a 34-10 win over Utah, but then he lost it when he threw four interceptions in a 31-14 loss at UCLA. It's certainly not all his fault. Cal has been fickle for a while, looking like a top-25 team one week, then like an FCS one the other. The Bears should beat Washington State at home. But they will have to show up to do so. And Maynard needs to be on-target or he could lose his starting job.
Will Neuheisel and/or Wulff pick up a signature win
? UCLA and Washington State fans have been waiting for Rick Neuheisel and Paul Wulff to turn their sagging programs around for four years. Neither has produced results that have fans happy. Neither has a meaningful, A-list conference victory that provided a strong indication that better things were ahead (the Bruins beating Texas last year proved a mirage and was a nonconference game). If Neuheisel and the Bruins can beat Arizona State, they will take control of the Pac-12's South Division. That would seem like a win that could resonate. If Wulff and the Cougars could pick up a fourth win at Cal, then it would keep bowl hopes alive and, at worst, show the program was making clear progress.
Foles versus the Utah D
: While Utah's first season in the conference has been disappointing, it's played good, consistent defense. It ranks first in the Pac-12 in total defense and second in scoring. While Arizona's season has been disappointing, QB
Nick Foles
can fling the rock. He ranks first in the Pac-12 in passing yards per game with 366.1, 80 more than anyone else. That matchup alone makes this game worth watching.
Washington's run defense
: Oregon is No. 1 in the conference and No. 4 in the nation in rushing offense (309 yards per game). Washington's defense is best against the run. Of course, that requires qualification. Good running teams -- Nebraska and Stanford -- ran all over the Huskies. And, as a whole, the Huskies defense had been rotten, surrendering 430 yards and 33.4 points per game. If Washington is to have any chance, it must 1. find a way to at least slow down the Ducks running game; 2. force turnovers. Time for coordinator Nick Holt to earn his paycheck.
Arizona needs to run, stop the run
: Utah is second in the conference with 23 sacks. That suggests that it's in Foles' best interest to hand the ball off at least a few times to slow down the Utes' pass rush. So the Wildcats shouldn't abandon the run. Meanwhile, the Wildcats defense has mostly struggled this year, but the Utes offer a limited, one-dimensional offense that relies on running back
John White
. That means Arizona should gang up on the line of scrimmage and force
Jon Hays
to throw the ball. While the Wildcats have been worse against the pass this year than the run -- opponents are completing 69 percent of their throws -- Hays has yet to show he can throw consistently and move his team down the field.
Do Colorado and/or Oregon State have anything left
? Colorado is 1-8. Oregon State is 2-6. Both are coming off blowout losses. Both will be at home in front of uninspired crowds. Both are playing foes with a lot more talent than them. Both look like candidates to take a whipping. And yet. Football is a funny game. If one or the other or both come out playing with fire, they might keep things competitive. And when a game gets into the fourth quarter, crazy things can happen.
October, 20, 2011
10/20/11
6:34
PM PT
Went
5-1 last week
and the season record is now 40-12.
Oregon State fans: Look, I know it's my fault. I am more than willing to save the season and pick against your team in every game, but can you get the word out so I don't get angry email about how I always disrespect the Beavers?
Thanks for you consideration.
Thursday
Arizona 35, UCLA 30
: Is this about the Wildcats playing looser now that volatile coach Mike Stoops is gone? No. Probably would have picked the same score with Stoops still madly gesticulating and grimacing on the sidelines. It's more about Wildcats QB
Nick Foles
being the best player on the field.
Saturday
Stanford 42, Washington 24
: I expect this to play to the pattern for most of Stanford's games thus far: Close at the half, then BOOM!
Andrew Luck
and a tough Cardinal defense assert themselves.
Notre Dame 28, USC 24
: The Trojans are much better on offense, while Notre Dame is much better on defense. The tipping point is the Fighting Irish playing at home under the lights.
Oregon 48, Colorado 17
: Whether the Ducks have quarterback
Darron Thomas
and/or running back
LaMichael James
doesn't really matter. The Buffaloes are injury-ravaged and might have lost what little confidence they had.
Utah 24, California 21
: This pick is based in large part in the belief that the Bears will be missing two starting linebackers, most painfully leading tackler Mychal Kendricks (shoulder). That will help the Utes establish the run, which in turn will make life easier for QB
Jon Hays
.
Washington State 38, Oregon State 30
: The Cougars will get it done in a must-win game for their bowl hopes. Home-field advantage helps, but there's also the expectation we'll see QB
Jeff Tuel
far less rusty after making his first start of the season since a shoulder injury last weekend against Stanford.
PAC-12 SCOREBOARD
Thursday, 9/3
Friday, 9/4
Saturday, 9/5