USC Trojans:

Miami Hurricanes
September, 10, 2013
9/10/13
11:00
AM PT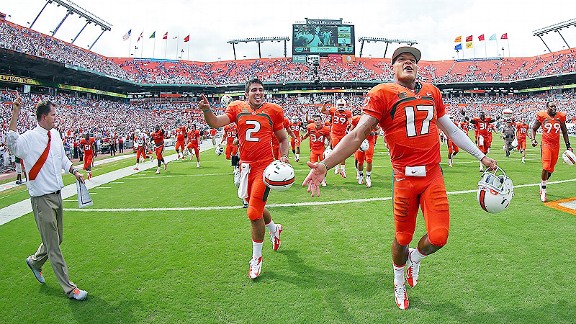 Mike Ehrmann/Getty ImagesThe Miami Hurricanes celebrated an upset win over the Florida Gators on Sept. 7.
For four months, ESPN The Magazine will follow the march to the Vizio BCS National Championship, moment by moment, culminating in our Story of the Season double-issue on Dec. 27. Every Tuesday, Mag senior writer Ryan McGee will pick the previous week's biggest moments and tell you why they'll have the most impact on potential BCS title matchups. If you disagree, send a tweet to @ESPNMag and tell us why your moment matters more, using the hashtag #StoryoftheSeason. Who knows? Your moment (and tweet) might just end up in our issue.
---
ON PAPER,
Week 2 didn't exactly appear overrun with BCS-altering showdowns. But by the time the final whistle had blown in the Pacific time zone, there were indeed dashed postseason hopes scattered among the wreckage.
If Week 1 was the Saturday that the FCS-FBS line officially blurred, then Week 2 was the Saturday that the BCS storylines officially started to take shape. Let's just call it Power Shift Saturday. And let's start in South Florida.
The previous five times the Florida Gators and Miami Hurricanes played, the winner finished the season ranked in the top 5 in the AP poll. The programs have been on-again, off-again rivals, part of a longstanding, round-robin tourney (along with Florida State) to be the kings of the Sunshine State.
Sensing that this will be the final regular-season matchup between the two teams for the foreseeable future, the oft-maligned Sun Life Stadium crowd actually showed up. Officials even uncovered extra seats, a practice normally reserved for the Orange Bowl, not Hurricanes fans who don't typically bother with the drive from Coral Gables.
With the heightened stakes, the blood was up early on both sidelines -- early as in before the game started. During warm-ups, the two teams started edging closer and the jawing became so intense that game officials had to give a polite warning. "There was so much smack talk, I can't even describe it," Miami quarterback
Stephen Morris
said after the game.
To open the game, the Gators' offense, led by
Jeff Driskel
, marched down the field on an eight-play drive, only to fumble in Miami territory. They marched again on a seven-play drive that bled into the second quarter, only to have Driskel throw a pick inside the Miami 5. And again they marched, only to have an 11-play drive stall after a failed fourth-and-1 at the Miami 16. Finally, a 12-play drive ended on a
Trey Burton
fumble in the red zone, with less than a minute to play in the half.
Still, the Gators' defense gave the offense a chance to win, eventually locking down what started as a runaway Hurricanes offense and limiting them to less than 2 yards per rush.
With seven minutes remaining in the game, Miami led 14-9, but Florida was driving (again), with a third-and-3 at the Canes' 16-yard line. Driskel took the snap from the shotgun and immediately fell into the habit that plagued him all day: His eyes betrayed him.
As soon as he had the ball, he was looking right, where two wide receivers were running quick outs. With an onrushing Miami defender in his face, Driskel rocketed a pass toward the sideline and wideout
Quinton Dunbar
, who was at the Miami 7, just beginning his turn to the quarterback.
"This is where you see Driskel get himself into trouble as a one-level thinker," an NFL scout told me on Sunday, watching film of the play on my laptop. "It's a boom-boom play; he's not supposed to take a lot of time, but damn, he never even considered another option. He already had his mind made up who the ball was going to, come hell or high water."
The play had a designed safety valve, which was Burton, running toward the sideline at the 12. Instead, Driskel fired it past Burton to Dunbar, who was cut inside by cornerback
Tracy Howard
, who essentially iced the game with an interception. The Gators did get the ball back, but turned it over (again), this time on a Driskel fumble deep in their own territory. Florida's final TD made the 21-16 result look closer than the game was.
"[Driskel] does this the whole game," the scout said, taking my laptop and scrolling back to the second quarter, when Driskel appeared to be first-option only, gunning blindly into nearly quadruple-coverage for an INT. "That play was designed to the running back on the left. If he's not there, then he's got a clear out to run. But again, he'd decided where he was going with it before the play even started. You can't be a real title contender like that. Did you see Tennessee against Western Kentucky? Ball hawks. That team might intercept this kid five times."
If the Vols do so on Sept. 21 in Gainesville, Florida -- which dropped from No. 12 to No. 18 in the AP poll -- is nearly guaranteed an opening SEC loss. During the Will Muschamp era, the Gators are 19-9. In those 19 wins, they've committed 18 turnovers, good for a plus-20 turnover margin. In the nine loses, that margin falls to minus-21.
As for the power shift, The U scored its first win against a top-15 opponent since 2009 and easily its biggest since knocking off No. 3 Virginia Tech in 2005. The Canes, which went from unranked to No. 15 in the poll after the win, reinforced the ACC media's preseason decision to vote them as the Coastal Division favorites. But more importantly, they reinforced the ACC itself. For the second straight week, the conference knocked off a highly ranked SEC foe. The coach who earned that first power-shifting win was quick to acknowledge the trend.
"How about that ACC?" Clemson's Dabo Swinney said as he wrapped up his postgame news conference Saturday after trouncing South Carolina State. "Spunky little league."
Then he threw up Miami's trademark "U" hand gesture and walked off the stage.
Of course, he doesn't have to face the Canes during the regular season, unlike Jimbo Fisher and Florida State, who do on Nov. 2.
---
Georgia, the team that Swinney and Clemson beat Aug. 31, last week knocked off the team that the Tigers hope to beat on Nov. 30: Jadeveon Clowney and South Carolina. The Dawgs' 41-30 win over the then-No. 6 Gamecocks also indicated a significant power shift. UGA snapped a maddening three-game losing streak to its SEC East rival. Yes, Georgia still managed to make the SEC title game the past two years, but the South Carolina losses always dogged its potential BCS title game status. Should Aaron Murray and company return to Atlanta this season, they still will have the Clemson loss hanging over them. But if the Tigers win out (they will certainly be favored in all of their remaining games), then they could potentially meet the Dawgs again in Pasadena. Then again, South Carolina could ruin the party for both if it beats Clemson in Columbia, something it has done in four straight seasons.
Michigan's 41-30 victory over Notre Dame signified a bit of a power shift: The Wolverines managed to beat a ranked opponent, something they did only once in five tries last season. Meanwhile, the Irish, who were ranked No. 14 last week, failed their first test of 2013 after beating an all-star list of schools during their improbable unranked-to-BCS title game run of 2012. Last season, Michigan lost to South Carolina (No. 11), Ohio State (No. 4), Alabama (No. 2) and yes, Notre Dame (No. 11). Now both teams have done something they couldn't a year ago -- one beat a ranked team, and the other lost a regular-season game.
Speaking of power shifts ... was it really just eight years ago that Texas and USC played for the national title at the Rose Bowl? In case you need to be reminded, both suffered surprising upsets Saturday. And if you're a member of either of those fan bases, safe to say you're also upset. The Longhorns fired one-time wunderkind defensive coordinator Manny Diaz after just two games, a decision accelerated by BYU's unthinkable 550-yard rushing performance. As for the Trojans' fall (at the Coliseum, no less), the closing minutes of the loss to Mike Leach's Washington State squad were played among "Fire Kiffin!" chants. USC has lost seven of its past nine games; Texas has dropped three of its past five.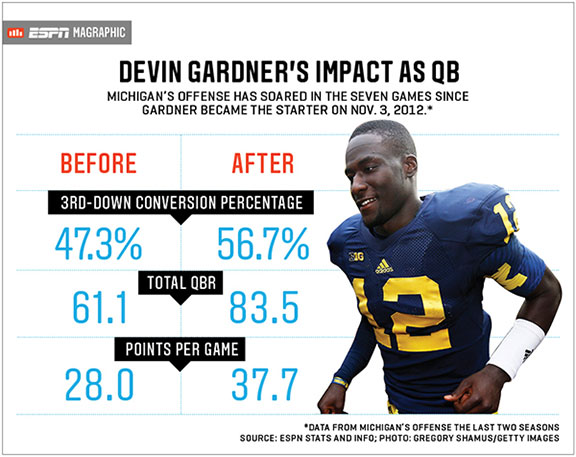 ESPN The Magazine
May, 22, 2013
5/22/13
12:43
PM PT
The 2013 season will be the final year of the BCS era.
And there was much rejoicing!
So, what have been the Pac-12 highs and lows of this often confounding system? Thanks for asking!
Best
1.
USC drubs Oklahoma for the 2004 national title:
The 55-19 victory over unbeaten Oklahoma was the most dominant display of the BCS era. It was also the pinnacle of the Trojans' dynasty under Pete Carroll. It's worth noting that future Pac-12 member Utah also whipped Pittsburgh in the Fiesta Bowl to finish unbeaten that same year.
[+] Enlarge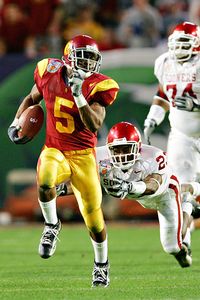 Jamie Squire/Getty ImagesReggie Bush and USC ran away with the 2004 national title.
2.
USC wins "real" national title:
In 2003, USC was No. 1 in the AP and Coaches polls at season's end. If you had eyes and knew anything about football, it was clear the Trojans were the nation's most-talented team on both sides of the football, a notion that was reinforced the following season. Two teams picked by computers played in New Orleans -- most folks outside of Louisiana don't even remember who -- and that forced the Trojans to settle for three-fourths of a national title after dominating Michigan 28-14.
3.
The year of the Northwest:
After the 2000 season, three teams from the Northwest finished ranked in the AP top seven. Washington beat Purdue in the Rose Bowl and finished third. Oregon State drubbed Notre Dame in the Fiesta Bowl and finished fourth. Oregon beat Texas in the Holiday Bowl to finish seventh.
4.
Oregon gets left out but finishes No. 2:
One of the grand faux paus of the BCS era was Nebraska playing Miami for the 2001 national title. Nebraska was coming off a 62-36 loss to Colorado, but the computers failed to notice, and the Cornhuskers were euthanized by the Hurricanes before halftime. The Ducks would whip that same Colorado team 38-16 in the Fiesta Bowl and finish ranked No. 2.
5.
Oregon and Stanford both win:
The 2012-13 bowl season wasn't good to the Pac-12, but Oregon pounded Kansas State in the Fiesta Bowl and Stanford beat Wisconsin in the Rose Bowl. The Ducks finished ranked No. 2 and Stanford was seventh. It was just the second time two Pac-10/12 teams won BCS bowl games in the same season.
Worst
1.
Just one BCS national title, lots of frustration:
No conference has more legitimate gripes with the BCS system than the Pac-12. Multiple seasons saw the conference have teams skipped over, most notably Oregon in 2001 and USC in 2003 and 2008. And ask California fans about how Texas coach Mack Brown gamed the system in 2004, preventing the Bears from playing in the Rose Bowl.
2.
USC's three-peat gets Vince Younged:
It's difficult to look at Texas's epic 41-38 win over USC as anything but great college football art -- perhaps the all-time greatest game -- but Trojans fans don't feel that way. The loss prevented USC from claiming three consecutive national titles and, of course, a second BCS crown for the Pac-10/12.
3.
Oregon falls short versus Auburn:
Oregon looked like a great team and Auburn a team with two great players before the BCS title game after the 2010 season. The Ducks chose a bad time to play one of their worst games of the season, but they still nearly prevailed before being undone by a dramatic game-winning drive from the Tigers.
4.
Make a field goal, Stanford:
Stanford kicker
Jordan Williamson
missed three field goals, including a certain game-winner from 35 yards on the last play of regulation, in the Cardinal's 41-38 loss to No. 3 Oklahoma State in the Fiesta Bowl after the 2011 season. Williamson also missed from 43 yards in overtime, which set the Cowboys up for the win. Stanford dominated the game, outgaining the Cowboys 590 yards to 412, with a 243-13 edge in rushing.
5.
Ducks drop Rose Bowl:
Oregon fell flat in Chip Kelly's first BCS bowl game, with the favored Ducks losing to Ohio State 26-17 in the Rose Bowl after the 2009 season. Buckeyes QB Terrelle Pryor had perhaps the best game of his career -- 266 yards passing, 72 rushing -- and the Ducks offense struggled, gaining just 260 yards.
December, 10, 2012
12/10/12
5:59
PM PT
GAINESVILLE, Fla. -- Just one day removed from landing three verbal commitments, the Florida Gators lost a linebacker commit on Monday night. ESPN 150 linebacker
Quinton Powell
(Daytona Beach, Fla./Mainland) has reopened his recruitment after officially visiting Florida this past weekend.
The 6-foot-2, 205-pound linebacker is still considering USC, Miami (Fla) and Oregon. He is planning to take official visits to all three schools.
Powell announced his decision via his Facebook status update: "Yes I Decommited from Florida, nothing against the program just needed to re-evaluate my choices."
June, 18, 2012
6/18/12
7:05
PM PT
Monday was a busy day for commitments in the West region, but defensive tackle
Eddie Vanderdoes
(Auburn, Calif./Placer) isn't exactly ready to jump into the commitment scene. More than half of the top 30 players in the West have already made verbal commitments, but Vanderdoes is taking things slowly. On Monday, the 6-foot-3, 285-pound lineman took to twitter to release a list of his top 15 schools.
Alabama, Baylor, California, Florida, Georgia Tech, LSU, Miami, Michigan, Michigan State, Nebraska, Oregon, Penn State, UCLA, USC and Washington all made the cut. Vanderdoes included in his tweet that he will be cutting that down to a top 10 group soon.
To continue reading this article you must be an Insider
March, 17, 2012
3/17/12
5:12
PM PT
GAINESVILLE, Fla. -- Four-star wide receiver
Richard Benjamin
(Tampa, Fla./Tampa Tech) visited Florida on Saturday to watch the Gators go through their third practice of the spring.
[+] Enlarge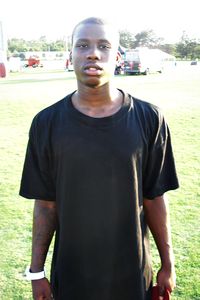 Corey LongESPNU 150 Watch List wide receiver Richard Benjamin visited Florida on March 17.
Benjamin said he enjoyed his time in Gainesville so much he considered committing to the Gators.
"I had a great visit, a nice time," Benjamin said. "I really enjoyed watching the practice. I thought about committing, but I'm going to wait until further notice."
To continue reading this article you must be an Insider
February, 26, 2012
2/26/12
6:55
PM PT
WINTER GARDEN, Fla. -- ESPNU Watch List wide receiver
Richard Benjamin
(Tampa, Fla./Tampa Bay Tech) boasts several scholarship offers, including new ones from Oklahoma and Alabama. Benjamin said on Sunday that some schools are starting to stand out for him.
"Florida, Miami, USF and USC are starting to standing out to me right now," Benjamin said from the Nike SPARQ combine in Winter Garden (Fla.). "I really like the coaches at atmosphere at all of those schools."
Benjamin declined to name a leader, but did say there are several out of state schools he will likely visit over spring.
To continue reading this article you must be an Insider
December, 21, 2011
12/21/11
8:26
AM PT
Breathe, USC fans, breathe.
In fact, I'd suggest you ignore
what happened Tuesday
with Ohio State and its slap on the wrist from the NCAA for a massive systemic breakdown and a coverup by head coach, Jim Tressel.
Yes, when you hold up the Ohio State case and the USC case, it's impossible not to conclude the Ohio State case was
far more severe
. It was, of course, without question. No informed, objective person believes differently.
[+] Enlarge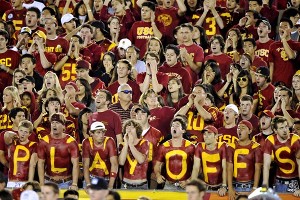 Kirby Lee/US PresswireTrojans fans spell out the word playoffs, but there won't be any postseason play for USC this season.
But here's the thing: Being outraged will accomplish nothing. You will be unhappy and your team will still be docked 30 scholarships over the next three years for what one player secretly did while Ohio State will be down just nine scholarships over the same time period for the rule-breaking of five with full knowledge of their head coach. And your unhappiness will provide great joy to folks who don't like your team.
Adopting a placid pose — at least as best as you can — will be good practice for handling potentially more infuriation ahead. The NCAA also likely will give even worst upcoming cases — North Carolina and the
University of Miami at Paul Dee
— less severe penalties than it gave USC.
Why? Because the NCAA treated USC unfairly — everybody in college sports knows this — and it likely won't revisit such irrational harshness. In the end, the justification for such severe penalties, meted out in contrast to past precedent, was little more than "just because."
But the NCAA, an organization not endowed with a sense of self-awareness, failed to foresee when it curb-stomped USC that among the lawbreakers in college football, the Trojans were jaywalkers amid a mob of bank robbers. Ohio State's sanctions, in fact, represent a return to NCAA normalcy: Mostly toothless penalties that will have little effect on the program's prospects, other than a single-season bowl ban.
There we go again: Fretting the particulars and the injustice of it all.
The point is USC fans have been quite reasonably been shaking their fists at the heavens or, more accurately, the NCAA home office in Indianapolis for two years. That anger has accomplished nothing, other than emboldening taunts from opposing fans.
You know: Fans whose teams didn't finish 10-2 and ranked No. 5 in the nation.
And therein lies the ultimate revenge: Winning.
It's hard to imagine the next five years won't see a USC downturn. Losing 30 scholarships is a tough burden. Things could be particularly difficult in 2014 and 2015, when the true cumulative impact arrives. And it could be even more galling if Ohio State is back in the national title hunt those years. Maybe playing Miami in a Fiesta Bowl rematch!
But if the Trojans can somehow remain in the picture, perhaps playing in a Rose Bowl -- or two -- along the way that would be a heck of a panacea, wouldn't it?
It's a longshot, sure. But other than that, we've got nothing for you USC. Sorry.
Easy, now. Breathe, breathe. Happy place. Happy place.
Oh, no.
That's exactly what we were trying to avoid
.
PAC-12 SCOREBOARD
Thursday, 9/3
Friday, 9/4
Saturday, 9/5